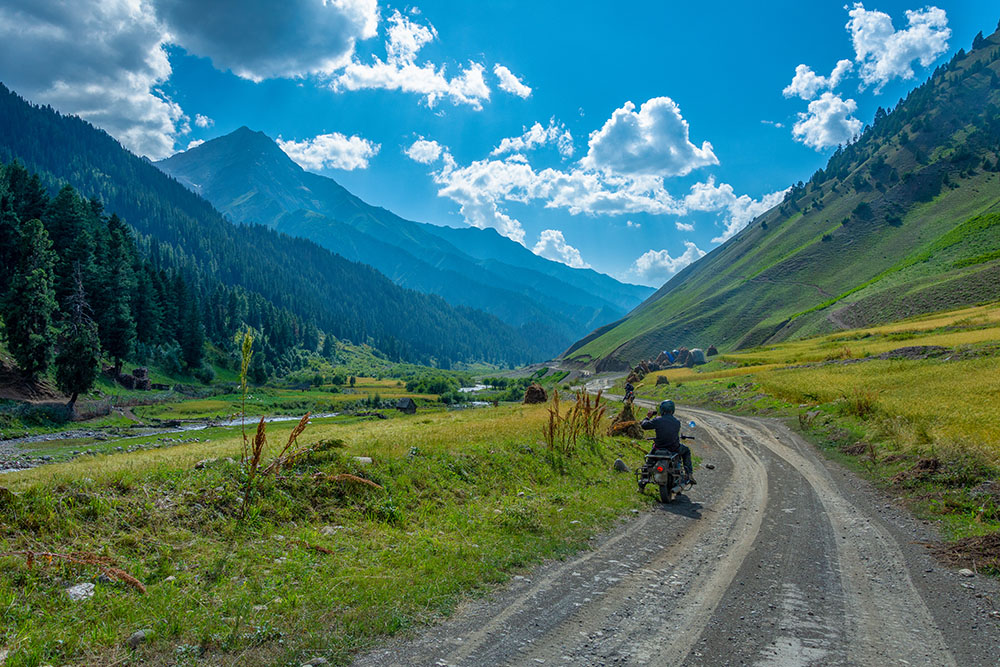 In this article, I will list down Srinagar Bike Rental Rates for the year 2022-23. If you were planning a trip to either Kashmir or Ladakh this year but cannot bring your own bike, then renting a motorcycle from Srinagar city for the tip is a great option.
Mention below is the per-day cost that you will pay depending on the motorcycle you chose. Apart from the charges, I will also provide a few tips that you should keep in mind while taking a bike out on rent.
For renting a motorcycle in Srinagar, you can contact Faisal at 09596 410 670. Give him my reference and he will give you the best possible rate. I have rented bikes from him several times and was never disappointed with the bike's performance or the price he quoted.
Srinagar Bike Rental Rates
As a matter of fact, the daily rental in Leh and Srinagar city is almost the same. The only difference however is in terms of the motorcycles you will get. In Leh city, you can easily find bikes like Pulsar and automatic bikes like Scooty and Activa.
In Srinagar city, however, these are not really that commonly available. Only a few rental agencies have automatic scooters available for rent. The rest of them majorly deal in Royal Enfield only.
The contact number I provided above is of a rental agency that has Activa available as well if that is what you were interested in renting.
Also Read: How to Plan a Trip to Kashmir – A Complete Travel Guide
Rent a Bike in Srinagar
The important thing to note here is that in Ladakh, there is a Ladakh Motorbike Rental Association that all rental agencies work with. The rates that the association decides are standard that anyone will charge you in Leh.
In Srinagar however, there is no association, and every agency has its own bike rates. These however are more or less the same with only a difference of a couple hundred.
This in fact is actually a good thing because there is no association that you got to worry about. You are free to negotiate a deal and the chances of getting one in Srinagar are way high than in Ladakh.
Also read: Is Srinagar Leh Highway Safe for Tourists
The minimum rental period in Srinagar is one day. There is no half-day rule applicable like in Ladakh. If you take a bike on rent, you take it for an entire day.
Please note that if you are a foreign national, your local driving license issued in your respective country will not do. You must hold an International driving license. Without it, no rental agency will hand you over their motorcycles.
For some agencies, this international driving license will suffice but others may even ask for your passport as well. If you are however an Indian citizen, all that you need to produce is your own permanent driving license.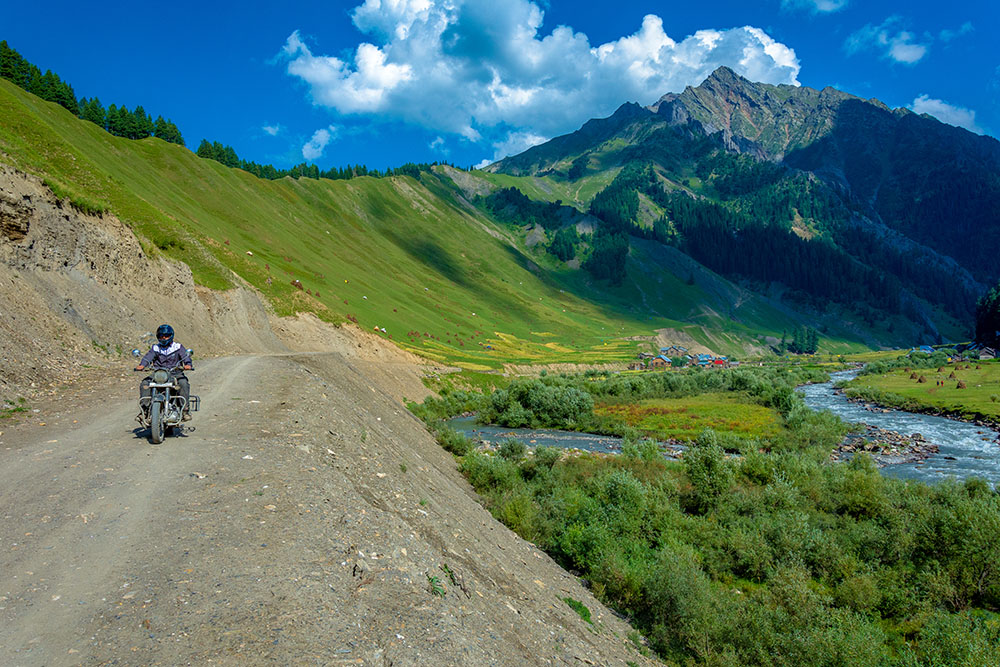 Srinagar Motorcycle Rental Rates 2021 – 22

Mentioned below is a list of motorcycles that are currently available for rent in Srinagar; with their per-day rental. As I mentioned, there is no standard rental association rule as such but all agencies will charge you around the amount I mentioned below.
Royal Enfield Himalayan
Engine Size: 411CC
Rental: Rs. 2,000 per day
Royal Enfield
Engine Size: 500CC
Rental: Rs. 1,800 per day
Royal Enfield
Engine Size: 350CC
Rental: Rs. 1,500 per day
Bajaj Avenger
Engine Size: 220CC
Rental: Rs.1,300 per day
Automatic Bike / Scooty / Aprilia
Rental: Rs. 800 per day
Other Bikes / Pulsar / XPulse
Engine Size: 150CC to 200CC
Rental: Rs.1,400 per day approximately
A few things that you do need to keep in mind while renting the motorcycle are as mentioned below.
You will have to pay a security amount of Rs. 10,000-15,000 which will be refunded when you return the bike with no damage.
An additional Rs. 350 per day will be charged if you want to also rent the riding gear, including the carrier.
If you want to get an additional helmet for a pillion rider, that will cost you an additional Rs. 50 to Rs. 100 per day.
Raincoats, chargers, etc are not part of the riding gear and will be charged separately.
You must hold a valid permanent driving license to rent the motorcycle.
If a foreign national, you must have an international driving license.
Bullet on Rent in Srinagar
As you can see from the list above, Royal Enfield is the hot favorite of both rental agencies and customers alike. Depending on which model you chose, renting a Bullet in Srinagar will cost you between Rs. 1,500 to Rs. 2,000 per day. Royal Enfield Himalayan is the costliest of all the models.
Srinagar to Leh Bike Rental
I would definitely recommend renting an Enfield only for the trip. If you were riding solo, then it's best that you go for a 350CC motorcycle. Renting a 500CC engine is just more power that you will not really need. If you were however with a pillion and all the luggage, I must in that case recommend renting a 500CC Bullet.
Also read: Srinagar to Leh Travel Time and Suggested Itinerary
Depending on which bike you chose, your Srinagar to Leh Bike rental total will at least be between Rs. 1,300 to Rs. 2,000 per day. Considering that you will need at least 2 days to reach Leh and then at least 2 more days to return, you will be paying about Rs. 6,000 to Rs. 8,000 as rent for 4 days.
Where to Rent a Bike in Srinagar
From my own personal experience, the preferred place to rent a bike would be Kashmir Travelogue.
Kashmir Travelogue- Bike & Motorcycle Rental Firm
Lal Chowk, Srinagar
http://kashmirtravelogue.com/
Phone: 09596 410 670
Contact Name: Faisal
Rates that these guys will offer you would be hard to bear elsewhere in Srinagar. They are highly professional, and humble, and will ensure that you get the best out of your trip, and a total worth of every penny spent.
The riding gear that other agencies will charge you for is Rs. 350 per day, these guys will provide it for free. And their riding gear is quite comprehensive too, way bigger than all others.
Other agencies will charge you about 10000 to 15000 as a security amount. Faisal will charge you only about Rs. 5000. If you give him my reference, he may not even charge you that.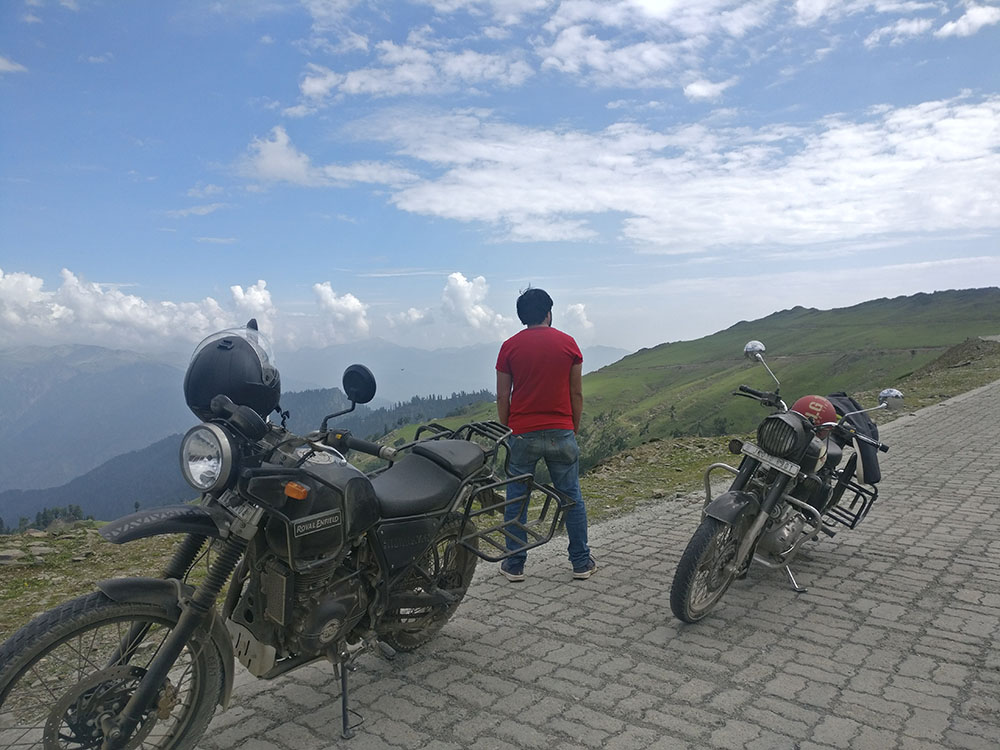 Srinagar Motorcycle Rental Rates – Conclusion
I hope the information above regarding Srinagar bike rental rates was of help. If you have any questions, please feel free to ask in the comments section and I will be happy to answer. You can also follow me on Instagram and chat with me live or subscribe to my YouTube channel and ask a question there.