I have been on a trip to Spiti Valley several times; and have seen almost all the places there are to see in the valley. I have traveled on the circuit in the traditional way, from Shimla to Manali that is. And then I did it the other way around as well, just to see and experience Spiti in a different way. I have seen the lush green of the valleys of Kullu, Kinnaur, Sangla and Manali. And then I had also seen the white & brown of the barren of Spiti. I have experienced Spiti on the two wheels of my Royal Enfield few times; and then once on the four wheels of a friend's Safari.
I have ridden and driven on the smooth roads of Shimla and Narkanda. And then I have struggled on the nightmare of a road between Manali and Kaza. I have seen that dead monk sitting in the small village of Giu; where he has remained for last 500 years. I have dined at that dhaba at Chitkul that reads "Hindustan ka Aakhri Dhaba" and I have also had Maggie and chaai at "Chacha ka Dhaba" at Batal. I have crossed numerous water streams numerous times; and I have experienced that magic called Chandratal and have circled around it. I have seen those waterfalls, and those famed snow walls. I have crossed Kunzum and I have crossed Rohtang.
Trip to Spiti Valley
But no matter how many times you do all these things, no matter how many times you go here, Spiti is still a magic that will never get old. No matter how many times you have seen all of it, when someone asks you, "Do you want to go to Spiti?", Your answer will always be a YES.
That is what Spiti does to you. That is what Spiti did to me.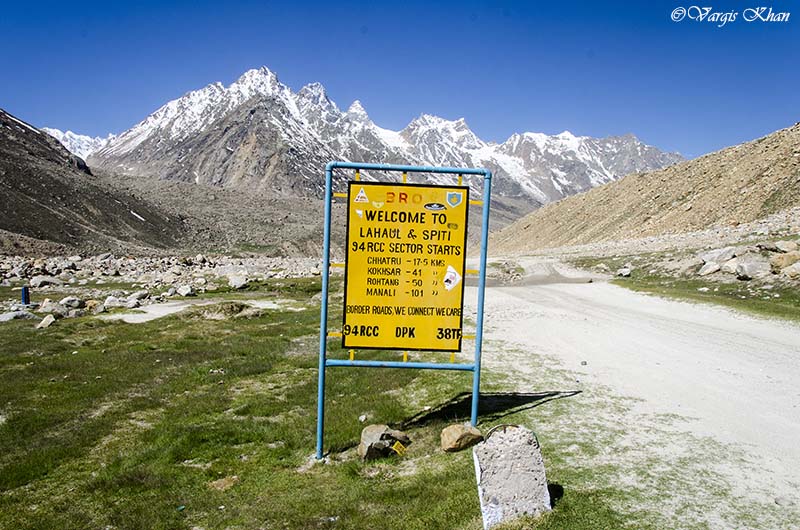 The Initial Plan
I remember the first time I went to Spiti valley, the plan was actually of a different place. It was Ladakh that was on the menu that year. It was going to be my second trip to Ladakh and I was quite excited about it. And then someone made a comment that planted a seed of doubt in my head. That remark was,
"Why do you want to go to Ladakh again? Why not explore something new?"
This is what brought Spiti on the table. That is how I ended up exploring Spiti the first time.
Have I gone to Ladakh again? Yes, I did indeed but that particular year, it was Spiti that I explored and fell in love with it.
Same story repeated this year as well. My original was to actually cover Zanskar. I have been to both Ladakh and Spit a few times but have covered Zanskar only once a few years ago. With the recent boost in tourism in Ladakh, areas like Leh, Nubra and Pangong have started to get crowded; so this year, I wanted to visit Zanskar valley. A place that is still not touched by the tourism mania that Ladakh is suffering from now.
Change in the Plan
But then I read in the newspaper that our prime minister Mr. Modi was going to be visiting Kashmir and it happened to be on the same dates when I was arriving in Srinagar. In addition to it, he was going to be there to inaugurate the work for Zoji La tunnel, which means that entire stretch towards Kargil was going to be heavily fortified and could even be blocked for civilians.
I was really short on time and could not afford to waste a couple of days anywhere on the stretch due to Mr. Modi being there. So at the last minute, the plan had to be changed and I was forced to give up Zanskar.
But then an even bigger question was of where to go? My friend who was going to be accompanying me on the trip had never been to Spiti valley and asked if we could go there.
My answer was an immediate Yes.
Plan for Spiti Valley
Jamaica is a very close friend of mine and he runs a hotel in Kaza and campsite at Chandratal. So once a trip to Spiti valley was finalized, the first thing I did was to call him; and asked if he was going to be in Spiti at the time of my trip. His answer was a yes and I was quite glad about it. He is a very good friend and it had been a while since I had met him.
Even luck was favoring a trip to Spiti at that time. The road between Manali to Kaza becomes operational sometime in first week of June and then the camp sites at Chandratal become operational around Mid-June. However, this year, due to less snowfall across entire Himalayan region, Manali Kaza road was declared open towards Mid-May. Jamaica informed me that even the camp sites at Chandratal were going to be all operational by May end which was an even greater piece of news.
So the plan was finalized and hence the preparations begun.
I had been to Spiti on a motorcycle several times before but it was going to be the first time when I was going to be driving there. True that I once went there in a TATA Safari but I was not the one on the wheel at that time. I was one of the passengers and it was my friend who was drove his Safari all the way. This time however, it was all me. My co-passenger did not know how to drive; so it meant that I was going to remain on the wheel, no matter the condition of the roads.
Itinerary for Spiti Valley
Was I nervous? Definitely yes. My biggest worry was the stretch between Gramphoo and Batal and the narrow road to Chandratal. I asked Jamaica how the road was and he informed me that it was not that bad yet. Snow had not yet started to melt so there was not much life in the nallahs on the way. My biggest worry were the nallahs so when I learnt that water level was not that high yet, it was indeed a great relief.
There wasn't much to do in terms of preparations really . I knew the route and the place we were going to so there was nothing to research about. My Thar had gotten serviced just a couple of weeks ago so there wasn't much to worry about in that aspect as well. The only task that remained was to get one of the tires changed as it was running really low on rubber; which I got done about a week before the trip.
The itinerary prepared for the trip was something like this but it was of course just the initial plan.
Delhi to Sarahan – Day 1
Sarahan to Chitkul – Day 2
Chitkul to Nako – Day 3
Nako to Mud Village (Pin Valley) – Day 4
Mud Village to Kaza – Day 5
Kaza – Day 6
Kaza to Chandratal – Day 7
Chandratal to Manali – Day 8
Manali to Delhi – Day 9
Buffer Day – Day 10
The actual traveling of course happened in an entirely different manner.
Journey Ahead: Delhi to Narkanda – Day 1
Conclusion
I have continued this entire travelogue in a series of several articles. Please continued on the link above to read about our first day of the journey to Narkanda from Delhi. If you have any questions; please feel free to ask in the comments section below; or at our Community Forum; and I will be glad to answer.