This article is in continuation with a previous one and a part of my winter trip to Kinnaur and Tirthan Valley. We started for Spiti Valley but due to heavy snowfall and blocked roads, had to change the plans at the last minute. After spending 2 days in Kinnaur Valley, we changed our itinerary and traveled from Chitkul to Jalori Pass to Banjar on Day 3, details of which are covered in this post. Please click on the link below to read the previous part of the travelogue.
Journey So Far: 
We tried driving to Chitkul on Day 2 but the road was completely snowed out. We had to leave our cars about a kilometer before Chitkul and walk in the snow for the rest of the way. After spending some time in the village, we walked back to our cars.
The next question was about where to stay for the night. Only two options were available, either Sangla or Rakcham. Since Rakcham was closer, we drove there and checked into a hotel.
Day 3: Chitkul to Jalori Pass to Banjar
That night, it snowed heavily all over the Sangla Valley. The morning in Rakcham was something else. The snowfall was pretty heavy the night before and huge flakes were sticking on the vehicles even as we hit the sack.
The morning as expected was an absolute white one – and clear weather to compliment it. I was up by 6:30 and was out of bed in 15min flat. Durgesh was already up and soaking in the vistas around. It took us minutes to decide to drive up the road towards Rakcham and take Kiyang for an early morning spin.
Easier said than done though. The few inches of snow was difficult to get off the windscreen – but the trick was achieved by some hot water from the bathroom geyser. Tanveer came out strolling at the same time and we all decided to head out. The drive was lovely and a bit dangerous at the same time. 4H was engaged just to ensure so that we had traction on all four.
Also Read: How to Plan a Trip to Chitkul
Enjoying a Morning Drive
The thickness of snow increased as we ventured further but not too much to be of a botheration for Kiyang. We stopped at plenty of places to shoot and eventually took a U-turn at THE bridge. It was almost 9 am by the time we were back at the hotel.
A white layer over Kiyang – notice how thick it is over the wind-shield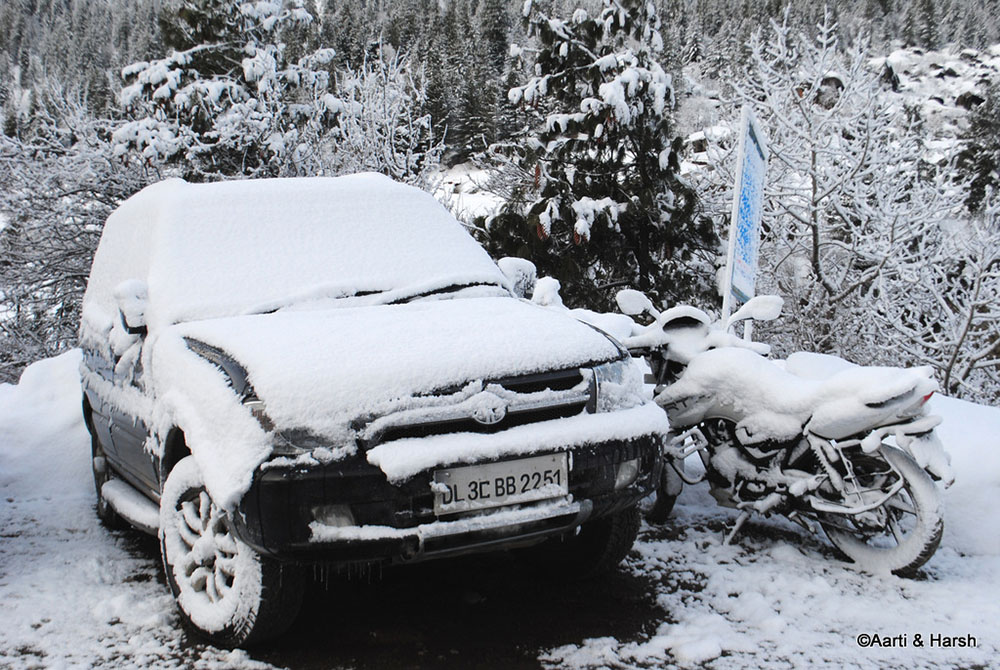 The same story was true for all vehicles parked upfront – of course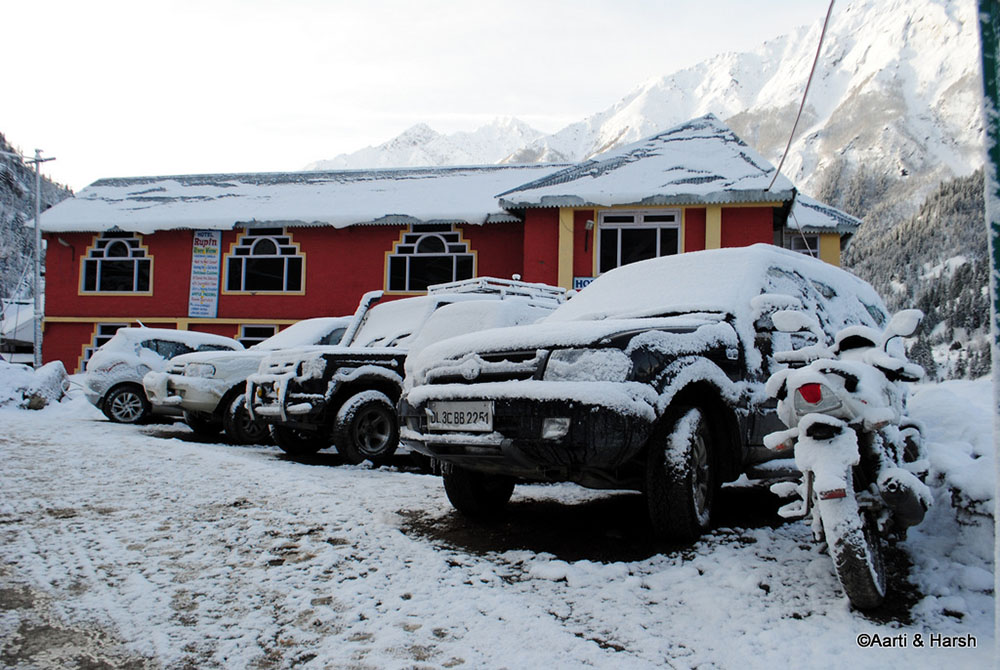 The view up ahead – out of Rakcham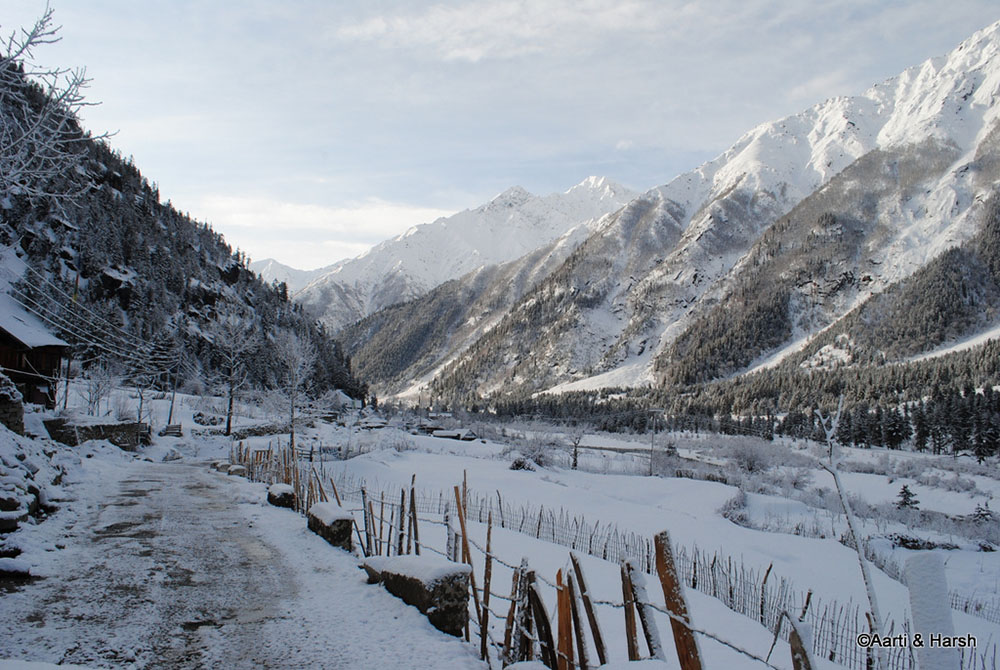 The path – as created by Kiyang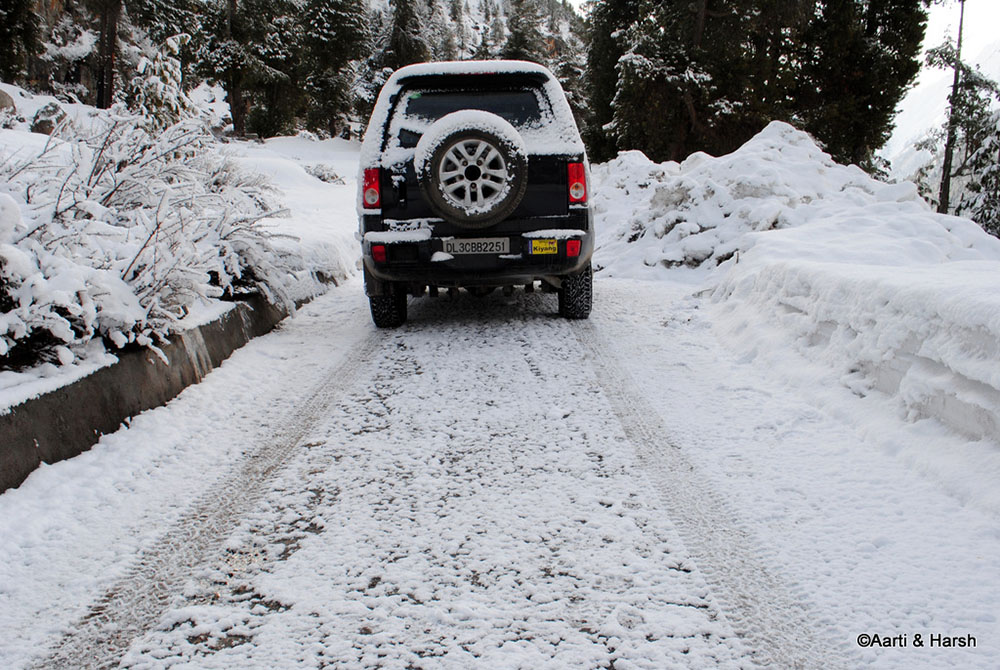 The snow was wet – notice how it clings to the tree and makes it droop. Engaging 4H was a good idea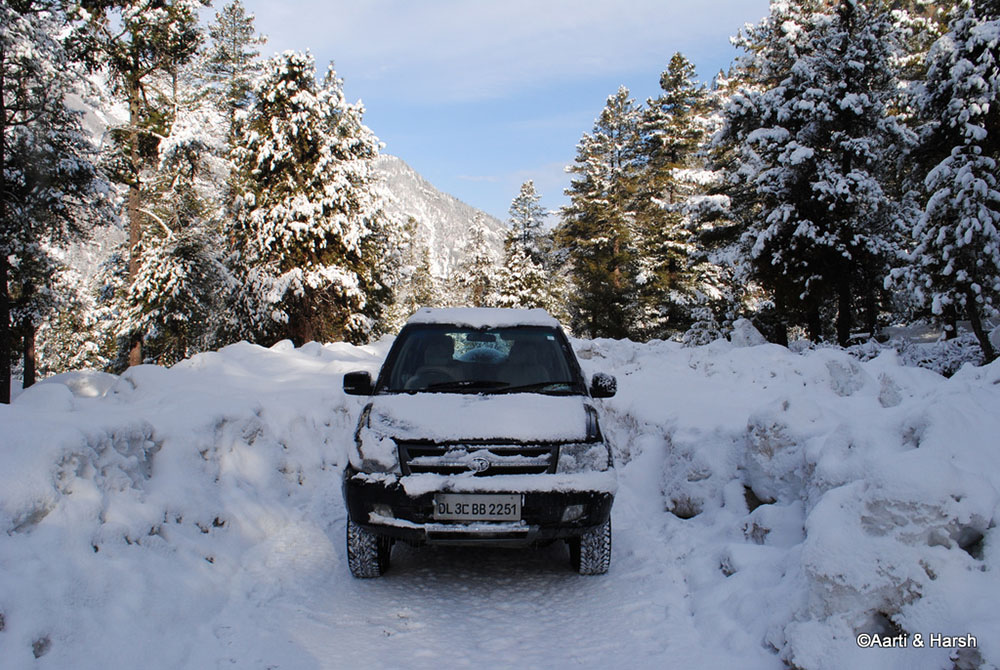 The valley was covered in white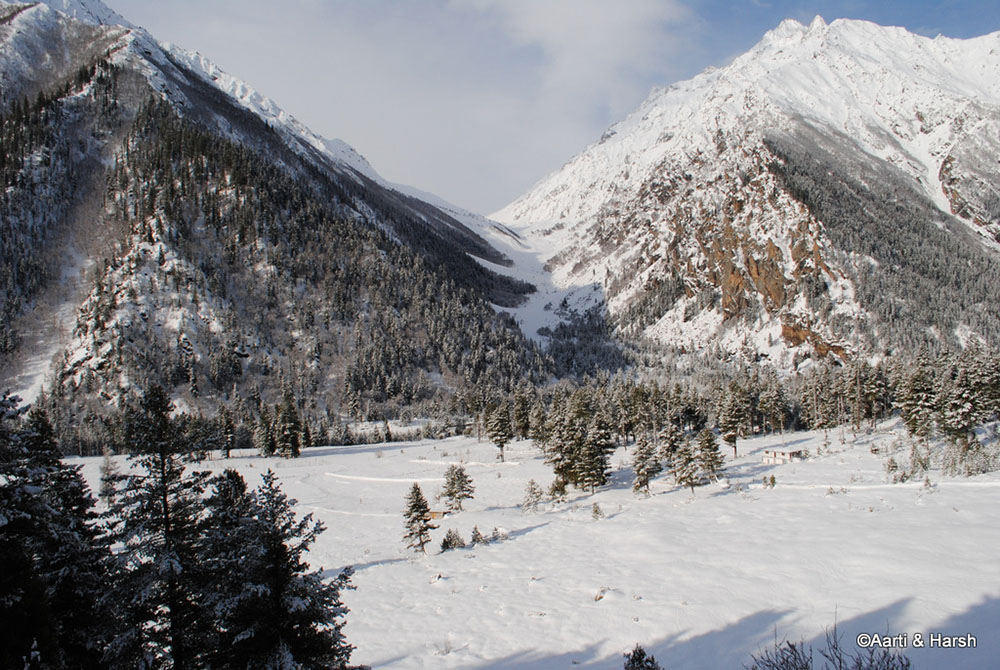 The bridge where we took the U-turn – which was a bit tricky as well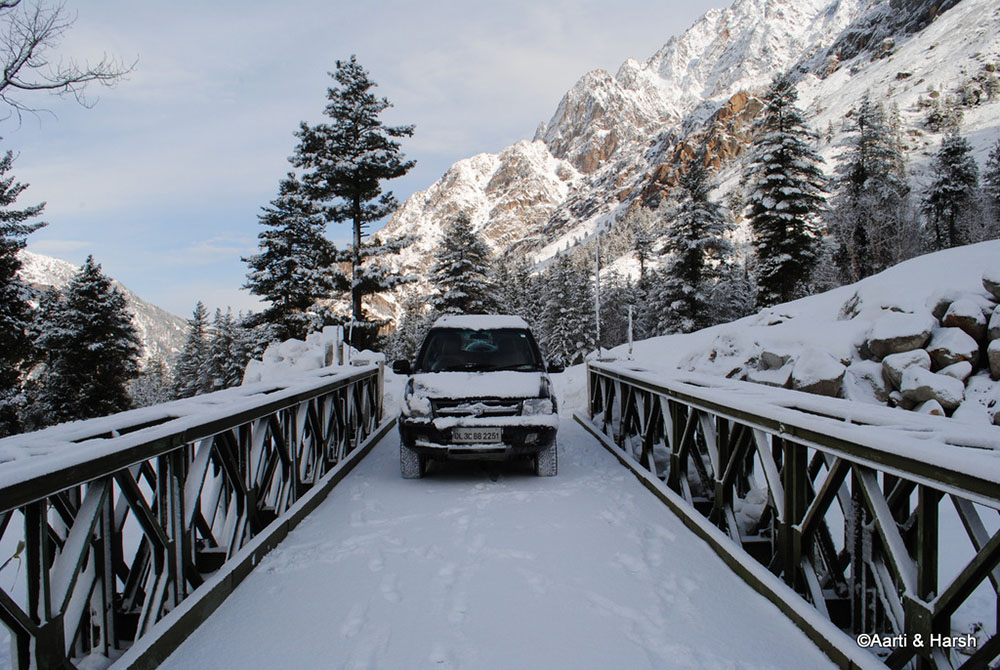 The tracks made by Kiyang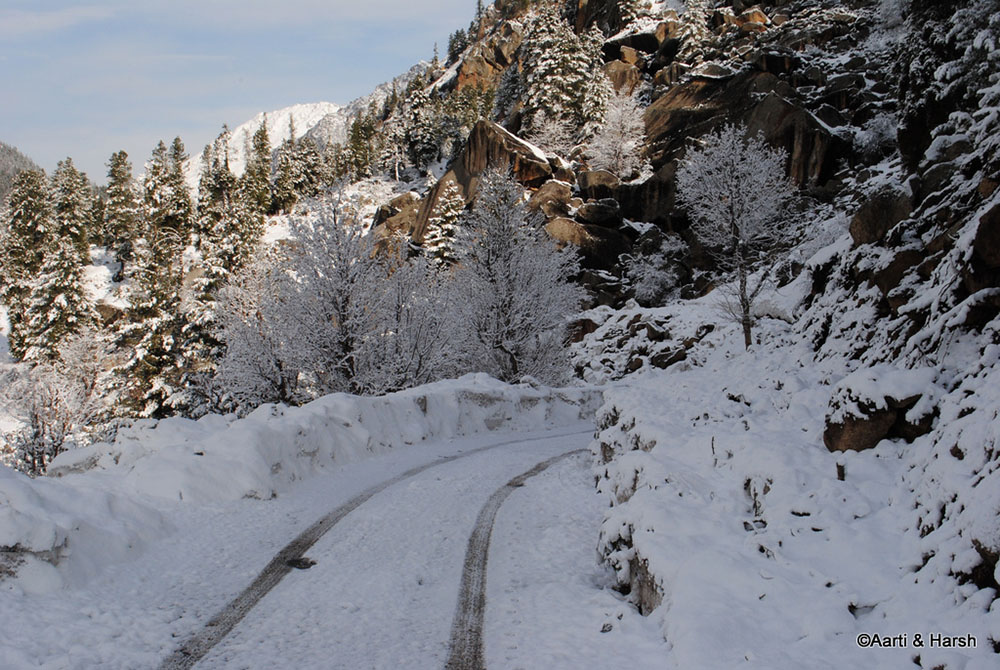 Almost back at Rakcham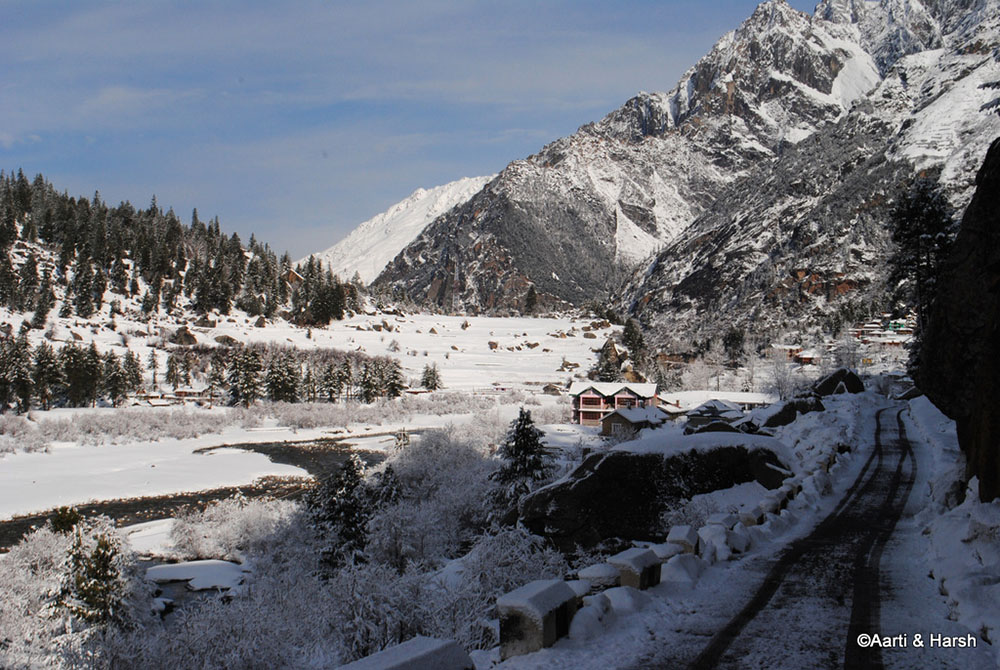 The peaks were lovely with fresh snow over them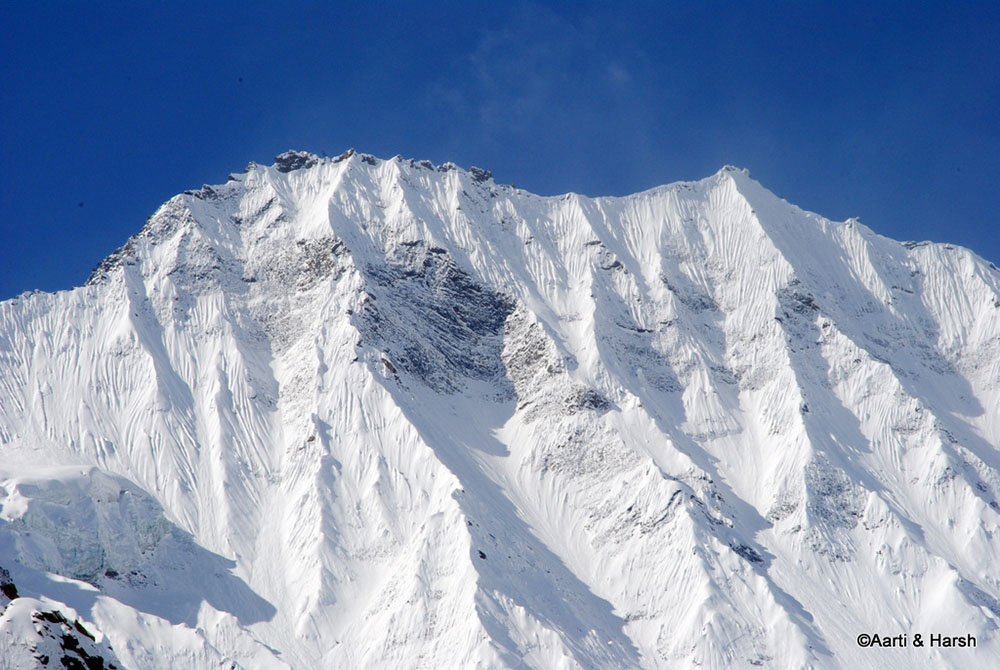 A bridge over river Baspa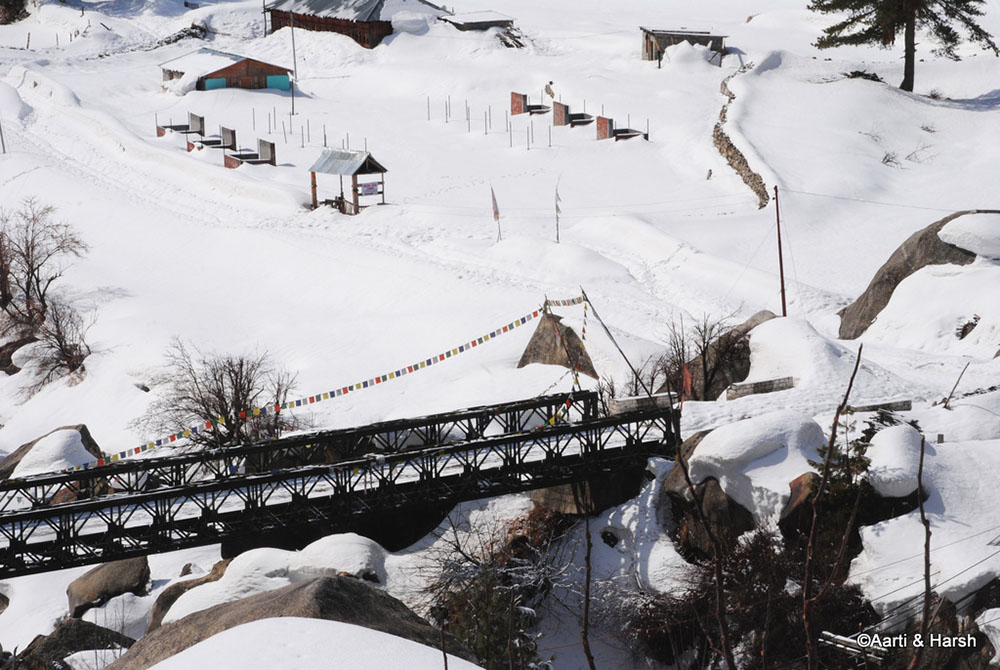 Deciding the next Destination
It was already quite late by the time we reached the hotel. Aarti was nowhere close to being ready, and it was already 9 am. We did not have our directional bearing for the day either. Getting ready for the drive was a matter of minutes
However, the direction of the drive was still an unresolved issue. Durgesh had already planned and was moving towards Kalpa for the day.
As for us, we could not head towards Spiti – that road was well blocked, the second landslide and ensured that. The other options were Sarahan, Daraanghati, Rohru, Theog or Narkanda. The problem with them was that either the approach roads were closed (snow) or there were too many long weekend tourists in that area.
Tirthan Valley
Tirthan valley was another option but was subject to the vagaries of Jalori Jot. The report was trickling in that it was still not open for vehicular traffic.
A call was made to Sumit Tyagi, a close friend, who runs his own resort at Banjar. Sadly he was not in the valley – but his wife was. She mentioned that the roads were open but the top was all slush and not advisable to do – especially if it was raining.
Those words were music to our ears, and Tirthan it had to be then. The only trouble was that we were already quite late in getting up and about and Tirthan Valley was a far way off.
Also Read: How to Plan a Trip to Tirthan Valley
Rakcham to Jalori Pass
We were up & away by 11:30 am, pretty much as late as we have ever been on any of our previous trips. We are early risers but in this case, there was no destination for which we could get up early.
The drive back towards Sangla resulted in a gradual reduction of white as we moved towards lower altitudes. We caught up with Rajeev, Kartik & the gang at Karcham having a cup of tea and Maggi – all homemade in their traveling Gurkha. We resisted the temptation of stopping for a quick cuppa – Tirthan was still a long way off.
The last bend turn offering a wide view of the valley – the concrete starts ahead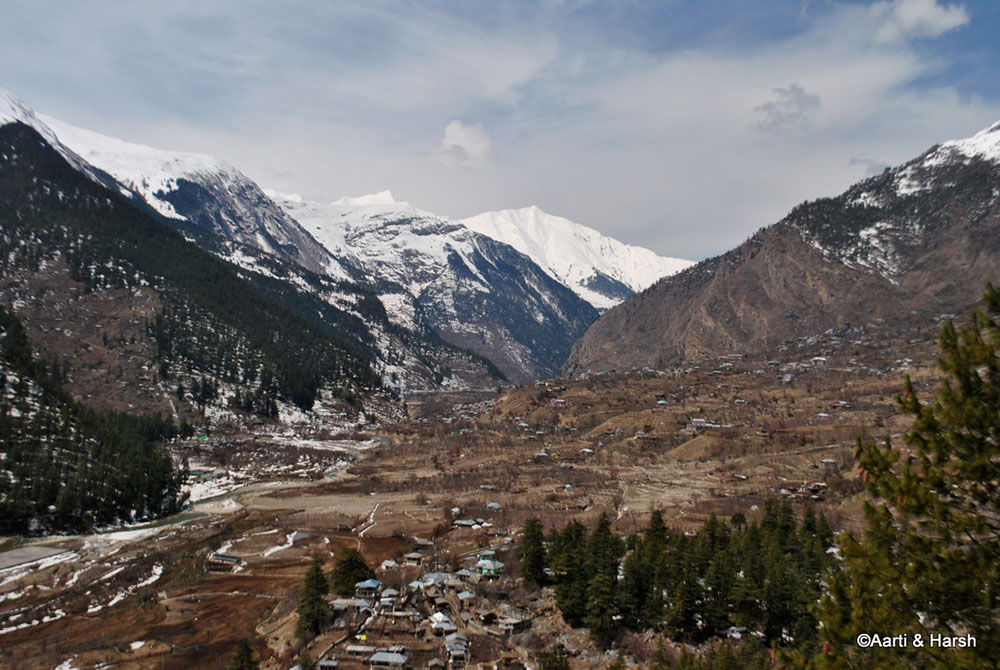 A few km down the road, I found Rajiv parked on the side of the road with Tanveer's Safari next to it. So we had finally caught crossing each other – with he headed towards a fantastic snow trip to Sangla.
All of us were in a tearing hurry to reach our respective destinations, hence the meet-up was short and sweet. We exchanged notes on the road conditions ahead and marched on – only to stop later for a quick car wash recommend by Tanveer.
Also Read: When is the Best time to visit Chitkul
Apparently a lot of vehicles coming from Wangtoo stop at this waterfall to get a quick free car wash, it was fun, to be honest. I would recommend it for everyone, but do ensure that you have your windows shut firmly and the gaskets leak-proof.
The return of the tarmac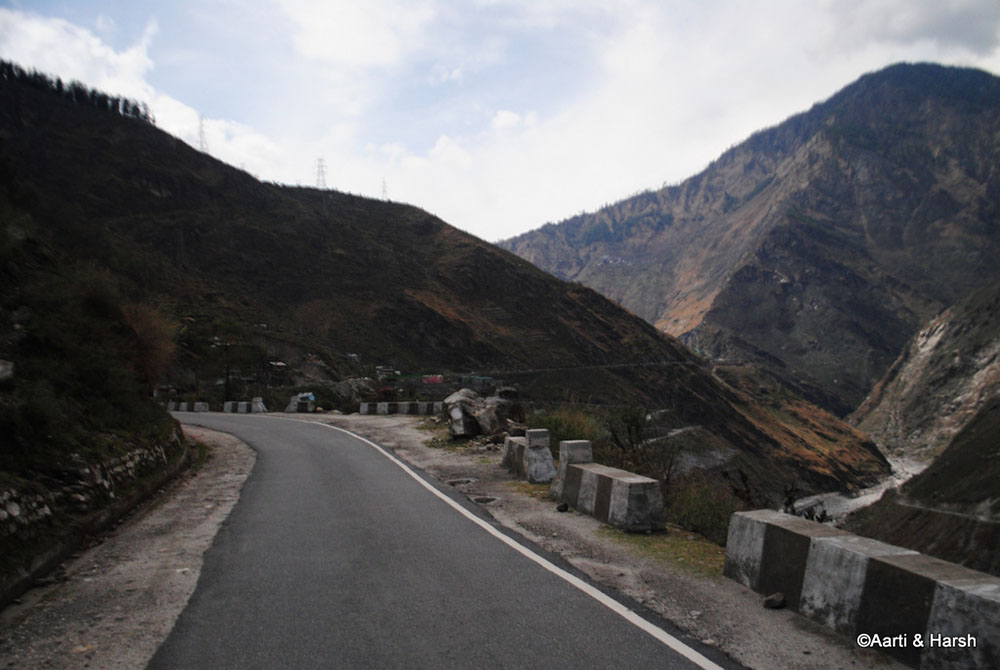 Nice alpine roads towards Rampur, watch the bends though – they're blind. But Let me go ahead and take a plunge first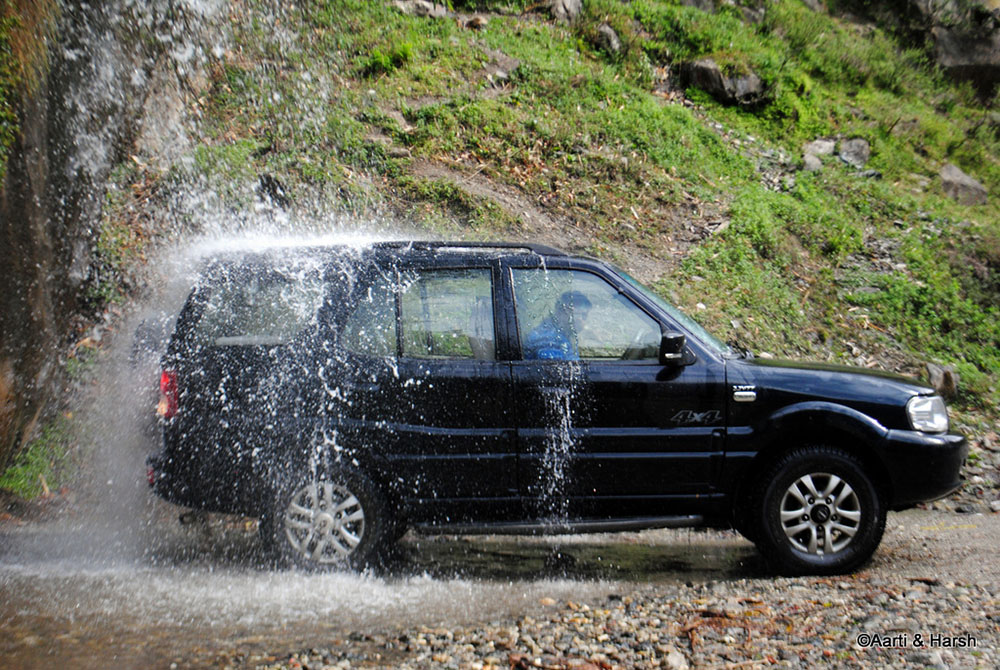 My turn – my turn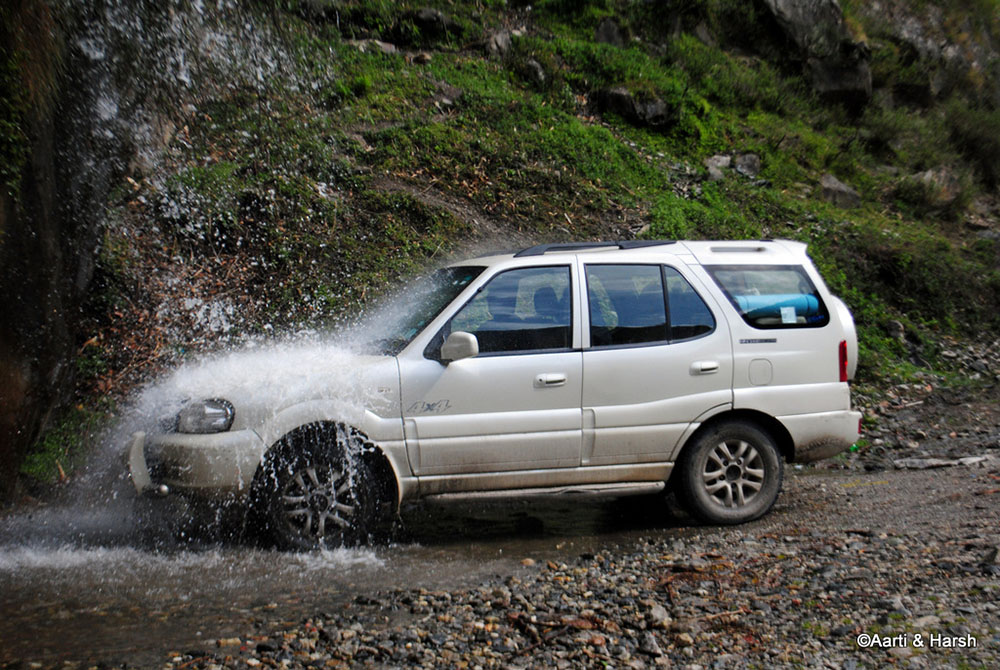 Khanag
Earlier in the day, breakfast was heavy and was gobbled pretty late – I would rather call it brunch, hence neither of the couples were hungry. The 'mela' at Rampur was inviting with some delicious food offerings but the lack of parking opportunities made us take our lunch stop quite late in the evening at around 6 pm.
With Tirthan valley still far away, a call was made to inform our friends there that it might not be possible for us to cross Jalori tonight. We planned to stay at either Ani or the PWD rest house at Khanag.
While we were crossing the bridge at Kingal, an RE C-500 stopped in front of us- it had a sticker on it. Time for another meetup perhaps? It was none other than our Akshay Saini accompanied by a friend of his (I'm sorry I do not remember your name buddy).
A quick exchange of words was enough to know that we were all headed in the same direction. Needless to say, the bikes zoomed ahead, and the cumbersome elephants lumbered along.
Jalori Pass at Night
It was pitch dark by the time we reached Khanag. The stop options at Ani were quite pathetic so the PWD rest house had to be for the night. The conundrum was that we were 6 of us and there was only 1 room available.
The guard would not give us the VIP room without a booking even that late in the evening. It would have been really difficult for the bikes to march ahead in the pitch dark on a slippery and wet Jalori, so the safaris took upon the challenge.
We decided to march on instead of them, and in hindsight, it was a good call. The bikes would have had a lot of difficulties at that hour climbing on a patch which was eventually done in 4L by both our vehicles. The last part of the Chitkul to Jalori Pass drive was completed in complete dark.
Shoja
We reached Shoja at about 9:30 pm or so, with not a soul in sight. We stopped by a few hotels but they were all closed. I guess Jalori had just about open for vehicles and the guesthouses were still preparing for logistics to open for the season.
After attempts at about half a dozen hotels, I thought of calling up our friends at Camp Himalayan at Banjar. I half expected her to sound asleep that late – and so she was. Sleepily she explained the directions and asked us to not think twice and come along to her resort. God bless you both, Sumit.
Banjar
We managed to reach the resort at about 10:30 pm or so and the staff guided us to our cottage for the night. We hung around for a while and eventually hit the sack at about 1:30 am or so, after chit-chatting a bit.
It had been a long day, and yet again we were in a place with no directional bearings for the next. Nevertheless, tomorrow will be tomorrow and something or the other will be figured out. Please click on the link above to continue reading the next part of the travelogue.
Chitkul to Jalori Pass to Banjar – Conclusion
I hope the travelogue on a winter road trip from Chitkul to Jalori Pass to Banjar was of help. If you have any questions or need any other details, please feel free to ask in the comments section below or at our Community Forum, and I will be happy to answer.