This article is in continuation with a previous one and a part of my winter trip to Kinnaur, Tirthan Valley, and Prashar Lake. We started for Spiti Valley but due to heavy snowfall and blocked roads, had to change the plans at the last minute. The post below details our journey on the 4th day of the trip when we traveled from Banjar to Jalori Pass to Tirthan Valley, and finally arrived in Manali. Please click on the links below to read the previous part of the travelogue.
Journey So Far: 
Traveling from Chitkul, we crossed Jalori Pass in dead of the night. It was a difficult drive with a lot of slush on the roads. We had trouble finding a place to stay at Khanag and Shoja. Finally, we arrived in Banjar and checked into the resort of a friend. By the time we went to bed, it was already 1.30 am.
Day 4: Banjar to Jalori Pass to Tirthan Valley to Manali
Although we had slept late, I was up by 7:30 am or so. Fresh mountain air and the chirping of birds do that to you. In this case, it was a woodpecker going at it, against the window of the attic above.
The cottage in which we had spent the night was deceptive. It was a multi-storied cottage and with a sleeping capacity for about 6-7 adults. The interiors were very well done with everything in wood. Such cottages spread across their huge complex – giving privacy to individual cottages at the same time.
Also Read: How to Plan a Trip to Tirthan Valley
The views were idyllic and one could stay and perhaps read a book, and enjoy the comforts of the lovely resort. Sadly, we are just too young and energetic with too much pent-up energy to enjoy a vacation such as this, at least till now.
The beasts parked and ready for more action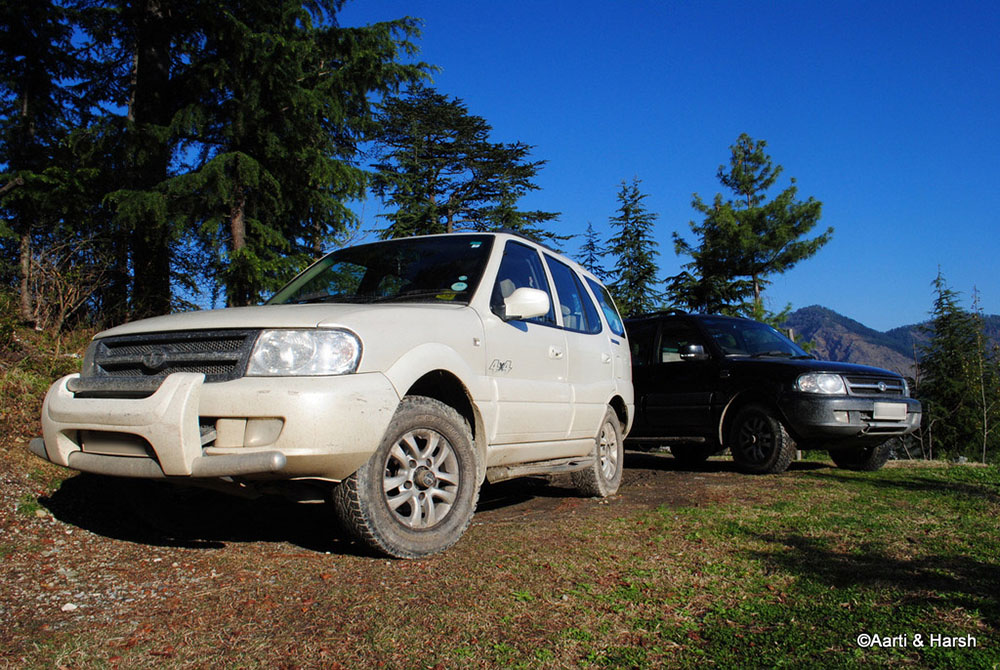 Camp Himalayan – or as they proudly call it the mother's lap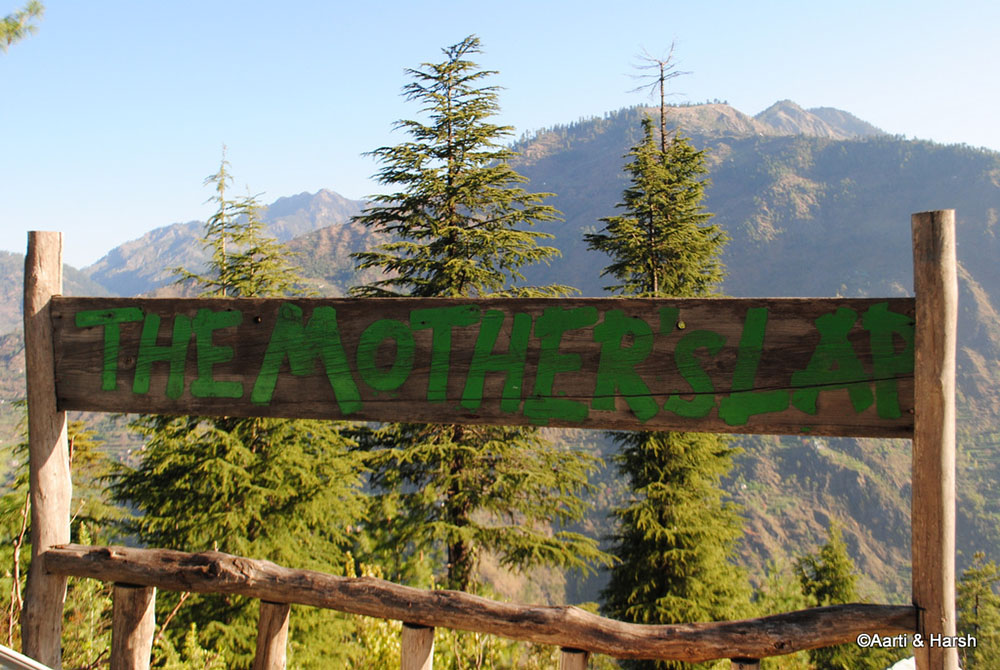 The dining area was lovely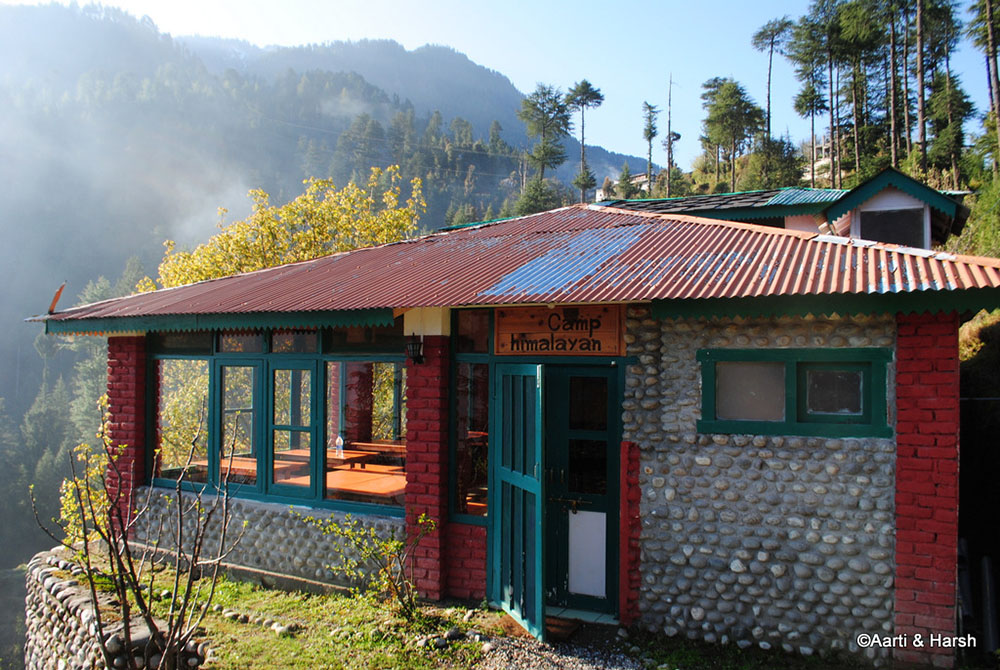 The entire complex has lots of trees inside it, make it picture perfect. One can see the cottages lined up at quite some distance from each other. An apple plantation is all that separates two cottages.
A sparrow? is it?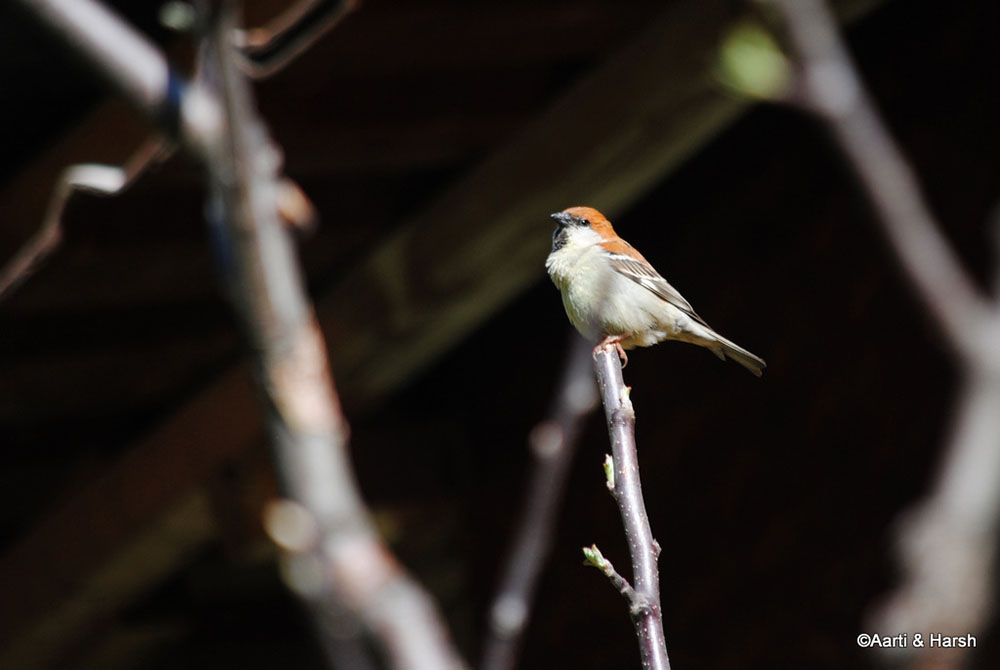 Camp Himalayan – Banjar
The Singhs were sleepy and were still in the attic upstairs. Aarti was getting ready while I decided to go out for a stroll and try to capture the beautiful property. Sadly, I could not do justice to the place.
Up in the dining area above, a lavish breakfast was waiting for us. Sumit's wife was also up and about and we caught up over a nice cup of tea. There were other guests staying at the resort as well. I ended up having a long conversation with people around me who had given up their city life to dwell in the Tirthan valley.
Feelings of jealousness were upon me and it reached a crescendo when a huge german shepherd ambled inside the dining area. Aarti joined in soon too and the breakfast went on, I think it lasted for a good 3 hrs in total.
Time flies by when you are in the company of like-minded people, a phrase that would essentially sum up this trip eventually.
The Singhs joined us soon, and we discussed the plans ahead. They had to start heading back home the next day while we had another day to kill in the mountains.
A consensus was reached and we all decided to head towards Jalori and then head our separate ways to bid adieu at the Aut tunnel. The Singhs would move onward towards Punjab, their hinterland while we would move towards Manali – one of the few 'hill-stations' that Aarti & I still love.
Also Read: How to Plan a Trip to Jalori Pass
Jalori Pass
The Jalori Jot ascent on this side of the mountain is far more treacherous than from the Khanag side. Even on a bright sunny day, with mostly dried-up slush it is a killer.
I remember an over-heated Sumo Grande the last time we did this stretch with a group of friends. Kiyang had no such qualms on climbing Jalori though – the progress was slow but steady. Who would have known that two short and successive meets were on the cards on the climb.
First up was Akshay along with his friend who was headed towards Tirthan valley for the day. After filling up his friends' punctured bike I proceed ahead, only to bump into the rallying Sardar of the forum – Jasdeep. It was a pleasure to briefly interact with him for the first time – face to face.
Jalori Top
It was overcast again by the time we reached the top and a hailstorm started soon thereafter. We took shelter at a Dhaba at the top where a pleasant conversation ensued with the owner.
Dhaba Owner (DO) : Kitni umar hogi aapki wife ki (pointing to Aarti) – (What is her age?)
Me: xx years. (Of course, I'm not going to share that here!)
DO: Aur, Aapki shaadi ko kitne saal ho gaye? (How long have you been married)
Me: x years. (Again confidential information)
DO: Aap apne bacchon ko nahi laaye ghumaane? (Why didn't you bring your kids along on this trip?)
Me: Abhi bacche hue nahi hai! (We don't have any kids yet).
DO: Oh, Tab aap is mandir mei zaroor jaana. Is mandir mei jo bhi shraddha ke saath jaata hai, uski muraad zaroor puri hoti hai. (Then you must go to this temple and pray for kids of your own).
It took me a while to comprehend that the dhaba owner believed that we are trying for kids and not able to manage one of our own. I thought of explaining to the dhaba owner the concept of delayed progeny but then thought otherwise.
Me: Jaisa aap theek samjhe, Zaroor (definitely, I shall seek blessings).
Up at a white Jalori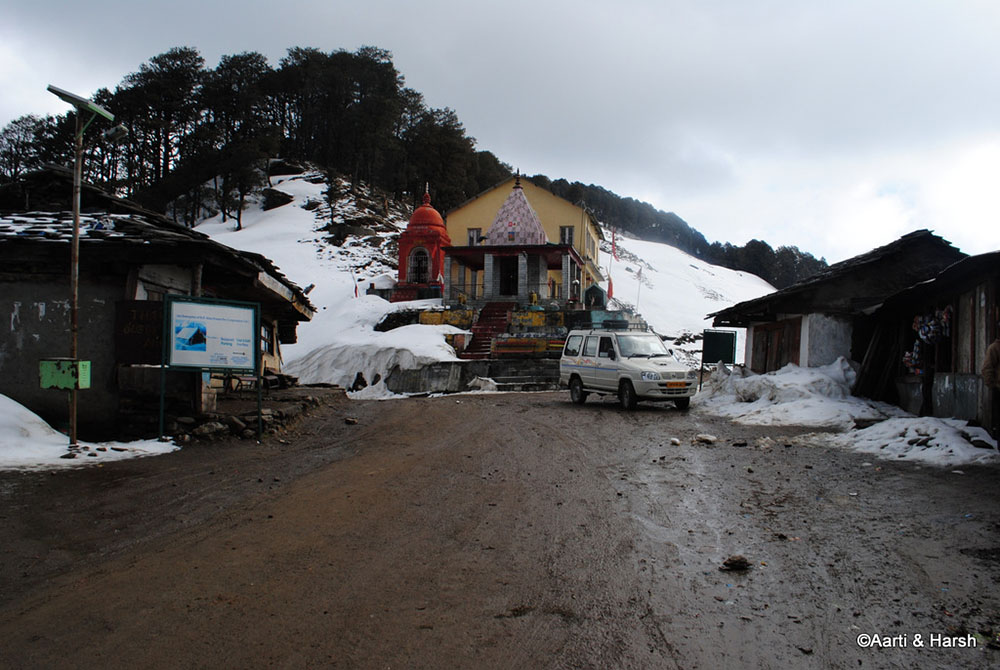 The walk towards Seruvalsar lake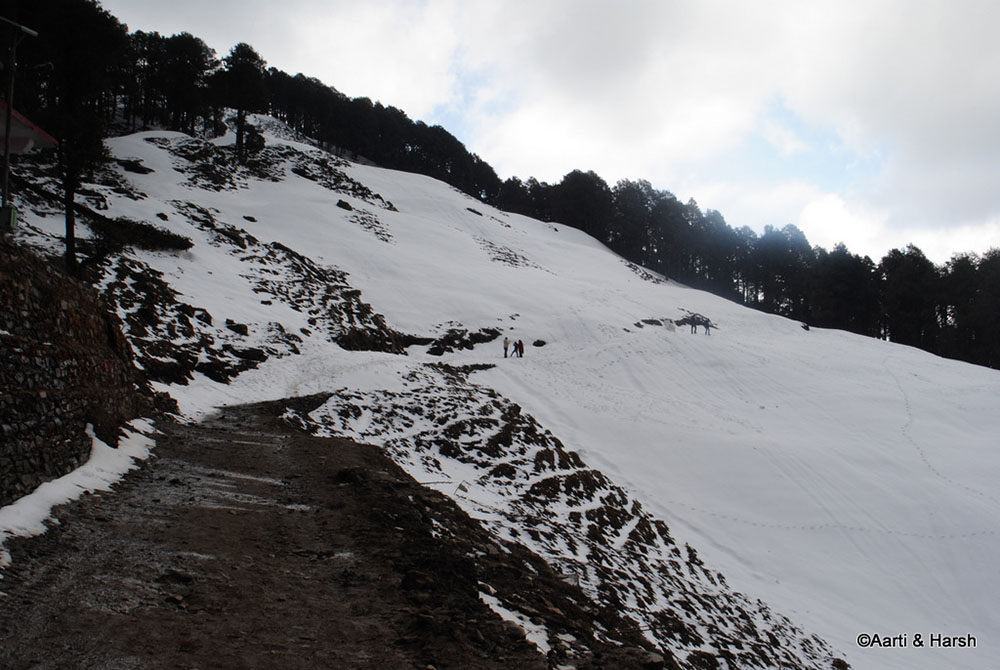 Tirthan Valley
Once the hail abated, we started our descent. For some reason, the passenger window was not rolling back up so we had to search for a denter painter workshop somewhere in Banjar.
We rolled downhill and found one such mechanic right by the river. He took an hour to 'jugaad' fix the power window after which we headed towards the Tirthan valley for a quick spin before the group split for their separate ways.
Also Read: When is the Best time to visit Tirthan Valley
Little did I know we had another meetup lined up. Phamilyman was in the valley with his phamily and was put up at Raju's guest house. A round of cuppa and biscuits at a dhaba ensued as we chatted each other up for a while.
It was only by 4 pm or so that everyone broke up and went their separate ways. Phamilyman went with his phamily to Raju's cottage, the Singhs bid adieu at the Aut tunnel while we headed towards our final destination of the trip – Manali.
The green Tirthan valley. A colorful Tirthan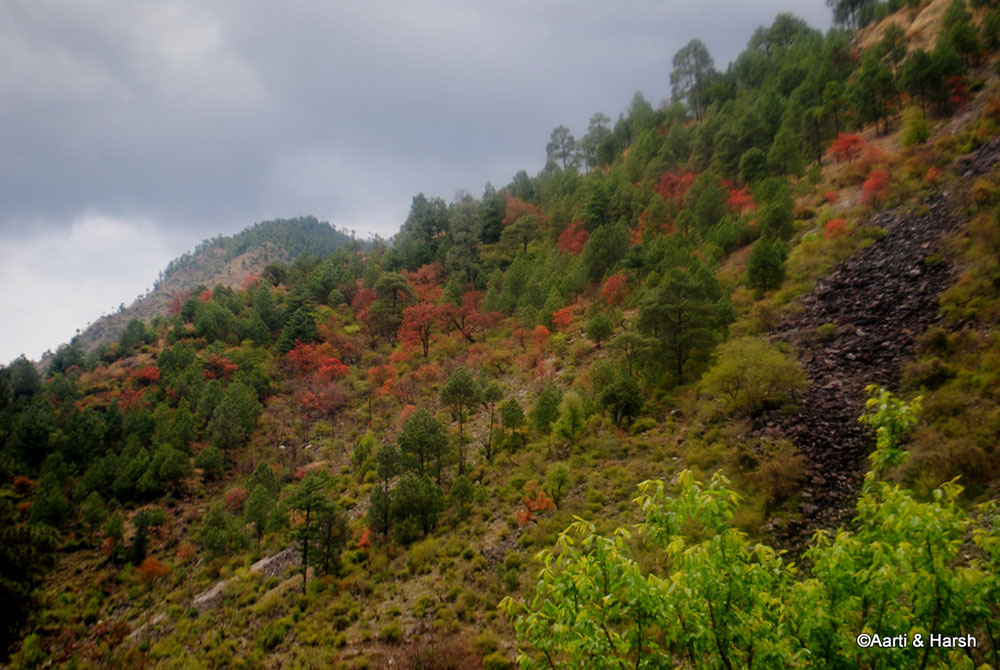 Tirthan river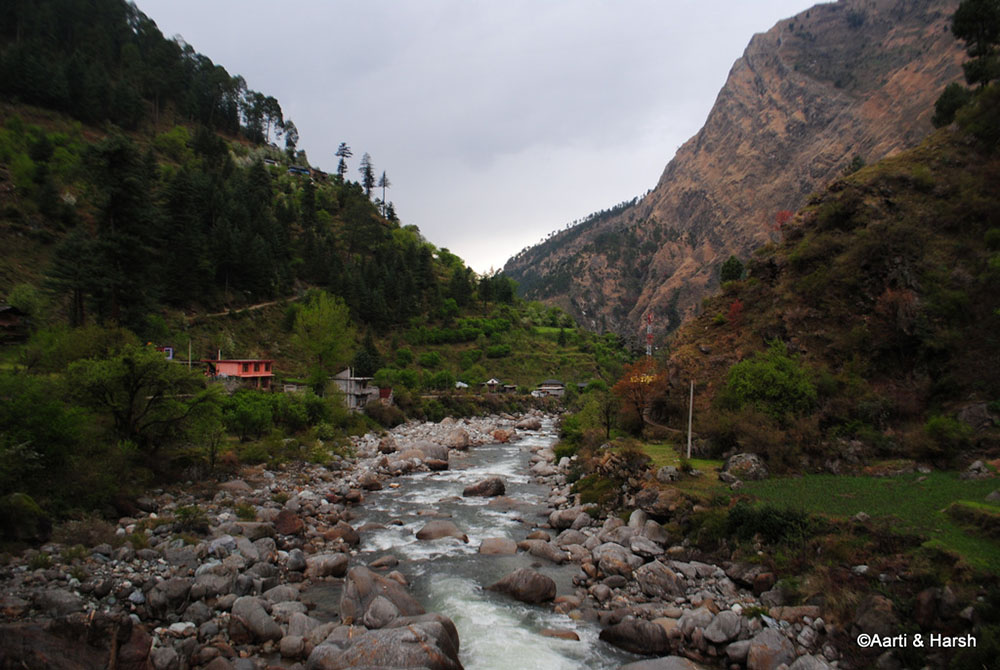 Step farming at its best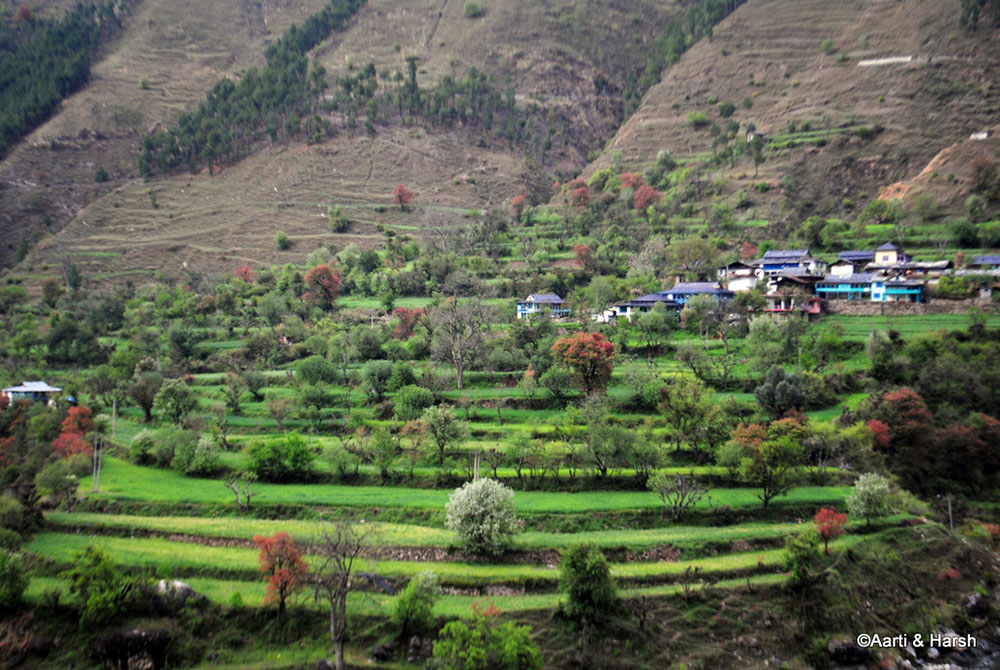 ​Manali
En route, we figured that our favorite hotel was available, a rarity for Johnson's lodge. Seizing the opportunity we booked it over the phone and were there at their gates by dinner time. A debate ensued on where to eat and for the umpteenth time, Il Forno won hands down – however, the restaurant was still to open for the season.
Thankfully our alternative dining option was lovely as well with fresh trout being served hot in all kinds of sauces. We chose one portion of garlic butter and the other was walnut if my memory serves me right.
Post dinner it was time to find some sweet nothings at the mall road, sadly the bakeries down there were pathetic and we treated ourselves to some lovely hot gulab-jamun sold on the roadside. It was culinary heaven.
The plan for the next day was decided, we had to go towards Rohtang, at least as far as up they would let us. And by they, I mean both the HP administration as well the lord almighty above. Please click on the link above to continue reading the next part of this travelogue.
Banjar to Jalori Pass to Tirthan Valley to Manali – Conclusion
Hence ended another adventure day of a trip that was going completely unplanned but was fun nonetheless. We moved from one place to another and decided on the next right in the morning.
I hope the travelogue, pictures, and information above traveling from Banjar to Jalori Pass, Tirthan Valley, and Manali were of help. If you have any questions, please feel free to ask in the comments section below or at our Community Forum, and I will be happy to answer.