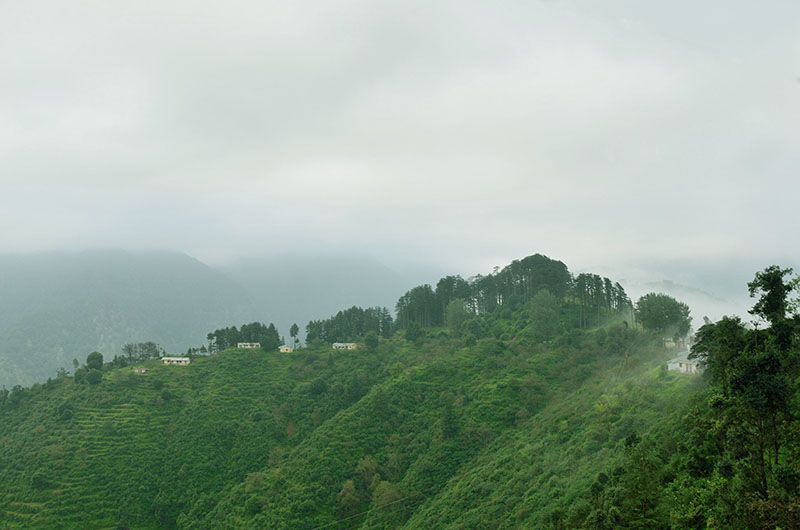 In this Binsar travel guide, I will provide details on how you can plan a trip to this hidden gem of Uttarakhand. Located in the Kumaon region, Binsar can be a great offbeat destination to spend some time away from the crowd. For people who tend to avoid crowded tourist destinations like Nainital, Shimla, or Manali, Binsar in Uttarakhand will surely turn out to be a pleasant surprise.
What is there to see in Binsar? A straight answer to this question is the stunning natural beauty and magnificent views. Located inside a protected forest, this place is a heaven for anyone with interest in wildlife, bird-watching, photography, ancient architecture, trekking, camping, or just the natural beauty of the mountains. The serenity of the entire region is perfect to relax in and rejuvenate yourself.
The place is within a stone's throw from the town of Almora but it almost never gets crowded. The weather remains pleasant throughout the year with a chance of snowfall in the winter season. How you can reach here, what to see and where to stay are some of the details I will cover in this post.
About Binsar
When we say Binsar, we are talking about two places. One is the small village of Binsar and the other is the Binsar Wildlife sanctuary. Both the places are located in the same region though, right next to each other. It is hard to say which is named after which but this entire area is known as Binsar Valley.
Binsar is now just a tiny village, one of many in Uttarakhand. But in ancient times, this place was the summer capital of the Chand Kings, who ruled over Kumaon from the 11th to 18th centuries AD.
Binsar Wildlife Sanctuary is a protected forest that was established in 1988 for the purpose of saving the shrinking broad leaf oak (Quercus) forests of the Central Himalayan region. It is spread over an area of 46 km2 and is home to 25 types of trees, 24 types of bushes and 7 varieties of grasses, 200 species of birds, and many reptiles and butterflies.
The upper reaches of the forest are covered with oak and rhododendron trees. In March and April, the entire place turns into a spectacular sight as the flowers, especially ruby red rhododendron, are in full bloom.
Various mammals like Leopards, Red Fox, Jungle Cat, chital, musk deer, and black bear have also been sighted in the forest.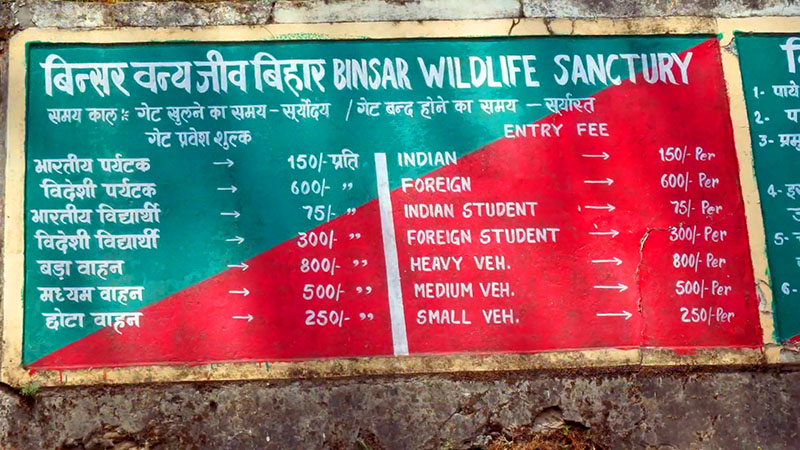 Where is Binsar in Uttarakhand
Binsar is located at a distance of 25 kilometers from the town of Almora. From Nainital, the distance is about 88 kilometers and from Delhi, it is a total of 380 kilometers away.
How to Reach Binsar
Binsar is very well connected by a motorable road. In fact, the roads in this region are some of the best ones all over Uttarakhand. Depending on your preference, you can either drive in your own vehicle or travel by means of public transport.
Let me first talk about how you can reach Binsar by road. For this part, I will assume Delhi as your starting point. Even if you were coming from a different city though, only the journey before Naintail may change. The rest will still apply.
How to reach Binsar from Delhi by Road
Starting from Delhi, below is the route you will take to reach Binsar.
Delhi – Ghaziabad – Moradabad – Nainital – Almora – Binsar
There can be a few other routes that you can take but this one is probably the best way to reach Binsar from Delhi. You will travel a total of about 380 kilometers in 9 to 19 hours. From Delhi, take the newly built Bareilly Highway until Moradabad. From there, drive to Nainital via Bazpur and Kaladhungi. After Nainital, you will continue to Almora and finally to Binsar.
The road from Delhi to Moradabad is super smooth. Between Moradabad to Nainital is a mix of good and bad. After Nainital, it will turn smooth again till Almora. Once you cross Almora, you will drive uphill gaining significant height for the next 25 kilometers till Binsar.
Also Read: Harsil – A COMPLETE Travel Guide and Itinerary
By Bus
Traveling to Binsar by Bus can be a little tricky and you will have to break the journey in multiple parts. Your only chance of finding a direct bus to Binsar is from Almora. Even from Almora, you may not get a direct bus and may have to look for a shared cab as the frequency of the service is not that great.
What you can instead do is to board any bus going towards Bageshwar and get down at either Papar Saili or Ayarpani. From both these places, you can get a shared cab for Binsar.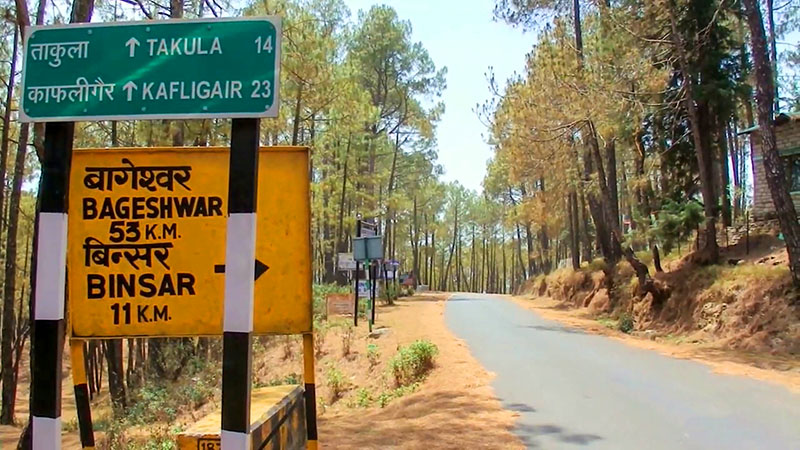 By Air
The nearest airport to Binsar is in Pantnagar, at a distance of 140 kilometers. Once you land, you can get a taxi for Binsar from the airport itself. It will take you about 4-5 hours from Pantnagar to Binsar. From Pantnagar, a taxi for Binsar will charge between Rs. 3000 to Rs. 4000.
Also Read: Lohaghat – A COMPLETE Travel Guide and Itinerary
By Train
The nearest railway station to Binsar is in Kathgodam, at a distance of 105 km. From the railway station, you can easily find a taxi for a drop to Binsar. Depending on your negotiation and type of taxi, it will cost you anywhere between Rs. 2000 to Rs. 3000.
Best way to reach Binsar from Delhi
The best way to reach Binsar from Delhi is by road and your own vehicle. If that was not an option, you should board a bus for Almora and reach Binsar from there.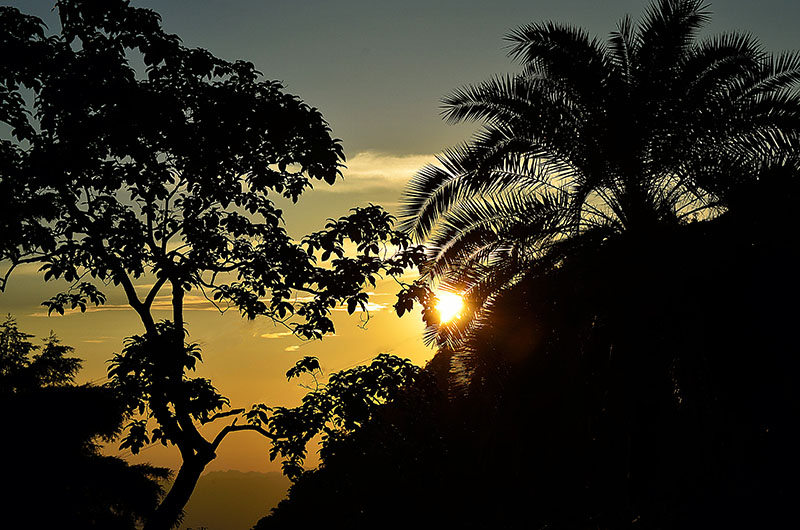 What to see in Binsar
The natural beauty of the place is its primary attraction. The place sits beautifully surrounded by a dense forest and provides a great escape from the hustle and bustle of regular city lives.
With that being said, there are a few places that are worthy of mention. I have in fact covered this topic in a different article, Places to visit in Binsar Valley, that I will urge you to visit. But for a brief summary, below is a list of tourist places for local sightseeing in Binsar.
Binsar – A small village that is really the heart of the valley
Binsar Wildlife Sanctuary – A dense forest spread over an area of 46 km2 and home to several rare trees, birds, reptiles, and mammals
Wildlife Sanctuary Museum – A small museum inside the sanctuary where you can also buy some souvenirs.
The Views: Amazing views all around
KMVN Rest House: A beautiful guest house located inside the sanctuary where you can stay during your trip
Zero Point: A vantage point that offers a 360-degree view of the valley
Pariyadeva Pashan: Another vantage point that is also an archaeological site
Bineshwar Mahadev Temple: An ancient temple dedicated to Lord Shiva
Gairar Golu Devta Temple: Another old temple dedicated to Golu Devta
Kasar Devi Temple: Located on the way between Almora to Binsar
Crank's Ridge / Hippie Hill: Best known for the Hippie culture. A favorite place among Israelis.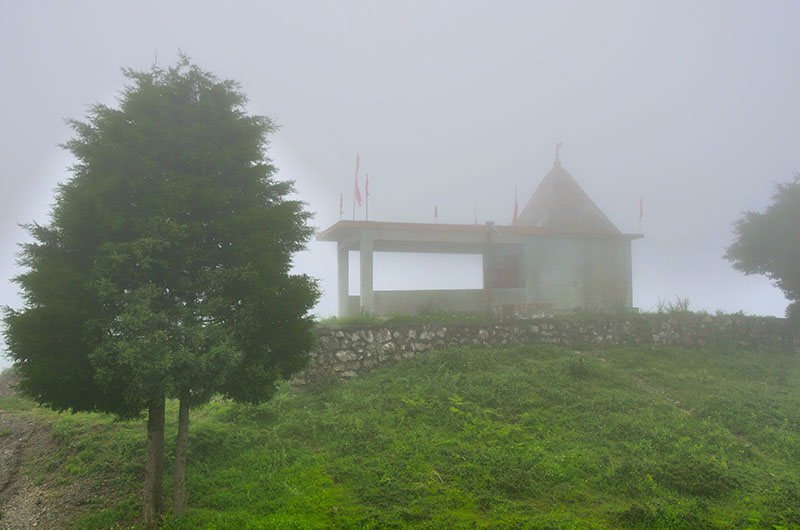 Things to do in Binsar
Other than sightseeing at the places mentioned above, listed below are some other activities that you can do in Binsar.
Photography
Enjoy the Night Skies
Bird Watching
Trekking / Walking
Observe the Local Culture
And that is pretty much it. Binsar is not a place to run around all day long from one place or activity to another. For a vacation like that, you should stay back in Nainital or maybe head towards Shimla and Manali.
But when you come to Binsar, the best thing to do is nothing. Just relax, slow down life for a little while, enjoy the views, go on nature walks, and rejuvenate yourself.
For more details on these places and activities, please read Places to visit in Binsar Valley and Things to Do.

Weather of Binsar
Due to its high altitude, the weather of Binsar remains mostly cold throughout the year. The change in the climate is really between cold to mildly warm weather. The region receives a significant amount of rain each year and there is also a small chance of snowfall during the winter season.
Binsar in Summer
Summers here are short, lasting from April to June. The climate in these months is moderate and pleasant with the average temperature ranging between a maximum of 30°C to a minimum of 15°C. Days will be moderately warm with clear and sunny skies but the nights can still get a little cold and you will surely need a blanket to seel in. There can be a sudden change in the temperature even during the day and you should remain prepared for that.
Also Read: How to Plan a Trip to Munsiyari
Binsar in Monsoon
The entire region starts to receive pre-monsoon showers by the end of June and it continues to rain well until September. It rains quite significantly here and it would be wise to take a look at the weather forecast before planning a trip in the monsoon season. Sometimes it can continue to rain for days and the resulting landslides can wash away entire sections of the roads. The average temperature will range between 25°C to a minimum of 15°C.
On a positive side, the monsoon season is when the views are at their best. The hills and the valley will seem as if it has just been washed clean. The rain brings to life the flora and fauna in the forest, covering everything under a carpet of green. This is when the views are at their best.
Binsar in Winter
Autumn arrives in October and all that was green in September will now turn Orange, giving a magical golden touch to the entire area. Winter settles in by end of October and lasts well until March. The average temperature in the winters ranges between 15°C to a minimum of 5°C. It rarely snows in Binsar and even when it does, the intensity is not that great.
If snow was on your mind then Binsar may not be the right place to go to. But is the best time for bird watching and enjoying pleasantly cold weather.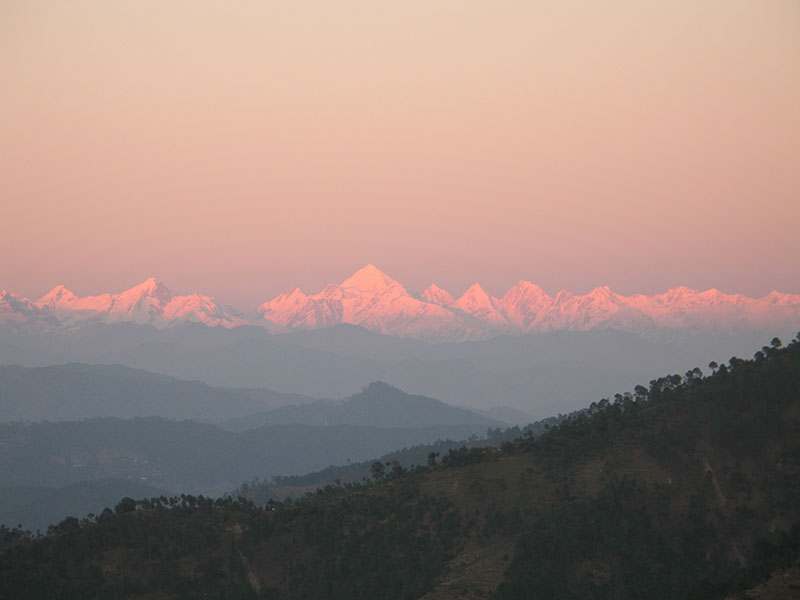 Temperature in Binsar
Below is how the temperature trends in Binsar in the year. The numbers mentioned below are in Celsius.
| | | |
| --- | --- | --- |
| January | 13° | 2° |
| February | 18° | 2° |
| March | 20° | 5° |
| April | 25° | 8° |
| May | 30° | 14° |
| June | 30° | 17° |
| July | 26° | 17° |
| August | 25° | 18° |
| September | 25° | 17° |
| October | 24° | 11° |
| November | 23° | 8° |
| December | 17° | 2° |
Best time to visit Binsar
Now based on the information above, I believe it is safe to say that the best time to visit Binsar is from April to September or in early October. But it will completely depend on what you seek and a few other factors. For a family trip, April to June will probably be the best because of the pleasant weather. But if photography was on your mind, you should plan between July to September.
If you were on a budget trip, you should visit in July or August. Because of the monsoon season, there will be lesser tourists in the area and you will have a good chance of getting a good deal at the hotels. For a bike trip, you must avoid the monsoon season. If bird watching was on your mind, you should visit between November to February. For more details, please take a look at When is the Best time to visit Binsar.
Clothes to Pack
If you were visiting in the summer season, just pack your regular cotton clothes along with a light jacket and it will suffice. For a winter trip, you must pack all your heavy woolens, warmers, cap, and gloves. For a trip in July or August, you should bring clothes that can dry faster, like polyester. Carrying an umbrella or poncho too would be wise at this time.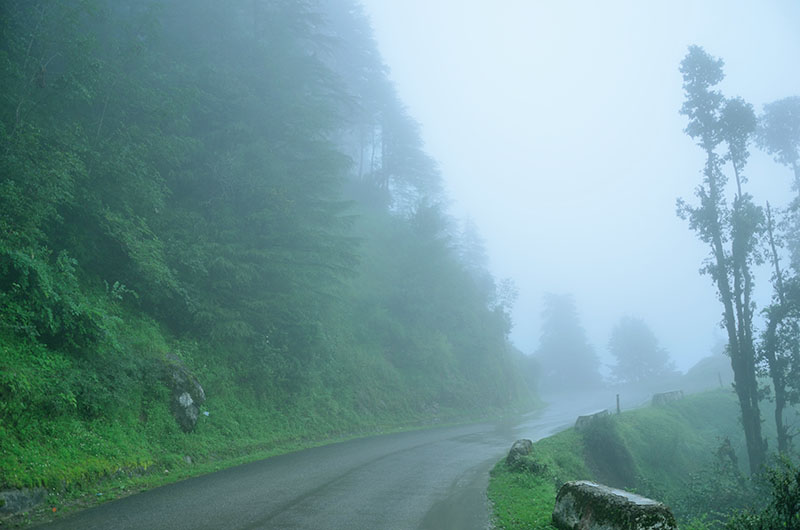 Itinerary for Binsar
Your final travel plan will of course depend on several factors like time in hand and your mode of travel but below is a sample itinerary that you can follow for your trip. If you were coming from a place like Delhi, Binsar can be a perfect destination for even a weekend or an extended weekend.
Day 1 – Delhi to Binsar
I would recommend an early start from Delhi so that you are able to reach your destination well in time. If you started by 4 AM, it will also give you some time to spend in Nainital at the lake. Reach your hotel by evening, check-in, and rest for the rest of the day.
Day 2 – Sightseeing in Binsar
It is entirely up to you how you want to spend your second day. My recommendation will be that you take a walk through the sanctuary and go to the zero point. During the evening, you can come to Binsar village and visit the Mahadev temple.
Day 3 – Relax or Drive down to Nainital
If you had another day in hand, you can spend it in either Binsar just relaxing or drive down to Nainital. I will advise that you first half of the day in Binsar. Have lunch there, check out of the hotel and drive down to Nainital. Check into a hotel here and spend the evening at the lake. You can also shop in the market and eat out at the restaurants here. This will also reduce your travel time the next day.
You should also visit the Kasar Devi temple and the village, also known as Hippie Village or Crank's Ride.
Day 4 – Return to Delhi
On the 4th Day, you will drive back to Delhi via the same route you took to get there. If you had more than 4 days in hand, Chaukori is another place that you should add to your itinerary. It is about 100 kilometers from Binsar. On Day 3, rather than coming down to Nainital, you can instead continue to Chaukori and spend time there. For more details, please take a look at How to Plan a trip to Chaukori.
By Public Transport
If you were traveling by Bus, a wise choice would be to board the overnight bus from Delhi to Almora. From there, in the morning, look for a bus or shared taxi to either Binsar or Bageshwar. You can explore the area on foot for the next 2 days and then return by Bus to Delhi.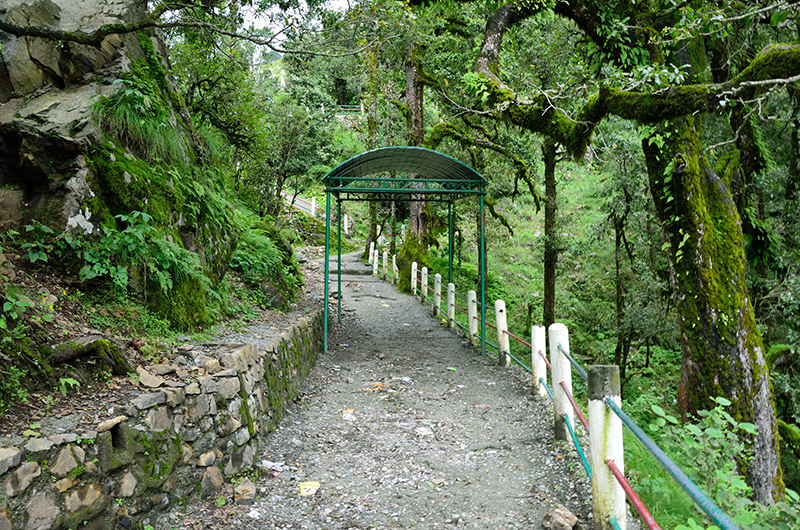 Where to Stay in Binsar
My favorite place is the KMVN rest house inside the wildlife sanctuary. It is a good place that is also reasonably priced and can also be booked at the KMVN Online portal.
There are a lot of other hotels in this area so if not KMVN, you can opt for another per your liking. Kasar Devi village or Papar Saili is a preferred place among backpackers, hippies, and Israelis. So for budget accommodation, you can look for accommodation here.
There are also a lot of resorts in this area. A friend of mine stayed at Mohan's Binsar Retreat resort and Club Mahindra resort and spoke greatly about both. If the budget was not a problem, you can stay in these places.
Where to Eat
If you were staying at the KMVN rest house, you will have to eat at the rest house only. There is of course no restaurant inside the wildlife sanctuary. Outside the gates, there are a lot of restaurants but they are all a few kilometers away. If you were out for a drive, you can eat out otherwise you will have to eat at your hotel or resort only.
There are a lot of good eateries around Kasar Devi temple and at Papar Saili village. I think it is because of the entire Hippie thing associated with the place.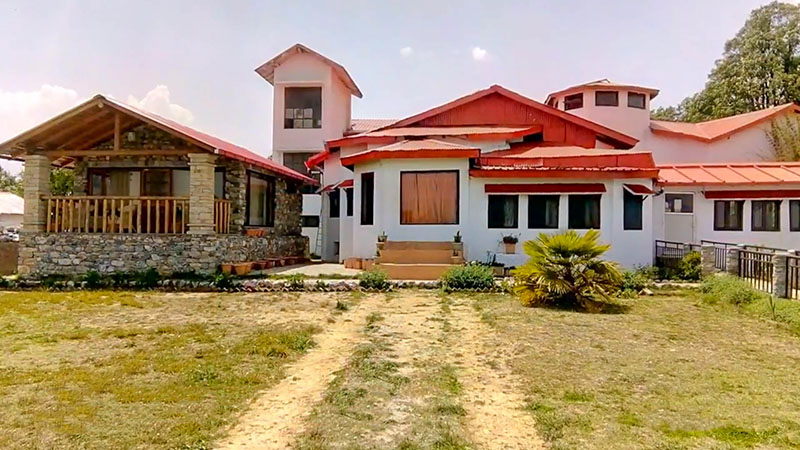 Shopping
The museum at the sanctuary sells small items that can be bought as souvenirs. Otherwise, there is nothing to buy in Binsar really. If you want to do some shopping, you should try the market in either Almora or Nainital.
Other Facilities
Mentioned below are other details that can be of help planning the trip.
Phone Connectivity
BSNL has the widest coverage in all of Uttarakhand but in Binsar, all phones work well. Irrespective of which network you were on, you will have good reception at all places.
Banks / ATMs
The nearby town of Almora has branches and ATMs of all major banks but there is no ATM in Binsar. I will strongly recommend carrying enough cash to last the entire duration of the trip.
Hospital / Medical Assistance
There are several big hospitals in Almora, capable of handling all kinds of medical emergencies. Other than Almora, there is also a primary hospital in Basholi which is about 10 kilometers from the point where the road towards the wildlife sanctuary bifurcates.
Petrol Pump / Mechanics
The nearest petrol pump and mechanic is available in Almora. On the route as well, you will keep coming across gas stations at regular intervals and it will not be a problem.
FAQs
Below are a few commonly asked questions about visiting Binsar.
Where is Zero point in Binsar?
Zero point is located inside the Binsar wildlife sanctuary and at a short distance from the KMVN rest house. Ask any of the staff members and they will point you in the right direction.
Where is Binsar wildlife sanctuary Located?
The wildlife sanctuary is located near the village itself and you will come across the gate as you drive by.
Where is Binsar Valley?
The entire area that the village and the wildlife sanctuary is located in is known as the Binsar Valley.
How to reach Binsar valley from Mumbai?
If you were coming from a distant place like Mumbai, Kolkata, or Pune, the best option would be to travel to Delhi by Bus or train and then reach Binsar by road.
How to reach Binsar from Dehradun?
If you were traveling from a nearby place like Delhi, Dehradun, Chandigarh, or Moradabad, it would be best to travel by road by your own vehicle. If that was not an option, you can board a bus for Almora and then find another bus to Binsar from there.
How to reach Binsar from Nainital?
If you were in Nainital, try to find a bus for Bageshwar. This can drop you at Binsar. If you could not find one, you will have to look for a mode of transport for Almora and then go to Binsar from there.
How to reach Binsar from Kathgodam?
There are two trains from Delhi to Kathgodam daily. From the Kathgodam railway station, find a shared taxi that can drop you at Haldwani Bus stand, about 5 kilometers away. From Haldwani, look for a bus to either Almora or Bageshwar.
Does it snow in Binsar?
Yes, it does snow in Binsar but on very rare occasions. You should call the hotels in advance and inquire about the weather before leaving home if finding snow was on your mind.
When will it snow in Binsar?
Chances of snowfall in Binsar are between late December till the end of January.
Binsar is famous For?
Binsar is best known for its natural beauty, stunning views, and the wildlife sanctuary.
How to reach Binsar from Delhi by bus?
There are regular buses from ISBT Kashmere gate Delhi to Almora, both in the night and during the day. My recommendation will be to board an overnight bus, reach Almora in the morning, and look for a shared cab for Binsar from the bus stand.
Why should you visit Binsar?
Binsar is a great place to just relax for a few days. You should visit here only to enjoy the peace and tranquility of the place. Just enjoy the views, click plenty of pictures, go on nature walks, and have a great time.
Conclusion
I hope the information above on visiting Binsar was of help. If you have any questions or need any other details, please feel free to ask in the comments section below, or at our Community Forum, and I will be glad to answer.