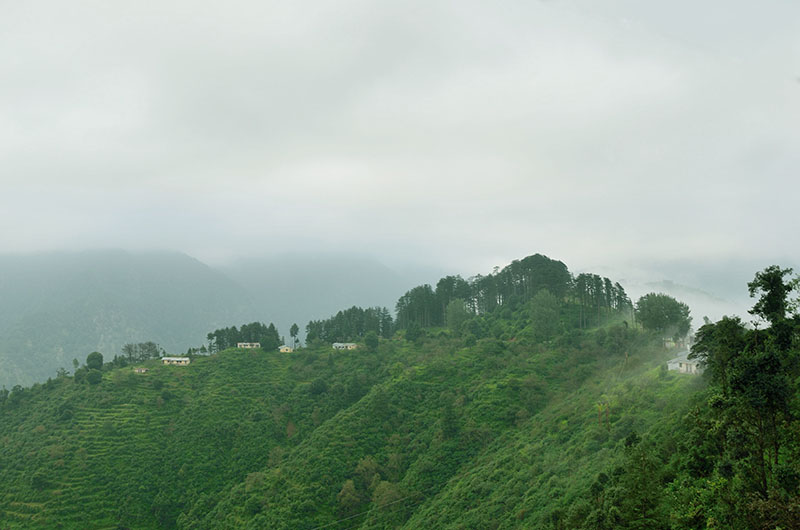 If you think about it, there can never really be a straight answer to the question of the best time to visit Binsar. Why? Because it will be different for everyone. When to go depends on what you seek. Usually, the months of April to June are considered to be the best time to visit Binsar Valley. But will this suit you as well? Read on to find out.
A trip to Binsar is mostly planned together with a couple of nearby places like Munsiyar, Kausani, or Chaukori. If you had about a week in hand, you can spend time in the hills of Kumaon and explore these silent little hill stations. But even if you were short on time, you can just plan to visit Binsar and it will still turn out to be a great vacation.
Please note that in this article, I will only be discussing the weather of Binsar and when can it be a good time to visit here. If you need other details like how to reach, where to stay, what to see, please take a look at Binsar – A Complete Travel Guide and Itinerary.
About Binsar
When we say Binsar, we are actually talking about two places. The first is the town of Binsar. It is a quiet little place, about 88 kilometers from Nainital, in the Kumaon region of Uttarakhand. It was once the summer capital of the Chand Kings, who ruled over Kumaon from the 11th to 18th centuries AD.
The second place that Binsar refers to is the Binsar Wildlife Sanctuary. It is basically the forest that surrounds the Binsar village. It was established and given the status of a national park in 1988 for the purpose of saving the shrinking broad leaf oak forests of the Central Himalayas.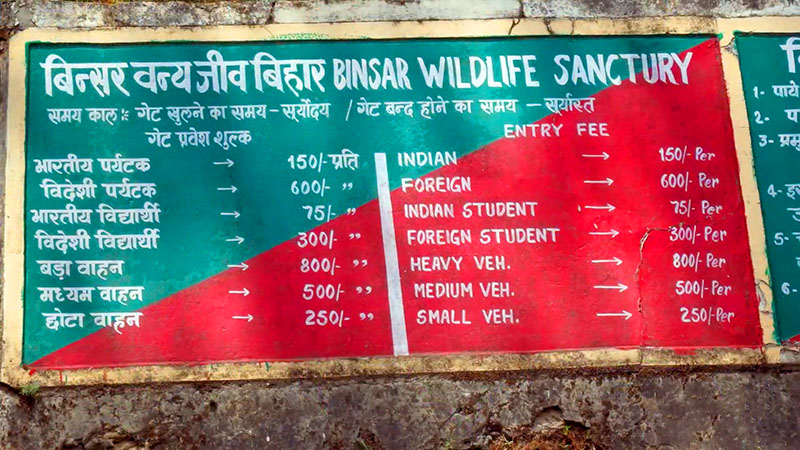 Weather of Binsar
Due to its high altitude, the weather of Binsar remains pleasantly cold throughout the year. It rarely gets hot here except for the months of May and June when the day temperature can sometimes go even beyond 30°C. But even then, in the night, you will surely still need a light blanket to sleep in. The average temperature in summers ranges between 17°C to 30°C. Binsar receives quite a bit of rain during the monsoon season but chances of snowfall here are very rare.
Below is a month by month breakdown of how the weather and situation in Binsar trends in the year.
Binsar in November
The weather starts to turn cold in Binsar by the end of October and November officially marks the beginning of the winter season. You will surely need to bring in your heavy woolens for a trip to Binsar in November. The temperature will drop down to an average of 15°C maximum and 7°C minimum.
November overall is a bad month to go because the scenery at this time is very dull and dry. The weather will be cold and there won't even be any snow around. This however is a good month if you want to go on trekking or get a view of the distant Himalayan range.
Also Read: Places to visit in Binsar – What to see in Binsar
Binsar in December
The weather will continue to get colder with temperatures dropping further down to an average of 12°C maximum and 2°C minimum. If the idea of your winter trip was to find snow then you should plan towards the end of the month, possibly after the 20th. This is when places like Munsiyari and other high altitude areas start to receive snow. If there was going to be a snowfall in Binsar as well, it will surely be after the 20th.
Binsar in January
January is the coldest month of the year. The average temperature will range between 10° maximum to 0° minimum. January is another good month to go if it was the snow that you were after. Don't forget to pack all your warm clothes and heavy woolens. Please make sure your jacket also has a hoodie to protect your head and neck. If it does not, pack a cap and muffler as well. Gloves will be needed as well.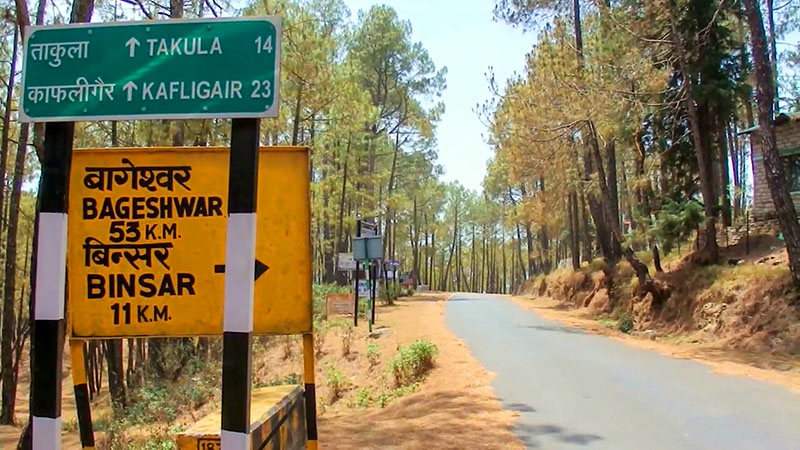 Binsar in February
Chances of snowfall in February are almost next to none. The temperature will range between 15° maximum and 2° minimum. It is a good month to visit for bird-watching and a budget trip. With not many people around, your chances of getting a good deal at the hotels will be significantly higher.
This entire duration of the winter months is actually best for bird watching and planning a budget trip. As I mentioned, it rarely snows in Binsar so you will not find many tourists. Most of the people will rather visit areas where the chances of snowfall are higher.
Also Read: Chaukori – How to Best Plan your Trip and Explore
Binsar in March
This is another good month for a budget trip. The temperature will range between 17°C maximum and 5°C minimum. These are however just the average numbers and at nights, it may very well drop even further down to 0°C. March is a dry month which makes it an ideal time to go on trekking and to get clear views of the surrounding peaks from anywhere in Binsar.
For a trip in the winter season, you would definitely have to pack your winter clothing. Bring your heavy woolens, gloves, and thermals along. You should also pack moisturizers, lip balm, and cold cream. The dry weather and the winds at this time will surely take a toll on your face and skin.
Binsar in April
April marks the beginning of the spring as well as the tourist season in Binsar. This is when things really turn pleasant. Snow will get limited to only at the top of the distant hills but the views will be very clear. This is another good month for outdoor activities. The temperature will range between 20°C maximum and 8°C minimum.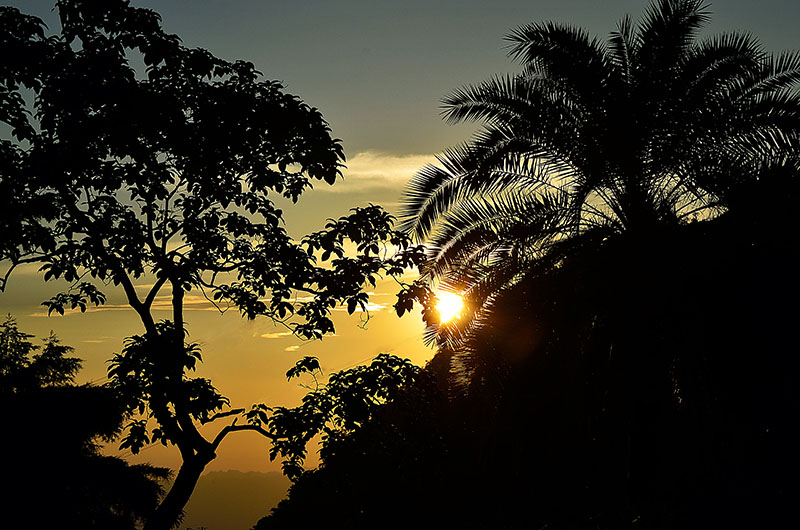 Binsar in May
The months of May and June are when Binsar receives the majority of its share of tourists. With vacations on in the schools, you will find a lot of families in the region. The weather will be very pleased with moderately warm days and pleasantly cool nights. The skies will be sunny and clear and you will get a clear view of the western Himalayan range from Binsar. The temperature will range between 25° maximum and 15° minimum.
Binsar in June
June is the warmest month of the year. The maximum temperature will sometime go as far as 30°C. On the lower side, it will average out at around 18°C. The entire region remains open at this time and you will be able to indulge in all kinds of tourist activities.
For a trip between April to June, your regular cotton clothes will do just fine. Just pack a light jacket for mornings and evenings and that will suffice.
Also Read: How to Plan a Trip to Munsiyari
Binsar in July
Binsar starts to receive pre-monsoon showers by the end of June. Monsoon dominates the next two months of July and August completely. This is a good time to visit only if you are into photography or want to see lush green hills. All the rains bring the flora and fauna in the forest to life and the views will turn heavenly. The more it rains, the greener it gets. The temperature will hover between 25° maximum and 18°C minimum.
Binsar in August
It will still continue to rain but the views will be heavenly. The hills will appear as if they have just been washed clean. The valleys will be lush green with flowers of all kinds blossoming all around. Clouds floating low, natural springs, water streams is what August is all about.
On the downside though, the rains in the hills bring a set of risks as well. Landslides caused by incessant rains and the resulting loss of life and property is a sight too common in the area. Please make sure to check the weather forecast before you leave home for Binsar in August.
The temperature will be the same as July, ranging between 25° maximum and 18°C minimum.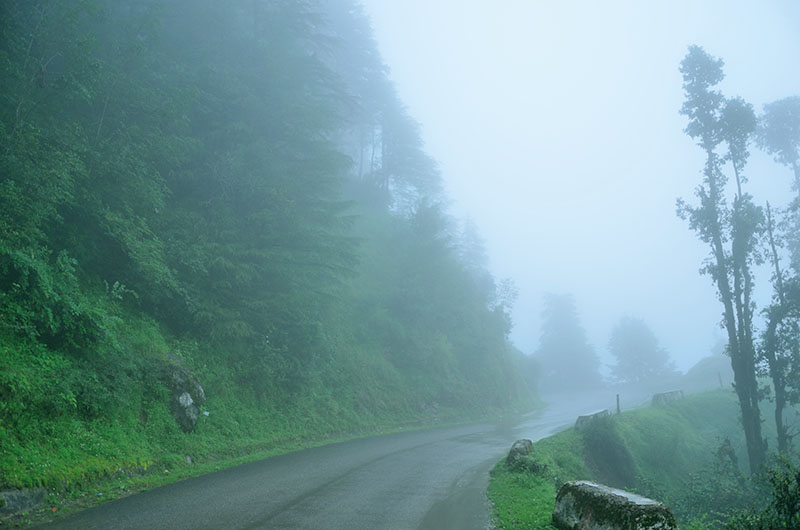 Binsar in September
September is my favorite month to visit not just Binsar but anywhere in the hills. Monsoon will be long gone but would have left behind plenty of greenery. This is probably the best month to go for photography. September has to offer all that the monsoon does but without the risk of the rain. The views at this time are the best ever. The weather will be pleasant as well with temperature ranging between 22° maximum and 15° minimum.
Also Read: Lohaghat – A COMPLETE Travel Guide and Itinerary
Binsar in October
Autumn arrives in October. All that was green in September now turns Orange, giving a golden magical touch to the valley. This is another good month for photography and outdoor activities like trekking. The view of the surrounding peaks will also be very clear, something that you will not get in July, August, or September.
By the end of October, winter will start to settle in again and things will get colder. The average temperature will range between 18° maximum and 10° minimum.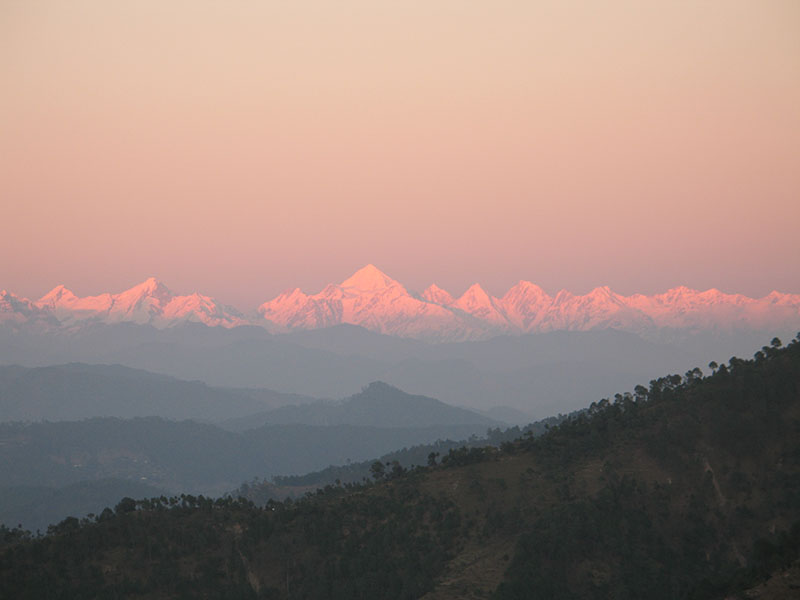 Best time to visit Binsar
Now based on the information above, I believe it is safe to say that the best time to visit Binsar is from April to June and September to October. This is when the weather and views are at their best.
If you were into photography though, I will recommend visiting between July and September; September being the best.
For a family trip, April to June will be the best time. If you were on a tight budget, you should plan between November to March. If you wanted to see snow, you should visit Binsar between late December and the end of January.
Best time to visit Binsar Wildlife Sanctuary
The wildlife sanctuary is home to a large number of beautiful birds. If your idea of the trip was wildlife sighting, you should plan between November to March.
Conclusion
I hope the information above on the best time to visit Binsar was of help. If you have any questions or need any other details, please feel free to ask in the comments section below, or at our Community Forum, and I will be glad to answer.