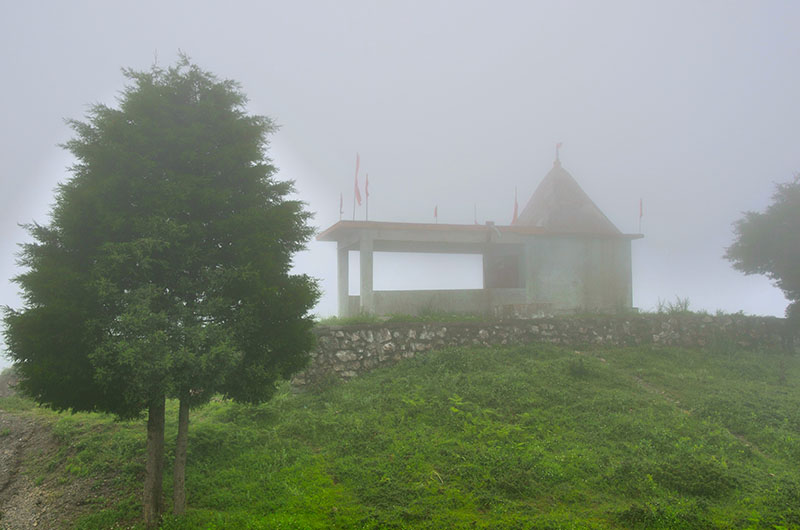 Natural beauty and serenity are the two items that will always top the list of places to visit in Binsar and its nearby areas. It is one of those places that you visit to relax, slow down life for a couple of days, and rejuvenate yourself. Away from the crowd and chaos, the calm and the peace of the region is like none other and is perfect for some soul searching.
When we say Binsar, we are talking about two places. The first is the Binsar village and the second is the Binsar wildlife sanctuary. But in both cases, it is still an offbeat and remote destination. Being as such, there is not a very long list of tourist places in Binsar and you must keep that in mind. There is nothing to do here really except to relax and walk around.
If you were expecting to indulge in a lot of sightseeing or tons of activities during your trip, you should stop in Nainital and not go any further. Or maybe, head towards Shimla or Manali. But if you want to get away from the crowd for a few days, Binsar will definitely serve the purpose.
Places to visit in Binsar
With the being said, below is a complete list of all tourist places in Binsar that you can use to plan your sightseeing here. Please note that in this article, I am only covering the topic of sightseeing in Binsar. For details like how to reach here, where to stay, and the best time, please read How to Plan a trip to Binsar.
Binsar
The first entry in the list will definitely be the village itself. It is hard to say whether the valley and the wildlife sanctuary were named after the village or vice versa. But it is a quiet little village that is pretty much the heart of the Binsar Valley. In ancient times, Binsar was the summer capital of the Chand Kings, who ruled over Kumaon from the 11th to 18th centuries AD.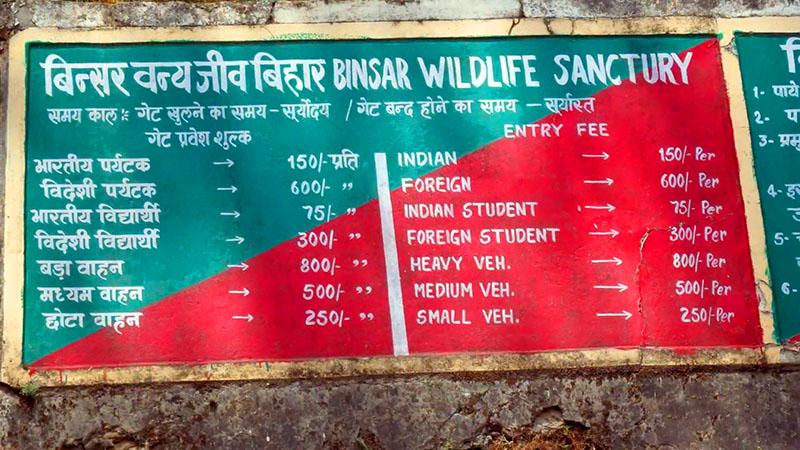 Binsar Wildlife Sanctuary
The prime attraction in this region is the Binsar Wildlife Sanctuary. It was established in 1988 to protect the shrinking broad leaf oak forests of the Central Himalayan region and now hosts 25 types of trees, 24 types of bushes, and 7 varieties of grasses. The upper reaches of the sanctuary are covered with oak and rhododendron trees. The months of March and April are a spectacular time to visit when the flowers, especially ruby red rhododendron, are in full bloom and present a sight to behold.
Other than the dense forest, the sanctuary is now home to over 200 bird species and attracts thousands of bird watchers each year. Sightings of birds like forktail, blackbirds, laughing thrush, magpies, kalij pheasant, monals has been recorded here. Mammals like leopards, Himalayan goral, chital, musk deer, jungle cat, and red fox have also been sighted in the sanctuary.
Also Read: How to Plan a Trip to Munsiyari
Wildlife Sanctuary Museum
There is also a museum in Binsar that portrays the flora and fauna of the region. A visit to the museum will enlighten you about the bio-diversity of the place. There are also a couple of stores where you can buy some items as souvenirs.
The Views
I know this one is a given for every hill station anywhere but there are two things that I would like to point out in particular. The first one is of the surrounding Himalayan peaks like Kedarnath, Shivling, Trisul, and Nanda Devi. On a clear day, all of these mountains are clearly visible from Binsar.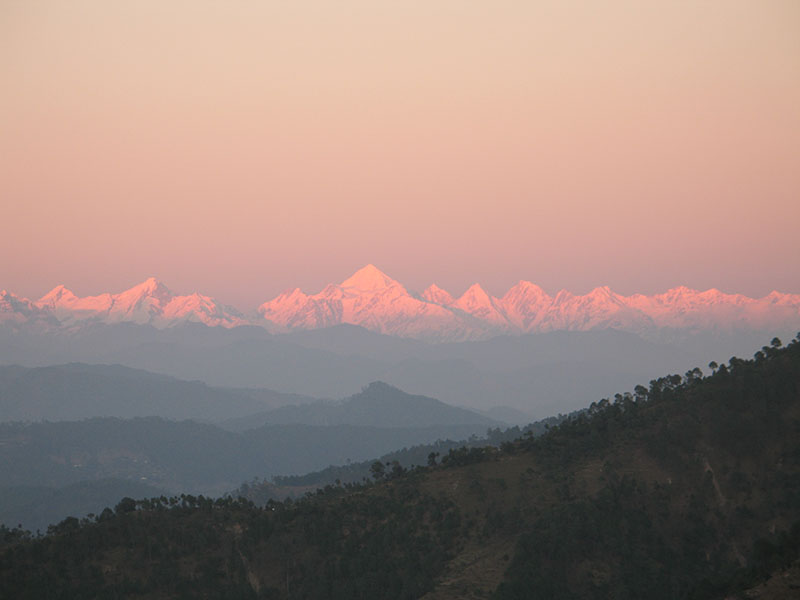 Take a look at the picture below for the second type of view that I am talking about. The location of the village forms like a gorge like setting and on both sides, you can get a view like below in early morning hours. My second trip to Binsar was only to get this particular view once again.
KMVN Rest House
This is not really a tourist attraction as such but I am adding it to the list because of its setting. This rest house is located inside the sanctuary and is possibly the best place to stay at. The motorable road leads all the way to the rest house. You will first approach the gate of the sanctuary, buy your entry ticket of Rs. 150, and then drive 11 kilometers to the rest house.
Zero Point
This is a viewpoint located inside the sanctuary and can only be reached on foot. The trek starts from the KMVN rest house. You walk through the jungle for about 2 kilometers to reach the hilltop and get a 360-degree view of the entire valley and the surrounding peaks. This is where you can get a view of Kedarnath, Shivling, Trishul, and the group of Nanda Devi peaks.
Also Read: Lohaghat – A COMPLETE Travel Guide and Itinerary
The Forest Dak Bungalow
The Dak bungalow inside the forest is known for two reasons. The first is that this is where Swami Vivekananda stayed for some time while visiting the region. The second is the stunning sunset view that it offers.
Pariyadeva Pashan
It is another vantage point located between Almora and Binsar. The place is famous for two things. The first is the great view that it offers of the valley. But more than that, it is known as an archaeological site. Out here, you will find ancient relics like long stones that have markings like a cup. This is believed to have been originated during the Megalithic era.
Bineshwar Mahadev Temple
This is an ancient 16th-century temple dedicated to Lord Shiva and is one of the top places to visit in Binsar. It is said to have been built by the rulers of Binsar, during the reign of Raja Kalyan Chand. It is located slightly before the gates of the wildlife sanctuary to the left. Ask anyone and they will point you to the narrow road that goes to the temple. Even if you are not the religious kind, you should still visit the temple to observe its remarkable architecture.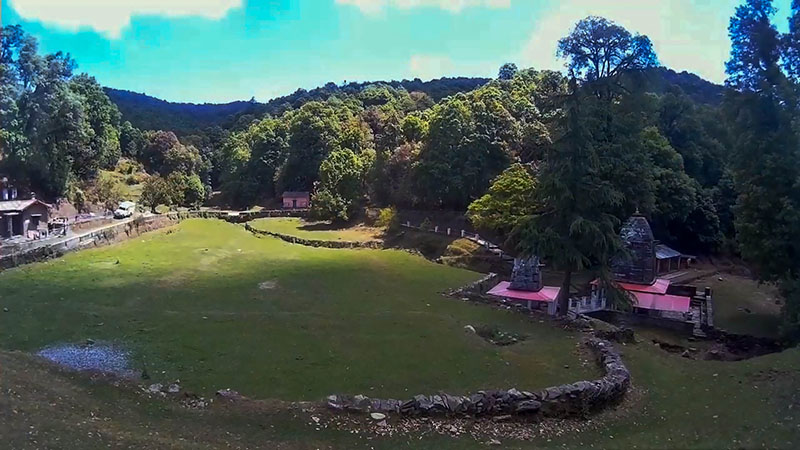 Gairar Golu Devta Temple
Also known as Gairar Golu Dham, this is another temple that is located about 2 kilometers before the gate of the sanctuary. The temple is dedicated to Lord Shiva, incarnated as Gairar Golu Devta, the 'Lord of Justice'.
Gairar Golu Devta is considered to be the younger brother of Golu Devt, the supreme deity of Champawat. A temple dedicated to Golu Devta is located in Almora.
Kasar Devi Temple
This temple is not in Binsar but rather on the way from Almora. It falls a little after the village of Papar Saili. This temple gained recognition after Swami Vivekananda spent time here and because of the hippies. Surprised? Read on.
Crank's Ridge / Hippie Hill
Crank's Ridge, also known as Hippie Hill, is a pine-covered ridge located on the way to Kasar Devi temple. It is said that this is where the Hippe culture started. The place, got its popular name, when it became part of the Hippie trail, during the peak of the hippie movement in the 1960s.
Both Papar Saili and the village of Kasar Devi have now turned into a cult destination. The village of Papar Saili is in fact home (obviously temporary) to a lot of Israelis, who feel that even Kasol is very touristy and too mainstream.
That is it. This is your list of local sightseeing in Binsar. There are a few other nearby places that you can go to like Munsiyari, Chaukori, or Patal Bhuvaneshwar but they are other tourist destinations in themselves, not places to visit in Binsar.
If you had a couple of days in hand, I will say that just take a look at the places above and relax in the lap of mother nature. If you had more time, then you can move on to Chaukori and spend a little time there. For more details, please take a look at How to Plan a Trip to Chaukori.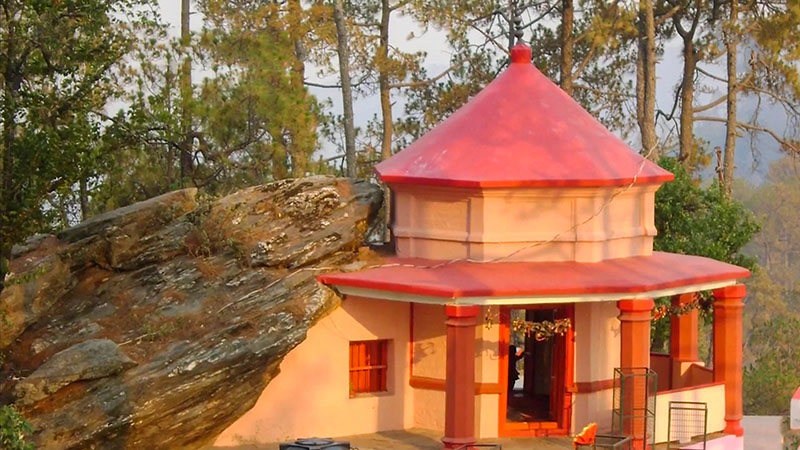 What to do in Binsar
Other than sightseeing at the places mentioned above, listed below are some other activities that you can do in Binsar.
Photography
I believe this one is a given. Irrespective of whether you were a serious photographer with a huge DSLR or someone with a fancy cellphone camera, Binsar will provide you plenty of options to click hundreds of pictures. From Landscape to wildlife to people, you will get some of your best pictures here.
Also Read: Harsil – A COMPLETE Travel Guide and Itinerary
Enjoy the Night Skies
The pollution-free skies of Binsar light up each night with countless stars. This is not a view that city folks like us get to see every day. If you were into photography, had a capable camera, and knew what you were doing, you will have your fun clicking some long exposure shots of night skies and star trails.
Bird Watching
As I mentioned above, Binsar Wildlife Sanctuary is home to numerous rare and beautiful birds. Thousands of bird-watchers arrive here each year to see these birds in their natural habitat. The best time for this would be between November to March.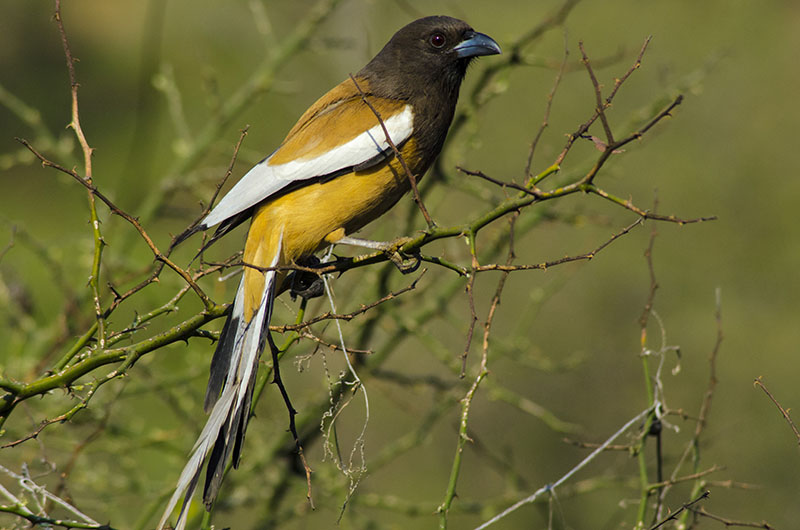 Trekking / Walking
There are a few serious treks that head out of Binsar and nearby Nainital that can last for a few days. But for a regular vacation, just take a few hours to walk in the sanctuary or in the village. You can go to the zero points and enjoy a great sunrise/sunset view from there.
Observe the Local Culture
Binsar has a rich heritage. It has a glorious past back when it was the summer capital of Kumaon and traces of it can still be seen here. Just see the village, visit the nearby ancient temples, talk to the locals, and learn about their culture.
And that is pretty much it. Binsar is not a place to run around all day long from one place or activity to another. For a vacation like that, you should stay back in Nainital or maybe head towards Shimla and Manali.
But when you come to Binsar, the best thing to do is nothing. Just relax, slow down life for a little while, enjoy the views, go on nature walks, and rejuvenate yourself.
Places to visit in Binsar – Conclusion
I hope the information above on places to visit in Binsar was of help. If you have any questions or need any other details, please feel free to ask in the comments section below or at our Community Forum and I will be glad to answer.