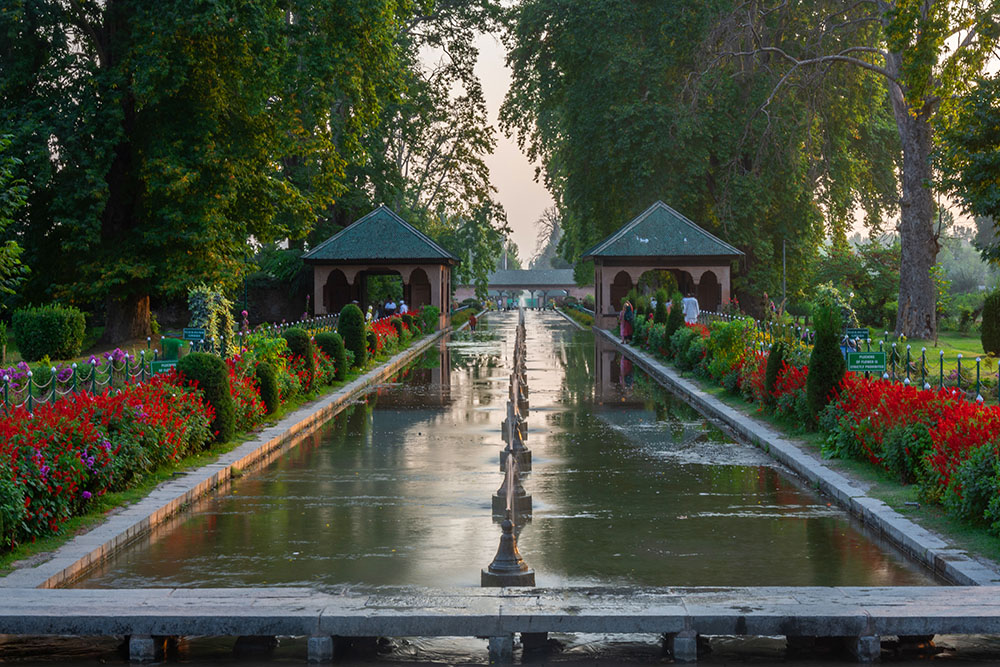 Shalimar Bagh in Srinagar is one of the two most visited Mughal gardens in the city, the other being Nishat Bagh. It may not be the largest but is definitely a charming place to spend some time.
It is considered among the top must-visit places not only in Srinagar city but all of Kashmir. The Bagh was built by Mughal Emperor Jahangir, in 1619 and is now often called the 'Crown of Srinagar'.
Shalimar Garden is located quite close to Dal Lake and Nishat Bagh. In fact, you can cover all three places together in a couple of hours. The best time to visit in my opinion will be later in the evening but the garden remains open all day long.
The garden is built over an area of 31 acres, with a size of 587 meters (1,926 ft) length on the main axis channel and a total width of 251 meters. It has three terraces fitted with fountains and with chinar tree-lined vistas.
For more details on visiting Kashmir, including information like what to see, public transport, where to stay, mobile connectivity, itinerary planning, taxi rates, etc., please take a look at How to Plan a Trip to Kashmir – A Complete Travel Guide.
About Shalimar Bagh
You can read about the history of the Bagh and its architecture in detail on the Wikipedia Page. Much has already been written about it on the web so I will not go into those details much. What I plan to cover in this article is more practical knowledge that can be of help for you as a tourist to visit the garden.
Shalimar Bagh Srinagar Timings
Shalimar Bagh remains open from morning 9 AM to evening 7 pm every day, all 7 days of the week. In the winter season, it may get closed early by 6 pm.
Shalimar Garden Entry Fee
The entry fee for Shalimar Garden is Rs. 24 per person. There are no photography charges and you are free to bring your cameras along.
I have visited Shalimar Bagh a few times during my trips to Kashmir. The hotel I usually stay at, Hotel Grand Valley Inn, is hardly 2 mins walk away from the garden.
So whenever possible, I used to spend my evenings in the Bagh. Sometimes, when I did not have Rs. 4 in change, the guy at the counter would charge just Rs. 20 to make it a round number.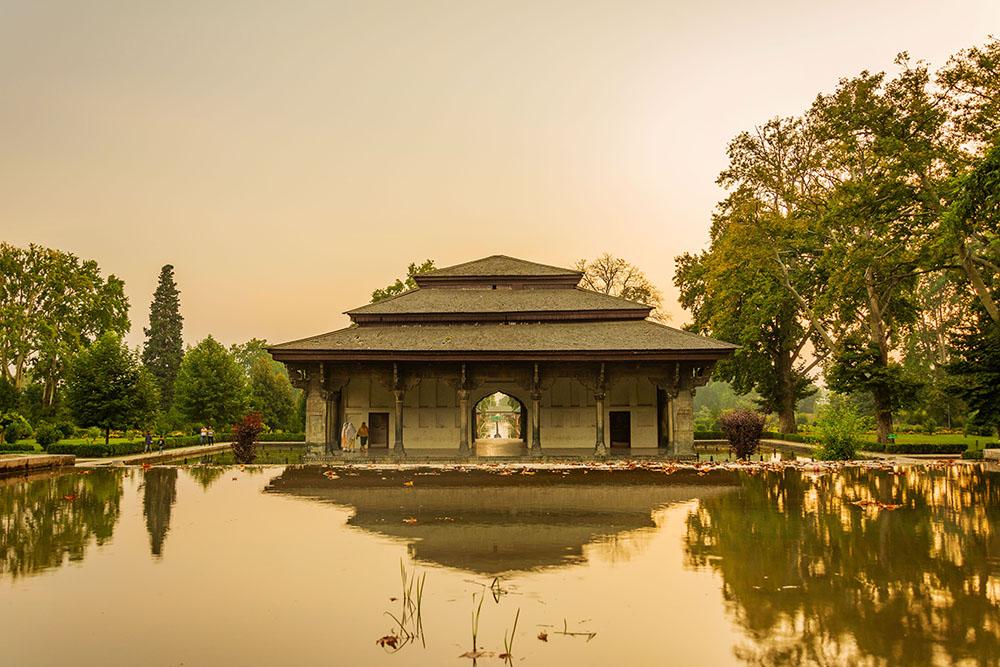 What to see at Shalimar Bagh
There is no doubt that Shalimar Garden has a glorious past. It was built by Emperor Jahangir in 1619 for his wife Noor Jahan and he called it 'Farah Baksh', meaning 'the delightful'. In 1630, Emperor Shah Jahan assigned the work of extending to governer Zafar Khan. He named it 'Faiz Baksh' which translates as 'the bountiful' in English.
Also Read: Srinagar to Astanmarg Viewpoint
What remains now though is a garden that may not be as glorious as it once was but is still beautiful. The remnants of the Mughal architecture and structures are still there. While the park can still be called well-maintained, I think the authorities could still have done a better job.
The garden has plenty of greenery and you will find a lot of locals spending time here with their families on its lawns. A water channel flows through the garden and then empties into Dal Lake.
The water actually is circulated from the channel and the lake with the help of motors to maintain the flow. There are a lot of fountains in the water channel that add to the charm of the place.
Public Transport
Public Transport in Srinagar unfortunately is not that regular. From your hotel, you will have to hire a private cab to bring you to the garden. You can look for shared cabs as well but they will be a little difficult to find.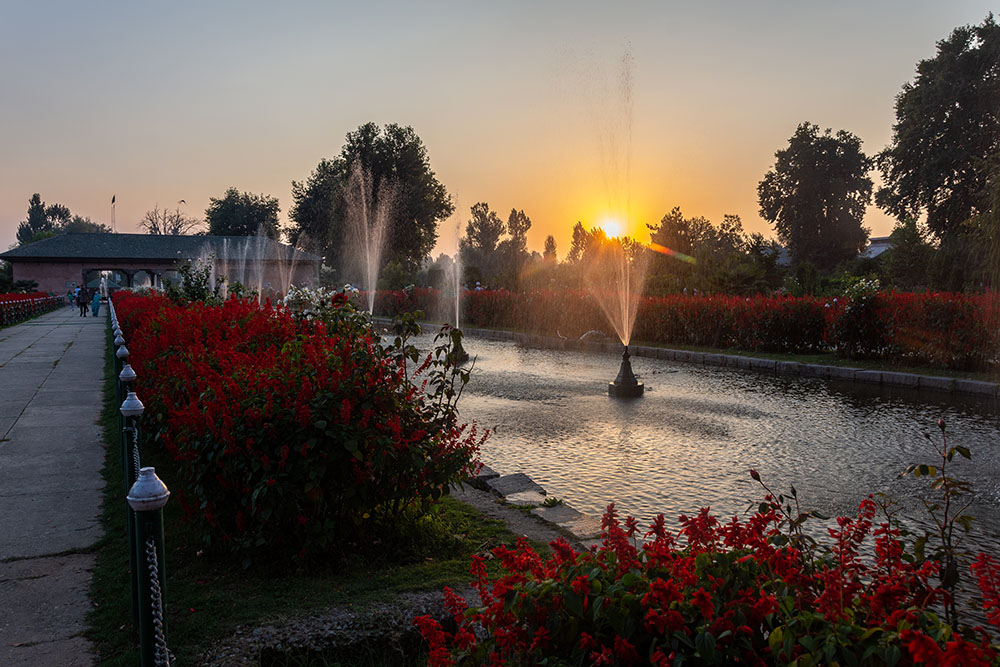 How to Plan a Trip to Shalimar Bagh
The best way to visit Shalimar Bagh is to hire a private taxi for an entire day of sightseeing in Srinagar. The place is located quite close to Dal Lake and Nishat Bagh. In fact, to get to Shalimar Garden, you will drive around the lake in a full circle, depending on which side you were coming from.
You can first visit Nishat Bagh, then Shalimar Bagh, and then go for a Shikara ride in Dal Lake. From there, you can move on to Hazratbal Shrine, Shankaracharya Temple, or Hari Parbat fort depending on your plans. In the evening, you can pay a visit to the Chashm-e-Shahi garden and then view the sunset from the Pari Mahal.
Best Time to Visit
You can visit Shalimar Bagh all day long but in my opinion, paying a visit in the evening will be even better. The setting sun makes the place look even more beautiful. If you are into photography, long exposure shots of the garden, its fountains, and the orange sky in the backdrop will produce better results.
The park is well irrigated so it remains lush green all year long. But if you were to visit during the autumn season, you will see all the Chinar trees turn orange which surely gives a magical touch to the place.
If you were to push your trip to early November, the orange in Chinar leaves would have turned red.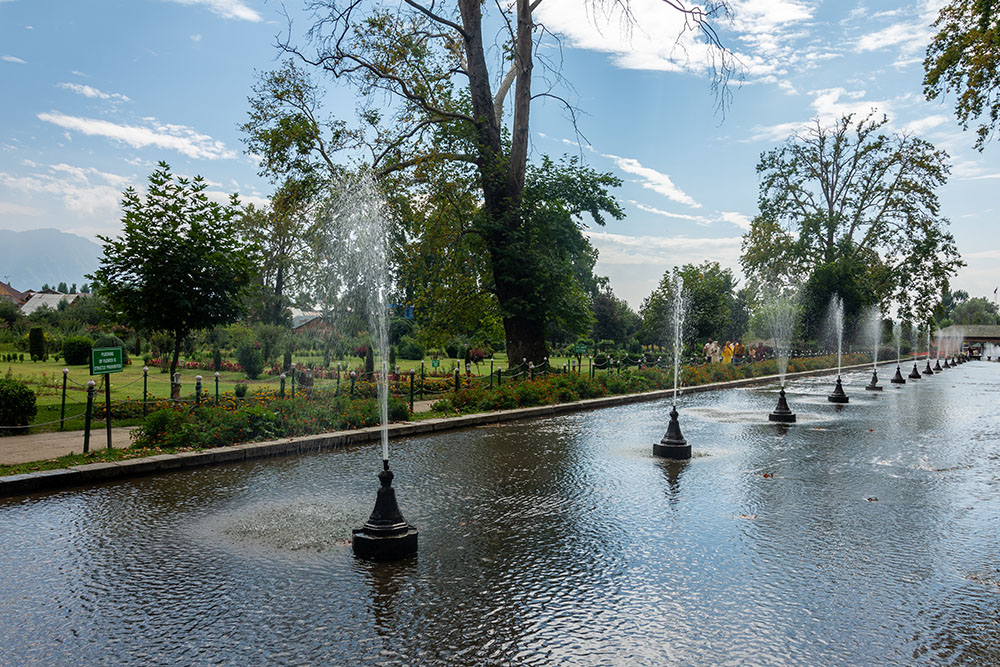 Time Needed
The time you need for visiting the park will depend on what your interests were really. If you were into photography and wanted to just sit and relax, a couple of hours will be good. The park never really gets too crowded and is a good place to relax.
If you just want to take a walk in the park and exit, it can easily be done in 30-45 minutes.
If your hotel was somewhere near Lal Chowk or Dal Gate, you will need around 30 minutes to reach the Shalimar Bagh. From the airport, it will easily take you slightly over an hour to reach the garden.
Also Read: Dal Lake to Shankaracharya Temple
Shopping / Where to Eat
There is a small market right in front of Shalimar Bagh. You will find a lot of shops selling handicraft items, clothes, and dry fruits. If you wish to, you can actually buy items from here as well. There will not be a lot of difference in the price that you will be quoted elsewhere in Srinagar.
In terms of food, there are several eateries near the garden where you can eat, both veg and non-veg. There are a few vegetarian-only restaurants and one Jain restaurant as well.
Shalimar Bagh or Nishat Bagh
In my opinion, you should actually visit both. As I mentioned above, both gardens are quite close to each other. If you were in Nishat Bagh, you can get to Shalimar Garden in just 5 minutes.
But if you were short on time and can only visit one, I will recommend visiting Nishat Bagh. I think it is better maintained, and better located with a great view of Dal Lake right in front of it. The evening view of the sunset from Nishat Bagh is quite mesmerizing, see the picture below.
Distance Chart
Dal Lake to Shalimar Bagh – 2.8 km from Nishat Bagh, 1 kilometer if you came straight from Dal Lake
Nishat Bagh to Shalimar Bagh – 2.8 km
Lal Chowk to Shalimar Bagh – 14 km
Conclusion
I hope the pictures and information above on Shalimar Bagh were of help. If you have any questions, you can contact me on Instagram and I will be happy to answer. You can also consider subscribing to my YouTube channel and asking a question there.