This post is in continuation of a previous one and a part of my Narkanda Road Trip travelogue. We reached Narkanda on Day 1, spend our second and third day in the town sightseeing, and returned on Day 3 from Narkanda to Delhi.
Journey So Far:
This trip was a memorable one, the one that we were going to remember for a long time. We came here looking for some amazing vistas but god decided to make it even better with a surprise snowfall.
But alas, the last day of the trip arrived and it was time for us to head home from Narkanda to Delhi. For a little while we thought to prolong our stay by another day but then decided against it. The next day we both had to join back at work and couldn't afford another day's leave.
Also Read: How to Plan a Trip to Narkanda – A Complete Travel Guide
We woke up to a snow-covered white Narkanda. It seemed like someone had covered the entire village under a thick white sheet. It was the first time I had seen a live snowfall and it was also my first time seeing the valleys after a snowfall.
So yes, we were definitely very excited. We knew that we were to head home today but not before we had one last walk through a white Narkanda.
Back at the hotel, we decided to try one last activity, which I guess all tourists who come to Narkanda do. Put on the Sking gear and have someone push you down a slope.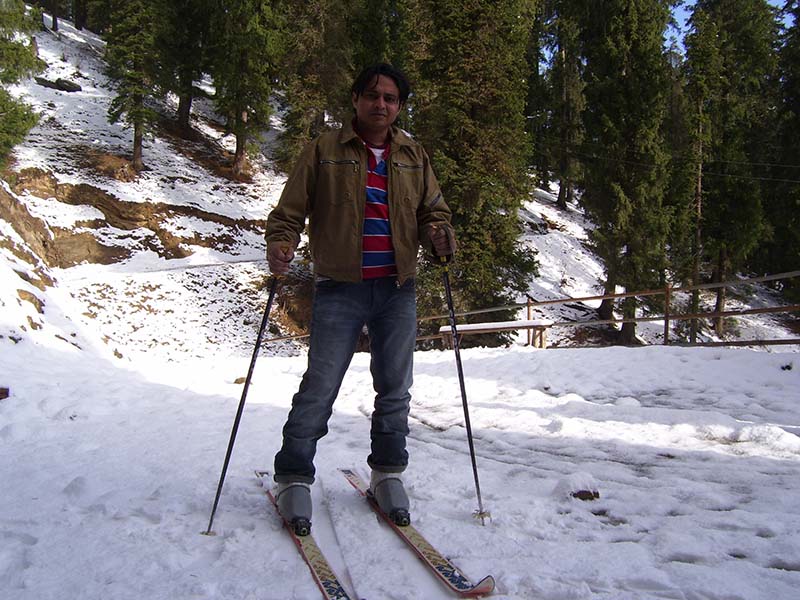 Narkanda to Delhi
We checked out of the hotel at around 10 AM. It was a bit late in the day but there was nothing else planned except for just a long and monotonous ride back home. With heavy hearts, we marked an end to our trip and started on our ride home.
Also Read: Tourist Places to visit in Narkanda
Nothing much to write for rest of the day except for one small part. A little before Shimla, we came across a spot where some photographers were offering to shoot people's pictures in Himachali dress. Now, this was something that neither of us had ever tried; that is to act like an actual tourist. But this one time, we decided to do exactly that. Funny picture, I know !!!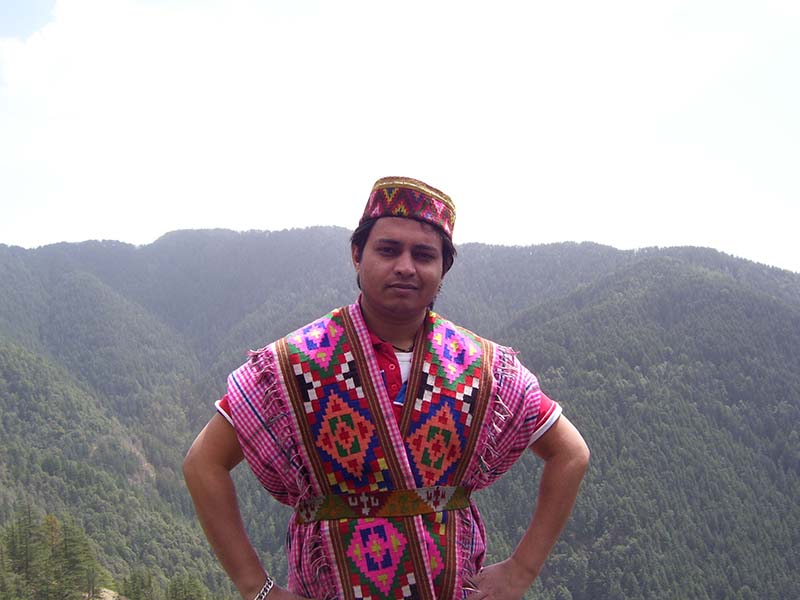 Narkanda to Delhi Distance
The total distance between Narkanda and Delhi is 400 kilometers. It took us almost 9 to 10 hours to reach back home with a few breaks in between.
Narkanda to Delhi Bus
There is no direct bus available from Narkanda to Delhi. You will first have to reach Shimla and then look for a Delhi bound bus from the Shimla bus stand.
Narkanda to Delhi Bus Fare
It will depend on what kind of bus you boarded. But the total cost will be between Rs. 700 to Rs. 1500, different for ordinary and luxury buses.
Best time to visit Narkanda
The best time to visit Narkanda is between April to June. If you wanted to see snow, you should plan your trip in January and February. For photography enthusiasts, the month of September will be the best. For more details, please take a look at When is the Best time to visit Narkanda.
Conclusion
I hope the travelogue and information above on Narkanda to Delhi travel were of help. If you have any further questions or need any further details, please feel free to ask in the comments section below or at our Community Forum and I will be glad to answer.