I had been to Banjara retreat at Shoja, to Rajus Cottage at Gushaini, and then again to Shringi Vatika at Ghiyagi in September, and had taken the road to Jalori pass on all these occasions. A road trip to Jibhi and a chance to explore its surrounding areas was however yet to happen.
Whenever I passed Jibhi, my heart had fluttered. It is a small place around 3 Kms from Banjar and lies on the road connecting Jalori pass from the Aut side.
I had always found this side of Himachal to be the most serene (I've not been to Kinnaur, Spiti yet). Jibhi had always managed to stand out with its natural beauty comprising mainly of dense deodar forest and a small stream flowing through it.
However, it has always been difficult to convince my family to break the journey there. For more details on Jibhi, you can also take a look at How to Plan a Trip to Jibhi.
Road Trip to Jibhi
April this year has been a kind month. A couple of leaves and the weekend has become longish. So, when the holidays for Ramnavami came about, a road trip to Jibhi it had to be.
I searched around the net for details on Jibhi. However, I couldn't find much information. Luckily, I managed to run into the Facebook page of one Mr. Prakash Thakur who has been running a homestay at Bahu, around 8 Kms from Jibhi.
I spoke to him and then opened a new window of opportunity. Though there was no trace of a road between Jibhi and Bahu on the Google Map, I decided that it was to be Bahu and its surroundings along with Jibhi.
Day 1: Jibhi
The drive was a long one. The roads between Kiratpur & Bilaspur have become Jalorisque (a term coined by someone else on the forum), full of potholes.
So, by the time we reached Jibhi in the evening at around 5 PM, we had already traveled for nearly 9 hours.
We had a look around at the more known and recommended homestays of Jibhi. The first one was bang on the road, made of brick & motor, and hardly inspired confidence.
The second one was closed and when we managed to trace the owner & had a look, appeared all unkempt & haunting. The season has not yet started we were told.
The third one was way up the hill with a narrow patch of land in the front claiming to be the garden. Dejected, we were weighing our options when suddenly I saw a cottage next to the stream, down the road, and deep into the dense forest.
Also Read: How to Plan a Trip to Tirthan Valley
Latoda Hut & Pinewood homestay
We walked down leaving our car behind to find that the same is Latoda Hut & Pinewood homestay. We had a look around with its owner, J D Thakur, a young and energetic local guy, and fell in love instantly with the settings.
The Latoda hut was actually a cottage that was built in the local style, having 3 rooms – 1 on the ground floor and the other 2 on the first. The rooms were made entirely of wood and we decided to take the whole hut.
What a place it was. We spent 2 nights of our road trip to Jibhi here and it ranks as one of the best that I've ever stayed at. The dense foliage of Deodars was all around and a stream just at the doorstep.
There was another hut around 50 meters away, the Pinewood. We had a look at that too, however that was more suitable for people looking for cheap accommodation. With my 2 kids, I needed a certain degree of comfort.
JD suggested we take a walk to the waterfall. However, we were in no mood for that. We decided to just hang around the stream and soak in the majestic surrounding.
A small walk later brought us to the 'evil castle'. The evil castle is actually a small and cute cottage, built on the riverside in the form of a fairy castle and is owned by a Foreigner.
The owner of Dev Ganga Guesthouse at Jibhi is related to this person and he intends to use it as a hotel pending the settlement of some legal disputes. Once that is settled, I know that I would go to Jibhi again just to stay at this place.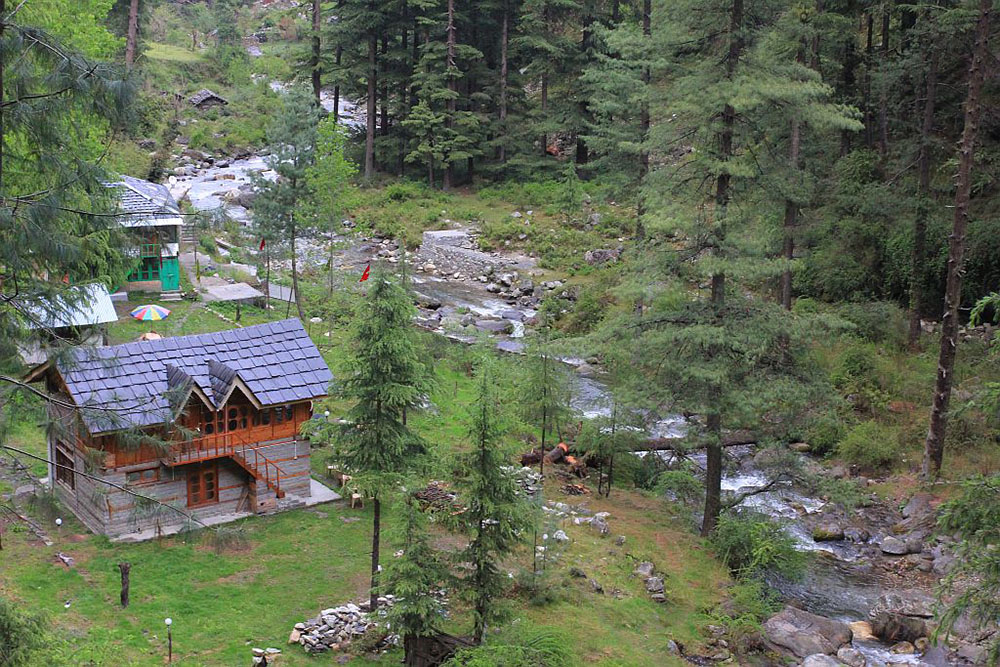 The evil magician's castle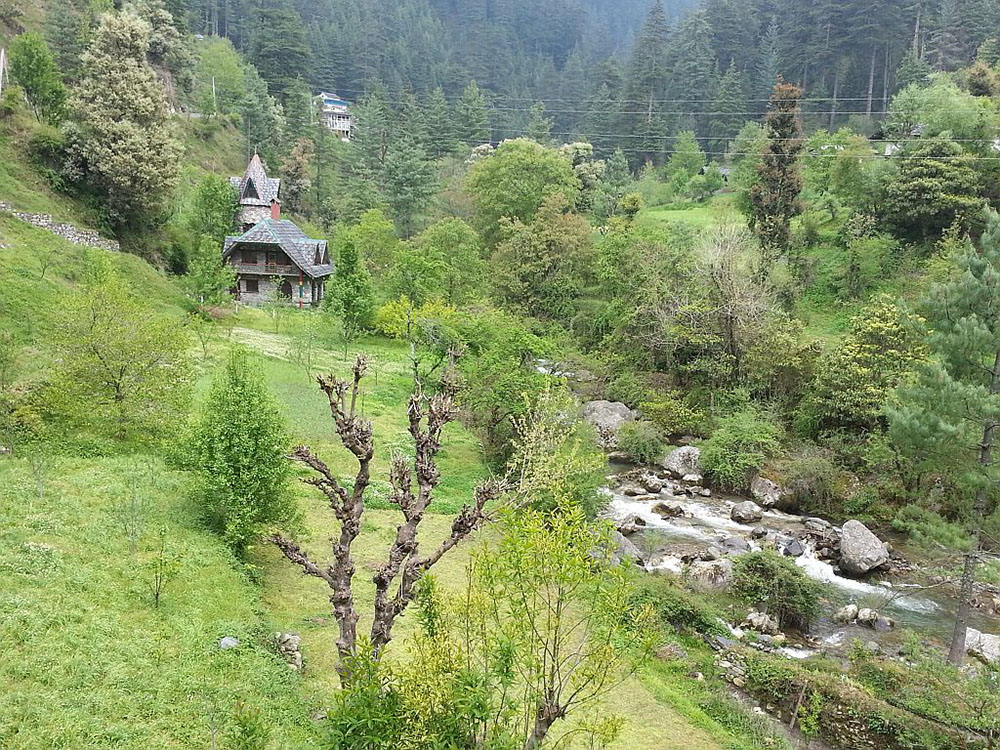 Day 2: Jibhi to Bahu
All of us slept like a baby. The sound of the river put us to sleep and we were woken up by the chirping of the birds. The first morning of our road trip to Jibhi was a delicious and lazy one. It was overcast with a little drizzle. The weather was just perfect.
We again lazed around the property, had our tea under the umbrellas in the rain, and waited for the breakfast of aloo parathas to be ready.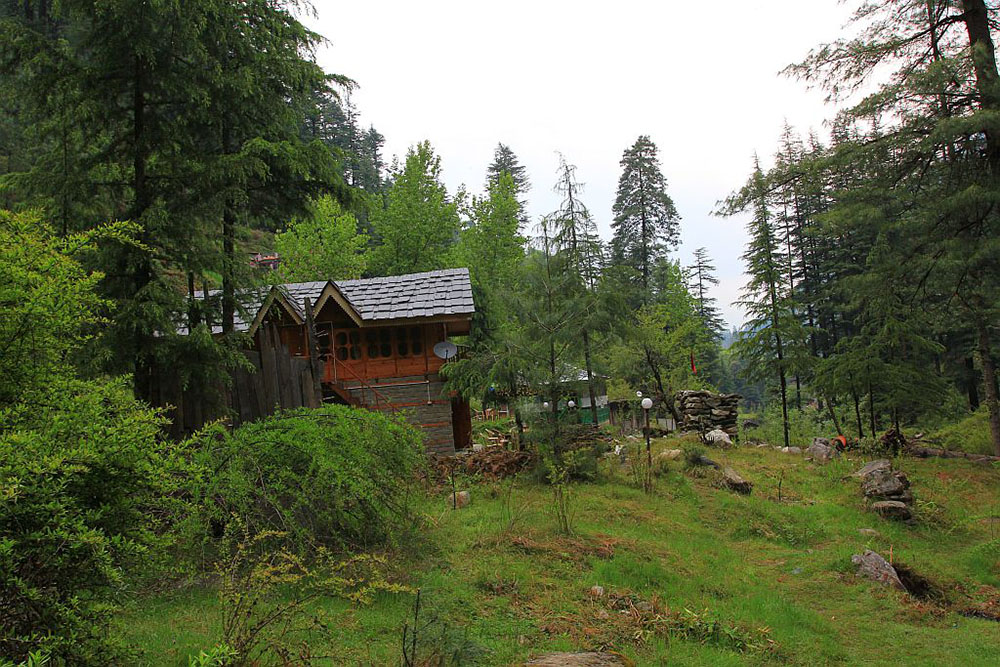 We walked down to a Karhaat (water mill used to grind wheat) nearby that was running in full flow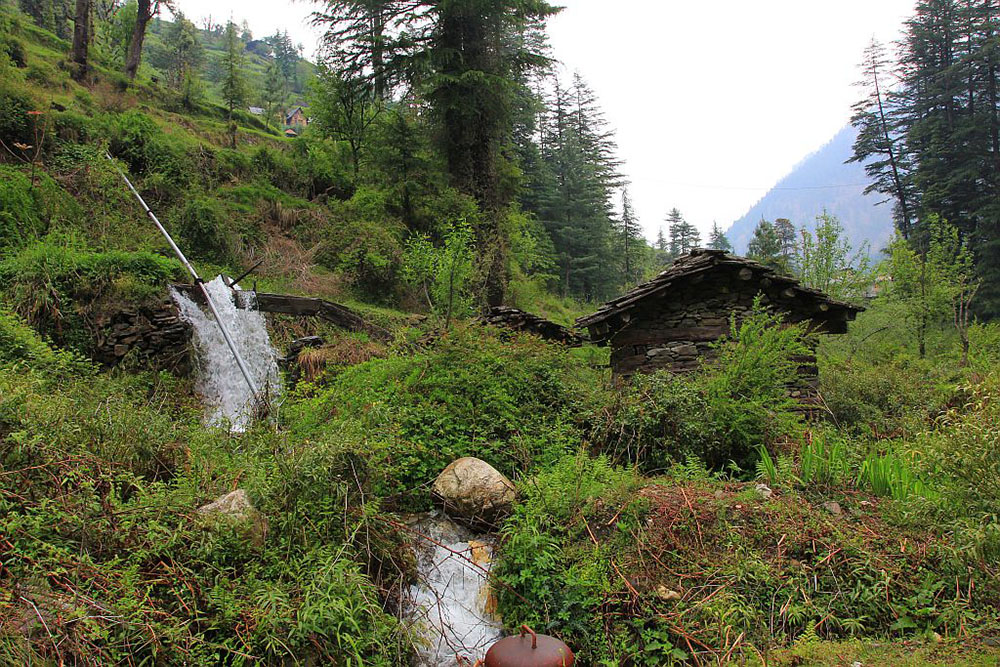 The breakfast was ready. Hot pipping and loaded Aloo Paratha it was. Sample conversation between my Wife & JD
Wife – Paratha is delicious. Do you also have Garlic pickles?
JD – Yes M'am
After about 10 minutes JD comes with a paratha
JD – Ma'am garlic paratha
Wife – Garlic Paratha? I asked for Garlic Pickle.
JD – Sorry Ma'am. I will bring it momentarily.
After another 10 minutes, he comes again with a paratha
JD – Ma'am pickle paratha
Me – Thank you, JD
Well, the pickle paratha was yuck but it did speak a lot about JD's hospitality and his willingness to serve his guests.
I had already spoken to Prakash Thakur and asked him to be with us for the day and we were to proceed to Bahu where we would meet him at his homestay.
Just a trivia: The river stream passing through Jibhi was earlier known as Pushpbhadra but is now simply Jibhi Gaad.
Also Read: Places to Visit in Tirthan Valley & Things to Do
Bahu Village

So having finished our breakfast, we climbed up to the road, got into our car, and off we went to Bahu. Bahu is around 8 Kms from Jibhi connected via a well-laid-out all-weather road and runs almost perpendicular to the Jalori pass road.
The drive was exhilarating. It was steep and was through dense foliage. Some of the best drives that I've experienced to date are between Kandaghat to Chail, Chail to Kufri, Shimla to Mashobra, Chindi to Rohana, Chakrata to Kanasar – this would rival any of these.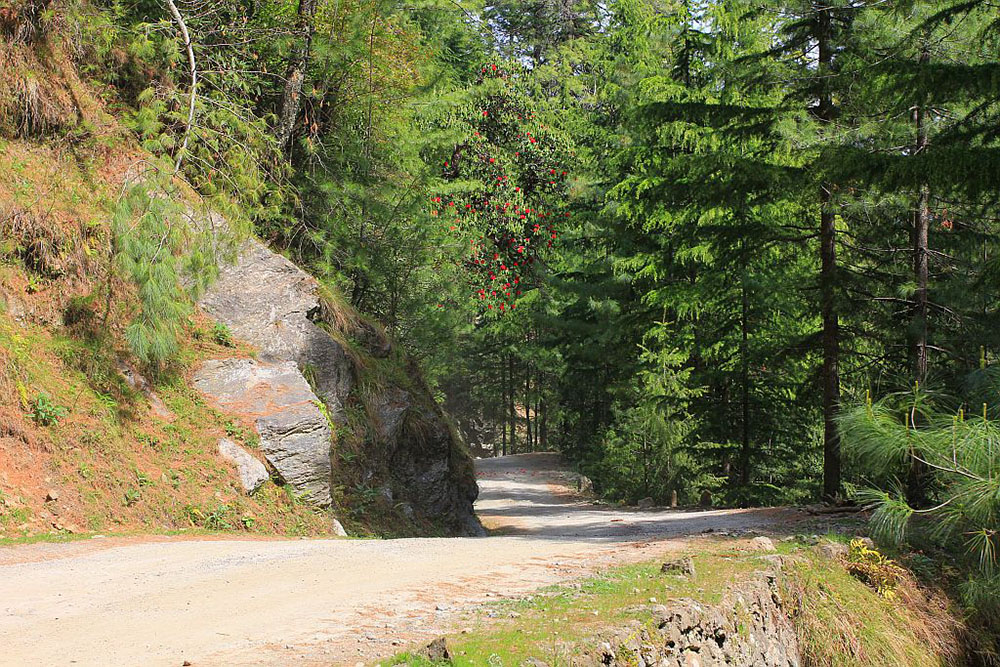 Huge mountains all around, with some snow-covered and extremely dense foliage. The weather was cold and it seemed even sunlight was finding it difficult to penetrate.
As a result, Rhododendrons, whose season otherwise is over, were in full bloom. So were the apple trees – while the flowers had blossomed into tiny fruits at the other places, here the flowers were still in bloom. I was told that it was because of the cold.
We drove through the kms, had many photo breaks, and finally reached the Bahu PWD guest house that was under renovation and would open in around a month's time.
We were to walk down a narrow mud track just next to the guest house to reach Ishaan Log Hut – another gem of a homestay being run by Prakash Thakur & his family. But more on that later.
Apple trees in bloom with lovely flowers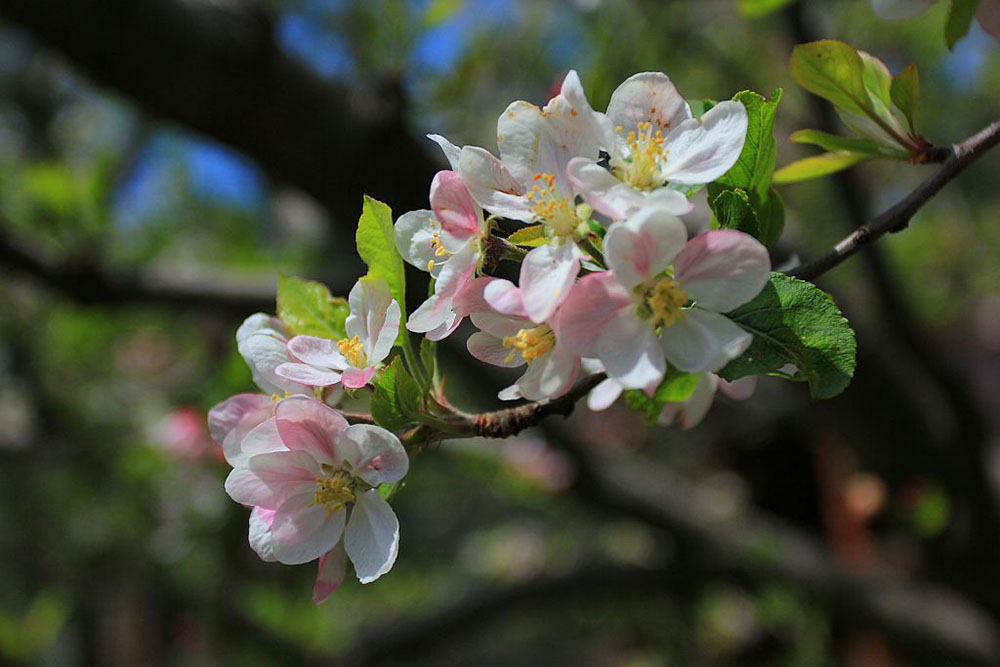 Rhododendrons in full bloom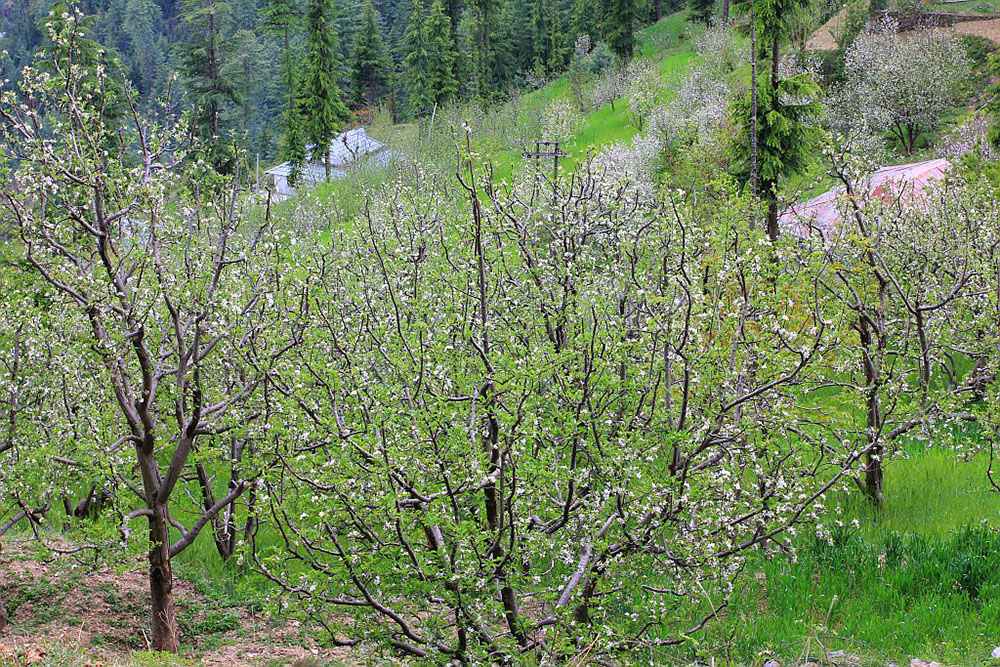 Gada Gushaini

Since it was overcast and getting dark at around 10:30 in the morning, Prakash suggested that we first drive towards Gada Gushaini so that the view from the Chach Galu top would not be compromised.
We agreed and so off we went to Gada Gushaini which is around 10 Kms from Bahu. The roads had disappeared and it was just a muddy terrain but nevertheless, it was beautiful.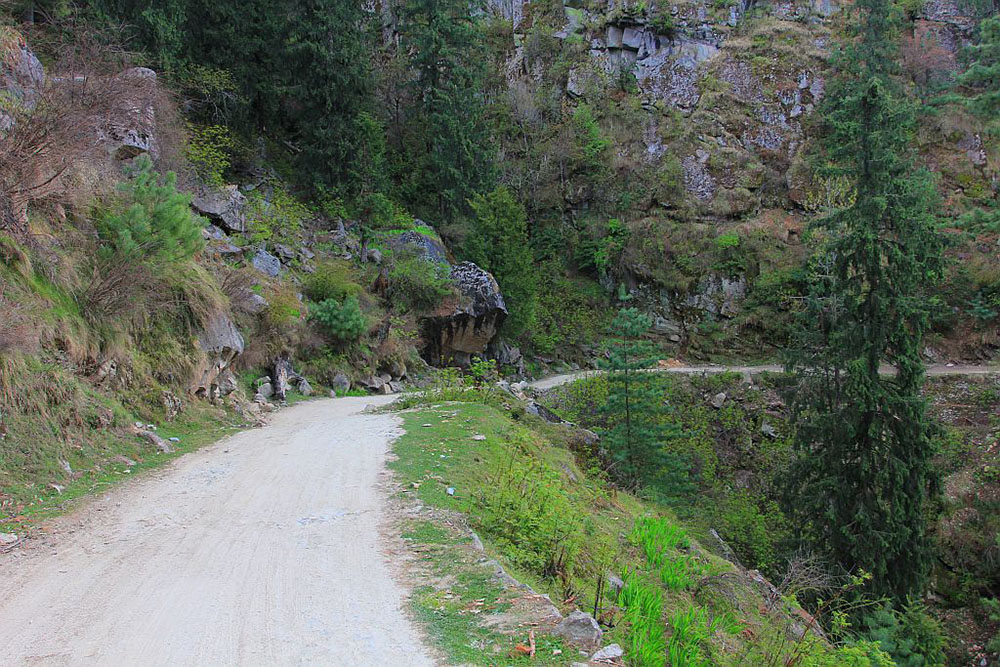 This was fun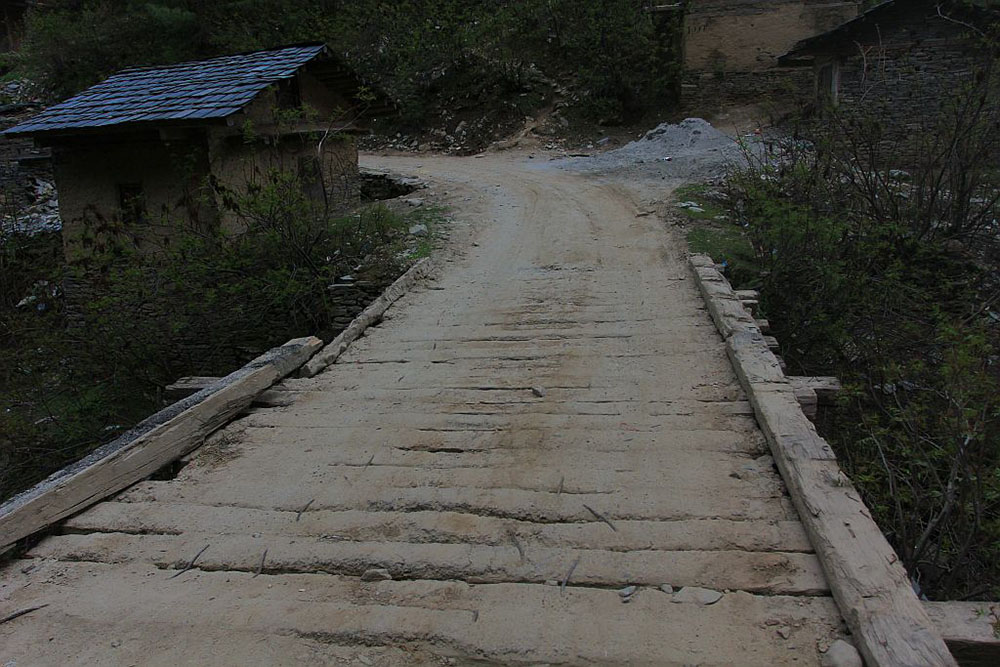 Just before reaching Gada Gushaini, the valley opened up. There were undulating hills of terraced steps, dense green foliage, a cute little stream flowing, and a lot of traditional slate houses.
We saw a gothic structure a little up the hill and knew by the very presence that the same is the PWD guest house of Gada Gushaini. We drove up to that and were pleased to find that it is in the middle of a huge meadow, surrounded by hills and views of the river and the village down below.
It was a beautiful PWD guest house. The kids had a whale of a time rolling down the hills and running in the meadow.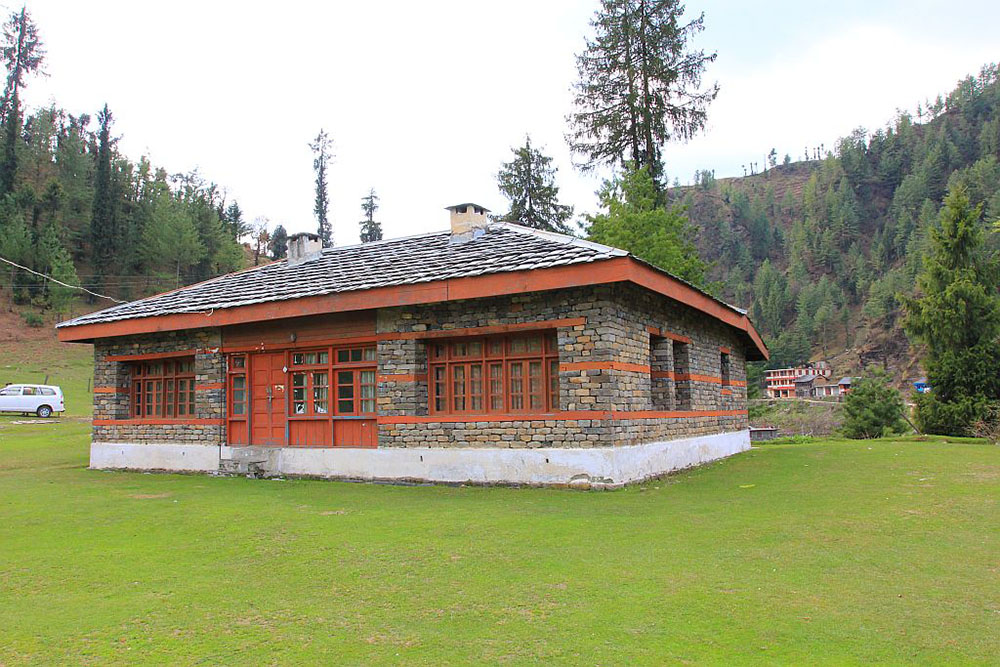 The drive to Gada Gushaini has been beautiful. The adage that the journey is also the destination was true for this drive.
One little trivia about Gada Gushaini is that half of it is in the Kullu district and the other half in the Mandi district and the stream that you see below is the dividing line.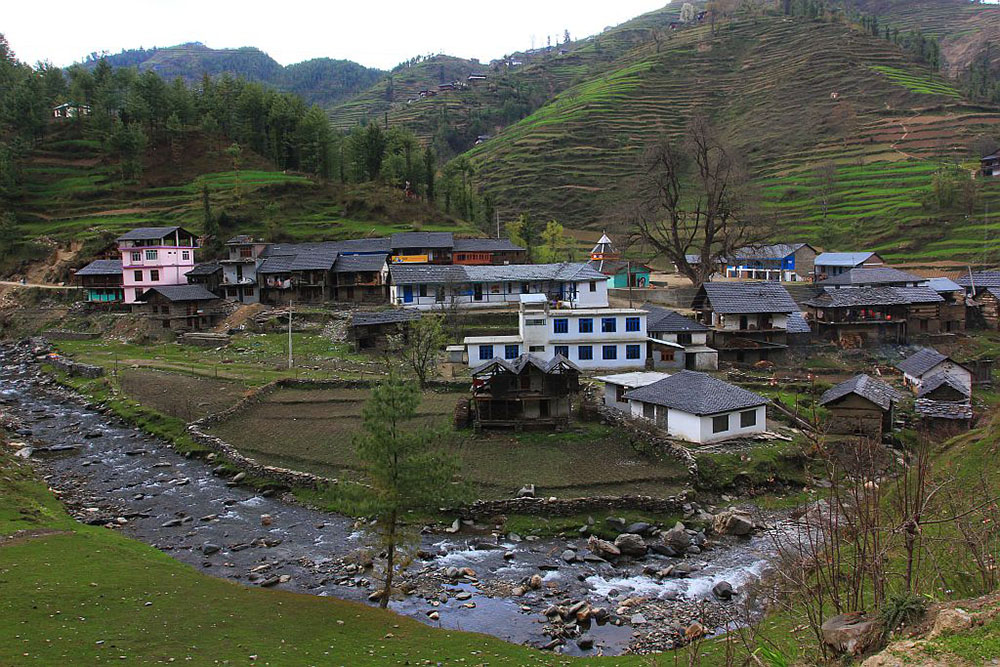 We wanted to have tea there but the caretaker of the guest house was not around. This also brought some relief to Prakash who wanted us to hurry up to Chaach Gallu before the clouds enveloped the hills. But we were in no hurry and wanted to make our road trip to Jibhi a relaxed one.
Chach Galu Pass
The drive beyond Gada Gushaini was prettier. We were to go up to Chaach Gallu, around 8 Kms away from Gada Gushaini. The road was again no tarmac one but the drive was easy, smooth, and beautiful.
All of us were now feeling hungry as we had skipped taking a packed lunch. So, we decided to break our journey for lunch at Khauli, a place en route to Gada Gushaini and Chach Galu Pass.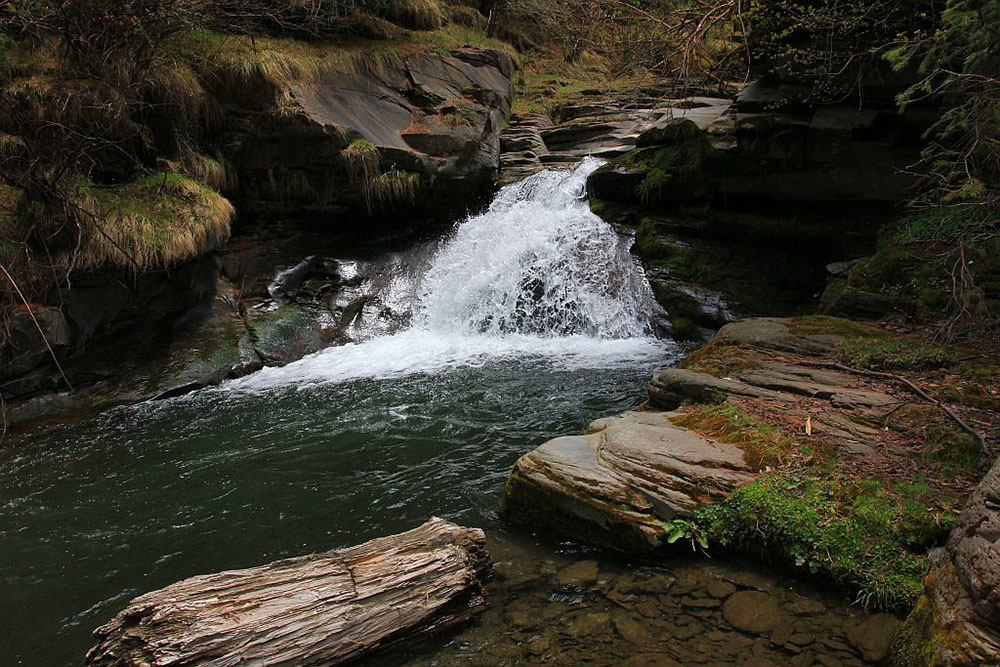 The Khauli village as seen from the road
The village was pretty. While the main village was up the hill, requiring a trek of at least a km to reach, they had thoughtfully opened up some shops and a small market for the few people who take this road. Bless them.
The dhaba was equipped to serve Rice, Dal, Chapati, Vegetables, etc but we decided to have Maggi. Never leave an opportunity to have Maggi in the hills, especially when it's cold and wet.
We had 4 Maggi's, 6 cups of Tea, and around 8 -10 bread buns. The total bill was Rs.70/-. I wonder how.
I offered the change to Chaachu but he refused by saying 'aap to hamaare athithi ho saaheb'.
Well yes but I still didn't get the calculation.
Fully satisfied with the lunch of Maggi, we moved ahead till we reached Chach Gallu top. It is a small village having a population of 21, in fact, more in the nature of a bus stop.
Also Read: How to Plan a Trip to Jalori Pass
Chach Galu Top
We were to hike up the nearby hill up to the top. The views were majestic from there we were told and the hike too was not that much – only around 200 meters. So we took the path rarely traveled, jumped over some blocked paths, crossed some thorny bushes, and reached the Chach Gallu top.
Well, the views from the top were awesome. One could see the Karsog valley deep down. One could see the Raghupur Fort meadow up the next hill.
It was windy and one could almost hear the wind asking us to go down. And that we did after spending some time at the top. It reminded me a bit of Triund in Mcleodganj.
The Chach Galu top had been refreshing and invigorating. The moment we came down the drizzle turned strong and we retraced the path to Gada Gushaini.
The road continues from Chach Galu to Chhatri and then on to Karsog Valley. It was tempting but then today's itinerary had already been planned by Prakash and Karsog just could not fit in.
So that will have to wait. While coming up I had identified a few spots where I had promised to get down and take pictures while returning.
One was this.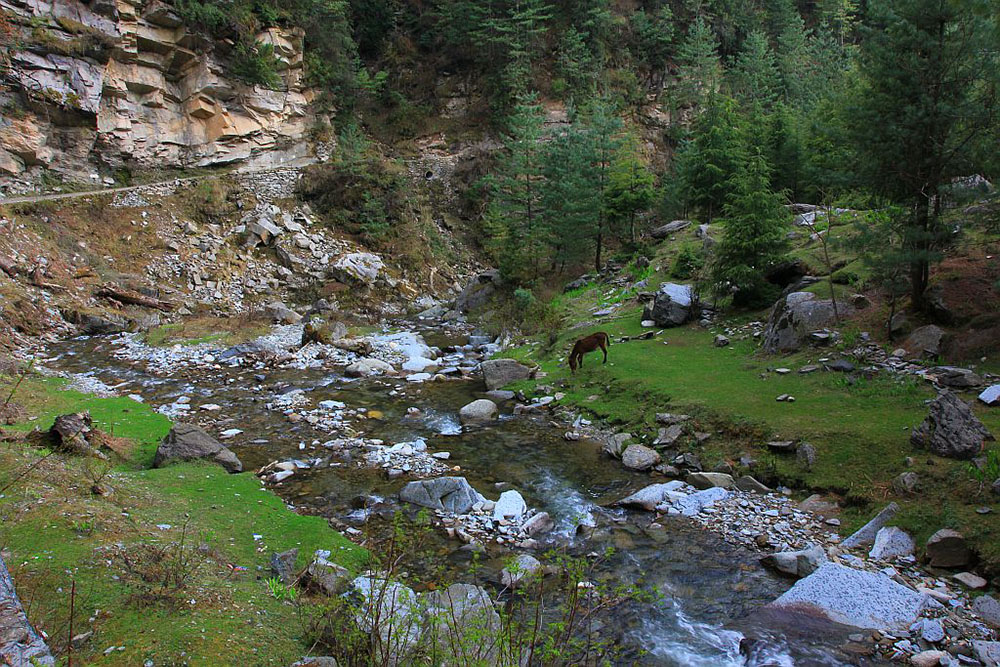 This spot was beautiful. A small bridge across the stream, a wide basin below it, and horses grazing. The light was poor, it was difficult to take a picture that would do justice to the beauty and serenity of the place.
The other one was this. The Bahu Naag temple at Mohini Village, is on the hill at a sharp bend.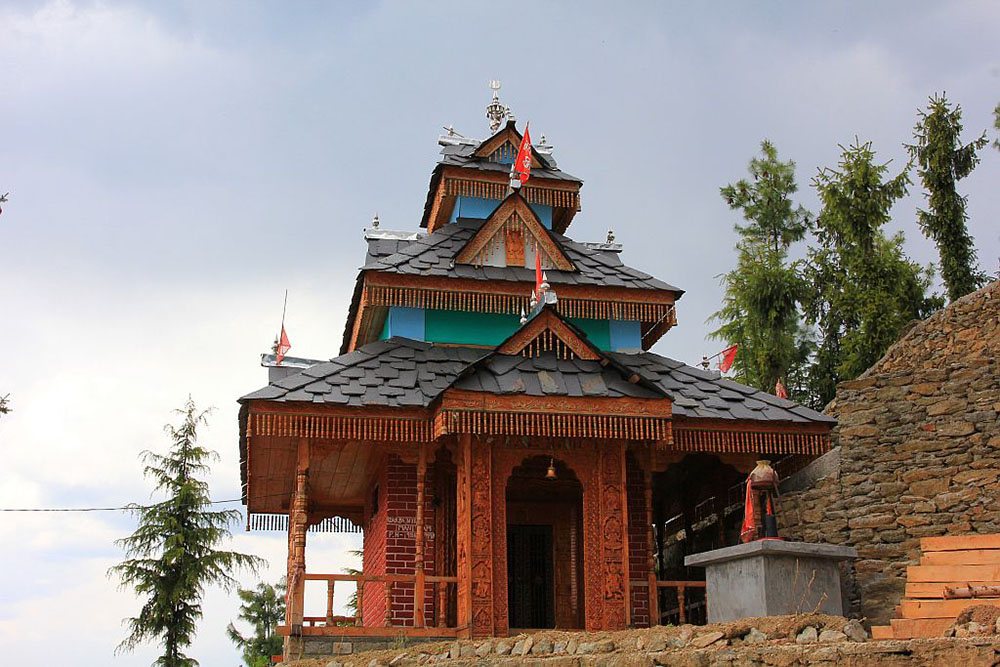 Baloo Temple Trek

There was another spot that had 5 Karhaats running in full flow simultaneously. The place was beautiful but I could not take any pic as the rain was strong and my son was sleeping on my lap.
We crossed the beautiful Gada Gushaini again and came back to Bahu where we decided to leave my son and daughter with Prakash's wife as the weather was turning nasty.
Once that was done, we proceeded to the star attraction of the area, the Baloo temple. That was to be reached by a trek of around 2 and a half Kms through a dense jungle. We started.
We walked and walked till we reached this :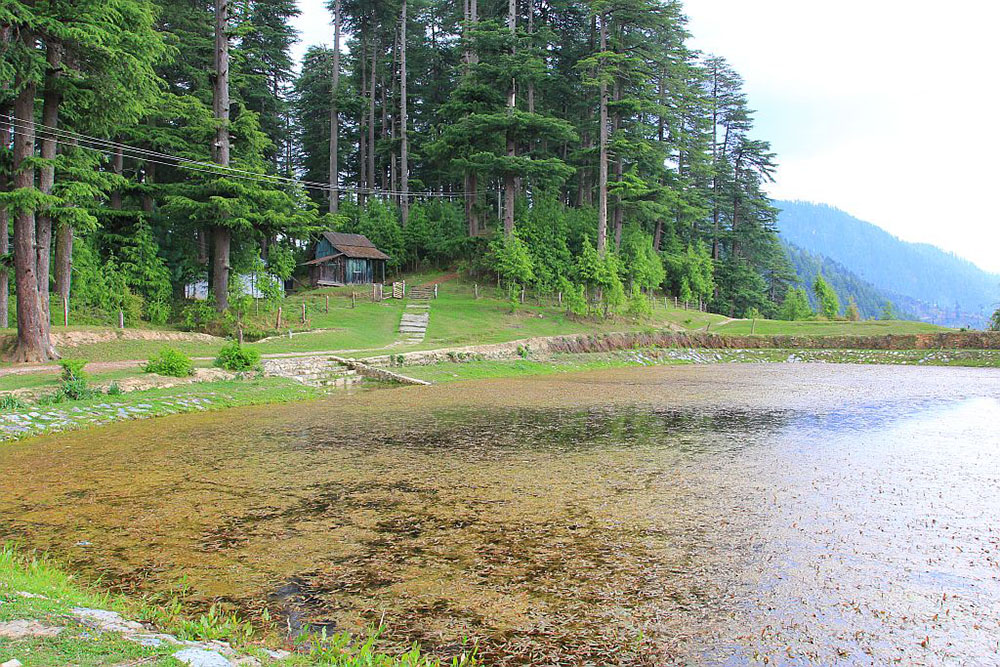 The small lake was breathtaking. So very beautiful and quiet. I asked Prakash whether the place has a name. No Sir, he said this is just a lake and in a couple of weeks it would be all full of some water flower.
It was unbelievable. The place would have been given an extremely fancy name and would have been inaugurated by a person of high repute in the cities but here it was, all anonymous and as beautiful as it could be.
There was some village down below and the apple trees with the flowers looked magnificent. We sat there for some time but the weather was turning bad. Prakash advised us to get going.
We walked through beautiful vistas, sharp bends. We walked and we walked. But deep down inside I was wondering what a hell of a drive it would have been on a two-wheeler or a 4WD.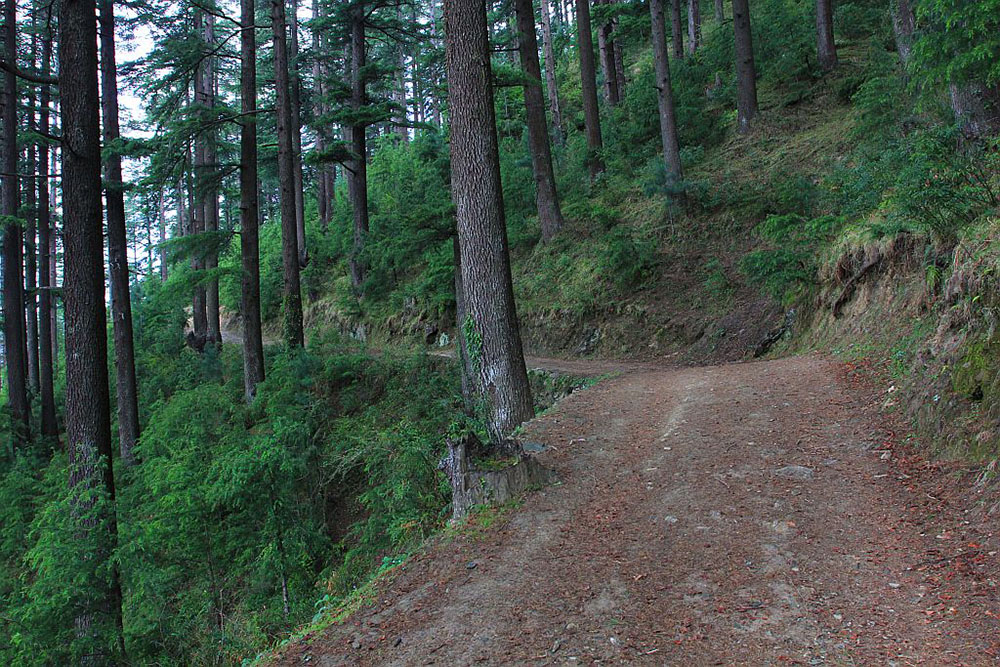 We were taking frequent breaks. The weather was awesome. Cold and wet but at the same time not uncomfortable. And then the narrow trail opened into a meadow and we saw another beautiful structure.
Sheshnag Temple Baloo Temple
This is the Sheshnaag temple, informed Prakash. It is more than 1000 years old. 1000 years or not, it was beautiful – a wooden structure in the middle of a meadow in a dense forest and was picture perfect.
The drizzle has now turned into rain, and the light was extremely poor, I kept on clicking and clicking. The setting was so picturesque.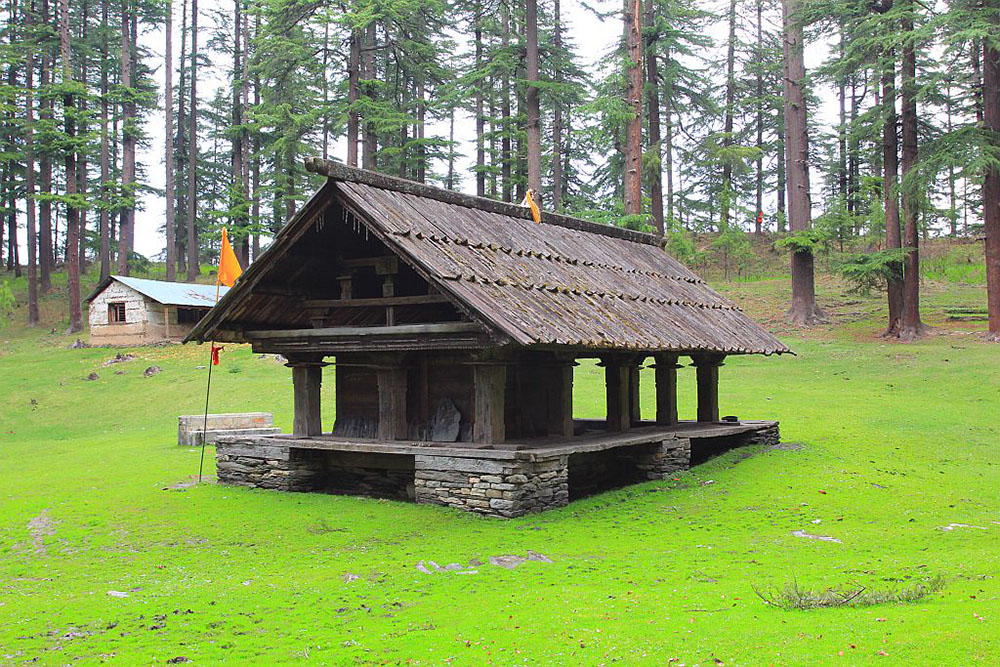 Prakash told me that Sheshnaag and Shringa Rishi of Banjar are two rival deities of the area.
During the festival of Dussehra, when all these deities leave their home and come to the Dussehra ground at Kullu, the foremost importance is the sequence in which they follow the main statue of Rama.
There have been several fights between the followers of these two Gods, Shringa Rishi & Sheshnaag as to who would be placed next to Rama in the Dussehra celebration, some have even been bloody.
Sheshnaag being incarnate of Laxman claims stake on the place next to Rama while some regard Shringa Rishi as an incarnate of Rama himself and so their claim.
I remember having read in the newspaper about some bloody fights during Kullu Dussehra and could relate to it now.
However, this was not our destination and so we walked past the beautiful structure toward the Baloo Saar temple.
Nothing that we had seen so far or have been told so far had prepared us for what we saw in a little distance.
Baloo Saar Temple
This is the Baloo Sar temple. There was joy in Prakash's voice and why shouldn't there be. He had seen our jaws dropping at the sight.
Picture this – Dense Forest, low light, piles and piles of iron waste offered as prasad, not even a single soul around. The place had a lot of character. It was unlike any of the places that I've seen to date. It inspired awe and fear.
This is a very powerful God, Prakash said. If anyone removes any of the items from here, he is haunted till he comes back and returns them.
I agreed or else there would have been no reason as to why the things continue to remain there. The junk must be worth a lot of rupees to the thieves.
We sat there for a long time and soaked in the spirituality and charged-up atmosphere. This place hardly gets any visitors, said Prakash. I felt sad, not for the place but for the visitors.
It was then time to go back to the homestay where our kids would be waiting for us. The day had been spent well.
We took the same path that we had taken. I turned back and take one last look at the place wondering when would I be lucky next to come here again.
We again passed through the Palki and the Sheshnaag temple. Having seen the Baloo Sar temple, these no longer impressed me. I wonder what will it take now for any other temple to come even remotely close to this one.
Ishaan Log Hut
Prakash pointed out to the village of Bahu down below. One of the best villages I saw during our road trip to Jibhi.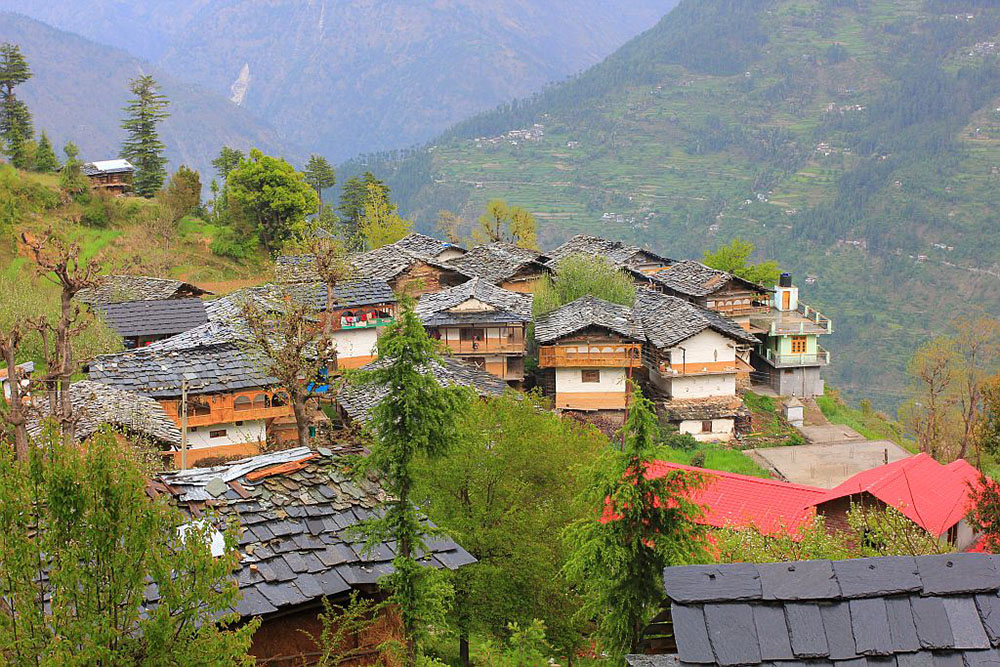 Sir let's go to the village now. It's a heritage village and now that Malana is burnt down and rebuilt in a modern style, this is the oldest heritage village of Himachal. Prakash said.
However, we were cold and wet and wanted to return to the kids. Moreover, there had to be a reason to return to this region soon and so we requested him to take us back to the homestay.
Having been fully satisfied with the trek to Baloo temple we came back a little tired to Ishaan Log Hut – the homestay run by Prakash & his family. We were immediately blown away by the calmness, cleanliness, and serenity of the place.
This was another gem on this side of Himachal. The place was ideal for book lovers, painters, artists, writers, etc. One could easily pursue one's creative pursuit by staying at this homestay.
It's a 2 room affair and Prakash's clients are mostly from Europe. The place was spic and span even in this off-season and had views of layers and layers of mountain ranges. Going by the snacks that we had, we could make out that Prakash's Wife is an excellent cook.
I would have loved to stay at Ishaan Log Hut but the itinerary this time was too tight. We thanked Prakash and set off to our own cute hut in Jibhi.
Day 3: Sightseeing in Jibhi
After another peaceful night at the hut, it was time to bid goodbye. However, we had still not seen Jibhi, even though the plan was for a road trip to Jibhi. So after breakfast, JD took us first to the waterfall.
Jibhi Waterfall
This waterfall at Jibhi is reached after walking through a very interesting path of around 200 meters and this short trek will rate the highest in terms of reward vis-a-vis effort.
Also Read: Delhi to Jalori Pass & Tirthan Valley
The topography was straight out of the Lord of the rings, with moss on both sides of the rocks and cute little dilapidated bridges over a small river stream. It was beautiful.
Sheshnaag Temple
After spending around an hour at the waterfall we climbed up the road to the local Shesh Naag temple of Jibhi.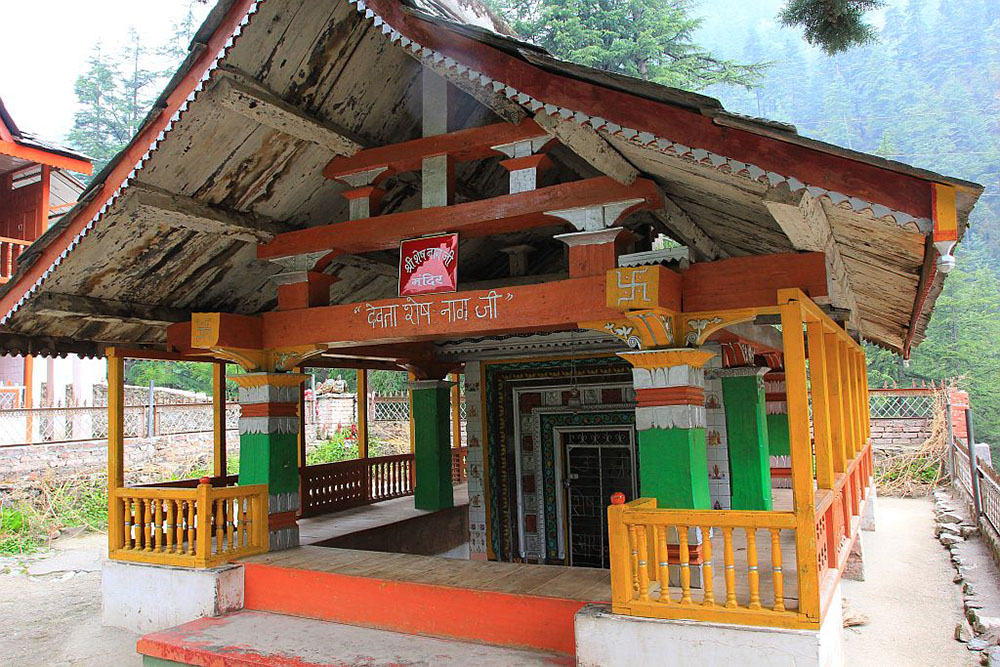 While climbing up the Sheshnaag temple I had seen a school. I asked JD if we could go inside and have a look. As luck would have it JD had done his schooling at this very school.
This being a weekend, the school was closed and so we had to be satisfied by having a look around the campus.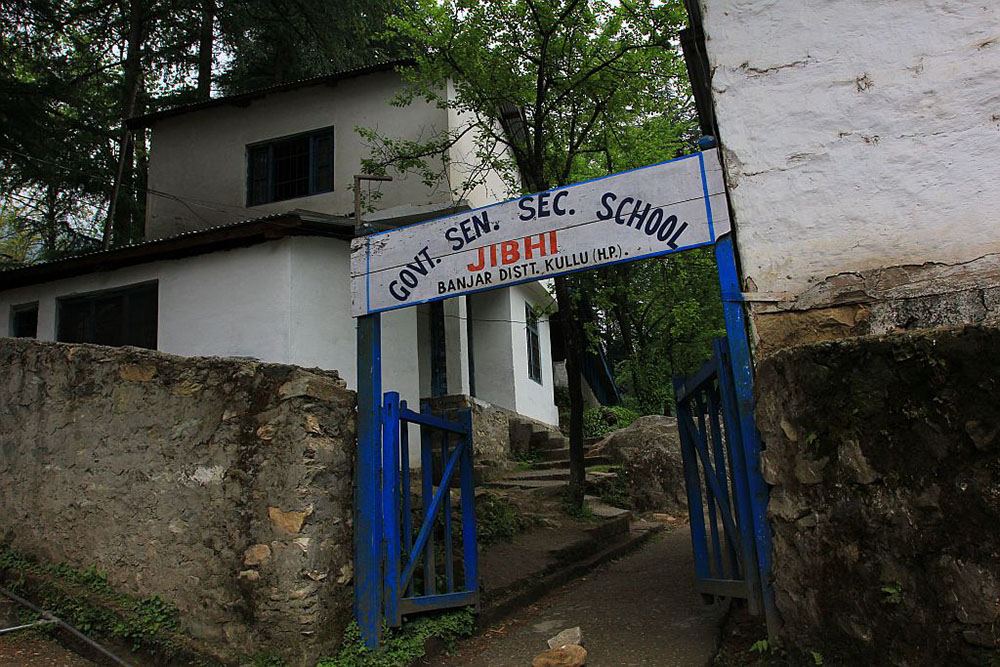 It was now time to bid goodbye to Jibhi. The 2 nights spent here have been magical. There are some other must-see places also:
Drive up to Jalori pass and go to the Serolsar Lake and the Raghupur fort meadow. I've already done the Serulsar Lake thing on one of my earlier trips and was not inclined to do it again & Raghupur Fort meadow involves a steep climb of around 3 KMs which would have been difficult with the kids and so we let it go.
The beautiful Chehni Kothi. I had already been to this place on one of my earlier trips so did not include it this time.
The next stop was to be the riverside resort at Dehuri in Tirthan Valley. We had asked JD to arrange for a lunch of trout fish. In spite of him being vegetarian, he had arranged for our lunch at another homestay at Gushaini.
Riverside Resort, Dhuri
So after the scrumptious lunch of butter garlic trouts, we reached the Riverside resort, the last destination of our road trip to Jibhi.
Jibhi, Latoda Hut & JD had raised the bar so much that Dhuri, River Side resort & Bhuvan (the caretaker of Riverside resort) just could not match up.
We wanted to go up to the Bandal village and walk up to the gate of the Great Himalayan National Park. However, Bhuvan showed no interest and so we decided to just walk around the resort.
A small walk through the back door brought us to a bridge that had a beautiful view. We saw a beautiful structure on the river bank and thought the same to be another homestay.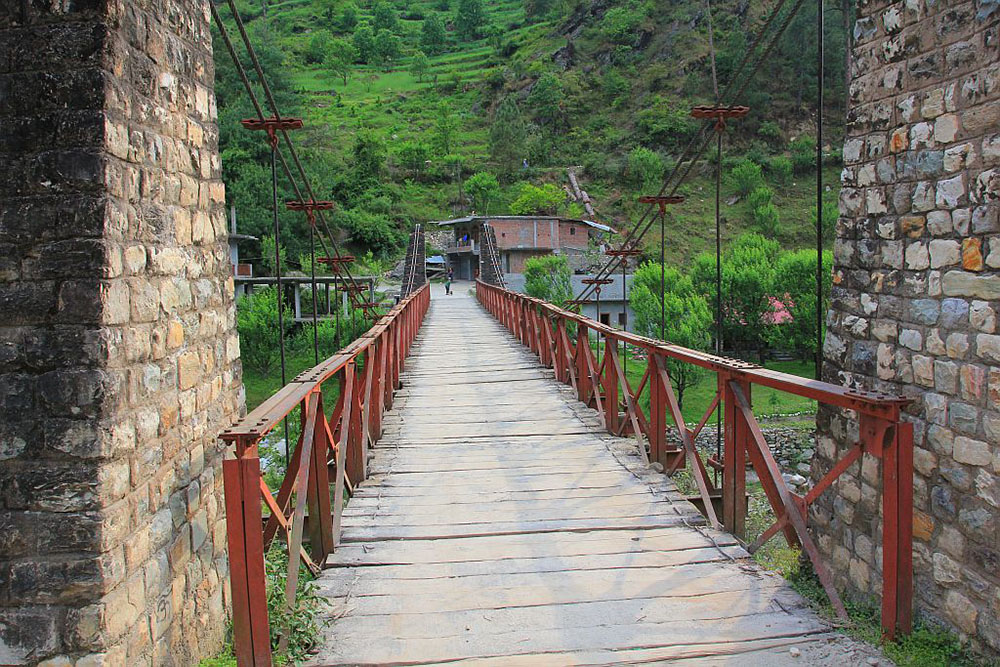 We asked the lady if we could come down and had a look. She agreed. However, it was not a homestay. In fact, it was a private holiday home and was frequented by Bollywood stars. The last to come was Neena Gupta just a couple of days ago.
We decided to drive up to the Himalayan Trout House to have some pizzas. The sunset was lovely there. We also met Christopher & his beautiful wife Shefali there.
However, there was no pizza as it was off-season and so we had to be content with the sandwiches and the momos which were very good.
The evening was then spent at the resort and all of us went off to sleep dreading the long drive back.
Day 4: Jibhi to Chandigarh
The drive back home was uneventful and it took us around 8 hours to reach Chandigarh, bringing our amazing road trip to Jibhi to an end. The holiday had been nice and rejuvenating and that geared us to plan another outing pretty soon.
Also Read: How to Plan a Trip to Sainj Valley & Shangarh
Road Trip to Jibhi – Conclusion
This was one of my most memorable trips ever. The area around Jibhi is what I truly call the unexplored, virgin, and offbeat Himachal. It is not yet crowded as the other tourist destinations and I will highly recommend a trip here.
I hope the travelogue, pictures, and information above on making a road trip to Jibhi were of help. If you have any questions, please feel free to ask in the comments section below, and I will be happy to answer. You can also follow me on Instagram and chat with me live there or subscribe to my YouTube channel and ask a question there.