This article is in continuation with a previous one and a part of my winter trip to Kinnaur, Tirthan Valley, and Prashar Lake. We started for Spiti Valley but due to heavy snowfall and blocked roads, had to change the plans at the last minute. The post below details our journey on the 5th day of the trip when we traveled from Manali to Prashar Lake after attempting a drive snowed-out Rohtang Pass. Please click on the links below to read the previous part of the travelogue.
Journey So Far: 
On Day 5 of our trip, we woke up to beautifully cold weather in Manali. We were up and ready to move towards Rohtang by quarter past six, early next morning. I figured the timing would be sufficient to beat the early morning check-post at Kothi which sole reason for existence is to stop non-HP registered vehicles to move towards the pass.
We were armed with a packed breakfast of baked goodies and some fruit juices to make a picnic out of the whole escapade. The sun was out and it was a lovely bring and sunny morning.
Day 5: Manali to Parashar Lake to Bilaspur
The highway was devoid of any vehicular traffic at that hour – possibly due to the lack of snow tourists at Manali and of course. A closed Rohtang does help in keeping things uncrowded. We made quick progress and had crossed Kothi Village without any hiccups, thankfully. It was still very cold outside, but very comfortable inside in the cozy interiors of Kiyang.
It was supposed to be a simple U-bend at the outset. As always, I slowed down to take the inclined U-bend at a sluggish speed in 1st gear. There was a deep ditch on either side of the U-bend with rocks, loose gravel, and mud.
It was smooth tarmac, so needless to stay I did not have 4WD engaged. To my utter shock, the vehicle stalled while taking on that turn! I had not expected this by any stretch of the imagination. Thankfully the car was not sliding and was stationary up that incline.
Perplexed, I switched to 4WD – 4H immediately and gave it a rip. I could hear the wheels spinning while Kiyang started sliding laterally towards the ditch. This was weird. This was never experienced by me before. I slammed the brakes immediately, and the lateral sliding stopped.
Also Read: When is the Best Time to Visit Rohtang Pass
Black Ice
We were neither moving forward nor backward with the hand-brakes engaged. I engaged 4L now, a gross error on my part given the conditions, thinking that brute torque would resolve this issue.
The lateral skidding was even more now and I could not hit the brakes before the car skidded off the tarmac and into the ditch towards the right. The left wheels were on that slippery tarmac while the right was on loose gravel with huge stones next to me.
I was still in 4L and the entire vehicle was tilted with one set of wheels much above the rest. I had my heart in my mouth. It was time to think!
The vehicle was not toppling but it was close to that, or so I feared. Moving forward seemed difficult, with the incline increasing on the gravel side – and limited traction on the left side.
I engaged the reverse gear and ever so slowly, guide the left wheels off the tarmac and went back on the other side of the road, climbing back on the non-slippery tarmac, just before the U-bend.
Now I could see what I had only heard of so far – BLACK ICE. I had no idea how horrible it can be and what it could do to vehicles even as heavy as a Safari! I had only imagined a layer of ice cracking under the immense 2.7-ton weight of our car, but no.
Gulaba
Once the nemesis was understood, it was easier to conquer it. The trick was momentum. With no traction on the black ice section itself, the only way to cross over it was to ensure that the vehicle comes at a minimum momentum and then glides over the ice.
It was imperative not to accelerate or decelerate on those horrible patches themselves, to avoid lateral skidding. With the strategy in place, we proceeded, but only with frayed nerves. The next attempt with momentum was successful and we continued our climb towards Rohtang, a bit shaken.
A Scorpio with tourists was honking madly behind us, so naturally, we let it pass. I tried to gesture to get him to slow down but a CH-01 registration plate vehicle does not listen, does it now?
We found the Scorpio on a U-bend ahead where it too, had slid off the tarmac. Thankfully no damage was done but their facial expressions said it all. Their nerves were frayed as well.
The rest of the climb till Gulaba was through a white snow-field everywhere with fresh powdered snow all around. It was a sight to behold. And with no tourists around, frolicking in the snow, for many, would have been a dream come true.
Also Read: How to Plan a Trip to Rohtang Pass
Marhi
But we have had our share of snow, and frolicking did not entice us that much. The target to reach Marhi did. We had plenty of black ice sections on the road ahead, but the strategy was in place. Hell, we had not even engaged 4WD anymore to conquer it. It was trivial now.
About mid-way between Gulaba and Marhi, the road became narrower, and powdered snow was found in heaps on the mountainside of the road. This powdered heap was a result of high-speed icy winds flowing over the freshly deposited powdered snow. At many places, it formed a heap blocking more than half the road.
The 4H mode was engaged and one tire going on the heap with the other one getting traction from the tarmac – we marched on – slowly. The right tires went over the heap and compressing it. We continued our march for about a km or slightly more till we came across a patch where one huge heap was blocking the entire path.
It was time to take stock of our risk-taking capacity. I mean the car could still march on but it was fraught with danger. The sun was up and it could trigger a mini-snow slide at any place, thereby blocking our return. Or possibly we would get stuck on one of those heaps as well. I got out of the car and walked 100m to take stock of the situation ahead.
Return to Manali
The road was like this as far as I could see – implying slow progress – if at all with Marhi and fraught with risks. I was so missing the white elephant and its inhabitants at this time. The white and black duo would have reduced the risks considerably and it would be a fantastic adventure. But it was not so – and hence we returned from the juncture.
Empty roads towards Palchaan. The road was narrow at places but perfectly clear till here.
Thou shalt not pass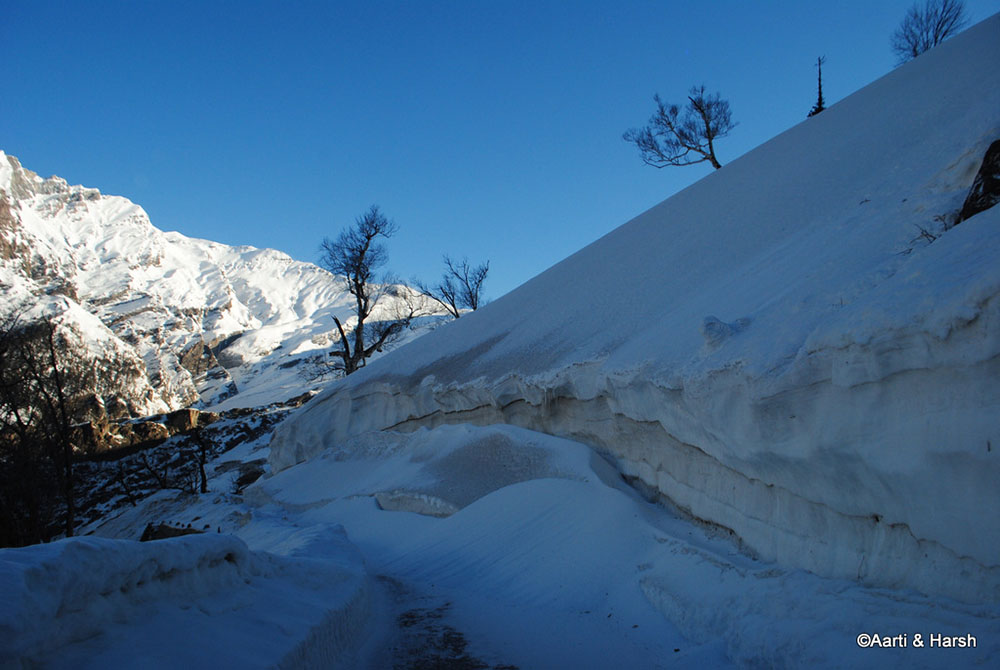 Stuck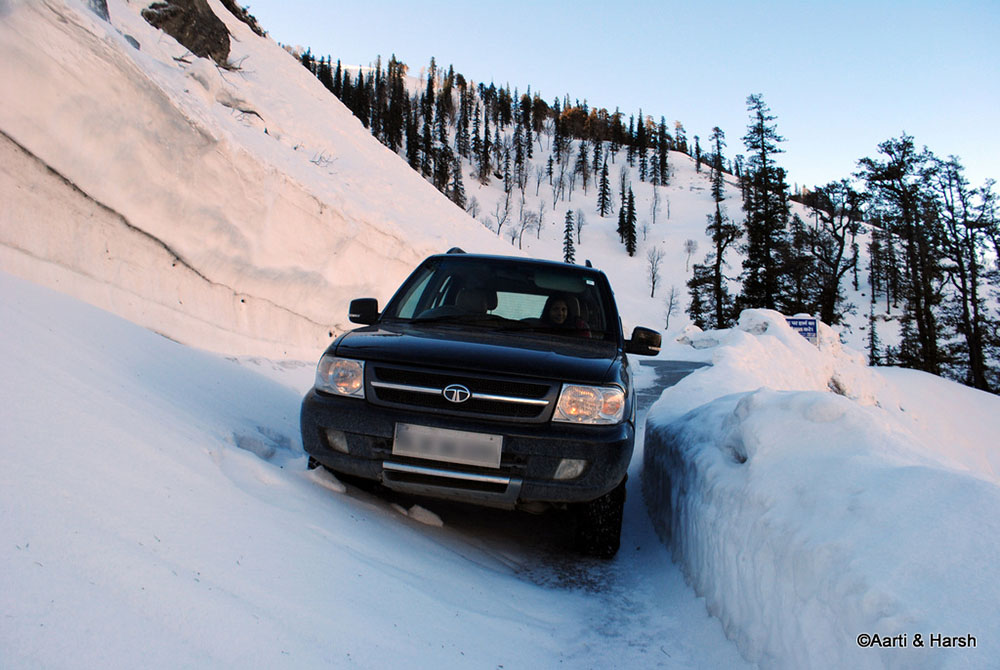 About turn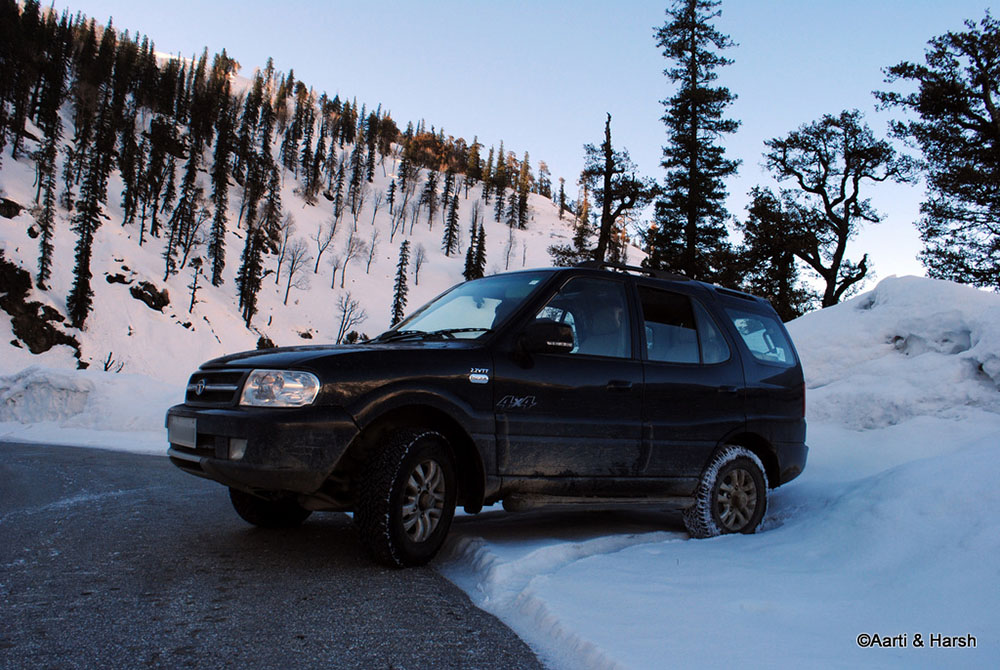 Sunny, bright, and white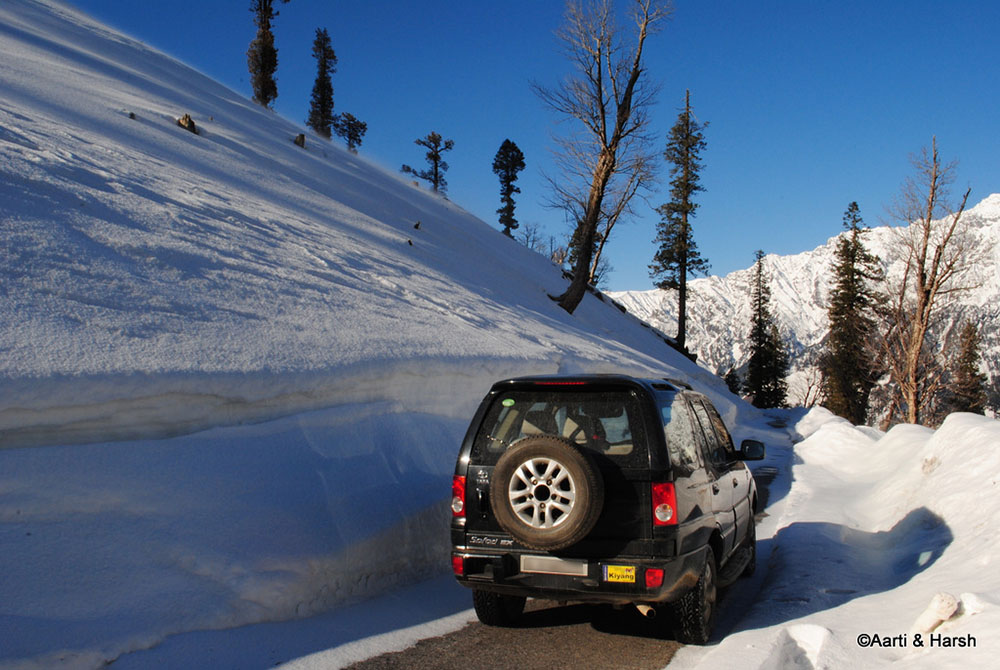 Snow walls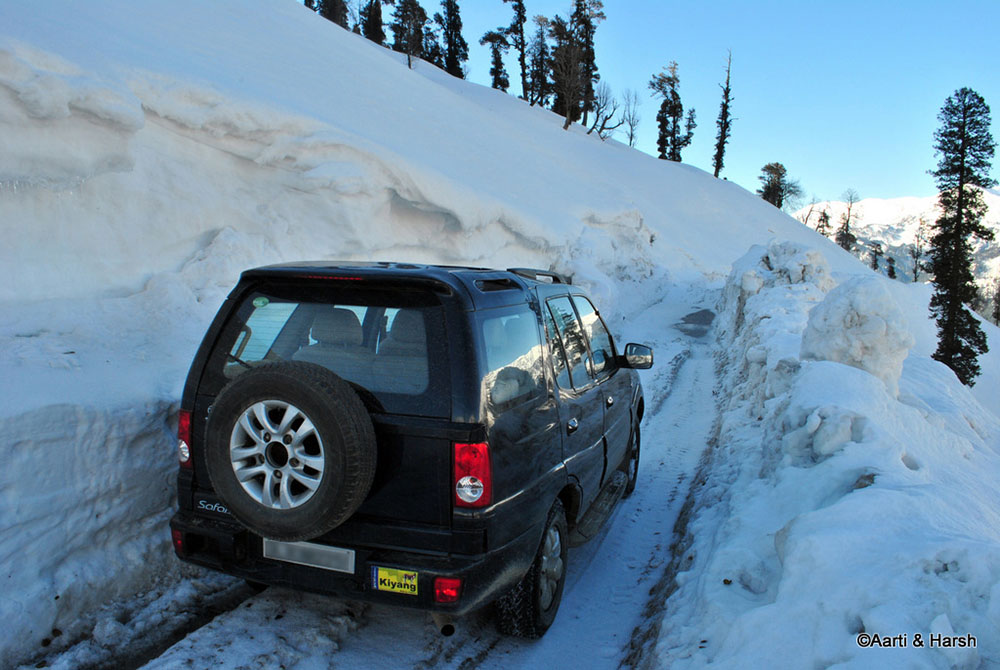 Another shot of the snow walls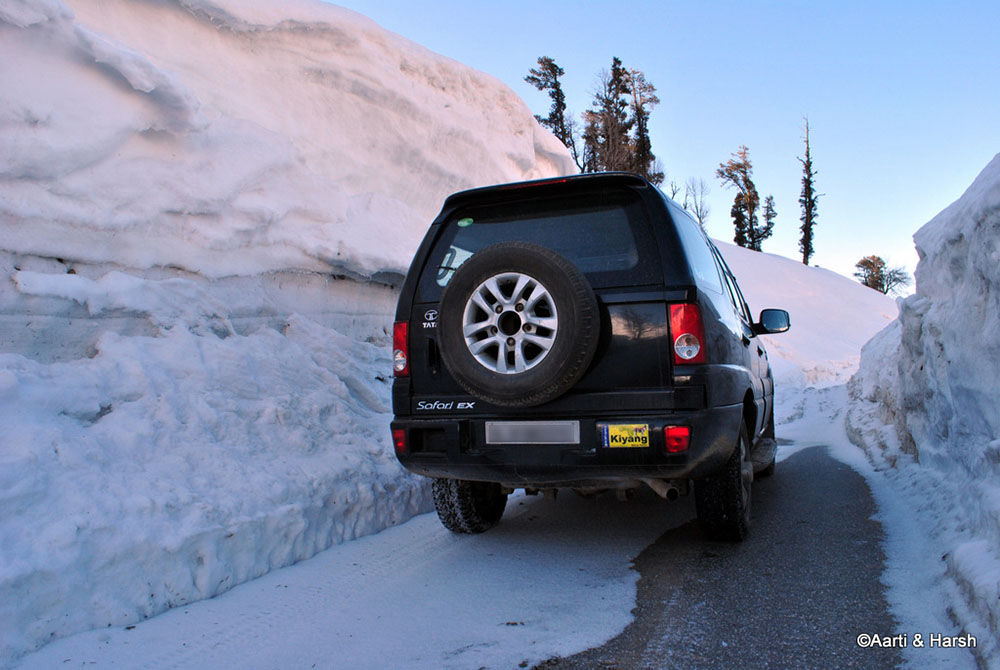 Approaching Gulaba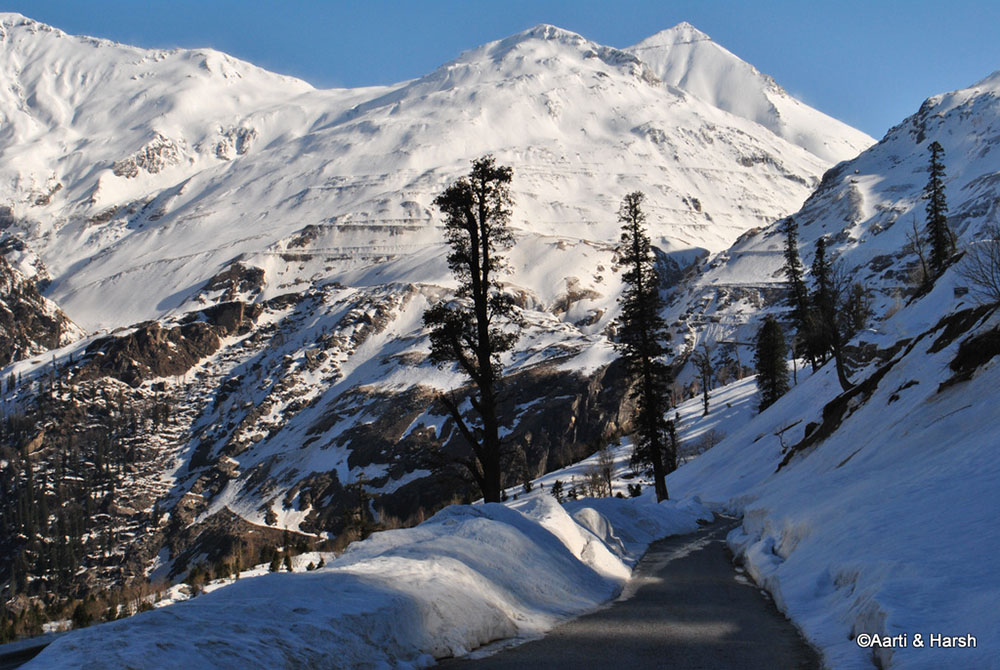 This is where the traffic is allowed these days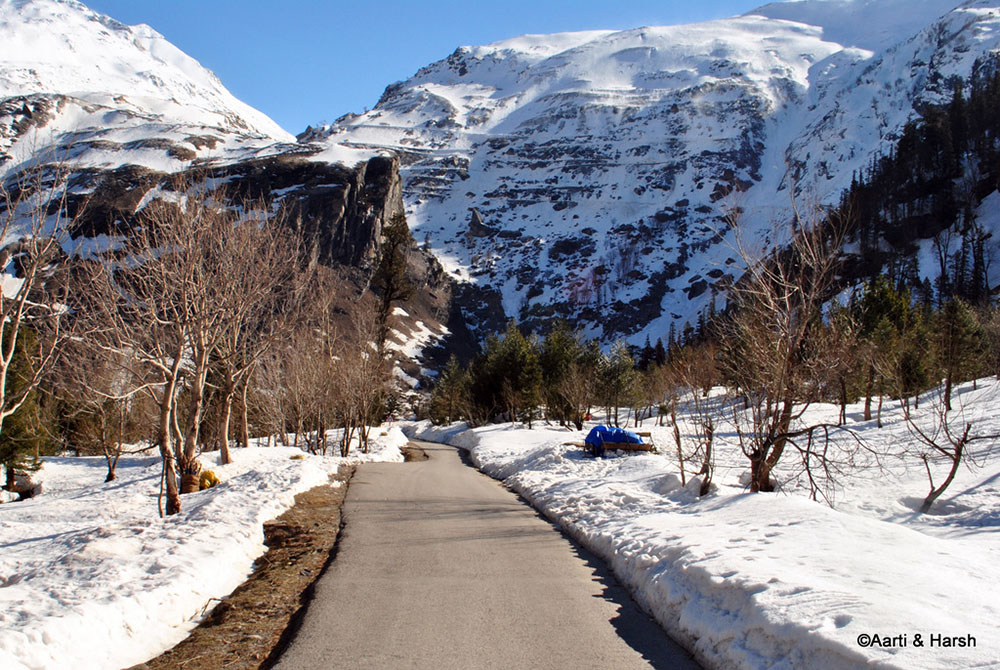 The ride back to civilization and Manali was uneventful. We passed a couple of tourist taxis on our way down. Even the black ice was giving away under our weight now, but the sun shining brightly on those sections.
Things were rosier now. We stopped for breakfast, heating up the croissant using our stove and the warm baked goodie was just the comfort food needed.
Also Read: How to Plan a Trip to Manali
Manali to Bhuntar
It had been a tiring morning, and we had a limited period of shut-eye the night before. So, we crashed for an hour – and checked out of the hotel at dot 12:00 pm. The ride back to Delhi would be long, so we had to stack up with a nice hearty breakfast – at the German bakery next to the stream coming down from Old Manali and then drive all the way to Delhi.
It was 1'o'clock in the afternoon when we chugged away from Manali. It was a latish start and a straight run would have led us to be in Delhi by late in the night, probably around 2 am. However, we decided to take the detour and drive from Manali to Prashar lake.
It was a mini-destination that had been on our minds for quite some time, but one which had been neglected for more 'delicious' destinations and drives. The lake itself is small and flanked by an old temple which is quite revered by the locals.
And with an altitude of around 2700 meters, it stands just above the treeline in a huge meadow – or a 'Bugyal' as they call it in this part of the world. At that altitude, the panorama visible from there is quite exquisite.
Bhuntar to Prashar Lake
The detour itself is somewhere after Bhuntar at a non-descript town on the highway by the name of Bajaura. The detour itself is poorly marked, but the saving grace was that everyone seemed to know about this lake.
I guess the temple makes it very popular among the locals as a picnic destination cum pilgrimage. The drive from Manali to Prashar Lake is smooth until Bhuntar. After that, the wide highway is replaced by a narrow tarmac road – but good enough for two vehicles to cross comfortably without breaking a sweat.
One leaves the tarmac somewhere mid-way towards Mandi and starts climbing rapidly towards the lake. It is a long and continuous climb but with few switchbacks.
This makes it possible to keep an average speed of about 20-25kmph even on those roads. The traffic was sparse, thankfully as there were plenty of blind turns.
The road conditions from Manali to Prashar Lake were quite decent, except for being narrow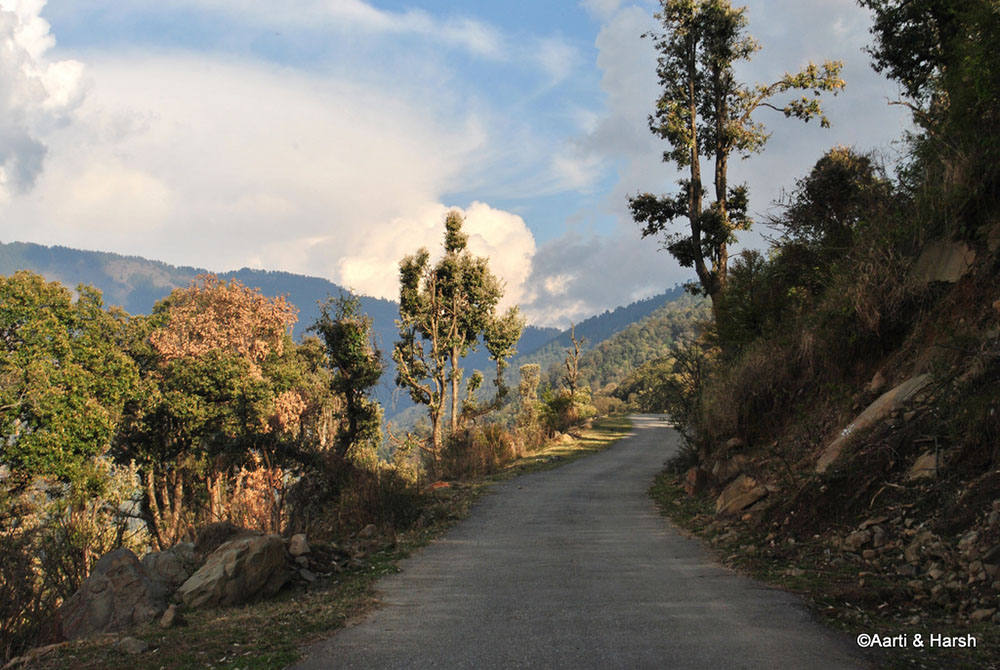 ​Prashar Lake
The last climb is through a thick jungle, where there are painful switchbacks – especially for a Safari with a horrible turning radius after which just out of nowhere the trees disappear and one is treated to a vast meadow.
At the end of the meadow stands a Forest rest house and a PWD rest house both of which are lone buildings in an otherwise vast expanse. If one has the time and has booked them in advance – they looked like a really fantastic place to spend a night with the snow-clad Himalayan peaks for company.
Sadly, by March haze takes over making for low visibility but I would assume Oct-Dec would be a fantastic time to stay here. For more details, take a look at How to Plan a Trip to Prashar Lake.
One walks a bit – hardly for about 10 min – from the parking lot to the ridge, below which lies the lake. At the ridge one finds a Dhaba doling out vegetarian goodies and is a pleasant surprise since the entire route is devoid of any Dhabas.
Sadly, for carnivores like me, even eggs were not available owing to its proximity to the temple. We went down towards the lake to take a couple of shots, having been blessed with the first clear sunset of the trip.
Above the tree-line – approaching Prashar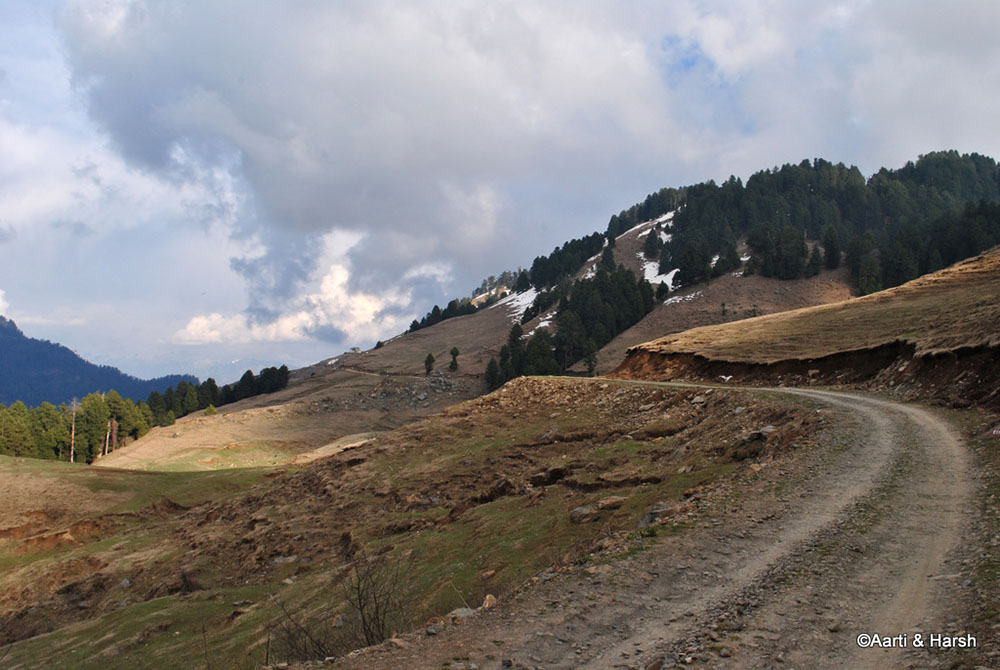 The 'Prashar bowl'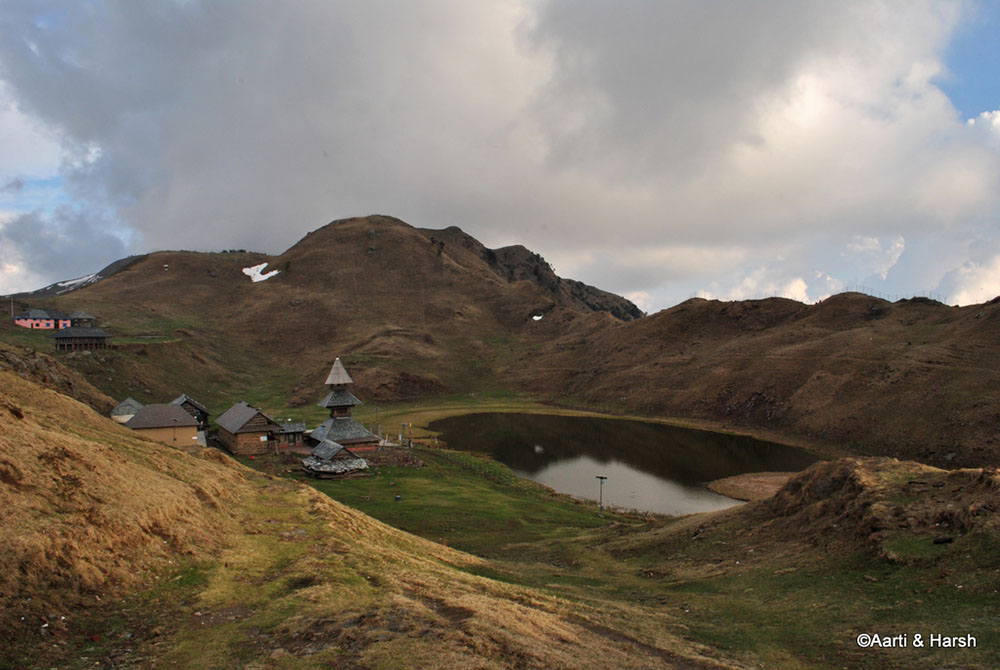 A wider view of the Prashar bowl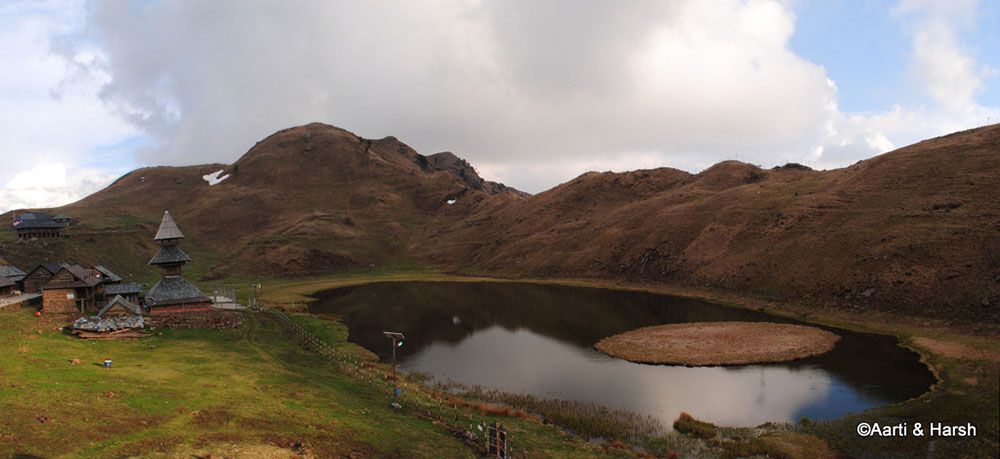 The last rays of the sun hitting the temple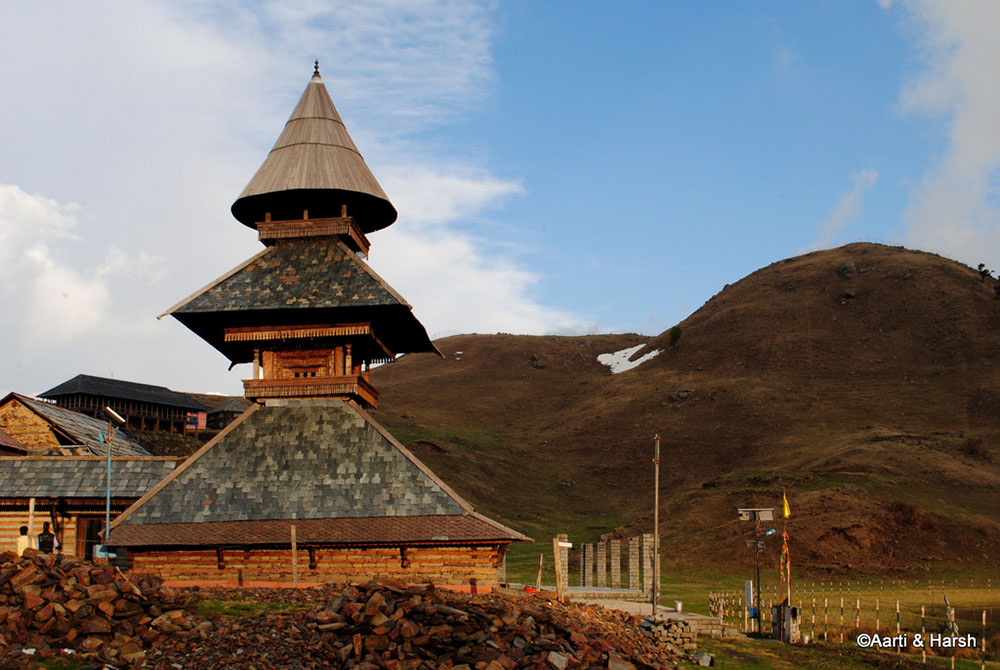 This PWD resthouse would make for an excellent night stay
Bilaspur
​The fuel meter was nearing empty and it was time to pour out the spare diesel we had hoarded on what was meant to be a 'Spiti' trip. It was already 6:30 pm by the time we had rolled out – and a push all the way to Delhi seemed unlikely. The detour from Manali to Prashar Lake extended our trip by another day.
We decided to crash the night at Bilaspur where we eventually managed to reach by midnight or a tad before midnight – stopping only for a dhaba pitstop for dinner. Our halt had always been the lake view hotel at Bilaspur, sadly it was completely booked that night, so we had to settle for some non-descript hotel that smelled of leaking cooking gas!
Day 6: Bilaspur – Delhi
The drive back was uneventful. An early start saw us reach the plains for breakfast somewhere near Ropar and we arrived safely at our home just in time for lunch.
Manali to Prashar Lake to Bilaspur to Delhi – Conclusion
Our entire trip pretty much went in an undecided flow. We started from home with Spiti Valley on our minds but ended up exploring several other places in an entirely unplanned manner. It was like we went where the road wanted to take us. But in the end, it was an amazingly fun trip and an unforgettable experience overall.
I hope the travelogue, pictures, and information on Manali to Prashar Lake were of help. If you have any questions or need any other details, please feel free to ask in the comments section below or at our Community Forum, and I will be glad to answer.