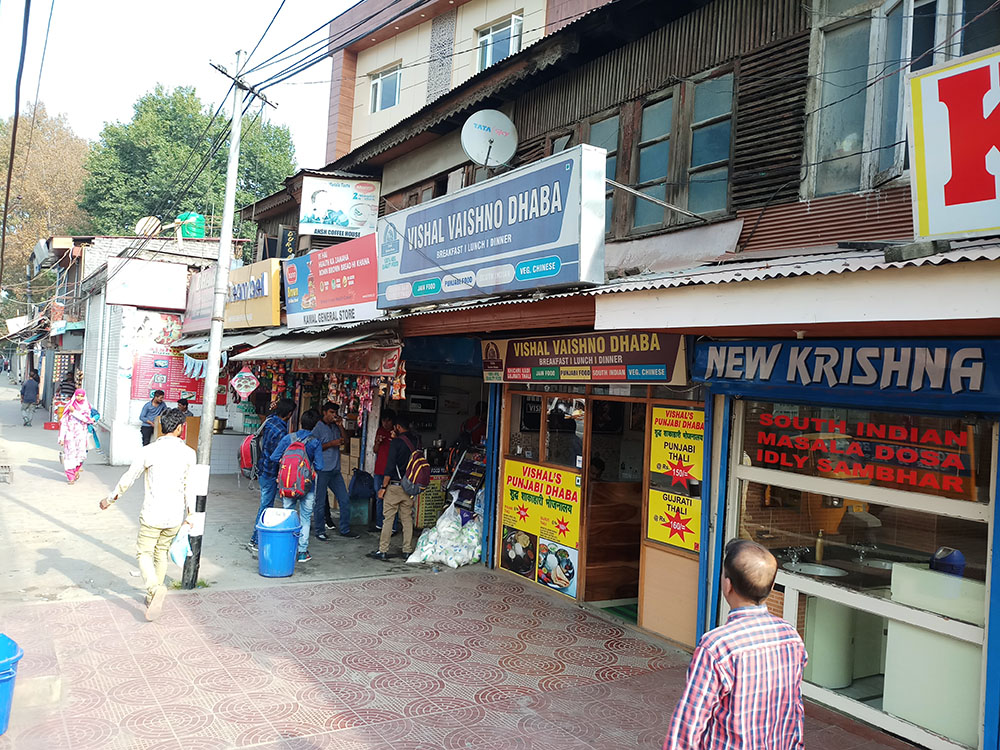 In the post below is a list of some good vegetarian restaurants in Leh Ladakh and Kashmir that you can eat at. All these places serve only veg dishes and there is no non-veg available here, not even eggs. The list below comprises places not only vegetarian restaurants in Leh but at other towns too that you will be crossing while traveling to Ladakh.
If you are strictly a vegetarian, then a trip to Kashmir and Ladakh will definitely get you thinking about where you will be eating. Almost all the restaurants here will serve vegetarian dishes but finding one that serves only vegetarian can be a little troublesome. This creates a big problem for people who will not eat at a place that cooks and serve non-vegetarian dishes too.
Vegetarian Restaurants in Leh Ladakh and Srinagar
I will present this in form of an itinerary. I will start from Srinagar, cover all places in Ladakh and end at Manali.
Before we begin though, I would also like to mention that I am not a vegetarian only and have not eaten at all of these places. The intent is to only compile information here for the sake of anyone who is traveling to Ladakh and looking to eat at a vegetarian-only place.
I either noticed some of the restaurants listed below myself while traveling to Ladakh, or I received this information from friends, other readers, or from the web.
Pure Vegetarian Restaurants in Srinagar
Listed below are a few good vegetarian-only restaurants in Srinagar.
Krishna Vaishno Dhaba: It is located opposite Hotel City Plaza, near United Nation Office, close to Dal Gate. I have never eaten here but it has been highly recommended by several friends for delicious food. They serve only vegetarian food.
Pincer Vegetarian Foods: It is another good vegetarian-only restaurant. It is located near Hotel New Park, Opp. Ghat No-, 9, Boulevard Rd, Durgjan, Srinagar. Their phone number is 094190 68017 in case you have trouble locating the place.
Vishal Vaishno Dhaba: Another veg-only place located near Dal gate, next to Krishna Dhaba. Their phone number is 9906118786 in case you have trouble finding it.
Radha Ki Rasoi: This is located near Malik hotel, on Boulevard Road in Srinagar. Phone number is  9697770000.
Delhi Di Rasoi: This place is located near Gate No. 7, Boulevard Road, Beside Dal Lake.  They serve only vegetarian food and are reasonably priced.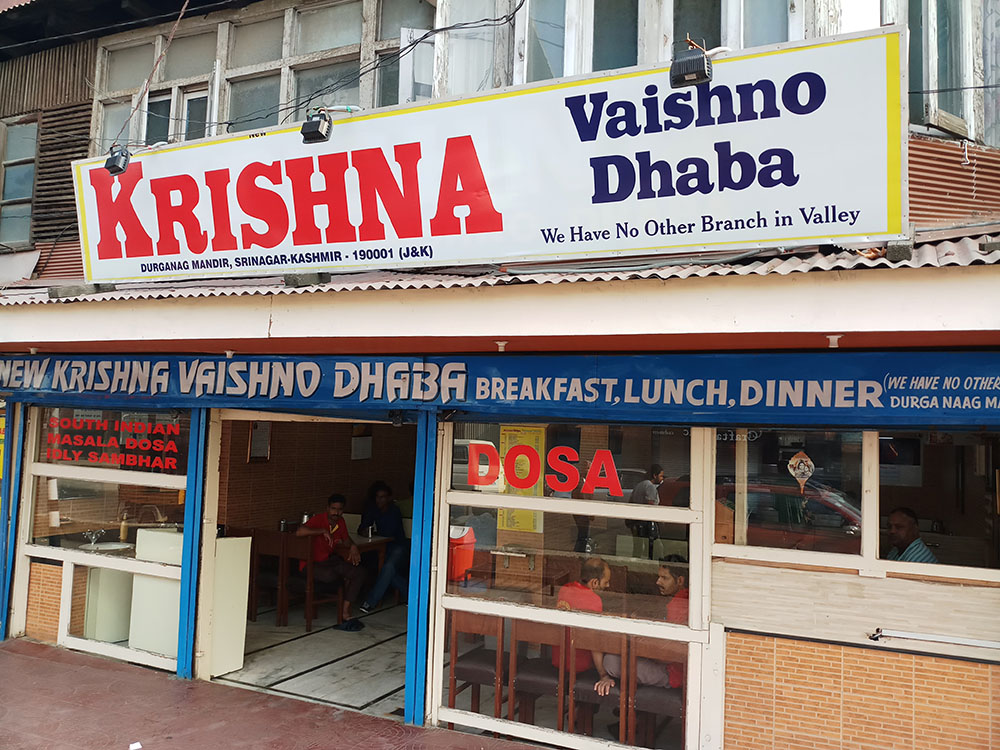 Vegetarian Restaurants in Sonamarg
It will be really hard to find a vegetarian-only restaurant in Sonamarg. As a matter of fact, I do not think there is one here. If you ask around, some of them may yes yes to being veg-only but I highly doubt it.
Your only option is Hotel Sonamarg Palace, located in front of Thajiwas Glacier District Ganderbal, Sonamarg. They have a vegetarian-only restaurant where you may eat; even if you are not a guest at the hotel.
Also Read: Places to visit in Sonamarg & Things to Do
Vegetarian Restaurants in Drass
There is no vegetarian-only restaurant in Drass. All the hotels and Dhabas here serve both veg and nonveg dishes. I will recommend that you eat at Sonamarg and get something packed too for the journey ahead.
Vegetarian Restaurants in Kargil
Like Drass, there is no vegetarian-only restaurant in Kargil. This is the reason why I mentioned that you should get something packed at Sonamarg. This way, you at least have the option of heating up what you bought at the hotel and have it for dinner.
Your best bet to eat vegetarian in Kargil would be a small Dhaba near the taxi stand, in the main market. A Sardarji owns it.
Another good choice to have vegetarian food would be Hotel Caravan. If it fits in your budget, you can check in to this very hotel. If you are staying elsewhere, they have a restaurant where you can go and eat.
Also Read: How to Plan a Trip to Srinagar
Vegetarian Restaurants in Khalsi
After Kargil, the next place where you can find vegetarian-only food is at Khalsi. There is a Jain restaurant here by the name of Samyas Restaurant which I have heard serves quite delicious food. You can have your lunch here while on your way to Leh from Kargil.
Vegetarian Restaurants in Mulbekh
There is a small restaurant/dhaba at Mulbek, just opposite the grand Buddha statue, whose menu is limited to vegetarian food only.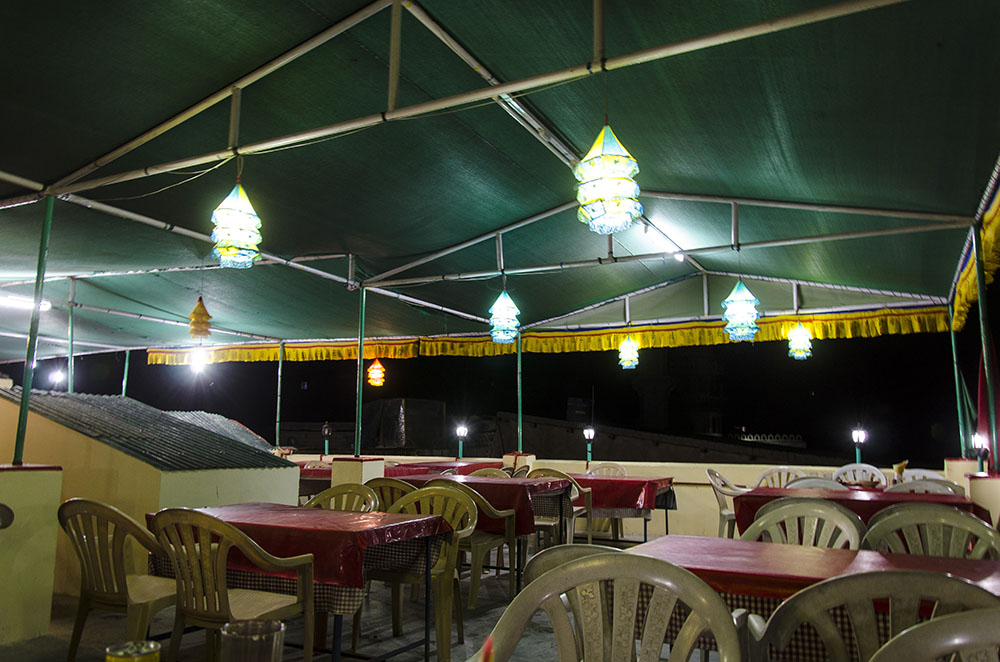 Vegetarian Restaurants in Leh
Most restaurants in Ladakh serve vegetarian dishes but also have a rich non-vegetarian menu. If you are not too finicky about your meal cooked in the same kitchen as a non-vegetarian, the options are plenty. However, if you have any such restrictions, then listed below are some vegetarian restaurants in Leh that serve only vegetarian food.
Neha Snacks: This place also goes by the name of Neha Sweets and is located in the main market of Leh. It is quite a famous place and you will have no trouble finding it. Just ask anyone and they will point you in the right direction. In the list of vegetarian restaurants in Leh, this one always comes to be on the top.
Lamayuru Restaurant: A good and not so expensive place to eat. I have been to this place myself and the vegetarian dishes here were quite delicious.
Tenzin Dickey: If you are in for some Tibetan food, then this restaurant will be your best bet. They are not really that expensive and the food is quite good. It is at Fort Road in Leh.
Punjabi Rasoi: If you would like some traditional Indian food, you should go to Punjabi Rasoi. This too is located in the main market and is a pure vegetarian-only restaurant. The best part here is the half-serving option. So if you are traveling solo or eating alone, you should go here.
Himalayan Restaurant: If you want to try some veg Chinese, then Himalayan Restaurant will be a great place to eat at.
Hotel Mandala: I stayed at this hotel during one of my trips to Ladakh and found it to be quite good. They have a vegetarian-only restaurant that also serves Jain vegetarian food.
Also Read: Local Sightseeing in Leh City
Vegetarian Restaurants in Nubra Valley
After Leh, it gets a bit tricky for vegetarian people. Thing is that most of the Ladakhis eat non-vegetarian, both Muslims and Buddhists. So it is going to be extremely difficult for you to find a place that serves only vegetarian-only.
Most of the restaurants and hotels here will serve vegetarians but if you cannot eat at a place that serves non-veg too, your choices will be severely limited.
Maggie will be your lunch or dinner here. There are several Maggie points in Nubra valley and finding a tea shop or small Dhaba that serves Maggie will be not a problem. Try to look for a homestay and ask the owner if they can serve vegetarian food.
As I mentioned above though, most of the people here eat non-veg so finding a pure veg homestay will be a difficult task.
There is a homestay in Diskit by the name of Khardung Home Stay that I would recommend. I believe they serve only vegetarian food. You can inquire while you are in Diskit about this place.
Again, I am not too sure about this but it's worth a shot. Ask around in Diskit for this place and any of the locals will point you in the right direction.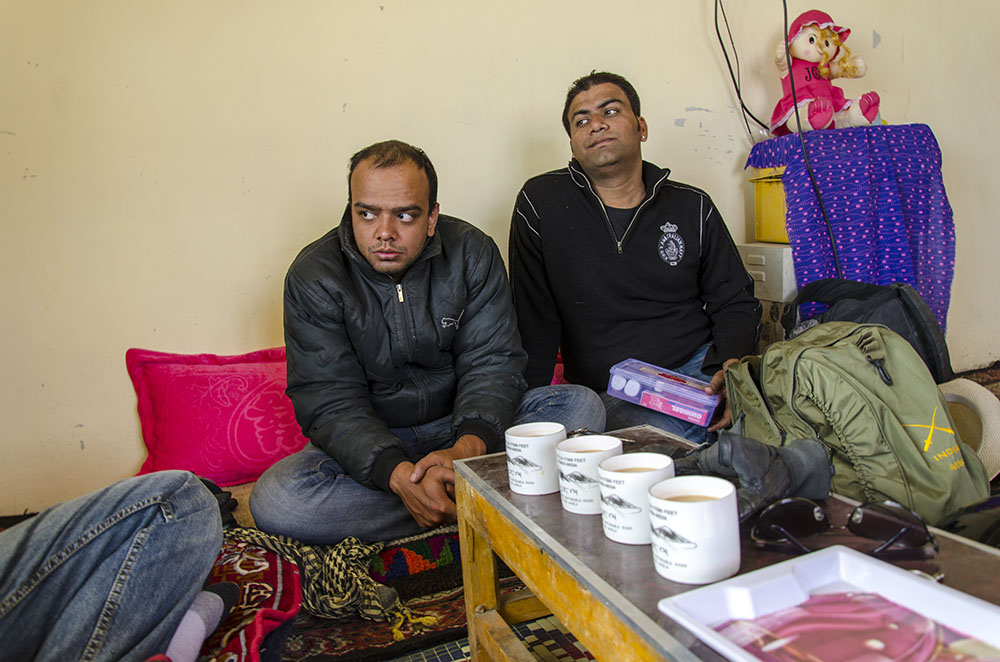 Vegetarian Restaurants at Pangong Tso
There is really no hotel or restaurant at Pangong Tso. It is just chadar tents and campsites. Non-veg is cooked at these sites on order but they usually serve eggs in breakfast which can again be a problem for some people.
There is however a restaurant in Tangste where I ate a couple of years ago. I do not remember the name of it but it is just a small restaurant and there were no non-vegetarian items on their menu.
Also Read: How to Plan a Trip to Pangong Lake from Leh
Eat here before you proceed to Pangong Tso and may even get some food packed for your dinner. Tangste is a very small town and finding this restaurant will not be that difficult a task.
Another thing that you can do is to ask around at the campsites and find one that does not serve non-vegetarian food at all. This however is a long shot and chances of finding such a campsite are slim.
Vegetarian Restaurants in Karzok (Tso Moriri)
It is pretty much the same deal as Nubra Valley and Pangong Tso. There are a few hotels and campsites which will serve you both vegetarian but they cook non-vegetarian as well.
I do not believe there is any restaurant at Karzok which is strictly vegetarian only. There is a tea shop near the monastery in Karzok where I believe they just serve tea, Maggie, Paranthas, dal-chawal, and noodles.  The rest of the guest houses and hotels sever both veg and non-veg.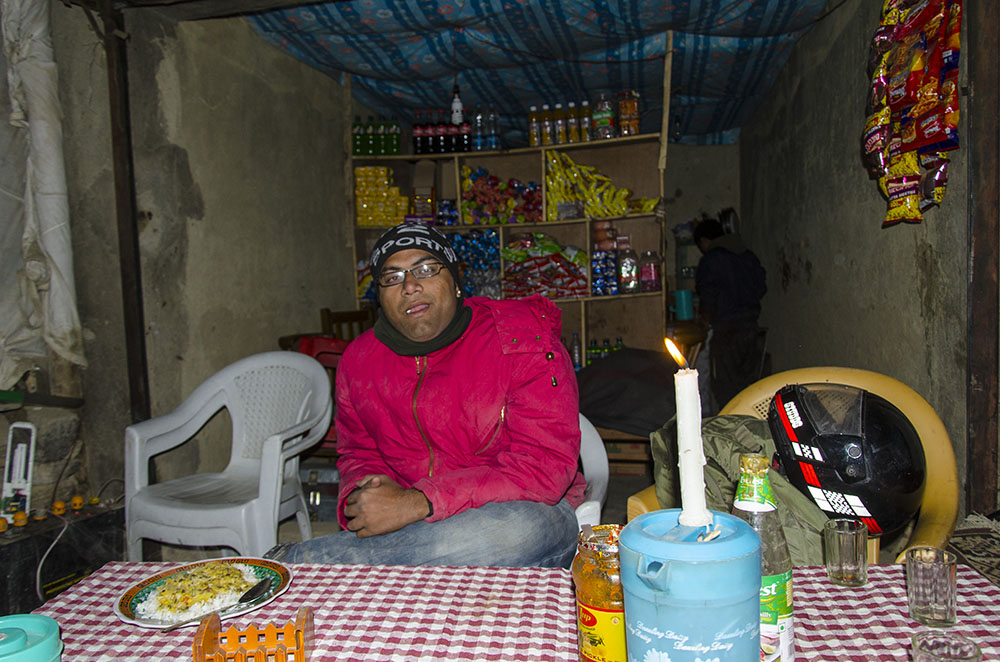 Manali Leh Highway
While traversing on Manali Leh road, the major stopover points are at Pang, Sarchu, Jispa, and Keylong. Most of the people traveling to Leh or to Manali from Leh stop at either of these places.
Pang: There are only Chadar tents here and no cemented hotel. Some of the Chadar tents serve non-vegetarian as well but not all. However, eggs are something that they all serve.
Sarchu: Sarchu also is mostly a camping site and Chadar tents. The situation here is pretty much the same here as Pang. Chadar tents do not usually serve non-vegetarian dishes but they do keep and serve eggs.
Chamba Dhaba: The Dhaba I posted the picture of above is just after crossing Baralacha La towards Leh. Last I was here, there was no non-vegetarian item on their menu. It was just limited to Maggie, Paranthas, simple roti, daal & Chawal. They did not even have eggs too for that matter. You can stop here and have lunch.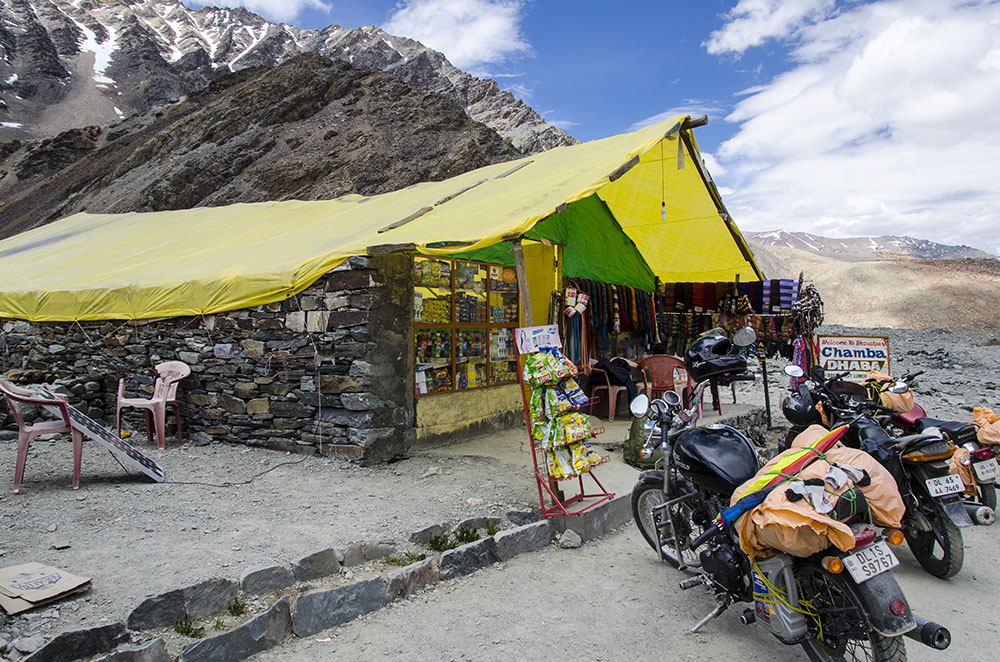 Jispa: Jispa has just one large hotel which serves both veg and non-veg. There are also a couple of camping sites here that mostly serve vegetarian food but can arrange for non-veg as well if any of the guests ask for it.
Keylong: I am sorry but there is no known vegetarian-only restaurant here that I know of. I have just never stayed in Keylong so cannot confirm anything about this place.
Vegetarian Restaurants in Manali
Manali is one of the major tourist spots of our country and you will have no issue finding a vegetarian restaurant here. I will mention a few that I know to be good.
Sharda Satyam:  This one is located in the main market area and is a pure vegetarian restaurant.
Hotel Tirupati Classic: Another vegetarian-only restaurant.
Mehak Restaurant on Mission road
Il Ferno: If you like to try some veg Italian then Il Ferno is the place to go to. It is near the bridge in Old Manali.
Aashiana:  This one is another good and vegetarian-only restaurant in Manali.
If you are in for some vegetarian Himachali food then look for a small dhaba near Jana falls at Naggar.
Also Read: How to Plan a Trip to Manali
Zanskar Valley
There are no vegetarian-only restaurants in Zanskar, or at least not that I have noticed. Some small restaurants in Padum or along the way do not have chicken or mutton readily available but they serve eggs and Omelette.
If that is a concern, then you will have trouble finding a place to eat here and will have to survive on snacks.
Also Read: How to Plan a Trip to Zanskar Valley
Vegetarian Restaurants in Pehalgam
Ok, this one is off the route but thought I would still add it here. If you are on a Kashmir trip and visiting Pahalgam, then Nathu's Rasoi and Dana Pani would be your best choice for vegetarian-only.
Nathu's Rasoi is opposite Hotel Mughal Darbar and Dana Pani is near Hotel Mount View. Just ask anyone and they will point you in the right direction.
Vegetarian Restaurants in Gulmarg
The thing about Gulmarg though is that when you ask them for non-veg, they all claim to be vegetarian food only. At least most of them would. I have been to Gulmarg a few times and being a Muslim myself, found it a little hard to believe. I am not denying their claims but just stating my doubt.
Also Read: How to Plan a Trip to Gulmarg
Anyway, if you are planning to take a detour towards Gulmarg from Sonamarg, then Punjabi Rasoi and Bakshi Restaurant are the ones in Gulmarg serving vegetarian only. There is another restaurant by the name of Falak which has a good veg only menu. Bakshi restaurant also serves Jain vegetarian.
These are some places where I ate. When I asked for some non-vegetarian food, they refused, saying that they are vegetarian-only. I did not notice any eggs as well at these places.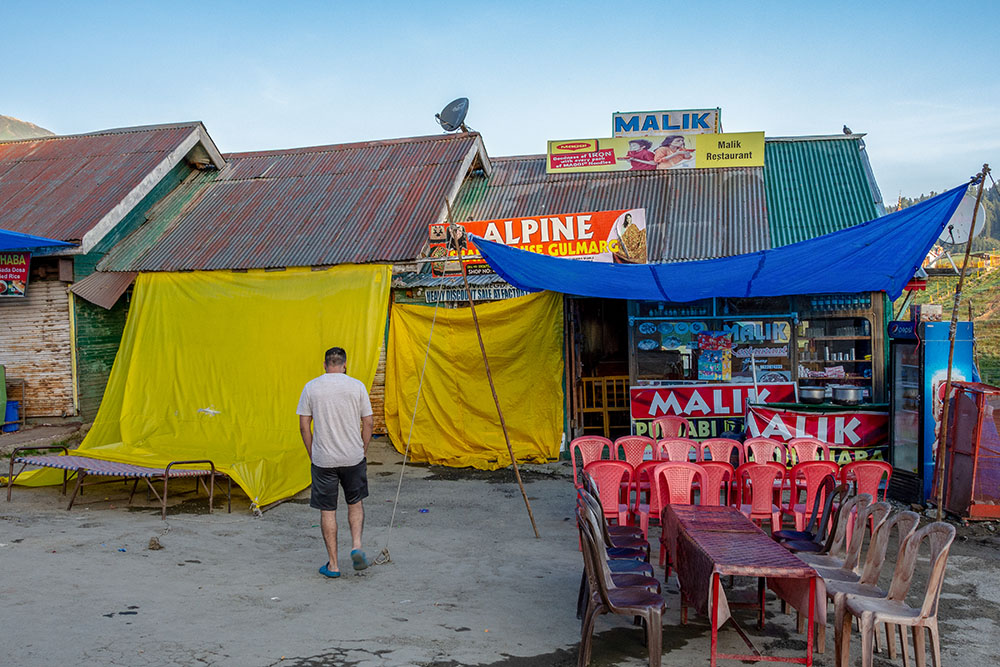 Other Tips
 Below are a few other tips that I believe can be helpful.
If you cannot eat at a place where non-vegetarian is cooked, or eat on plates that may have been used for serving non-veg, then I highly recommend that you carry some utensils with you.
A heating pot, frying pan, plates, bowls, and a few spoons will come in real handy. That way, if you find a vegetarian-only restaurant, you can also get some food packed for the journey ahead and then use your own utensils to heat it up later.
While traveling to remote places, or towards Nubra or Pangong, keep an eye out for small eateries, like tea shops. They usually do not have non-veg on their menu at all and just serve bread and paranthas with tea. Some of these may be serving eggs and some may not so do ask beforehand if you have any such restrictions.
Maggie will come to the rescue while traveling to such remote places. Though you will find it almost everywhere in Ladakh, I will still recommend that you carry a few packets before you start from Leh or any major town where you see it on sale.
If you brought your own utensils with you, you can get Maggie cooked anywhere; even at places where they serve non-veg items.
Chadar tents/dhabas are in plenty all over Ladakh. They also do not usually have nonveg on their menus, except eggs. Some of them do not even have eggs. This will be your next best place to eat while not in Leh.
Carry an ample amount of snacks with you all the time, no matter where you go.
Jain Food
If you are a Jain by faith and have strict limitations about what and where you eat, a trip to Ladakh will be a real problem in terms of food. The best that I can suggest is that you carry some basic cooking and eating utensils with you.
There are also some travel agents that will arrange your entire tour and serve Jain food with no onions, garlic, etc. Another tip would be to arrange your visits to Nubra and Pangong as a day visit.
Ask at the hotel or any restaurant in Leh to cook your meal, pack it for the day journey ahead and be back in Leh by evening.
Just my two cents though. My suggestions may sound a little silly or naive and I am sorry if they did.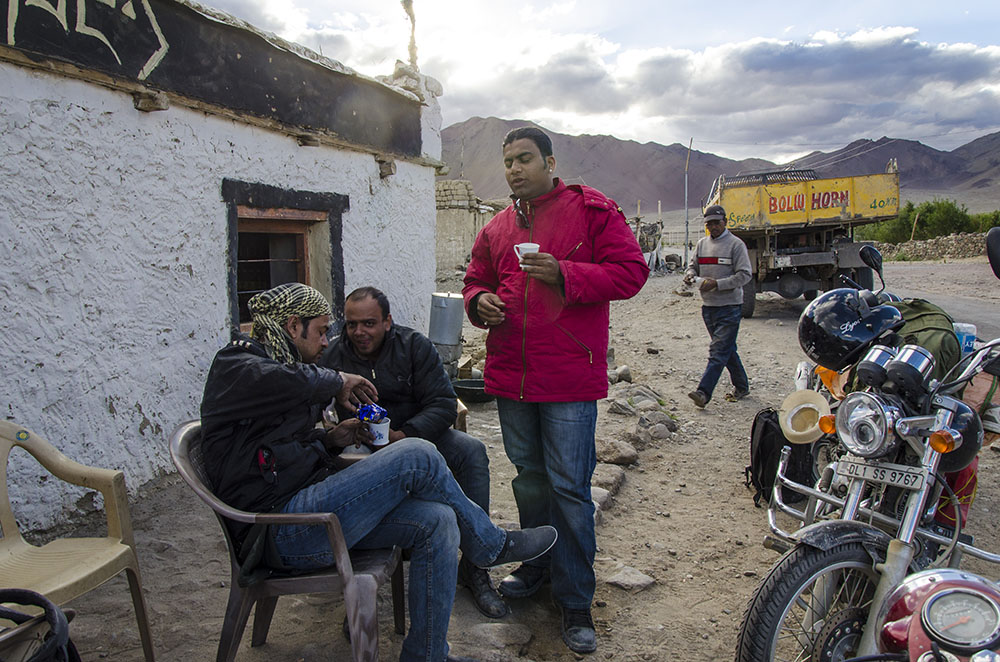 Conclusion
These are just vegetarian restaurants in Leh Ladakh that I was aware of. These are not many, I know. But traveling to a place like Kashmir and Ladakh can severely limit your choices if you are a strict veggie.
If you have been to Ladakh or Kashmir and know of some other vegetarian-only place, please do add that information in the comments section below to help others.
I hope this information about vegetarian restaurants in Leh Ladakh and Kashmir was of help. If you have any questions, you can contact me on Instagram and I will be happy to answer. You can also consider subscribing to my YouTube channel and asking a question there.