When I get asked about the minimum time required for a road trip to Ladakh, my answer always is 9 days. Though the greater the number of days, better the trip will be; fact is that not all of us can afford to be away from work or our regular lives for weeks altogether. Ladakh has in recent years come up as the hottest tourist attraction in our country; and each year thousands of people visit here in whatever time they can afford to take out. It will no doubt still be a rushed trip and you may miss out on a few places but if you can afford to take out 9 days, then yes a road trip to Ladakh is definitely doable. In this article, I will provide a few tips on you can plan such trip and a sample itinerary for a Leh Ladakh 9 Days Trip.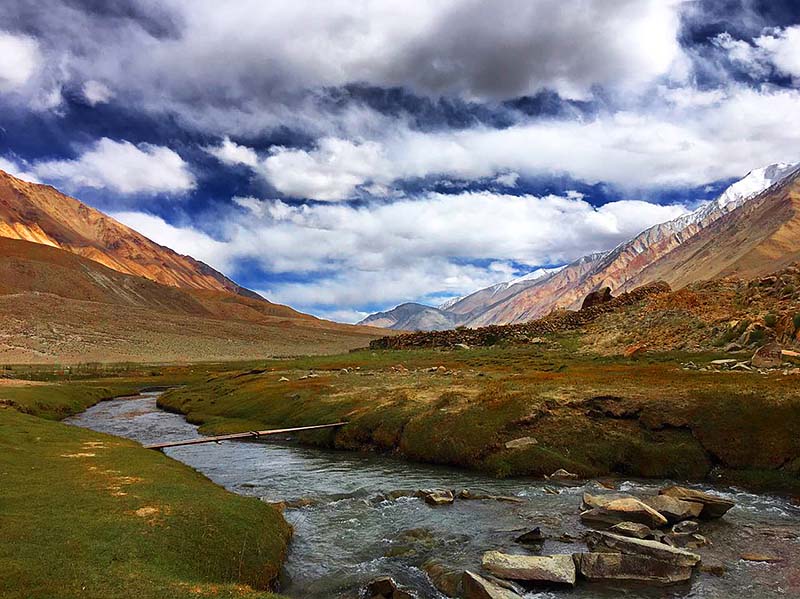 Please note that Inner Line Permit is required to visit areas like Pangong Tso, Nubra valley and Tso Moriri. Without the permit, you can only reach the city of Leh but cannot go any beyond. This permit can be obtained from DM office Leh and can also be applied for online. Please read How to Obtain Inner Line Permit for Ladakh for details on obtaining the permit and related charges.
Since it is a road trip that we are talking about here, I am assuming that you will be in Ladakh in summer. So in terms of clothing, please pack your clothes in layers. What that necessarily means is that carry clothes that can be worn on top of one another. Weather in Ladakh is highly unpredictable and temperature fluctuates depending on the place you are at or the time of the day.
For example, carry a few thermals, then your regular cottons to wear on top of thermals, then another layer of light woolens followed by a heavy windproof and waterproof jacket. What this will ensure is that if you start to feel warm, you can just remove one layer of clothing and if feeling cold, you can conveniently add a layer. For more details on how to pack your clothes for Ladakh, please read Clothes for Ladakh trip: What to pack.
Another important thing is about rented motorcycles and taxis. If you arrived in Leh by a motorcycle that you rented outside Ladakh (Manali and Srinagar included); by a non-local taxi, or by a self-drive rental; then these vehicles are only good enough to bring you to Leh city. You cannot take them towards Pangong, Nubra or Moriri. For visiting these places, you will have to hire a taxi in Leh or rent a local motorcycle and leave the vehicle you came by parked at the hotel. For private vehicles, it must be either registered in your name or your parents or any of your siblings. If you came by a vehicle that was registered in your cousin's or friend's name, you will again have to rent a local vehicle in Leh.
Last but not the least, is this is your first trip to Ladakh; chances are that you will definitely suffer from acute mountain sickness in your first few days of the trip. Gradual increase in altitude and plenty of rest are best precautions against AMS but since you only have 9 days in hand, you will have to rush through the journey at several places. Stops like Sarchu and Pang on Manali Leh highway, lakes like Pangong Tso and Tso Moriri are at the highest altitudes and AMS strikes more people here than any other place. For more details on AMS, what its symptoms are and how you can avoid it, please read How to handle Acute Mountain Sickness in Ladakh.
For the sake of this article, I will assume that you are starting from Delhi. If your starting point is different than the journey for Day 1 and Day 9 will be different; could be longer or shorter depending on your hometown; but rest of the trip will still apply.
Ladakh 9 Days Itinerary
Itinerary will be as mentioned below.
Delhi to Manali – Day 1
Manali to Jispa – Day 2
Jispa to Leh – Day 3
Leh – Day 4
Day Trip to Nubra Valley and return to Leh – Day 5
Leh to Pangong Tso – Day 6
Pangong Tso to Pang / Sarchu – Day 7
Pang / Sarchu to Manali – Day 8
Manali to Delhi – Day 9
The reason why this itinerary covers only Manali to Leh route and excludes Srinagar Leh highway is because of the total distance and time taken. Via Manali, you can reach Leh from Delhi in 3 days however if you take the Srinagar road, it will easily take you 4 days to get to Ladakh. For a 9 days trip, it is best to only cover Manali to Leh road and leave Srinagar for another time.
Leh Ladakh 9 days
A detailed explanation of the itinerary is as mentioned below.
Day 1: Delhi to Manali
Not much to say about this day except for that this will be a long and monotonous journey.  Travel time will be anywhere between 12-14 hours depending upon your speed and breaks so an early start is highly advised. Your biggest concern however upon reaching Manali will be the permits required in order to cross Rohtang Pass. Since you are short on time, it would be best to keep these ready in advance. You can apply for the permits online 2 days before you will be crossing Rohtang Pass. For details on how to apply, please read How to Apply for Rohtang Pass Permit
Manali is a well known tourist destination and hotels there are in plenty. Since you will be staying here for just the night and will be on your way the first thing in the morning tomorrow, do not worry too much about where to stay here. Find a decent enough hotel and check in.
Day 2: Manali to Jispa
You will be crossing the first pass of your journey on Day 2, the mighty Rohtang La. Interesting enough, the word Rohtang literally means "a pile of corpses"; which I believe comes from the fact that a lot of must have died here; trying to cross the mighty mountain in old times. An early start from Manali is advised to avoid the traffic at Rohtang top.  The road from Manali to Rohtang always remains to be a mix of good, bad and ugly; the ugly part is usually around the top. Once you cross the pass, you will descend towards Keylong. A lot of people chose to stay here and you can too but I would advise to continue all the way till Jispa.
Do not forget to tank up at the last petrol pump at Tandi and carry spare fuel if required. Jispa has one luxury hotel, a decent enough guest house and a couple of camp sites where you can stay. The location of the place is quite scenic and it has always been my preferred stop as compared to Keylong.
Some people tend to make it all the way till Sarchu on Day 1 but I would not recommend that. Sarchu is at quite a high altitude and is also one of the places where people tend to suffer from AMS. Staying for the night there can become very inconvenient. It is best to stay at either at Keylong or Jispa; start early the next day and take it all the way to Leh city; which is at a lower altitude than Sarchu or Pang both.
Day 3: Jispa to Leh
You must start early on this day as the journey ahead is quite long. If possible, start by first light of the day, before 6 AM. You will cross four high altitude passes on the way and roads will be a mix of good and bad. Leh has several hotels and you should easily be able to find accommodation within your budget and per your liking.
Day 4: Leh
When short on time, a lot of people try to avoid staying at Leh altogether. They will arrive in the city and try to be on their way to Nubra or Pangong the very next day. This however is not advisable nor the best thing to do. You must spend a day in the city after your arrival. Inner Line Permit is a mandate for visiting any other area in Ladakh and you will have to use this day to obtain it.
Even if you hurried, it will still be almost mid-day by the time you have the permits in your hand; and mid day will be a bit late to start towards any other destination. Do not worry, you will not get bored. There is plenty to see in the Leh city; as a matter of fact the entire town is a tourist attraction in itself. Skipping Leh will leave your trip incomplete. For a list of places you can see on this day, please read What to see in Leh
Day 5: Leh to Diskit (Nubra Valley) to Leh
This will be a long journey both in terms of time and distance so an early start is must. Leave Leh between 6-7 AM and take the road towards Khardung La. There is a canteen at the top where you can have tea if you wish to. After crossing Khardung, you will descend in to Nubra valley. Try to make it to Diskit by noon so that you can reach back Leh before dark. Route for the return journey too will be the same.
Day 6: Leh to Pangong Tso
Destination for today is the famous Pangong Lake; which in recent years has become the very symbol of Ladakh. Pack your bags for good because you will not be returning to Leh. Travel time from Leh to Pangong can easily be 7-8 hours depending upon your speed and breaks. From Leh, take the Manali Leh highway until Karu and then turn towards Sakti village. After Sakti you will cross Chang La and continue towards the lake. For places to stay at Pangong Tso, please read Camp sites, Chadar Tents and Guest Houses at Pangong Lake.
Day 7: Pangong Tso to Pang / Sarchu
From Pangong, backtrack all the way till Karu again but this time, rather than going towards Leh; start towards Manali. Depending upon your speed, you can either chose to stay at Pang or Sarchu for the night. If you reached Pang by say 3 PM, then continue to Sarchu and halt there for the night. If you reached Pang after 3, then it is best to call it a day here.
Day 8: Pang / Sarchu to Manali
This will again be a long run so you must start by 6 AM. It is the same road that you took a few days back to reach Leh so keep your breaks limited and you will be able to make it to Manali by 5 PM.
Day 9: Manali to Delhi
Nothing much to say about this again except for that it is again a long monotonous return journey home.
Leh Ladakh 9 Day Itinerary
The itinerary I stated above is for a road trip. If however you are reaching Leh by flight and have all the 9 days to spend there, then I recommend that you read through How to Plan a trip to Ladakh for 8 Days. This article has a few sample itineraries for an 8 days plan and covers the entire Ladakh region. Since you will have an extra day in hand, for a 9 day Ladakh trip, you can use this as a buffer day at any place of your liking.
Conclusion
I hope the information above regarding Ladakh 9 days trip was helpful. If you have any further questions, please feel free to ask in the Comments Section below or at our Community Forum and I will be glad to answer.