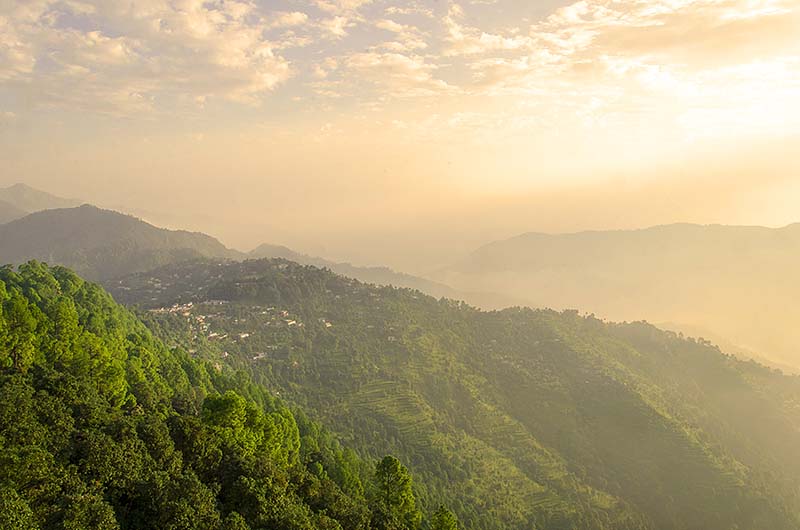 In my previous post, I talked about how you can plan a trip to Lansdowne; covering important details like how you can reach here, where to stay, frequency of public transport, and other important tips that can be of help. Continuing in the same series, in this post, I will provide detailed information on tourist places in Lansdowne.
To be honest, the entire small town of Lansdowne is a tourist attraction in itself. Even the 40 kilometers long drive from Kotdwar to Lansdowne will bring you through some really scenic vistas. The peace and tranquility of the place are like no other and that is what most people visit here for.
Lansdowne is not yet crowded like some other well-known hill stations are. The number of tourists you will find here will be comparatively very less, and it really gives you a chance to spend some time away from the crowd.
Also Read: How to Plan a Trip to Lansdowne?
With that being said, there are of course some places here that are definitely worth a mention and a visit. These can in a way be called your prime attractions of the Lansdowne trip. What these places are what we will be talking about in this article.
Tourist Places in Lansdowne
Some of the places mentioned below are right there in Lansdowne and can be covered in a single day. Others are at a little distance from the main town and may require you to stay for a couple of days more.
Bhulla Taal
Tip in Top
St. Mary's Church
St. John's Church
Durga Devi Temple
Bhim Pakora
Kaleshwar Temple
War Memorial
Darwan Singh Museum
Garhwali Mess
Hawa Ghar
Let me also provide a little information on all these places.
Bhulla Taal
This man-made lake is by far the biggest attraction of Lansdowne; and not just for tourists but for the locals as well. It is quite a popular picnic spot and you will find plenty of families and kids around.
This lake was in fact created with the sole intention of promoting tourism in the area and as far as I can tell, it has served its purpose. You can also go boating in the lake for as less as Rs. 30 to Rs. 50 per person.
There are also a lot of ducks around the lake which becomes a great attraction for children. A beautiful garden with different varieties of flowers surrounds the lake. There is also a small park, a restaurant, and a small handicraft shop right next to Bulla Tal.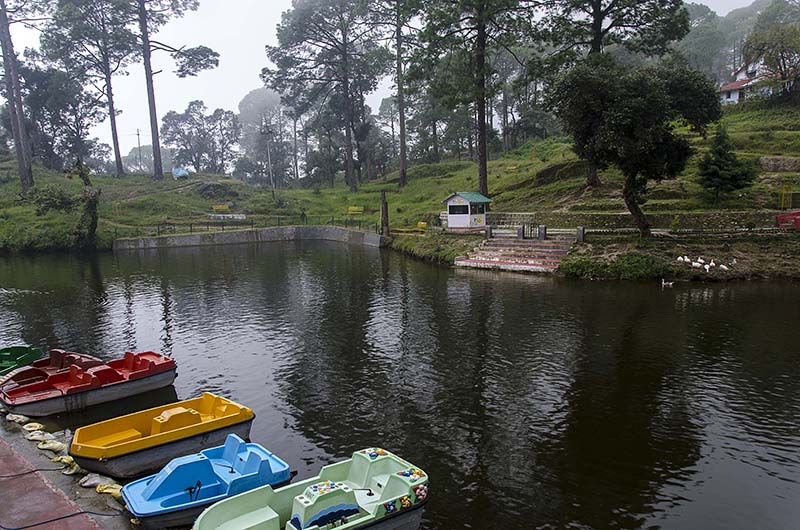 Tip in Top
This place is actually known by multiple names. Mostly it is called Tip in Top but other names include Tip n Top, Tip at Top, and Tiffin Top. It is located about 1.5 kilometers from the main Lansdowne chowk and is a vantage point from where all the mountain ranges can be seen.
Also Read: When is the Best time to Visit Lansdowne?
Standing here, the entire valley is right in front of your eyes; presenting stunning views of Sunrise and Sunset. You can either drive here or just trek 2 kilometers to the top. If you are into photography, it is a must-visit place for you for some amazing landscape shots.
St. Mary's Church
It is a beautiful Catholic church built by Colonel A.H.B Hume of the Royal Engineers in 1895. The church is located on the way to Tip n Top and is known for its precise and magnificent structure. It stands tall in a really picturesque setting and is often called a hidden gem or jewel of Lansdowne.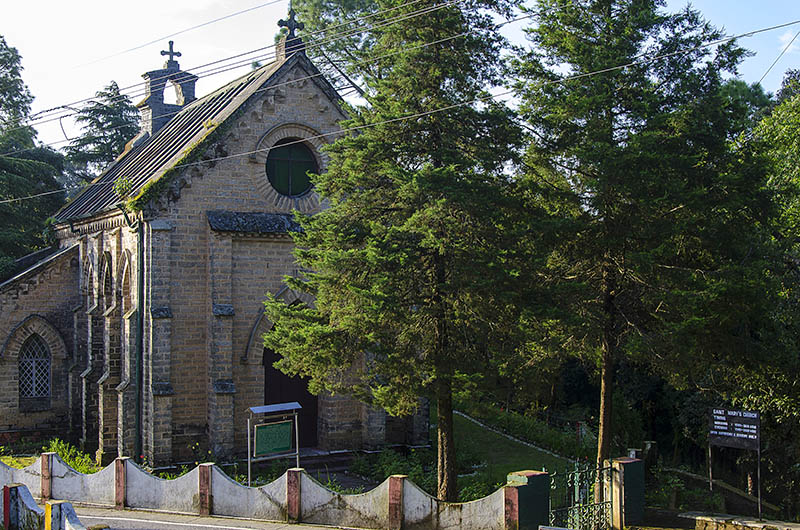 St. John's Church
It is another Roman Catholic Church in Lansdowne and is in fact the only running one. It was built by the English in 1936 in a typical colonial architecture style.
The church is located at Mall Road, close to St. Mary's Church. Beautiful interiors and serene atmosphere definitely put this church among must-visit places in Lansdowne. Right in front of the church, on the opposite side of the road, is a great spot to get some amazing views of the majestic Himalayan Peaks.
Also Read: Gangotri – A Complete Travel Guide and Itinerary
Durga Devi Temple
This temple is actually not in Lansdowne but on the way about 10 kilometers from Kotdwar as you start driving towards Lansdowne. It is located along the banks of the Khoh River and is visited by the majority of the locals around. The area around the temple is also a popular picnic spot in Kotdwar with its numerous waterfalls and dense forests.
Bhim Pakora
What is Bhim Pakora? It is actually a set of two huge stones on top of one another that looks like a "Pakora". Why is it called Bhim Pakora? As per the legend, Pandavas stayed at Lansdowne for a while during their exile. One night, mighty Bhim with nothing to do put the stones on top of one another; and they have been that way ever since.
It is said that the upper rock can be moved by the touch of a finger, but won't fall down even if you push it with both hands.
Garhwali Mess
It is actually the mess of the Garhwal Rifles Regiment that is posted here. Built in 1888, It is said to be one of the oldest buildings in Lansdowne and has been preserved and maintained by the state government. In fact, the entire set up of the cantonment area is a pleasant view. Photography is prohibited so please do not go around clicking pictures of Army structures.
Also Read: Sightseeing in Lansdowne – A Day of Scenic Beauty
Kaleshwar Mahadev Temple
This century-old Shiv temple is named after Sage Kalun who use to perform meditation here. Many other sages over the years have meditated here and their samadhis can be seen still. The Shiv-ling here is believed to be self-mounted.
War Memorial
This war memorial was built in 1923 by Lord Rawlinson of Trent. Now located in the Parade ground of Lansdowne, it is often termed as the pride of Garhwal Rifles.
Darwan Singh Museum
Darwan Singh Museum was inaugurated in 1983 and contains the rarest collection of Garhwal Rifles. It is located near the Parade Ground.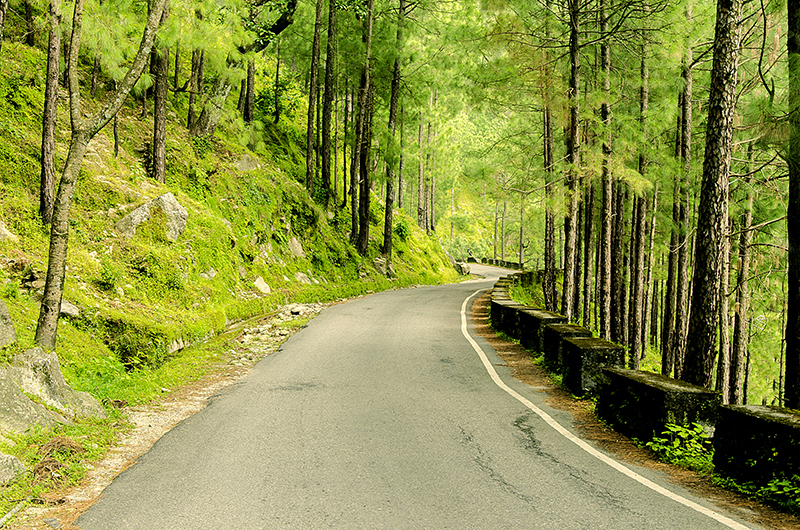 Hawaghar
It is another viewpoint about 2 kilometers from the main market area.
The places I mentioned above are the ones that can really be termed as the main sightseeing in Lansdowne. You can cover all of them in a single day or 2 at most. If you however were staying in the town for longer then mentioned below is a list of some other places to see in Lansdowne.
Also Read: Delhi to Lansdowne  – A Weekend Drive
Other Places to Visit in Lansdowne
Mentioned below are a few other tourist places in Lansdowne that are at some distance from the main town.
Santoshi Mata Temple (Sunset Point)
Satyanarayan Temple
Kilkile Wale Pirbaba Mazar
Jwalpa Devi Temple (About 44 kilometers away from Lansdowne)
Bharav Gari Temple (15 Kilometers drive from Lansdowne followed by 2 kilometers of a trek)
Tarkesh Mahadev Temple (38 Kilometers from Lansdowne)
Church Library (20 minutes film about Lansdowne Army History)
Lovers Lane (Thandi Sadak)
Aggarwal Cineplex
Must Visit Places in Lansdowne
If you asked me, then I will call Bhulla Taal and Tip in Top as the two must-visit places in Lansdowne. If you were interested in architecture or old buildings, you can also visit St. Mary's Church and St. John's Church as well.
These were the only 4 places I visited during my first visit to Lansdowne. The rest of the places I covered when I went there a second time and stayed for 2 days. There was nothing too spectacular about the rest of the places though. Visit these if have time but if you didn't then just cover Bhulla Taal, Tip n Top, St. Mary's Church, and St. John's Church.
Tourist Places in Lansdowne – Conclusion
I hope the information above on tourist places in Lansdowne was of help. If you have any questions; or need any further details, please feel free to ask in the comments section below or at our Community Forum, and I will be glad to answer. If you have been to Lansdowne and know of another place that is not on the list above, please do comment and mention it.