What to do in Spiti and what to see there is a widely covered topic. Try googling it and you will get several pages giving you an endless list of activities that you can indulge in; or tourist attractions that you must cover. But then an even important question is of things to avoid and precautions that you must observe in order to ensure a safe trip. In this article, I will list down such 11 things NOT to do in Spiti Valley. This will include safety tips related to road conditions; as well as other topics like acute mountain sickness; and some general knowledge about the region.
No matter the boost in tourism, places like Ladakh and Spiti are still highly remote; where even some of the basic amenities continue to still remain missing. These are still places that remain cut off from rest of the country for several months in a year. Even a small mistake here can cause some serious implications and ruin the trip for you. A trip to Spiti valley requires you to familiarize yourself with the place you are about to visit; and go through the journey carefully. This becomes of even more importance if it is your family you are traveling with.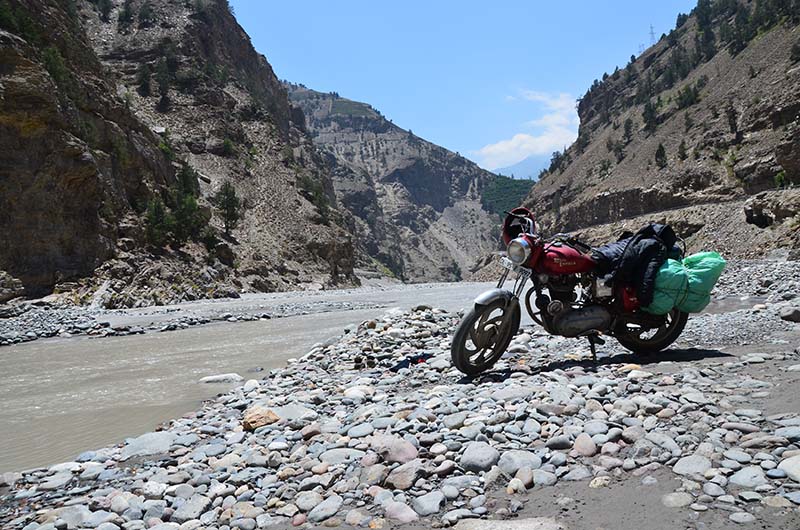 Top 10 Things NOT to do in Spiti Valley
Below is a list of 10 things that I would recommend you to be careful with.
Do not compare Spiti to Ladakh
This is one of the most common mistakes the people make. A common impression is that Ladakh is tougher than Spiti Valley; and for people who have been to Ladakh, Spiti will be a piece of cake. The truth however is, though similar in several ways, Ladakh and Spiti are two entirely different experiences. As a matter of fact, in several aspects, a Ladakh trip may be a little easier than Spiti.
When it comes to road conditions, Ladakh is a winner all the way. If you planned carefully, you can easily visit Ladakh even in a hatchback or Sedan. Friend of mine has been there even in a Maruti 800. This changes big time when you talk about Spiti Valley. Road here is just a relative term and the stretch between Gramphoo to Batal can prove to be a car killer for a hatchback or Sedan. After Rampur and until Kaza, mostly you will be driving on a broken dirt track full of pebbles.
Also read: Clothes for Spiti Trip – What to Pack?
Road between Kaza to Manali will also see you crossing water streams one after another; so many that you will lose the count. Some of these water streams are deep enough to swallow a whole truck (on a lighter note, of course). There will be large slippery rocks underneath the water and cars getting stuck in these streams is not surprising at all. For Spiti trip, make sure that you are bringing a car with good ground clearance. You still need to remain mentally prepared that at several places, there will be jumping rocks hitting the belly of your car.
Do not underestimate the roads or the terrain
You may have been on numerous road trips; or done a lot of traveling; you may have had your fill of off-roading but you cannot make the mistake of being over-confident in Spiti Valley. The roads here are challenging and can be treacherous if you were not careful. You still need to take it slow and be careful. Understand the fact that you are driving through a region that gets buried under snow come winter and BRO has to work these roads straight each year. One small mistake can see you drive off the road and downhill; or at least cause serious damage to your vehicle.
Do not confuse Lahaul with Spiti
This is another common one of the mistakes made. Usually the words Lahaul & Spiti go together and people end up thinking that it is one and the same place. Fact however is that both are entirely different valleys. Spiti is the area around Kaza, Dhankar, Tabo and Chandratal. Whereas Lahaul valley is the area around Keylong, Jispa, Darcha and Udaipur.
To visit Spiti, you can either travel from Shimla or Manali but in order to visit Lahaul valley, you will have to take the Manali route only. While completing the Spiti circuit, you either exit at Gramphoo after visiting Spiti; or enter the Spiti valley from Gramphoo if coming from Manali side. In both these cases, you skip the Lahaul Valley altogether and do not visit there at all. If you are planning a Shimla – Kaza – Manali trip, you are only visiting Spiti. For visiting Lahaul, you will have to throw in a couple of more days and go towards Keylong, Jispa and Udaipur.
Do not go by the distance
A lot of people tend to plan their trip by looking at the distance. If they see 300 – 400 odd kilometers, the immediate thought is that they can easily cover it in 1 day. Time and distance however do not really work together in Spiti; thanks to the nightmarish roads. There will be stretches that will severely limit your speed down to merely 15-20 kilometers per hour. For example, the journey between Chandratal to Manali is slightly over 100 kilometers but can eat your entire day. To be on a safer side, plan a total travel of about 100 – 150 kilometers for one day; nothing more than that. Remember. there cannot be absolutely any speeding here at all.
Do not Drink and Drive
Need I explain this anymore? Driving while under the influence of alcohol in Spiti will be fatal; there is no other or simpler way to put it.
Do not Enter Spiti from Manali Side
An ideal way to complete the Spiti circuit is to start from Shimla and end the trip at Manali. Why? Because this way, your gain in altitude is gradual; and there is almost next to none chance of acute mountain sickness. On the other hand, if you started from Manali, on first day you will gain 2000 meters from plains to Manali. On the second day, you will go from 2000 meters to 4000 meters at Kaza. In a couple of days, you brought your body to heights that it is not accustomed to; that to all of a sudden. This will make you prone to suffering from AMS and ruin your trip.
Also read: Budget Hotels in Spiti Valley
Best thing to do is to first reach Shimla and start the trip from there. Plan from Manali only where you are severely short on time and want to visit only Spiti Valley. For more information on AMS, please read How to Handle Acute Mountain Sickness in Spiti Valley.
Do not go to Chandratal from Manali
This is related to the point above and will apply only if you entered Spiti valley from Manali side. A lot of people first go to Chandratal; spend a night there and then continue to Kaza. This I must advise you to not do. Chandratal is a lake in the middle of nowhere and is at an even higher altitude than Kaza. If you suffered from AMS here, then there is nothing that can be done and you will be stuck the entire night. A better way is to first reach Kaza and cover Chandratal while on your way back. This way, not only you will be at a slightly lesser altitude; but will also have medical assistance available if your condition worsened due to mountain sickness.
Do not be an over-confident fool
Adding this one more point here after seeing this fellow trying some stunts while riding down from Khardung La towards Leh during my last year ride to Ladakh. What came next? Well there was a stone that he could not avoid and since neither of his feet were on the ground, he took a nasty fall. As a matter of fact, he missed the cliff by just a few inches. Slightly harder fall would have seen him tumbling down the hill like the old Jack.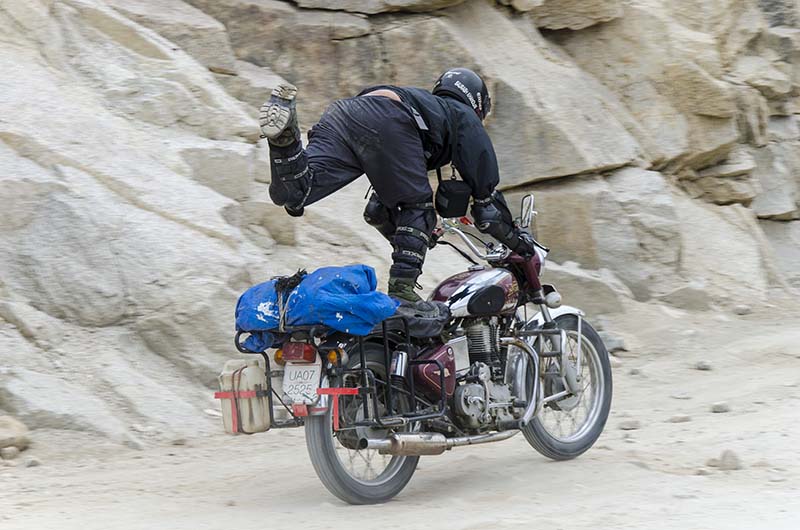 Though the picture is from my Ladakh ride, same applies for Spiti Valley as well. A lot of people try to show off their riding or driving skills here; try to do some off-roading or indulge in some stunt mania. Please do not make this mistake. Spiti is a place for you to soak yourself in the natural beauty around; or click as many pictures as you can. You do not go there to put yourself and your friends at risk.
Do not rush through the trip
Some people try to complete the Spiti circuit with just 4 to 5 days in hand. While this is doable, I will highly recommend against it. This way, you will barely touch the Spiti valley and return; rather than actually enjoying its scenic beauty and experience the culture here. Minimum time needed for a road trip to Spiti valley is 9 days and that is how you should plan it. Completing the trip in haste would also mean that you were speeding and risking an incident or accident somewhere on the route.
Also read: A Complete list of all must visit places on Spiti Circuit
Do not Litter
In the end, Spiti is bound to leave you mesmerized and inspired to visit again. It is a small piece of heaven that I believe every Indian should be proud of. Littering in such a place and staining its beauty must be at all cost avoided. Please respect the region and help the government to keep it clean.
Conclusion
I hope the tips above about things to not do in Spiti valley were of help; and can guide you to plan your trip better. If you have any further questions; please feel free to ask in the comments section below; or at our Community Forum; and I will be glad to answer. If you have been to Spiti and have another trip to share, please be kind enough to mention it in comments in order to help others.