A trip to Spiti valley in January;  the idea sounds both exciting and adventurous. And why not, after all, while a lot of people go to Spiti in tourist season, only a handful would have been there in peak winters. Do this and you would have a trip to talk about for years to come. Witnessing the snow covered hills and valleys of Spiti in January is an experience in itself. There are but of course several questions related to it. First and foremost is; is it doable or how safe is it? Then there will be apprehensions related to accommodation choices, accessibility of roads, availability of facilities etc. In this article, I will talk about how to plan a trip to Spiti valley in January and try to answer these questions.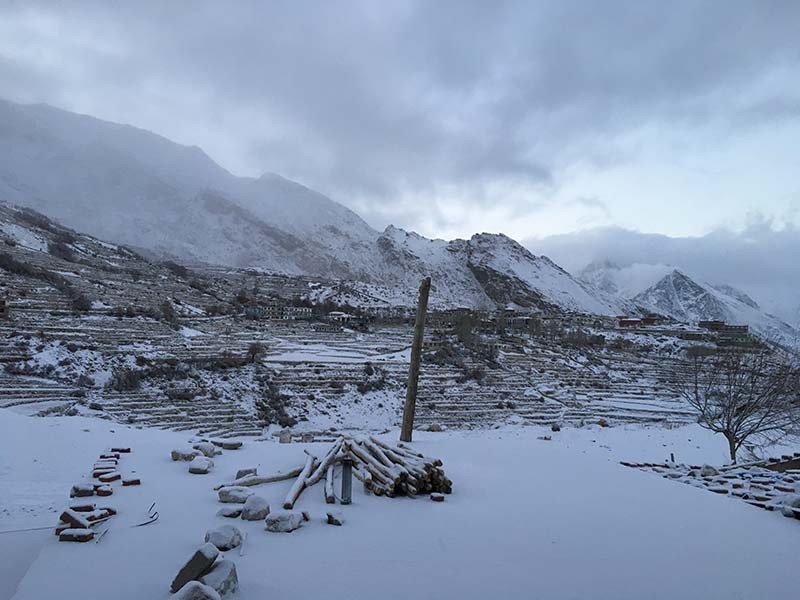 Can we really visit Spiti in January? There will be a few conditions applied but answer to this question is a definite yes.  By road, the valley actually remains accessible throughout the year. Of the two roads connecting Spiti to rest of the country, the route from Manali to Kaza closes sometime in October after Kunzum Pass gets snowed out;
but the road from Shimla to Kaza remains open for all 12 months. There can of course be a temporary road block due to heavy snowfall anywhere on the route but that usually gets cleared as soon as the authorities are able to. So going to Spiti in January means that you will have to go via Shimla and return the same way. Places like Sangla, Chitkul, Losar, Chandratal, Kunzum Pass and Batal would have to be left out of the itinerary for another vacation at another time.
You must however keep in mind that life in Spiti valley during winters is tough. When I say tough, I mean extreme cold due to which even water in pipes freezes. So there will be no running water; you will have to work with warm water provided in buckets; and may even have to do your business in a dry pit every morning. If the weather turns extreme, you may be stuck in the valley for days altogether. Your phones will definitely not be working and there may not even be any electricity as well. People living in the region are accustomed to this life as they go through it each year. But for people like us; it may get a bit frustrating so please do consider this before you plan your travel to Spiti in January.
One of the most common questions I get asked by people traveling to Spiti is if they need to obtain a permit. There is actually a requirement of Inner Line Permit for Spiti valley but it is applicable to only foreign nationals. Indian citizens can freely visit the valley without needing any permit at all except for the one for Rohtang Pass if you were approaching via Manali. But since it is the month of January we are talking here, you won't be heading towards Rohtang Pass anyways so there is no need of that permit as well. For more information on ILP for Spiti valley, please read through the article at the link below.
How to Get an Inner Line Permit for Spiti Valley
With the above being said, if you are thinking to visit Spiti Valley in January, mentioned below is how you should plan your travel. It will definitely not be an easy or regular journey; not even a typical Spiti valley trip but if adventure is what you seek then you will get plenty of it.
Spiti Valley in January
I will break this article in three parts. First I will mention a few tips on how you should plan your journey, followed by a few advantages and disadvantages of Spiti Winter trip and a suggested itinerary in the end.
Plan Only Via Shimla
The road between Manali and Kaza remains closed in winters so there is no way that you can plan on completing the entire Spiti circuit. The only way to enter and exit the valley at this time is via Shimla. You will travel through Shimla, Narkanda, Reckong Peo, Pooh, Nako, Tabo and Dhankar to reach Kaza and return the same way. There is really no way around it and this is the only doable way of a winter trip to Spiti.
Book Your Stay In Advance
I am the kind of person who never books his accommodation anywhere on any trip. I just reach a destination, find a place per my liking and budget; and check in. A lot of people follow this practice but when it comes to Spiti in winter, you cannot do it. The entire valley closes at this time and your accommodation choices will be severely limited.
Up until Reckong Peo, you may be able to find a place to stay without any prior booking but any further than that; places like Nako, Tabo, Dhankar, Mud, Kaza; you should call in advance and book your stay. This will avoid any unnecessary last minute hassles and will also give your hosts some time to prepare for your arrival. Keep in mind that winter is not the time for tourists so if you are staying at a guest house, you probably will be the only guest there. Your hosts too will also have to prepare the room, get ready for your meals and stay etc.
Do not plan unless you are good at the wheel
Spiti is notorious for its bad roads and situations gets even worse during winter. While in summer it is just bad broken roads with a lot of potholes, dirt and water crossings; the risk increases in winter due to frost, black ice and snow. It doesn't matter if you are going by a motorcycle or a car, you must be a good experience driver or rider who is capable of maneuvering the vehicle and navigate your way through. If you do not have much of experience then it is best to cancel the plan of visiting Spiti in winters.
Bike Vs Car
Both have their own advantages and disadvantages and is more of a personal choice really. Car will help your protect against the cold weather but may get tricky to handle in deep snow. Bikes will be a bit easier to manage but will keep you exposed to freezing temperatures. As a ground rule though, take a car only if you have a 4×4 SUV with good ground clearance. Do not even think about taking a hatchback or Sedan at this time. When it comes to a motorcycle, even a 150CC engine bike will do provided that you know how to maneuver it.
Travel in a group if possible at all
No I do not mean necessarily a huge group of 10-15 motorcycles and supporting vehicles but travel with at least 2 to 3 motorcycles. Try not to go all by yourself on a single bike. You should keep in mind that Spiti in still a remote region and the gets even more so in winters. You should have someone on your tail who can be of assistance in case of any emergency; someone who can come running in case you took a fall somewhere; on someone who can travel up ahead and get help in case your vehicle broke down.
Start a bit late in the day
Black ice is one of the biggest threats of traveling to Spiti valley in January. What is black ice? It is a thin coating of ice on surface of the road. It is formed on relatively dry roads because of moisture present in the road texture which when frozen; creates a honeycombed invisible sheet of ice. The ice itself is not black, but visually transparent, allowing the often black road below to be seen through it. There is, thus, a risk of skidding and subsequent accident due to the unexpected loss of traction.
In order to avoid any unfortunate incidents; it is best to wait for the sun to come up. A couple of hours of sunlight will ensure that the black ice has melted and the road is relatively safer to travel on.
Keep Buffer Days
It is always wise to not keep your itinerary strictly bound to a set timeline. Keep at least a couple of days as buffer so that if you do get stuck somewhere; your entire plan does not go for a toss. If the trip was event-less and you traveled as decided, this day can be used to relax at the last destination of your trip; or maybe to rest at home after coming back from the trip before you went back to work.
Get your Vehicle Ready
It is not just you who will be under stress while traveling through Spiti but also your vehicle. Availability of mechanic is anyways limited here but in winters it gets even rare. You must get your vehicle ready and reduce all risks of a possible breakdown anywhere. If your vehicle ditches you somewhere, you will be stuck in the middle of nowhere; either looking for a mechanic or to get it towed. Diesel run engines can sometimes give start up trouble in cold regions so you will have to speak to a mechanic and get that taken care of as well.
How to Prepare your motorcycle for Spiti Valley Trip?
How to Prepare your Car for Spiti Valley Trip
Lahaul Spiti in January
I am adding this point here because a lot of people get confused between Lahaul and Spiti valleys. First of all, Lahaul Spiti is not one valley; these are two spate valleys. Spiti valley is the area around Kaza where Lahaul Valley is around Keylong. While you can reach Spiti in winter via Shimla, there is no way that you can reach Lahaul valley by road in winter. From Manali, the road closes after Rohtang is snowed out and from Kaza, the road gets out of reach after Kunzum Pass is closed. So for a winter trip, we are only talking about visiting Spiti and not Lahaul.
Spiti Valley Weather in January
Extreme cold, harsh and unforgiving are the words that describe it the best. It will be snow all around with Sun gone missing for days. Spiti in winter is a harsh time and you must prepare yourself both physically and mentally for it. You will be walking through extreme climates with cold wind blowing on your face at all times.
Spiti valley temperature in January
At an average, temperature at night will be around -25 degrees Celsius and can even go lower than that. Days too will not be an exception from the cold weather. Temperature even at noon will remain around -10 degrees Celsius.
Clothes for Spiti Valley
This will relate to the point above. You need to pack woolens that can keep you warm in a freezing environment. Good thermals are a must followed by both light and heavy woolens. You also need to protect yourself from cold winds and a good quality, heavy, windproof and waterproof jacket will be your best friend. Ensure that your jacket has a hood to cover your neck and head as well. Waterproof warm gloves, woolens socks, muffler, possibly waterproof shoes, sunglasses are some of the other accessories. You will also have to pack a good sunscreen lotion, cold creams, lip balms and some basic medicines for stomach ache, fever and cold.
Also read: Clothes for Spiti trip: what to Pack?
Do not Plan by Public Transport
There is no bus service available in Spiti valley during winter season. The only public transport that locals use are shared cabs and that too depends on the fact that both weather and the road ahead is clear. As a ground rule, just assume that there will be no public transport available. So a winter trip to Spiti is only possible by your own vehicle and if you were thinking by bus or shared taxis, better plan after April.
Keep your Expectations Low
And by this I do not mean in terms of the scenic beauty of the region. That will still be at its best and enough to inspire awe out of you. What I meant was related to the accommodation choices. Do not expect a luxurious hotel with five star treatment. Your stays will be at basic guest houses or as paying guests. Meals will be plain and simple but delicious enough. Do not expect mineral water, fruits, exotic dishes, or large menus. If there is something that you cannot work without, you should try to make your arrangements on your own and in advance.
Carry Cash
Availability of cash in ATM machines in Kinnaur and Spiti in winters is highly doubtful. Withdraw enough cash that can last for couple of weeks from either your home town or from Shimla. You may get stuck at any place if road closes for several days and should have enough cash that can last.
Inform your folks
Last but not the least, inform your family about your entire travel plan. Let them know where you intend to be and on what date. Tell them of the places where your phones may not work and while traveling, give them a call whenever possible. This will ensure their peace of mind knowing that your phone is out of reach not because you are in trouble; but because you are at a place where cellphone reception is really bad.
Why you should visit Spiti In January
In the end, it all comes down to the fact that a winter trip for Spiti is only for the adventurous type. Harsh weather and challenging roads present a perfect opportunity for anyone who has the slightest of interest in either adventure travelling, off-roading or wants to take some stunning shots of snow covered valleys. If you are someone who would rather be at a place with only a handful of people around; spending some time at a place standing still in time than Spiti in winter is the destination you seek. The solitude and tranquility you will get here will be like none other.
Biggest charm however will be of snow, snow and snow. You will get it in ample amounts; so much that you would have your fill for years to come. Another added benefit at this time will be to witness the local hospitality and get a true taste of Spitian life. You may choose to stay as a paying guest with any of the locals and get a firsthand experience of how these people survive in such harsh climates; listen to their stories, local tales; and know how they can still be warm and gentle towards their guests despite of leading such a tough life.
Challenges of visiting Spiti Valley in January
After all said and done, let me summarize the challenges you will face while visiting Spiti in January.
Nightmarish Roads with snow, slush, loose stones, shooting rocks and water streams
Closure of roads that can even last weeks at times leaving you stuck at a particular place.
Will have to leave Manali Kaza route and Chandratal out of Itinerary
With almost the entire valley closed, medical assistance in emergency will be minimal. If you are someone with a medical history, then you must not visit Spiti at this time.
No running water and hot water in limited quantity
Doing morning business over a dry pit
Temperature several degrees below zero
Fuel will freeze overnight if you were traveling in a Diesel run vehicle
No electricity
No phone connectivity
Spiti Valley Winter Itinerary
Below is an example of an itinerary that you can follow in for visiting Spiti Valley in January.
Delhi to Shimla / Narkanda – Day 1
Shimla / Narkanda to Reckong Peo / Kalpa – Day 2
Reckong Peo / Kalpa to Nako – Day 3
Nako to Kaza – Day 4
Kaza to Kibber / Komik to Kaza  – Day 5 (Hire a local 4×4 vehicle for this day, do not ride / drive on your own)
Kaza to Tabo / Nako – Day 6
Tabo / Nako to Reckong Peo / Kalpa or Sarahan – Day 7
Reckong Peo / Kalpa or Sarahan to Narkanda / Shimla – Day 8
Narkanda / Shimla to Delhi – Day 9
Is Spiti Open in January
Spiti valley actually remains open throughout the year, including the month of January as well. Manali to Kaza road remains completed blocked in winter but the road from Shimla remains open in January.With that being said, January is also the time when it snows heaviest in Spiti and the routes leading here. So there is a high possibility that the road was blocked due to heavy snowfall anywhere on the route. But even if this happens, authorities get to work immediately and clear the road just as soon as they are able to.
Conclusion
So if you are ready to deal with all of the above mentioned and ready for an adventure that you will talk about for a long time then by all means, head straight to Spiti. I hope the information provided above was of help. If you have any further questions, please feel free to ask in the comments section below; or at our Community Forum; and I will be glad to answer.