This article is in continuation with a previous one and a part of a travelogue detailing my first solo trip to Ladakh as a woman. I traveled from Leh to Nubra Valley to Pangong Lake and then back to Delhi relying completely on buses, shared cabs, and hitchhiking.
The post below details how I traveled from Nubra Valley to Pangong Lake directly. If you are planning a trip to Ladakh on a budget, then the information below will be of help.
The Journey so Far:
So far my trip had been without any hitch. I explored Leh and Nubra Valley comfortably, saw some amazing places, met some beautiful and warm people, and stayed in their homes. Now it was time to move to the next leg of the journey, the beautiful and the famous Pangong Lake; the very lake that put Ladakh on the world tourist map.
There was really no set travel plan in my mind when I reached Leh from Delhi. My itinerary was taking shape as I was traveling. My initial thought was that I will have to return to Leh from Nubra Valley and then go to Pangong the next day. This plan however changed during my homestay in Hunder.
Day 8 – Nubra Valley to Pangong Lake
I had decided to take a taxi back to Leh and then take the bus on Saturday morning to Pangong Lake. This plan was because there are no local buses or taxis to Pangong Lake from Nubra Valley.
There were three co-homestay male guests from Amravathi, who were staying at the same homestay that I was. There were going to be traveling from Nubra Valley to Pangong Lake directly on that day. Upon learning my plans, they agreed to give me a lift till Pangong Lake. So yes, I was going to be hitchhiking now.
Also Read: How to Plan a Trip to Leh Ladakh –  A Complete Travel Guide
It really knocked a day from my itinerary. Now I will not have to return to Leh and can cover the lake on the way. I thanked them for their offer and accepted it. We checked out of the homestay in Hunder and started the journey.
We visited Maitreya Buddha on the way opposite the Diskit monastery which I had skipped two days before. I did not find anything remarkable about it though.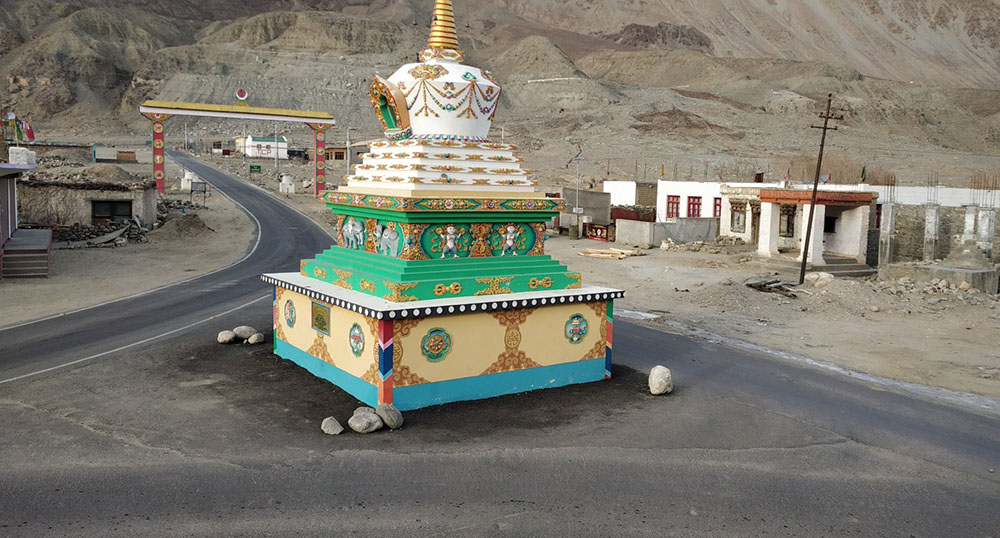 Agham Shok Road
The drive from Leh to Nubra Valley to Pangong Lake drive takes a different route from Agham village, going along the Shyok river. Agham Shyok road is really patchy and gravelly. The road does not exist in patches actually!! It becomes better from Durbuk village onward.
On the way when we reached a small camp where ubiquitous Maggi and tea were served. My co-passengers found a bag missing so they had to return to Hunder. They facilitated a request on my behalf to other tourists. They approached a family, all three men together, to ask if they will drop me at Pangong.
Also Read: Clothes for Ladakh – What to Pack
The family promptly rejected their request expectedly! Then they met a known driver whose car had space and I again requested the husband and wife who readily agreed to take me with them since I was traveling alone!
They had two nice children and the journey was very pleasant among all the hitchhiking I did. They were from Delhi and near to my place. After a long time, I met a silent husband who did not utter a single word to berate or make fun of his wife! And also tolerated all my political nonsense!!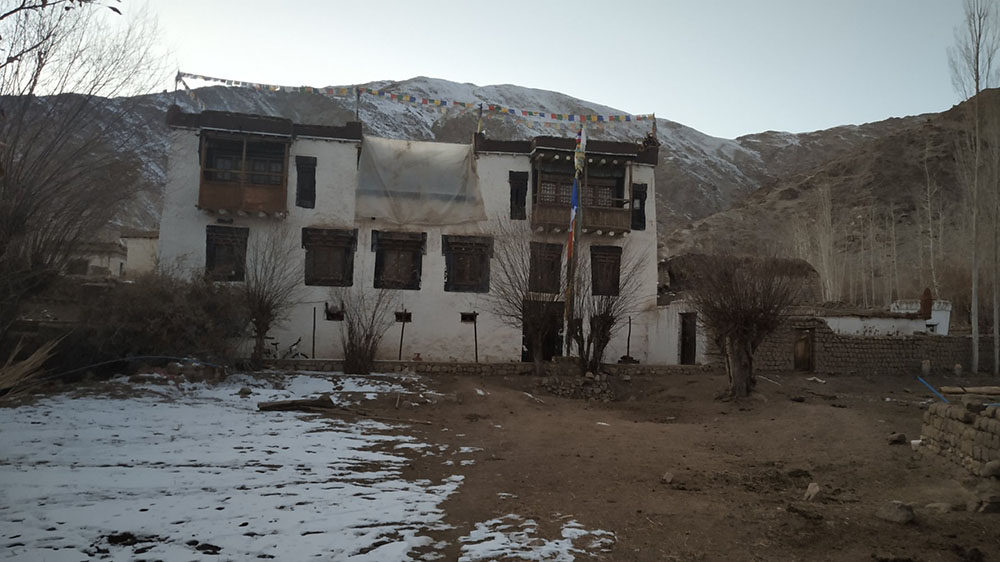 Gongma Homestay in Spangmik
The host at Gongma was the least friendly I had met until now. Maybe my expectations had become really high after being with such warm hosts earlier.
I did not like my room somehow. The switch of the electric bulb was too closely located near the bulb on the low ceiling. A family of Gujaratis from Bombay who was also staying at the same homestay became friendly. They were the only people in the whole of Ladakh who wanted to know my caste which I refused stubbornly.
The electricity all over Nubra Valley and Pangong Lake is typically available from 7 or 8 pm to 11 pm. So all charging of electronics needs to be planned like that.
Day 9 – Pangong Lake to Leh
The breakfast was of local dish Skue made by my host (Rs.100). It has small pieces of kneaded wheat dough, potatoes, and vegetables all cooked together like a stew. Then I walked up the lake with my book planning to spend a few hours walking and reading there.
Also Read: How to Plan a Family Trip to Leh Ladakh
But my plans came to naught as the weather played spoilsport. It soon became cloudy and weepy. The town became desolate as all the tourists leave typically by 10 am. Locals were also busy organizing for the next tourists' influx in the afternoon.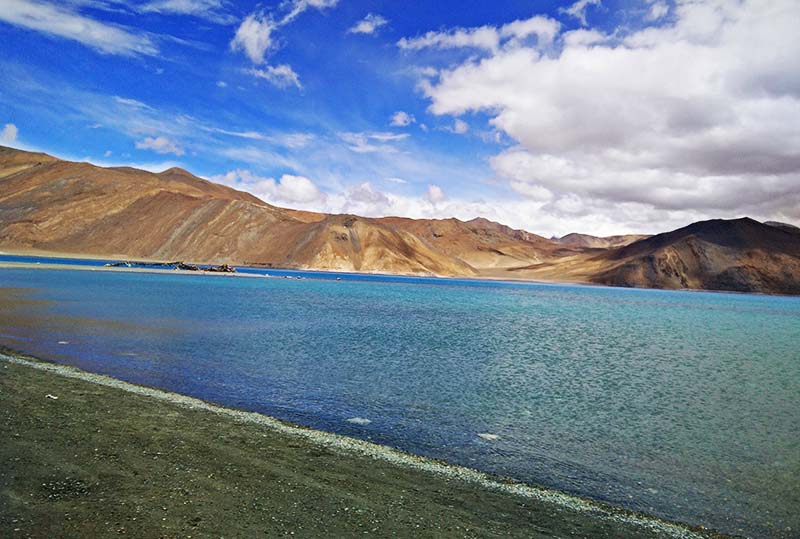 The village of Spangmik has only 10 households. But the land is leased to commercial camp providers who are typically from Leh for five months. I felt so cold and desolate in that beautifully landscaped land that I decided to try my luck getting a hitchhike to Leh.
My confidence has been running high. I thought to take a chance as otherwise, I can always come back to the same homestay. The return bus to Leh is available only on Sunday and Monday early mornings from Spangmik.
I was just plain lucky in getting the ride back. There were hardly any tourist vehicles. After half an hour wait a couple from Bombay readily agreed to accommodate a lone woman on the road.
We had a long discussion about how 'modern' education is alienating Ladakhi from their culture, history as well as their geography. Their textbooks have nothing which reflects their way of life whether farming, seasons, clothes, or social structures.
Also Read: How to Handle Acute Mountain Sickness in Leh Ladakh
Chang La Pass
The best thing about hitchhiking is that I could explore different routes to Pangong Lake which I would not have if traveling by public transport. This route takes a turn at Durbuk Village and passes through Changla pass which I found personally more diversely beautiful than Khardungla.
The vehicle passed through pristine snow and I finally took a customary photograph of myself with the stone declaring the peak of the pass. The route passes through Karu, Thiksey, and Shey Palace. The family dropped me at Choglamsar from where I took a shared taxi for Rs. 20 to reach the Leh city Prayer wheels and walked to the Main market.
And hence the circuit of Leh to Nubra Valley to Pangong Lake to Leh came to an end.
I decided to cycle to Shey Palace the next day. I hired a mountain cycle for Rs. 800 from Adventure Ibex for the next day as they don't open before 8-9 am on a given day. They also run tourists up to Khardungla top in a vehicle and people cycle back to Leh city every day.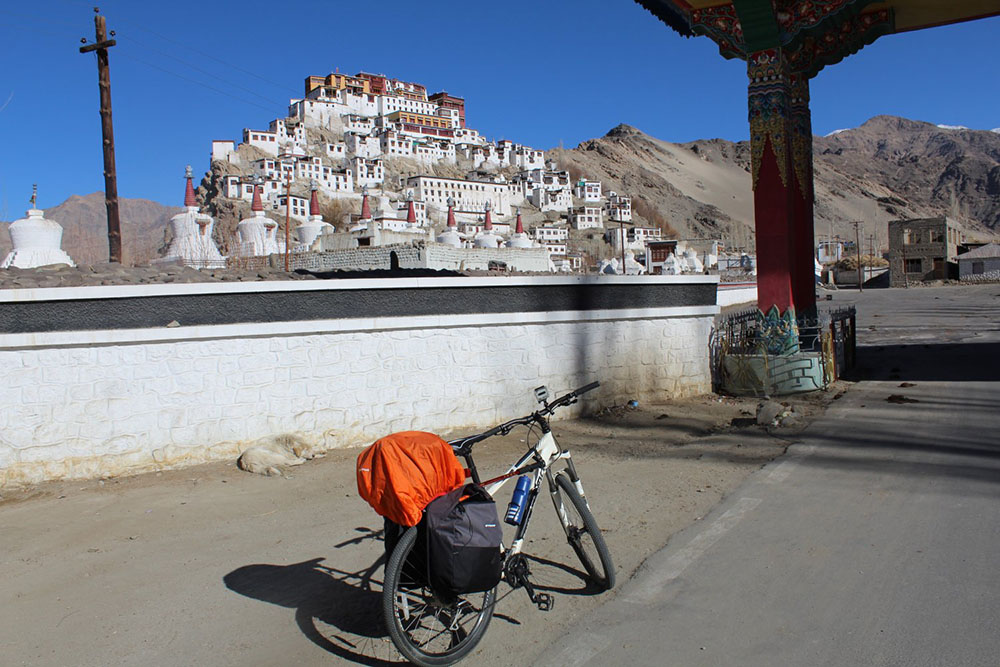 Day 10 – Cycling in Ladakh – Leh to Shey Palace
I made a local friend along with whom I cycled from the city to Shey Palace via the Army camp, Airport, and Chuschot village. It was a pleasant ride since it was drizzling that day. We crossed a stream while holding our cycles high as the bridge was damaged.
We reached Shey palace early afternoon and spent half an hour climbing up the Palace and then cycled back. The last 5-7 kilometers were a drag for me as it was all uphill. From the petrol pump at the entrance of the Leh city, I dragged the cycle from Old road to the main market almost 2 kilometers in about 50 minutes, much more time if I had just walked up without the cycle!!
A word of thanks to my Ladakhi friend, who cycled despite his Ramzan fast; as he felt it would be 'dhokha', if he had not come with me as I had given him a choice not to cycle.
Finally, I reached Ibex Adventure and collapsed. They gave me tea and chatted for an hour. The guy there spent time talked about Buddhism integration with the Mon religion and how Indian tourists litter Ladakh.
He also declared me completely fit for trekking in Ladakh. It was really heartening to hear that as I took this trip just two months after an illness where I had difficulties even turning around in the bed and was completely confined to the house.
Also Read: Cycling Trip to Leh Ladakh – Experience of a Lifetime
Day 11 – Last day at Leh –Thiksey monastery
I had a lavish breakfast at Lamayuru Restaurant to treat myself – Sandwich, Spinach Omelet, Hash Brown Potatoes, and Mint Tea – all for Rs. 180. The food at Lamayuru restaurant is good if you stick to regular dishes.
Bus Ticket for Keylong
My first plan for the day was to buy a return ticket for the journey home. The Himachal Transport Office on Fort road is just a few shops away from the restaurant. It was closed at that time. It opens up only in the month of July when they resume tourist bus services. I walked down to the bus stand from the main market. The bus ticket to Keylong is 539. You will get one rupee back if you ask for it!
I got a provisional ticket. They give the proper electronic ticket for the next day as the journey date can be printed on the actual day of travel and not a day before it. The bus starts at 5 am. They asked to report by 4.30 am. If you buy the ticket early, your chances of claiming a better seat are more.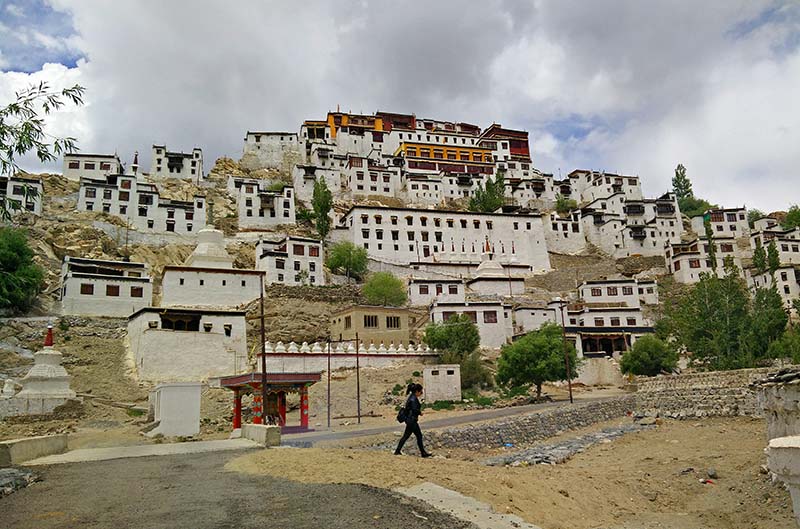 Then I boarded a shared taxi for Rs. 20 to Choklamsar and then another Rs.20 to a shared taxi to Thiksey Palace. As I walked up the monastery, I sat in between to rest and read. I met an 80-year-old Nepali lama who too walked up the monastery with me.
Also Read: How to Plan a visit to Thiksey Monastery in Ladakh
Thiksey Monastery
The entrance ticket is Rs.30. It was the biggest monastery I had visited until now. As I chatted with a Lama, he told me about different sects of Mahayana Buddhism being practiced in Ladakh.  I spent an hour reading in front of the old library at the top of Gompa. Many people asked me if the library is open maybe assuming I was the caretaker or regular reader there!
Then got a 'public' lift by monastery mini-bus to Choglamsar and then again shared taxi (Rs.20) to Leh city which drops till Prayer Wheels.
Since I had time, I chatted with local shopkeepers. A 'mochi' from Amritsar wanted to repair my torn shoes since it did not match the rest of the dress. Then I met an old woman selling woolen socks and caps in a shop. She informed me that it all comes from Nepal. I shared with her one of my bananas and in return, I received a flying kiss!! I was on cloud nine.
The Dolma knick-knack shop is being run by a woman from Bhutan and we chatted generally about her life. All the jewelry being sold in Lehcomes from Bhutan. She showed me her dress and how it was different from Ladakhi Goncha.
Then I bought some books on Ladakh from the Ladakh Bookshop on the first floor in the main market. Actually, it would have enhanced the experience further, if I had bought them during the initial days of my visit.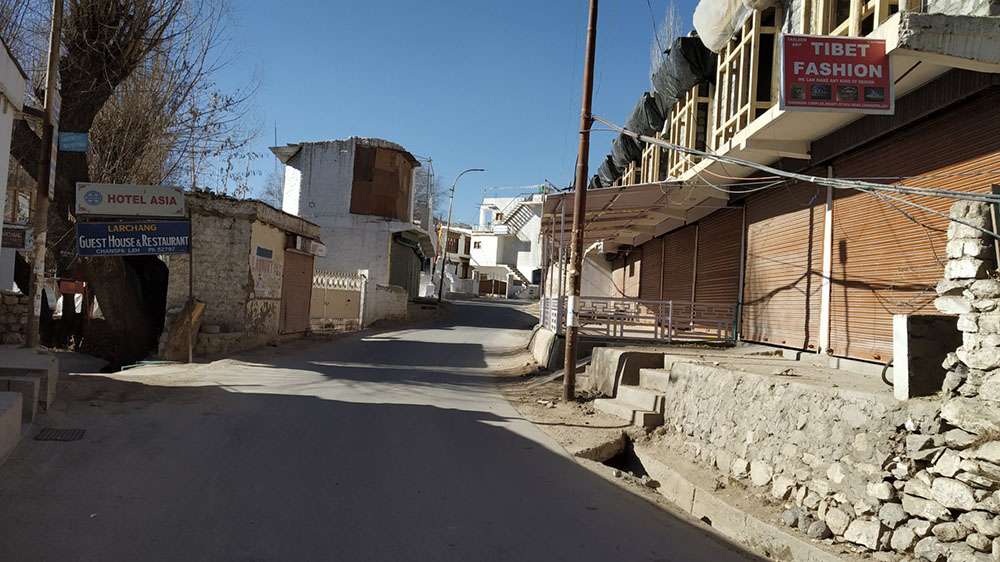 Leh to Nubra Valley to Pangong Lake to Leh
Here is a brief summary of my entire journey in Ladakh. As you can see, I spent a good 11 days in Ladakh. If I include another 3 days of my return journey and remove one that was work-related, the trip was still a good 2 weeks long.
If you are traveling by public transport, 14 days is what I will recommend for the trip. It really makes things much easier. You will be able to travel in a more relaxed manner and will not be worrying too much about how you are going to move from one place to another.
My entire trip was by public transport only. Except for Leh city, I stayed in homestays at all the other places. This too was an experience in itself. I got more insight into the lives of Ladakhi people and was able to interact with them better.
Also Read: What to see in Leh Ladakh – Sightseeing in Ladakh
Bus Service from Leh to Nubra Valley to Pangong Lake
There is a regular bus service available between Leh and Nubra Valley and Pangong Lake directly. If not a bus then you can easily get a shared cab. The only problem is the Agham Shyok road. The only way to commute on this stretch is either by your own vehicle or hitchhiking.
I think it was because this road was earlier an extremely bad one. Even 4×4 cars and bikes struggled on it. But now it is a smooth and tarred road for its entire length. So it is a possibility that public transport will begin on this stretch soon.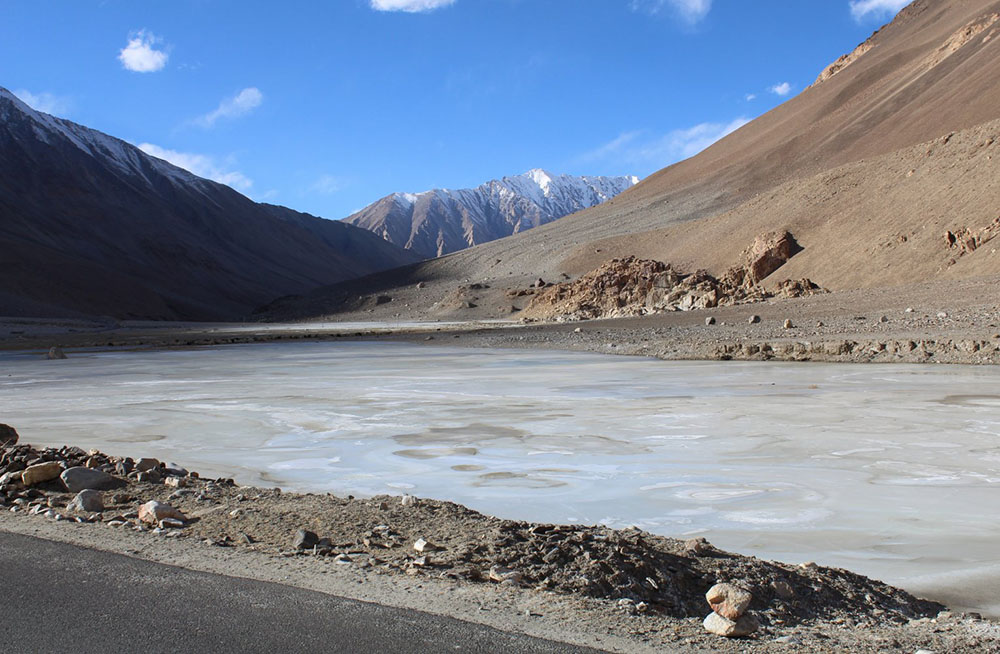 Are Homestays in Ladakh Worth it?
Yes, definitely. Based on my experience, I will highly recommend staying at a homestay during your Ladakh journey.  Chances of finding a homestay in Leh are not that great. In the city, stay at a hotel but in Nubra Valley, you should definitely look for a homestay.
Leh to Nubra Valley to Pangong Lake – Conclusion
I hope the travelogue and information on traveling from Leh to Nubra Valley to Pangong Lake were of help. Please click on the link above to continue reading the next part of the travelogue. If you are planning a trip to Ladakh and have questions, please feel free to ask in the comments section below or at our Community Forum and I will be glad to answer.