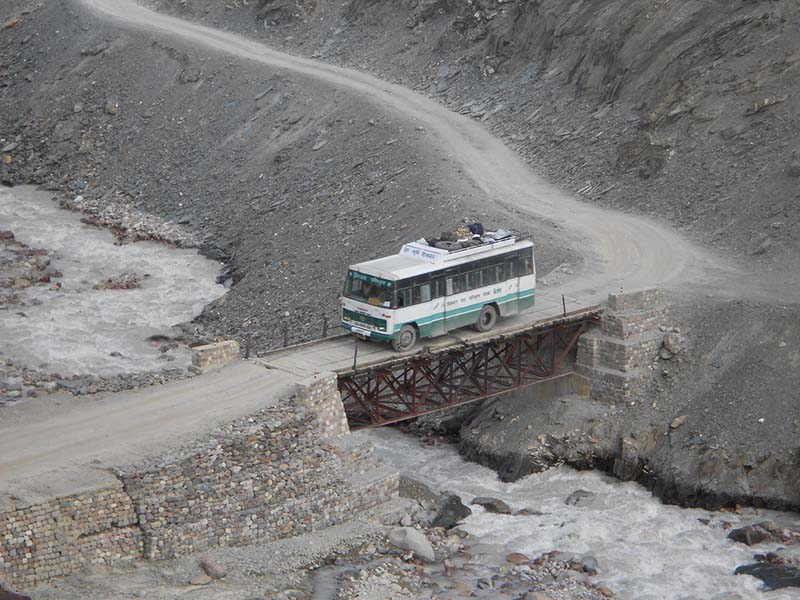 This article is in continuation with a previous one and a part of a travelogue detailing my solo journey to Leh Ladakh as a woman. I traveled by bus, shared cabs, and even hitchhiked at places. After spending 11 days in Ladakh, I started my return journey from Leh to Delhi by bus on the 12th day.
The post below is a detailed log of how my experience was as I undertook the longest bus journey of my life. It was fun, exciting, and even scary at several places. The bus moved up and down the passes on steep and narrow roads and I could hardly take my eyes off the view outside the window. But by the time the journey ended, I knew that this was one ride that  I will surely be jumping back on again.
To read the previous parts of the travelogue, please click on the links below.
The Journey so Far:
With an exception of Leh City, my preferred choice of accommodation throughout my journey was a homestay. This is something that I actually opted for by choice because other than viewing the sights, I also wanted to experience the local culture. Staying at homestays gave me ample chances to interact with the locals and experience their lifestyle.
But all journeys must come to an end and so did mine. After it was all said and done, it was time for me to get on a bus and go home.
Leh to Delhi by Bus via Manali
A direct bus from Delhi to Leh and vice versa was introduced a few years ago after the recent boost in tourism in Ladakh. It is an ordinary HRTC bus that travels between Delhi and Leh with one scheduled stop at Keylong. You start from Delhi on Day 1 at 2 pm and make an overnight journey, reaching Manali on the morning of the second day.
After a short break at Manali, the bus then continues to Keylong. On the way, you will also cross the mighty Rohtang Pass. The bus stops at Keylong for the night of Day 1 and resumed the journey at 5 AM on Day 3, arriving at Leh by evening.
For the return journey, the bus starts from Leh at 5 AM and reaches Keylong by evening. You will spend the night in Keylong and will again start early in the morning. The bus will reach Manali by afternoon and will continue its journey to Delhi, arriving at the destination by late in the night.
A common notion is that it is one bus that goes all the way which is actually incorrect. The bus changes at Manali and Keylong. It is just the ticket that you buy for the complete journey. Once you reach Manali, you will board a different bus and then change buses again when you start from Keylong in the morning.
The bus may not change at Manali but it definitely will at Keylong. So Delhi Leh Bus service is actually an extension of Delhi to Manali and Manali to Keylong bus. For more details, please take a look at Delhi to Leh Bus Timings, Fare, and Schedule.
Day 12 – Leh to Keylong
I woke up early and got ready for the final leg of my trip to Ladakh. I had to hire a taxi for Rs.300 to reach the bus stand from the hotel; though it is not even two kilometers from Zangsti Road. I was scared of dogs to walk so early in the morning but saw my fellow passenger, a Swiss woman, walking to reach the bus stand.
The bus had quite a few passengers when it started at 5 am. I had already bought my ticket the day before which is mandatory. You must book the ticket in advance or else you may not be allowed to board the bus on the spot.
Also Read: How to Plan  a Trip to Leh Ladakh – A Complete Travel Guide
Leh to Pang
As the bus left Upshi and started the climb up to Tanglang La, the traffic came to a halt somewhere in the wilderness. A truck had sunk into the muddy road and was stranded there from last evening. The bus from Delhi to Leh (which had reached there last evening) was parked on the opposite side.
It had sent its passengers to Leh through some other transport and the driver had stayed the night on the road. Our bus could not cross the narrow passage on the road. So we were asked to board the bus on the other side of the truck. The heroic bus driver made the bus do some hair-raising acrobatic maneuvers to turn it around in the opposite direction and we restarted our journey.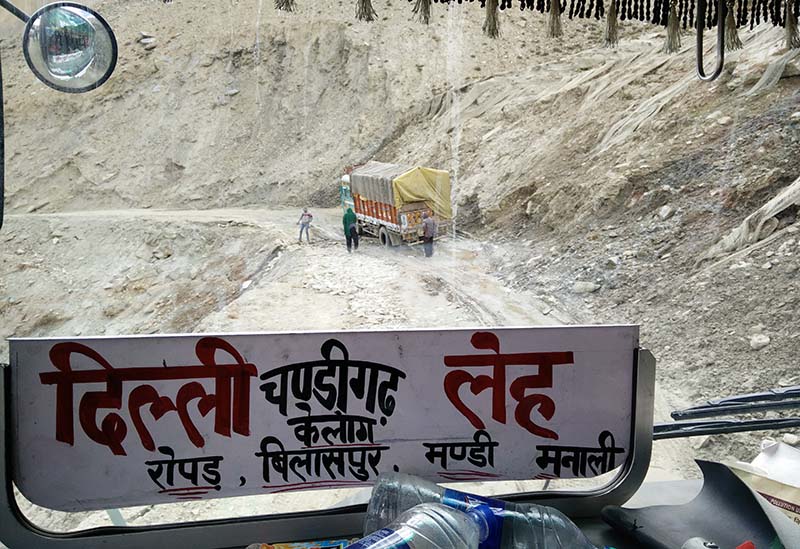 Pang to Sarchu
We crossed Pang where the bus stops for breakfast. There was general bonhomie on the bus as a couple of passengers were known to both driver and conductor. They were very friendly with other passengers too on the bus. We all shared our food as well as travel stories on the bus.
The bus also stopped a few points for sight-seeing. E.g. at Tanglang La we stopped for the customary photograph. The drive was beautiful till Sarchu. We descended from hair-raising hairpin bends, cross-roads flanked by thick slabs of ice on both sides also Suraj Taal.
Also Read: Clothes for Ladakh – What to Pack
Sarchu to Keylong
Sarchu was desolate and disappointing. The road is in dilapidated condition. I could not gather even any sad or stark beauty in that place.
The landscape changes suddenly as we enter Himachal though the road does not. The hills become fuller and greener, a big relief to sore eyes especially after Sarchu. The bus crosses through Jispa which is pretty scenic and halts for the night at Keylong.
Accommodation at Keylong
We reached Keylong at a reasonable time at 7.30 in the evening. Most of the hotels around the bus stand start at Rs. 600 – 800 for a single room which I felt too much for a night. A unisex dormitory was available for Rs.100. But somehow I was not comfortable sharing a room with so many strangers.
I had to look around hard and finally, a couple who runs the hotel uphill took pity on me and offered me a homestay for Rs.500 without food. They also run Nordaling Guest House. They are very selective about people they take for homestay therefore it is not advertised.
Also Read: How to Plan a Family Trip to Leh Ladakh
The lady was very helpful as she went with me to hunt for my sweater which I had dropped somewhere in search of the hotel. It was found in the first hotel at the entrance of the bus stand. It was being run by a Nepali woman. The local lady was very suspicious about the Nepali migrants like the Ladakhis.
Local people also told me that there is a small hike on the other side of the hill in Keylong.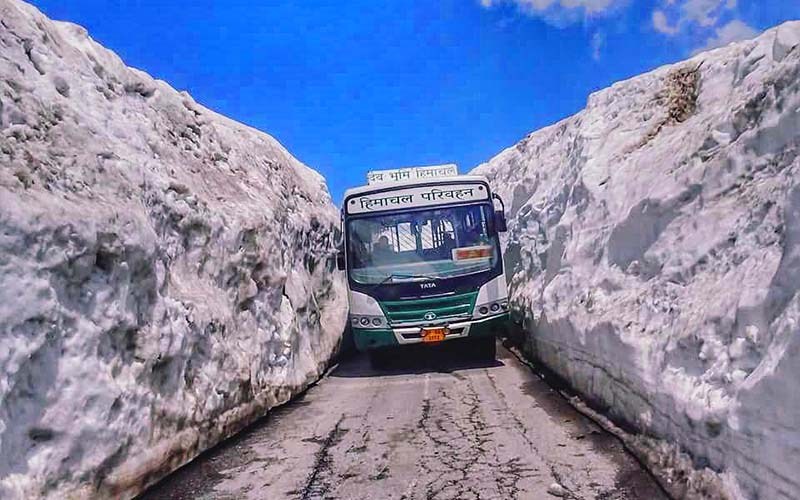 Day 13 – Keylong to Delhi
The bus started at 6.30 in the morning from Keylong. The ticket is for Rs. 852 till Delhi. The last evening I had befriended a couple from Portugal, the man was Italian and the woman a Colombian. They were the only other passengers traveling till Delhi on that bus. I booked a seat behind the driver.
Also Read: How to Handle Acute Mountain Sickness in Leh Ladakh
Keylong to Manali
The bus crosses the bridge at Tandi where the two rivers Chandra and Bhaga meet. They are considered male and female lovers in local folklore who finally unite and merge at Tandi to form Chandrabhaga River which later becomes Chenab in Kashmir. For more details, please take a look at The Legend of Chandratal.
There were also beautifully laid potato fields all through the Lahaul valley. And the pastoral nomads taking hundreds of sheep uphill for greener pasture in summers.
A local girl sat next to me and she shared about the life of people in Lahaul Valley. She studies in a college in Manali and also helps in farming in her village. She shared with me her story of crossing Rohtang Pass in winters with her father. Also horror stories of people dying while trying to cross the path.
The bus stops for breakfast is at Kokshar, the last village before the ascent to Rohtang La. It felt so good to have delicious warm aloo parantha and curd(Rs. 60) after such a long time. I was majorly surviving on Thukpa in the entire trip to Ladakh.
Manali to Delhi
It takes a long time to come down the Pass as the roads are usually lined with vehicles for few kilometers to get their permit checked to Rohtang La. Bus stops just before Manali for lunch, starts from again at 1.30 pm and then stops at Mandi.
There are no healthy options to eat. The bus only stopped at 8 pm for dinner again at not so exciting place. By that time I was extremely exhausted and was just waiting to reach home.
Also Read: Cycling Trip to Leh Ladakh – Experience of a Lifetime
Day 14 – Reached Delhi at 4.30 am
By 4.30 am, I was at my home in Delhi, marking an end to my 2 weeks exploration of Ladakh and its people.
To all the solo women travelers out there, I felt extremely safe in Ladakh. Therefore I also hitchhiked in a bindaas way which I would not do in any metropolitan city. If you wish me to address some questions as solo woman travelers regarding safety and stay in the future, I would be very happy to allay your fears. It is one place I was so relieved to forget my gender.
I stayed at Kunga Hotel in Leh. Their normal tariff is Rs. 1500-2000. As the first two days of my stay were part of my work travel, I was planning to shift to cheaper accommodation on the third day. But to my surprise, they very generously decided to host me in their hotel only. They obliged me and I stayed actually for Rs.700.  You can contact them at Kaustubha Simon – 9410146047 or [email protected].
My accommodation in Panamik was at Baltipa Homestay. The name of the owner is Skalzang Dolker and you can contact them at 9419306704. Their relative Stanzin (9469515074) has a guest house in Hunder for Rs. 700-800.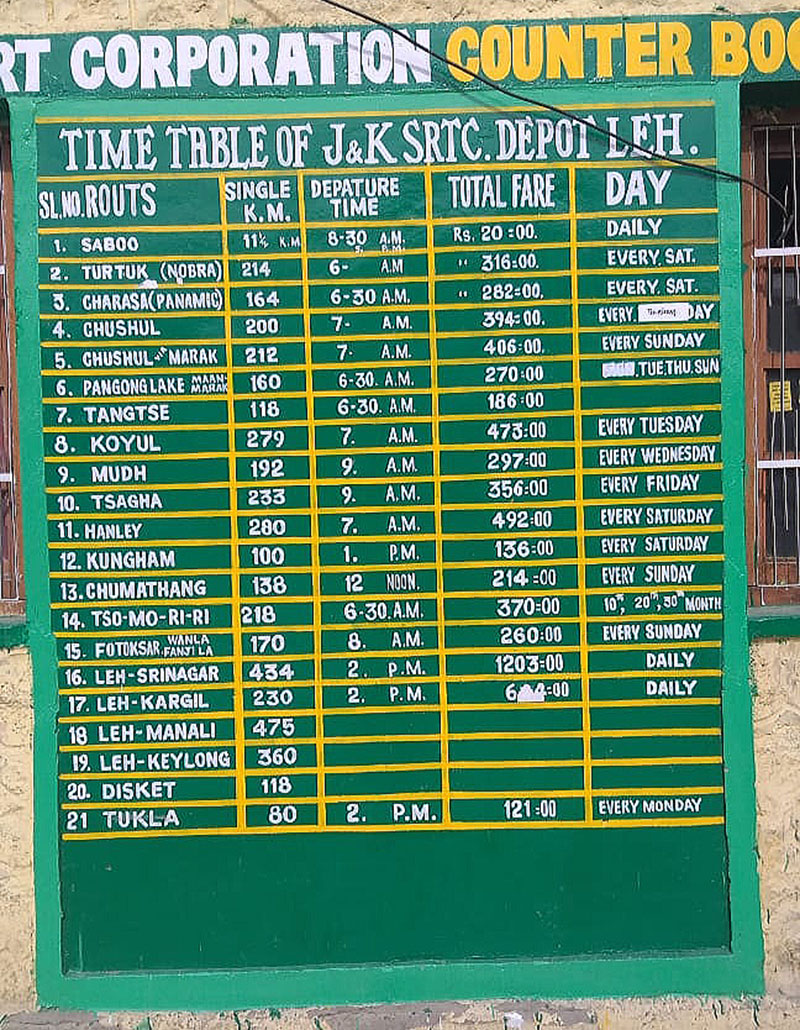 Leh to Delhi Bus Booking
There is no online booking system available but you must buy the ticket from the bus stand a day before the journey. If you failed to buy the ticket and arrived on the spot, you will not be allowed to board the Bus.
Also Read: What to see in Leh Ladakh – Sightseeing in Ladakh
Leh to Delhi Bus Fare
The fare is broken down into two parts. From Leh, you will buy the ticket for Keylong for Rs. 539. The second ticket will be bought from Keylong only. It will cost you Rs. 852 for the journey till Delhi.
Personally, I found the Leh to Delhi bus ride to be fine. If the road was rough, the ride was rough. The bus was in fine shape and the driver was very experienced and focused.
Leh to Delhi by bus – Conclusion
I hope the information on traveling from Leh to Delhi by Bus was of help. Not just this article but the entire travelogue can help you in planning a trip to Leh Ladakh by public transport. Reading this, you can also get an answer to the question of whether or not it is safe for a woman to travel to Ladakh alone. If you need any other details, please feel free to ask in the comments section below or at our Community Forum and I will be glad to answer.