Like previous years, this will remain to be a dedicated post to update Chandratal status in the year 2021. As the winter progresses and ends, I will share updates on Chandratal Lake road status including the estimated opening dates and conditions of the road from both Manali and Kaza side.
Other than this post, I will also be sharing the most recent pictures of Chandratal Lake current status in another thread in our Community Forum. I cannot post too many pictures here on this page because then it will just get too heavy.
If you just want to know about the Chandratal road status, then scroll through this page and you will get the desired information. If you want a more visual presentation of the same, then I will urge you to take a look at the Forum Thread.
Chandratal Road Status = OPEN

The status of the road to Chandratal as of now is now open. The lake is declared open sometime in the first week of June and then is closed in October. This year, however, due to the less amount of snow that the entire region received, the roads were open way ahead of schedule.
Keep in mind though that the campsites at the lake will only be available by early May. The campsites are available until the 10th of the month and after that, there is no accommodation available anymore. Though the road remains open a little longer after that and you can still make a day visit to the lake, you will not be able to stay there overnight.
Kaza to Chandratal Road Status =

OPEN
Manali to Chandratal Road Status =

OPEN
A few other articles that I would recommend reading and can be helpful in visiting Chandratal are listed below.
Below is a picture of Chandratal lake completely frozen and buried under snow.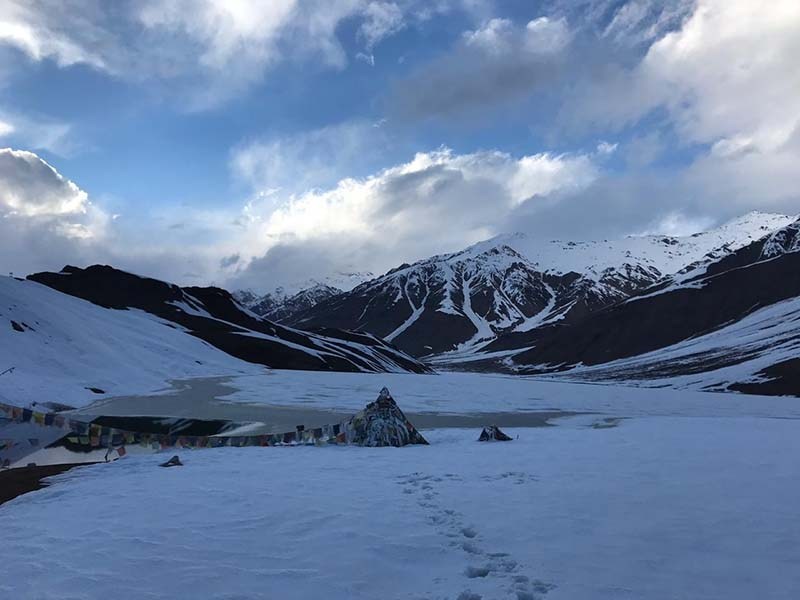 Kaza to Chandratal Road Status
The road from Kaza to Chandratal gets open sometime in the month of May, around 10th of it. The date is actually a little sooner than the entire Manali Kaza stretch gets open. The route from the Kaza side becomes accessible and a day trip can easily be made. There will however be no campsites available and you will have to return to Kaza by evening. On the plus side, there is a high chance that you will find the lake half-frozen, like in the picture above.
Manali to Chandratal Road Status
The road from Manali to Chandratal only gets open only after the snow from Rohtang and Kunzum Pass has been removed completely. This only happens towards the end of May historically. To be on a safer side, assume the date of opening of the road as of 20th May and not sooner than that.
Kunzum Pass Status
The status of Kunzum Pass is closed right now and it will only open after May 15th. There is a chance that it may even open sooner if it did not snow too much. But we will only find that out next year after the winter season has passed.
Rohtang Pass Status
The status of Rohtang Pass right now is closed and it will open sometime in the month of May, after BRO is able to clear the snow completely from both Manali and Koksar side.
When does Chandratal Lake Open?
Chandratal lake is declared open in first week of June, after the snow from Kunzum Pass and Chandratal road is cleared. If there was not too much snow and BRO was able to complete the work faster, Chandratal may open by late May as well.
Chandratal Status – Conclusion
I hope the information above on Chandratal status was of help. If you have any questions, or need any other details, please feel free to ask in the comments section below; or at our Community Forum; and I will be glad to answer.