This article is in continuation of a previous one and a part of my Ranthambore trip travelogue. We arrived at Sawai Madhopur from Delhi via Jaipur in 2 days. Our first safari in the evening of Day 2 did not yield any results but we had our first Tiger sighting in the morning safari of Day 2. Later on the same day, we came back for the evening safari. We visited the Ranthambore Fort and were lucky enough to catch another glimpse or yet another tiger.
Please click on the link below to read the previous part of this travelogue.
Journey So Far: Delhi to Ranthambore Road Trip – Call of the Wild
We were back in our hotel by 10:15 am from our safari and enjoyed a relaxed breakfast. Afterward, we freshened up quickly and were on our way to check out the Ranthambore Fort by 11:15 am.
Day 3 – Ranthambore Fort and Evening Safari
Personal cars can be taken up to the fort. All that is needed is an updated pollution certificate which we had. We stopped at the entrance of the park to show this certificate. But there was no one there, so we simply went in.
Our first stop was the crocodile we'd seen in the morning. We wanted to take some better shots and got down from Kiyang to do so. Disembarking your car in the park area is prohibited, but we saw several people walking on the road, and thought that a quick 2-minute photo stop would do no harm. The croc was still lying at the same place, and we quickly took some shots and returned to our car.
Next, we stopped at the owl tree. Here too the same owl sat in the same pose, snoozing. This time we got even better shots of him since we took our time and there was no one around to hurry us up. Our fascination for owls urged us to name this particular one, and so we did – Errol, the name of one of the owls in the Harry Potter books of which we're such die-hard fans. After spending some more time with Errol, we moved on.
Errol gives us a clear shot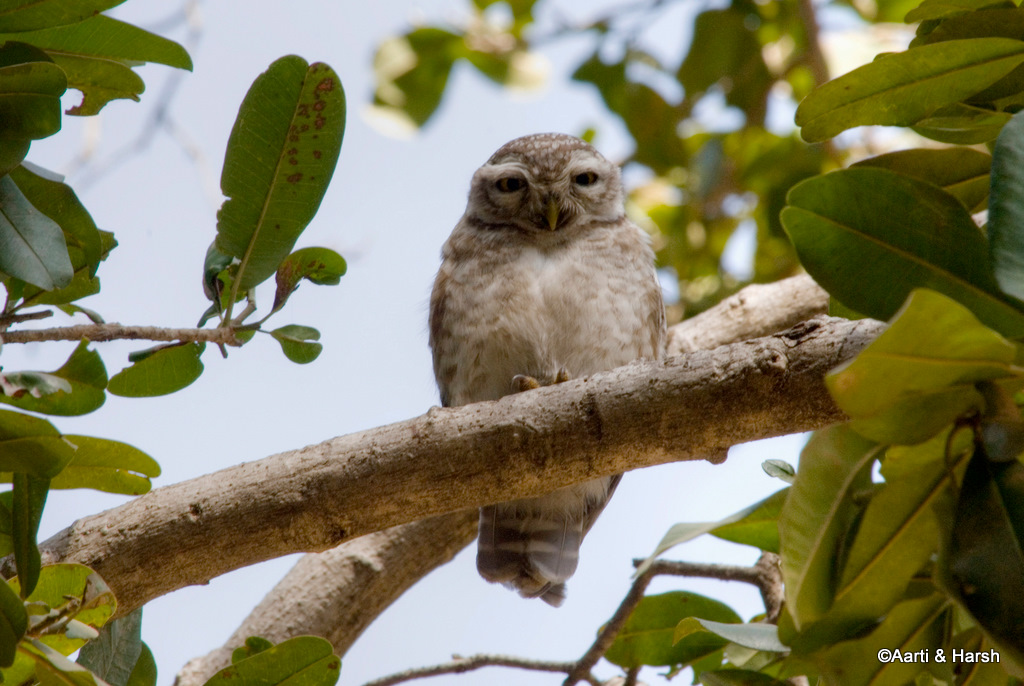 Baby langur searches for food on the road, his antics were amazing to watch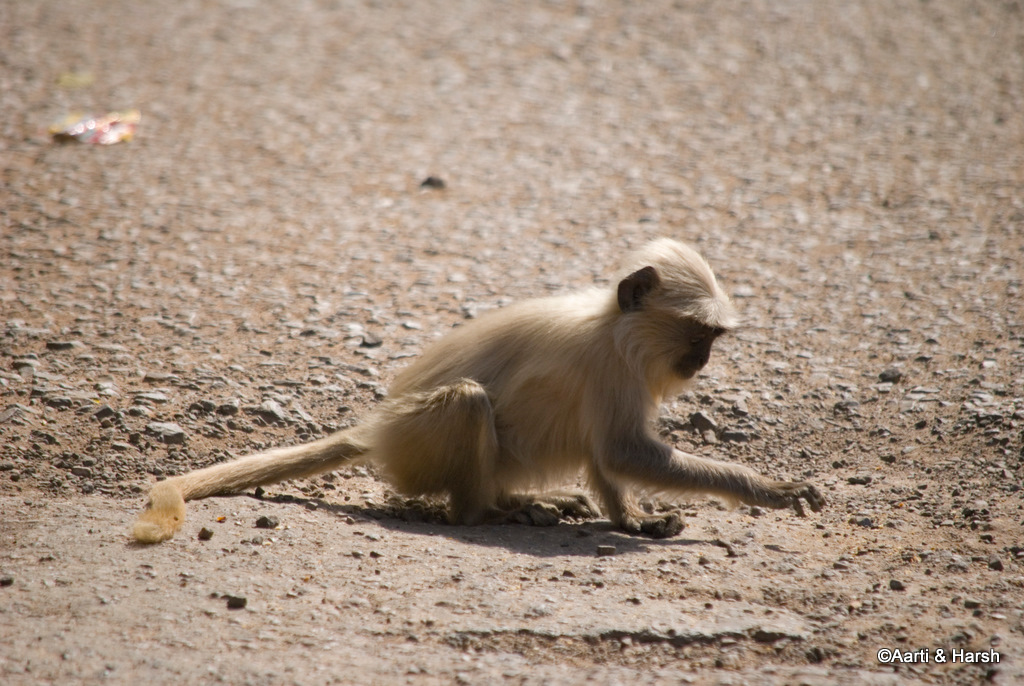 A spotted dear crosses a clearing next to the road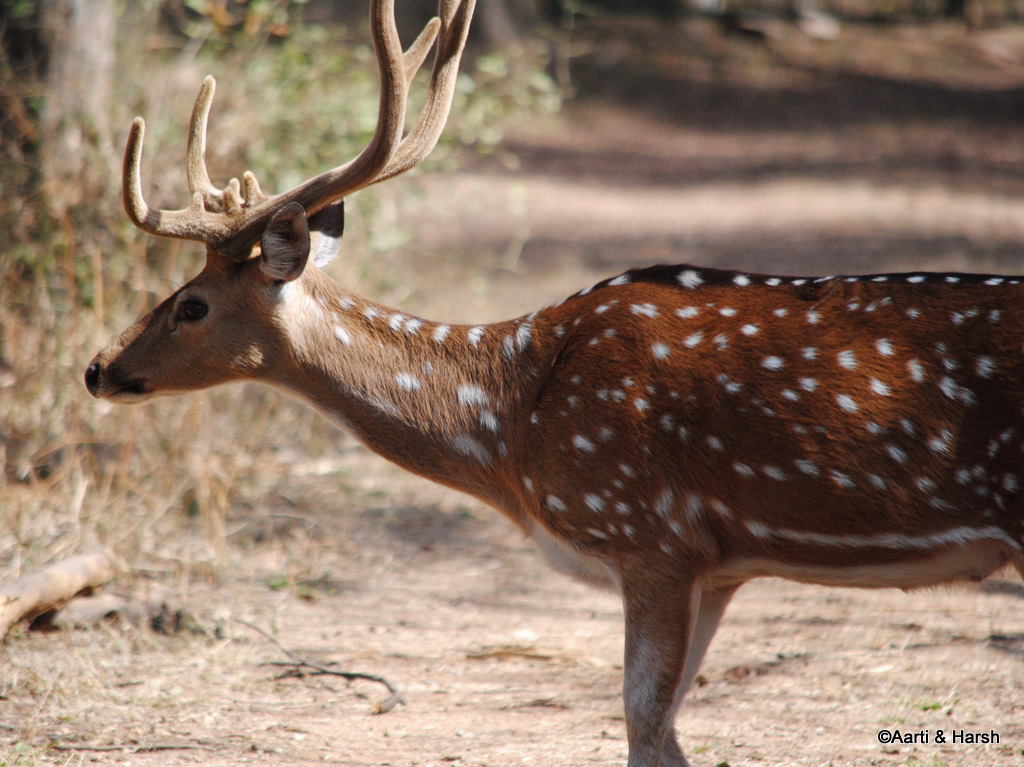 A herd of Sambar deer ruminating their morning food. The kid too was vigorously at it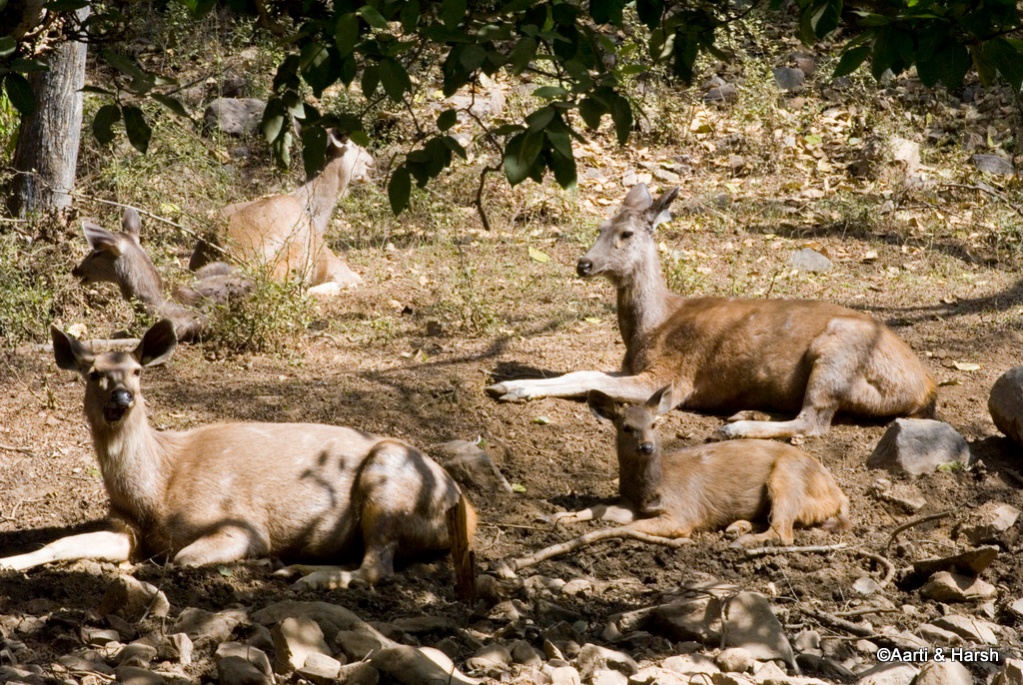 We stopped to photograph some spotted deer and sambars lying by a water body. We hadn't been able to photograph these animals on our safaris as there everyone is only interested in looking for a tiger and very few people appreciate the other animals.
Ranthambore Fort
We parked Kiyang in the parking below the fort and began the long trudge up. Both of us weren't particularly interested in the fort and just wanted to see the view from the top.
A 15-minute climb brought us to the ramparts of the fort, and we spent some time walking around. Not wanting to get too tired since we still had the afternoon safari to go on, we just sat in the shade in one corner of the fort which had a view of the park, and rested.
The fort is in fact quite impressive and is the second-largest in India, the first being the one at Chittorgarh. We wondered how exciting it would have been for the kings to hunt in the park, and we imagined the hunting parties that would've scoured the jungle on expeditions.
Bringing us out of this reverie was the chatting of a bunch of tourists who had wandered to our spot in the fort, forcing us to stop daydreaming and start descending. The majority of the people who come to visit the fort are not interested in the fort per se, but in the Ganesh temple housed within it, apart from 3 other temples.
Stone sculptures at the entrance to the fort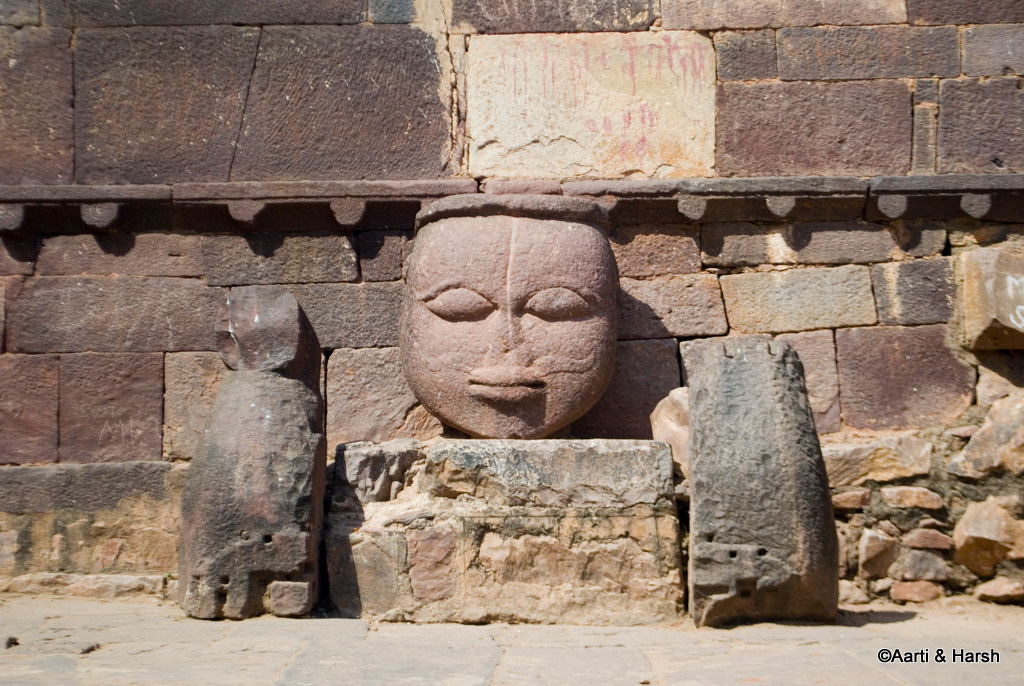 A colorful parakeet lazed around in mid-afternoon sun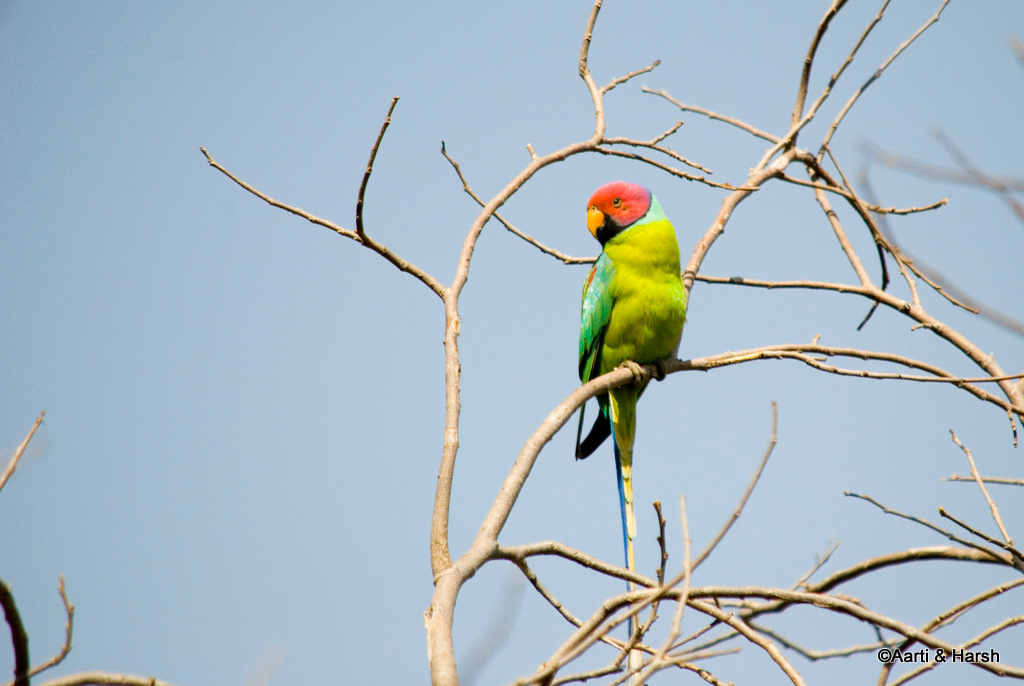 A panorama shot of the beautiful Rajbagh lake view from the top of the fort

A shot of the parking lot at the entrance to the fort. This is where zone 2 begins
​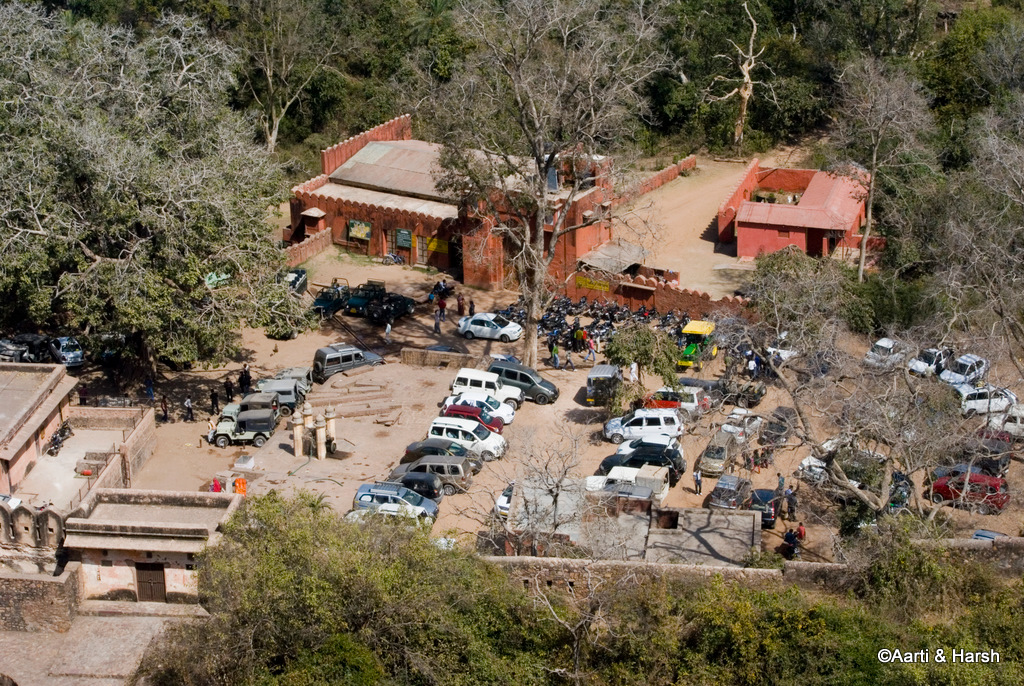 Back to the Hotel
As we came out, we stopped to say hi to Errol again and found a bunch of langurs sitting next to his home tree. Strangely, most of them were mother langurs with babies in their arms. The rest who did not have babies were busy grooming themselves and the others around them.
Also Read: Delhi to Jim Corbett Road Trip – An Exciting Adventure
While I concentrated on getting a shot of a kingfisher I'd spotted, Aarti enjoyed the antics of the langurs as they sat sunbathing. Right before exiting, we saw another crocodile sleeping on the edge of a pond, and clicked him before we returned to our hotel for lunch.
Caught!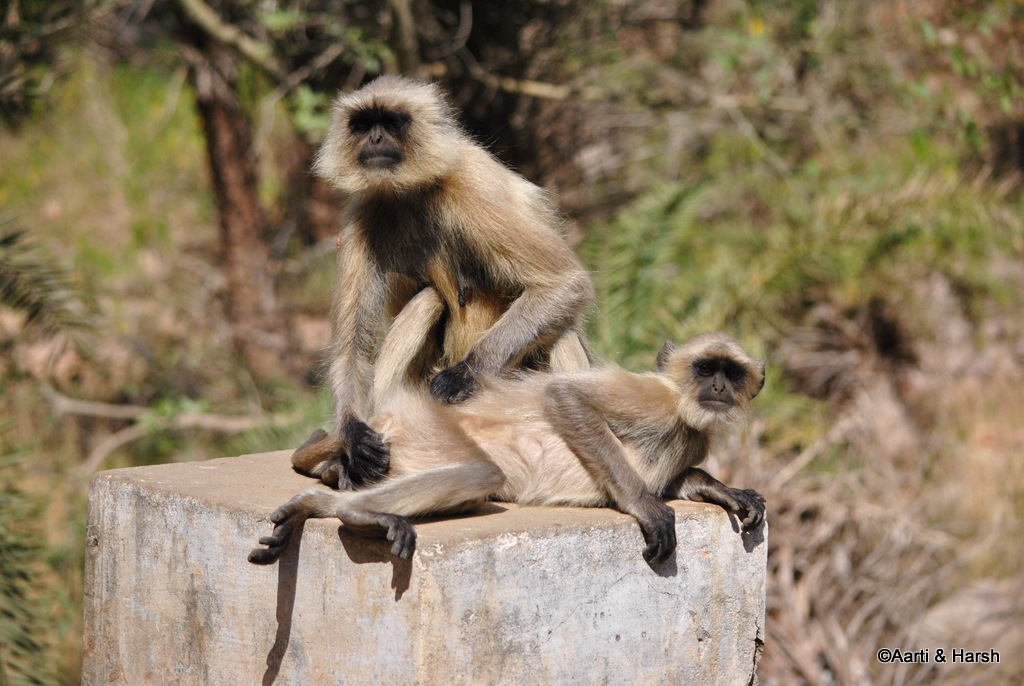 A kingfisher preparing to dive in, into his lunch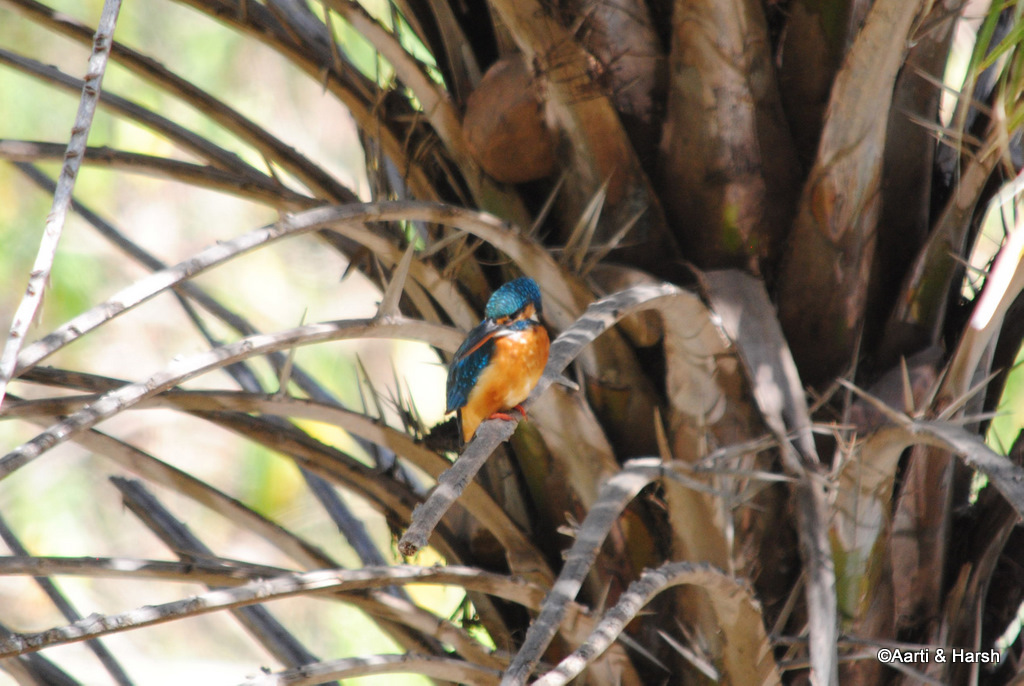 This was another croc basking next to the lake. That is why I say listen to the signboard saying no to having a bath in that lake.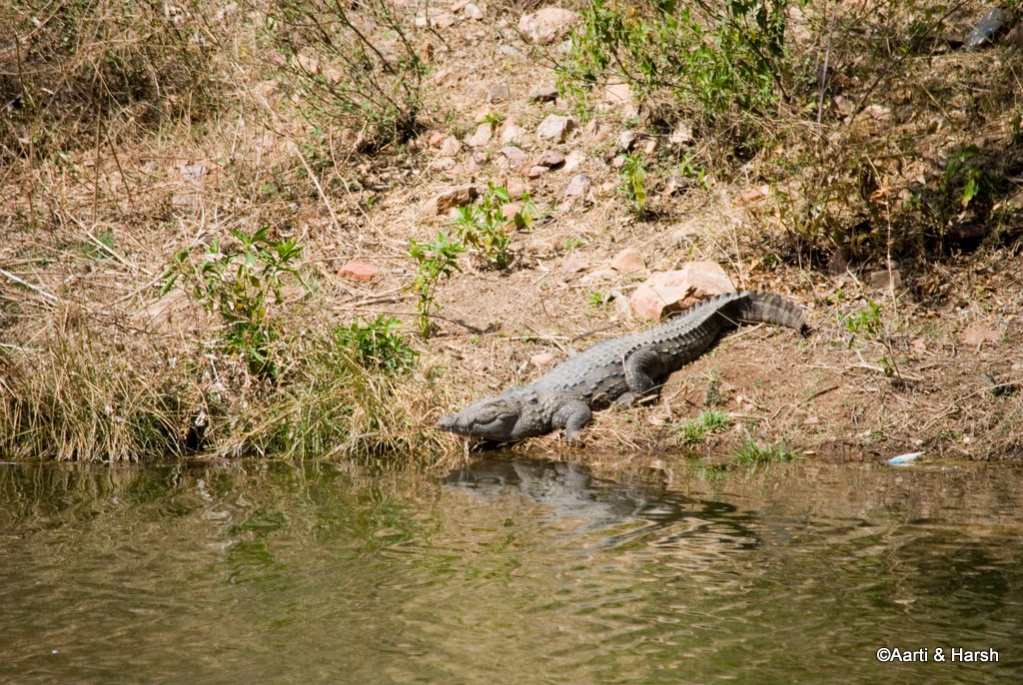 We had a bit of time before our next safari. I took this time to chat up with Mr. Rajkumar, our hotel caretaker. He explained at length how the booking system at Ranthambore works.
Ranthambore Safari Booking System
There are in total 20 gypsys, 15 diesel canters, and 5 petrol canters that are allowed inside the national park at one time. A gypsy can seat up to 6 people, a diesel canter 20 and petrol canters 16 people each. So at any given time, up to a maximum of 500 people are allowed inside the 5 zones. There are a few more (200) if you include zones 6,7, and 8 as well.
Of these 20 gypsys, 15 are in the online booking quota. 12 diesel and 3 petrol canters also belong to the online quota. The remaining 5 gypsys, 3 diesel, and 2 petrol canters form a quorum of current quotas which is released just before every trip to the park.
If the number of people clamoring for safari bookings is more they start canceling those 5 gypsys belonging to the current quota and add 5 diesel canters instead. This makes the number of vehicles going inside the park the same but increases the number of people going inside drastically. All this is done an hour before each safari schedule.
The zone allotments for online bookings are done randomly, as they say. But if you are booked for multiple safaris you can request alternate zones and if things are not too crowded you will be listened to. Since all this is done an hour before the safari it happens really early in the morning.
Thus, there's a dedicated person from each hotel who does this on your behalf so you do not have to get up at an unearthly hour. The hotels have this inbuilt in their costs so you do not have to typically pay anything extra for this "service".
Also Read: How I traveled to Leh Ladakh by Public Transport
Afternoon Safari
The afternoon safari began really late. We entered the park only at 3:30 pm or so. And we again got allotted zone 1 because all the other tourists wanted to go there having heard the wondrous tale of our tiger spotting in that zone earlier that day. Aarti was a bit disappointed as she wanted to check out the other zones, but we had no choice, so off we went.
Having been in the park just a few hours ago and having stopped and checked out all kinds of animals, we became the guide for the initial bit on this safari, pointing out crocodiles, langurs, and kingfishers.
Some animals seldom move. Like the croc, who was at the same spot, in the same position as we'd spotted him 2 hours ago.
The Ranthambore fort, viewed from a distance.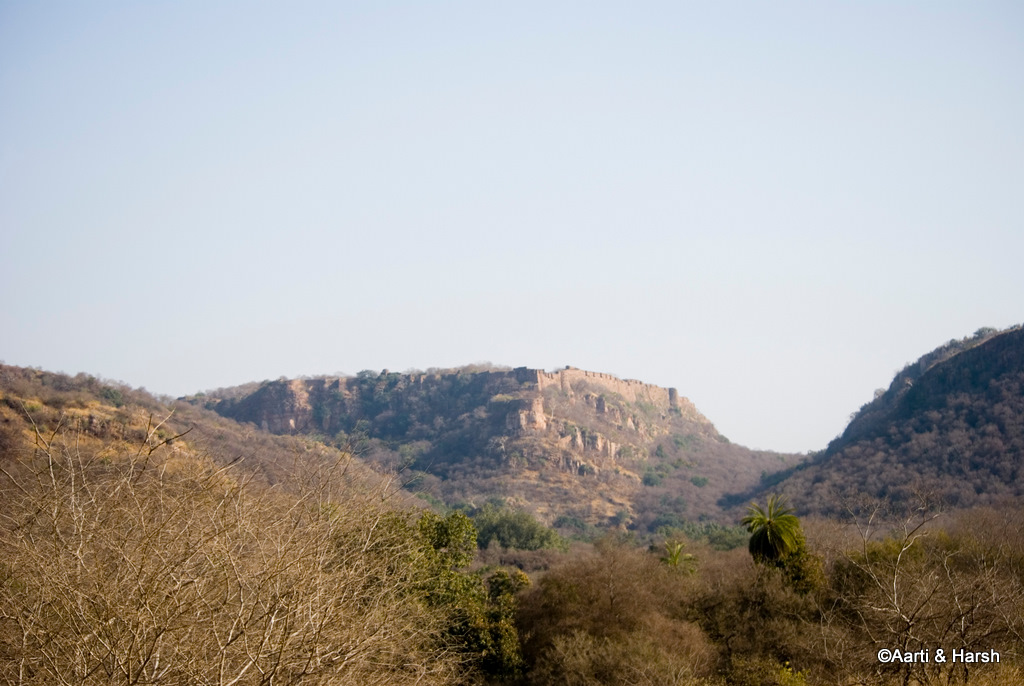 Our guide working out the formalities with the RNP forest official at the entrance to zone 1.
We then entered the now familiar zone 1 with the big banyan tree at the entrance. We had literally gone only 200 meters inside when we saw a line of gypsies and canters in front of us parked at a point and staring to their left. Our hearts started beating wildly as such a scene meant only one thing – the jackpot had been hit again!
Our guide started pointing to the left as well, and after much squinting, we too saw the orange we all so love to see. Only this time, the tiger was sleeping. Sleeping soundly.
Also Read: Trip to Chandratal Lake by Car – An Adventurous Drive
T24
We waited patiently to get a good look at the sleeping tiger as canters and gypsies in front of us moved ahead after each had gotten 10 minutes at the best vantage point to see the sleeping animal. Finally, we came in a direct line of sight, but sadly could not get a clear shot as the tiger was lying in the middle of shrubs, and twigs blocked him from all angles.
Nevertheless, for our eyes, it was pretty clear even though not for the camera, and we watched him delightedly.
Slowly, as the tiger refused to wake up, a few canters and gypsies went off to explore the rest of the zone, but the people in our canter unanimously decided to stay put and watch the tiger sleep. We were all, of course, hoping that he would wake up from his slumber sooner or later.
Peering through the foliage, we spot some orange. Canters and gypsys queue to get a good look at T-24.
The guide told us that we were particularly lucky to have spotted this tiger – T 24 – as he was male and a male tiger has a territory of nearly 50 square kilometers making him fairly difficult to spot. As against this, a female tiger has a smaller territory of 20 or 30 odd square kilometers, and thus tigress sightings are much higher.
Zone 1 is the territory of two tigers – T39 whom we'd spotted in the morning and T 24 whom we were looking at then. We felt thrilled at having seen two different tigers in the same zone on a single day!
Also Read: Delhi to Rann of Kutch by Road – A Winter Drive
The Lazy Tiger
Unfortunately, T 24 was simply too zonked off to care about the 50 odd people staring at him. He would lift his head every 20 minutes or so, give us a sleepy gaze, and then slowly his head would fall back to the ground and his half-open eyes would softly close as he returned to his dreams.
We were sure that he was dreaming since he would occasionally twitch his feet or whiskers while sleeping. The best, however, were the three huge yawns he took, showing us his sharp pearly whites. Just before we gave up on him, he turned and resumed sleeping on his back, with his legs in the air, as dogs often do.
This particular move got a universal 'awwww!' from his audience, but he of course was least bothered with how closely each of his moves was being observed. We spent 2.5 hours at that same spot, looking at and admiring a sleeping tiger, and then it was time to exit.
Even though T 24 had not woken up, even though none of us had gotten a single clear shot of him, even though we hadn't explored zone 1 at all, the mood in the canter was highly cheerful, with everyone making jokes about the sleeping tiger. We too enjoyed the experience and had nothing to complain about.
T-24 thinking: Monkeys in gypsys not worth it, hit the snooze button, go to sleep.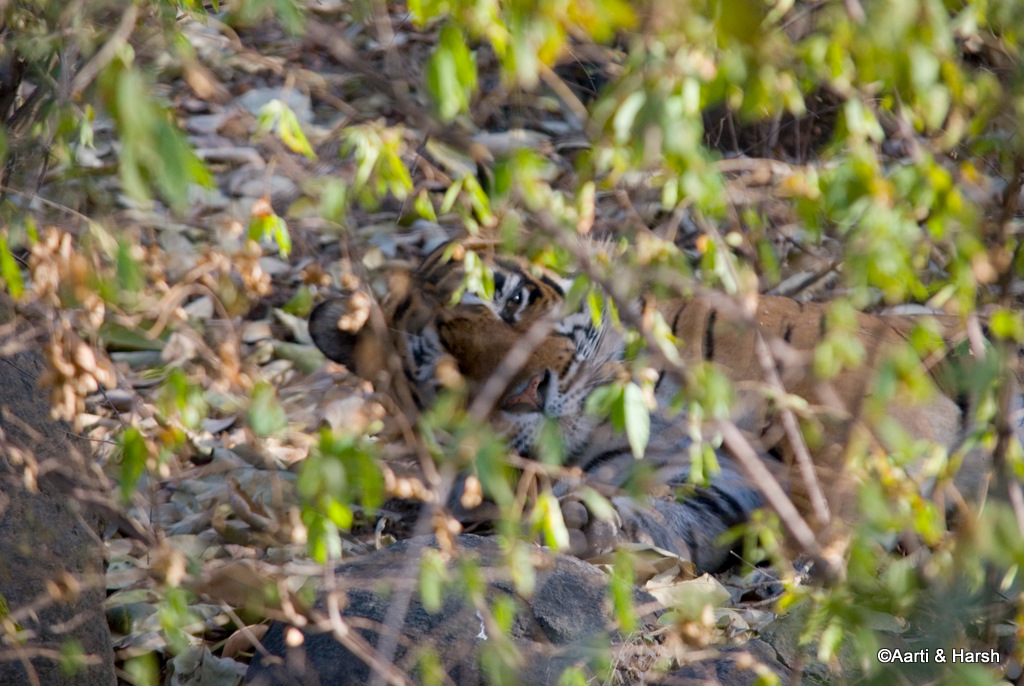 Stretches like a dog on its back, with paws up in the air. Nirvana!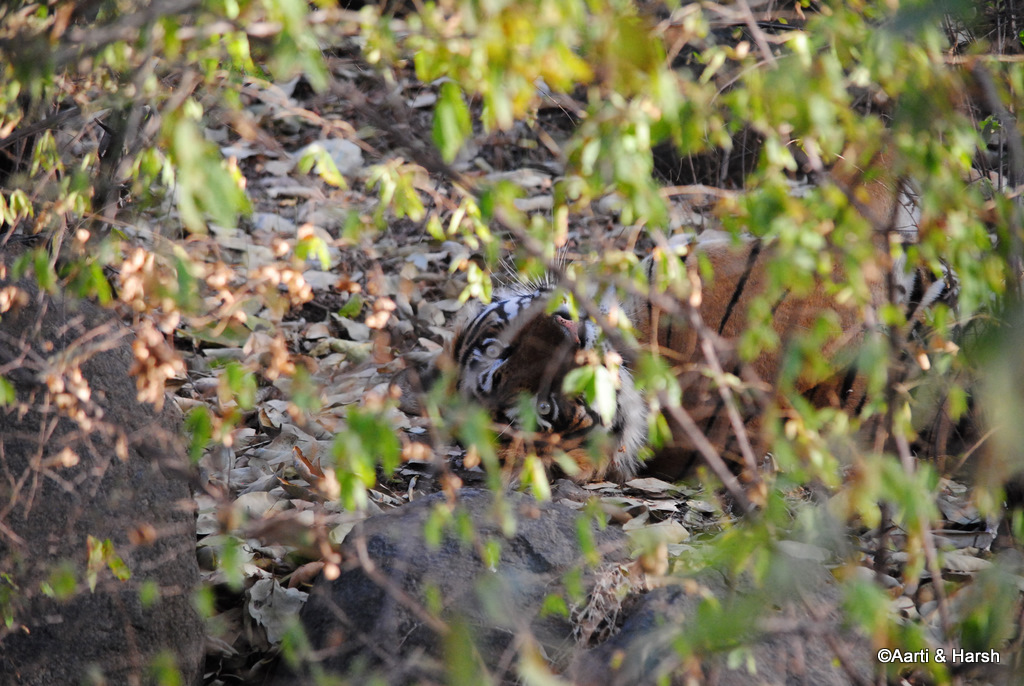 Ahh, those eyes, those hypnotizing eyes.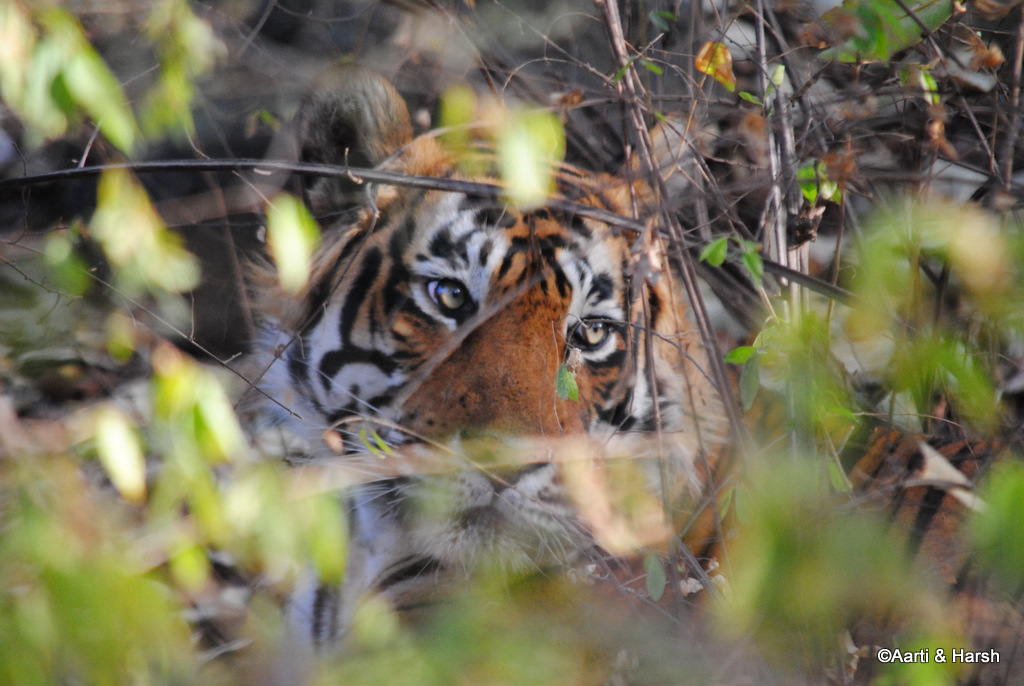 Well, I'm up on my belly again, stop disturbing me, you monkeys.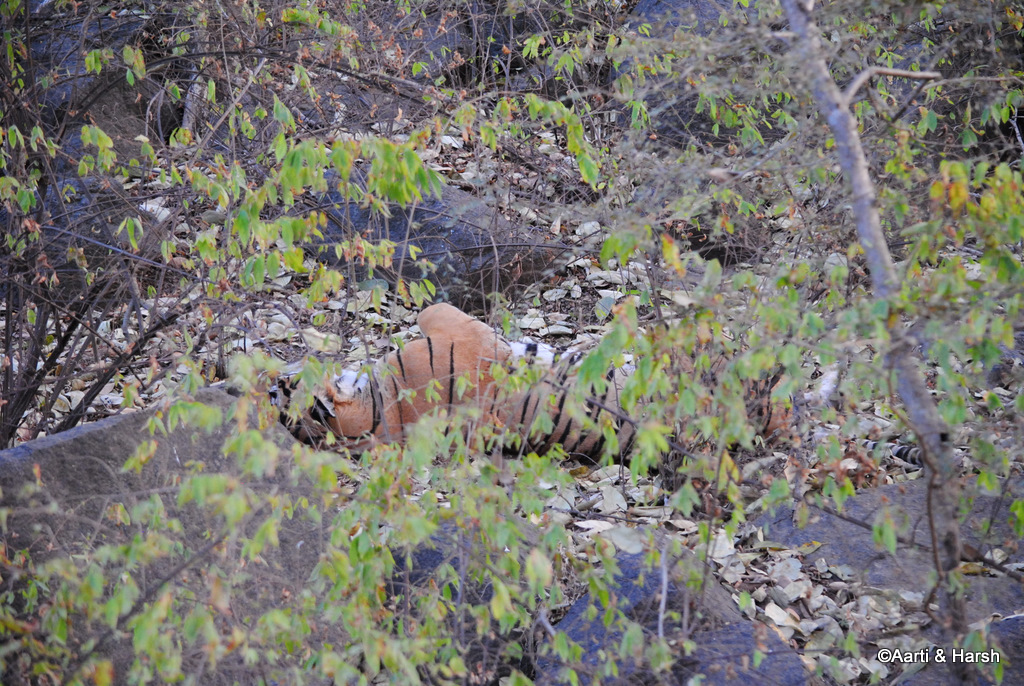 End of Day 3
As someone said, if you can see these white spots on the ear, and you are in front of the tiger, RUN AWAY! That's the attacking stance.
After reaching the hotel, we straight away jumped into Kiyang and drove towards the STRIPES shop where Aarti had promised her ex-colleagues she would shop more. And when it comes to shopping, she sure does not break any promises! So while she shopped there and in the adjoining Dastkar outlet, I treated myself to a pyaaz ki kachori.
Having had chips, coke, and kachori in the evening, we weren't too hungry and decided to skip dinner. Three trips inside the park during the day had sapped all our energy, and we were asleep even before we hit the bed. We'd come to Ranthambore expecting little, and now in a single day we'd met T 39 and T 24, and we still had one more safari to go!
Also Read: Delhi to Pabbar Valley and Chanshal Pass
Day 4 – Morning Safari
We were all packed when we left our room for the morning safari as our plan was to come back, have breakfast, and leave for Delhi maximum by 12 pm. This morning our canter was right on time, and we had to leave our tea unfinished.
We got to know that we were going into zone 1 AGAIN, a fact that did not go well with Aarti, who was already unhappy at having been into the same zone twice. A third time was simply unacceptable for her. I, on the other hand, was ambivalent and just hoped that we get lucky again.
Anyway, we did not have a choice, and off we went into zone 1 again. Again the banyan tree greeted us, and again we shot it. As we crossed the spot where we'd spent two and a half hours with the sleeping T 24 the previous day, we looked around expectantly, hoping to see it still dozing there, but he was obviously gone!
Also Read: Sach Pass Road Trip and Season's First Snowfall
Petrol & Diesel Canters
On this particular safari, we were on a diesel canter. The previous three safaris that we'd done on the trip had been on petrol canters. I'd also like to explain the difference between petrol and diesel canters here.
We did 3 safaris on a petrol canter, and the rest on a diesel one, and realized that both have their own pros and cons. While the petrol one is smaller than the diesel one, it makes more noise since it has to almost always run at high RPM. The diesel one, on the other hand, is wider and thus has more leg space. It can also run smoothly on low RPMs and so makes less noise.
A petrol canter can accommodate 16 people while a diesel one can accommodate 20. One last point here is that while on our last safari, we sat in the penultimate seat in a diesel canter. The visibility this time was an issue since both sides had two seats each as opposed to a petrol canter where one side has a double seat and the other single seats.
One can choose which type of canter to book while making online bookings. To conclude, I would personally choose a petrol canter any day over a diesel one.
Also Read: Leh Ladakh on Scooter – An Adventurous Journey
Search of a Tiger
As we went deeper in, we came across a tree with tiger claw marks on it. It is a gesture that helps tigers mark their territory as our guide explained. We even came across some pugmarks and waited in a few spots to hear warning calls, but none came.
We spotted a group of owls huddled in a hole in tree bark, and spent some time clicking them. The morning light on them was surreal. We spotted another fat owl snoozing in a tree hole a bit further and again went trigger happy.
Storks going about their daily morning routine.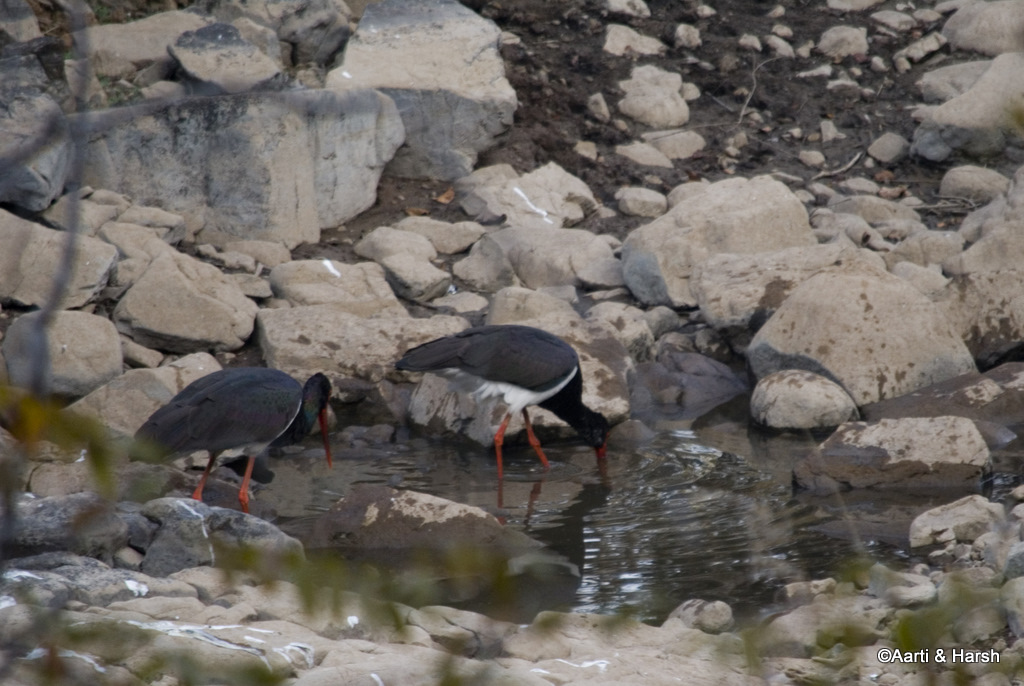 Another owl which was too sleepy to peer out of its tree trunk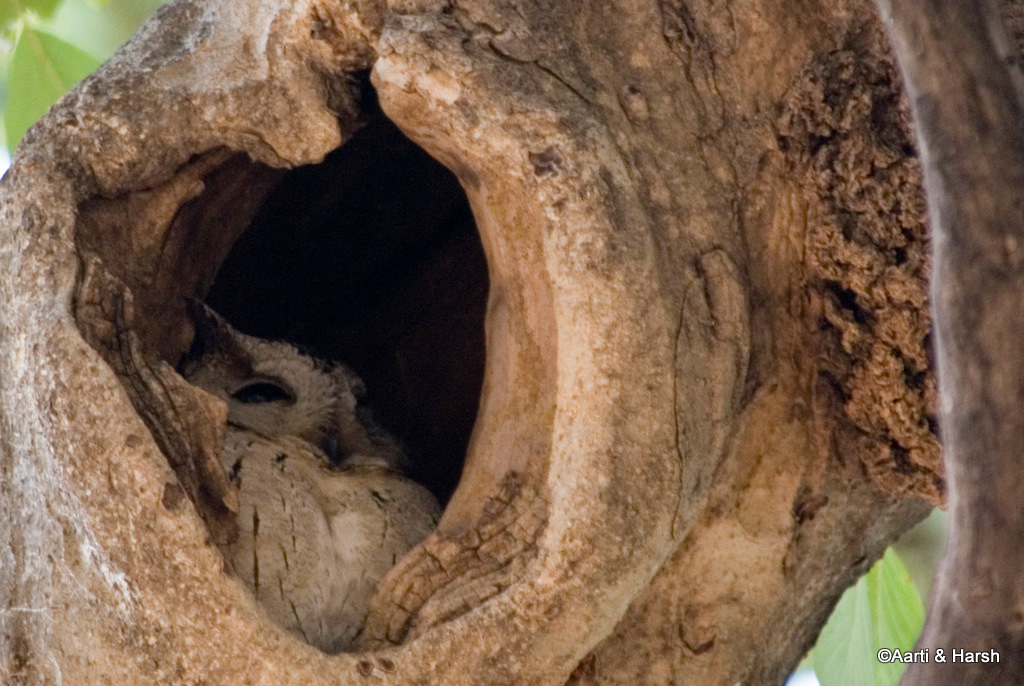 White chested fantail flycatcher. In order to remember this bird's name, I'd texted it to myself when the guide had told us.
​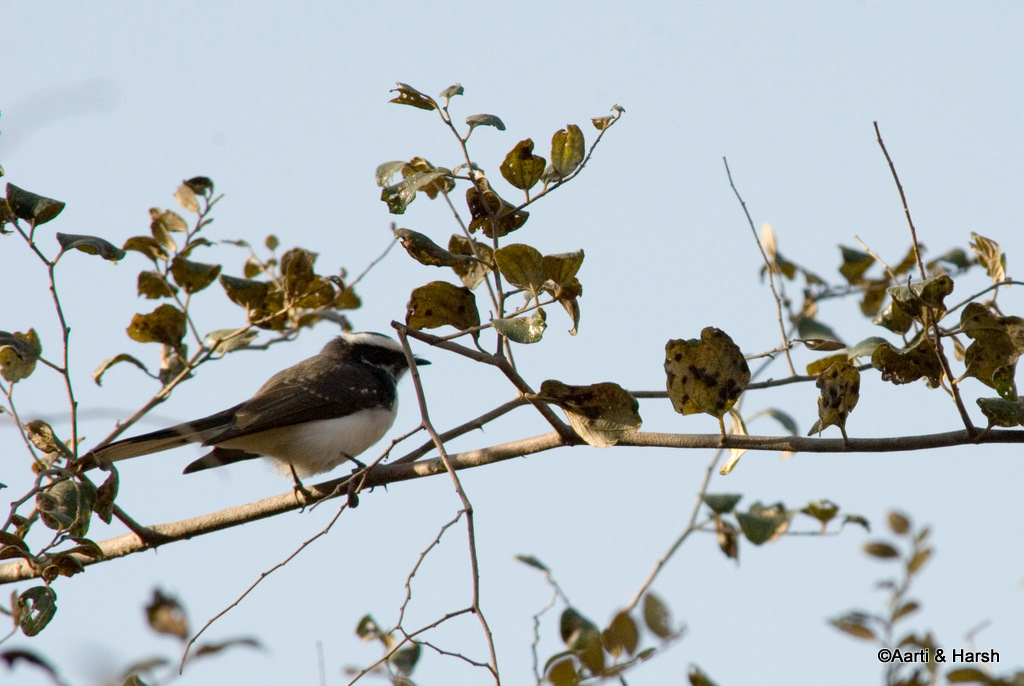 We soon reached the spot where we'd rested on our second safari and fed treepies. We did the same on this day and subsequently moved on. This time we went deeper into the zone from this point, something that we hadn't done despite having been on two earlier safaris in the same zone. That made us feel a little better.
Also Read: Road Trip to Auli, Malari Village, and Niti Valley
Leopard Sighting
About 10 minutes later, we saw the now-familiar sight of gypsies and canters huddled at a spot and all tourists in them looking to one side. Someone from the canter in front of us shouted 'Leopard' and we jumped! However, this time we just couldn't spot him.
The vehicles in front of us said that the leopard was getting ready for a kill. While we could see the deer he was stalking, we simply couldn't spot him for the longest time as his skin camouflages really well with the flora. Finally, when he moved a bit, we saw him, and we were super thrilled!
We were dying with anticipation to see him kill a deer. But something changed his mind and instead, he began walking parallel to the road inside the jungle. Again, we couldn't get a clear shot as he never came out in the open; except when he crossed the road in front of a gypsy ahead of us.
We followed him with our gazes till he disappeared into the other side of the jungle, and then finally took a deep breath! Two tigers and a leopard. Wow! We'd been extremely lucky.
Angry birds, again!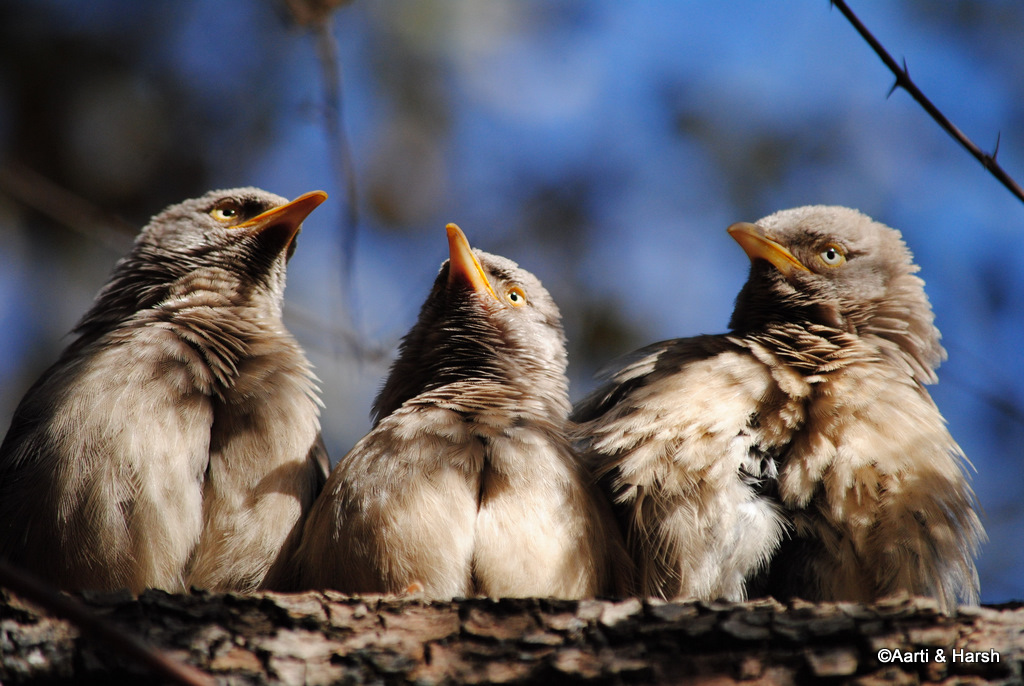 At 300 mm zoom, manual focus, the leopard is still hardly visible. Imagine the problems of the naked eye.
It ran parallel to the jungle track through the thick foliage. That's how thick the foliage was.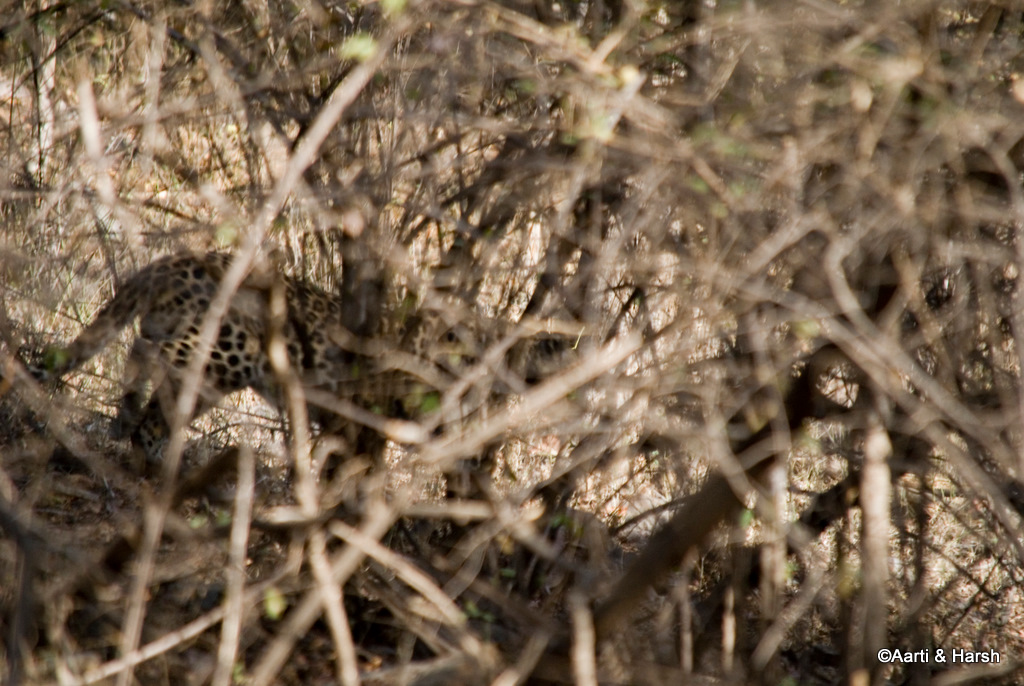 Finally, it crosses the jungle track onto the other side. Sadly we were too far behind to get a clear shot.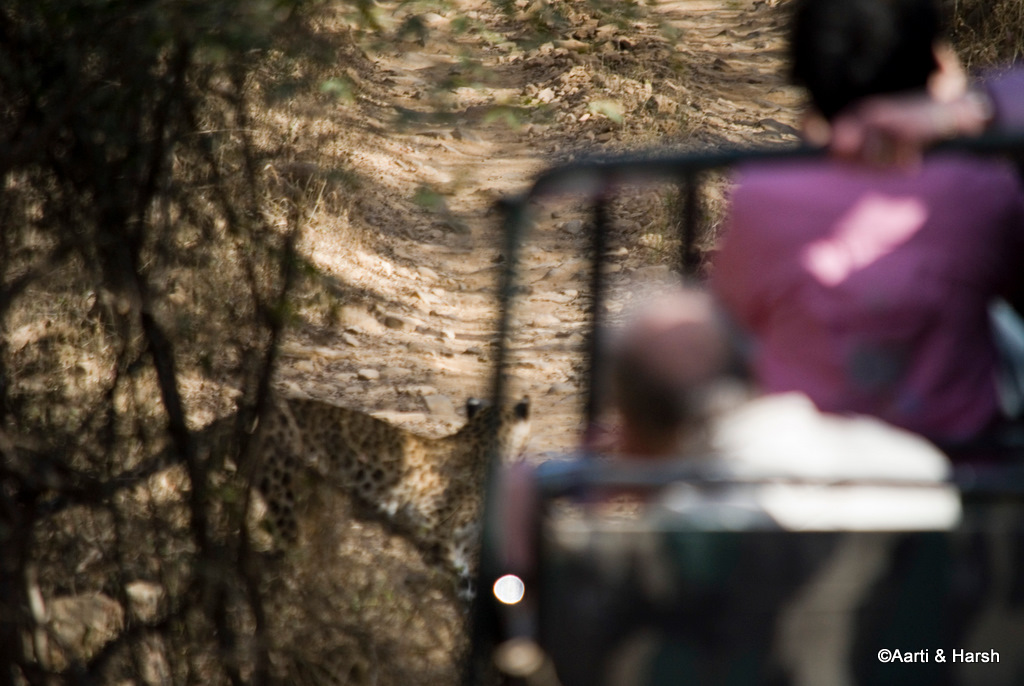 Another Day in Ranthambore
It was then time to exit. As we sat back in our seats, a thought struck both of us together. Why not spend one more day in Ranthambore? I could manage my emails on my tab, and Aarti could put in an extra day of work on Saturday if required.
We were aware of the fact that if we did stay back, it would be out of pure greed since we had already had our share of animal sightings. But we also thought that we never do such on-the-spur-of-the-moment things and that it would be okay if we did it for once.
We couldn't really decide what to do, so thought of putting the decision on our hotel manager. If there was a room available for the night, we would stay. Otherwise, we would leave as planned.
Tiger camel! Yes, these are found outside Ranthambore.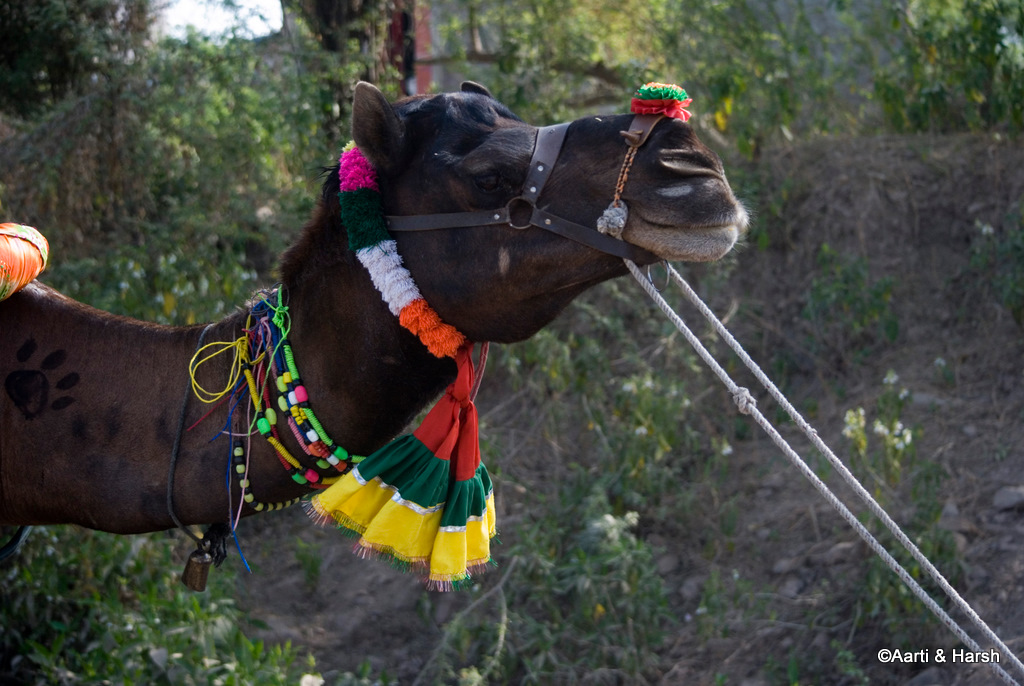 As soon as we reached the hotel, we caught hold of the manager. He informed us that all he could give us for the night was a tent and that he could try to get us booked on a safari that afternoon.
That did not sound too promising. We mulled over what to do at breakfast. That is when a brilliant idea struck me. Why not do the afternoon safari and then leave for Delhi? Even if we left by 6:30 pm, we would reach Delhi maximum by 2:30 am. This way, we could still go to the office the next day.
Aarti protested with how I would drive at night if I was tired. Eventually, she gave in too. She was also tempted to do one last safari. And just like that, we decided to extend our stay in Ranthambore by 6 more hours; hoping to hit jackpot again in our last safari.
Change of Plans
The manager thankfully managed to get us a safari on a diesel canter in the afternoon. We freshened up and checked out of our room by noon, and then sat in the hotel's restaurant till our canter picked us up at 2:45 pm.
As we sat having lunch, looking through our photographs, and discussing how great Ranthambore was, an idea struck me. If we'd already seen 2 tigers in February, what would be the situation in May when tiger sightings are the highest?
I couldn't wait to find out and suggested to Aarti that we come back on a weekend in May. She instantly agreed and proposed that we ask a few of our friends as well. I was online when this discussion was happening, and a friend was available on Gchat. I asked him about the trip in May, and he agreed immediately.
In the next half an hour, while sitting in a restaurant in Ranthambore, I made safari bookings for a weekend in May to come back to the same park! Aarti and I declared ourselves crazy that day.
The fun did not end here. As it turned out, the decision of a 4th safari was a good one. Ranthambore was going to treat us even further with more Tiger Sightings. Please click on the link above to continue reading the next and last part of this travelogue.
Ranthambore Fort & Tiger Sighting in Ranthambore – Conclusion
I hope the travelogue, pictures, and information above on Ranthambore Fort and Tiger Safaris were of help. If you have any questions or need any other details, please feel free to ask in the comments section below or at our Community Forum, and I will be glad to answer.