This article is in continuation of a previous one and a part of my Ranthambore trip travelogue. We arrived in Sawai Madhopur from Delhi via Jaipur and spent the next couple of days on multiple safaris in Ranthambore National part. The post below talks about our last safari and our journey back home, bringing an end to our road trip to Ranthambore. To read the previous parts of the travelogue, please click on the links below.
Journey so Far
We were going into zone 4 on our final safari in Ranthambore NP, and couldn't be happier. One dampener though was that we had gotten the penultimate seat on a diesel canter which also seemed to have many more than the designated 20 people on it.
To be precise, we were 26 in all, 20 adults and 6 kids. We were a bit skeptical about the general noise level of our canter, but eventually, it turned out to be okay.
Day 3 – Road Trip to Ranthambore – 4th Safari (afternoon)
This had to be our best safari yet! As soon as we entered the gate of the zone, we saw a line of vehicles in front of us. Now we all know what that means! Aarti and I exchanged that familiar glance of excitement and then went about getting a good spot on the canter amongst all the people clamoring for a vantage point.
The gypsy in front told us that T17 had just crossed the road and had gone down into the nallah. That meant that she would come up soon and might cross the road again. We waited with bated breath. Warning calls sounded off all around us.
When after 5 minutes there was no sign of her, our guide instructed our driver to reverse the canter since he thought she would come up somewhere near the main road of the park. He reversed, and so did the vehicles in front of us, and so did the vehicles behind us. As soon as we reached the gate of zone 4, we heard from someone that T 17 was walking parallel to the road inside the jungle.
Also Read: Delhi to Jim Corbett Road Trip – An Exciting Adventure
T17
Sure enough, we soon caught sight of her walking leisurely in the foliage. Vehicles from zone 1 and 5 had also come out on the main road to see T17, and thus there was a huge ruckus and a major jam.
T17 finally crossed the road some 5 canters ahead of us and ambled away into the other side of the jungle. All the canters and gypsies then reversed and re-entered their respective zones with the tourists on-board chattering incessantly about this bizarre tiger sighting.
The first time T-17 is sighted clearly by the camera. She was stealthily moving in the bushes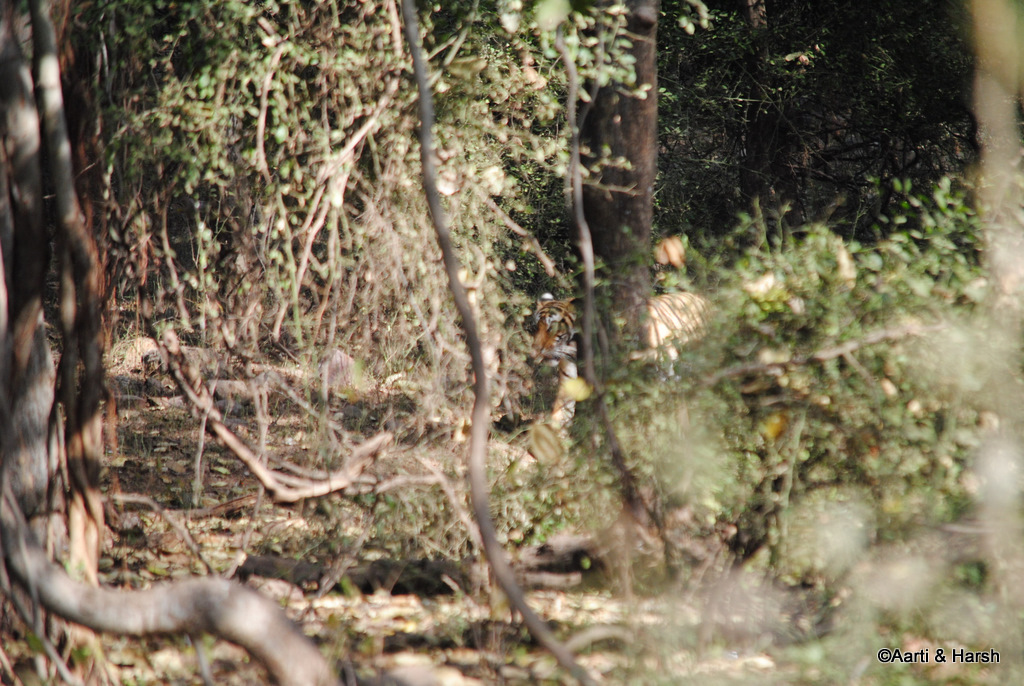 Bestows us with just one glance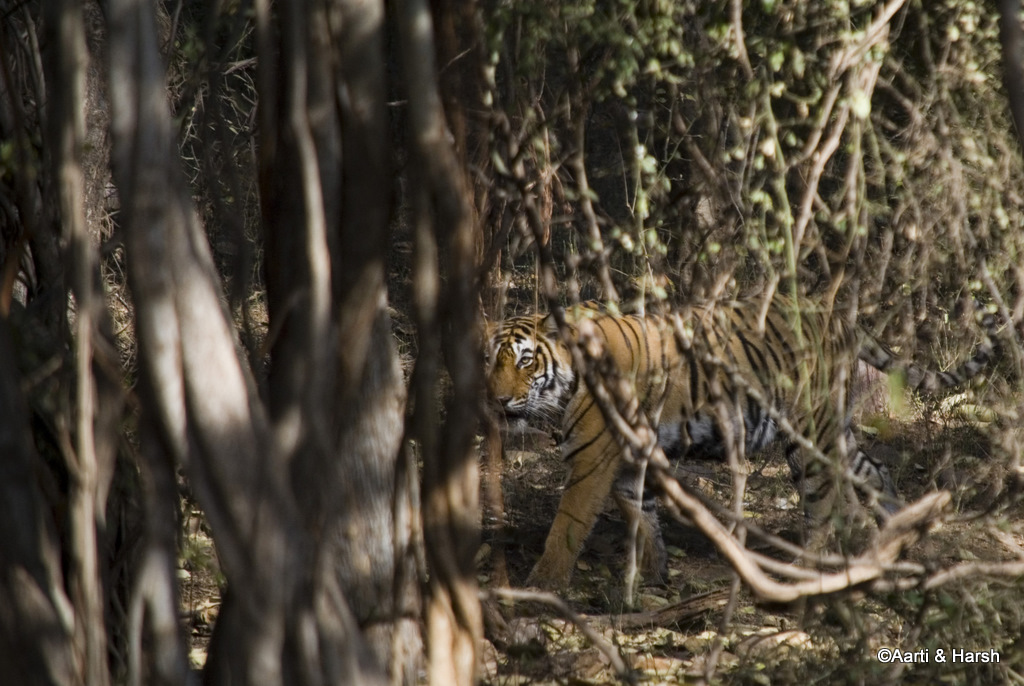 Before she goes away into the bushes again
​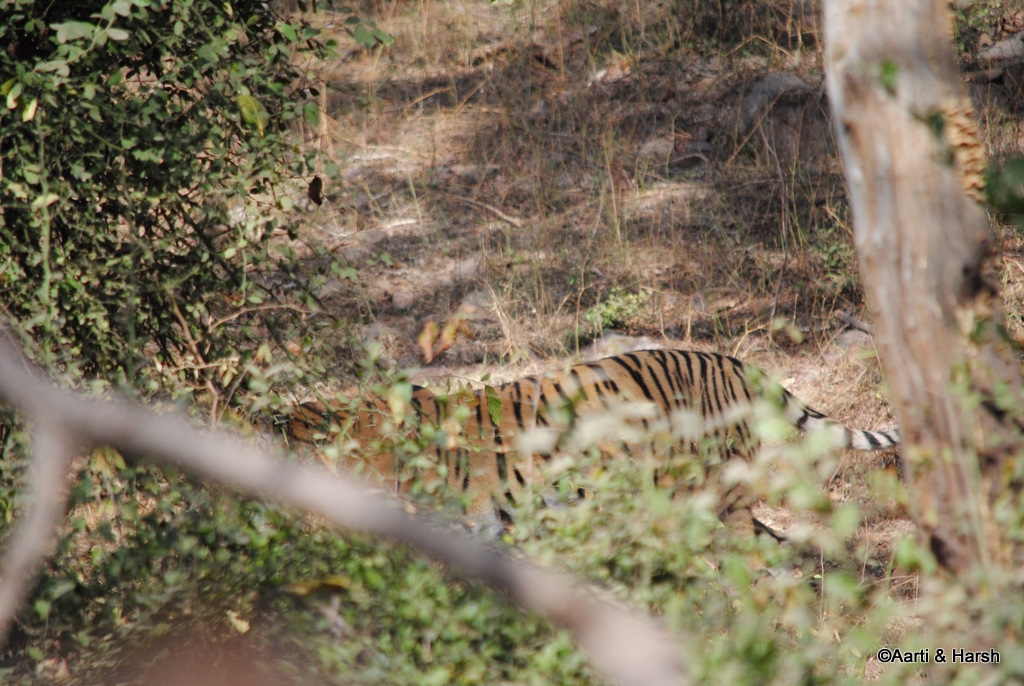 Now the two of us were very excited at having spotted our third tiger. We were equally shocked as well. Over the last two days, we'd seen several people walking on this very road that T 17 had just crossed; making it obviously a very dangerous situation.
We could simply not understand how the forest officials could allow such a thing. The only reason why locals and tourists are allowed to the fort in their own vehicle is that the fort houses a Ganesh temple which is very sacred to a lot of people. But what I don't understand is that how in the name of religion can the government endanger the security of its citizens?
Also Read: How I traveled to Leh Ladakh by Public Transport
Ranthambore National Park Zone 4
Back in zone 4, we proceeded to explore it. The topography of zone 4 was very different from zones 1 and 2 where we'd been earlier. Those two basically have roads winding through mostly dense foliage with very few open areas and have mostly artificial water bodies.
Zone 4, on the other hand, is much more open with several lakes and grasslands and is thus much more beautiful as well.
We stopped by a lake in which sambars were enjoying a late afternoon dip, with pond herons enjoying a free ride on them. Spotted deer were grazing on the side of the lake, and some 7 or 8 crocodiles lay on its banks. We saw slimy-looking crocodile babies basking on logs in the sun, and even spotted some turtles in the water. The place was teeming with wildlife!
These gypsys are pretty hard to get bookings in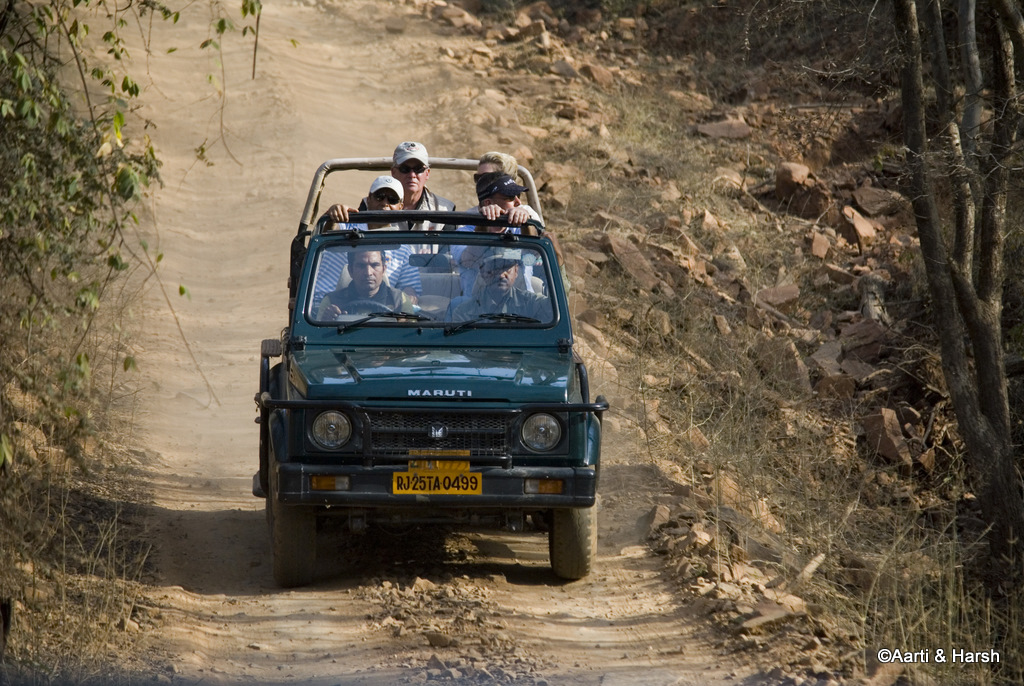 Pretty jungle!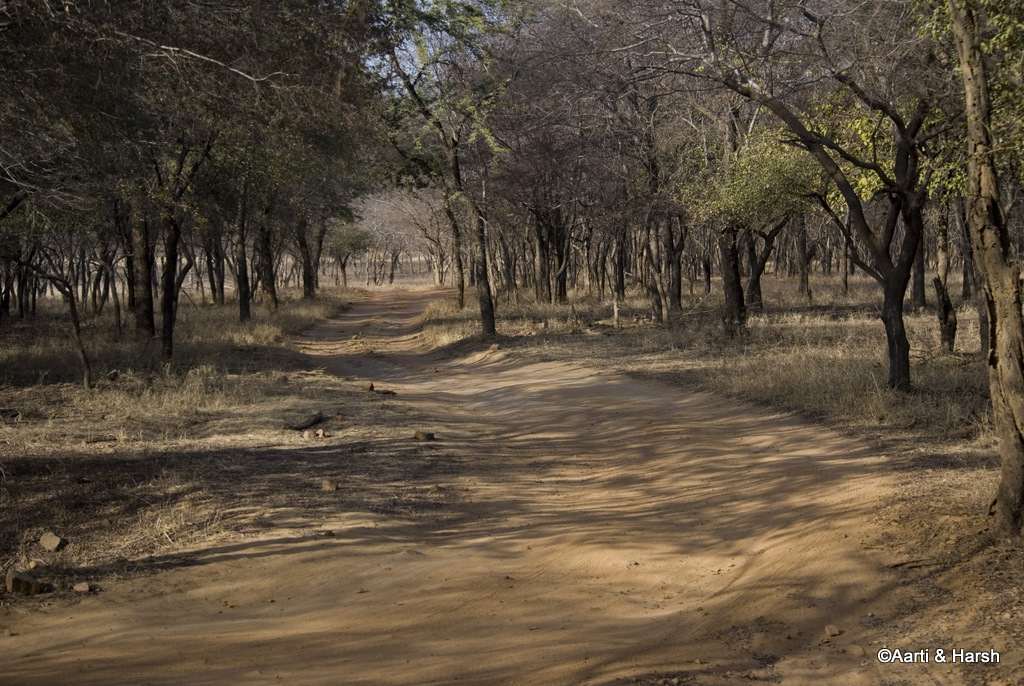 A beautiful deer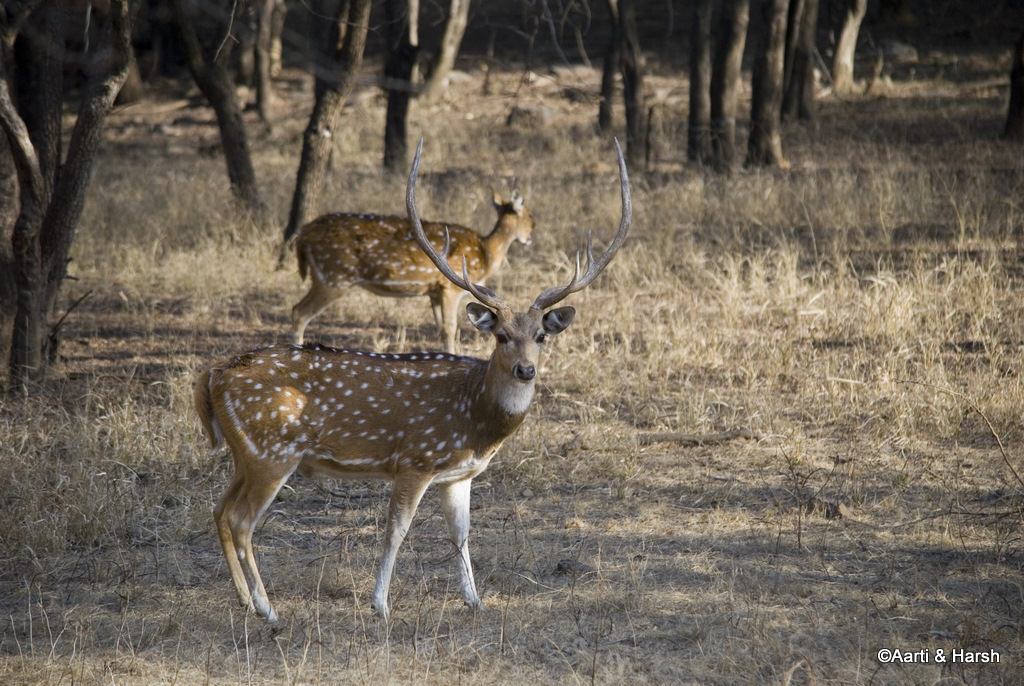 This Sambar has learned a trick or two from dogs maybe.
Alligators are not great to look at.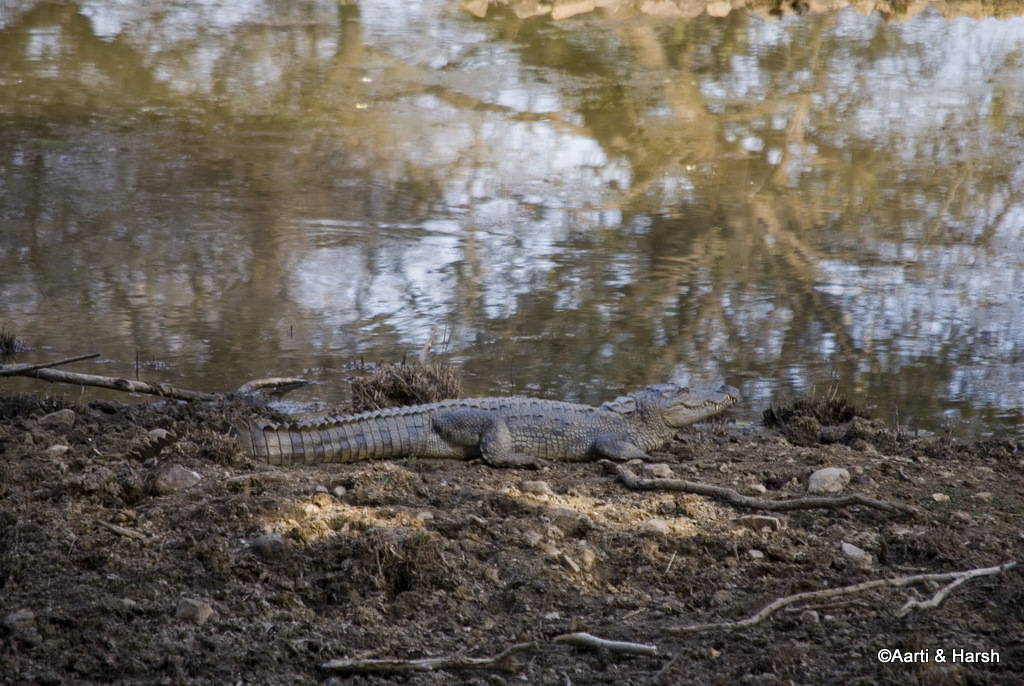 Sambar chewing upon the grass in the middle of the lake. The lake it seems was not too deep.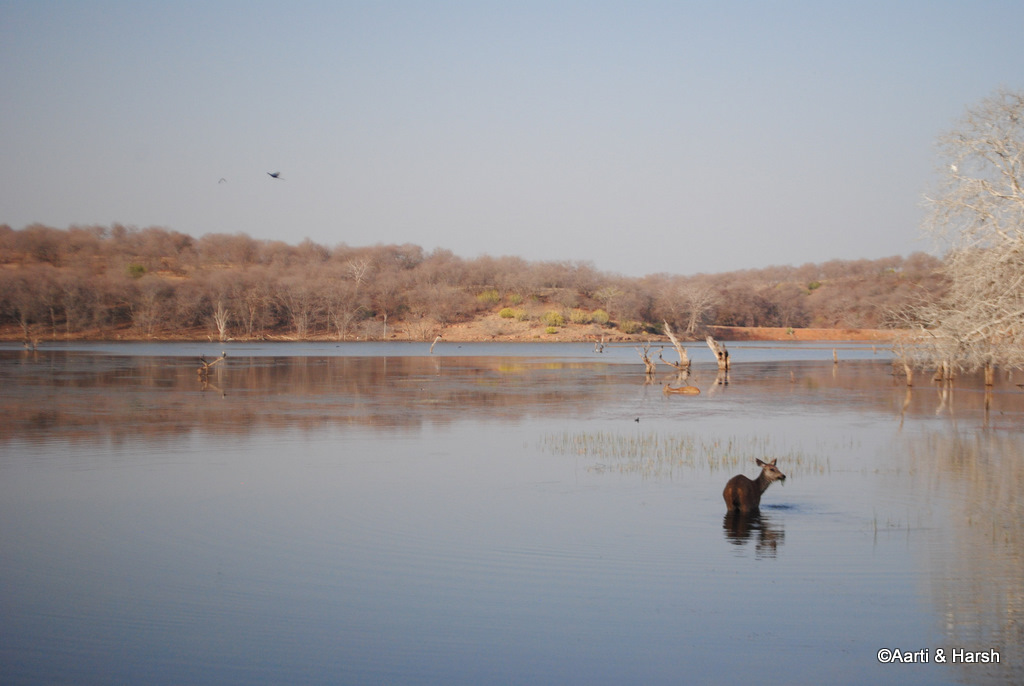 A baby duck was an interesting sight.
​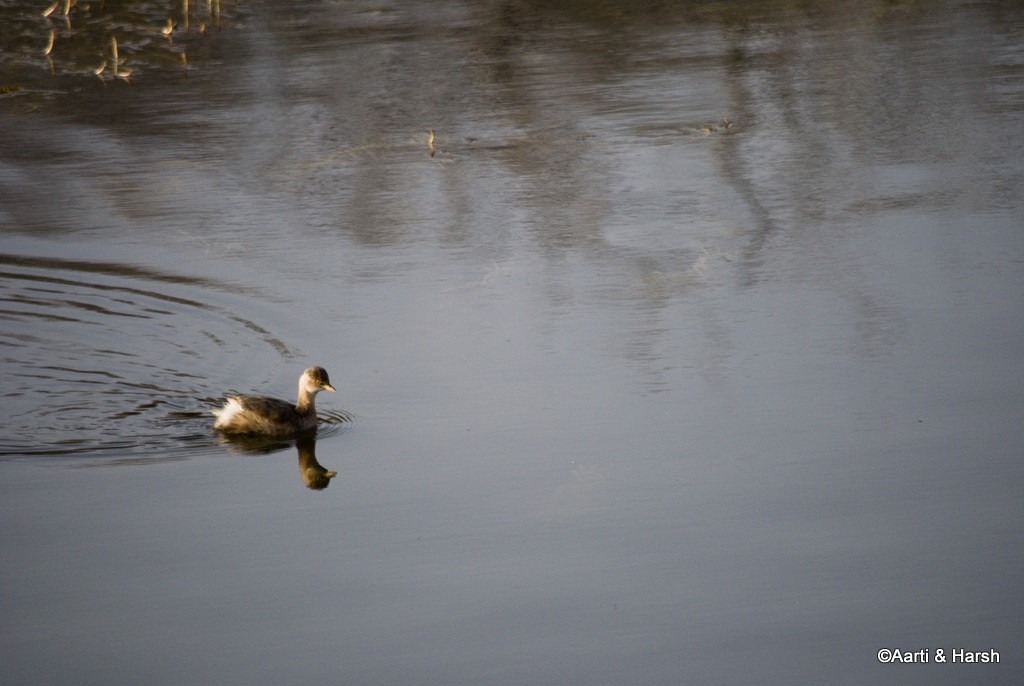 T16 – 

Machhli
As we moved ahead, a canter crossed us, and their guide told ours that Machli was lying by a lake in a different part of the zone. Machli!!! We got super excited. Aarti had wanted to see her ever since we decided to go to Ranthambore, and now we had our chance!
For the uninitiated, Machli is no fish. She is T16, Ranthambore's eldest tigress, and is probably the most famous tiger in the country. She gets her name because the markings on her face resemble a fish.
Machhli is 15 years old, is an award winner, has given birth to 11 tigers, and is famous for killing crocodiles. Below is a video of her killing a 14 ft crocodile.
She is usually spotted near the lakes in zone 4, and is thus also nicknamed "The lady of the lakes". She is also the mother of T17, the tigress we'd spotted about an hour back. Isn't that a huge description for a tigress? Machli sure is special.
So we now dashed to see Machli, our guide telling everyone on the canter to hold on tight as the driver was going to go really fast. And fast he did! Soon enough, we spotted a lake and a bunch of vehicles next to it.
Also Read: Trip to Chandratal Lake by Car – An Adventurous Drive
The Lady of the Lakes
Machli was sitting on the bank of the lake, resting. All the people on the canter got a chance to come to the front of the vehicle and get a good look at her.
An interesting thing then happened. One of the tourists on the canter, while he was at the front of the canter to see Machli, dropped his watch over the windshield and onto the ground. He panicked. No one was allowed to disembark while in the NP.
Our guide, however, said that he would get down and quickly retrieve it. I suddenly knew that Machli would know when he gets down. And sure enough, as soon as our guide's feet hit the ground, Machli turned her head towards us, even though she was looking away before. And that is when we got her shot of looking at us. What incredible sense these animals have!
Machhli!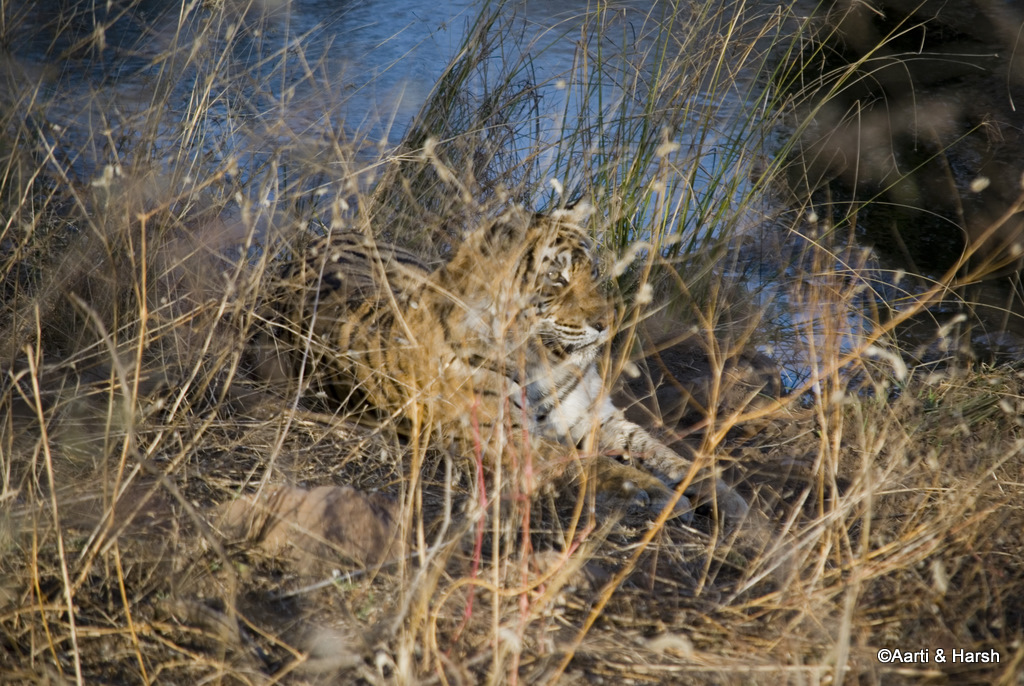 She was quite aware of her surroundings. She directly looked in the direction of a guide who disembarked from the vehicle to pick up a fallen watch.
​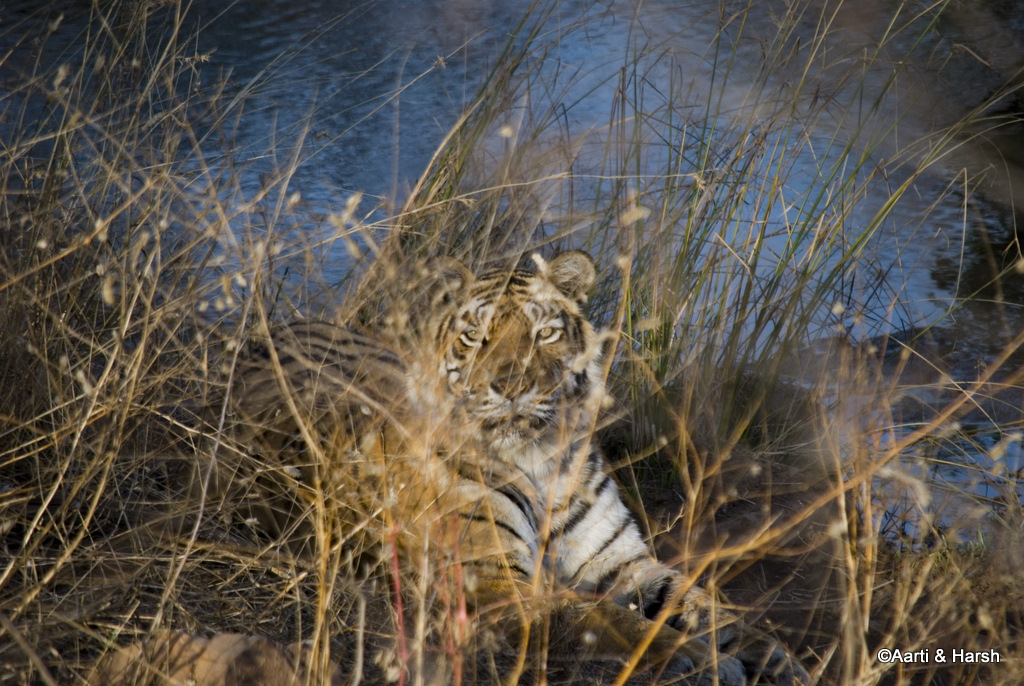 Bear Sighting
After spending 10 minutes or so with Machli, we had to leave as it was almost time to exit the park, and we were still deep inside zone 4. The driver again put the canter into flying gear, and we held on for dear life!
Just as we neared the exit of the zone, we saw another line of vehicles. We couldn't believe that we would see a THIRD tiger on our last safari. However, it wasn't a big cat, but a sloth bear. Our guide said that sloth bears were even more difficult to spot than tigers; that the bunch of people on this canter really had tremendous luck to have spotted so many elusive creatures on one safari!
The bear was doing something very peculiar. He was walking parallel to the road, about 50 feet off it, and upturning all boulders in his way as he went along.
Our guide told us that he was looking for termites to eat. He might be just feeding, but he sure was looking very funny! The light was dim, and the bear never really came out in the open, and so we could not get a clear shot of him.
A sloth bear, searching for termites for some evening snacks. ​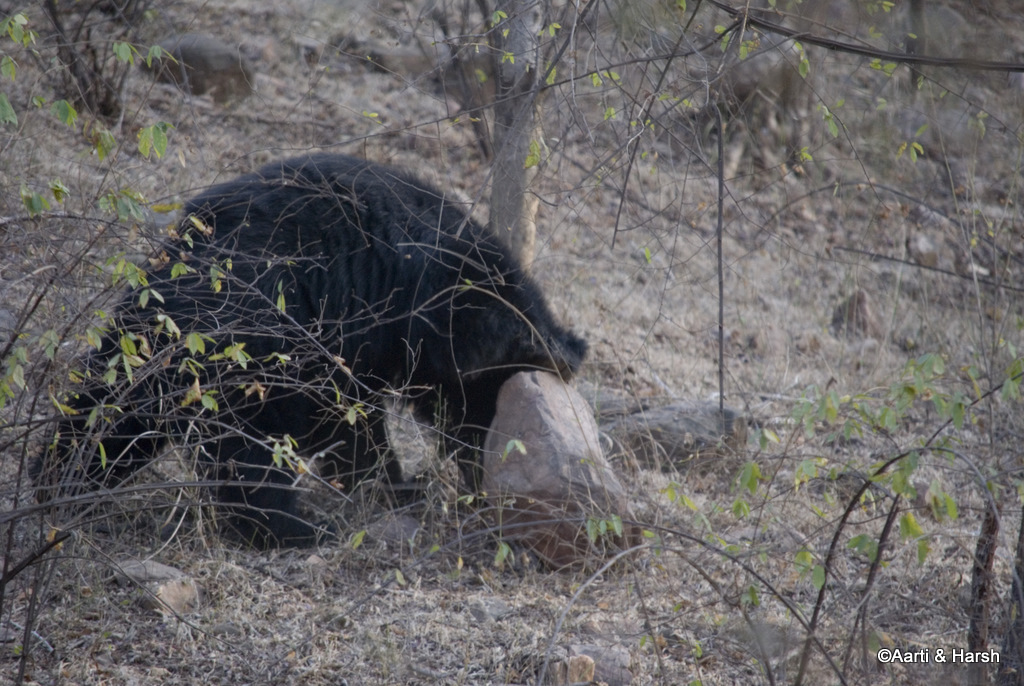 Soon we exited the zone and then the NP and were at our hotel in no time. We felt elated at having extended our trip by half a day! The last safari had been our best with sightings of two tigers, one of whom was the renowned Machli, and a sloth bear.
Our road trip to Ranthambore was finally coming to an end. Extremely happy and totally kicked that we'd made an excellent decision to come back in May, we started the long trudge back to Delhi.
Day 3: Sawai Madhopur – Delhi
There are many routes one can take back from SWM to Delhi. One is of course driving back to Jaipur and then all the way to Delhi. Another one, and this one google map suggests, is going all the way to Agra and then further to Delhi.
The best one was the one through Alwar.
We left SWM by about 6:30 pm. The drive till Lalsot was on a familiar road which was an excellent highway. Although at that time of the day, with the light going down the local traffic had surged slowing us down a bit. From Lalsot to Dausa, the road is still being constructed with some ugly patches of dust bowls. However, we managed to do the 40km stretch in about an hour or so.
From Dausa begins an EXCELLENT highway going towards Agra which we exit at Sikandra and started moving north towards Alwar. Sadly we were on this stretch for only about 30kms or so. It must have taken us 20min to cover this stretch, and I usually drive slow!
From Sikandara to Alwar, the drive was a breeze. The road again is in great condition and level. However, with some villages on this road, there are few nasty speed breakers which one has to look out for. Otherwise, we cruised till we reached NH-8 at Bhiwadi, after which the going went slow.
All in all, we managed to cover the 370 odd km in 6 hours flat, marking an end to our road trip to Ranthambore. There were no breaks taken, for tomorrow it was early morning back to the office.
Also Read: Delhi to Rann of Kutch by Road – A Winter Drive
Road Trip to Ranthambore – Conclusion
A fabulous trip had ended on an extremely high note of two cats in a single safari. The next day would involve sharing the experience of Ranthambore with friends, eventually coming back in May as a gang of 13 people.
May should be the best time for big cat spotting!! Also on the first full moon night of May i.e on 5th May night/ 6th Morning, the Tiger census will take place (all across India). The park will be closed then.
Ranthambore had made believers of us skeptics.
I hope the travelogue, pictures, and information above on making a road trip to Ranthambore were of help. If you have any questions or need any other details, please feel free to ask in the comments section below or at our Community Forum, and I will be glad to answer.