Most of the tourists visiting Ladakh explore the region by car. Indeed, hiring a car enables you to visit the main highlights of Ladakh in just 7 to 10 days. In one week, you can visit Leh city, the Sham valley where you can visit many monasteries, the Nubra valley and the beautiful Pangong Lake. With a few more days, you can also go to Tso Moriri lake.
If you have got more time in Ladakh and if you want to have a complete different experience, the best recommendation that we can give you is to go for trekking. When you do trekking, you can experience the beauty of Ladakh's nature and mountains in a very different way. You can really feel connected with the place and it is a great way to go to places which are less visited because more difficult to access.
Of course, you need to be in good shape if you want to do a trek in Ladakh. However, it does not mean that you have to be an athlete. There are treks which are not so difficult and anyone with normal physical condition can do trekking in Ladakh.
Here a 2 treks which are highly recommended for a first trekking experience in Ladakh.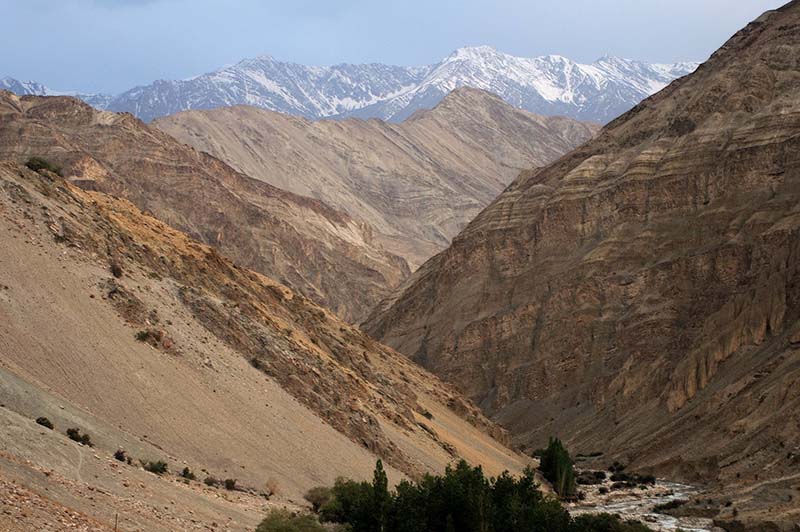 The Sham Valley trek
Difficulty level: Easy
Duration: 3 days
Distance: 32 km
Highest point: 3874 metres
The Sham Valley trek is the easiest trek in Ladakh. It is also nicknamed the "Baby Trek", but you should still keep in mind that this is a multi-day trek at high altitude and that even if it is an "easy one" it will be a physical challenge for many.
Day 1: from Likir to Yangthang
First you need to drive for about 1.5 hours from Leh to Likir which is the starting point of this trek. After visiting Likir monastery, you start walking towards Yangthang village. The trail crosses 2 easy passes called Phobe La and Chagatse La before reaching Yangthang. It usually takes approximately 4 hours to walk from Likir to Changthang.
Day 2: from Yangthang to Hemis Shukpachen
The second day, you need to cross Tsermangchen La, the highest pass on this trek at 3874m altitude. Here, you can enjoy beautiful landscapes and great views from the pass. Then, the trail goes all the way downhill to the lush village of Hemis Shukpachen.
Day 3: from Hemis Shukpachen to Temisgam
On the third, you cross a small pass called Mebtak La before heading down to the pretty village of Temisgam from where you can catch a vehicle to go back to Leh.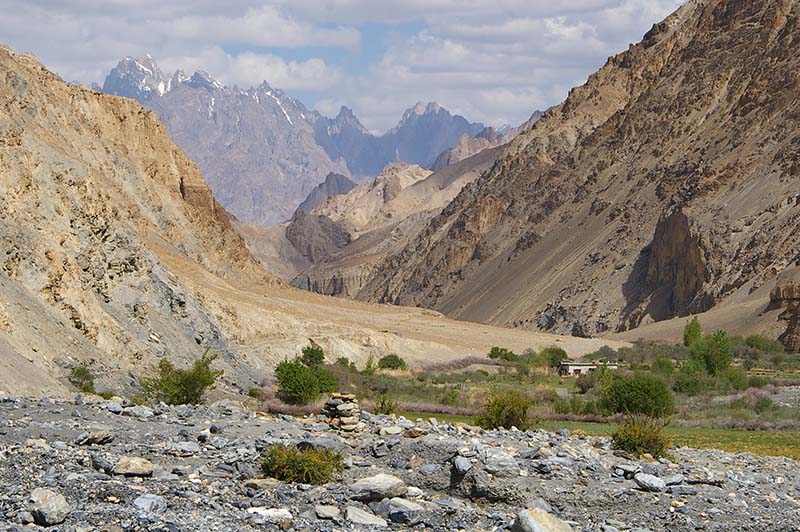 The Markha Valley trek
Difficulty level: Moderate to Difficult
Duration: 6 days
Distance: 78 km
Highest point: 5260metres
The Markha Valley trek is a very well-known trek in Ladakh. It passes through the Hemis National Park and the landscapes here are just amazing. This trek is also ideal for wildlife lovers are there is a high chance to spot many animals. The Markha valley trek is more difficult thang the Sham Valley trek, it is done in 6 days and it crosses the Kongmaru La pass at an altitude of 5260 metres.
Day 1: from Chilling to Skyu
The trek starts from Chilling, a village reputed for its silversmith located 60 km from Leh. From Chilling, you cross the Zanskarriver and enter the Markha valley and you need to walk for about 3 hours to reach Skyu village.
Day 2: from Skyu to Markha
Today, it's quite a long walk (21 km) to Markha, the main village of the valley. The trail follows the Markha River and landscapes are beautiful. Markha village has an old fort and a monastery which are worth a visit.
Day 3: from Markha to Hankar
Today, keep hiking uphill during approximately 5 hours and you will reach the small village of Hankar at an altitude of 4050 metres.Hankar is a pleasant village surrounded by tall mountains and with the mighty Kang Yatse peak (6400 meters) in the distance.
Day 4: from Hankar to Nimaling
Today is a tough day with 850 metres uphill to reach the end of the Markha valley and the Nimaling camp. Trekkers usually need 5 or 6 hours to cover the 10 km. Nimaling is located at 4850 metres, it's the highest night on this trek. Take a good rest and acclimatize to the altitude to be ready for the next day.
Day 5: from Nimaling to Shang Sumdo via Kongmaru La pass
Steep climb to reach the top of Kongmaru La pass, the highest point on this trek at an altitude of 5260 metres. From the top, there is a beautiful of the Kang Yatse peak. Then, there is a long walk downhill to reach Shang Sumdo village.
Day 6: from Shang Sumdoto Hemis
It takes about 4 hours to reach Hemis from Shang Sumdo and the walk is easy. Hemis Monastery is the largest monastery in Ladakh. You can spend an hour or two visiting the place before driving back to Leh.