In this series of articles, I will be covering some basic information about traveling to Zanskar valley, including a route guide, information on the best time to visit,  modes of transport, hotels, and guest houses, and a sample itinerary you can follow. To begin with, below is a Suru and Zanskar valley road map with names of the towns & villages and distances in between.
Zanskar Valley Road Map
I remember the first time I was in the Zanskar valley. It completely changed my definition of 'in the middle of nowhere'. If you thought of Ladakh as a remote place, try Zanskar. The small towns and villages here will make even Leh town look like a crowded city.
It is one of the remotest and least visited areas not just in Ladakh or J&K but in our entire country. This makes it completely necessary that you prepare yourself well in advance before visiting Zanskar. There are no petrol pumps here except for one which is hardly operational.
You will also not find any fancy hotels or guest houses. Phones will not work and for the most part of the journey you will pretty much be on your own.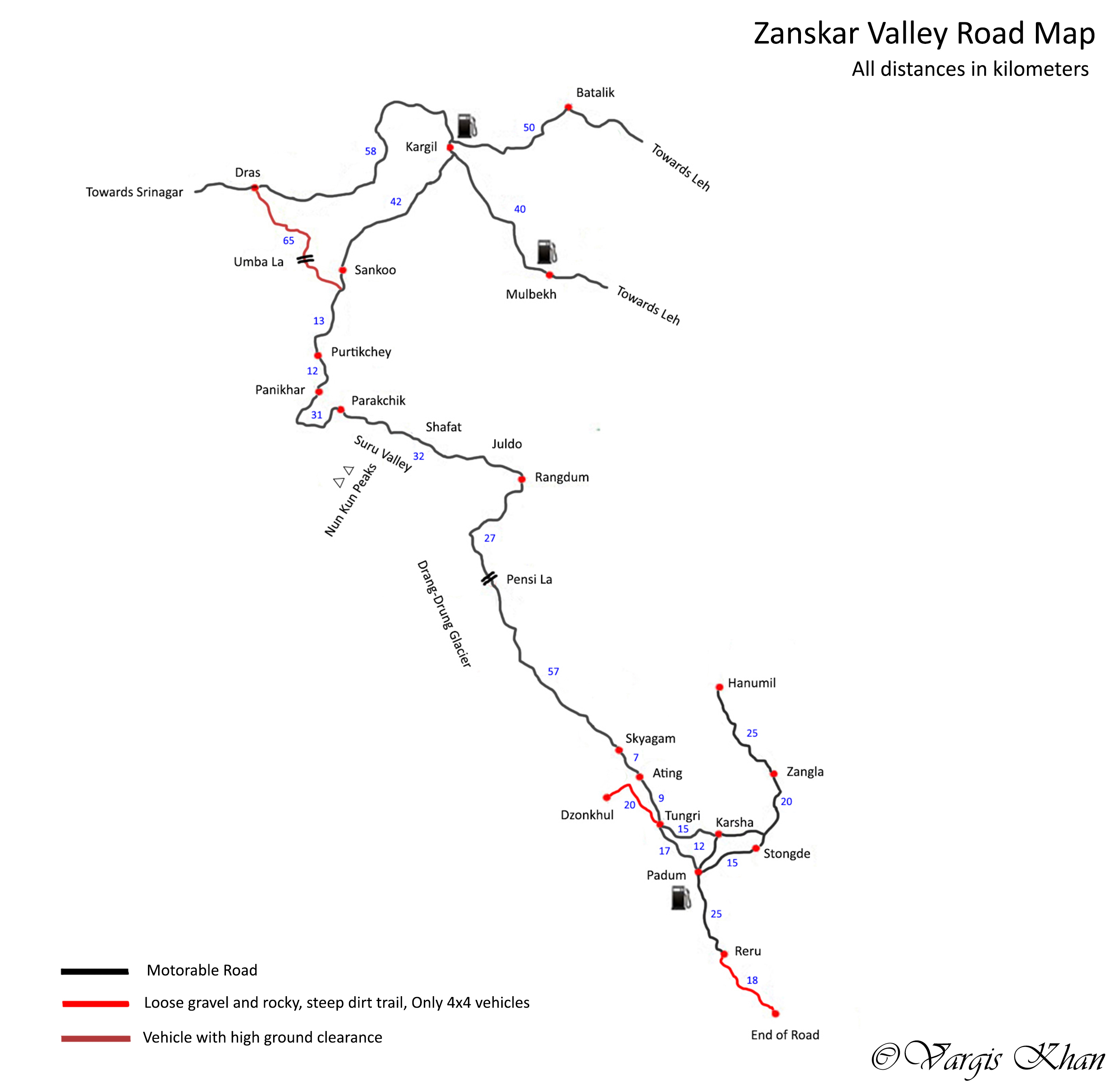 About Zanskar Valley
The valley is named so after the Zanskar mountain range that separates Zanskar from Ladakh. The total distance between Kargil and Padum is approximately 250 kilometers. There is one high altitude pass on the route which is in fact considered relatively easier; as compared to other passes in Ladakh and on the Srinagar Leh highway. The average height of the valley is about 6,000 m (19,700 ft).
A few kilometers after Kargil, you will first enter the Suru Valley. The landscape here will surprise you by the amount of greenery you will see, thanks to the Suru River. From Suru, you will continue the journey towards Pensi La, the only high altitude pass on the route.
After Pensi La, you will descend into Zanskar Valley and the landscape will once again change to a cold desert. For the initial part of the journey (just for the initial 50-70 kilometers), road conditions will be OK but will deteriorate soon after.  A more detailed description of the route is mentioned in the next article Zanskar Valley Travel Guide – How to Plan your Trip.
Conclusion
I hope the Zanskar Valley road map I provided above was of help. If you have any further questions or need help in planning your trip to Zanskar, please feel free to ask in the comments section below or at our Community Forum, and I would be glad to answer.