The previous night was quite cold and the morning was cold too. The previous days were hectic but thankfully, we did not have a lot of traveling around to do on this day. This day's plan was a bit light – only an afternoon Lion safari at Gir forest. So we started our day in a leisurely fashion.
This article is in continuation with a previous one and a part of my Gujarat road trip log. To previous about our journey so far from Mumbai, please click on the links below.
The journey so Far: 
Our safari was pre-booked. While planning the trip, I read that the authorities used to allow self-drive in the Gir forest. However, when I checked with the Club Mahindra people about this, they clearly said that safaris have to be undertaken by a government-registered vehicle and guide.
Further, they also advised us to book the safari online. The reason was that there was a cap on the number of safari vehicles that can enter in any particular safari timing and given that it was holiday time, a huge rush was expected and spot booking might not be available. Their apprehension was correct. We did the right thing by booking the safari online well in advance.
Gir Forest Safari Timings
In Gir forest, two safaris used to take place in the morning and one safari in the afternoon. The morning safaris' timings were 6.45 am and 8.30 am. The afternoon safari's timing was 3 pm.
In the summer months, the first safari of the morning starts at 6.00 am instead of 6.45 am and the afternoon safari starts at 4 pm instead of 3 pm. The duration of each safari was supposed to be 3 hours.
Gir Forest Safari Price
The permit charge per safari is Rs. 1000 (up to 6 people). One gypsy used to be allocated per permit. The fees for the driver and the guide were not included in the permit charge. Those were supposed to be paid on the spot in cash.
Though the timing of our safari was 3 pm, we started at noon. The idea was to go to Sasan Gir first to figure out what were the formalities for safari and then to have lunch outside. So, we kept some buffer time. It was a sunny and windy day.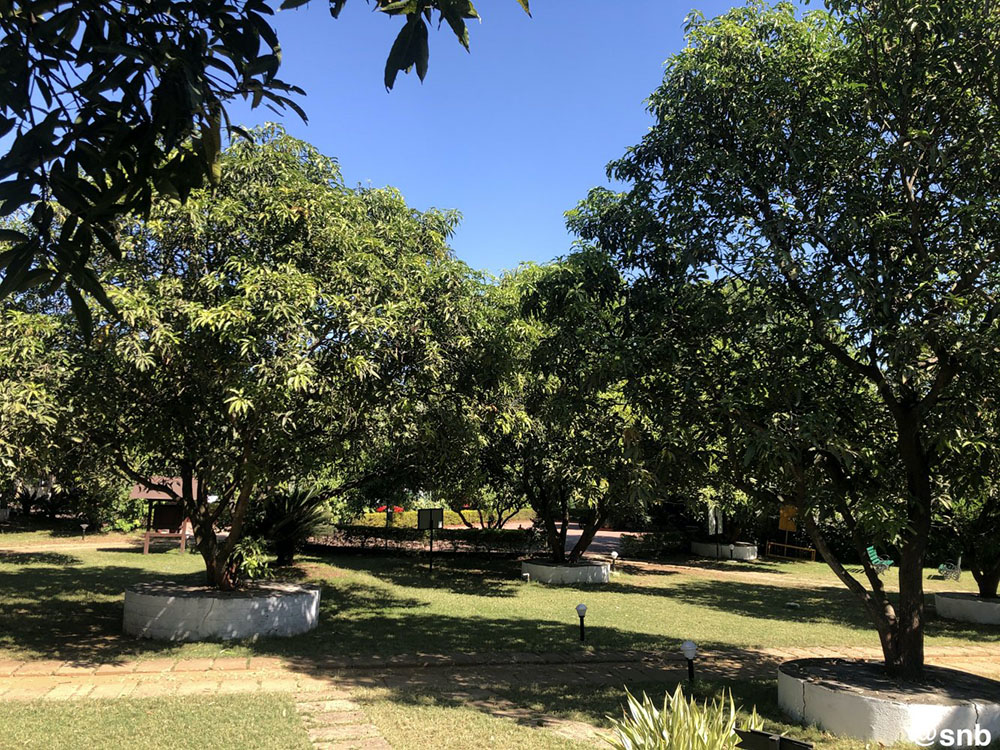 Starting from the resort, we first drove for 4 km on the Haripur-Bhalchhel road to come back to the Junagadh-Mendarda-Sasan Gir where we left it yesterday.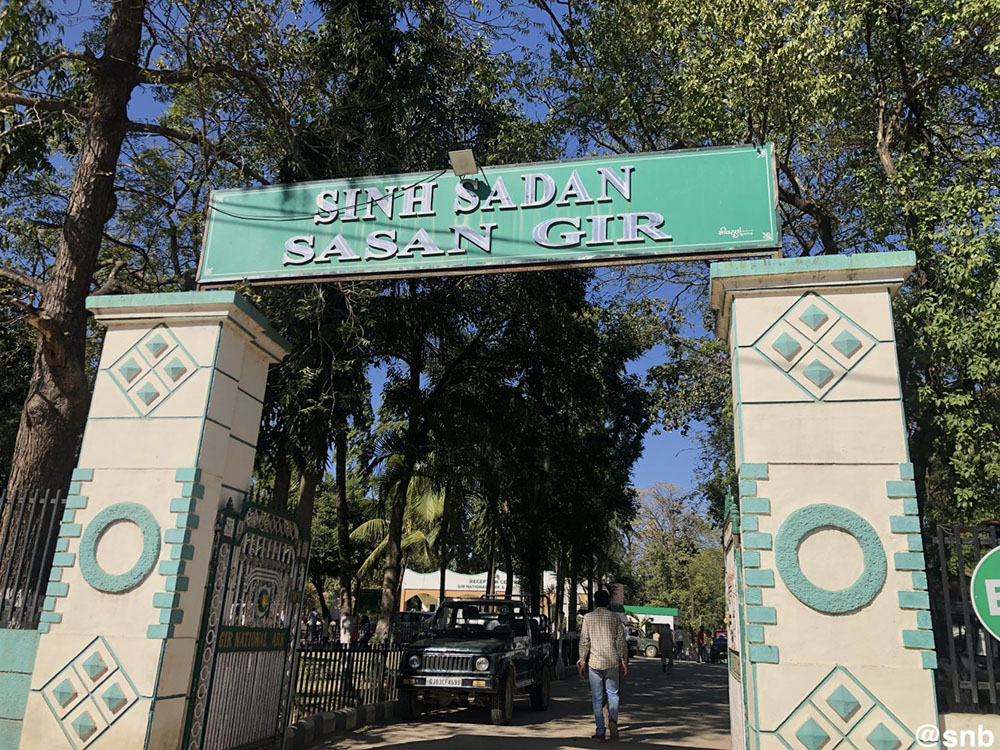 There we took a right turn towards Sasan Gir. After driving around 5 kilometers, we reached Sasan Gir and stopped our vehicle in front of Sinh Sadan.
Sinh Sadan
There some volunteers, who were managing traffic, approached us and asked whether we had the online permit. After getting an affirmative answer, they told us that we would be required to go inside Sinh Sadan but the registration process used to start at 2 pm, one hour before the scheduled commencement time of the safari.
So, we had enough time in our hands to have our lunch. We had noticed a market and few restaurants on both sides of the road, just before the Sinh Sadan. But based on the rating on Trip Advisor, we had already decided to go to a restaurant named 'Swadesh Restaurant' which was another 6-7 km drive from Sasan Gir.
While going to 'Swadesh Restaurant', after 1-1.5 km from Sinh Sadan, we saw an entry gate for the jungle and few vehicles standing there. We guessed that this gate was the entry point for the safari but were wondering what the private vehicles were doing there given that no self-drive safari was allowed.
However, we decided to keep that thought aside for the time being and direct our attention towards locating the 'Swadesh Restaurant'.
We did not find it difficult to locate 'Swadesh Restaurant' but then realized that it was not a stand-alone restaurant. It was also a part of a resort and outside guests were not allowed because of Covid-19 related restrictions.
So, we came back to Sasan Gir and asked the same set of locals with whom we interacted earlier about a decent place of eating. They told us to go to Rajwadi Dining Hall which was a few hundred meters from Sinh Sadan, on the main road itself.
Rajwadi Dining Hall
Accordingly, we went there and parked our car. We noticed a non-vegetarian restaurant just beside that Rajwadi Dining Hall and got tempted for few moments to enter there. But then, we decided to go to Rajwadi Dining Hall only. The reason was that since non-vegetarian food was not in great circulation in that area, it might be stale.
Rajwadi Dining Hall was a medium-sized restaurant with a 30-40 seating capacity, I guess. It was neat and clean. When we entered there, it was almost empty. All of a sudden, it got filled up. We ordered for 'Kathiyawadi Thali'.
First, they brought six types of pickles/chatni. That was followed by four varieties of dal/sabzi. Chawl, Roti, Papad, and Chas came along with the same. The quantity was unlimited. The taste was spicy. I and my daughter enjoyed the food. That was exactly not the case with my wife. The rate per thali was Rs. 180/-.
We came back to Sinh Sadan around 2 pm. There was no parking place available inside Sinh Sadan. So we parked our car at the side of an internal road. By that time, a queue had been already formed inside Sinh Sadan in front of the designated center.
We also stood in the line. Some people in the queue did not have confirmed permits. They were told to wait. If someone having a confirmed permit did not turn up then only they would be allocated a vehicle.
Our time came in due course. We were handed over to a guide. He took us to another counter. There we paid Rs. 2100/- in cash – Rs. 1500/- for the vehicle and Rs. 600/- for the guide. The guide then told us to come back to the same place at 3 pm. We had good 30 minutes to kill.
Kankai Mata Temple
So we came out and drove our vehicle towards the jungle entry gate which we notice earlier while going to the Swadesh restaurant. There were some guards. We asked them whether a self-drive jungle safari was allowed. Their answer was 'no'.
Then we enquired them about the few private vehicles which we saw a couple of hours back in front of the gate. The guards informed them that those vehicles were going to the Kankai Mata temple.
Through conversation what transpired was that inside the jungle, there was a temple of Kankai Mata. The distance of the temple from that entry gate was around 25 kilometers.
Though nobody is allowed to take his/her vehicle for the jungle safari and were required to mandatorily use the vehicle and guard provided by the forest department, people are allowed to go to the Kankai Mata temple on their own.
Gir Forest Camping
So, the apparent intrigue became clear. Then we came back to Sinh Sadan again and parked the vehicle at the same place where it was parked earlier. Then we noticed another big entry gate just beside the Sinh Sadan.
We enquired with the locals about that. They told that it was the entry gate for the camping ground. My family was never interested in camping not only at Gir but also anywhere. So, I did not enquire further about this and entered Sinh Sadan for the second time for the day.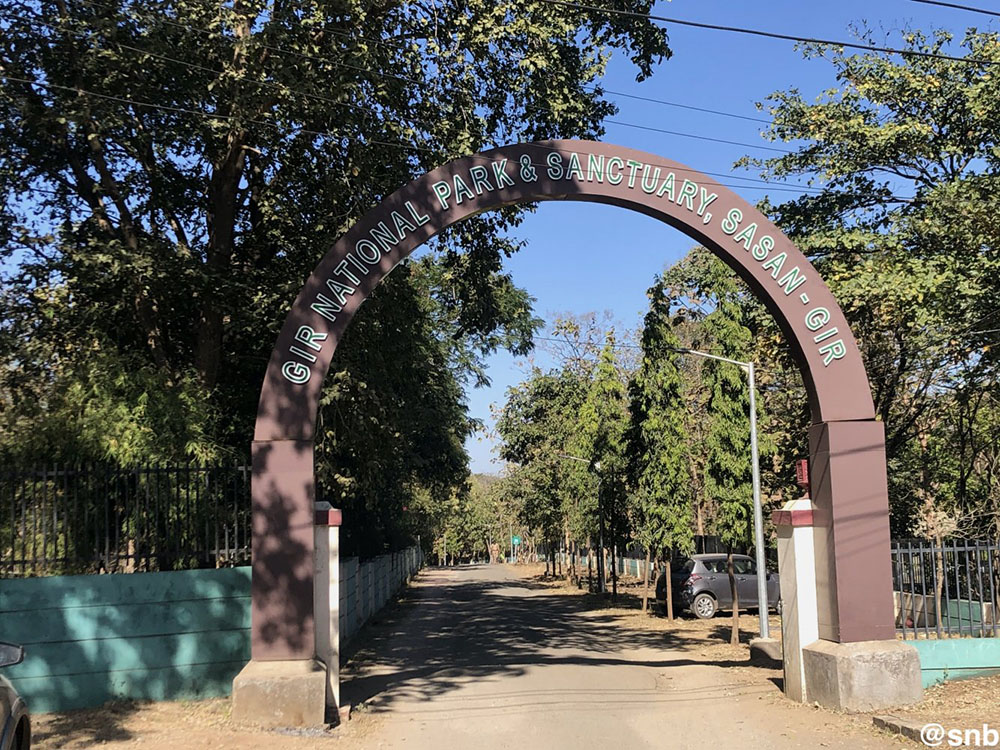 Our safari started at sharp 3 pm. Our driver was Vijay and the guide was Jignesh. The vehicle was a Maruti Gypsy. The driver and the guide sat in the first row. My wife and daughter sat on the second row. I became the backbencher.
Lion Safari at Gir Forest
We came out from the Sinh Sadan and entered the jungle from the same gate after completing some registration formality which was done by Jignesh.
Immediately after crossing the gate, we took a sharp right turn. That was route no. 8 which was allocated to us. A bumpy and dusty ride started through 'not so thick' vegetation.
About Gir Forest National Park
Gir National Park is the only dwelling place of an endangered Asiatic lion other than Africa. It was established on 18th September 1965 and is spread on 1413 square Kilometres of land. Its altitude varies from 150 to 530 meters above mean sea level.
The average daytime temperature in summer is 45 degrees centigrade. Winters are moderately cool and pleasant. The average rainfall is 100 mm in the western part of Gir and 650 mm in the eastern region of Gir. The park remains closed from 15th June to mid-October every year.
The main attraction of Gir National Park is Asiatic Lion. As per the 2011 census, there are 411 lions there – 97 male, 162 female, and 152 cubs. Besides, it is also home to thousands of aerial and terrestrial animals.
Over 606 varieties of plants, 36 species of mammals, over 2000 genus of Insects, and approximately 300 sorts of birds dwell in Gir forest.
Chital
After a 30-35 minutes' drive, we spotted the first wildlife of the safari – several chitals.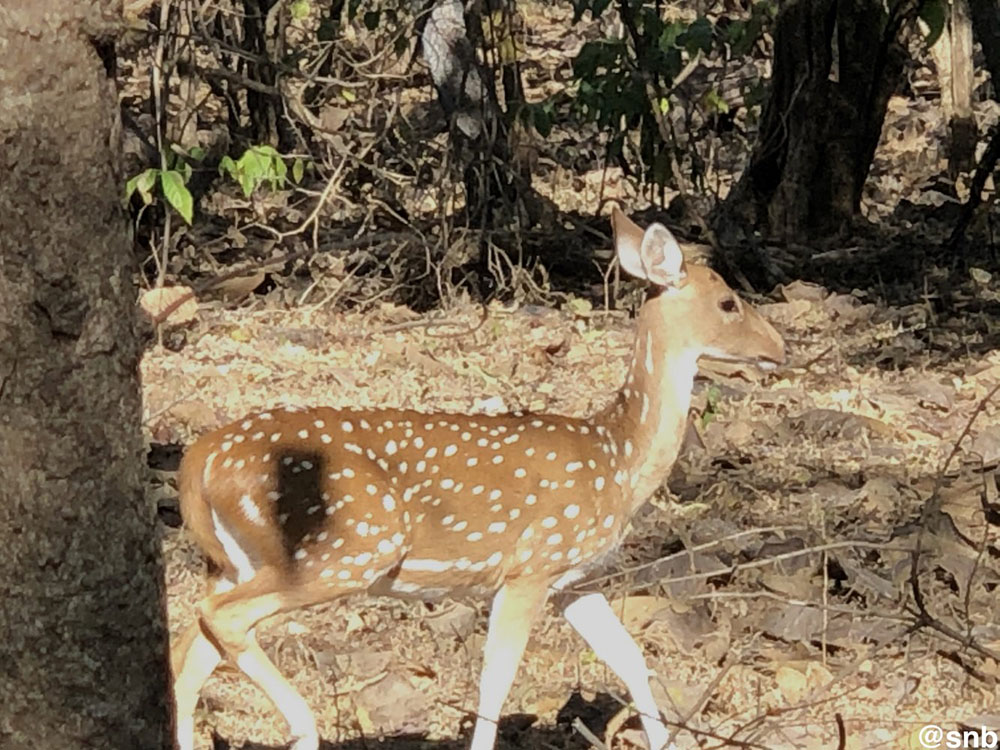 The vernacular name 'chital' comes from cītal, derived from the Sanskrit word citrala, meaning 'variegated' or 'spotted'. The name of the cheetah has a similar origin. Variations of 'chital' include 'cheetal' and 'cheetul'.
Other common names for the chital are Indian spotted deer (or simply the spotted deer) and axis deer.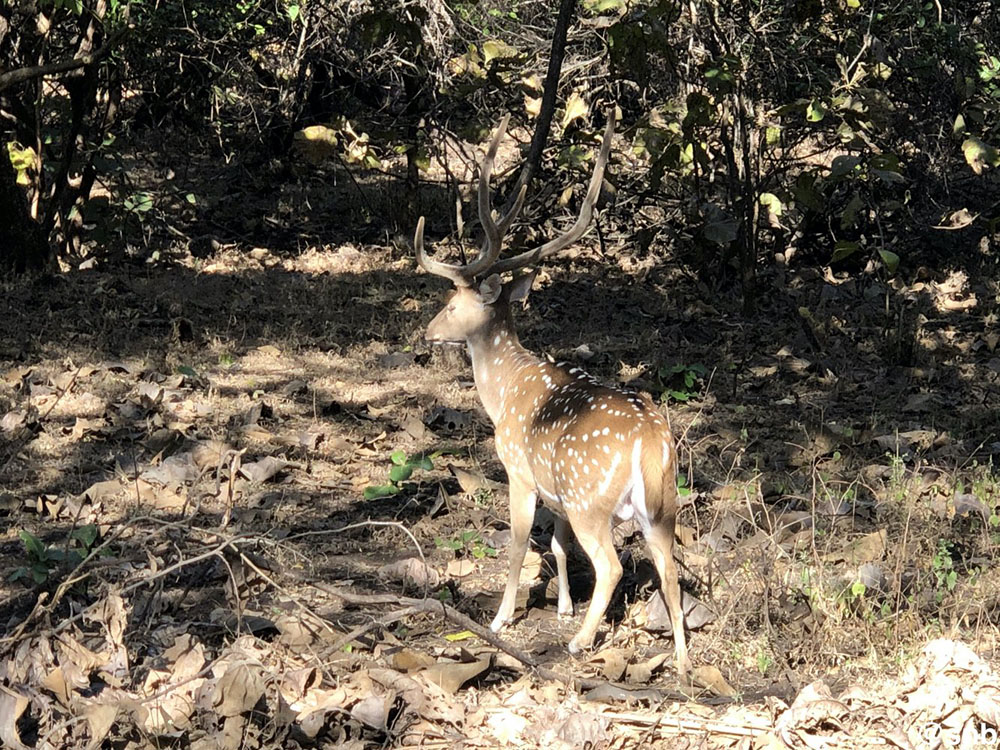 The chital is a moderately sized deer. Males reach nearly 90 cm (35 in) and females 70 cm (28 in) at the shoulder; the head-and-body length is around 1.7 m (5.6 ft).
While immature males weigh 30–75 kg (66–165 lb), the lighter females weigh 25–45 kg (55–99 lb). Mature males can weigh up to 98 to 110 kg (216 to 243 lb). The tail, 20 cm (7.9 in) long, is marked by a dark stripe that stretches along its length.
The upper parts are golden to rufous, completely covered in white spots. The abdomen, rump, throat, insides of legs, ears, and tail are all white. A conspicuous black stripe runs along the spine (backbone).
Sambar
After ten minutes, we spotted a couple of sambars.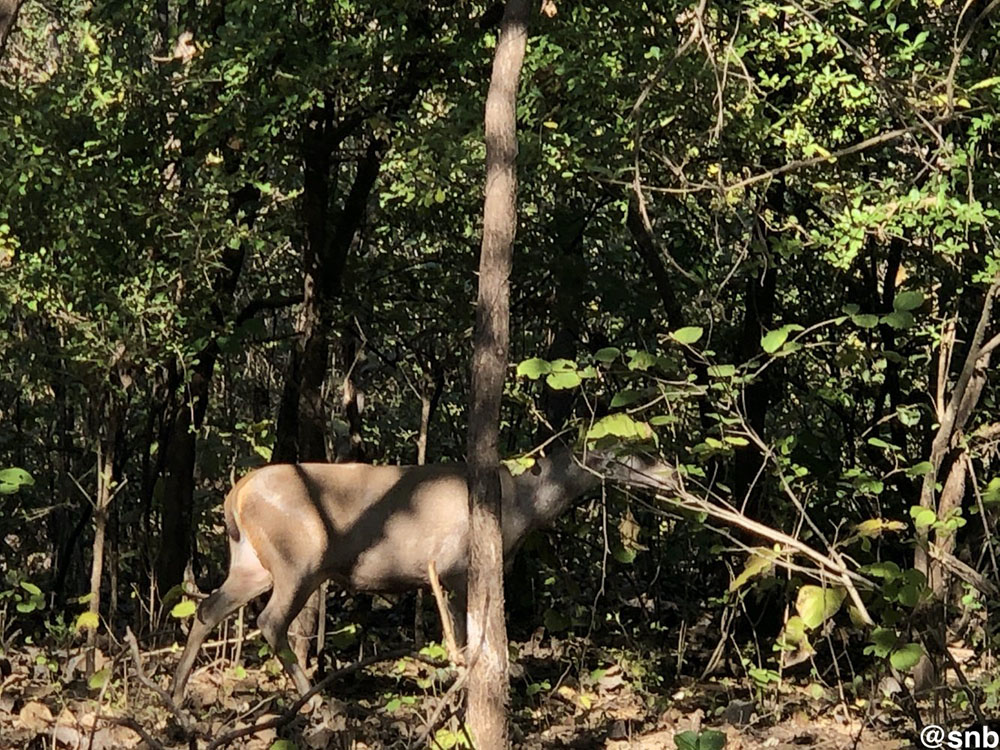 The sambar (Rusa unicolor) is a large deer native to the Indian subcontinent, South China, and Southeast Asia. The appearance and the size of the sambar vary widely across its range.
In general, they attain a height of 102 to 160 cm (40 to 63 in) at the shoulder and may weigh as much as 546 kg (1,204 lb), though more typically 100 to 350 kg (220 to 770 lb). Head and body length varies from 1.62 to 2.7 m (5.3 to 8.9 ft), with a 22 to 35 cm (8.7 to 13.8 in) tail.
The large, rugged antlers are typically rusine, the brow tines being simple and the beams forked at the tip, so they have only three tines. The antlers are typically up to 110 cm (43 in) long in fully adult individuals. As with most deer, only the males have antlers.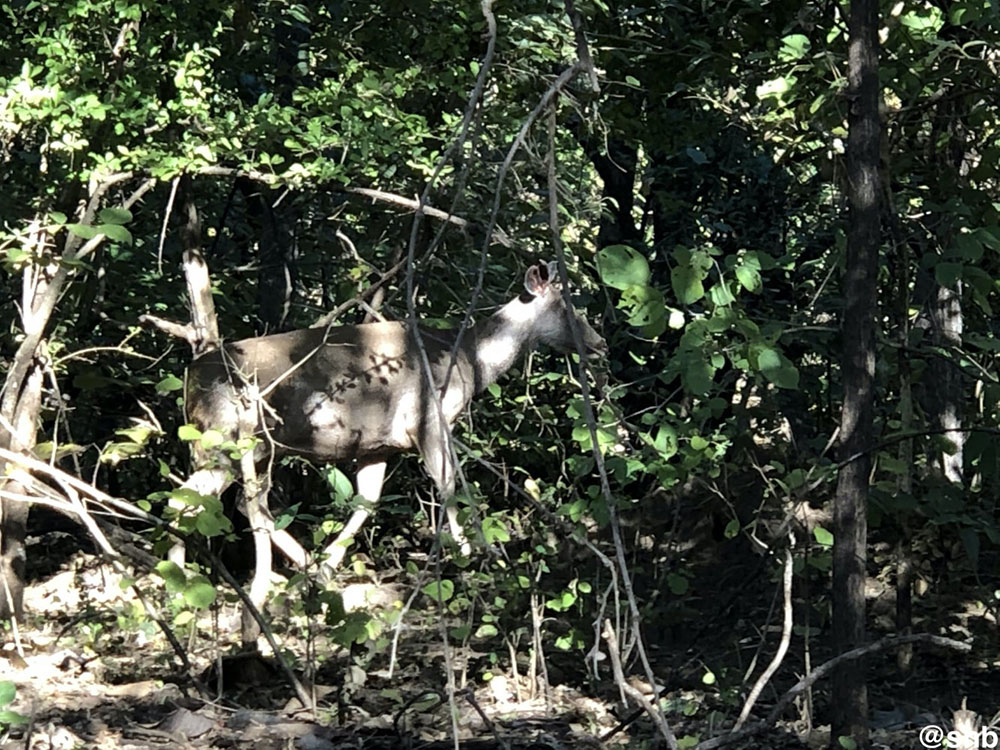 The shaggy coat can be from yellowish-brown to dark grey in color, and while it is usually uniform in color, some subspecies have chestnut marks on the rump and underparts.
Sambar also has a small but dense mane, which tends to be more prominent in males. The tail is relatively long for deer and is generally black above with a whitish underside.
Hiran River
Our drive through the rugged terrain filled with mixed deciduous trees continued in search of the star attraction. In course of doing that, we crossed narrow and shallow water streams few times. Those water streams were part of the Hiran river system.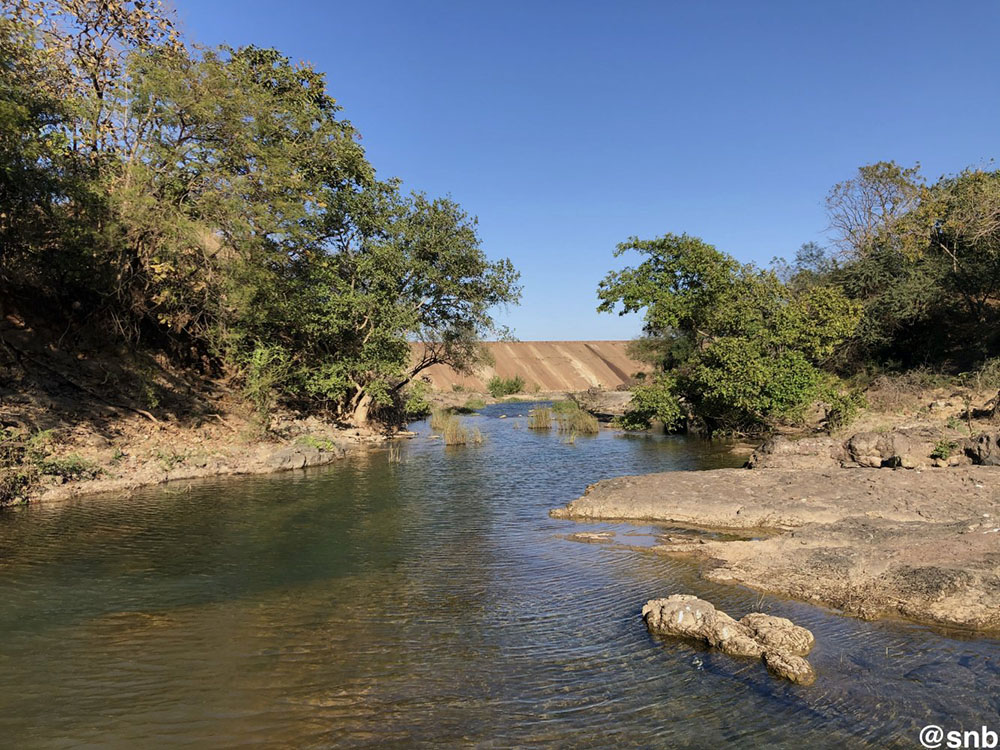 Hiran River's source is near the Sasa hills in Gir forest. Its drainage basin has a maximum length of 40 km (25 mi). The total catchment area of the basin is 518 km (322 mi).
Its major tributaries are the Saraswati River and Ambakhoi stream, and many other unknown branches make this river almost complete near Talala town. It supports a variety of wildlife ecological systems and human settlements.
Kamleshwar Dam, often known as Hiran-1 and Umrethi Dam, are some of the major projects on the river. As Hiran flows from the western part of Gir forest, it is a major source of water for the forest's ecology and biodiversity for the whole year.
Kamleshwar Dam
We reached Kamleshwar dam around 4.15 pm.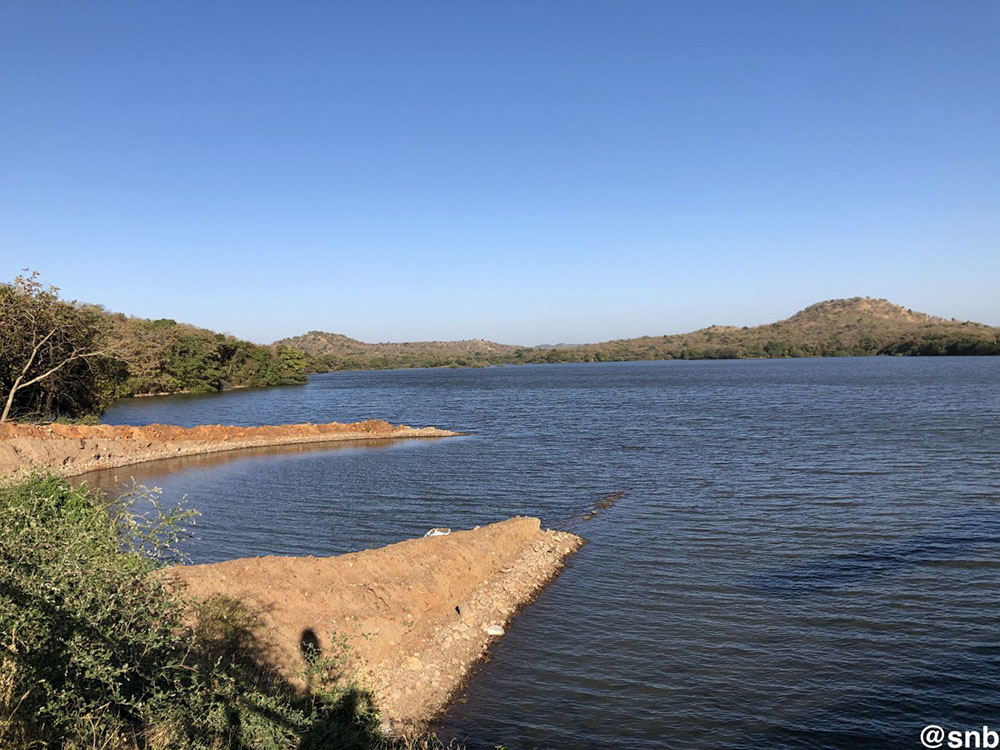 The Kamleshwar Dam, officially known as the "Hiran-I Dam", is a rock-fill embankment dam. Measuring 764 ha (7,640,000 m2), the dam was completed in 1959 for irrigation purposes. The reservoir created by the dam is known for its populations of birds and mugger crocodiles.
The Kamleshwar Dam was the mid-way stoppage for the Gir Safari. There were toilets for the tourist, There was a watchtower too. While most of the tourists thronged there, we were busy with some family photography.
Lion
After spending around 25 minutes there, we started our return journey. We crossed few water streams again, saw some more deer but the Asiatic Lion continued to remain evasive. After 30-35 minutes of return drive, we finally hit the jackpot.
A lion was having its lunch a few hundred meters away from the driving trail. So, there was a huge queue on that part of the driving trail. Each vehicle was passing slowly so the tourist can take few clicks. The lion was completely oblivious about the presence of so many tourist vehicles and was relishing its hunt.
Our safari came to the end around 5.45 pm. After giving some tips to the guide as well as the driver, we took our vehicle and came back to Rajwadi Dining Hall.
The idea was to pick up something for dinner. But its evening opening time was 7 pm. That meant, we were required to wait for almost an hour. We were in no mood to do that so immediately started for Club Mahindra, Sasan Gir.
By the time we reached Club Mahindra, Sasan Gir, the day was more or less over.
Conclusion
I hope the travelogue, pictures, and information on Lion Safar at Gir forest were of help. If you have any questions, please feel free to ask in the comments section below or at our Community Forum, and I will be happy to answer.