This post is in continuation with a previous one and a part of my Gujarat road trip log. After arriving in Champanaer, we spent some time exploring Shaher ki Masjid and Jami Masjid before moving on to Pavagadh Hills to visit Kalika Mata temple. From there, we moved on to Rani ki Vav and Sahastralinga Talav on Day 2, details of which are narrated in this article.
To read the previous parts of the travelogues, please click on the link below.
The journey so Far: 
The original plan for day 2 was to do a day trip to cover Rani Ki Vav, Sahastra Ling Lake, Modhera Sun Temple, Bai Harir Vav, Jama Masjid, and Siddi Sayeed ki Jali, Ahmedabad. But given the previous day's exhaustion, wife and daughter neither could nor would get up early and start early.
Since I was the only one to blame for the wrong planning of the previous day, I had neither the courage nor the moral authority to push them to start early. So quietly, I revised the day's plan and struck out Bai Harir Vav, Jama Masjid, and Siddi Sayeed ki Jali in Ahmedabad from the list.
Kensville Golf and Country Club Resort
We stayed in Kensville Golf and Country Club Resort on Day 1. It had two types of rooms – Golf course facing rooms which had balconies and swimming pool facing rooms without balconies.
In wintertime, both the swimming pool and swimming pool-facing rooms are of no use. On the flip side, provided you are a smoker, have to go out for having a smoke. So, did I. To make some utilization of those smoking sessions, I did click some photographs of the property. In a way, it was a justification given to me for going out.
We started our day at 11.30 am. The first destination was Patan.
Patan
The historical city of Patan was founded in the second half of the Eighth century/early Ninth century. The most influential king of the Chavda dynasty, Vanraj Chavda founded this city and shifted his capital from Panchsher to Patan.
In the name of his friend Anhil Bahrvad, he renamed this place Anahilvada. In the middle of the Tenth century (940/942 CE), the last king of the Chavda dynasty, Samantsimha, who was heirless, got dethroned by his nephew Mulraja. Mulraja founded the Chaulukya dynasty which is also known as the Solanki dynasty. Anahilvada (Patan) became its capital.
During the reign of Bhima I, son of Mulraja, Mahmud of Ghazni attacked. Bhima I fled to Kanthakot of the Kutch area. Anahilvada (Patan) got sacked. Somnath temple got looted by Mahmud of Ghazni.
After the retreat of Ghazni, Bhima I returned to Anahilvada (Patan). Then, slowly but steadily, Chalukyas regained their strength and influence. It reached its zenith during the reign of Jaysingha Sidharaj and Kumarpala, in the Twelfth Century.
After the death of Kumarpala, Chalukyas weakened on account of infighting, revolts by the vassal states, and incessant raids by Parmar, Ghuri, Yadavs, and Hoyshalas.
Patan was sacked multiple times between 1200 CE and 1210 CE by Qutb al-Din Aibak. The Chalukyas rule came to an end in 1244 CE, when Vaghelas, who was earlier their generals, usurped them. The ancient Patan got destroyed at the hands of Alauddin Khilji in 1298 CE.
Drive to Patan
Google map was showing two routes for Patan.
Route 1 was shorter than Route 2. But we took route 2. Because, the oil tank was almost empty and while coming using the same road last night, we noticed nearby oil pumps.
After filling up the tank and driving for around 14 km, we hit NH 47 and took a left turn towards Ahmedabad.
After driving 25km odd, we reached Ahmedabad Ring road and took a left turn, and kept on driving the Ring road for the next 22-23 km.
Then we take a left turn again and got onto a village road. It was a narrow single-lane road. But it was well-tarred. There is negligible traffic. So driving was pleasant. Vistas of rural Gujarat were a bonus.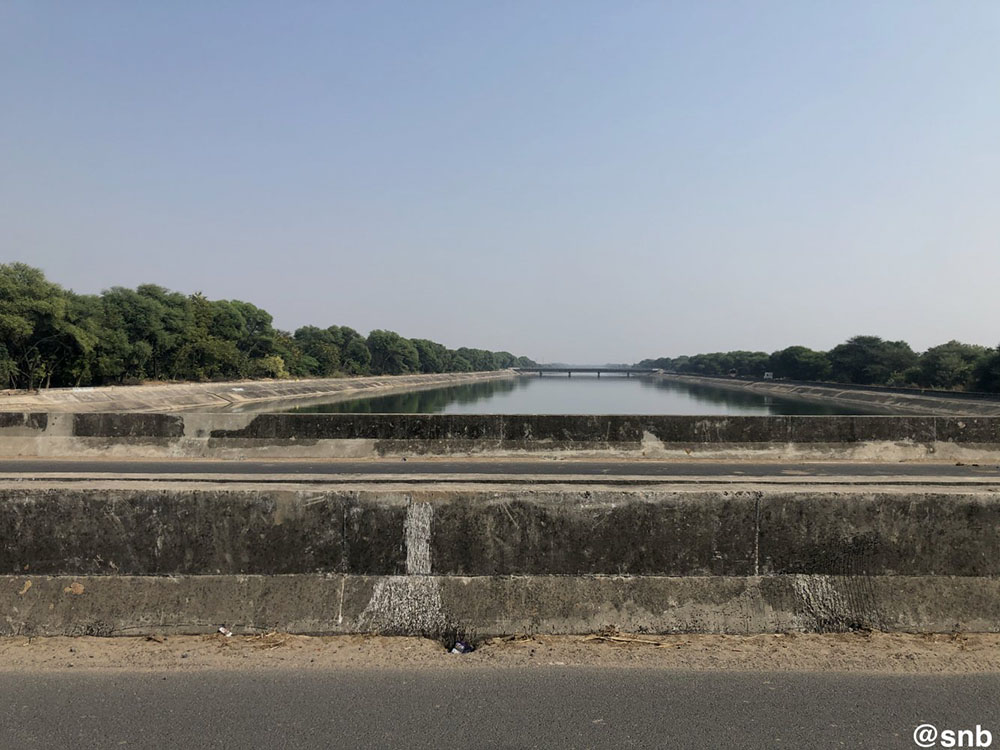 After 20 odd kilometers on this road, we got onto Ahmedabad-Palanpur highway just before Kalol and took another left turn. This road condition was excellent.
We took our lunch break at an Honest outlet at around 1.15 pm. We ordered Masala Dosa for me and my wife and Punjabi Thali for my daughter. And all three of ordered for 'Chas'. We resumed our journey around 2 pm.
We reached the Mehsana Bypass around 2.10 pm. After crossing Mehsana, around 2.25 pm, we left Ahmedabad-Palanpur highway and took a State Highway. This road was also in excellent condition and was a double lane in stretches.
We reached Rani Ki Vav around 10 minutes past 3 pm.
Rani ki Vav Ticket Price & Online Booking
Rani Ki Vav is maintained by ASI. Its entry fee is Rs. 35/- per person. From the previous day's experience of tickets at Saher ki Masjid and Jami Masjid, I booked tickets online before starting our journey from Kensville Golf and Country Club Resort. So our entry was hassle-free. It was a few hundred meters walk north from the parking lot.
Stepwells are a distinctive form of subterranean water resource and storage systems on the Indian subcontinent and have been constructed since the 3rd millennium BCE.
Stepwells are typically found in those parts of India where monsoon is scarce and groundwater is well beneath the surface like Rajasthan, Gujarat, Delhi, and parts of Karnataka. In Gujarat, Stepwells are called 'vav' in Gujarat, 'Baoli' in Delhi, 'Bawri' or 'Bawdi'in Rajasthan, and 'Bavi' in Karnataka.
Stepwells started its journey as a simple pit in sandy soil. However, over a period of time, aesthetics became as important an aspect of the stepwells as the utility used to be. Stepwells evolved into an elaborate multi-story work of art and architecture.
History of Rani ki Vav
India has a number of spectacular stepwells and Rani ki Vav is one of the best among them. As per the literary work 'Prabandha-Chintamani' composed by the Jain monk Merutunga in 1304 CE, it was constructed by Rani Udaymati.
It is generally believed that Rani Udaymati built it in the memory of her husband of Bhima I. However, there are conflicting opinions about the exact time of construction of Rani ki Vav. According to 'Prabandha-Chintamani', it was commissioned in 1063 and took almost 20 years to get completed, well after the death of Bhima I in 1064 CE.
Probably, Udayamati and her son Karna completed the construction. However, the view, that Udaymati was a widow when she commissioned it, is disputed. Based on the architectural similarity to the Vimalavasahi temple on Mount Abu, another view is that Rani Ki Vav was constructed in 1032 CE, the year of construction of the Vimalavasahi temple.
Architecture
Rani-ki-Vav, built on the banks of river Saraswati, is a single-component, water management system divided into seven levels of stairs and sculptural panels of high artistic and aesthetic quality.
It is oriented in an east-west direction and combines all of the main components of a stepwell, including a stepped corridor beginning at ground level, a series of four pavilions with an increasing amount of storeys towards the west, the tank, and the well in the tunnel shaft form.
More than five hundred principle sculptures and over a thousand minor ones combine religious, mythological, and secular imagery, often referencing literary works. Given its look like an inverted temple, it is assumed that the stepwell was constructed not only as a functional structure but also as a religious structure highlighting the sanctity of water.
It impresses not only with its architectural structure and technological achievements in water sourcing and structural stability but also in particular with its sculptural decoration, of true artistic mastery.
The figurative motifs and sculptures, and the proportion of filled and empty spaces, provide the stepwell's interior with its unique aesthetic character. The setting enhances these attributes in the way in which the well descends suddenly from a plain plateau, which strengthens the perception of this space.
Rani ki Vav Pictures
View of Rani ki Vav from the entry point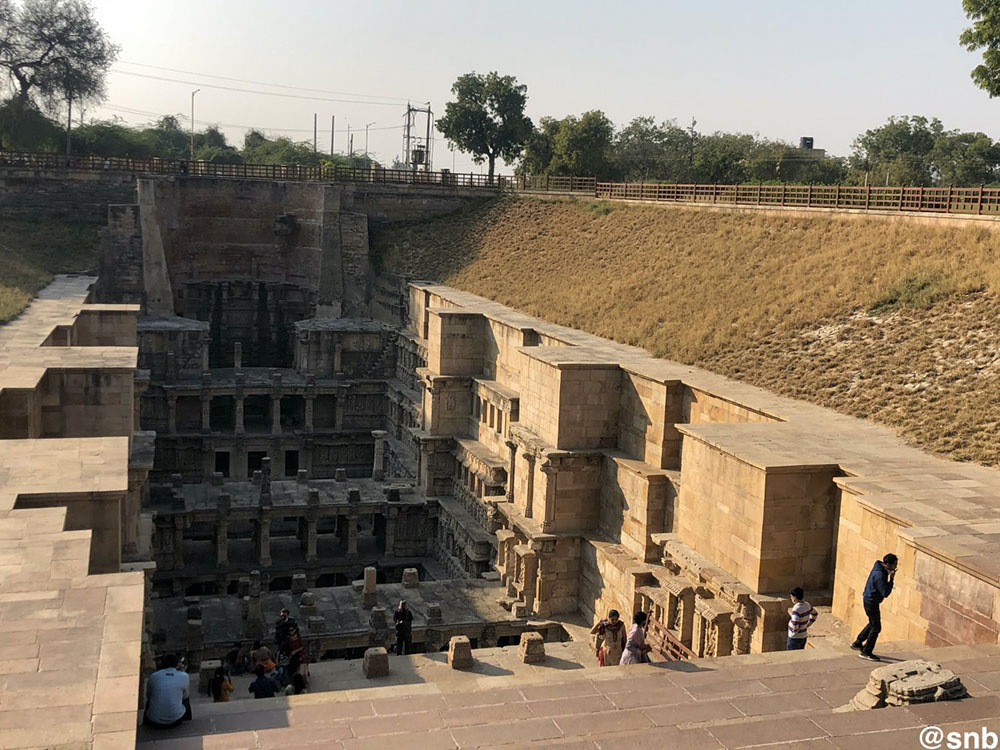 View from the opposite side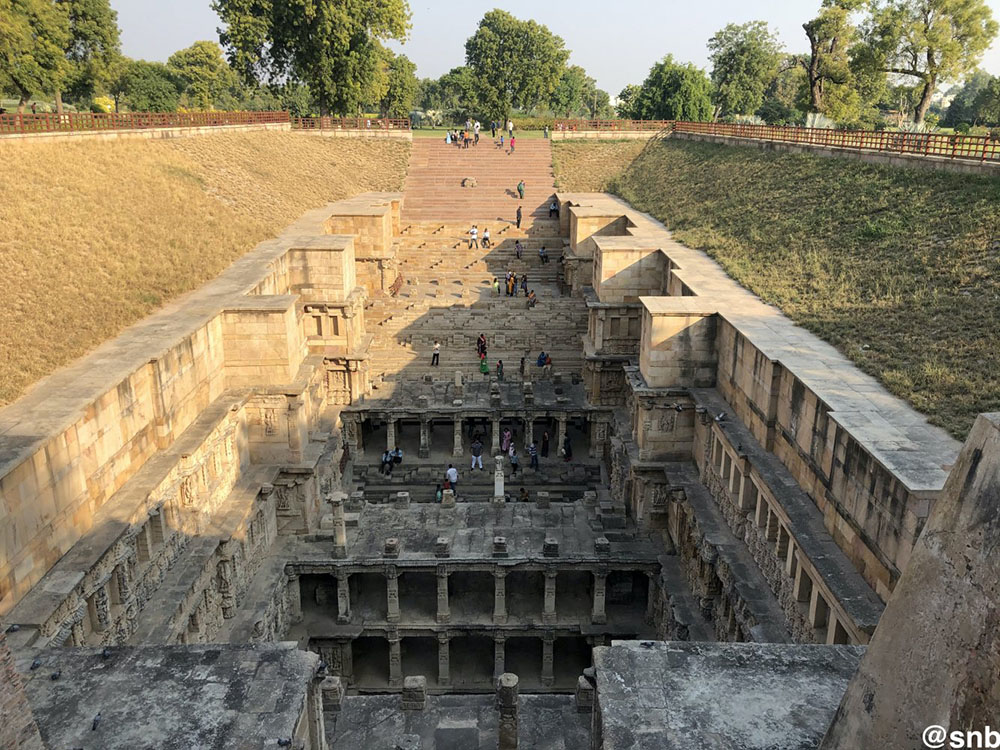 Halfway down
Rani ki Vav was later flooded by the nearby Saraswati River and silted over. In the 1890s, Henry Cousens and James Burgess visited it. At that time, it was completely buried under the earth and only a well shaft and few pillars were visible.
In the 1940s, the excavations carried out under the Baroda State revealed the stepwell. In the 1960s, the major excavation and restoration were carried out by the ASI.
An image of Udayamati was also recovered during the excavation. The restoration was carried out from 1981 to 1987. Rani ki vav was added to the list of UNESCO's World Heritage Sites on 22 June 2014.
Rani ki Vav compound is well maintained with manicured lawn and lots of trees. People, after visiting Rani Ki Vav, typically spend some time there. We could not afford that because of the paucity of time.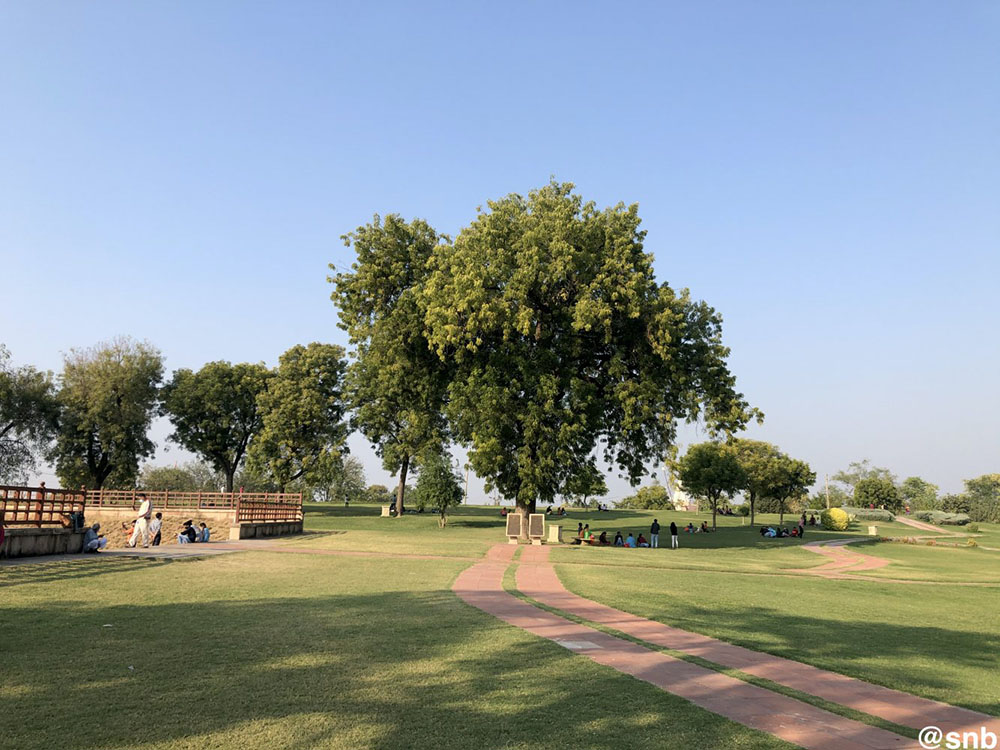 From there, we went to Sahastralinga Talav which was 5 minutes drive.
Sahastralinga Talav
Sahastralinga Talav is a medieval artificial water tank constructed by the Chalukyas. The tank used to receive water from a canal of the Saraswati River and had spread of about 5 km with good stone masonry embankments.
There were thousand Shiva Shrines on the edge of the tank. Some remains of the same are even visible today. The embankment surrounding the tank is of solid brickwork and was faced with stone masonry forming flights of steps to the water's edge.
Near the middle of the eastern embankment are the remains of the old Siva temple, comprising the basements of the pavilions together with a colonnade of forty-eight pillars; it was in good condition till 16th-century C.E.
Towards the western end, there is a Rudra Kupa in which water from the river Saraswati was collected and then allowed to pass into the inlet channel of the Sahasralinga Tank. This cistern is about forty meters in diameter.
From Sahastralinga Talav we started for our next destination for the day, the Sun Temple at Modhera at 4.30 p.m. Please click on the link below to continue reading the next part of the travelogue.
The distance of Modhera Sun Temple from Sahastralinga Talav is 35-40 km. It was a state highway. The road condition was good. We managed to reach the temple by 5 pm.
Rani ki Vav & Sahastralinga Talav – Conclusion
I hope the travelogue, pictures, and information on Rani ki Vav and Sahastralinga Talav were of help. If you have any questions, please feel free to ask in the comments section below or at our Community Forum, and I will be happy to answer.