This post is in continuation with a previous one and a part of my Gujarat road trip log. After arriving in Champanaer, we spent some time exploring Shaher ki Masjid and Jami Masjid before moving on to Pavagadh Hills to visit Kalika Mata temple. To read the previous part of the travelogue, please click on the link below.
The journey so Far: 
To go to Pavagadh hills from Jami Masjid, you have to come back to the main road and drive back a bit towards Shaher ki Masjid and then there is a left turn for Pavagadh hills. This turn cannot be missed because there is a huge gate.
The hill road was in excellent condition. There are multiple parking lots and sightseeing points along the entire stretch of the road. However, we did not stop anywhere and continued to drive to the top without any specific plan in mind.
Pavagadh Hills
After reaching the top, we parked our vehicle in the parking lot and asked for the direction of the ticket counter and boarding point of the cable car for reaching Kalika Mata temple is operating. On reaching the ticket counter, we found that there was no queue. So, we booked return tickets for three which costed us Rs. 425 and went to the boarding point.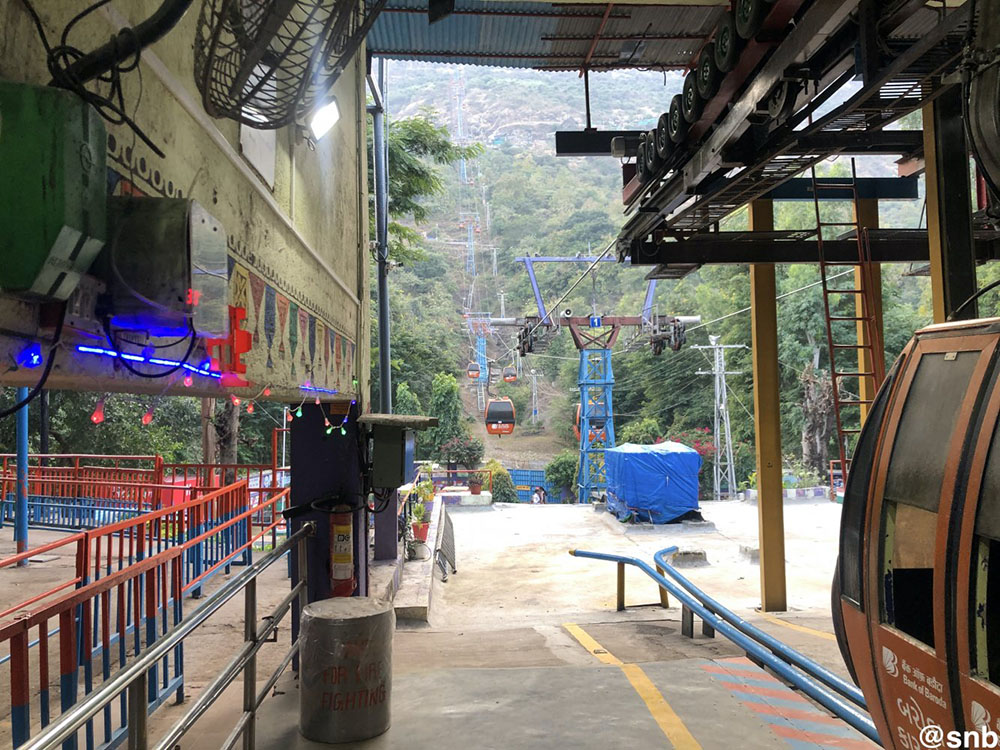 The cable car ride was a hair-raising experience. After an initial horizontal movement, it started going up with a steep gradient. Though we were enjoying the vistas below, we were scared too.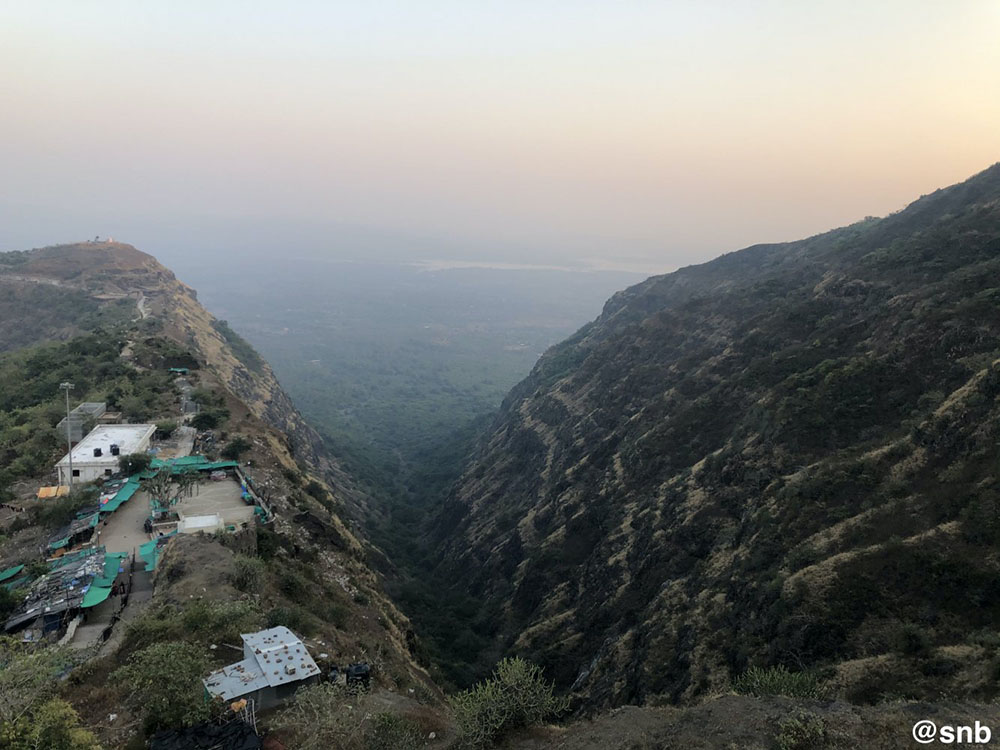 Kalika Mata Temple
After getting down from the cable car, we saw a cemented path with a gentle gradient ahead. There were shops on both sides of the path.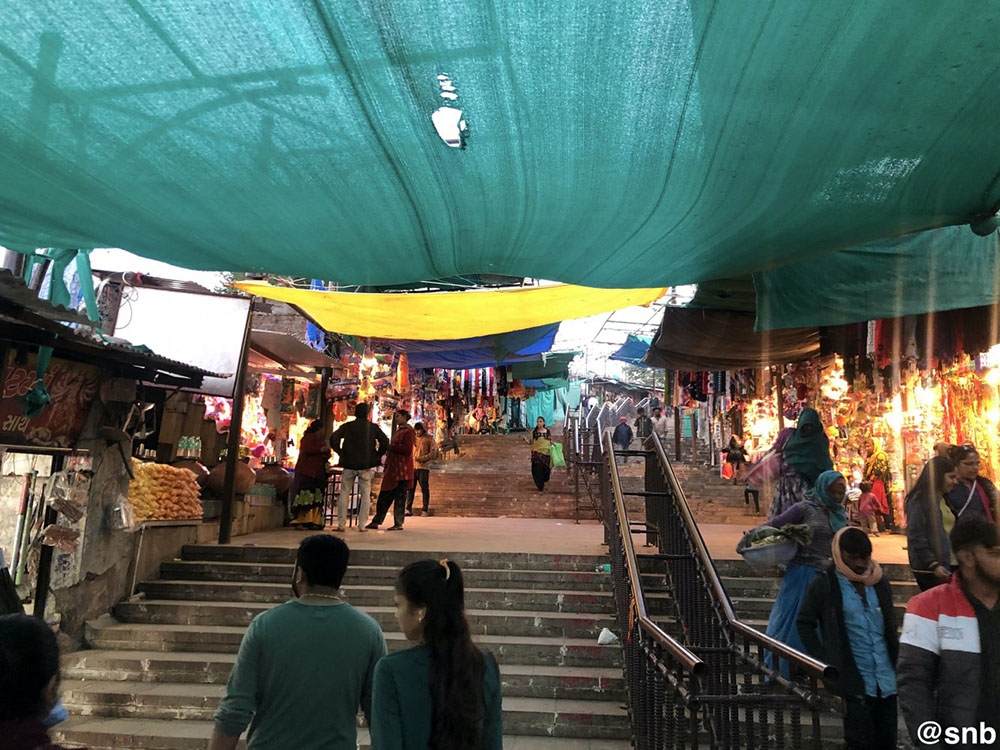 We assumed that this path was leading to the Kalika Mata temple and accordingly started walking. That assumption was correct. But where we went wrong was the distance of Kalika Mata temple.
After walking for a kilometer or so, we reached a lake (Dudhiya Lake). There was a cemented path surrounding the lake and from the eastern side of the lake, there is a steep climb for the Kalika Mata temple.
There we gave up. We circled the lake, saw the sunset, and came back to the cable car boarding point for return.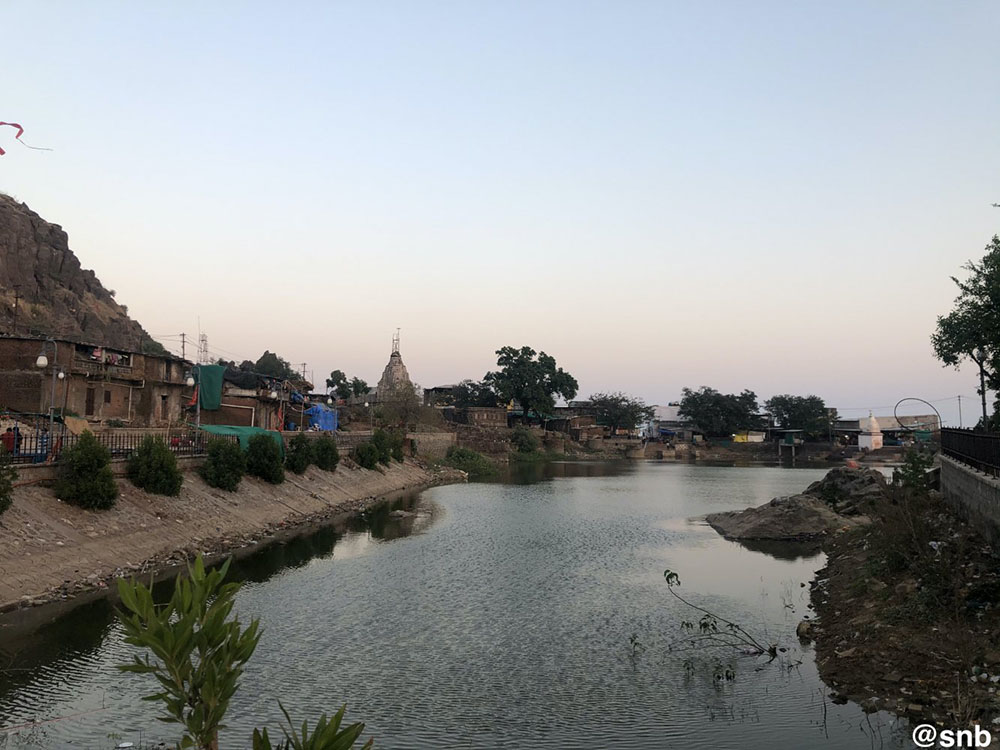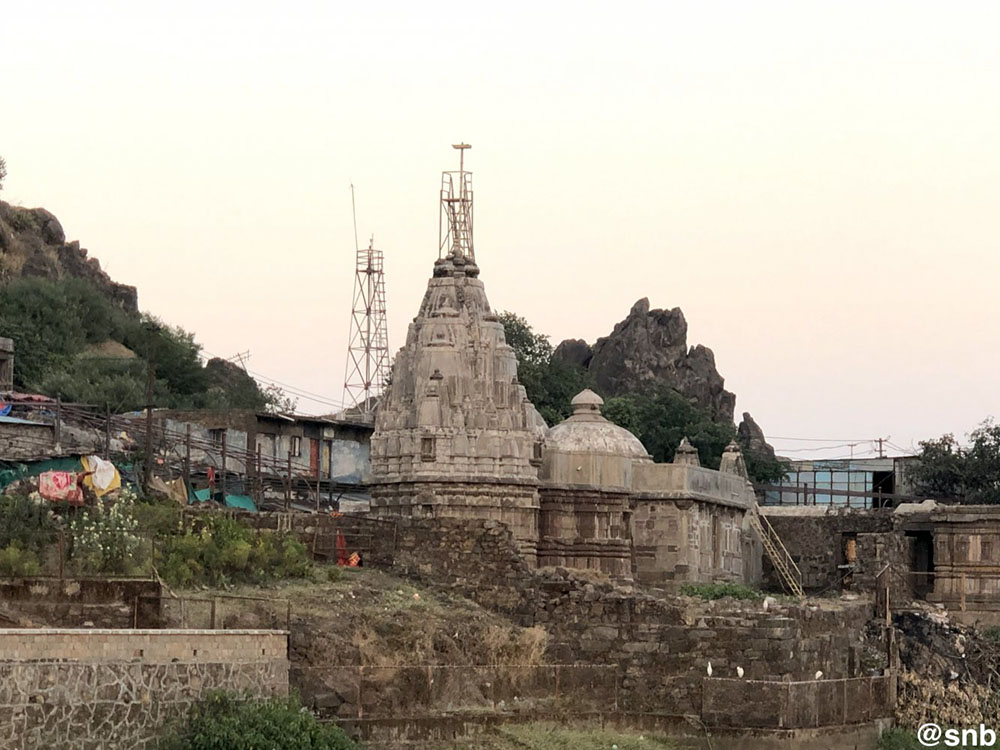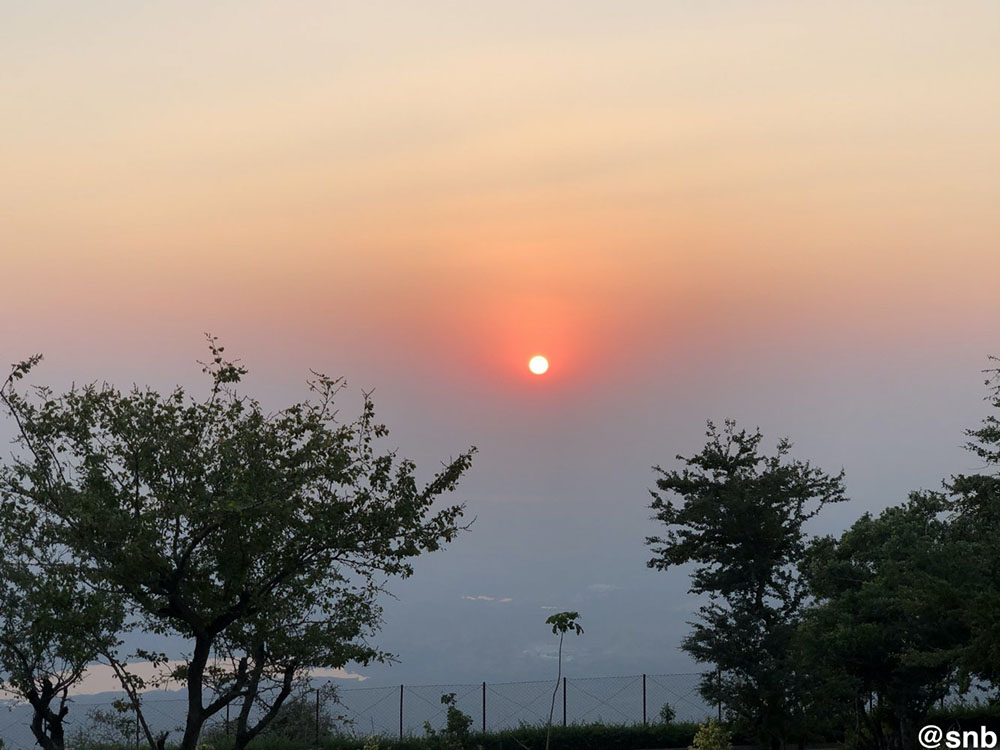 While there was no queue for coming up, there was a huge rush for going down. Because it was well past 6 pm and everyone was eager to return. We waited for 10-15 minutes in the queue for our turn.
When we came back to the parking lot, it was quite dark. The parking lot was crowded while we came and now it was almost deserted. We tried to set the final destination in the google map but that was not working. Anyway, we started the downhill journey.
Champaner
When we reached Champaner in the foothill, it had already gone into sleep mode. Somehow, we managed to get an open tea stall and ordered him for tea. While waiting for tea, we kept on trying to activate google.
Finally, it got activated and we got the shock of the day. Kensville Golf and Country Club Resort were at a distance of 178 km. As per Google map, it would take three and a half hours to reach there. It was 7 pm by then. So we would not be able to make it before 10.30 pm. And we started our day at 7.30 am.
When I planned the detour for Champaner-Pavagadh Archaeological Park, there was no specific 'to do' or 'to see' list. The idea was to spend a couple of hours here and to see whatever was possible at that time. But somehow, we lost track of time and spent 3 hours instead of 2 hours.
That was on top of a delay of one and a half-hour in reaching this place. While planning, I took note of the distance of Kensville Golf and Country Club Resort from Champaner-Pavagadh Archaeological Park but somehow, it slipped out of my mind.
From Champaner, first, we came to Vadodara using Vadodara-Halol road. We joined NH48 at that point where we left it at the earlier part of the day for Champaner-Pavagadh Archaeological Park and took the right turn. We drove on NH48 for 75-80 km. The road condition was excellent. It was a well-lit road.
There was very little traffic. So, I was maintaining a speed varying between 80 -120 km/hrs. But like every good thing in life, a good road also comes to an end eventually. After crossing approximately 20 km after Nadiad, Dholka-Kheda Highway and misery started.
Kensville Golf and Country Club Resort
It was a single-lane road barring a few places. It was mostly broken. There was quite a traffic, largely industrial. So driving was a pain. While approaching Dhokla, I tried to overtake a truck without realizing that the single lane had become a double lane and jumped the divider and came on the wrong side.
Fortunately, there was no vehicle on that side then. We had to take a right turn after a few hundred meters from that point to bypass Dhokla town. There we came back on the right lane. After this painstaking driving for around 40 kilometers, we got onto NH47 at Bhayala and took a right turn.
After driving on NH47 for 2-3 kilometers, we left it and took a left turn on Kerala-Nalsarovar road. This was the last stretch of the journey and it was 15 kilometers. Though this road was a single-lane road, the road condition was very good and there was absolutely no traffic. We were maintaining a speed of around 80 kilometers/hr.
Finally, we reached our destination around 9.30 pm, an hour before the time predicted by Google Map – the only saving grace for the day, at a completely exhausted condition. We covered a distance of 648 kilometers on that day.
Pavagadh Hills – Conclusion
Now, let me tell you the mistakes with the benefit of hindsight. The direct distance of Kensville Golf and Country Club Resort from our residence itself is 541 km. So, I should not have added a detour in the first place.
When we reached Vadodara at a delay of one and a half hours from the plan, we should have continued straight to our destination. Similarly, had we kept ourselves restricted to Champaner and did not go to Pavagad Hill, had we not taken the cable car, even after taking the cable car had we taken the return journey immediately.
We could have saved some time and our day would have become less painful. Anyway, let bygone be bygone. The next day was another day. We were now looking forward to exploring more areas in the coming days. Please click on the link above to continue reading the next part of the travelogue.
I hope the travelogue, pictures, and information on Mumbai to Ahmedabad road trip were of help. If you have any questions, please feel free to ask in the comments section below or at our Community Forum, and I will be happy to answer.