On this day, our destination was Sasan Gir. On the way, after crossing Rajkot, we were to take a small detour for Khambhalida Caves. Though we were crossing Junagadh and some historical places of Junagadh were on the list, we planned that a couple of days later by doing a day trip from Sasan Gir.
The reason was we wanted to ensure that we reached Sasan Gir before it got dark. Later, after visiting Junagadh after a couple of days, we realized that we could have covered it on the way to Sasan Gir from Kensville Golf and Country club, Ahmedabad.
To read the previous parts of the travelogues, please click on the links below.
The journey so Far: 
Since the distance to be traveled on that day was less than 350 km, there was no hurry. We started leisurely at 10.45 am after doing some photo sessions at the resort.
From the resort, we again took Kerala-Naasarovar Road and after driving for 20odd km, got onto Ahmedabad-Rajkot Highway (NH47) and took a right turn towards Rajkot.
Ahmedabad- Rajkot highway was in excellent condition. The road was wide and the surface was as good as it could be. There was less traffic on the road. So we were driving at a speed above 100 km/hr. The only problematic stretches were where the wide road was being made wider and as a result, the commuters had to take diversions.
We crossed Limbdi around 11.45 am.
Rajkot
Our first break for the day was at a petrol pump 30-35 km before Rajkot. After filling up the fuel tank, when we got on the road, we saw an 'Honest' Food outlet immediately after. So we decided to take the lunch break there.
We ordered for same dishes which we ordered the previous day on our way to Patan from Ahmedabad – Dosa and Punjabi Thali. Besides, we ordered a plate of 'Papdi' too.
But here food was not that good compared to that of the Honest outlet on our way to Patan. It took around 35-35 minutes to finish our lunch. By the time, we resumed our journey, it was 1.45 pm.
We hit Rajkot at 2.05 pm.
I had come to Rajkot many times for professional work. One of my clients was based here who had factories at Shapar and Gondal. So, I was aware of the notorious traffic jam of Rajkot. However, given that it was a Sunday and we were in the middle of the Christmas holiday, I was hoping that we would not encounter any traffic snarl.
Rajkot to Khambhalida Caves
But, immediately after reaching Rajkot, I found that my hope was misplaced. There was a humongous traffic jam on that side of the road on which we were driving. Fortunately, local police guided us to take the other side of the road, essentially the wrong lane.
But when the police themselves advised you to take the wrong lane, then there should not be any problem. We obliged. For the first few hundred meters, driving was an absolute pain because there was a huge rush of vehicles from the other side.
After that traffic eased up a bit and we continued to drive on the wrong lane albeit carefully. After covering 2-3 km, a flyover came. By then, there was no traffic jam on the other side of the road on which we were supposed to drive. So just before the flyover, we changed sides and came back to the right lane.
We crossed the Gondal toll booth at 2.45 pm.
After Gondal, the road narrowed a bit. Instead of 3 by 3, it became 2 by 2 highway. However, the road condition was good. It was NH27. After driving for approximately 33km, we left NH27 and took a left turn to a village road. It was 3.15 pm then.
All of a sudden, the topography changed completely. We were driving through a barren and undulating landscape.
After driving 7-8 km on that road and passing a couple of villages, we reached Khambhalida Buddhist Caves around 3.30 pm.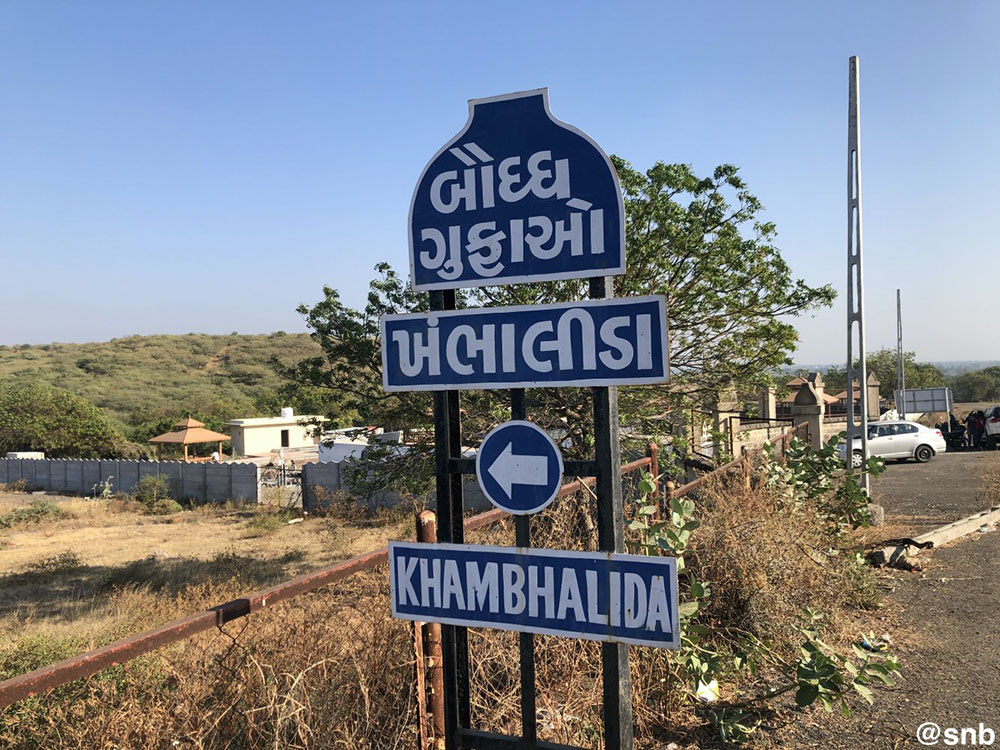 Khambhalida Caves
Khambhalida Buddhist Caves are a combination of three caves. The complex of caves is said to be built in the 4th or 5th century AD but was discovered in the year 1958. These caves are known for presenting the history of the Kushana Kshatapa period.
The cultures, stone carvings ad more present in the cave were made according to the Kushana Kshatapa dynasty. The caves were also used for meditation amongst the Buddhist monks who used to live near the caves and considered Khambhalida Caves as a holy land.
From the road, you need to walk a few hundred meters to reach the caves. In that open land, a new Buddhist center was being built, where the detailed history of the Khambhalida Caves would be presented to the tourists in the future.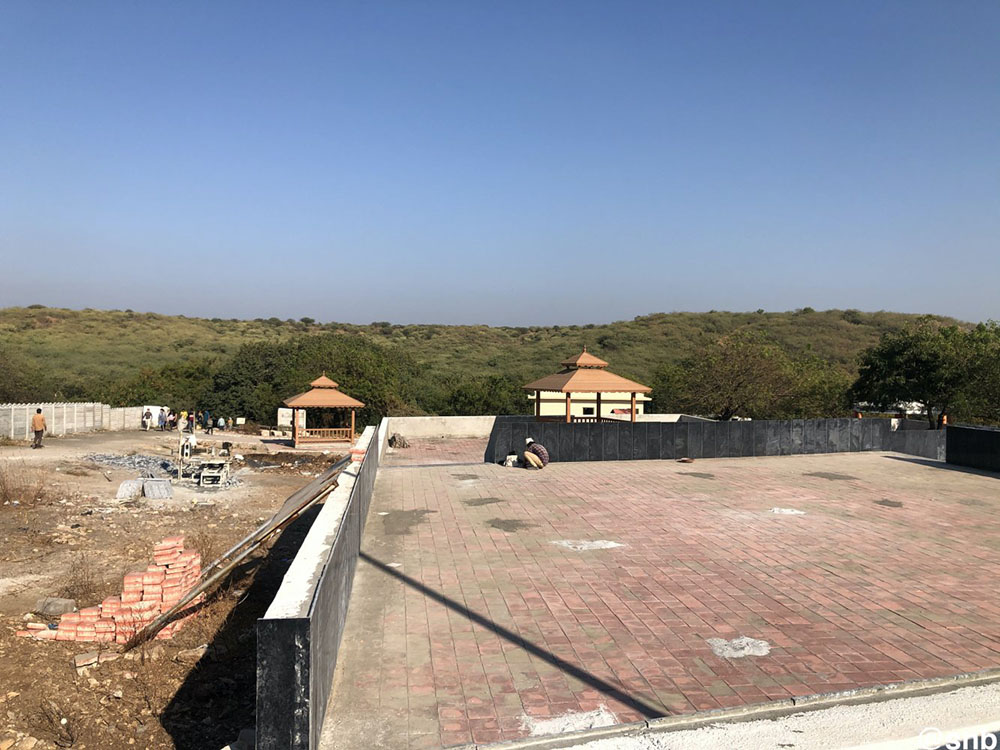 A big parking lot had been already made on the other side of the road.
After that short walk, we had to walk down a bit using stairs and then walked through stone-cut doors/tunnel to reach an open courtyard.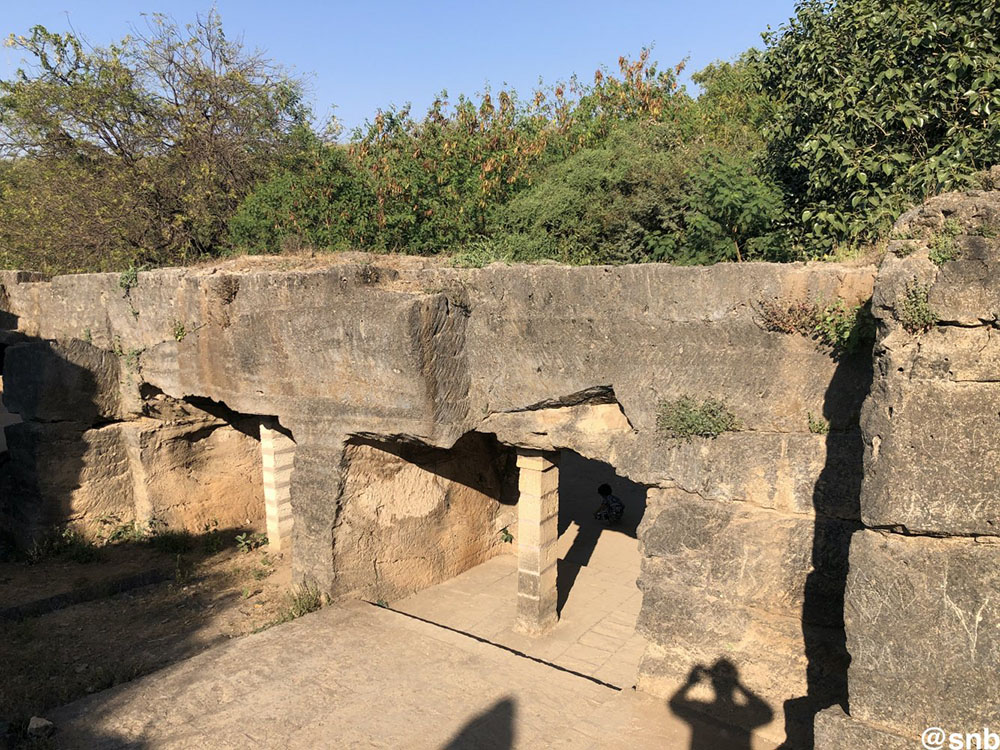 Architecture
The courtyard facing caves was built digging the highland/hillock crossing over which we reached the caves. The caves were east-facing. On the opposite side of the courtyard, there was a seasonal stream. Probably this stream was the source of water for The highland/hillock was of limestone rocks and the caves were carved out of the same.
There were three caves, the central one contained the stupa which is known as chaitya cave. There were two sculptures of Bodhisattva on either side of the gate of the chaitya cave. On the left, the figure was probably Padmapani under an Ashoka-like tree with a female companion and five attendants.
There was a yaksha-like dwarf on the left of it holding a basket. The figure on the right was probably Vajrapani under an Ashoka-like tree with similar attendants.
We did not find any signboard or similar thing giving descriptions of those caves at the site which was a bit annoying. We resumed our journey from there at 3.45 pm. Google Map advised us to continue the drive in the same direction. We obliged. The same undulating and arid landscape continued. We crossed a few villages and a wide but shallow stream/river.
Junagarh
After driving for 10 odd kilometers along the village road, we got onto NH 351. After another 2.5-3 kilometers, we switched to NH 151 towards Junagadh. That road was in excellent condition. We reached Junagadh around 4.30 pm.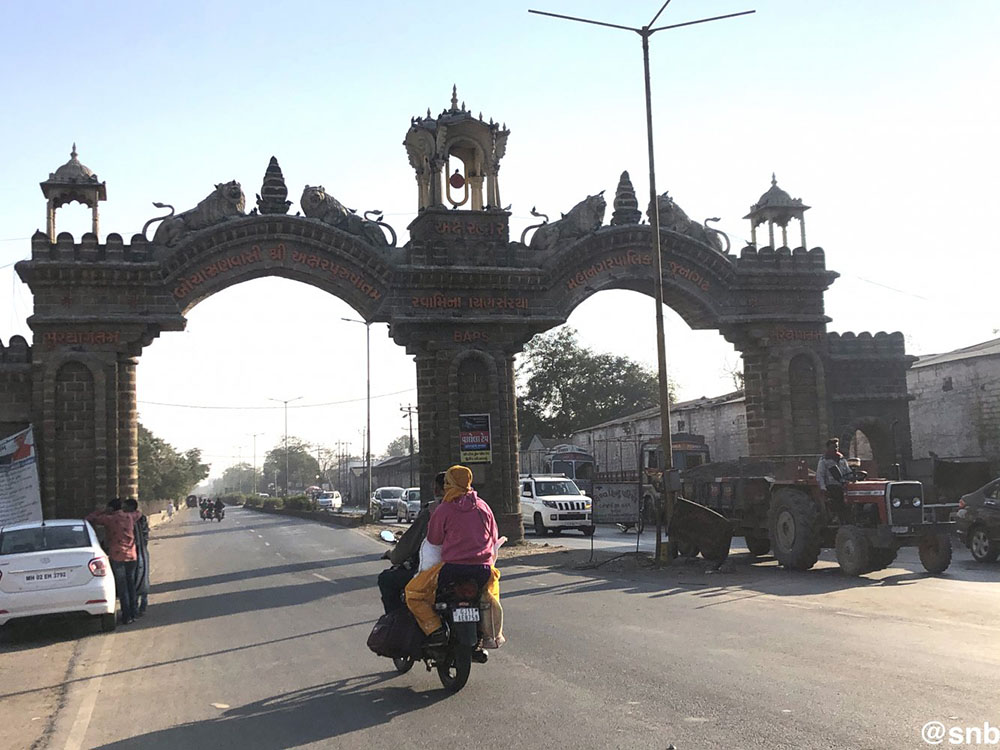 Since we were having vegetarian food for the previous two days, so there was a craving for non-vegetarian food. So the previous day, I had searched for some non-vegetarian restaurants at Junagadh and on the basis of reviews in TripAdvisor zeroed on 'Sabrin Non-Veg Restaurants'.
But when we reached there around 4.45 pm, we found the restaurant closed. Apparently, it used to close at 4 pm and again reopened at 6 pm. We could not afford to wait till 6 pm. So we immediately set 'Club Mahindra Gir' on Google map and started for the final destination of the day.
I had not an iota of idea about the roads of Junagadh and therefore, was following Google map blindly. Before leaving Junagadh, we again took a 4-5 minute stop to pick us some chocolate and pastries from a Monjinis outlet.
Sasan Gir
We were out of Junagadh around 5 pm and were on Junagadh-Mendarda-Sasan Gir road. Club Mahindra Gir was still approximately 50 km away and it was 5 pm.
So, I was trying to maintain a speed over 60km/hr so as to ensure we reach our destination before the dark. The road was a single-lane road. But the condition of the road was good and there was not much traffic. So it was an easy drive.
We crossed a jungle check post and entered the Gir forest buffer zone around 5.45 pm. There were some forest guards/police at the check post. So, we hurriedly put the mask on our face in order to avoid paying fines as we paid two days ago at Vadodara.
But nobody stopped us at the check post and we continued our drive towards Sasan Gir. The day was approaching to its end fast and the surrounding was looking surreal in the fading light of the setting Sun.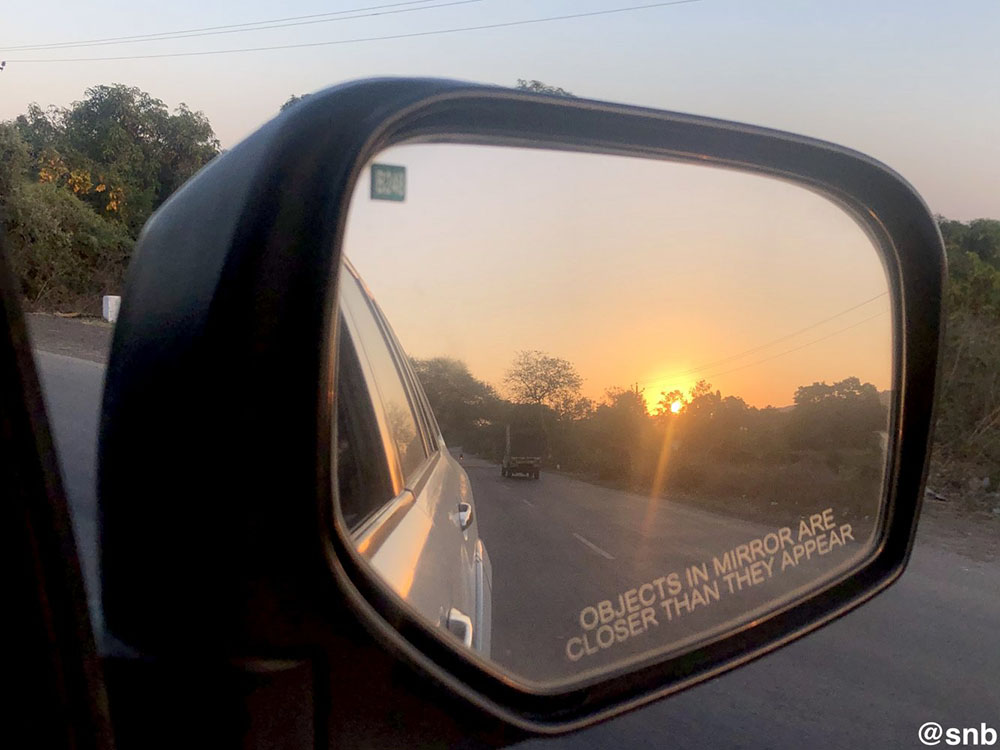 We left Junagadh-Mendarda-Sasan Gir road 5 kilometers before Sasan Gir and took right turn onto Haripur-Bhalchhel road. It was a narrow village road, in not so good condition with few ups and downs and lots of twists and turns. There were few lodges along that village road. After driving for approximately 4 km, we reached Club Mahindra Gir.
By the time we entered our room completing all check-in formalities, it was pitch dark outside. Please click on the link above to continue reading the next part of this travelogue.
Khambhalida caves – Conclusion
I hope the travelogue, pictures, and information on Khambhalida caves were of help. If you have any questions, please feel free to ask in the comments section below or at our Community Forum, and I will be happy to answer.