Our road trip to Gujarat from Mumbai saw us exploring some historical sites and beautiful landscapes. Lasting a total of 10 days and covering several areas of Gujarat, the first part of the journey was a Mumbai to Ahmedabad road trip and from there, we continued deeper into Gujarat. The trip was a long-awaited and much-needed one.
Our last vacation was in September'2019 – a road trip to Mahabaleshwar. Since my daughter was appearing in Standard X Board Examination in March'20, no vacation was possible till that time anyway.
After that, we were supposed to go to the US to my sister's place. Ticket bookings, visas, etc. were done. But then, Corona arrived. Our plan got jeopardized like that of the rest of the world. The US trip got canceled and like others, we did start following the rule of 'staying at home' strictly.
As days, weeks, months passed by, we started getting restive for a road trip. As a family, we typically do not go out for dining, watching movies, mall hopping, etc. for recharging our batteries. What we look forward to is road trips, once in every 3-4 months, of 2 days or 2 weeks depending upon the situation, to freshen up us.
So, finally, we decided to take the plunge in the Christmas-New Year holiday of 20-21. We decided to go to Gujarat.
Trip Planning & Itinerary
The reason for choosing Gujarat was twofold. Firstly, it would be a long drive after a gap of over a year. Because of the lack of activity during Covid-19, the level of physical fitness was expected to be below the required level.
So, we have to choose a destination that was not too far to keep the driving effort reasonable. Secondly, for the entire trip, we were looking for Club Mahindra accommodation. In my previous road trips, I extensively stayed at properties of GTDC, MTDC, RTDC, HPTDC, and in many budget hotels. But this was 'Covid' time.
Gujarat was meeting both the requirements of travel distance and accommodation. So, we decided on Gujarat.
The planned itinerary was as follows:
Day 1: Mumbai to Ahmedabad with a detour to Champaner Pavagadh Archeological Park
Day 2: Day trip to Rani Ki Vav, Patan. Cover Sahastra Ling Lake, Modhera Sun Temple, Bai Harir Vav (Stepwell),  Jama Masjid, and Siddi Sayeed ki Jali in Ahmedabad
Day 3: Ahmedabad to Gir. Detour to Khambalida Buddhist Caves
Day 4: Afternoon Gir Safari
Day 5: Day trip to Junagadh. Cover Junagadh Rock Inscription of Ashoka, Baba Pyara Caves, Navgan Kuvo, Uparkot Fort, Uparkot Caves, Adi Kadi Vav, Khapra Kodiya Caves, Mahabat Maqbara Complex, and Somnath (Prabhas Patan Caves, Suraj Mandir, Sutrapada, Daityasudan Mandir, Somnath, Somnath Jyotirlinga Temple)
Day 6: Morning Gir Safari. Move on to Diu
Day 7: Local sightseeing at Diu
Day 8: Spend another day in Diu. Local sightseeing at Diu
Day 9: Diu to Nadiad. Detour to Shana Dungar Buddhist Cave, Firangi Deval and Harappa port Town, Lothal
Day 10: Nadiad to Mumbai. Detour to Galteshwar Mahadev Temple, Sarnal, and the Statue of Unity
During the trip, we made multiple changes in the plan, skipped a few places because the trip was getting hectic.
Day 1: Mumbai to Ahmedabad Road Trip
We booked our accommodation at Kensville Golf and Country Club Resort for that night and the next night. It is a Club Mahindra resort. Though Club Mahindra markets it as a property in Ahmedabad, it is quite far off from Ahmedabad – a good 50 km away from Ahmedabad towards Rajkot.
There were two plans for the day.
Plan A was going directly to Kensville Golf and Country Club Resort. In that case, the approximate distance to be covered was 541 km.
Plan B was taking a detour for Champaner-Pavagad Archaeological Park from Vadodara provided we manage to reach Vadodara by 2 pm.
The idea was that if we could reach Vadodara by 2 pm, we would be able to reach Champaner by 2.30 pm. It will take a couple of hours to see the attractions in Champaner-Pavagad Archaeological Park. We would start from Champaner around 5 pm and would reach Kensville Golf and Country Club Resort by 7.30 pm.
The expected distance to be covered under Plan B was 621 km.
Champaner-Pavagadh was not part of the original plan. I included this at the last minute and with hindsight, I know that it was a mistake.
Delayed Start
We were supposed to start from our residence at Gokuldham, Goregaon (East) at 7.00 am. But, we were late by 40 minutes. In no time, we were at the Oberoi Mall Signal. We got onto the Western Express Highway and took the right turn at quarter to 8.
We crossed the toll gate of Mira-Bhyanader around 8 am without any significant fuss. As we approached Vasai creek crossing from there, we encountered a traffic snarl.
Because of some repairing work, one arm of the bridge over the Vasai Creek was closed. So, both north and south-bound traffic were crossing the Creek using the other arm in alternating order and that was causing the traffic jam.
Finally, we managed to cross Vasai creek at 8.25 am after wasting a good 15 minutes there.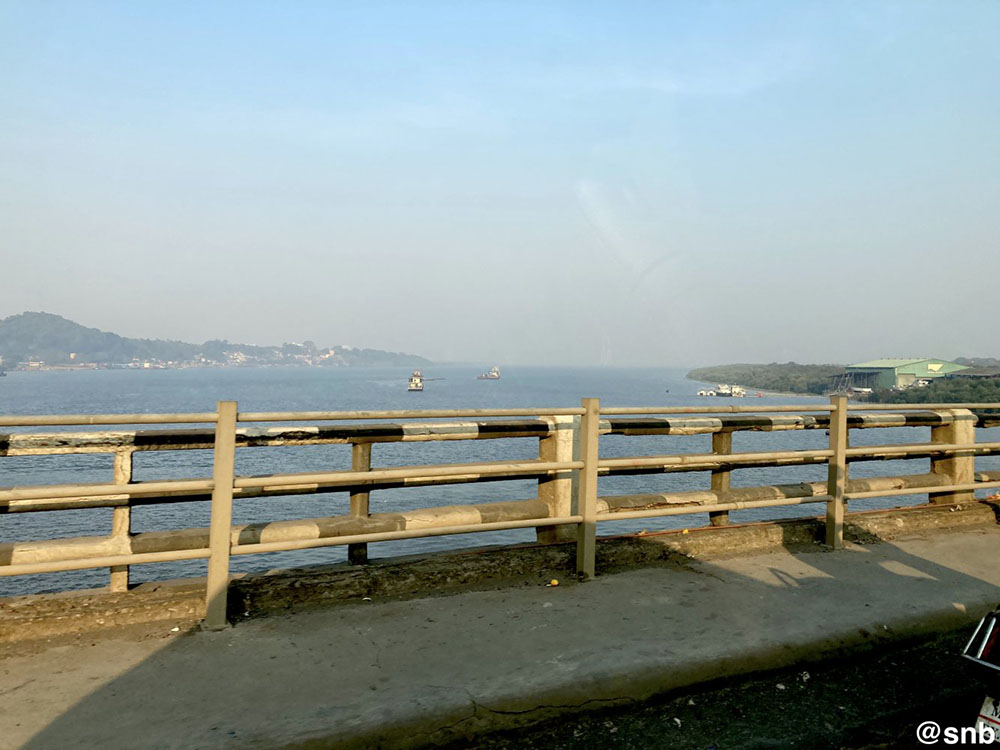 After that, the tarmac became as smooth as it could be. But the traffic was not exactly like that. It seemed that we were not the only family desperate for a road trip. Nevertheless, we were progressing smoothly under the watchful glances of the Western Ghat range with occasional clogging at few places.
Our first stop of the day was at a Burger King around 8.45 am. The service was quite slow. We resumed our journey at 9.30 am.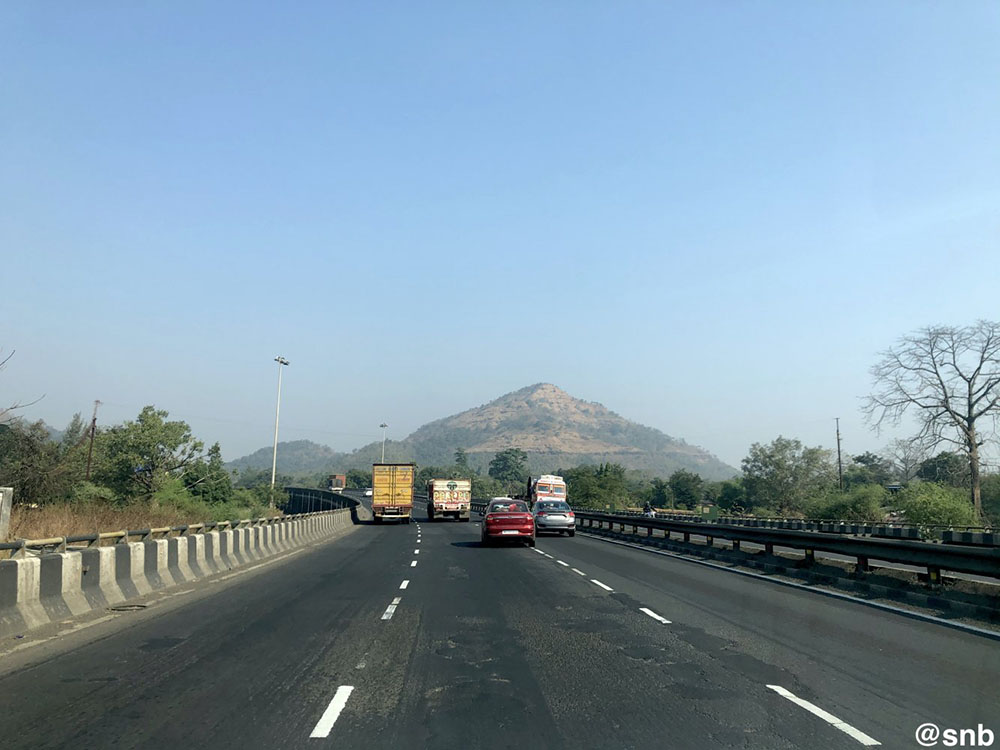 We crossed Vapi around a quarter to noon and then took a second halt. This time, the reason was to satiate the apatite of the fuel tank.
Vapi
The road condition, as well as traffic, were worsening as were approaching Vapi. It further deteriorated after Vapi. In my opinion, the Vapi-Surat stretch is the worst stretch of NH48 between Mumbai and Ahmedabad. We crossed the river Tapi near Surat at 1.20 pm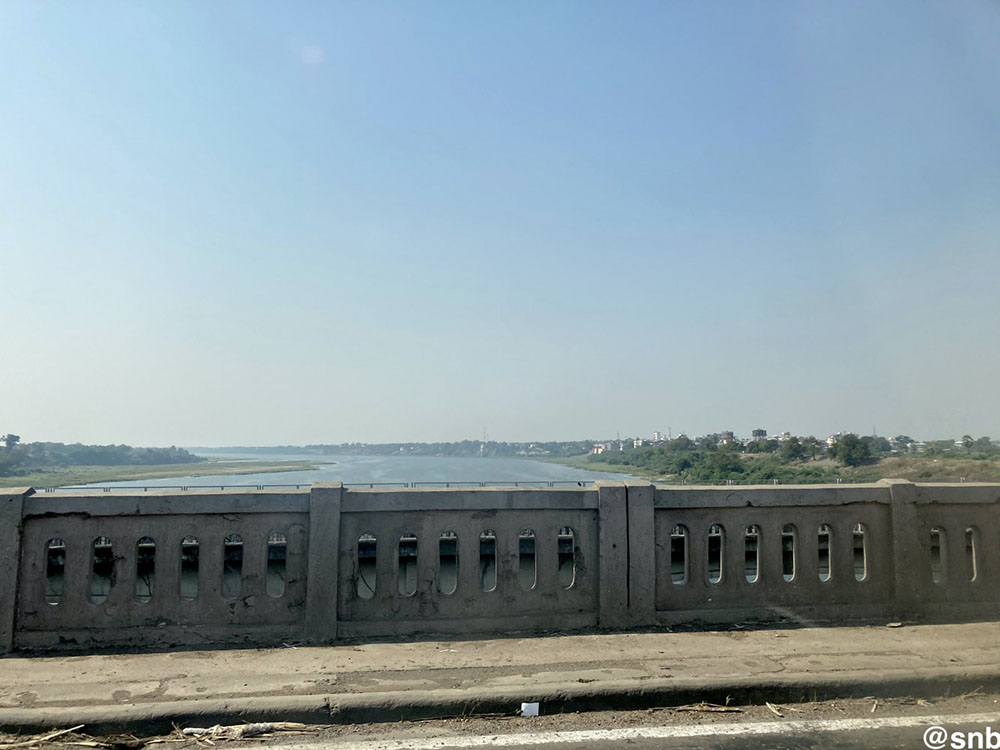 After that, the road condition started improving. There was a perceptible thinning out of traffic. Driving became more enjoyable.
We took our lunch break at 2 pm, not at any restaurant but under a roadside tree somewhere before Bharuch. We were carrying some foodstuffs which met its logical end there. It was homemade food and not an elaborate affair. We were back on road quickly and started approaching Bharuch fast.
Bharuch is an ancient city. It is the oldest city of Gujarat and the second oldest city of India after Varanasi. From the middle of the first century BCE to the middle of the second century CE, India had a thriving naval trade with the eastern Roman empire.
Though South India was the principal beneficiary of that trade, considerable trade used to happen with Deccan and North/North-West India too. Bharuch was the most important port of Deccan for trade between the eastern Roman empire and Deccan and North/North-West India. At that time, it was known as Broach/ Barygaza/Bharukachha.
It got a mention of the book named 'Periplus of the Erythrean Sea' written in the middle of the first century CE by an anonymous writer. In that book, it was further reported that there used to be a system of pilot boats to escort the oceangoing vessels into its tricky anchorage to the mouth of Narmada,' where nothing can be observed with certainty.
Bharuch
At that time, Broach was mostly under the control of Satvahanas, who was ruling in Deccan from their capital at Pratisthana (present-day Paithan, of Maharashtra).
However, goods produced in Kushana kingdom (ruling over North as and North-West India from their primary capital at Purushpur, present-day Peshwar, and secondary capital at Mathura) and Shaka kingdom (ruling at present-day Kathiawar region as a vassal state of the Kushanas initially and later independently) were used to be exported to the eastern Roman empire through Broach too.
The Shakas and Kushanas used two routes from the north-western frontier to reach the western coast. Both these routes converged at Taxila and were connected with the Silk Route passing through Central Asia. The first route directly ran from north to the south, linking Taxila with the lower Indus basin from where it passed on to Broach.
The second route, called 'Uttarapatha', was in more frequent use. From Taxila, it passed through the modern Punjab up to the eastern bank of Yamuna. Following the course of Yamuna, it went southward to Mathura, from Mathura passing on to Ujjain of Malwa, and again from Ujjain to Broach on the western coast.
Goods like muslins, pearls, iron goods especially cutlery, ivory, plants and plant products, etc. used to be exported from India through this port. In return for the articles exported by India to the Roman empire, the Romans exported to India wine, wine-amphorae, and various other types of pottery.
Because of the considerable tax revenue potential on goods exported and imported through Broach, Satavahans and Shakas used to fight each other frequently to get control of this port.
We crossed Narmada and touched the ancient city of Bharuch at 2.30 pm.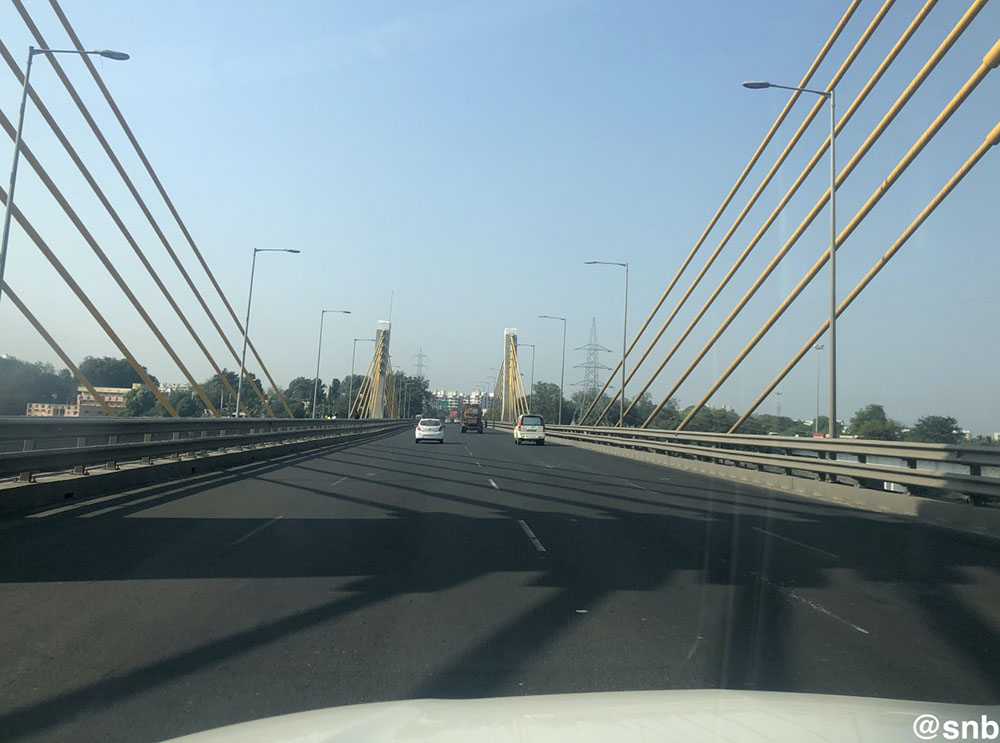 Champaner-Pavagadh Archaeological Park
After Bharuch, the road became great. I rate the Bharuch-Vadodara stretch of NH48 better than even the Vadodara-Ahmedabad expressway. The traffic became scant.
We zipped through this stretch and reached Vadodara around 3.30 pm. There, we committed the second mistake. Despite running late by an hour and a half from the scheduled plan, we decided to go to Champaner-Pavagadh Archaeological Park.
Champaner-Pavagadh Archaeological Park is located at a distance of 40km towards the east from the Vadodara node of NH48. It's a UNESCO heritage site. It essentially consists of two places – one hill named Pavagad and the plain at its foothill named Champaner.
Pavagad hill is a volcanic formation that happened many million years ago. Its name came from 'Pav Gadh' meaning one-fourth hill/fiery hill.
Champaner
Champaner got its name in the 8th Century though humans had settled here from pre-historic time. The most powerful king of the Chavda dynasty, Vanraj Chavda, whose capital was Anhilwada (modern-day 'Patan'), conquered this place. He named it Champaner after the name of his friend and general Champa, known later as Champaraj.
As the Chavda dynasty got dislodged by the Gujarat Chalukyas in the middle of the 10th century, Champaner came under the rule of Solankis. In the middle of the 13th century, the rule came to an end and this area came under the control of Khichi Chauhan Rajputs. They built their first settlement on top of Pavagadh Hill and fortification walls along the plateau below the hill.
In 1494 CE, Mehmud Bageda, the grandson of Ahmed Shah, the founder of the Gujarat Sultanate, defeated the Khichi Chauhans. He got control of the hill fort after 20 months' siege. Then he decided to shift the capital of Gujarat Sultanate from Ahmedabad to Champaner.
He renamed the city "Muhmudabad Champaner" and constructed mosques, built elaborate ornate structures, fortified both the forts, made the hill fort his Mauliya (meaning Lord of the Hill), and his citadel over 23 years. Champaner got developed as a city with well-planned streets and whitewashed stone houses.
During this period, Champaner was famous for mangoes, sandalwood trees (used then for house building and sword blades), and colorful silks. Merchants and craftsmen prospered. Mahmud died in 1511 and his successors continued to rule from Champaner. In 1535 CE, the city was sacked and looted by Humayun.
After the death of the then ruler of Gujarat Sultanate Bahadur Shah (1536), the capital of the Sultanate went back to Ahmedabad. Champaner became completely deserted and slowly immersed into oblivion. People again started living at Champaner during the British period.
The Archaeological Park
Champaner-Pavagadh Archaeological Park is a concentration of largely unexcavated archaeological, historic and living cultural heritage properties cradled in an impressive landscape that includes prehistoric (chalcolithic) sites, the hill fortress of the Khichi Chauhan Rajputs, and remains of the 16th-century capital of the Gujarat Sultanate.
It also includes, among other vestiges, fortifications, palaces, religious buildings, residential precincts, agricultural structures, and water installations, from the 8th to 14th centuries.
The Kalika Mata Temple on top of Pavagadh Hill is considered to be an important shrine, attracting large numbers of pilgrims throughout the year. The site is the only complete and unchanged Islamic pre-Mughal city.
The Fine & The Time
At the underpass of the Vadodara flyover on NH48, we took a right turn to get into Vadodara-Halol road. But before taking the right turn, an unforeseen stoppage of 10 minutes took place. The wife and daughter were not wearing masks.
In the recent past, there was a court order in Gujarat that if someone was found not wearing a mask at a public place, he/she will be fined Rs. 1000/-. As per Gujarat Police, inside of a private vehicle is also a private place while it is on road.
So, they stopped us at the underpass of the flyover. We tried to reason with them to the best of our ability. Because of the force of our argument, or lack of it, they fined one instead of two or none (depending upon your perspective). So, we lost Rs. 1000 and 10-15 precious minutes.
Vadodara-Halol road was an excellent road. I had driven on it sometime in 2019 for going Ajmer Sharif and Puskar. It was in good condition then and it was in good condition his time too.
For reaching Champaner from Vadodara, you have to cross Halol which comes around 8 km before Champaner. There is a bypass there. We took that. After coming back to the main road again, in a short while, we crossed an old gate. We had more or less reached Champaner.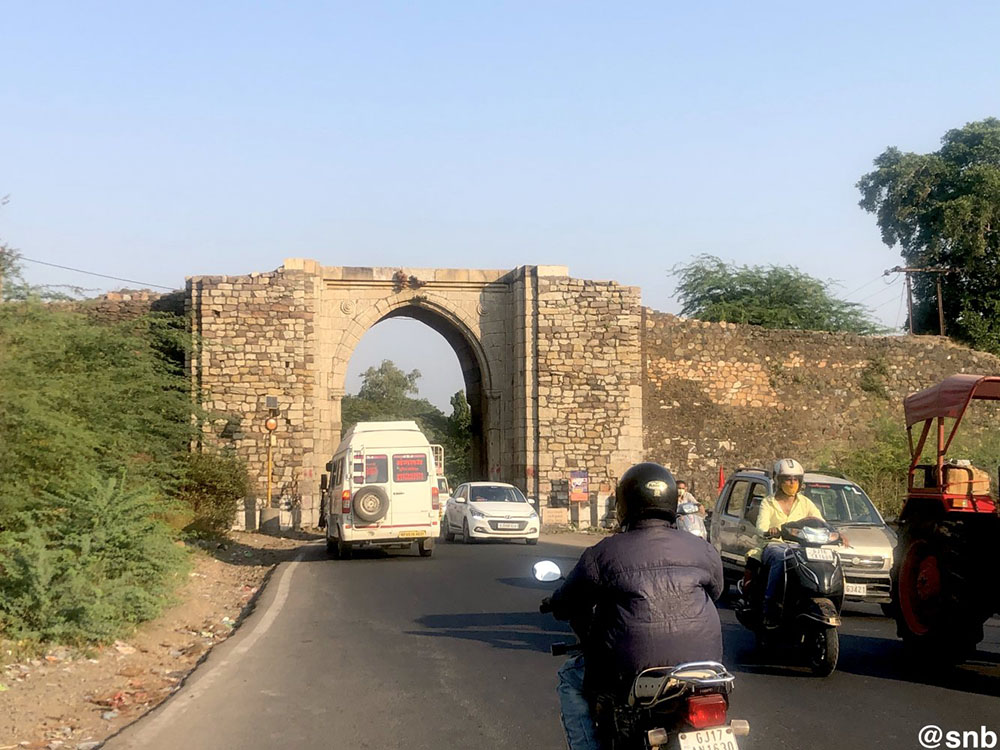 After crossing that gate, we drove for another 10 minutes and reached a market. There was a fort wall on our left with an entry point, wide enough for a vehicular entry. But we were not sure whether the vehicle was being allowed inside and even, if yes, what was there inside.
Shaher Ki Masjid
So, we got down there and asked a shop owner how to reach Jami Masjid since that was the main attraction of Champaner. He asked us whether we were tourists and whether we had our vehicle. On getting an affirmative answer, he advised us to enter that fort compound and assured us that vehicular entry was allowed.
There would be the 'Saher ki Masjid' as well as a ticket counter. From the ticket counter, we would have to buy a combined ticket for 'Saher Ki Masjid' and Jami Masjid.
After visiting 'Saher Ki Masjid', we would have to come back to the main road and continue our journey in the same direction and would have to take a left turn from where the wall ended to reach Jami Masjid. He further that Jami Masjid could be reached from 'Saher Ki Masjid' using the roads inside the fort too.
As per his advice, we entered through the gate. Please click on the link above to continue reading the next part of this travelogue as we drove deeper into Gujarat exploring the magnificent structures and the beauty of the place.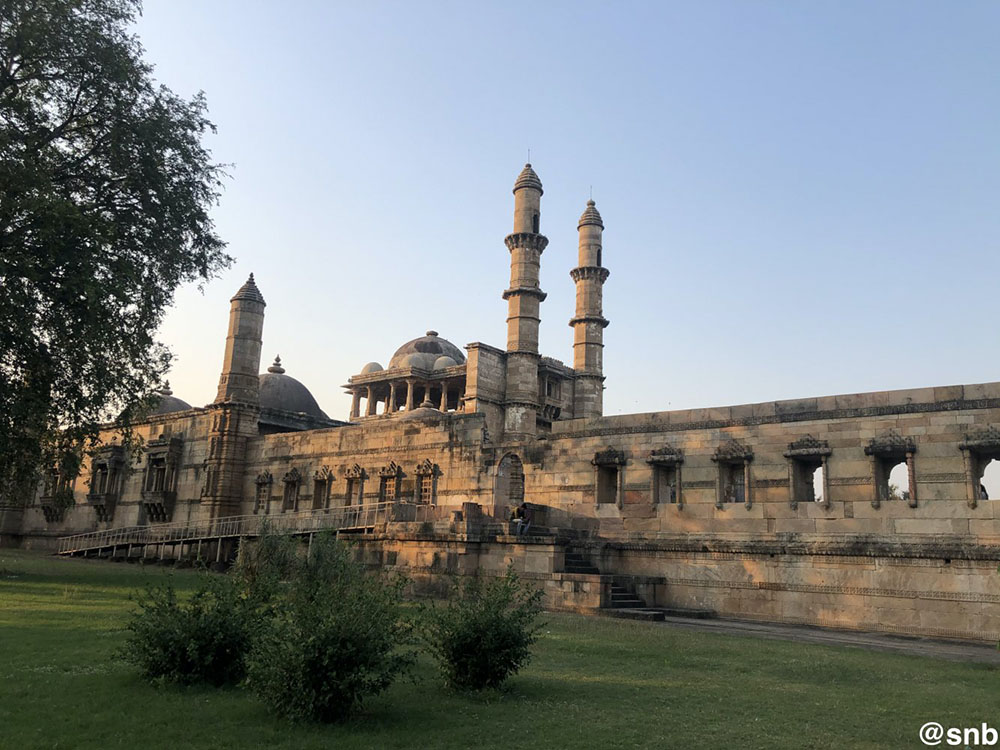 Road Trip to Gujarat – Conclusion
I hope the travelogue, pictures, and information on Mumbai to Ahmedabad road trip were of help. If you have any questions, please feel free to ask in the comments section below or at our Community Forum, and I will be happy to answer.