A long-cherished dream of riding to Ladakh got fulfilled recently. I finally was able to go on a Leh Ladakh Bike Trip from Jammu and the ride lasted for a total of 7 days. In this article, I will share the details of my ride along with a few pictures.
Dates – 11th May to 20th May
Total distance – 2015 kilometers
Bike – KTM Duke 390
Route: Jammu – Srinagar -Kargil – Leh – Nubra Valley – Pangong Tso – Leh – Srinagar – Jammu
So, after planning for over a year, I finally got to do this trip. This trip was supposed to be an experience in itself and I believe this has mostly been fulfilled. Even though I was able to do only a fraction of what I had planned, it still was a new experience for me.
Last year I did many trips to Kashmir and visited many popular places and a few less visited places. Then in September, I did a solo trip to Sach Pass. This trip gave me immense confidence in terms of doing solo rides.
Also Read: How to Plan a Trip to Leh Ladakh – A Complete Travel Guide
Come 2018 and I picked my Ladakh planning thread and started reading/researching more. I settled on quite a general itinerary, something which was more realistic for a solo rider on his first trip to this region.
Leh Ladakh Bike Trip from Jammu
I took the help of this list- things to carry. In terms of bike spares, I only took a spare clutch cable and a puncher repair kit with me. I got the bike serviced last month, changed the air filter, and brought chain lube.
A day before leaving, I bought medicines, toiletries, etc, and loaded up the bike for a trial run. Tanked up in the evening.
Day 1 – Jammu to Anantnag – 226 km
I have traveled on this route over a dozen times in the last 6 months. After a first few rides, I skipped taking pictures. I left home at 6:20 am and reached Mattan, Anantnag at 12:55 pm. I took a couple of chai breaks in between. Since there is a lot of construction going on in many sections, the route is extremely dusty. Couple this with heavy truck traffic, it becomes difficult to ride/drive on it.
It started raining heavily around 2 pm and would continue throughout the night. I decided to stay in Mattan for a day or two and let the wet spell pass.
Day 2 – Mattan
The day spent lazily in Mattan, doing nothing. Though the weather remained calm throughout the day. I just relaxed and got ready for my Leh Ladakh bike trip from Jammu. I did not have a set number of days in hand and could prolong the ride for as long as I wanted.
Day 3 – Anantnag to Kargil – 278 km
I woke up early and the first thing I did was look out the window for signs of rain. It was cloudy, but luckily not raining. I freshened up, loaded the bike, and left at 7:30 am. It was a quick run till Srinagar on the new road. The army presence was quite visible, the most I have seen in many months. Maybe since the PM was to visit a few days later, security forces were on their heels.
I took the Dal lake road which was fun to ride early morning.
Boulevard road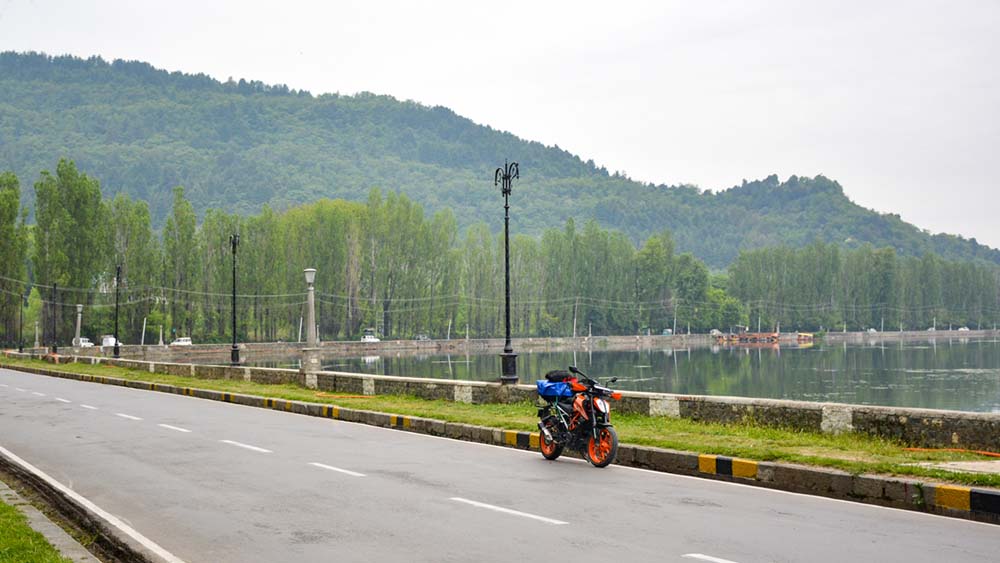 Char Chinar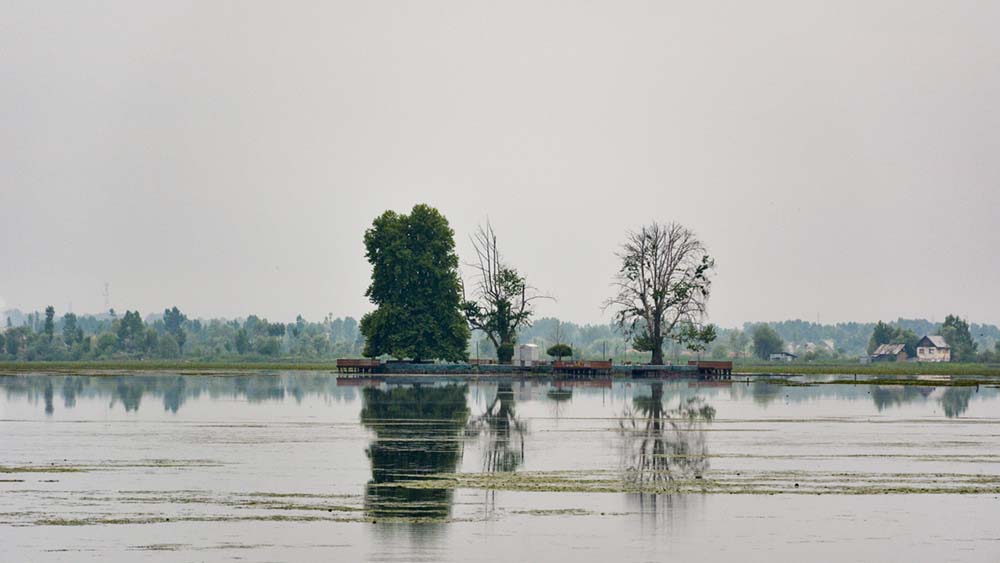 A few km before Sonamarg, it started drizzling which will continue on/off till the climb of Zoji La.
Sonamarg
The number of tourists and ponies increased exponentially around Sonamarg. The main Sonamarg area smelled like horse shit and I didn't even slow down there. Now I know why hotels in Sonamarg cost so high, the number of tourists is amazing.
See how beautifully water is flowing through the natural snow tunnel
Duke was fun to ride on the smooth tarmac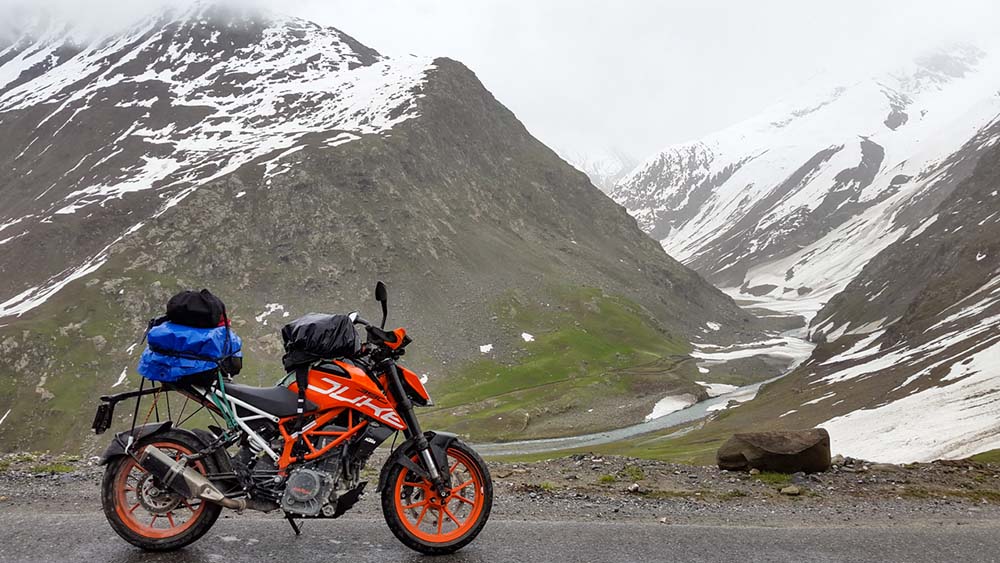 Zoji La
What was earlier a drizzle, was now a full-on downpour. The climb to Zoji La Pass has started. It wasn't easy riding here in these conditions. Slush was everywhere, but the foggy views compensated for everything.
All pictures here are from my mobile.
Snow walls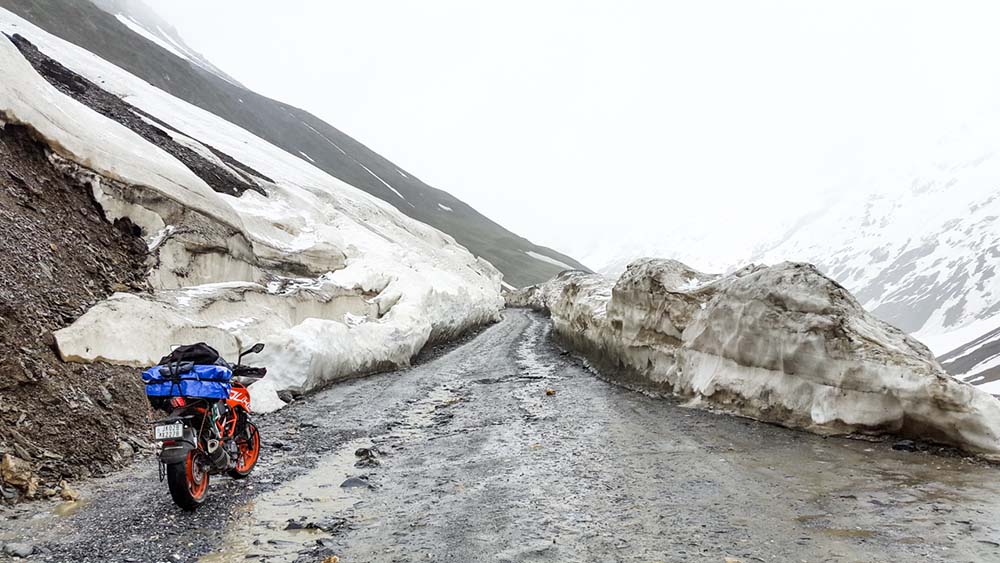 At ZojiLa in the rain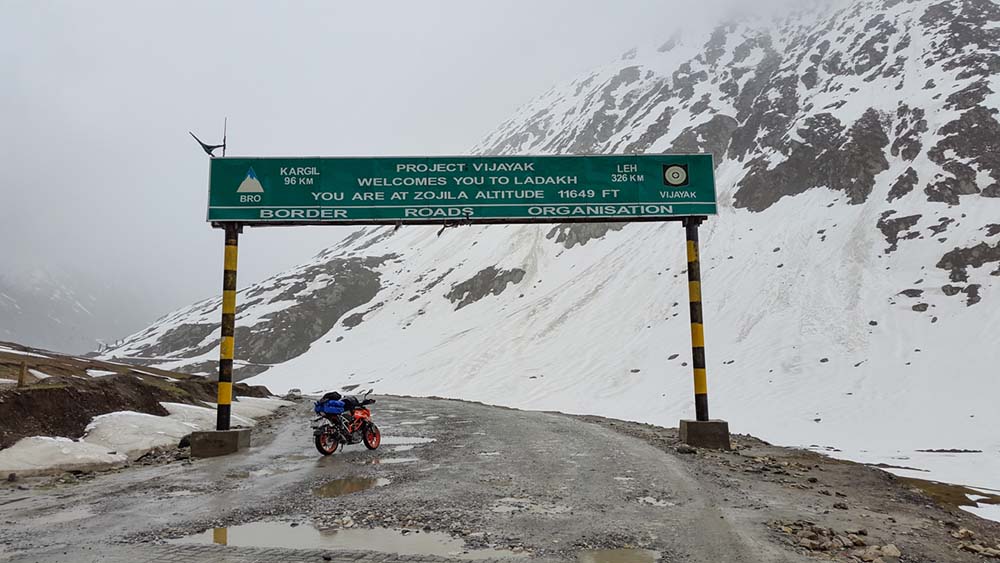 The rain continued till well below the pass. I stopped at a small tea stall at Maitan village and had tea and an omelet.  Continuing further, I crossed Dras without stopping. The scenery changes a few km before Kargil. The green color becomes prominent and the tall trees look amazing.
Beautiful mosque on the other side of the river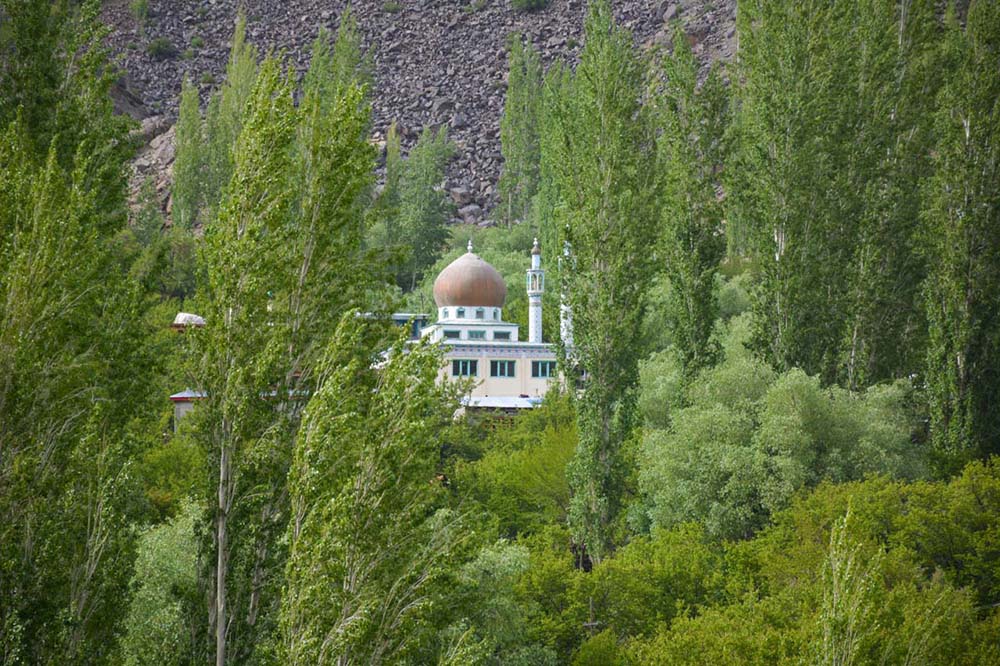 As I was riding, I saw an old bridge off the main road and decided to check it out. There were a few abandoned bunkers on both sides of the bridge.
Built-in Record Time by 12 Engineer Regiment on May-Sep 1969.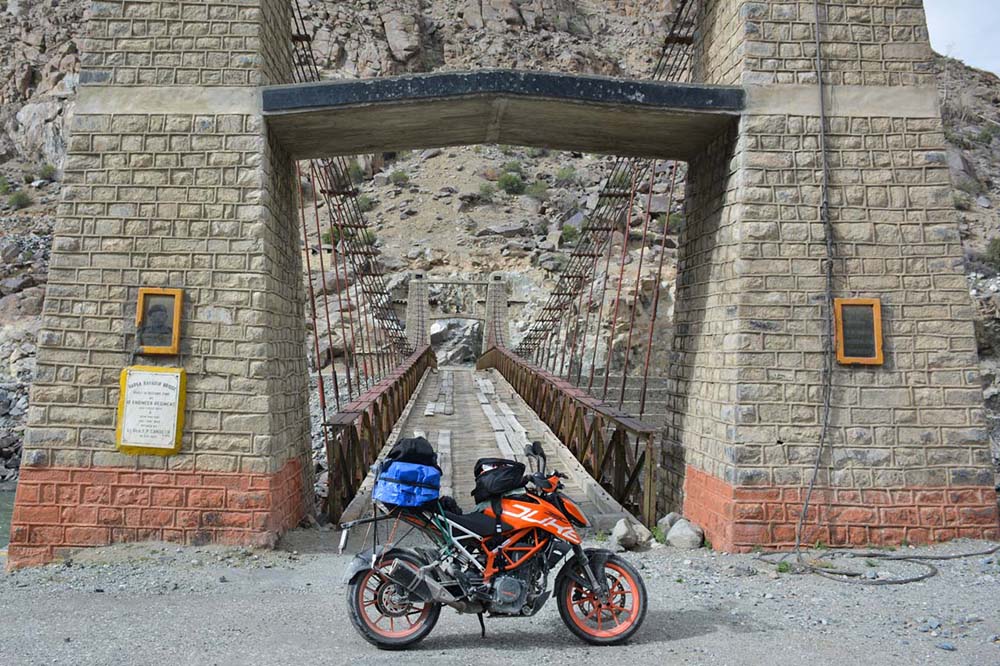 This bridge was named after Sub Harka Bahadur Rana MC of the 1st Battalion The 5th Gorkha Rifles (Frontier Force) who captured the bridge on 23 Nov 1948.
The bridge is dedicated to the memory of those gallant sons of the battalion who made the capture of the bridge possible by laying down their lives during operations in ZojiLa and Kargil in 1948.
Also Read: Srinagar to Kargil –  A Complete Travel Guide
Kargil
I had contacted a distant relative in Kargil for my night stay. But the whole BSNL network was down and I couldn't contact him and also, there aren't public booths. I asked about 6 people for directions, but it looks like people in Kargil really don't want to help.
I checked a few places with parking and all were over Rs. 1000 a night, which was much more than I would have liked. I finally found a place for Rs. 800, Afzal Guesthouse. It had a parking space and the room was clean with hot water.
View from the hotel room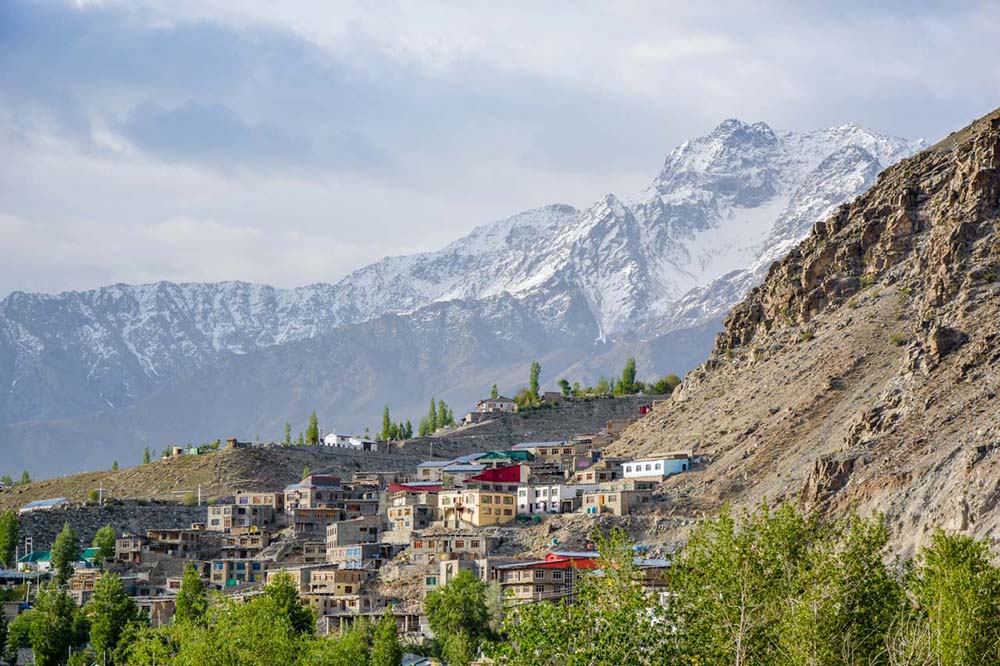 For Umba La, there is a clear marked board on the road in Dras. Road/track is mentioned on the board.
Day 4 – Kargil to Leh – 252kms
I Left Kargil at 7:15 am. I had already tanked up the evening before so fuel as well was not something to worry about.
Kargil town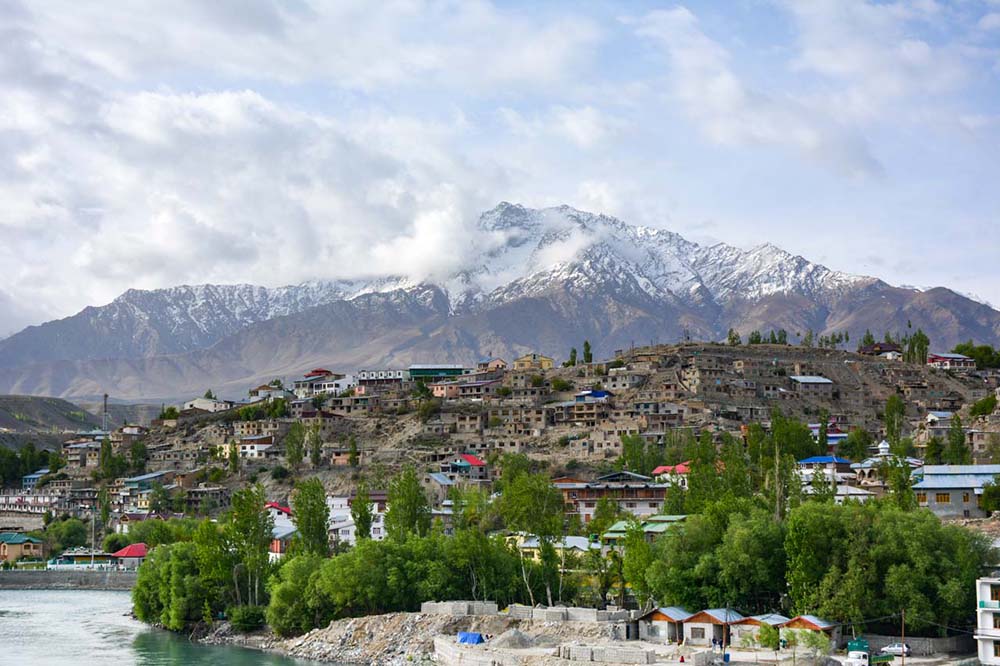 View of whole Kargil town
The weather was cold and the sun was playing hide-n-seek with the clouds. I stopped at Mulbekh, where I had the tastiest cup of tea on the whole trip.
The whole route of Kargil to Leh is full tarmac, even at La's (Fotu La & Namik La).
Namika La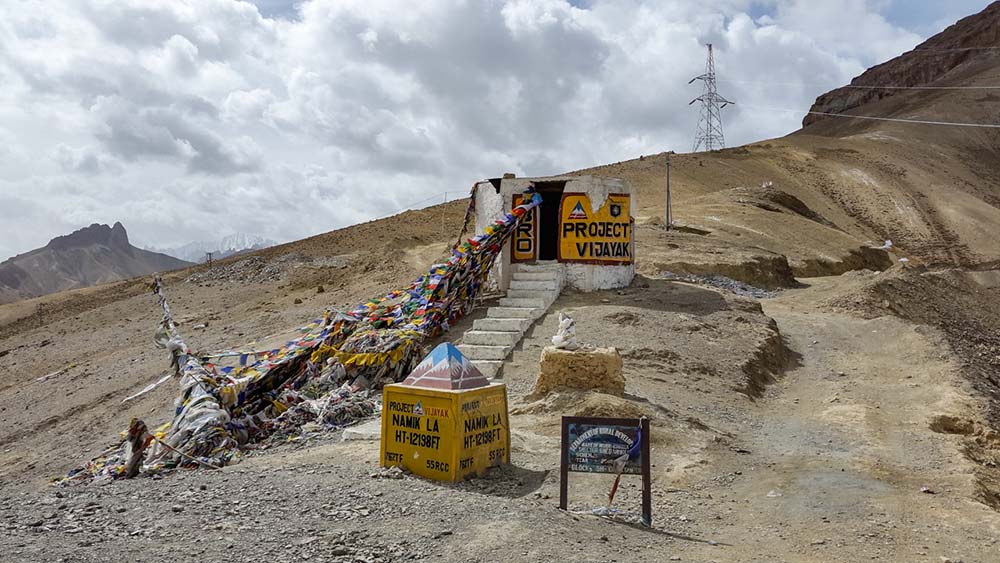 Fotu La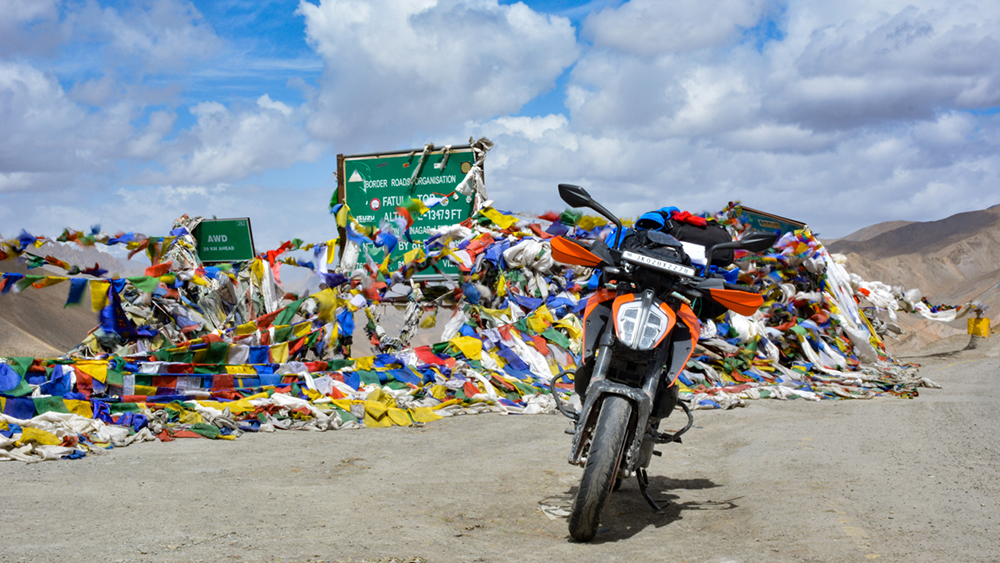 About 10kms before Lamayuru, I saw a track going up the mountain and there was a board mentioning Atise Monastery. I thought of taking the dirt route and then I saw a tarred road just beside it. It seems to have been freshly laid. Went up to the parking lot of the monastery, clicked pictures, and returned back. Got some pretty nice images.
Atise Monastery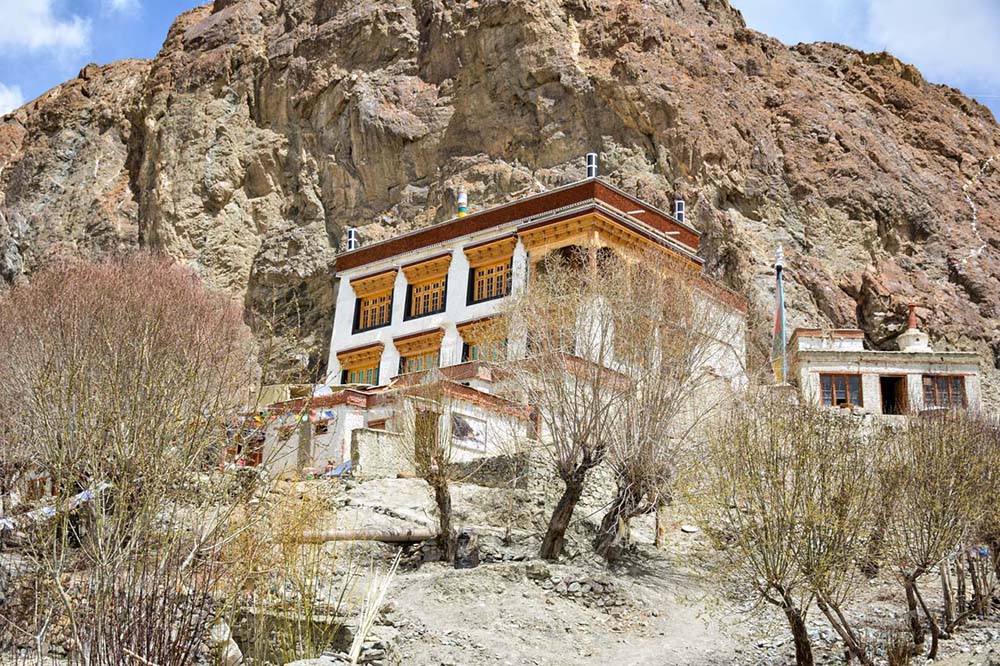 Lamayuru
I had lunch at a hotel in Lamayuru (bloody costly for a simple meal of chapati & mix-veg). I skipped visiting the monastery. The landscape around Lamayuru is amazing. Wind and rain have truly carved masterpieces there. Lamayuru seems to have an abundance of hotels & guesthouses.
Lamayuru Monastery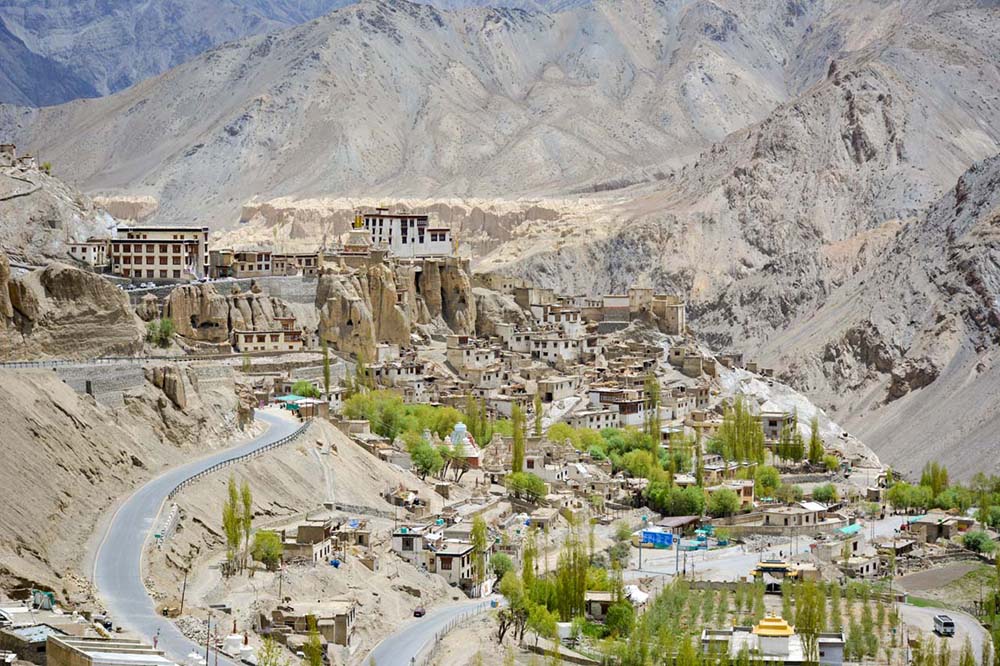 The Moonland at Lamayuru. Pictures don't do justice to the patterns of this area.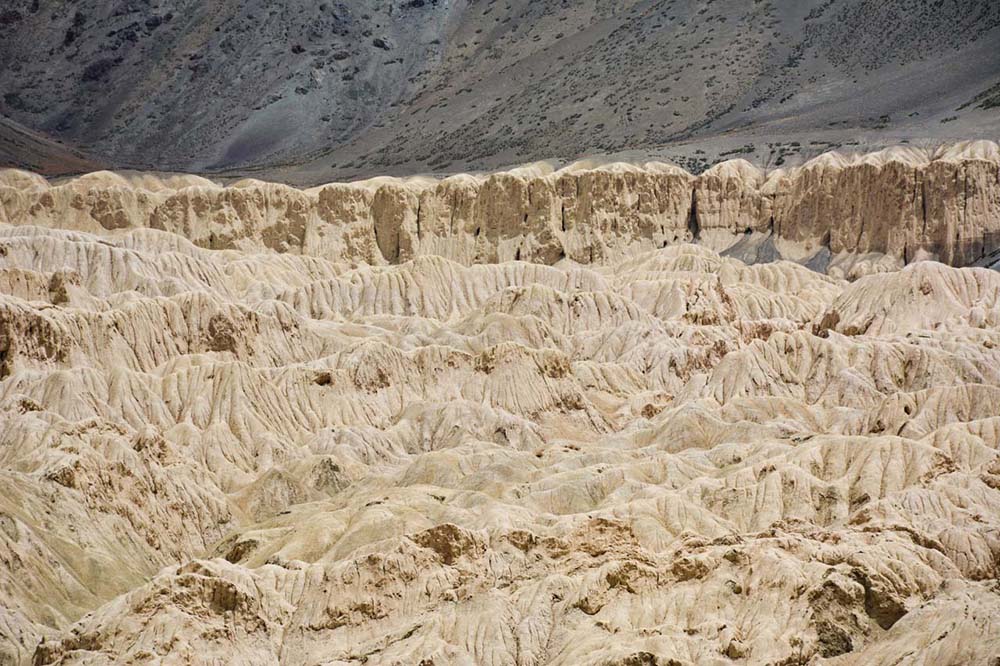 In came Magnetic hill, a few families were enjoying ATV rides there. I didn't stop here and somehow also missed Sangam (confluence of Indus and Zanskar Rivers).  I Paid my respects at Gurudwara Patthar Sahib and Hall of Fame. No pictures at both of these places.
Leh
I reached Leh at around 4:30 pm. I had booked a room at a government guest house here. Rested for an hour or so and went to Shanti Stupa. Beautiful place and offers an equally beautiful view of the town.
Went to the Main Market and stopped at IL-Forno rooftop restaurant. Ordered chicken fried rice. Pathetic to say the least. 190 for this and 60 for a cold drink (even though the print rate was only 35). 250 wasted here. Never visit this place.
Came back to my room, took a hot bath, and retired for the day.
Also Read: Sightseeing in Leh City
Day 5 – Leh – Diskit – Changmar – Hunder – Diskit – 228 km
I started from Leh at 7:50 am. It was very cold outside even though the sun was up. Soon I was on the road for Khardung La and started climbing. Took a few clicks in between and reached North Pullu.
I being a resident of JK state don't require any permit/permission and I was allowed to go after checking my ID. I had tea there and started riding. The wind chill was really bad. The road was good for now and it deteriorates a few kilometers before the pass.
Khardung La
And then came the famous Pass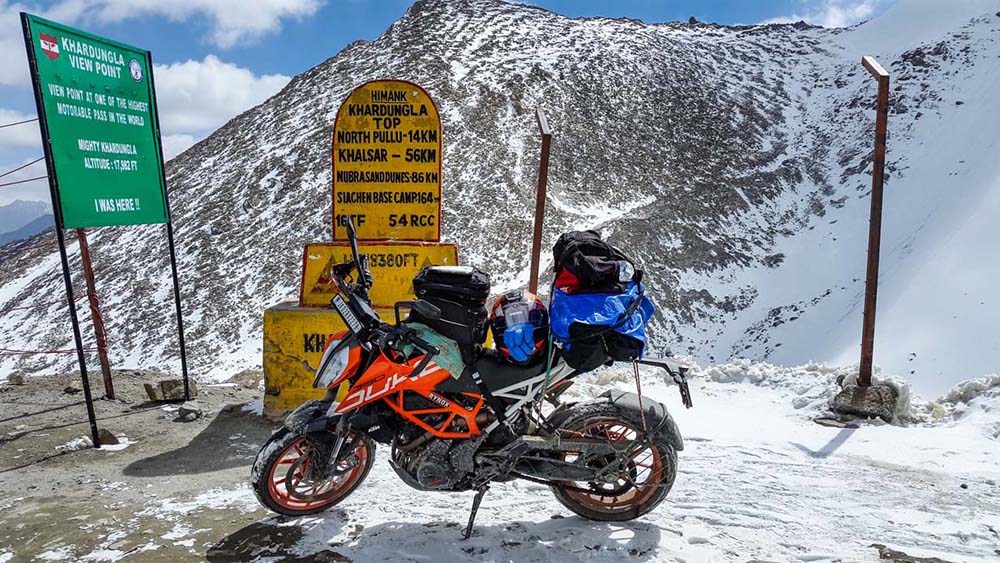 There were a couple of taxis there and people were taking turns clicking as many pics they wanted. Nobody was in any rush. I took a few pics and started riding down. The bad patch on this side is quite long and takes time to get down.
At South Pullu, I had an omelet and tea. There weren't many vehicles on the route or maybe I was early. Till I reached Diskit, I only stopped for pics and nothing much to share.
Nubra River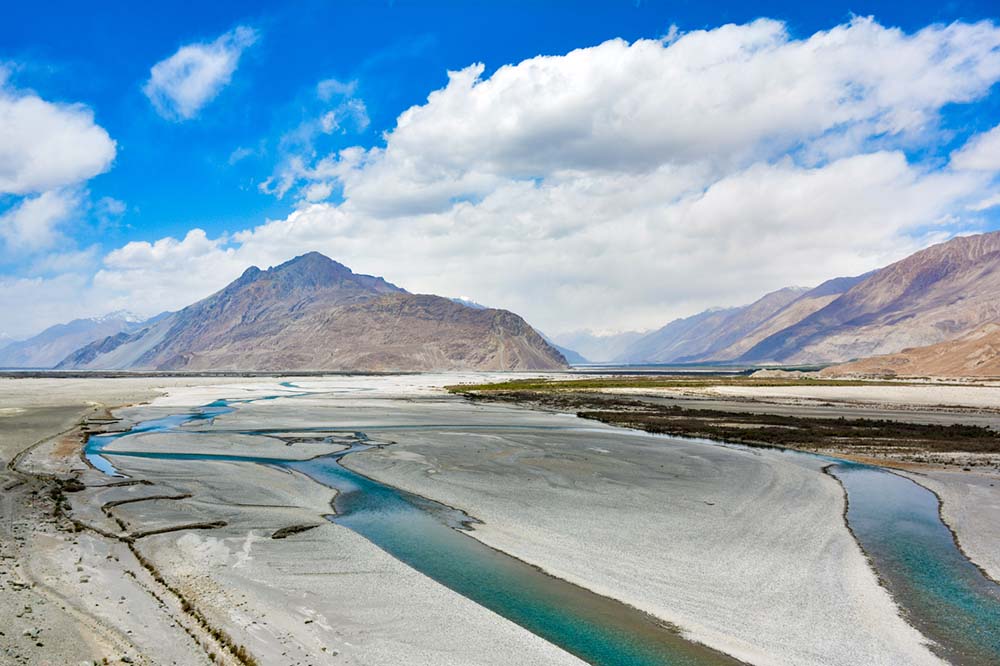 Diskit
I skipped going towards Panamik for today and went straight to Diskit. I reached Diskit at 2 pm. Here I had booked a government guest house and I was the only person in the whole building. It was here I got a call from home that I have to return back at the earliest.
Now one of my main reasons to visit Ladakh was to see the lakes of Pangong and Tso Moriri and I couldn't leave without seeing at least one of them. So I decided to visit Pangong the next day and return back to Leh by evening and then make a run for Srinagar. The rest of Ladakh will have to wait for the next visit. For today, I decided to ride on the Diskit-Turtuk road.
Also Read: How to Plan a Trip to Nubra Valley
Changmar Village
Freshened up and left the guesthouse at 2:30 pm and started riding towards Thoise airbase. It is an amazing place, but photography is prohibited. Thought of going a bit further and rode like this for over 50 km till Changmar village. The route is really awesome. There is a different landscape in this part.
A few kilometers before Changmar, there is a diversion for Warish (is same as Warshi which we have to go via Panamik). This bridge was on the same route.
Hunder Sand Dunes & Diskit Gompa
I also visited Hunder sand dunes. A dust storm was on and I couldn't stay for long. After that, I went to Diskit Gompa. The statue is really big and overlooks the whole of Diskit and Hunder. I returned to my room at 6:30 pm. Ordered Aaloo paratha and tea and called it a day.
Day 6 – Diskit – Pangong Tso – Leh – 320 km
I started riding at 7:20 am from Diskit. First I went to the pump and got extra fuel for the journey.  For my journey to the lake, I took the Agham-Shyok route. This route was much more remote than what I had imagined. Only a few cars were going with me and none came from the other side till we reached Shyok. No shops or any small villages in between.
Huge respect for BRO for making such roads possible. What may be remote for us, is a daily routine for them.
Coming to the road condition, it is good for the most part with bad patches here n there and some really bad sections. Huge landslides as well at a few spots. The road was washed out at some places, probably last year as there wasn't any water this time.
Also Read: How to Plan a Trip to Pangong Tso
Pangong Lake
I didn't take many breaks en route (nothing much to see except the landscape). Had food at Dembok and continued towards Pangong Tso. I was at Pangong at 11:40 am. There were quite a few people. I went a few km further down where I was alone. Found a track going towards the bank and spent about half an hour there.
Nubra disappointed me a bit. The place looks much better in pictures. But Pangong is different. Pictures don't do justice to this place. Now, this is only one of the many lakes in the region and I will go back just to visit them.
I left Pangong at 12:30 pm and started for Leh. Saw a couple of Kiangs near the Lake.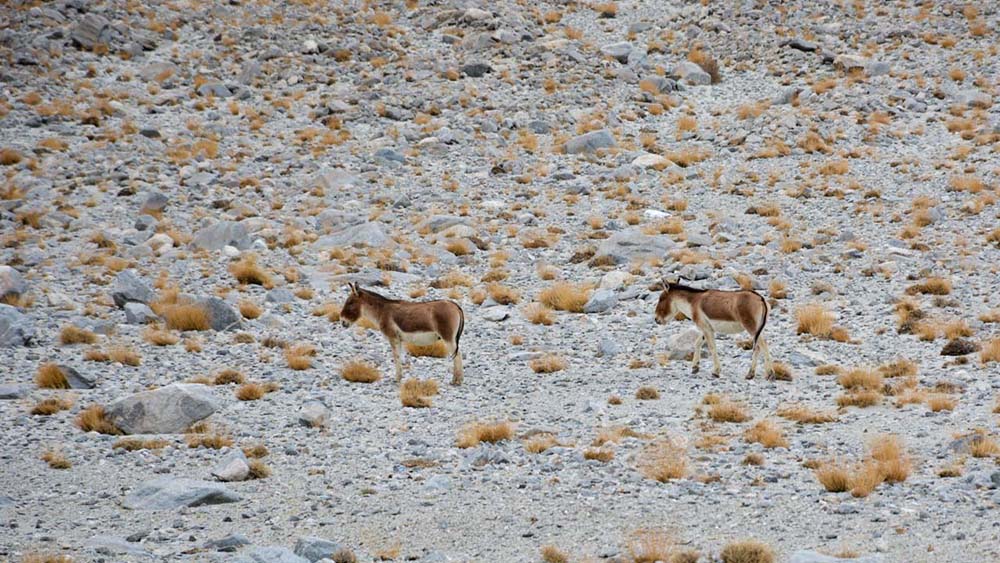 Chang La
For the journey back, the main attraction was going to be Chang La and it remained true to its 'mighty' tag. In terms of difficulty, this is many folds tougher than Khardung La.
It was very cold and windy up here. A couple of pictures and I resumed my journey for Leh.
Stakna Monastery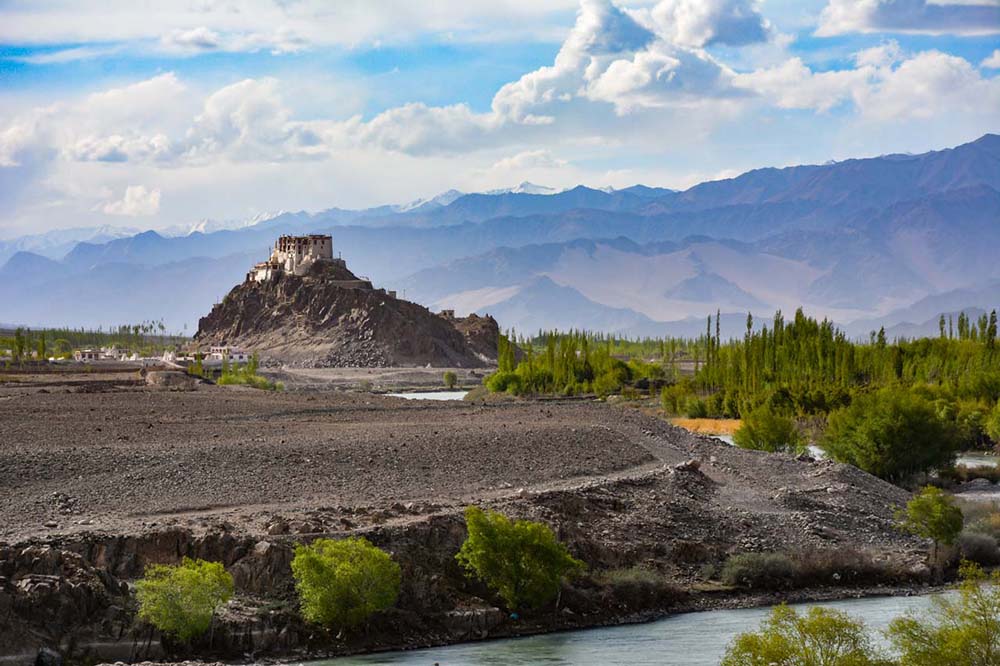 I reached Leh at 5:05 pm and went straight to the booked room and didn't go out after that. I wanted to rest for tomorrow's long haul. My Leh Ladakh bike trip from Jammu was coming to an end but I had no regrets that it was cut short. I knew that I will be returning shortly to explore more.
Day 7 – Leh – Srinagar – 420 km
This day was all about covering distance and reaching Srinagar safely. Throughout the day, I didn't take many stops unless necessary.
I woke up at 6:45 am, freshened up, and left at 7:10 am. I rode non-stop till Sangam point, clicked a couple of pictures, and rode again. After that, I rode non-stop till after Lamayuru where I had a couple of bananas and a bar of chocolate.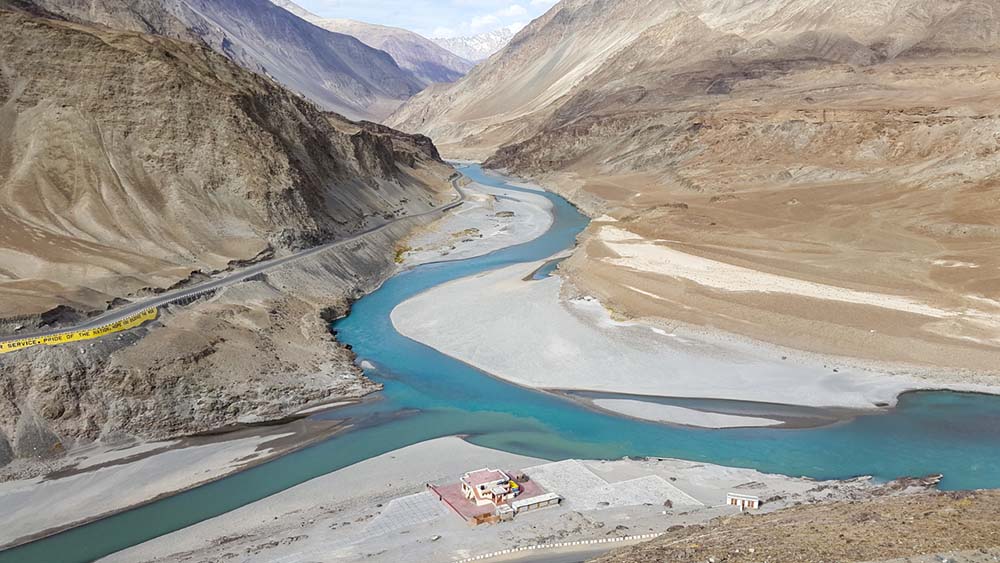 I reached Kargil at 11:25 am, tanked up here, and left immediately. I must have been only a few km from Kargil when it started to rain. It kept on pouring, sometimes heavy and sometimes drizzling.
I had lunch at a small village called Maitan before the climb to ZojiLa starts. The whole climb up was slushy, water n mud everywhere. Near the top, it started to snow and it got really cold.
Snowfall at Zoji La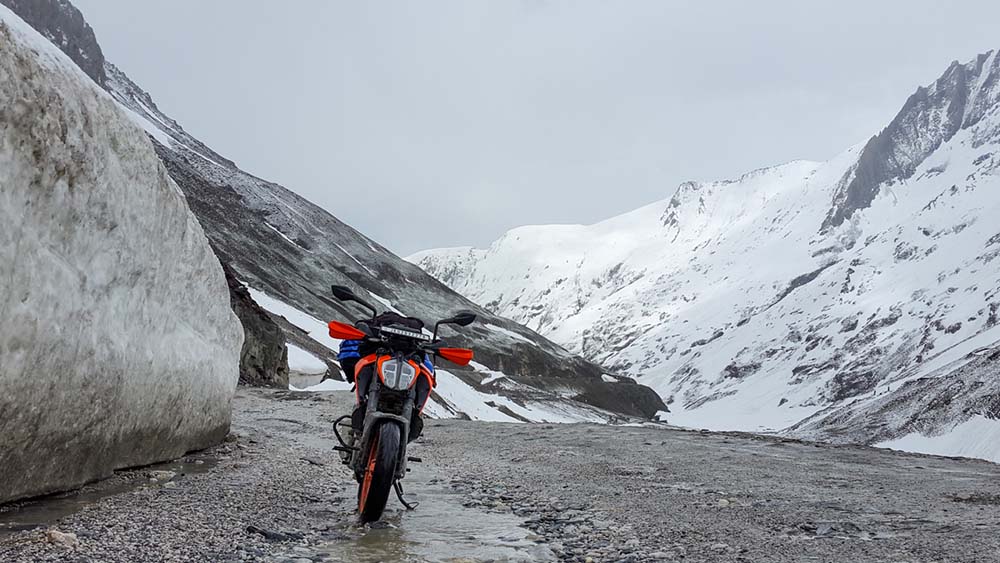 As soon as we reach the Zero point, the tourists rush starts and the infamous traffic jam of ZojiLa. Rain, snow, slush, taxi rush, trucks, army convoy, all add up and we get a huge traffic jam. I wasted over a couple of hours in the jam here.
And the traffic jam. There are many bottlenecks and the road is such that even a two-wheeler cannot pass.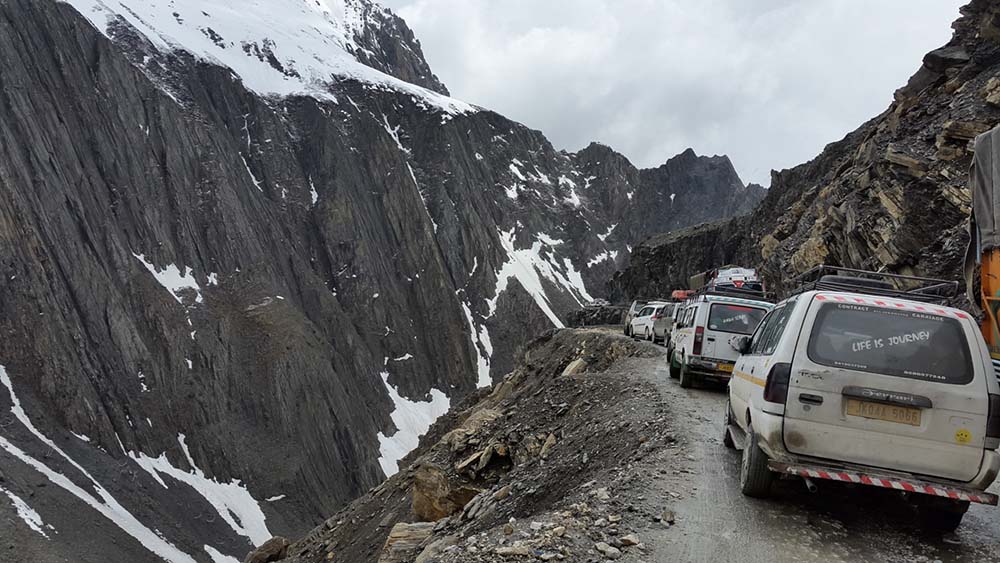 I reached my place in Srinagar a few minutes past 6 pm.
Leh Ladakh Bike Trip from Jammu – Conclusion
This concludes my short Leh Ladakh bike trip from Jammu to Ladakh. This thread was more of a photolog with a focus on pictures. I think all trips are somehow the same, with some minor differences. I penned down my thought in a short manner.
Unfortunately, I couldn't explore much but hopefully, in the near future, I will visit again and see the places more leisurely.
The bike performed exceptionally well even with the stock tires. No punchers thankfully. It returned a mileage of 27-28kmph and I overall spent approximately Rs. 6200 on fuel.
Most of the pics are from Nikon D5200 with 18-140mm lens and some from Samsung S5.
I hope the travelogue and pictures above were of help. If you have any questions or need any other details, please feel free to ask in the comments section below, or at our Community Forum and I will be glad to answer.