Ladakh bike trip with pillion or solo, if you ask me this question then a straight answer is that solo is better. And by solo, I do not mean that you ride all alone by yourself. What is mean is that it would be better if you were riding one motorcycle per person.
There are several reasons behind this. The entire region of Ladakh and both the highways leading here are tough on man and machine both. It is a test for the motorcycle's capability and the rider's skills. You will find that some of the roads here can literally be termed as a nightmare. A heavy motorcycle with tons of luggage, additional fuel, and a pillion will be tough to manage.
However, if a Ladakh bike trip with a pillion is the only choice you have for any possible reason, then mentioned below are a few things you must consider and prepare for.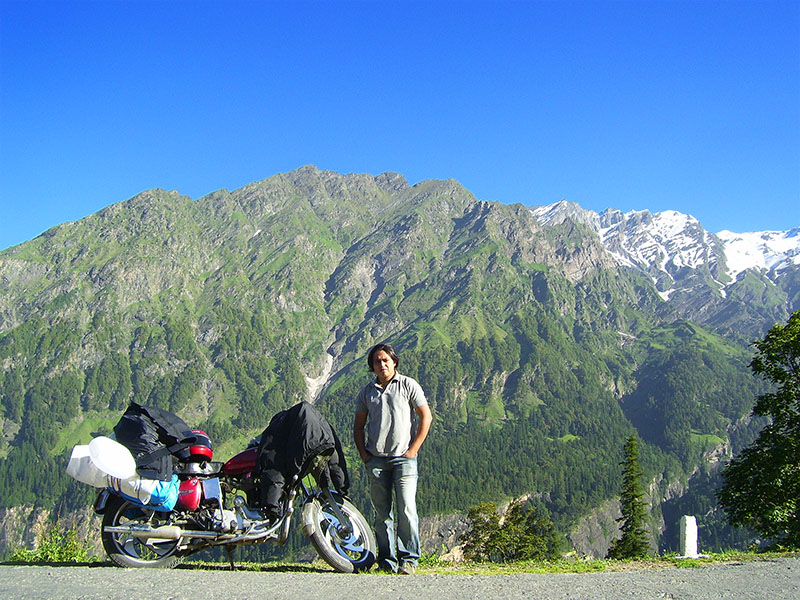 The first reason why I say that riding alone will be better is of convenience. Your bike will be lighter, easy to maneuver and you will be able to sit in a more relaxed manner. The ride quality too will improve. Roping all the luggage of 2 people on the same motorcycle too will then get avoided.
Sitting all day on a motorcycle is bound to get boring for the pillion; no matter how interesting or scenic the terrain is. On the other hand, riding the motorcycle and handling the challenging roads ahead is fun for the entire group if everyone had their own bike to ride.
Also read: How to Plan a Trip to Leh Ladakh
Ladakh Bike Trip With Pillion
With that being said, not everyone really has the option of riding solo and lots of people travel to Ladakh each year with a pillion; especially couples. Here is what you need to keep in mind while preparing for this ride.
Motorcycle
Several people including myself have traveled to Ladakh with a pillion. I have a Royal Enfield 350 CC but I have seen people here with a co-rider even on a 150 CC motorcycle. It all depends on how old your machine is and the condition it is in.
If your motorcycle is old, say about 6 -7 years or older, and is 150 CC or less, do not even think about taking it up there with a pillion. It would only give trouble, refuse to climb at steep ascents and you will end up getting frustrated. There will even be times when you will have to get off the motorcycle and push it up; trust me I have seen that happening.
If you have a motorcycle that is 200 CC or more, please get it checked thoroughly. Get the clutch plates changed and ask the mechanic to tune your engine for a strong pick-up. After you reach Leh, get your bike serviced before you start on your journey home. For more details, please take a look at How to Prepare your Bike for Leh Ladakh Trip?
Travel Light
Riding to Ladakh with a pillion means that It will just not be you and your co-rider on the motorcycle but the luggage as well. This will include your own bags plus a puncture kit, some tools, and additional fuel. Hence, it is extremely necessary that you travel light.
Think twice before packing about what is it that you will really need and what is it that you can live without for a few days. Anything that can be bought on the road should be avoided, except for the clothes and shoes of course.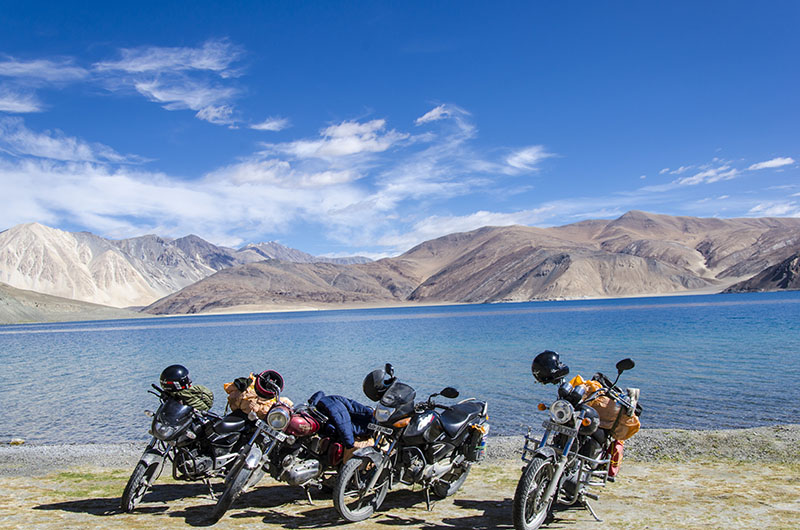 Itinerary
There are places where you just cannot go with a pillion, no matter which motorcycle you have and how excellent its condition is. Places like Marismak La, Wari La, and several other passes in the Changthang region are way too high. Here, the machine will just refuse to perform due to a lack of oxygen. If you have a pillion rider with you, you may want to strike off these places from your itinerary.
Also read: How to ride to Ladakh on smaller engine motorcycle or Scooter?
The seat of the Motorcycle
This is of utmost importance. Pillion rider seats of some motorcycles like Pulsar or RE Himalayan are a bit too narrow for long rides every day. If your bike falls in the same category then visit a nearby mechanic or someone who does seat work, and get a bit of cushion added to the rear seat. Otherwise, your pillion rider will keep complaining about their butt throughout the journey.
Riding
Be very careful around the turns and at water crossings. Ride in first gear if you have to but take the turns slowly. At water crossings, ask your pillion rider to get off and cross it on foot; while you take the motorcycle across.
Do not get off the tarmac and ride in dirt unless you do not have another choice. Do not indulge in unnecessary chitchat and keep your focus on the road.
If you are on a smaller engine bike then your riding skills at steep ascents will be put to tests. However, do not stress the motorcycle unnecessarily. If at any ascent, your bike starts to show signs of extreme stress then do not force it. Just ask your pillion to walk a little while you handle the steep climb.
Also read: How and Where to Rent a Bike for Ladakh Trip?
Leave Extra Luggage in Ladakh
Not everyone will be able to do this but if you can, keep a room at the hotel in Leh city. Leave your extra luggage there while you went sightseeing in Ladakh. Just carry some essential items and night clothes for visiting Nubra valley and Pangong and leave everything else in Leh itself.
This way, you will be able to ride light to at least these 2 places. While you start your return journey, just pick up the rest of your luggage from Leh and be on your way.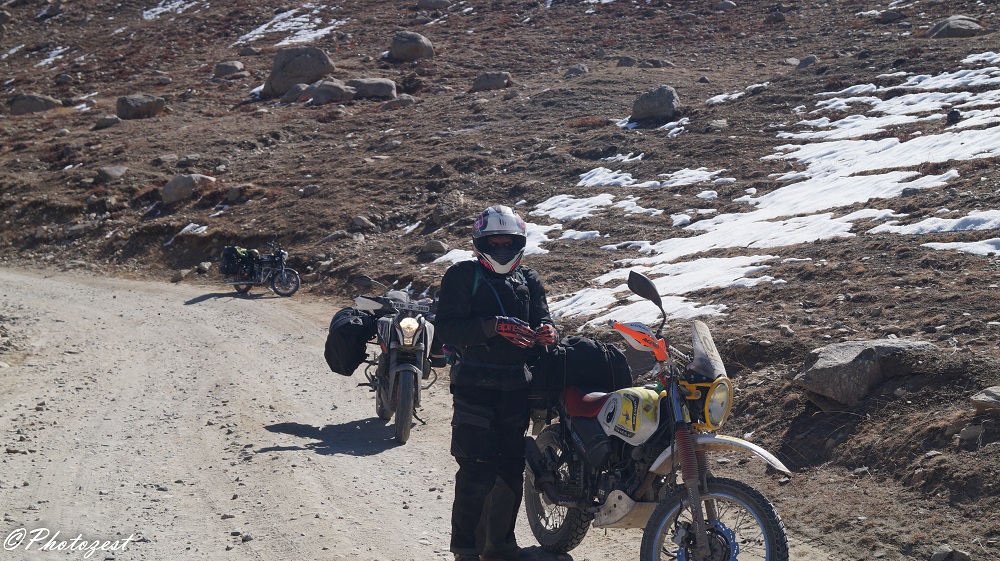 Learn Minor Fixes
Apart from this, please learn how to tweak your motorcycle a little, like tuning for increased pick up, removing the air filter, etc. In case your machine refuses to climb up, you can handle it on your own; at least for a while before you found a mechanic.
Another important thing you must keep in mind is that the more the weight you have on the rear wheel, the greater are the chances of a puncture. So you must carry a puncture kit, spare tubes and should know how to fix it on your own.
Make a reasonable Judgement
Think about why do you want to ride with a Pillion and then decide whether or not you should do it. A few reasons could be as mentioned below.
1. You want a pillion rider because of a budget problem; so that you can share the overall cost of the bike with some. If this is the reason then you may also want to consider traveling by public transport which will be equally fun and for a much smaller cost. Read How to Travel to Ladakh by Bus and Taxi Services for details on how you can do it.
2. You are going with Pillion because you have your lady accompanying you on the trip. In this case, hiring a private taxi for the trip can also be considered if the budget is not really a problem.
3. Lack of another machine could be a reason. You may be going with Pillion because there is just one bike available. In this case, a wiser choice would be to reach Manali or Srinagar and rent an additional bike from there for your pillion.
4. If you have a pillion rider accompanying you because the other person does not know how to ride a bike then either both of you can travel by public transport. In this case, if your motorcycle was of a smaller engine, then you can use it until Srinagar or Manali and rent an Enfield from there.
All 4 reasons are however applicable only when you think that your motorcycle is not capable of taking two people to Ladakh. If you are confident that it can last the trip then, by all means, bring it along.
Also read: Which is the Best Motorcycle for Ladakh Trip?
Best Bike for Ladakh Trip with Pillion
Without any doubt, a Royal Enfield will be the best motorcycle for riding to Ladakh with a pillion; be it a 350CC or 500CC.  The obvious benefit is of course of the larger engine; which will be a great advantage. You will have all the juice needed to make it up the steep climbs with all the weight.
A greater reason however is of overall seating position and space to mount the luggage. Both you and the pillion have plenty of seat to sit straight without leaning over each other. This becomes a must when you have to ride around all day long every day.
Another benefit is that it is easier to mount the luggage of two people and Jerry cans on an Enfield than it would be on other bikes like Pulsar.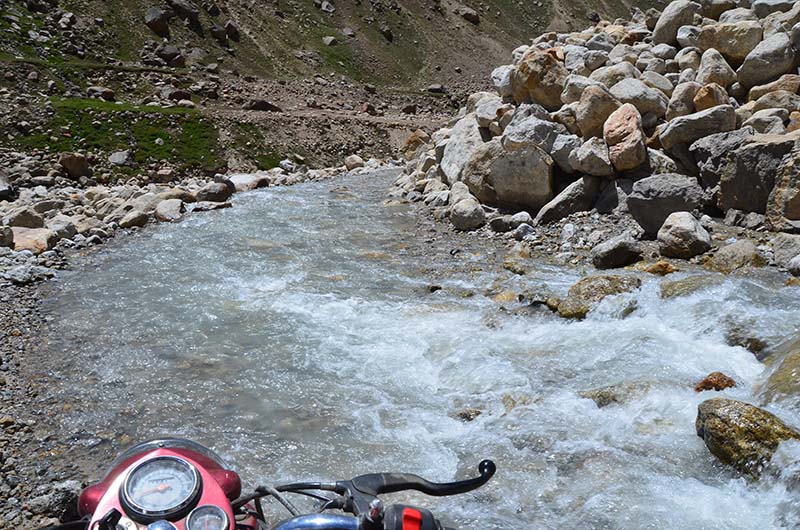 Is it safe to go on a Ladakh Bike trip with Pillion?
The answer to this question depends on how good of a rider you are. If you have experience on motorcycles, know how to handle a bike in the hills these yes, it is absolutely safe. No offense meant but you may also want to consider your overall physique and height for this. A person of short and thin built will definitely struggle to manage a heavy bike on sharp and steep turns.
Ladakh Bike trip with Pillion – Conclusion
I hope the information above on planning a Ladakh bike trip with pillion was of help. If you have any further questions, please feel free to ask in the comment section below, or at our Community Forum and I will be glad to answer.