When thinking about a trip to the mountains, most of the people in India will consider either Himachal, Uttarakhand or Kashmir. A major part of the Himalayas that often gets overlooked is the beautiful North-Eastern part of India. Though tourism here is actually on the rise, not a lot of people visit. States like Assam and Sikkim do get a fair share of tourists but only a handful of people would consider visiting Arunachal, Nagaland, Manipur, Meghalaya, Mizoram, and Tripura. While I will be covering these lesser-visited states in another article, in this particular post I want to talk about the beautiful town of Gangtok, the capital city of Sikkim.
Sikkim may be a small state in size but is a giant when it comes to natural beauty and cultural diversity. Nestling in the Himalayan Mountains, it is home to the summit of Kangchenjunga, the world's third-highest peak. Almost the entire state is a mountainous terrain with an elevation ranging from 280 meters (920 ft) to 8,586 meters (28,169 ft) in northern peaks near Nepal and Tibet.
Other than this, the state has over 80 glaciers, 28 mountain peaks, 5 major hot water springs, over 100 rivers and streams, 227 high altitude lakes, and 8 high mountain passes. So yes, a trip here is a dream come true for all kinds of tourists including families, bikers, trekkers and adventure seekers.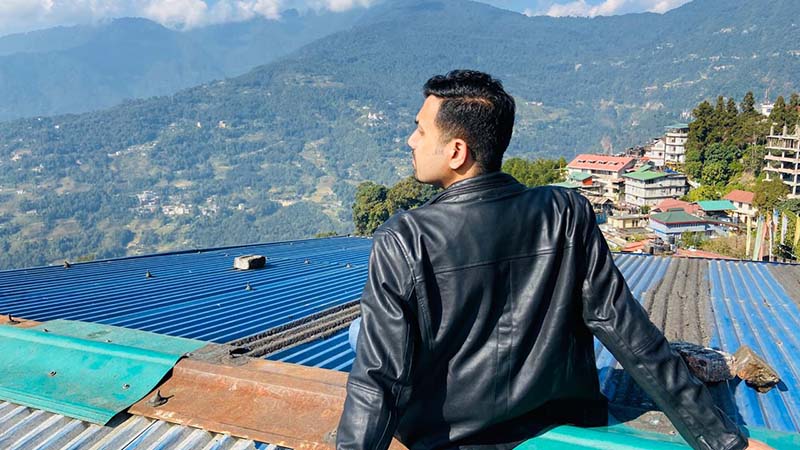 Gangtok
Gangtok is the capital and the largest town of Sikkim. At an elevation of 1,650 meters (5,410 ft), it is the center of Sikkim's tourism industry. It was once an important transit point for traders traveling between India and Tibet. Descending the hillside in steep tiers and providing a spectacular view of the Khangchendzonga, Gangtok acts as a perfect base for tourists traveling to various other parts of Sikkim.
Though now a busy administrative and business center, the town has not still lost its charm. Apart from stunning natural beauty consisting of plunging green valleys, water streams, and enchanting landscapes, Gangtok also has an interesting and cheerful mix of cultures and communities. There are several places in and around Gangtok that can keep its visitors busy for days altogether. What those places are and how you can plan a trip to Gangtok is what we will be discussing further in this article.
Also Read: How to Plan a Trip to Manali
How to reach Gangtok
Gangtok is a very well connected town and getting here is not going to be a problem at all. Depending on your own preference, you can either drive here by your own vehicle or arrive by either a train or flight.
How to reach Gangtok by Air
The nearest airport to Gangtok is the Pakyong Airport, located in Pakyong town, about 35 kilometers from Gangtok. It is a newly built airport that was recently inaugurated in September 2018. It is one of the five highest airports in India. From the airport, you can get a taxi from the prepaid counter for a drop to Gangtok town.
Other than Pakyong, the next nearest airport is in Bagdogra which is about 4 hours drive from Gangtok. Once you land at Bagdogra, you can rent a taxi for 2000 – 4000 for a drop to Gangtok, depending on the type of taxi you chose.
How to reach Gangtok by Train
The nearest train station to Gangtok is the New Jalpaiguri Junction railway station in Siliguri. It is a major railway station and all trains between Guwahati to rest of the country pass through here. You can easily find a train to New Jalpaiguri from almost every major city in India. Gangtok is about 125 kilometers from New Jalpaiguri and it takes about 3-4 hours to complete the journey.
How to reach Gangtok from Siliguri
Once you reach Jalpaiguri by train, you can find taxis from the railway station itself, for Gangtok that will charge you about Rs. 3000 for a drop.
Another cost-effective way would be to board a train from the railway station for the Siliguri bus stand. There are several buses available from Siliguri for Gangtok operated by Sikkim National Transport. All the buses start in the first half of the day though. The last bus leaves at around 12 noon and reaches Gangtok between 4 to 5 PM. Fare per person is Rs. 200 and you can buy a ticket on the spot from the ticket counter.
Shared taxis too can easily be found heading towards Sikkim from the railway station itself. A shared cab will cost between Rs. 200 – 300 per person. The driver may quote you a high amount initially and you will have to bargain it down.
How to reach Gangtok by Road
If you were traveling by your own vehicle, then you can easily drive to Gangtok by NH 10 which lnks Gangtok to Siliguri. Please note though that the condition of the roads around Gangtok is not that great. From Siliguri, you will reach Kalimpong and then continue driving to Gangtok.
Also Read: How to Plan a Trip to Shimla
Local Transport in Gangtok
The main Sikkim Nationalised Transport bus stand is near M.G. Road. There is another bus stand near Deorali Bazaar. From both these stands, you can get daily state transport buses nearby towns like Siliguri, Kalimpong and other local areas. The frequency of these buses is however not that great and the local taxis are a more commonly used mode of local transport.
For Tashiding, Yuksom and Pelling, buses depart from 07:00 and 12:30 from SNT bus stop. Hourly services are also available for some places like Jorethang, Namchi, Ravangla and Geyzing.
Private and Shared Taxis
Taxis, both private and shared, are the most common way of commuting in and around Gangtok. Depending on your own preference and budget, you can either book one taxi for the entire tour or use shared cabs for visiting particular spots.
One thing you must know is that commercial taxis from other states are not allowed in Gangtok. Deorali Taxi Stand, also known as Mainline Taxi Stand, is where a taxi from any other state will drop you at. From here, you will have to rent a local taxi to take you to your destination or to show you around. This taxi stand is located near Deorali Bazaar.
Vajra Taxi stand near Vajra Cinema Hall is where you can get a cab for local sightseeing. Another taxi stand is near M.G. Road. For visiting places like Tashi viewpoint, you can get a taxi from the taxi stand near the Children's park. For visiting Ranka Monastery and Ban Jhakri Waterfall, you can get a taxi from Ranka Taxi Stand.
Fares of the shared taxis in Gangtok are mostly fixed. The drivers however do tend to overcharge so ask around before you finalize with one. From Gangtok, it will cost Rs. 155 per person to get to NJP Railway station. Gangtok to Namchi is Rs. 110, Rs. 120 for Kalimpong.
Helicopter Ride in Gangtok
Yes, there is a helicopter service available in Gangtok for both moving in and out of town, and for local sightseeing. The helicopter service is known as Pawan Hans and is operated by Sikkim Tourism Development Corporation (STDC).
You can book a helicopter ride for reaching Gangtok from Bagdogra airport and vice versa. It is a journey of about 35 minutes and will cost you Rs. 3500 per person. A Helicopter can take a maximum of 5 people. You can call STDC @ 03592-203960 to inquire and book a seat. However, after the airport at Pakyong became operational, this service does not get used much as now the tourists can catch a flight direct to Pakyong which is barely 30 kilometers from Gangtok.
Local Sightseeing
A helicopter ride of approximately 15 minutes is available to give you a birds-eye view of Gangtok and the surrounding peaks. It will cost about Rs. 3000 per person. You can extend this flight further to cover Tsomgo Lake and even Kangchenjunga peak. The price will increase accordingly and you can call 03592-203960 to inquire and book.
Also Read: Mcleodganj – A Comprehensive Travel Guide and Itinerary
How to reach Gangtok in winter?
All of the ways to reach Gangtok that I explained above will remain applicable for the winter season as well. The only catch is that the roads towards high altitude places like Nathu La and Tsomgo Lake will get blocked at this time. But except for these places, the rest of the Gangtok remains completely open for tourists in the winter season.
Places to see in Gangtok
I have actually covered this topic in greater detail in another article, Sightseeing in Gangtok – Best Places to visit in Gangtok. But for a brief overview, below is a list of tourist attractions in Gangtok.
Kangchenjunga Peak
Seven Sisters Waterfalls
Nathu La Pass
Baba Harbhajan Singh Mandir
Tsomgo Lake
Himalayan Zoological Park
Gangtok Ropeway
Ganesh Tok
Hanuman Tok
Plant Conservatory
Tashi Viewpoint
Bakthang Waterfalls
M.G. Road
Do-Drul Chorten
Enchey Monastery
Lingdum Monastery / Ranka Monastery
Ban Jhakri Waterfall
Kanchenjunga Tourist Complex
Ridge Road / Ridge Park / Flower Exhibition Center
Rumtek Monastery
Tsuglakhang Palace Monastery
Saramsa Garden
Gonjang Monastery
For more information on all these places, please read Tourist Attractions in Gangtok and its Vicinity.
Things to do in Gangtok
Below is a list of tourist things that you can be a part of in Gangtok. Like places to visit, even this information is covered in more details in the tourist places in Gangtok article I provided a link of above.
White Water Rafting in Gangtok
Camping in Gangtok
Paragliding in Gangtok
Helicopter Ride
Motorcycling
Yak Ride at Tsomgo Lake
Trekking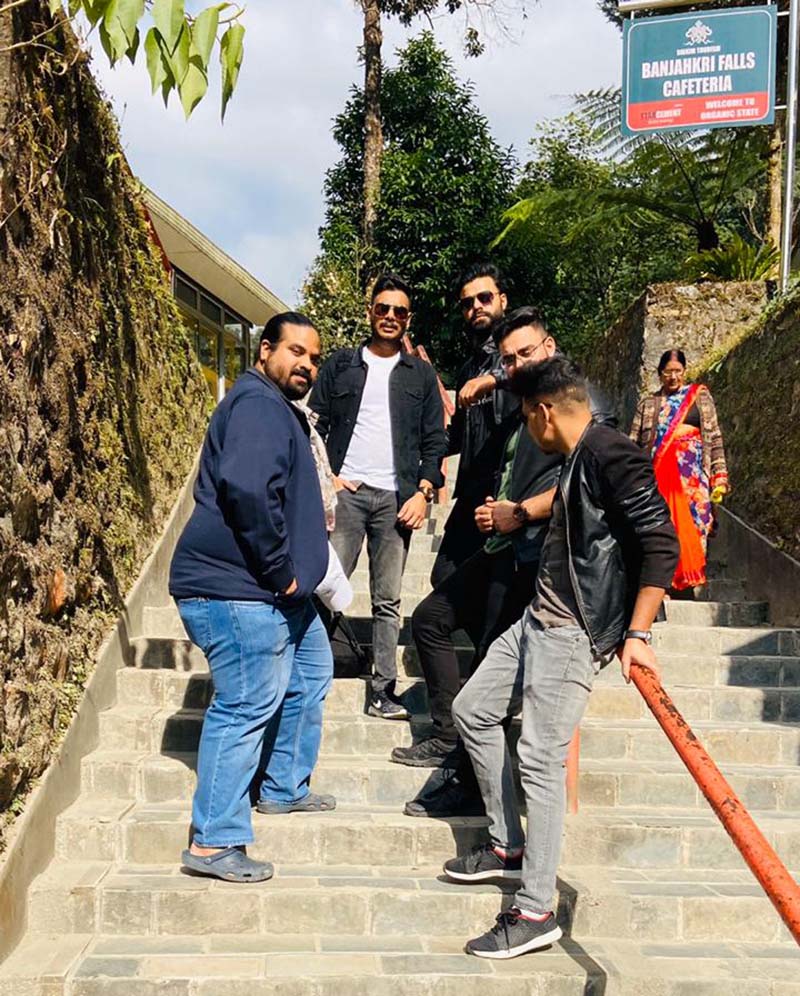 Where to stay in Gangtok
Accommodation is not going to be a problem at all in Gangtok, irrespective of the time of the year you arrive. The small town is a major tourist hub and as such, there is an endless list of hotels here. You can choose to either stay at the center of the town, like on or near Mahatma Gandhi Road, or a bit away from the crowd, on the outskirts of the town.
In terms of budget, assume a minimum of Rs. 1500 – 2000 as accommodation cost here. Finding a hotel below this amount is going to be really challenging, even in offseason.
I would not recommend booking a hotel in advance in Gangtok unless it was recommended by someone and you already knew that it was good. Like other tourist places like Shimla and Manali, there are a lot of tour agents and hotels here that talk big, charge much but offer poor and little. It will be better to arrive first, check out the hotels, find one per your liking, negotiate a deal and check-in.
Camping in Gangtok
If you would like to spend a couple of days in camps, then yes, you can do that as well. Campsites in Gangtok are mostly around River Teesta and in the surrounding jungle.
Also Read: How to Plan a Visit to Dharamshala
Where to eat in Gangtok
If you want to try some of the best foods that Gangtok has to offer, you must visit M.G. Road. Most of the good restaurants, eateries, and cafes are located here. Out here, you get a wide variety of foods. You can try Indian, western, Chinese, continental & other cuisines, both vegetarian and non-vegetarian. If you would like to stick to the Indian menu only, even then you will not be disappointed. Restaurants here serve some amazing north and South Indian dishes.
If you are a Jain, then I will recommend visiting a restaurant called 'Rasoi' on MG Road, near Sikkim Tourism Center. They serve a Jain Thali. There are several other pure vegetarian Veshno restaurants as well.
What to eat in Gangtok
It is really hard to name an item to try. The menu out here is vast and you will get the majority of Chinese, Indian, Tibetan and western menu. I will strongly recommend that you do not eat at your hotel and visit M.G. Road for your meals. Visit different restaurants and try something new; eat something you have never eaten before.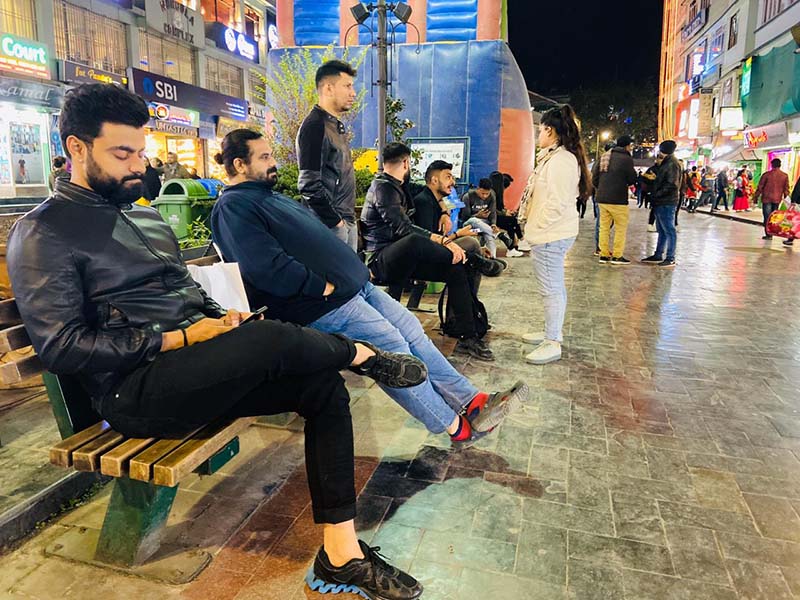 Shopping in Gangtok
M.G. Road is once again the spot you will visit for shopping as well. The market remains open from morning to late evening every day, except Tuesday.
The entire market is lined up with shops selling different items like traditional Sikkimese dresses for women, Thangkas, decorative Sikkimese Cups, woolen carpets, Buddhist Prayer Flags, foldable wooden tables, pot holders, tray mats, handbags, homemade pickles, Temi Tea and several handicraft items that you can buy as a souvenir. These are just a few items over the top of my head. The list is actually much longer.
Sikkimese cups are what I will recommend buying. These are really beautiful to look at and will not cost you more than Rs. 100 apiece at most. Another item that I will strongly recommend is Temi Tea. It is tea but grown locally and organically using orthodox methods.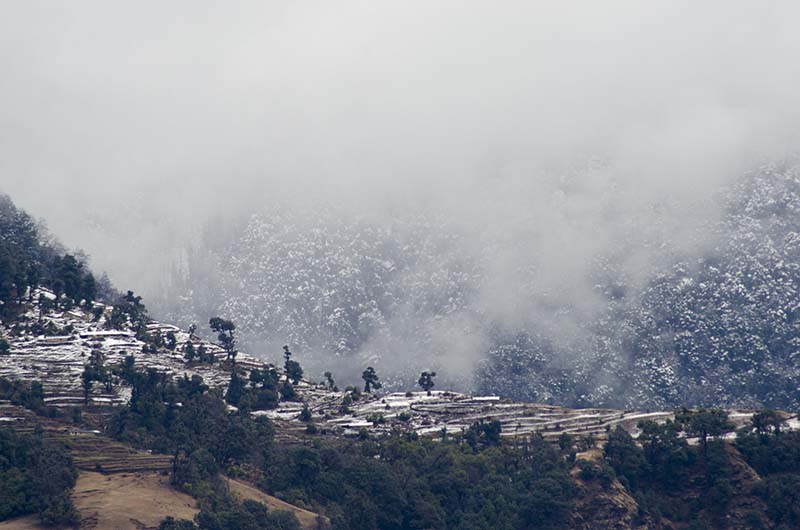 Weather of Gangtok
Because of its high altitude, this entire region experiences a mild and temperate climate all year long. The temperature here ranges from an average maximum of 22 °C (72 °F) in summer to an average minimum of 4 °C (39 °F) in winter.
Best time to visit
The months of March, April, May, and October are the best time to visit Gangtok. These are the months that will suit the majority of the tourists. This, however, may not be applicable to everyone. To see snow, you should come in January or February. For a budget trip, the months of July to September will be the best but the risk of the rain will also be there.
For visiting with family, March to May is a good time. January to March is best for a honeymoon trip. You should plan after April if you want to also visit Nathu La because the road to the pass remains closed in winter.
I have actually covered this topic in far greater details in a different article, When is the Best time to visit Gangtok that I will urge you to read.
Things to pack for Gangtok
Apart from other necessary items, the most important thing that you must not forget is a valid identity proof. If you have an Aadhar Card, bring that along. If not Aadhar, then any other government-issued ID proof will do but it should have your address on it. Without a valid ID proof, you will not be able to get a protected area permit to visit places like Nathu La.
Clothes
What kind of clothes you should pack will entirely depend on your time of visit. It can sometimes get pretty hot here during the summer season and you may not need even a light jacket. If you were planning a visit in March or April, just pack your regular cotton clothes along with a light jacket or a few light woolens.  A cap to cover your head and a muffler can come handy as well.
If traveling in May or June, pack your regular cotton clothes and one light jacket just to be on a safer side. For a trip from July to September, the monsoon season, you should pack clothes that can dry faster. If possible, carry an umbrella and raincoat as well. A couple of light woolens or a jacket can be useful during morning and evening.
If you were traveling in October and November, you will need to bring your woolen clothes and a good warm jacket. For a trip between December to February, you will need to pack heavy woolens. Some other clothes to pack would be thermals, a warm heavy jacket, good quality gloves, cap that can cover your head and neck both, a muffler, shoes & warm socks.
Also Read: Dalhousie – How to Plan your Trip & What to See !
Important Tip
Please note that you cannot rent winter clothes in Gangtok. But you can get snow gears like long fur coats, leather gloves, caps, etc or rent at places like Nathu La, Tsomgo Lake and Yumthang valley market. So if you were visiting in a non-winter month and had plans to travel to either Nathu La or Tsomgo Lake, you do not have to worry about packing heavy woolens. Just bring your light woolens and you can rent the snow gear for a few hours while visiting a high altitude spot.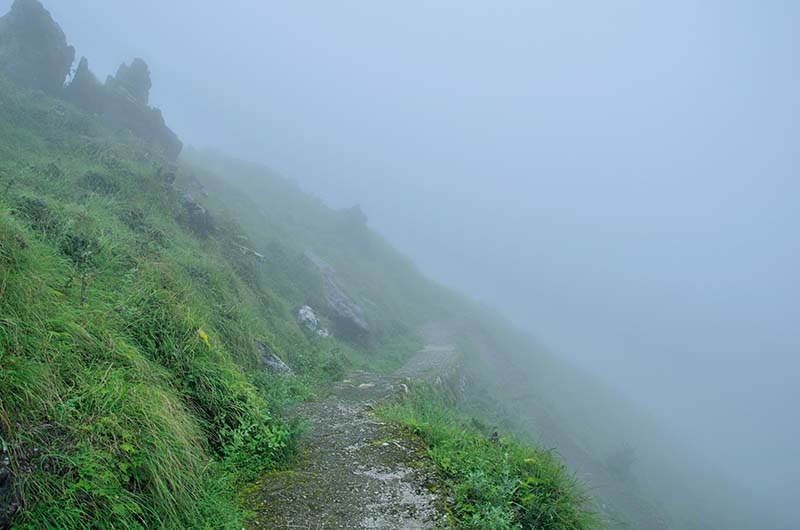 Road Conditions
Road conditions around Gangtok are a little bad. Once you cross Siliguri and approach Gangtok, roads will be average at best. This remains applicable to the main town and other sightseeing places as well. The average speed between Gangtok and other cities will not be more than 25 – 30 kilometers per hour.
Best Vehicle
Considering the condition of the roads, an SUV with good ground clearance will be a good choice for the trip, if you were driving on your own. With that being said, it is not absolutely mandatory and you can easily complete the trip even in a small hatchback as well. The only condition is that it must be well maintained and well serviced for the trip.
Also Read: Nainital – How to Plan your Trip & Explore
Itinerary for Gangtok
Below is an example of an itinerary that you can follow for your trip to Gangtok.
Day 1 – Arrive at Gangtok and arrange your permits. Rest and take a walk through the town. Visit MG Road, do some shopping, try some local food.
Day 2 – Visit Tashi View Point, Hanuman Tok, Ganesh Tok, Bakthang Waterfall, Chorten Stupa. Take a ride in Cable Car.
Day 3 – Visit Tsomgo Lake, New Baba Mandir, and Nathula Pass
Day 4 – Fly Out
Minimum Time needed for the trip
4 Days is what I will recommend at the least for visiting Gangtok. What I suggested above is a very simple itinerary that will cover most of the tourist places. If you had more time in hand, then you can stay for a couple of more days and cover Yumthang valley and Zero Point. You can also travel to Lachen from Gangtok and visit Gurudongmar Lake.
Why to visit Gangtok?
There are several reasons why you can consider Gangtok for your next vacation. The place is easily accessible, well connected, has good accommodation options, great markets to shop at and plenty of food to try. Unlike other major tourist destinations, you will find Gangtok to be really very clean.
It does not matter whether you were coming solo, with friends or family, a trip to Gangtok will never fail you. Tourist attractions here cater to all kinds of tourist groups.
Is it safe to visit Gangtok?
Yes, Gangtok is a very safe place to visit, provided that you too do not do anything that puts you in harm's way. People here are very simple and helpful. The place is well connected, has good medical facilities, cellphone reception, and is visited by a lot of families throughout the year.
Does it Snow in Gangtok?
Snowfall in the main Gangtok town is extremely rare. The average winter temperature here ranged between 5 to 7 degrees Celsius. However, the nearby high altitude places like Nathu La, Tsomgo Lake, Lachung, Lachen, Yumthang and Zero Point witness heavy snowfall in winters. For people who visit here wanting to see snow, a day trip to either of these places will well serve the purpose.
Also Read: How to Plan a Trip to Mussoorie
Bank / ATMs in Gangtok
Gangtok is a major town and all major banks provide banking and ATM facilities here.
Petrol Pumps / Mechanics
Petrol Pumps and mechanics will be available as well for both minor and major fixes.
Hospital / Medical Assistance
There are several hospitals in Gangtok and medical assistance will be easy to find if required.
Mobile Network in Gangtok and Data Connectivity
You will get a good cellphone reception in Gangtok, irrespective of which network you were on. Jio works best here followed closely by Airtel. In terms of data, you will get 4G Speed.
Other Tips
People of Gangtok really like their tea to be very sweet. You will have to tell them to put less sugar as per your preference.
You should avoid getting any tour packages from either the airport or the New Jalpaiguri railway station. They will provide you cabs in bad condition, lowest standard hotels and will definitely overcharge you.
Rather than buying a package, you should plan your trip all on your own. Rent a cab only for the desired destinations and book a hotel only after you have checked everything and negotiated a deal after bargaining.
Plastic bags are banned here. You cannot sell or use plastic bags in Gangtok.
Spitting or littering is a punishable offense. If found doing so, you will have to pay a huge fine. There are bins everywhere in the city for garbage disposal or spitting.
Smoking in public areas is not allowed and is a punishable offense.
Though Gangtok is safe for tourists, it is advisable to take a hotel in Gangtok itself and not in a remote area if you were traveling alone.
Conclusion
I hope the information above on visiting Gangtok was of help. If you have any questions; or need any other details; please feel free to ask in the comments section below; or at our Community Forum; and I will be glad to answer.