There are numerous tourist places in Gangtok. You can spend several days here  exploring the city and the nearby areas and will still not be done with it all. The entire city and the region offers numerous stunning wonders including mighty snow-capped mountains, lush green forests and valleys to inspire the awe out of you. Sightseeing in Gangtok means that by the time you are done with it, you will have truly experienced what it means to be out on a vacation and experience something new and beautiful.
Also Read: How to Plan your Trip to Gangtok – A Complete Travel Guide
Gangtok is a town that is capable of catering to a vast variety of tourists. For families, it is a perfect place to spend time with their loved one while enjoying the natural beauty, lively markets and different kind of foods. For the adventurous kind, you can treat yourself with activities like river rafting, paragliding, trekking and motorcycling.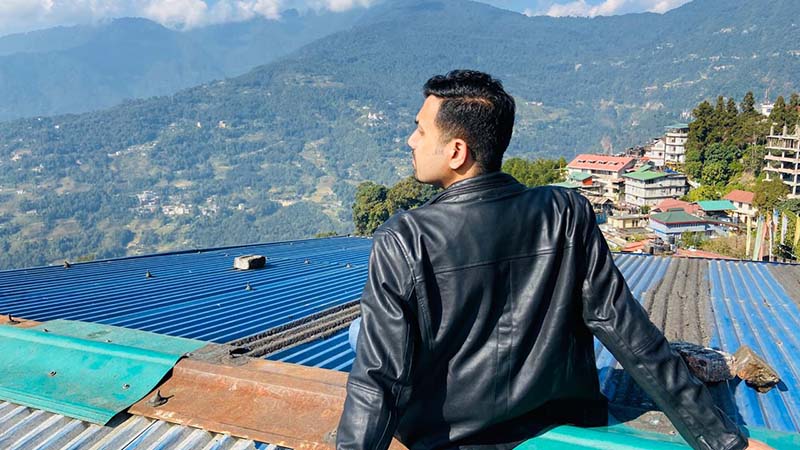 Places to see in Gangtok
Listed below are some of the best and must visit places in Gangtok. How many you are able to cover will entirely depend on the time you have in hand.
Kangchenjunga
Though not really in Gangtok, it is still the prime attraction of a visit here. Why? Because this mighty mountain is the third highest peak in the world. It was first scaled in 1955 but since then has been declared sacred. The name of the mountain literally means 'The Five Treasures of the High Snow'. On a clear day, four out of the five of its peaks can be viewed from many spots in Gangtok.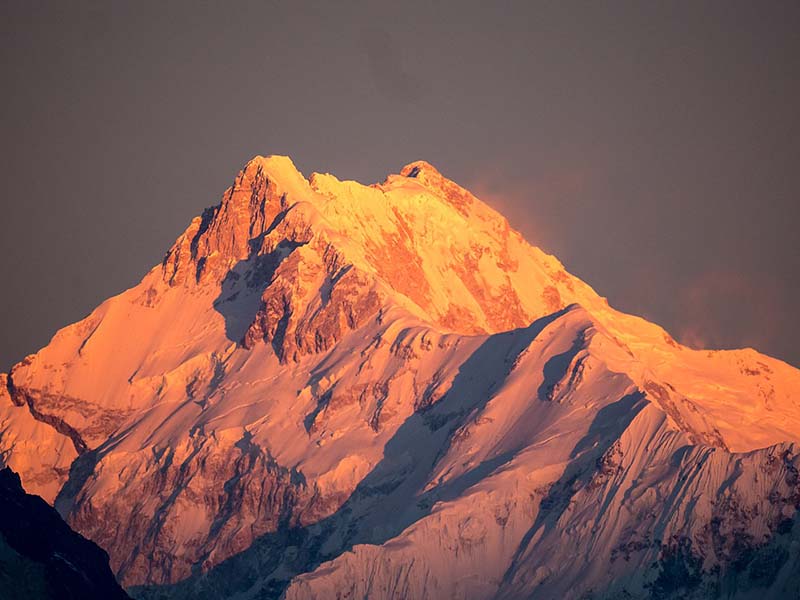 Image Credit: By Johannes Bahrdt
Seven Sisters Waterfalls
It is a set of seven different waterfalls right next to each other. The best time to visit here would, however, be during or after the monsoon season when the flow of the water is high. As the water falls down from 7 different points, it offers a truly majestic view. The view of the setting sun from here makes the whole scenery even more beautiful and is a paradise for anyone with an interest in photography.
Also Read: When is the Best time to visit Gangtok?
Nathu La Pass
Gangtok and Nathu La are almost like Manali and Rohtang La. Even the distance is about the same. At an altitude of 4,310 meters (14,140 ft), Nathu La is a high altitude pass connecting the Indian state of Sikkim with Tibet. It forms a part of an offshoot of the ancient Silk Road.
The word Nathu means listening ears and La means pass. It is located about 54 kilometers from Gangtok (Rohtang is 55 kilometers from Manali and that is why I said it is quite similar). Only Indian citizens are allowed to visit the pass and that too after obtaining a permit from Gangtok. For more information on the pass, please read How to Plan a Trip to Nathu La Pass.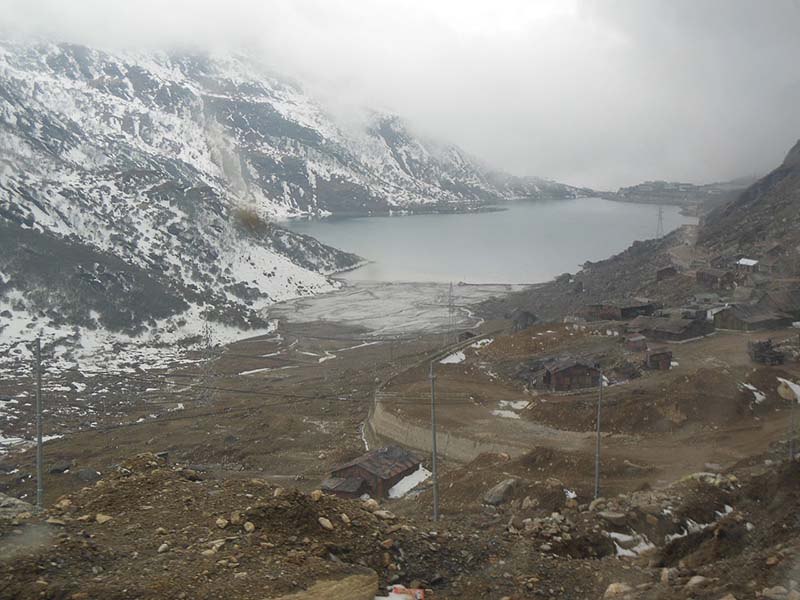 Image Credit: By Nishithmurab
Baba Mandir
Baba Harbhajan Singh Temple, popularly known as Baba Mandir is a small temple dedicated to Harbhajan Singh. He was a soldier of Punjab Regiment of the Indian Army and was posted here. In 1968, he disappeared and was feared to have drowned in one of the streams. It is said that a few days later, one of the other soldiers saw him in his dream asking to create a memorial in his name.
Hence, the Samadhi was then built which now is a popular temple known as Baba Mandir. The soldiers posted here believe that Harbhajan's soul still guards and protects thems in such harsh terrain.
This does not end here. There is a whole legend around the temple that is still in practice by the Indian Army which will definitely surprise you. To know more details, please read The Legend of Baba Harbhajan Singh Temple.
The temple is located between Nathu La and Jelep La pass at an altitude of 13,123 ft and about 52kms from Gangtok. A round trip to the temple will cost you about Rs. 4000 for taxi and 3 hours in total.
Also Read: How to Plan a Visit to Dharamshala
Tsomgo Lake
Also known as Changu Lake, it is a glacial lake located about 40 kilometers from Gangtok. At an elevation of 3,753 meters (12,313 ft), it remains completely frozen during the winter season. The lake is located near Baba Mandir and a trip here is usually a combination of Nathu La Pass, Baba Mandir, and Tsomgo Lake. A taxi for this will cost you about Rs. 6000 for a round trip.
A permit is required to visit the lake (and Nathu La as well) for which you need to go will need to contact a government authorized tour operator to organize the trip and get your permits. Private vehicles are not allowed to Nathu La and the lake so you will anyway have to rent a taxi.
The name Tsomgo is consists of two words. 'Tso' means lake and 'Mgo' means head. So the literal meaning of the name of the lake is "source of the lake". A round trip from Gangtok to the lake will take you about 4 to 5 hours. If you combined it with Nathu La, it is an entire day trip.
Himalayan Zoological Park
Himalayan Zoological Park will definitely be at the top of every list of tourist attractions in Gangtok. Spread over an area of 205 hectares and at an altitude of 1,780 meters, it is the first Zoological Park of Sikkim.
What makes the park one of a kind though, is that it has been established to preserve wildlife without changing their natural habitat. So out here, you will not find animals in cages but in replicated natural conditions. It is home to several rare animals like Snow Leopard, Himalayan Black Bear, Himalayan Red Panda, Monal Pheasant, Goral, Himalayan Palm Civet, and Crimson-Horned Pheasant.
The park is located at a distance of 4 kilometers from Gangtok. It is closed on Thursdays but remains open on all other days from 9 am to 4 pm. There is an entry fee of Rs. 25 per person. The best time to visit the park is from February to May and September to December. Zoological Park also provides an awesome view of Mt. Kangchenjunga.
Gangtok Ropeway
This 1 kilometer long Cable Car is one of Gangtok's greatest attractions. The ropeway was inaugurated in 2003 and has been one of the most favorite tourist activities in town. It is open from 9.30 AM to 4.30 PM every day. The ticket is Rs. 110 per person and Rs. 70 for a child of under 6 years of age. Kids below 3 years can ride for free. If you are carrying a video camera, you will have to pay an additional Rs. 100.
The 1 km long ride is broken into three parts. The ride starts from Deorali, near the Institute of Tibetology. The second station is at Namnang and the top station is in Tashiling. One way ride from Deorali to Tashiling is a matter of about 10 minutes but offers a stunning birds-eye view of the entire town and surrounding peaks.
Please note that there are no seats in cable cars and you will be standing for the entire ride. During the tourist season, it gets a little crowded and you will have to wait in a queue for your turn. Each cable car can hold 24 passengers but that feels a little too stuffed and crowded.
Also Read: Mcleodganj – A Comprehensive Travel Guide and Itinerary
Ganesh Tok
The word 'Tok' means temple so Ganesh Tok is a small temple dedicated to Lord Ganesha. But more than the temple itself, the place is known as a viewpoint. It is located at an altitude of 6,500 ft and right next to a huge TV Tower. The temple is just a small one but right next to it is a viewing lounge with glass panels. From here, you can get a stunning view of Gangtok, rolling Hill, snow-capped and eve Mt. Kangchenjunga if you were lucky and the weather was clear.
Do keep in mind though that you will have to climb a set of stairs to get here. Half along the stairs, you will also be required to remove your shoes. There is no admission fee; but you can donate some amount if you wish to. There is a balcony around it which is even better for the views. There is also a gift shop here where you can buy some handicraft items as a souvenir. A cafe is also available to get something to eat and drink.
Ganesh Tok is about 5 kilometers from Gangtok. You can rent a local cab from the town to get here. Shared cabs are available as well. Right opposite Ganesh Tok is the entrance of the Zoo so you can actually cover both these places together. Next to Ganesh Tok is a Pinetum garden where you can talk a walk and spend some time.
Hanuman Tok
As the name would suggest, it is a temple dedicated to Lord Hanuman. As the legend goes, Lord Hanuman rested at this spot while he was flying on his way back to Lanka with 'Sanjeevani' herb for Lakshman. Now the temple is popularly known as a wish-fulfilling temple and is maintained by a unit of the 17 Mountain Division of Indian Army.
The temple is located at an altitude of 7,200 ft and 11 kilometers from Gangtok. It is widely regarded as the best viewpoint in the entire city. The road to the temple bifurcates from Gangtok-Nathula Highway and you will then have to climb a set of stairs to get to the top. The climb, however, is quite an easy one.
There is no entrance fee to either the temple or the viewpoint. There is also a Shirdi Sai Temple located here near the Hanuman Temple.
Plant Conservatory
The plant conservatory in Gangtok is located about 12 kilometers from the town on the road that connects Gangtok to Hanuman Tok. It is basically a park or an exotic garden if you speak in a very simple language that is home to over 400 species of plants and trees. There are well-laid paths in the park and placards to help you identify the trees.
When in full bloom, this park is a feast for eyes and a photographer's paradise. There are beautiful ponds and small bridges that give the park a picturesque setting against the lush green backdrop of the mighty Himalayas. It is open from 9 AM to 4 PM every day and is a good place to visit.
Tashi Viewpoint
It is another viewpoint about 8 kilometers from Gangtok. It is best known for the stunning view of sunrise that it offers. On a clear day, you can also view Mt. Kanchenchunga from here but viewing the sunrise from here is really an unforgettable experience. You can hire a local cab from Gangtok to bring you here the next day before sunrise. There is a small shop here serving tea and other snacks so you can even have your breakfast here itself while enjoying the view.
Please note that in order to reach the viewpoint, you will have to climb a steep set of stairs. There is a mounted binocular and telescope that you can use to get a closer view of the surrounding peaks.
Also Read: How to Plan a Trip to Shimla
Bakthang Waterfalls
This waterfall is located on the way to Tashi Viewpoint and about 3 kilometers from the main town. It is an amazingly beautiful waterfall and a must visit for anyone coming to Gangtok. The height of the fall isn't much but the water spreads over the rocks as it comes down, increasing the width of the fall, and making it look spectacular. If you are into photography, try a long exposure shot and you will love the results.
Rappelling is also offered here for a short distance for Rs. 100 per person. The fall is located right along the road so you do not even need to take a diversion for it. Just take a short break, click some pictures and be on your way.
M.G. Road
Short for Mahatma Gandhi Road, M.G. Road is basically the mall road of Gangtok. Vehicles are not allowed and it is a pedestrian-only road best known for its shops and restaurants. It is a great place to take a walk on at night to try some local food and do some shopping.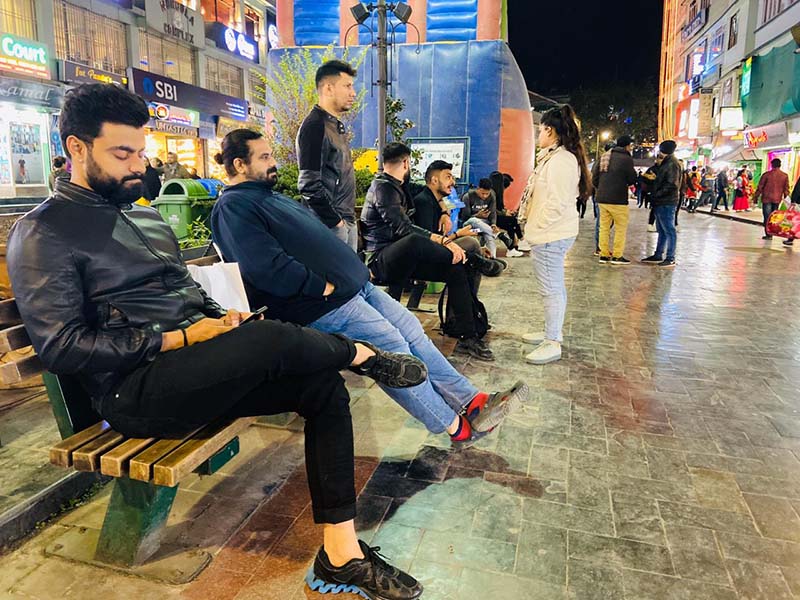 Do-Drul Chorten
It is a stupa that was built in 1946 and is widely considered as one of the most important chortens in Sikkim. It is surrounded by 108 prayer wheels and was built to rid the place of evil spirits.
Enchey Monastery
It is one of the most known and recognized monasteries of Sikkim. It is believed to be over 200 years old. The current structure was built in the year 1908 by the 10th King of Sikkim in the Chinese Pagoda style. Detor Cham is the colorful and vibrant Cham dance festival held in the monastery each year on the 18th and 19th day of the 12th Lunar month of the Tibetan calendar, corresponding to the dates during December, January or February.
The monastery is located about 4 kilometers from the main town and is open for visitors from 9 am to 5 pm on all days. The name Enchey Monastery literally translates as "Solitary Monastery". It is believed that that Khangchendzonga and Yabdean – the protecting deities of the region – reside in this monastery.
Also Read: How to Plan a Trip to Manali
Lingdum Monastery / Ranka Monastery
Lingdum Monastery, also known as Ranka Lingdum or Pal Zurmang Kagyud Monastery, is located about 18 kilometers and an hour's drive from Gangtok. It was built in 1999; and is one of the most scenic ones. It is a fairly large multi-story monastery built over a vast area. It is home to several beautiful murals; and follows the Zurmang Kagyu tradition of Buddhism.
The monastery is located on the way to Rumtek Monastery and both places can be covered together. You can also cover Ban Jhakri Waterfall on the way. It remains open for tourists every day from morning till evening. You can also get a beautiful view of the sunset from its terrace. There is also a gift shop and a restaurant located here.
Ban Jhakri Waterfall
This waterfall is located about 7 kilometers from the main town and near Ranka Monastery. The water is about 100 ft in height and is a popular picnic spot. There is also a man-made lake here where you can even go boating.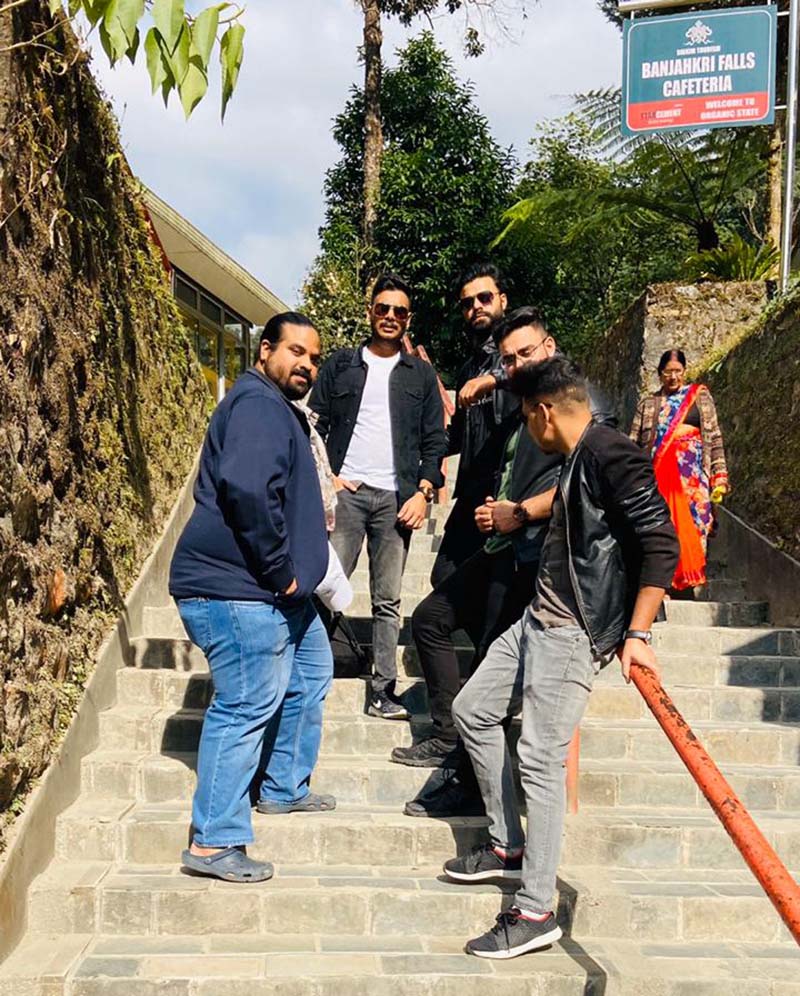 Kangchenjunga Tourist Complex
This is an amusement park that also has the option of accommodation available. It is located near Ranka Monastery and Ban Jhakri waterfall, about 15 kilometers away from the main town. If you are traveling with family and have kids in the group, it is a good spot to spend some time in. Your kids will absolutely love it here. If within budget, you can also chose to stay within the complex, or else just make a day trip.
Ridge Road / Ridge Park / Flower Exhibition Center
If you like flowers or are into photography, then you just cannot miss visiting the flower exhibition near The Ridge. There is an entry fee of Rs. 10 per person and the center remains open from 9 am to 5 pm daily. The Ridge is basically a road just above the Gangtok town. Right next to the Ride Road is the Ride Park, full of flowering plants. At the end the Ridge Park is the Flower Exhibition Center.
They also hold an annual Orchid show and the best time to visit would between March to June when the Orchids are in full bloom.
So basically a trip here would have you visit The Ridge Road, The Ridge Park and Flower Exhibition Center. The Chief Minister's residence also is located on the Ride Road.
Also Read: Dalhousie – How to Plan your Trip & What to See !
Rumtek Monastery
It is the largest monastery in Sikkim. It is located about 25 kilometers from Gangtok and a little ahead of Lingdum Monastery. At an altitude of 1500 meters, it offers a stunning view of the whole Gangtok city on the opposite hill.
Please note though that you will have to walk uphill for about 1 kilometer to reach the main monastery building. There is an entry fee of Rs. 10 per person. The monastery remains open on all days from morning till evening. There are a few stalls selling tea, snacks and some handicraft items that you can buy as a souvenir.
Reaching Rumtek Monastery is fairly easy as well. You can either rent a private taxi which would be the most convenient option, or you can also board a shared cab from the main taxi stand. There is also a daily bus available from Gangtok for the monastery.
There are also a few guesthouses quite close to the monastery. A lot of people actually prefer to stay here during their trip and avoid the main Gangtok town which can sometimes feel a little crowded, especially during the main tourist season.
Tsuglakhang Palace Monastery
Also referred to as Tsuklakhang Palace or Tsuklakhang Royal Chapel and Monastery, it is the royal palatial monastery that has seen a glorious past. It has served as a location for coronation, marriages and victory ceremonies for the kings of Sikkim.
Saramsa Garden
This is another spot in Gangtok that has a touch of Royalty to it. Located at a distance of about 15 kilometers from the main town, this was established in 1922 to grow fruits for the Royal family of Sikkim. An admission fee of Rs. 10 per person is applicable for this garden. A drive from Gangtok to Saramsa will take about 45 minutes to reach.
Gonjang Monastery
This is another beautiful monastery located near Tashi View Point. The full name of this monastery is "Ugyen Dongak Chokhorling Gompa". It is considered as one of the main tourist attractions in Gangtok town. A trip here can cover both the monastery and Tashi viewpoint.
What to do in Gangtok
Actually, after visiting all of the above mentioned places, you would have covered majority of the things to do in Gangtok. This will easily take you several days to complete but if you were craving for more, then listed below are some other tourist activities in Gangtok that you can be a part of.
White Water Rafting in Gangtok
Rafting on River Teesta is one of the most popular tourist activities in Gangtok. You can find several operators in Teesta Bazaar area offering rafting and camping both. The best time for rafting would be anytime from October to May. June to September is considered riskier months for rafting as the water level in the river increases due to the monsoon season.
Also Read: Nainital – How to Plan your Trip & Explore
Camping in Gangtok
A lot of tourists take up a deal package where they enjoy rafting and camping both. There are several sandy beaches along the river that offer an ideal site for camping. Even if you do not want to go rafting, you can still spend a day of staying in a campsite.
Paragliding in Gangtok
There are two types of paragliding options available in Gangtok. The first one is Medium Fly when you fly at an altitude of about 1400 meters maximum. The second is High Fly when your altitude goes up to about 2,200 meters.
Paragliding in Gangtok is rapidly gaining popularity among tourists. Medium Fly will cost you about Rs. 2500 and High Fly will cost about Rs. 4500 per person for a total flying time of 20 to 30 minutes.
Helicopter Ride
Yes, this is a thing here as well. You can rent a Helicopter in Gangtok to take you over the mountain ranges and give you the best bird-eye view of Sikkim.
Motorcycling
No, you do not have to bring your own bike for this. There are several motorcycle rental agencies in Gangtok you can rent a bike from and cruise through the mountains. Of course, you will need to have some motorcycling experience to be able to do this.
Yak Ride at Tsomgo Lake
When you are at Lake Tsomgo, do not miss to ride a ride on colorfully adorned yaks. Do not worry, it is totally safe. These are very peaceful creatures and the Yak owner will be present to control the animal. Take a ride, enjoy the beauty of nature and support the livelihood of these local Yak owners whose small incomes are entirely dependent on tourism.
Trekking
Last but not least, trekking is another fun activity that you can enjoy in Gangtok. There are several trails leading out of the town suitable for both beginners and experienced trekkers. Goeche La trek is one of the best-known ones.
Sightseeing in Gangtok – Conclusion
That completes our list of sightseeing in Gangtok. Even visiting all these places will take you several days and by the end of it, you will have your fill of Gangtok, Sikkim and Himalayas. I hope the information above was of help. If you have any questions; or need any other details; please feel free to ask in the comments section below; or at our Community Forum; and I will be glad to answer.