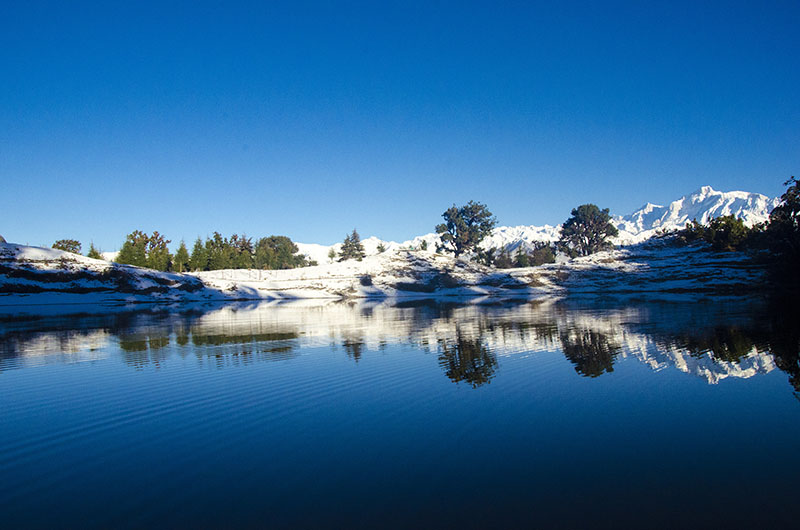 It was a winter trip in the month of Feb and we traveled from Delhi to Deoria Tal in a Honda Brio and a Royal Enfield. The trip lasted a total of 4 days and we were a group of 6. In the end, it turned to be an amazing trip, details of which I will be jotting down in this travelogue.
There are probably thousands of lakes hidden in the lap of the Himalayas. Some of these are small, while others are large in size. Several of these water bodies are yet to be discovered and explored and remain far from human reaches still. One thing that however is common in all these lakes is that are all stunningly beautiful. One such tiny yet amazingly beautiful lake that we visited was Deoria Tal.
Also Read: Deoria Tal – A Complete Travel Guide & Itinerary
About Deoria Tal
For a brief introduction, Deoria Tal is a small lake located about 3 kilometers from Sari village, near Chopta in Uttarakhand. It is situated at an altitude of 2,438 meters and has dense forests, lush green surroundings with snow-covered mountains in the backdrop. Chaukhamba peak is also visible from the lake here and watching its reflections in the calm waters of the lake is a photographer's delight.
This lake freezes in winters and continues to remain a popular trek in all 12 months. If you are living in Delhi or at a place closer than Delhi then you can easily plan a trip in with as few as 3 days in hand; which is exactly what we too intended on doing, only that we later on decided to add another day to the journey.
The Plan
Snow is what really was on my mind before we embarked upon the journey. More than visiting and camping Deoria Tal, our primary goal was to go find some snow. Deoria Tal just happened to be the choice of the place but in the end, we were glad that we went here and not somewhere else.
I had first planned to visit Deoria Tal in the last week of December, hoping that it would have snowed by then. But that plan did not materialize because I ended up canceling my leaves and spending that weekend at work.
The original plan for the month of February was to take a week off and visit the Spiti valley, but that plan also was trashed as I could not afford to be away from work for a week in Feb. So with 3 days in hand, these 2 plans were put together. Deoria Tal was picked from the first plan and the month of February from the second.
It was raining in Delhi at that time for the last few days. The newspapers were reporting that Delhi had not seen so much rain in the month of Feb since the 1940s. It had been snowing up in the hills and even the Chandigarh Manali Highway was blocked due to heavy snow.
But that only lifted our spirits and hopes of catching some snow at Deoria Tal were sky-high. As it happens with every trip, people kept joining and dropping out and with 1 person's addition in the very last hour, a group of 6 was finalized upon.
Also Read: Chopta Tungnath Chandrashila Deoria Tal Itinerary
The Men & The Machines
Until the last few hours of the trip, we were a group of 5 people and the machine chosen was Gunjit's Honda Brio. I wanted to ride my Royal Enfield but because of the cold weather and the rain, it was not really a possibility. Since it was just 5 of us, traveling in a car sounded like a safer bet and more fun even.
But Yatharth decided to join us at the last minute and now I had no choice but to bring my Enfield along as well. There was no way that 6 people could have fit in a single Brio. Thankfully, it did not rain the entire day when we were to start the trip. That is what actually made me decide to ride my motorcycle, something that I was going to regret doing later.
The Itinerary
We only had three days for this trip; a Saturday, Sunday, and Monday. The initial plan was to start early morning on Saturday and be back by Monday night. The itinerary for the trip decided was as below.
Reach Sari village on the very first day and spend the night in a hotel.
Start early on the 2nd day on the Chandrashila trek so we can be back by evening. Then trek to Deoria Tal and camp there for the night
Return to Delhi on the 3rd day
This was however just the initial plan and the final trip turned out to be way different than this.
Also Read: Kedarnath – The Holy Adobe of Mahadev
Day 1 – Delhi to Devprayag
Skies were cloudy on Friday and I was afraid that it might rain. It was something that I dreaded as I was going to be riding my Enfield in the cold weather of February. So getting drenched was definitely not in the plan.
I thought my prayers were answered as it did not rain at all on Friday and even the evening was dry. But all hell broke loose at around midnight when it started raining cats and dogs. It forced me to rethink our plans but there wasn't much I could do now as everything was settled and finalized.
I was working from home that night but the rest of the folks were at work, with their bags packed, all set to start early morning post shift.
Hoping that the rain would stop, I too started packing my bags at 3 in the morning. I was to start an hour early as I was going to be on a motorcycle but the rest of the group was in a car. So they could catch up with me on the way. The rain finally did come to a stop at 4 in the morning and by 4.30, I called Gunjit letting him know that I am starting from my place now.
Delhi to Rishikesh
The comfort of riding with no rain did not last long. As soon as I reached Dhaula Kuan which took me about 20 minutes from my place, it started to rain again. Luckily I waterproofed my bag so nothing else was getting wet but me. Hoping that the rain would stop again, I kept riding with no idea that I was going to be in the rain for the next 13 hrs
Luckily, I was wearing a heavy waterproof jacket which protected me from the waist above. But from the waist below, I was only wearing jeans and it took only about 15 minutes for it to get drenched completely. The intensity of the rain kept increasing and at Ghaziabad, it was so bad that I could barely see anything in front of me.
Also Read: Deoria Tal – A Complete Travel Guide & Itinerary
Somewhere near Ghaziabad, I stopped for a cup of tea and called Gunjit. They were about to start and were packing their bags in the car. I continued the journey and soon reached Muradnagar. My watch was showing 6 AM when I turned on the Upper Ganga Canal road towards Rishikesh.
The Wrong Turn
The next few hours were spent riding in the rain with frequent calls to the group, to check where they were. In between, I called Gunjit to let him know that the Canal road wasn't in a very good condition so he might want to stick to the highway but it was too late. They had already taken the turn and were also on the canal road. I crossed Khatauli and continued towards Rishikesh.
Much to my surprise, I reached Roorkee and the group still failed to catch up with me. I called to inquire and was told that they were about to reach Roorkee. So I continued on and was soon at Rishikesh bypass with still no sign of the others. I looked at my watch and it was 11 AM so we had plenty of time to reach Sari. I called again and was told that the group took a wrong turn somewhere towards Bijnaur and was now backtracking on their way to Roorkee.
This meant that it was still going to take them an hour at least to get to Rishikesh. There wasn't much I could do except to sit at the tea shop waiting for them to arrive. The funny thing about cold was that as long as I was riding, I was OK. I was drenched from the waist below but still kept going. But the moment I stopped and had a cup of tea, I started to shiver badly. The 'Chaai Wala' was frying 'Samosas' and I stood as close as I could to the fire to keep me warm until the rest of the group arrived.
Rishikesh to Devprayag
The wait was longer than I expected. After 2 and a half hours of wait and numerous cups of tea, they finally arrived at 1.30 pm. By now I knew that reaching Saari was not going to happen as we had a full 200 kilometers of hilly roads ahead of us with only 4 hrs of daylight left. On top of it, after seeing me standing at a "Chaai – Samosa" shop, everyone decided to take a break and feast.
Also Read: Himalayas in Monsoon: Top Tips for a Safe Trip
By the time we started on our way again and crossed Rishikesh, it was already 2.30 pm. In the entire day, my camera had not come out because of the rain. Primarily because it was sealed pack in the bag and I did not want to take it out risking it getting wet.
Secondly, because I was soaking wet and was cold so photography was the last thing on my mind.
Still though, when we started climbing up after Rishikesh, I took the camera out and clicked my first few photographs of the day.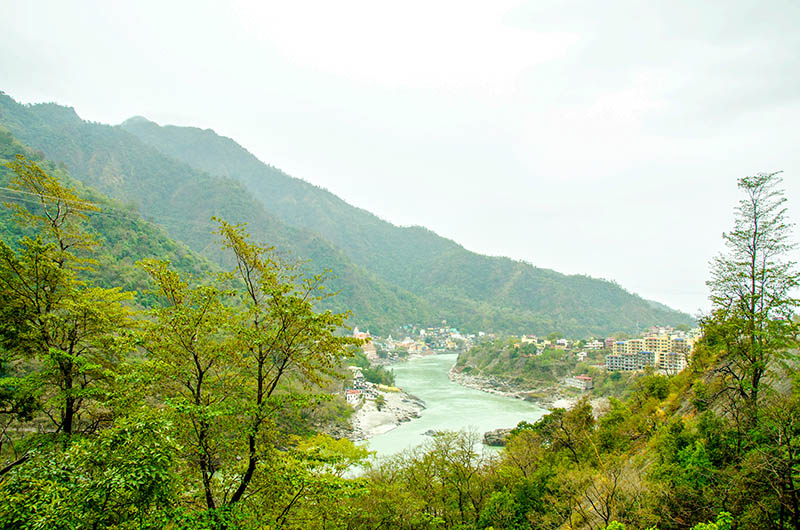 We reached a tea-stall and stopped there only to notice a flat tire on the car. We spent some time changing it and continued the journey again. All this time, the rain showed no sign of stopping but now I wasn't the only one getting wet. Shoaib, much opposite to my advice of staying in the car, joined me on the motorcycle. So now he too was riding with me, getting wet and shivering.
We stopped at a puncture repair shop to get the flat tire fixed and to get some tea from the stall right next to it.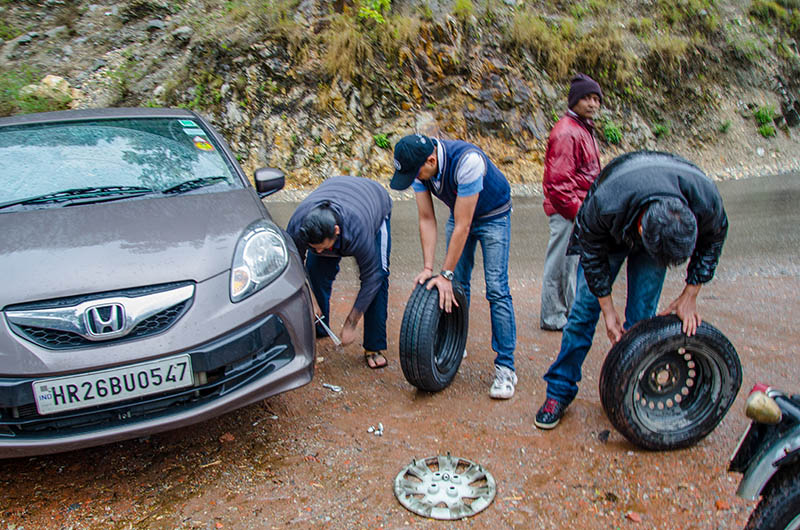 Lag gayi mirchi.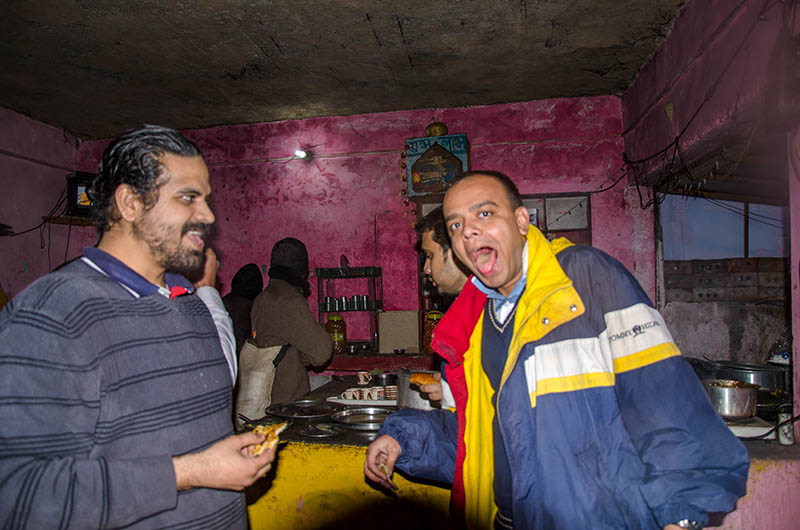 The Gang, apart from me of course because I was the one clicking.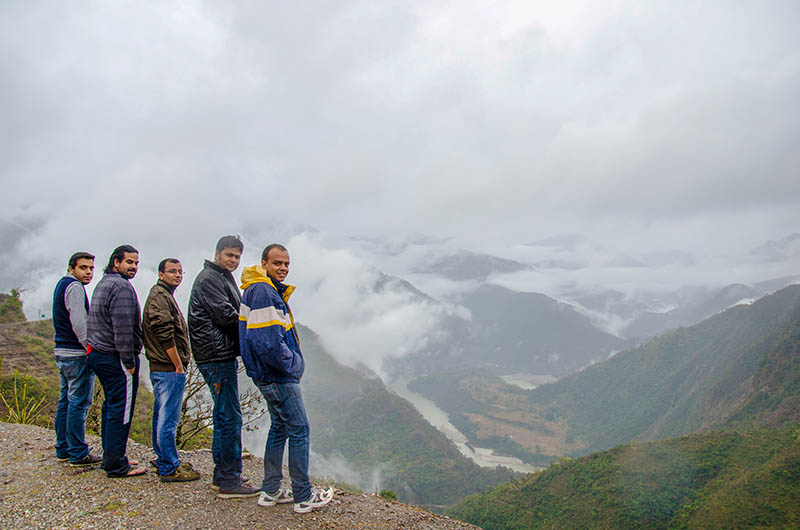 Devprayag
By 6 in the evening, we had only reached Devprayag and I was done for the day. I had no strength left to ride even a mile ahead in the rain and the cold. We checked in the first hotel we came across at Devprayag and called it a day.
I changed and got into dry clothes and crawled under the blankets and immediately dozed off. There was no arrangement for food at the hotel so the group had to go to a nearby restaurant for dinner. They tried to get me out and join them but I refused. The only thing on my mind then was to remain under the blankets, stay warm, and continue to sleep.
And that was the end of our first day of the trip. Our plan was to make it to Sari Village but had to stay at Devprayag for the night. There were two reasons behind this. The first one was the rain which limited our speed severely. The second reason was the wrong turn towards Bijnaur that the group made and resulted in a loss of almost three and a half hours. Please click on the link below to read the next part of this travelogue.
Journey Ahead: Day 2 – Devprayag to Deoria Tal
Below is a bit more information on traveling from Delhi to Deoria Tal which can be of help to anyone planning a trip.
Delhi to Deoria Tal Distance
Deoria Tal is located at a distance of about 450 kilometers from Delhi.
How to Reach Deoria Tal from Delhi
Traveling from Delhi, the route of the journey will be as mentioned below.
Delhi – Muzaffarnagar – Roorkee – Haridwar – Rishikesh – Devprayag – Srinagar – Rudraprayag – Agastmuni – Ukhimath – Sari Village – Deoria Tal
How to Reach Deoria Tal from Delhi by Bus



You can easily reach Deoria Tal by Bus from Delhi. The only challenging part is the final lap of the trip, between Rudraprayag and Sari Village. From Delhi, you will first have to catch a bus for either Haridwar or Rishikesh.
From Rishikesh, you will board a bus for Rudraprayag; and then either a bus or shared taxi for Ukhimath. Chances of finding a bus from Rudraprayag are less as the frequency is not too great so you will rely more on a shared taxi. From Ukhimath, you will then again have to search for a shared taxi for Sari Village.
I know there are direct buses from ISBT Delhi for Rudraprayag, both overnight and during the day. So if you were living in Delhi, I will recommend that you catch the direct bus for Rudraprayag. I am not sure about other cities but if you are able to find a bus for Rudraprayag from your city, then catch it. Otherwise, you will have to get to Haridwar or Rishikesh first.
From Haridwar, there is also a direct bus for Ukhimath but the frequency is not too great. The bus for Rudraprayag is more frequent.
Chopta is another major tourist attraction that is quite close to Sari Village. Apart from Rudraprayag or Ukhimath, you can also board any shared taxi that is going towards Chopta and get down on the way.
How to Reach Deoria Tal from Delhi by Train
The nearest rail station is at Haridwar which is about 220 kilometers away from Sari. Once you reach Haridwar, you will have to look for a mode of transport as I explained above.
Also Read: Tungnath Chandrashila Trek – How to Plan & Prepare
Delhi to Devprayag Distance
Devprayag is at a distance of 325 kilometers from Delhi.
Delhi to Devprayag Bus
There are regular buses available from Delhi ISBT for Devprayag, both overnight and during the day.
Conclusion
And that is all for our first day of the journey from Delhi to Devprayag. Please read Devprayag to Deoria Tal – Valleys of White to continue reading the next part of this travelogue. I hope the information above on traveling from Delhi to Deoria Tal was of help. If you have any questions or need any further details, please feel free to ask in the comments section below; or at our Community Forum; and I will be glad to answer.