This post is in continuation with a previous one and part of my Deoria Tal Travelogue. It was a winter trip that we made in the month of February for a total of 4 days. We traveled from Delhi to Devprayag on the first day; and Devprayag to  Sari Village to Deoria Tal on the second day. We also included a short snow trek till Dugal Bitta and reached Deoria Tall at 9 PM in pitch black dark. Please click on the link below to read the previous part of this travelogue.
Journey So Far: Devprayag to Chopta – The Valleys of White
It took us a while to reach Dugalbitta. After stopping there for tea and some photos, we decided to turn back as the sun was soon gonna set and we still had the trek to Deoria to climb.
It was a bit heartbreaking as well really because we all were in a mood to continue trekking further. The snow was getting deeper and it was a lot of fun walking through it. We wanted to continue and go as far as we could, but the only thing that was stopping us was time.
We only had 3 days in had and were to go back to Delhi tomorrow. If we had just one more day, I am sure all of us would have loved to stay at Dugalbitta for the night and trek to Chopta the next day as far as we can.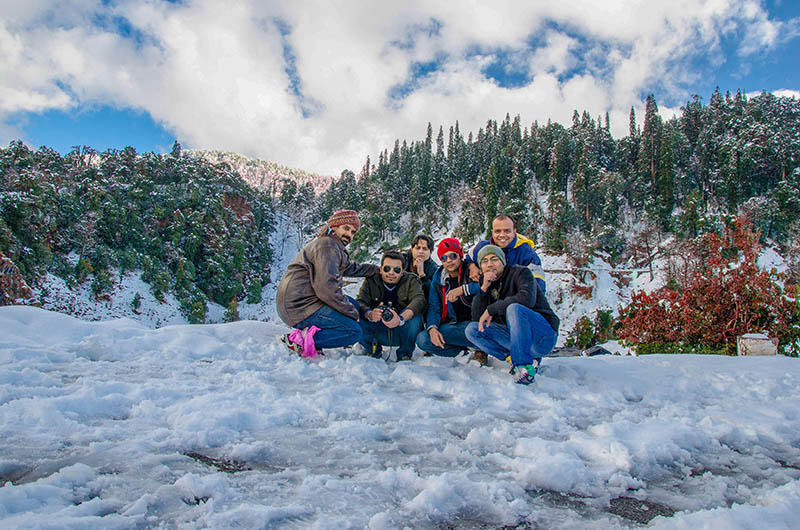 Chopta to Sari Village
Accommodation is available at Chopta and surprisingly, even at that time, there was a campsite open there. Nonetheless, since staying there was not a choice for us, we started to walk back towards Makku bend where our car was parked. The sun set faster than we thought and by the time we reached back Makku Bend, it was already dark.
Sari Village to Deoria Tal
We drove back to Saari, left the car parked at the hotel, and started on the steep 2 kilometers climb towards Deoria Tal, in pitch black dark.
We reached the lake at 9 in the night and it was time for bonfire, dinner, and drinks (which included both daaru for some and tea for others like me).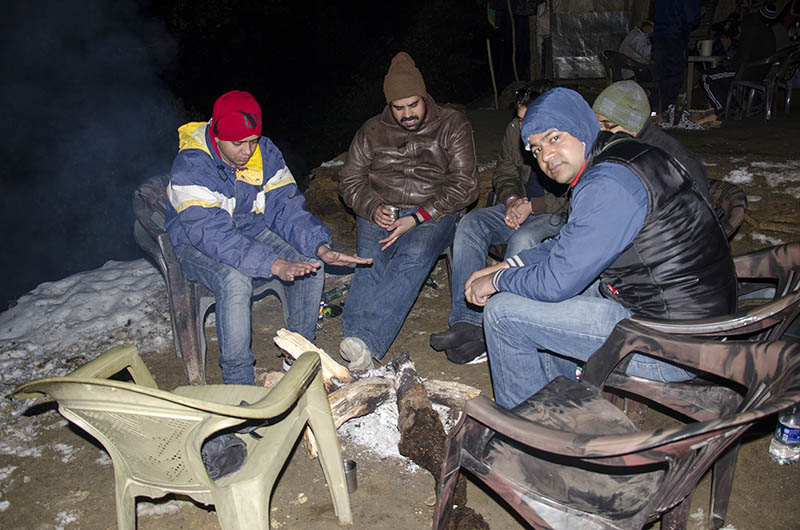 After sitting and chatting around a bonfire for a couple of hours, we decided to call it a day and crawl into our tents that were laid on a white sheet of snow.
This dog climbed up with us from Sari and like a guardian angel, he sat outside our camps all night. I am not sure why but he stayed with us for the entire trek and then at the campsite too.
It was freezing outside and the poor animal was sitting on snow. I tried to get him inside our tent but he wouldn't get in. He just sat there outside, alert at every sound like he was protecting us. This picture was taken the next morning.
Also Read: Chopta Tungnath Chandrashila Deoria Tal Itinerary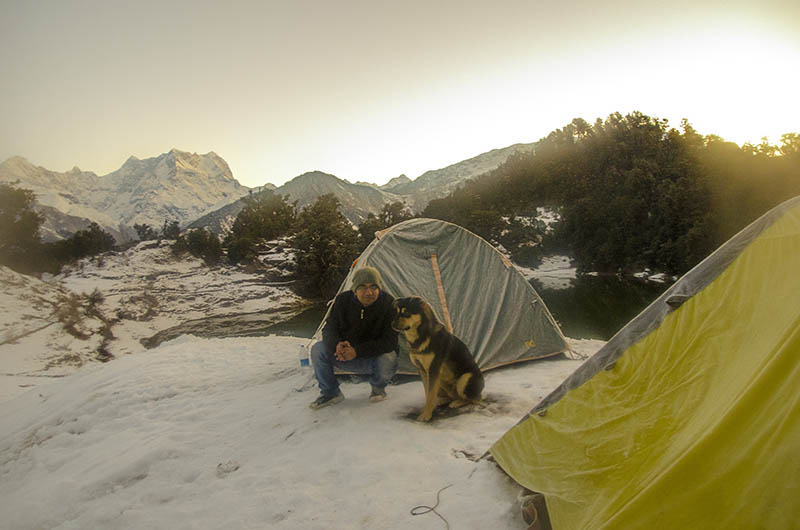 And that concluded our second day of the trip. It was a fun day and the overall experience of the journey was much better than what we had imagined. The morning of the next day brought us some absolutely stunning views which I have covered in the next part of this travelogue. Please click on the link below to jump to the next post.
Also Read: Deoria Tal to Rishikesh – Another Day of Camping
Before moving on to the next post, mentioned below are some details that could be of help for anyone planning a trip to Deoria Tal.
Chopta to Deoria Tal
In order to reach Deoria Tal, you will have to drive back to Makku Bend via Dugal Bitta. From the bend, you will take the road that goes towards Sari Village. You can leave your car parked at the village and trek to the lake.
Sari village to Deoria Tal
The distance between Sari Village and Deoria Tal is a total of 3 kilometers approximately.
Sari Village to Deoria Tal Trek
The trek is not difficult at all for the most part of it. There is in fact a well-laid path for its entire length. It does get a bit steep at a few places but not for long-distance. It is perfect for someone who has never been on a trek. All that you need is a bit of stamina, confidence enough to walk 3 kilometers, and a pair of good trekking shoes.
Also Read: Kedarnath – The Holy Adobe of Mahadev
Chopta to Deoria Tal Trek
There is no direct trek from Chopta to Deoria Tal that I know. I am sure there must be a jungle trail that could be followed that locals would know of, but you will really need a proper guide to follow that. The commonly followed and known trek is via Sari Village only.
Chopta to Sari Village
Sari Village and Chopta are both connected by a motorable road which is in good condition for the most part of it.
Chopta to Sari Village Distance
The distance between Chopta and Sari Village is a total of about 20 kilometers approximately.
Chopta to Deoria Tal Distance
Including the 3 kilometers trek from Sari, the distance between Chopta to Deoria Tal would be a total of 23 kilometers approximately.
Conclusion
I hope the travelogue and information above on traveling from Sari Village to Deoria Tal was of help. Please read Deoria Tal to Rishikesh – Another Day of Camping to continue reading the next part of this travelogue. If you have any questions; or need any other details; please feel free to ask in the comments section below, or at our Community Forum, and I will be glad to answer.