This post is in continuation with a previous one and part of my Deoria Tal Travelogue. It was a trip for a total of 4 days in which we covered trekking till Dugalbitta and camping at Deoria Tal and Rishikesh. We camped in Rishikesh on Day 3 and arrived back home on Day 4 from Rishikesh to Delhi. To read the previous part of this travelogue, please click on the link below.
Journey So Far: Deoria Tal to Rishikesh – Camping on White Sands
I was again the first one to leave the bed and get out of the tent. I walked up to the tent where the kitchen was set up and ordered morning tea. After a while, others too started getting up and soon Roopa was again at our feet, biting our shoes and trousers.
After some quick photos and a hearty breakfast, it was time to pay the bill and we realized that we did indeed misinterpret 1000 / head for 1000 / camp. what we paid for the night here equaled our total expense for the trip till now. Roopa too of course joined us for the breakfast.
Also Read: Chopta Tungnath Chandrashila Deoria Tal Itinerary
Our Campsite at Rishikesh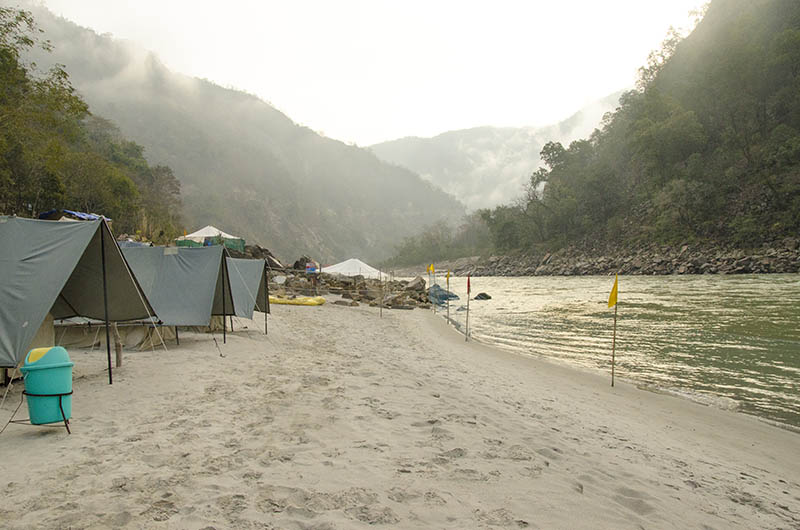 Rishikesh to Delhi
The part from Delhi to Deoria Tal and then to Rishikesh was exciting. But from Rishikesh to Delhi was just the boring and dull ride back home, but with memories of an awesome trip that all of us were gonna cherish for a lifetime.
Some random shots on our way back.
Conclusion
I hope the travelogue and information shared was of help. If you have any other questions about visiting Chopta or Deoria Tal; feel free to ask in the comments section below, or at our Community Forum; and I will be glad to answer. For us, it was a trip of 4 days and it cost us around Rs. 4000 per head including all expenses. We traveled in a Honda Brio and a Royal Enfield. Overall, the biggest expense was petrol and camping in Rishikesh.