This post is in continuation with a previous one and part of my Deoria Tal Travelogue. We made this trip in the month of February in a Honda Brio and a Royal Enfield over a period of 4 days. On Day 1, we traveled from Delhi to Devprayag and spend the night at a hotel there. The second day saw us traveling from Devprayag to Chopta and then to Deoria Tal where we camped for the night. Click on the link below to read the previous part of this travelogue.
After a good 8 hrs of sleep, I was wide awake at 3 in the morning No matter how hard I tried, I just could not get myself back to sleep. After getting drenched all day yesterday, I was afraid that I was going to fall sick because I was shivering badly when I went to sleep. Thankfully though, I felt fine and the feverish feeling I had was gone too.
Day 2 – Devprayag to Deoria Tal
All the others were fast asleep in their rooms. After failing to go back to sleep, I switched on the TV but there was nothing interesting there too. After tossing and turning in the bed for a while, I finally gave up and stepped out on the balcony. It was still raining and right in front of my eyes was a perfect night view of the Sangam at Devprayag.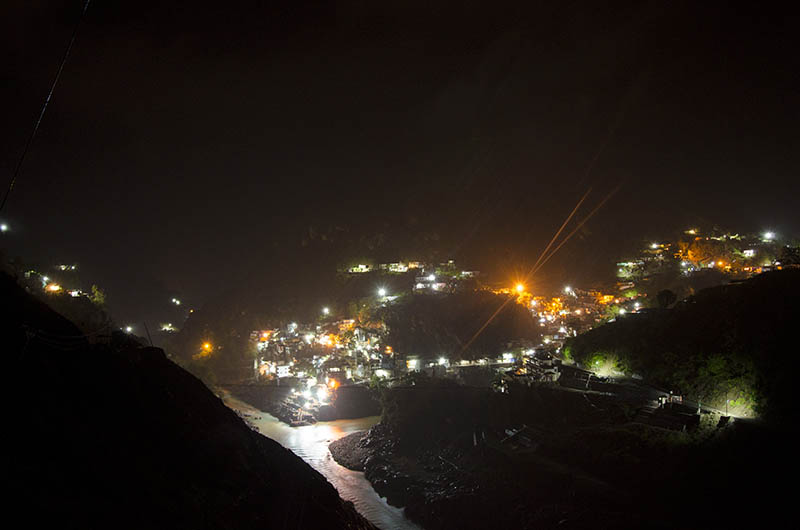 Pretty soon I was bored standing on the balcony alone and started knocking on other's doors at around 4 AM. In a matter of minutes, I had ruined everybody's sleep and we were all up and ready to be on our way by 5 in the morning.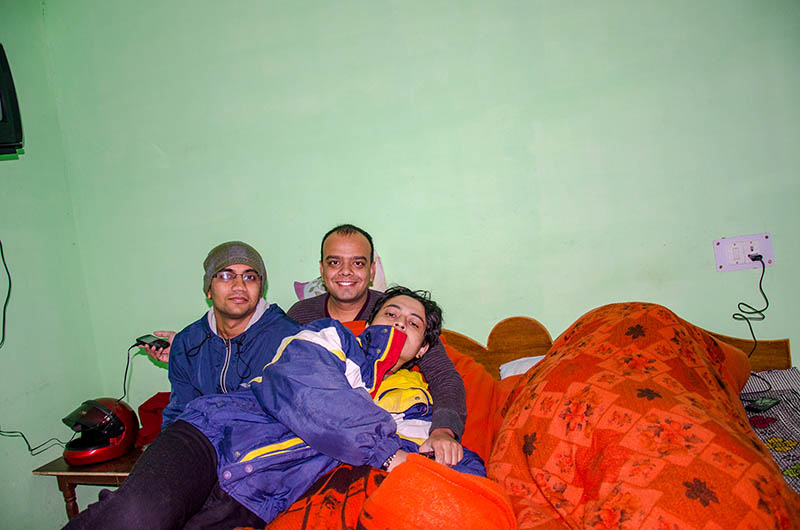 I had not eaten anything last night because I went to sleep straight shortly after checking into the hotel. Others tried to wake me up for dinner but I didn't get out of bed. They got some Rajma Chawal packed for me and left it at the table next to my bed.
It was still there and was all cold by now as if it has just been taken out of a refrigerator. But I was starving and even that plate of ice-cold Rajma Chawal in the morning at 4 AM looked tempting. The moment I started to eat, everyone was looking for their share and the plate was empty in minutes.
Also Read: Chopta Tungnath Chandrashila Deoria Tal Itinerary
Tungnath & Chandrashila Trek
Now the big question was about how to proceed further with the trip. It was still raining and I had only 1 pair of dry clothes left. After much thought and discussion, we decided to leave my motorcycle at the hotel in Devprayag and continue the journey in Gunjit's car. Out of the 3 rooms we rented, we still kept 1 and left our wet clothes and most of the luggage in it.
The next question was of destination. One thing I was certain of was that trekking to Chandrashila was not going to happen anymore. We were still far away from Chopta and there was no way that we could make it there in time for the same day trek to both Tungnath and Chadrashila Peak. Hence the plan was left open for the moment and we agreed to decide after we reach Chopta.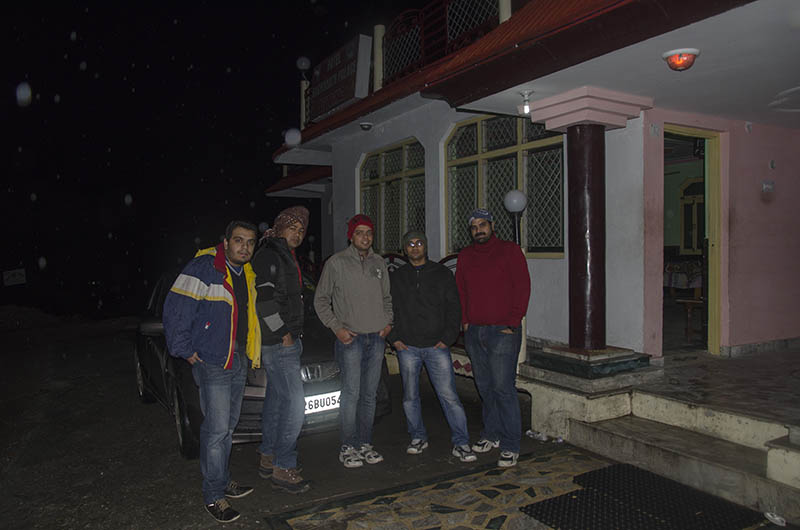 After informing the guy at the hotel about our arrangement and my motorcycle, 6 of us squeezed ourselves in a Brio and hit the road towards Sari. All of us were hungry and few spoonfuls of Rajma Chawal had only added fuel to the fire. Luckily while we were crossing Devprayag, we noticed a tea shop that was open and stopped immediately for breakfast.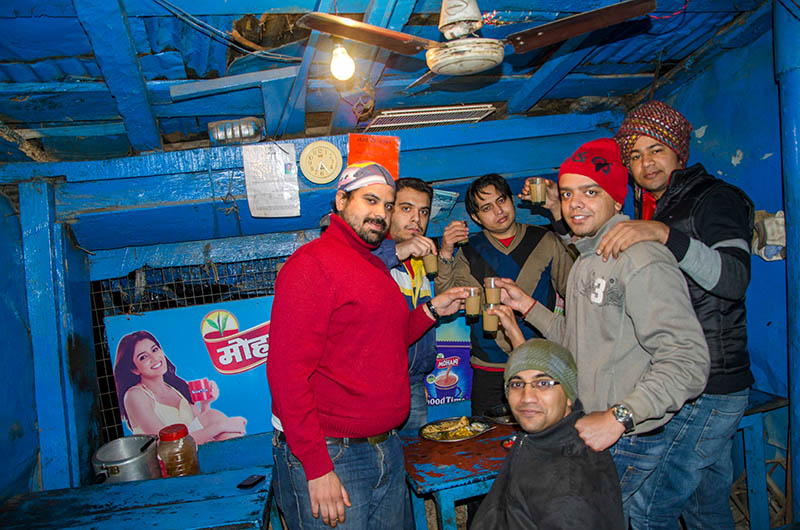 After a few glasses of tea and paranthas for everyone, we continued the journey towards Srinagar.
All of Uttarakhand is a landslide-prone area but the road towards Mana is worst. It had been raining for past due days here as well and it had created havoc on the roads. After a mix of bumpy and smooth drive, we were in Srinagar by 9 in the morning. No, not the Srinagar from Kashmir. There is a Srinagar in Uttarakhand as well.
Also Read: Kedarnath – The Holy Adobe of Mahadev
Srinagar to Chopta
We stopped for a short tea break and continued towards Rudraprayag from here. After crossing Rudraprayag, it was close to noon when we took the turn towards Ukhimath just before Gaurikund. From here, the steep ascent towards Chopta starts and we started getting a better view of snow-capped mountains.
Somewhere on the way, we met a few locals who informed us that the road towards Chopta is closed due to heavy snowfall and we won't be able to go any further beyond Makku Bend. This was a major turn of events as we now knew that trekking to Tungnath is out of the plan.
I called my contact at Saari, a local who was going to arrange camps at Deoria Tal, and informed him of our arrival. By the time we reached the village, he had already arranged for lunch.
The small village of Sari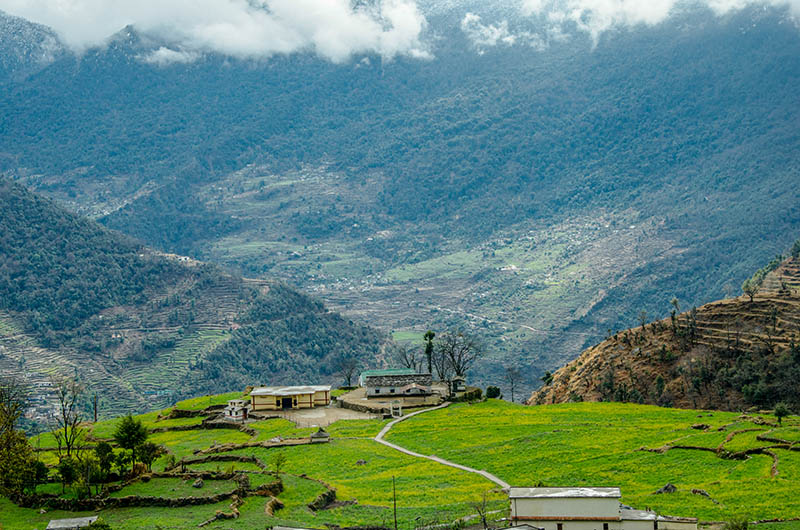 Chopta Trek
After a quick meal and discussion, it was decided that we will trek towards Chopta as far as we can and then return to Sari. Then we will trek to Deoria Tal and camp there for the night. We again got back in the car and drove towards Chopta. The locals were right, we could not drive any further than Makku Bend and left the car there. From here, we were to walk towards Chopta.
Also Read: Himalayas in Monsoon: Top Tips for a Safe Trip
The amount of snow continued to increase with every passing minute and the sun too started to set fast. We could not really get far. By the time we reached Dugalbitta, it was already 5 PM and the snow was already getting too deep. After discussing it together, we decided to call it our last point and to go back to Sari from here.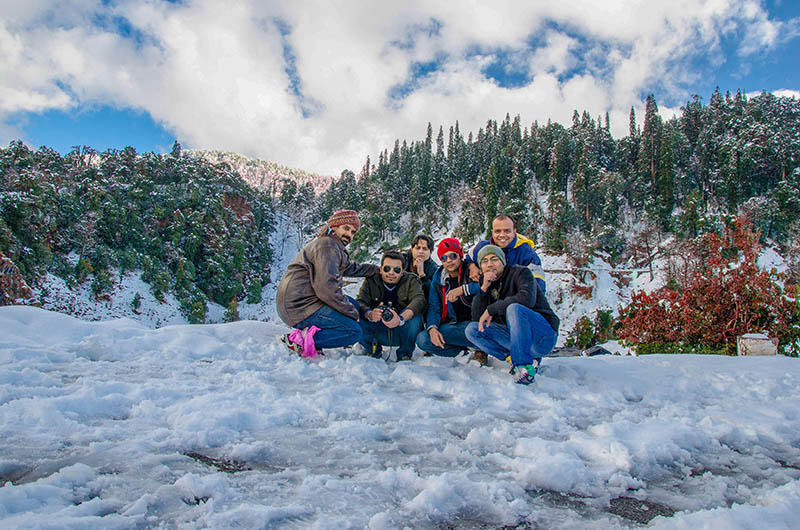 We returned from this point, reached Sari, and trekked to Deoria Tal. Please read Sari Village to Deoria Tal – An Awesome Trek to continue reading the next part of this travelogue. A few of my observations from this day's journey are as mentioned below.
Devprayag to Chopta
Devprayag to Chopta is a total of about 90 kilometers. But due to the bad condition of the roads and steep climb, this journey will easily take you at least 4 hours to complete.
If you were traveling in the month of January or February as we did, there is a high possibility that you may not be able to reach Chopta at all; and would have to return from either Makku Bend or Dugal Bitta. The best would be to call in advance and inquire about the weather and road conditions ahead.
Srinagar to Chopta
The distance between Srinagar and Chopta is about 55 kilometers but will easily take about 3 hours to complete.
Srinagar Uttarakhand to Chopta Bus
There is no direct bus from either Devprayag or Srinagar for Chopta. You can however get a Bus for Ukhimath but its frequency is very low. From Ukhimath, you will have to rely on shared taxis like Sumo or Bolero which the locals also use.
Rudraprayag to Chopta
The distance between Rudraprayag and Chopta is only about 25 kilometers which makes it a perfect place for a night halt. If it was not raining, I am sure even we would have stayed at Rudraprayag on Day 1 instead of Devprayag. If the road was open, you can easily travel from Rudraprayag to Chopta in about 1 hour.
Rudraprayag to Chopta Bus
Like Devprayag and Srinagar, there is also no direct bus for Chopta from Rudraprayag.
Rudraprayag to Chopta Taxi
You can easily find a shared taxi for Chopta from Rudraprayag. These run on a regular basis and can be found at the Bus stand itself. If not for Chopta all the way, you can try to find one for Ukhimath and then go to Chopta from there.
Road condition from Rudraprayag to Chopta
The condition of the road between two places is a mix of good and bad. As you start to get closer to Chopta, the condition of the road improves but is a little bad around Rudraprayag.
Rudraprayag to Deoria Tal
Distance between Rudraprayag and Deoria Tal is a total of 56 kilometers by road till Sari Village and then 3 kilometers trek.
How to reach Deoria Tal from Rudraprayag
There is no direct bus from Rudraprayag for Sari as well. You will have to board a shared cab for Ukhimath and then Sari. If you were traveling by your own vehicle, then you can drive all the way to the village. Road condition between both places is a mix of good and bad.
Conclusion
I hope the travelogue and information above was of help. Please read Sari Village to Deoria Tal – An Awesome Trek to continue reading the next part of this travelogue. If you have any questions; or need any other details; please feel free to ask in the comments section below, or at our Community Forum; and I will be glad to answer.