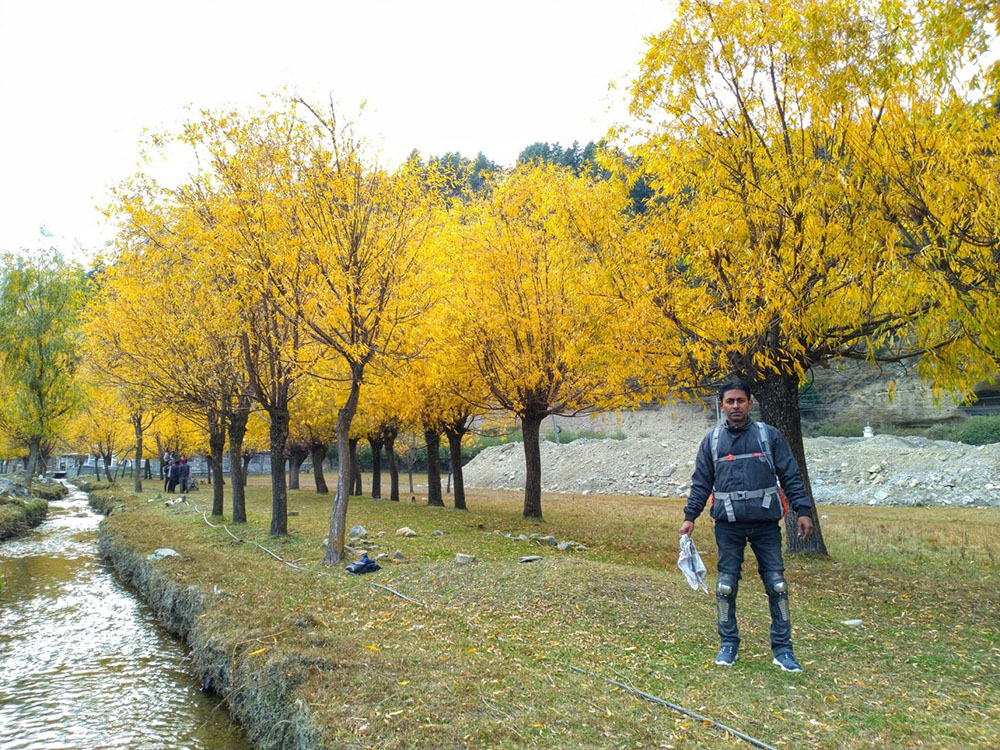 This article is in continuation to a previous one and a part of my Nepal Bike Trip. We traveled from India to Nepal and then spent a few days in the hill country on the road. I have covered the details about the first 4 days of the trip in the previous article that you can read at the link below.
Our initial plan for the day was to travel from Lete to Pokhara. It changed entirely though and we ended up going to Muktinath from Lete and then back to Beni. The total distance covered was 154 km in a total of 10 hours.
Nepal Bike Trip
We knew today is going to be a long and tiring day given that we have to visit Muktinath, spend some time there, then Marpha, and thereafter on our way back towards Pokhara, as much as possible.
We woke up at 6:30 sharp, spent some time appreciating the view from our hotel, and then started our ride. The kid was right, the view of Mt Dhaulagiri from the hotel was breathtaking!!! Mt Nilgiri was equally competitive.
Day 5 – Lete to Muktinath and Back to Beni
This was the longest and most tiring day of our ride. A 3-day slog was about to reap the benefit. Eventually, we realized Muktinath is worth the ride.
Our stay @ Lete. The hills you see behind are actually 500 meters from the hotel; part of the Mt Dhaulagiri range.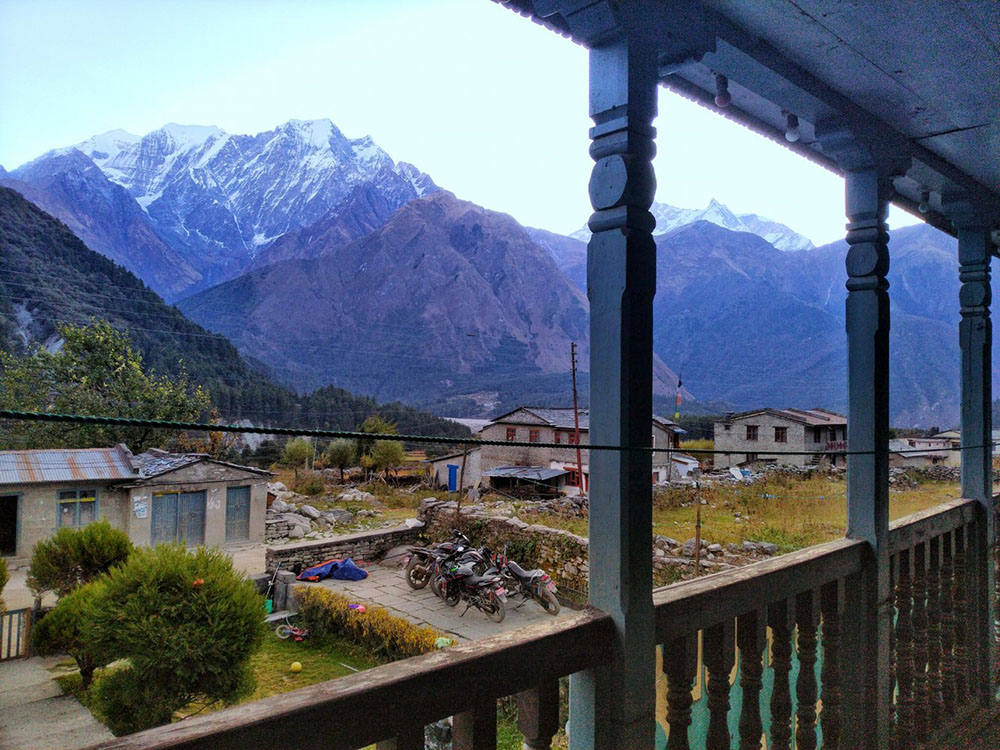 People in Lete wake up slightly late so by the time we left, the roads were empty, shops closed, dogs taking a nap and the weather was killing us.
And the roads weren't getting any better.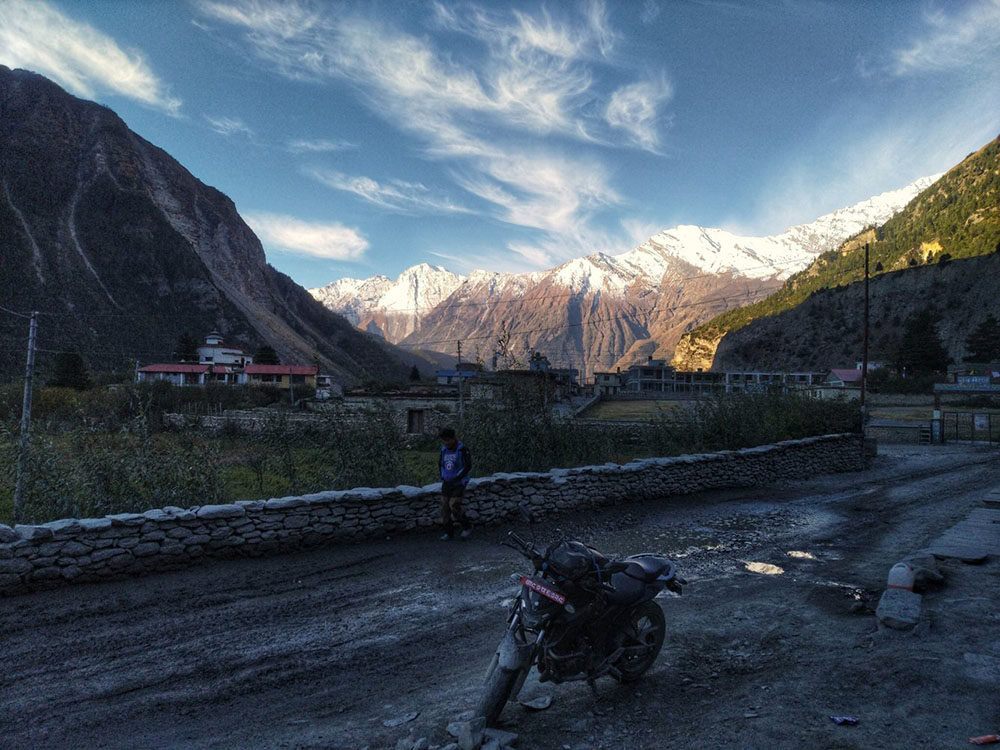 Naurikot
The first break for the day came at Naurikot for a much-needed cup of tea, and few clicks.
The good thing about starting early in the morning is you get a completely different view of the ranges which isn't possible when the Sun is bright/shrill and above your head. At this hour the golden rays on snowy mountains were just worth a watch!!
Once we crossed Jomsom, the roads were pretty good and wide, though the entire stretch was full of gravel. With FZ25, a pillion, and 20 kgs of luggage, that was an issue.
5 km after Jomsom, we came across the Nepali riders we met during road blockage a day before. They stayed at Jomsom for the night. And as expected hotels in Jomsom were expensive as a result of road blockage and 100s of visitors flocking for the night stay.
Few more km and the slog of all these days had started to make sense. The views were beyond imagination and a big smile on our faces. Thank God!
Kegbeni
12kms from Jomsom you would reach Kagbeni. From Kagbeni there are two routes, one that leads to Upper Mustang valley and another leading to Muktinath. From Kagbeni, it is 16km to the temple and the road is tarred super fine. For the last 2 days, the roads forced us to ride at max 10 km/hr, whereas now the spectacular views would force you to drive slowly.
3 km from Kagbeni towards Muktinath you reach a point named Selfie point. One cannot avoid but spend 15 mins here capturing a 360-degree view of the amazing landscape. I have toured pretty much every possible place in India and I think there aren't many places in India, which can compete against this. The place alone can be a reason to visit Muktinath. It is that good!!!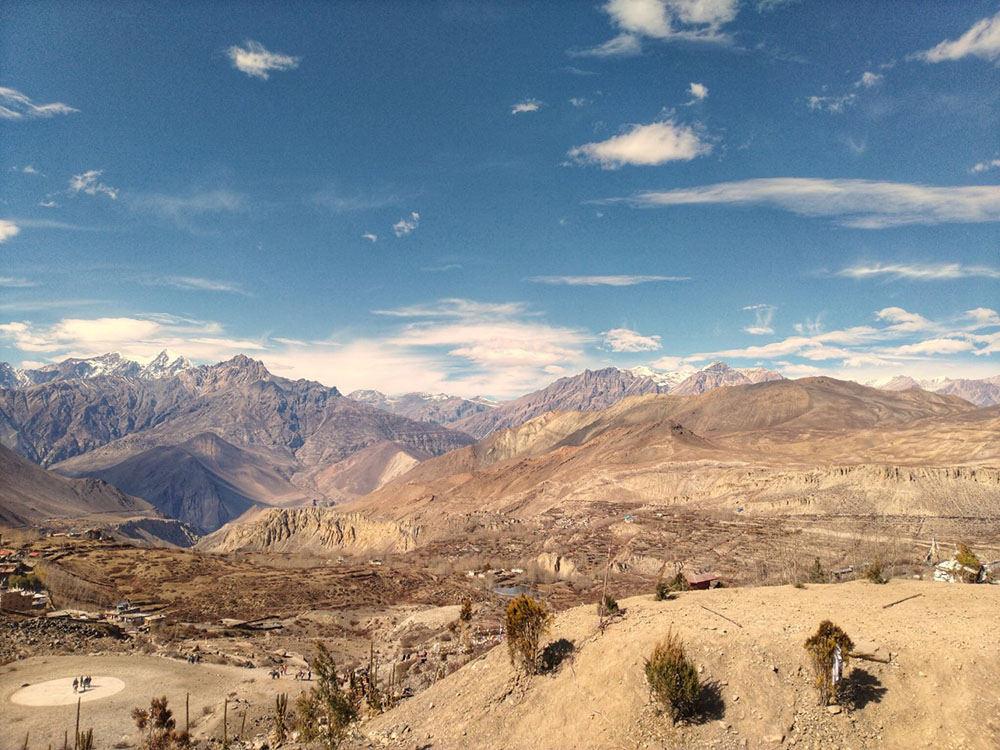 Muktinath Temple
We finally arrived at the Muktinath Temple. In spite of freezing weather, I was surprised to see people taking a dip in the 'kund' that too after taking a shower in these fountains.
Muktinath is a unique place in its own way. It's not just a Hindu temple, but has a Buddhist Monastery too on the same campus!!
The place is so mesmerizing that one can easily forget time. We did. It was 1 pm and we had to leave. We had skipped our breakfast and only now we realized it. The Nepali riders suggested we have lunch together @ Jomsom.  Why not. Chalo.
Also Read: Thrumshing La – The High Roads and Passes of Bhutan
Marpha
After lunch, we headed towards Marpha. After going through several posts on the internet all the years, I have been dreaming of Marpha. Not sure why, but I had an immense urge to visit this place, and here the dream was about to turn to reality. Hurray.
We finally arrived at the gate to the Marpha Kingdom. It is a small village/kingdom, but certainly very beautiful.
Marpha was highly impressive. must visit. We purchased sun-dried apple chips which were just about ok. Marpha has several apple farms and is known for its high-quality products.
Given that we were late and there is a roadblock waiting for us after Lete, we left for, well, as much as we can cover. But the delay did not stop us from taking detours and photo stops.
We again got stuck in the roadblock for 3 hours and reached Beni by 8:30 pm.
Day 6: Beni to Abu Khairani
The plan for Day 6 of our Nepal Bike trip was to go to Manokamana. Like the rest of the days though, it turned out entirely different. We traveled from Beni to Abu Khairani, 35 km before Manokamana.
Honestly after seeing those majestic mountains in Lower Mustang, now everything else appeared inferior. Pokhara lake, Manokamana, the same hanging bridges we saw which excited us a day before.
While traveling towards Mustang valley, we did not visit Pokhara, so the plan was to spend some time in Pokhara and then leave for Manokamana. In general, Pokhara is just like any other hill station in India. It has a lake, a couple of viewpoints, temples and few other places here and there, that's it.
As mentioned above, having spent the last 3 days on the hills, there was very little affinity for us to spend a day in Pokhara. But we wanted to check if Pokhara surprises us. Eventually, the plan was to travel from Beni to Pokhara by afternoon, spend 3/4 hrs in Pokhara, then leave for Manokamana and stay near the temple.
The next day visit Manokamana and head for Kathmandu. Given the roads were getting better as we proceeded towards Pokhara, we started late. We had a nice breakfast, topped up the tank, and pulled the throttle for a steady pace.
On our way back, at one point (~ 25kms before Pokhara) we encountered a V junction. A local suggested us to take the tarred road that drops steeply keeping Pokhara valley on right. According to him, the road is smooth, traverses through several villages, and has one or two viewpoints. Remember, we love detours. So the reply was obviously 'why not'.
Also Read: Road Trip from Delhi to Kinnaur and Mussoorie
Kasikot
5 km on this road and the views were getting from wow to spectacular. For the entire 20 km stretch, you get to see a magnificent view of Pokhara valley from the top. On our way, we found a spot that appeared to be a viewpoint. Thankfully we trusted on our instinct. What a view! This place is called Kaskikot village.
There is also a temple right on top of the mountain. But since we were getting late, we skipped it. After another 10 km, we reached the Sarankot viewpoint. But the views here were less beautiful compared to what we saw from Kaskikot.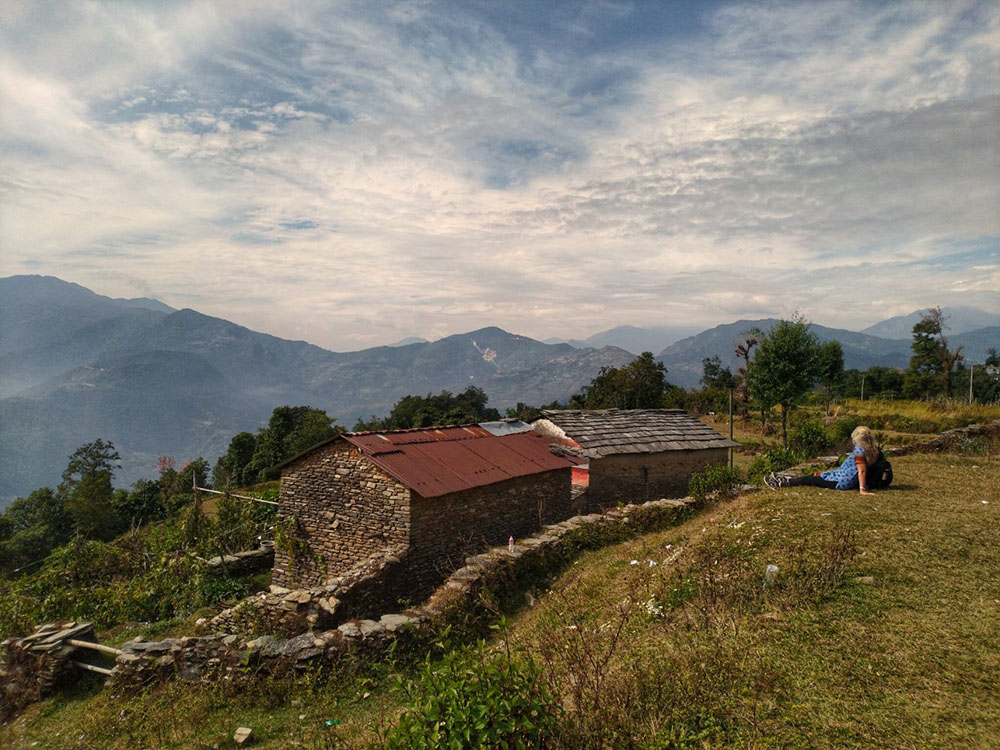 Sarankot
You judge for yourself. Tell us which one you liked the most?
View from Sarankot viewpoint.

Pokhara
Once we reached Pokhara, we did the usual touristy things. We hanged around the lake, clicked few pictures, and had lunch. Pokhara was just about ok. Nothing fancy. But much more cleaner and less congested than Kathmandu.
This time we tried a new dish called 'Khaja Set'. This is another form of thali, but the contents are very unique.
It has mildly fried beaten rice, poached egg, buffalo meat, groundnut tossed in spices & salsa, and baked beans. My cousin tried a veg version of it, which had cabbage pakora instead of buffalo meat.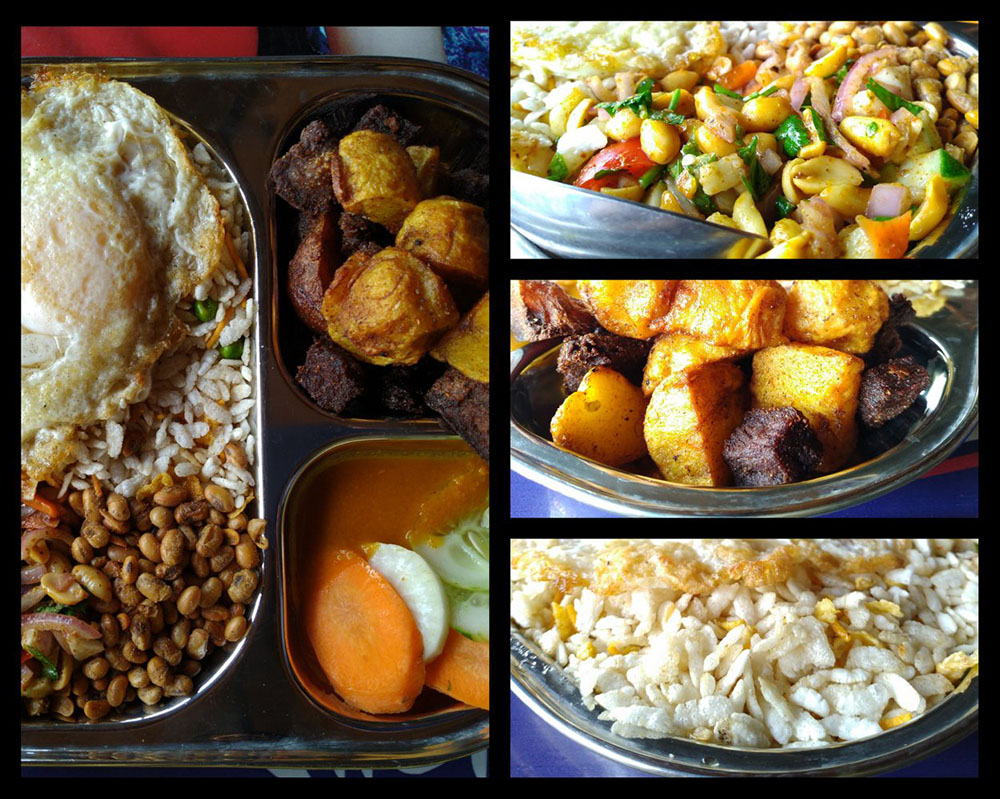 Apparently, for locals, it is a snack. According to me, the quantity was too much for a snack. BTW one unique thing about Nepal is that when you order food, they make it afresh and serve it. Rarely do they have anything pre-cooked and kept for use.
This is not due to fewer items being sold, but what I understood is that's in their culture to serve freshly cooked food. I had experienced this in Mustang valley too!
Also Read: Killar Kishtwar Road – Sach Pass, Pangi Valley, Sinthan Top
Day 7 – Manokamana to Kathmandu
The plan for today was to visit Manokamana and head towards Kathmandu and finally we were also able to stick to the plan. This was also the last day of our Nepal Bike and yes, we were getting upset.
Manokamana
Manokamana is 35 km from Abu Kairani, where we stayed last night. It gets busy early morning, partly because it was tourist season and also because as the day progresses, the queue for cable car gets longer.
We reached Manokamana by 9 am and the queue was already a km long. After 90 mins standing in the line, we managed to get the tickets. The cable car is the longest in Nepal and one of the longest in the world. It's worth a ride!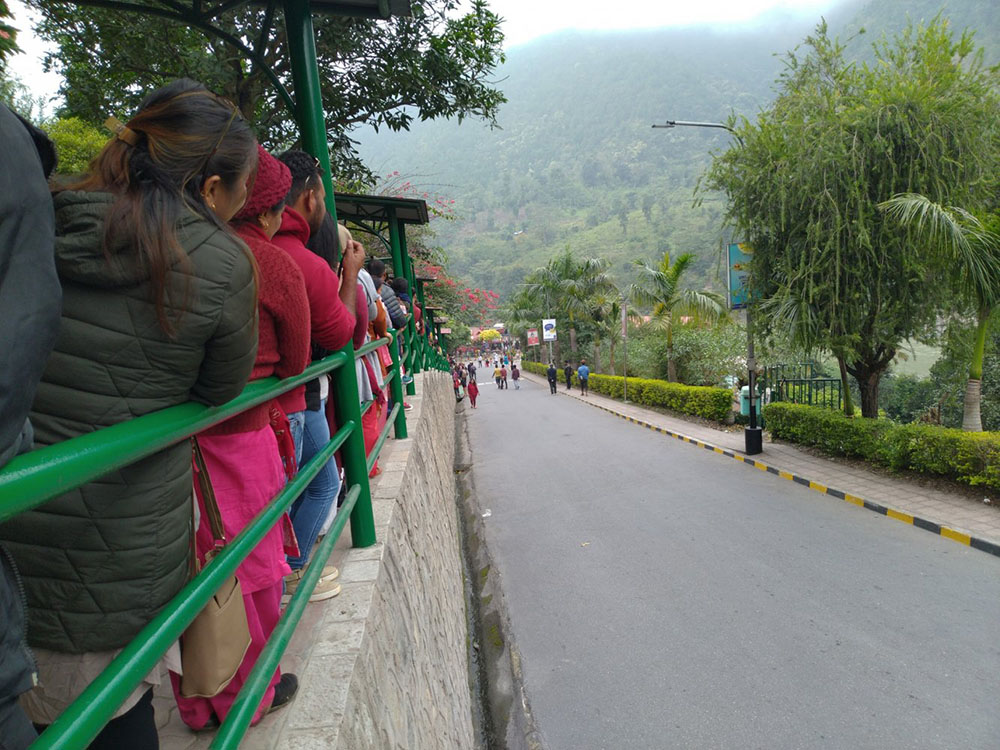 This needs a special mention.
One thing I realized is that people in Nepal are very trustworthy. In our entire Nepal Bike trip, we never got ditched or scammed. We had to visit Manokamana Mandir and carrying so much luggage to the place wasn't a good idea. So we left all our belongings on our motorcycle while we were away for almost 5 hours. Guess what, not a single item was touched, forget about getting stolen.
In Buddhist countries, (Nepal is part Buddhist, Part Hindu I believe), people do not steal. I had the same experience in Thailand too. We could sleep in our hotels at night while some of our gear used to be in the bike's rear box.
Maybe mountain people in general are trustworthy. Scammers are there in the markets but the local people, in general, are quite trustworthy.
Also Read: Road Trip to Morni Hills and Tikkar Taal
Return to Kathmandu
After Manokamana, we headed for Kathmandu and spent the rest of the evening resting in our hostel. For dinner, we tried a Tibetan dish named Thenthuk.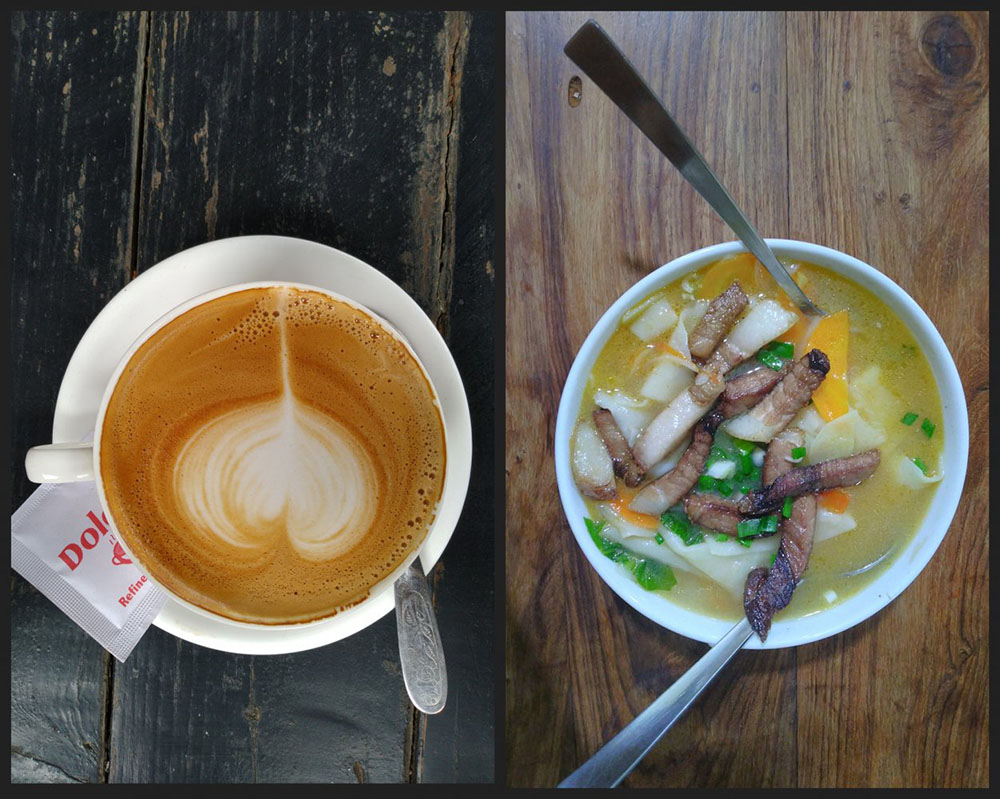 Day 8 – Return to India
The next morning we booked our return tickets and then spend the afternoon roaming Kathmandu, mainly Darbaar square and Swyambhu before finally starting our return journey home.
Thus came to an end to our amazing Nepal Bike Trip.
NEPAL, you were terrific. I will come back, for sure !!

Other Tips
Manokamana is exactly between Kathmandu & Pokhara.
Kaskikot view point. Not many people visit this place. It worth the visit. Regular site seeing taxis may not take you to Kaskikot village.
There are ponies that people can hire to Muktinath from the parking lot.
Local alcohol or the Apple wine at Marpha is a must-try.
Ruslan is a mild vodka, you would not get a hangover.
AMS is real and it may not always lead to a hangover-like situation. AMS can lead to irritating behavior for no reason. Have ample water and rest in between. Practically speaking, medicine can only do so much.
NCell connection is bad on most patches. So take the other one, I guess it's called NCET. Connection is available only in towns though. For most parts of the routes, it won't work. But it will work in Muktinath.
Pokhara – Muktinath – Pokhara can be done in 2 days, provided you ride for very long hours on both days. The problem will be on the second day.
Day 1 you would be able to reach Lete at most. If you want to come back to Pokhara the next day, you would have to drive for 11 hours. On top of it, there will be roadblocks and time spent in Muktinath darshan, stops, and breaks. Besides, you would be riding on Kaskikot road during the night, thereby missing the majestic views from the hilltops.
No bookings were made. Neither did we carry any offline map. But I do think, for Mustang valley, if someone rides at night an offline map becomes crucial.
Get one from KTM (~NPR 200 for a small map in Thamel); for Mustang the ones for the trek are no different from the ones for a motorcycle ride.
Nepal Bike Trip – Conclusion
I hope the travelogue, pictures, and information on planning a Nepal bike trip were of help. If you have any questions or need any other details, please feel free to ask in the comments section below, or at our Community Forum, and I will be glad to answer.