It has been over a month that I bought my first bike: Avenger 220 Cruise and I was desperate to make an outstation trip on it. This meant wide open roads and ample opportunity to test what this bike has to offer. Thus I decided to head to my favorite destination i.e. Chandigarh and from there, on a road trip to Morni Hills in Haryana.
Apart from being my favorite place, I also happen to be blessed to have my in-laws based in Panchkula so Chandigarh holds a special place. I can make a halt here before I head out to any place uphill.
So, I decided to head for a weekend trip to Chandigarh and then a short day trip to the hills. The choice was between Kasauli or Morni Hills. Due to road widening going on along Shimla Highway, I didn't want to get stuck in any traffic. Since it was my first trip on the hills on my bike, I decided to be extra cautious. Hence, I had to convince my wife to go to Morni Hills, a road less traveled, and a hidden gem of Haryana.
Road Trip to Morni Hills
Before embarking on this journey, I decided to go shopping and buy the essential accessories like Knee and Elbow guards. These are really life savors which I came to realize in my trip later on.
Delhi to Chandigarh
So after all packing is done, fuel check, and all other routine checks, I decided to start @ 5 am from Rohini, Delhi.
It was a smooth ride as there was no indication of rain and the air was cool as well. Near Sonipat, I found a trail of bikers going somewhere. I avoided the trail as they were being guided by 2 bikers on their right. They were escorting them as well as guiding them. It looked funny as I imagined a shepherd guiding his sheep to fall in line.
The bike was running smoothly. It was so smooth that I got a sore butt near Panipat toll. I decided to stretch after crossing the toll and give a cursory look to the bike as well. This is when I noticed that the side bag of the bike was limping on the exhaust pipe. I quickly checked it and found that it had melted.
It seems due to the vibrations of the ride, a bolt came loose and it got dislocated from its clamp and the heat of the pipe caused the meltdown. I quickly checked the documents and I was able to salvage the paper documents just in time. The outer cover of the documents had melted too.
Hence, I struggled a bit to remove the rest of the bag and had to dump it on the pavement.
With a heavy heart, I decided to cruise along. The next stop was to be at Jhilmil dhaba for a quick breakfast. Around 7:30, I had reached the dhaba. Then I decided to click the first picture of my journey.
Also Read: Road Trip to Renukaji – A Solo Bike Ride to Renuka Ji
Panchuka
I reached Panchkula at 10:00 AM. I had noted the readings of the odometer at every fuel stop. Hence, I decided to calculate the average of the bike and it came out to be a handsome 41 km/l.
I had a full day ahead of me. I decided to pay my friend a visit who jumped in happiness at the sight of my black beauty. Even though he had never driven a bike, he was happy to pose on it. Being a car lover all along, it was a fun hunt to find an extra helmet. Chandigarh is very strict in traffic rules. Hence, we had to make some calls and everybody was curious as to why we need a helmet. Damn you, car lovers.
Geri Route
Luckily, my wife had a spare one at her home and the problem was finally solved. Then we decided to do the thing which every bike lover does ritually in Chandigarh. The ritual of driving at the famous 'Geri Route'.
For the uninitiated, it is just a narrow road that passes through Sector-8,9, 10, and 11. Although we were quite late in our life for geris (both being married) but meh, yaar anmulle.
If you happen to visit the Geri route, do try La Pino's pizza slices at Sector 9 Chandigarh. It is in the same block as Back Packers Cafe restaurant. I never miss the pizza there when I am in Chandigarh and miss it so much here in Delhi.
After our aimless wanderings in Chandigarh, we decided to head back to our den in Panchkula. It is Sector 7 market. I miss those days when I used to ramble around in this market and devour every junk food available there.
In the end, we decided to wind up the day at Gymkhana club with lots of party and gossips. It was a day well spent. I didn't have a single shred of tiredness.
Also Read: Delhi to Sach Pass Bike Ride – Dalhousie and Sach Pass
Chandigarh to Morni Hills
As we had decided to visit Morni Hills only, we started around 10:30 AM from Panchkula. The road goes via Nada Sahib Gurudwara. There is a lot of construction work going on this stretch. Hence, it was very dusty and bumpy.
But as we took the first left turn towards the hills, everything was left behind. It is so peaceful and calm that it soothes your nerves. This part of the hills and forest has always been my refuge from city life. I would recommend this to people who like to be alone in nature.
The road to Morni hills goes through a natural reserve.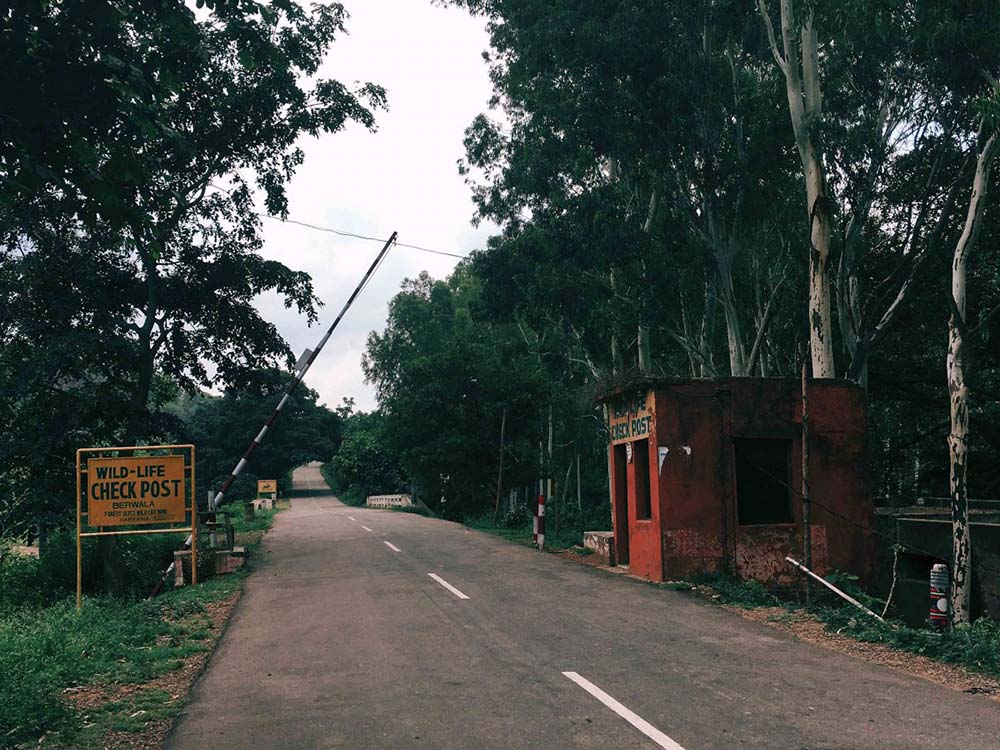 As it is clear from the above picture, the road goes like this all the way. Not even a single soul. Just you and your ride and of course monkeys, parrots, peacocks, langurs, and if the luck favors you, a deer as well. We could see a fawn in the bushes.
The road has ample bends and turns to keep the rider active and sometimes the forest is so quiet that you lose the sense of time and riding as well. I stopped liberally as and when we saw the edge of the valley.
There are numerous spots where you can spend hours watching the valley and the surprising thing is this all lies within Haryana and not Himachal. Since this was my first ride on my bike in the hills, I gave ample attention to beauty.
Also Read: Road Trip to Mcleodganj and Dharamshala on a Weekend
Tikkar Taal
We continued towards the destination i.e. Tikkar Taal which is a small lake nestled in Morni hills. Actually, it is 8 km downhill from Morni town. So, Morni hills, town, and Tikkar Taal all are used interchangeably. The ride was smooth as there is not even a single patch of bad road.
I clicked happily. I missed my DSLR a lot but my iPhone 6s didn't disappoint me a bit.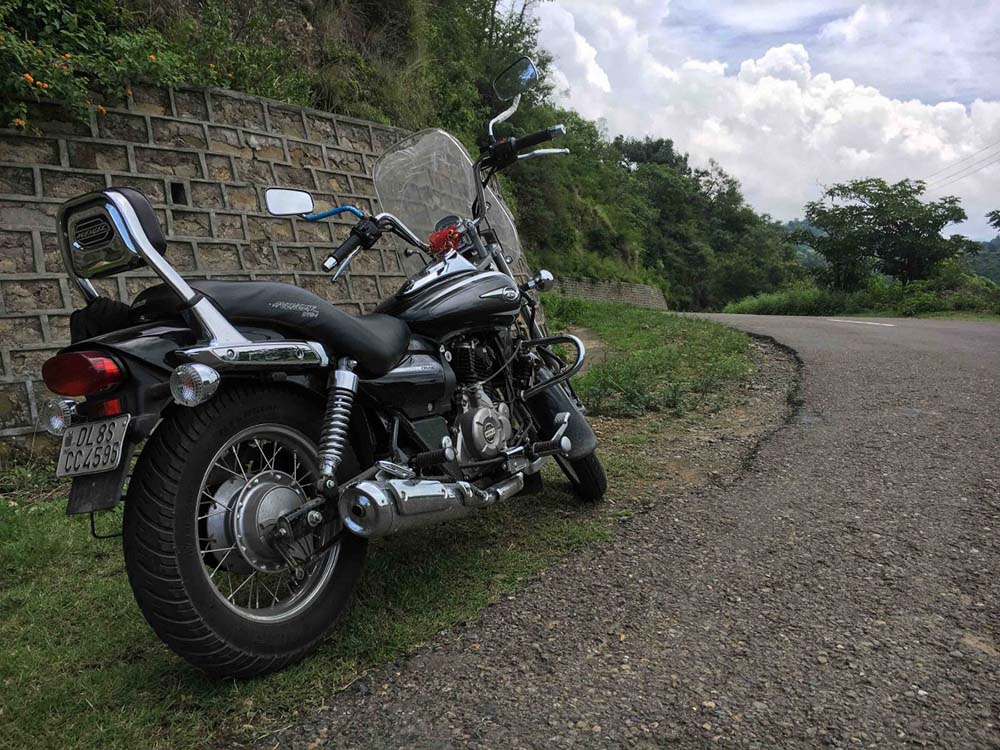 A temple below on the edge of the valley. It is just a narrow strip of the road and it has steep fall on both sides. I have seen very few places like this where the fall is on both sides of the road.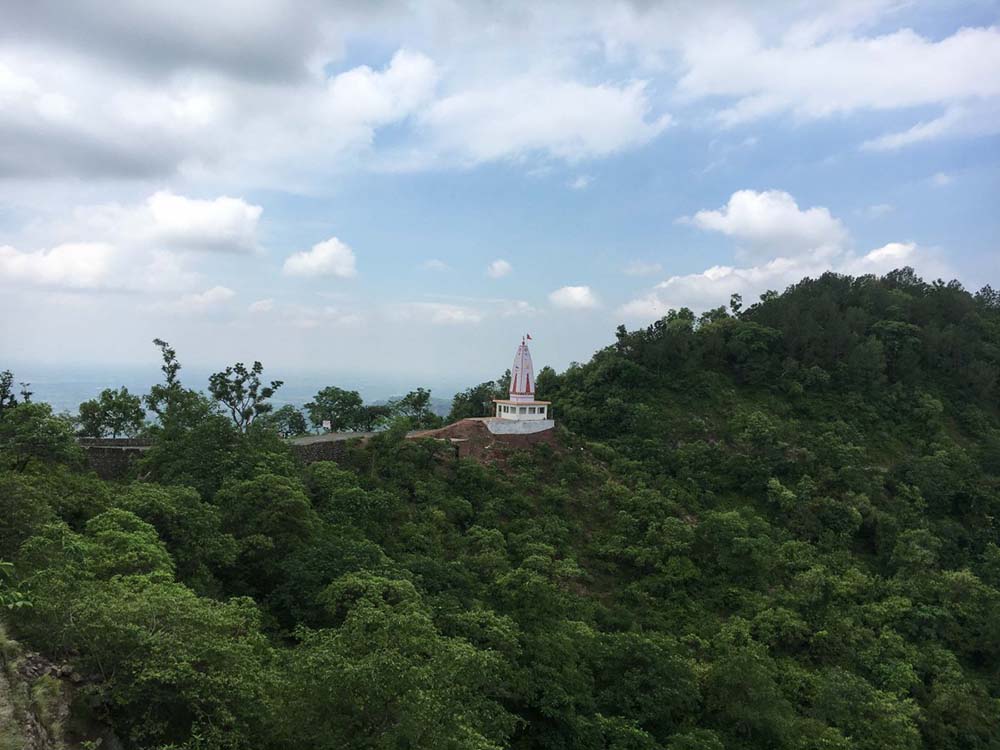 The first glimpse of the resort and its lake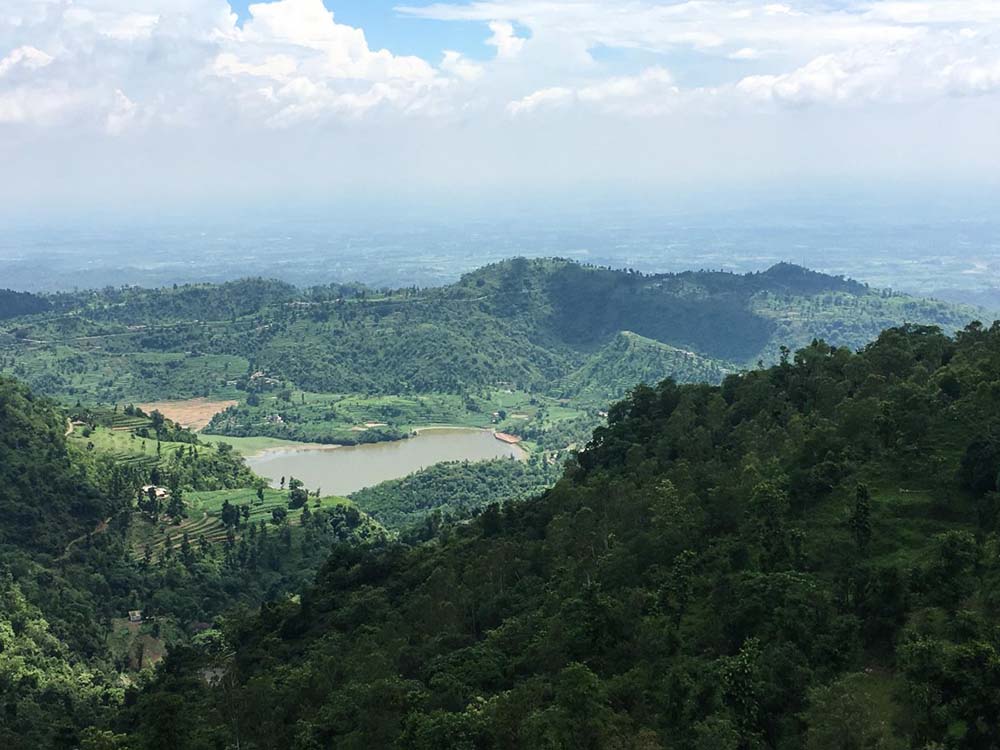 As it is clear, we needed to get down to the belly of the valley 🙂 I had to balance the bike carefully as there are enough hairpin bends to test the rider and the machine.
At one such bend, my wife pointed out that there was a snake resting in the shade and was just observing us as we made the bend. Scary but thrilling. Needless to say, my wife made it clear that we need to be extra cautious now when we drive close to any bush or tree.
Wildlife untouched by man. But there are many small villages on the way but there are no modern structures or rush like other places like Kasauli etc.
The downhill slope was a test as the bike rolls down quickly and I thought I lost control but phew, we made it safely to the flat ground soon enough.
Also Read: Delhi to Lansdowne – A Weekend Drive
The Resort
The resort was a let down as it was so hot that we decided to stay under the shed of the canteen there. The water level was also not up to the mark as the entire valley was devoid of any rains till now. Although it was clean and well maintained.
The green grass attracted a lot of cows and goats though. We didn't mind.
After a quick lunch of Noodles and a cold drink, we decided to go back. I was excited as now the downwards slope was not there but the uphill climb which I enjoy.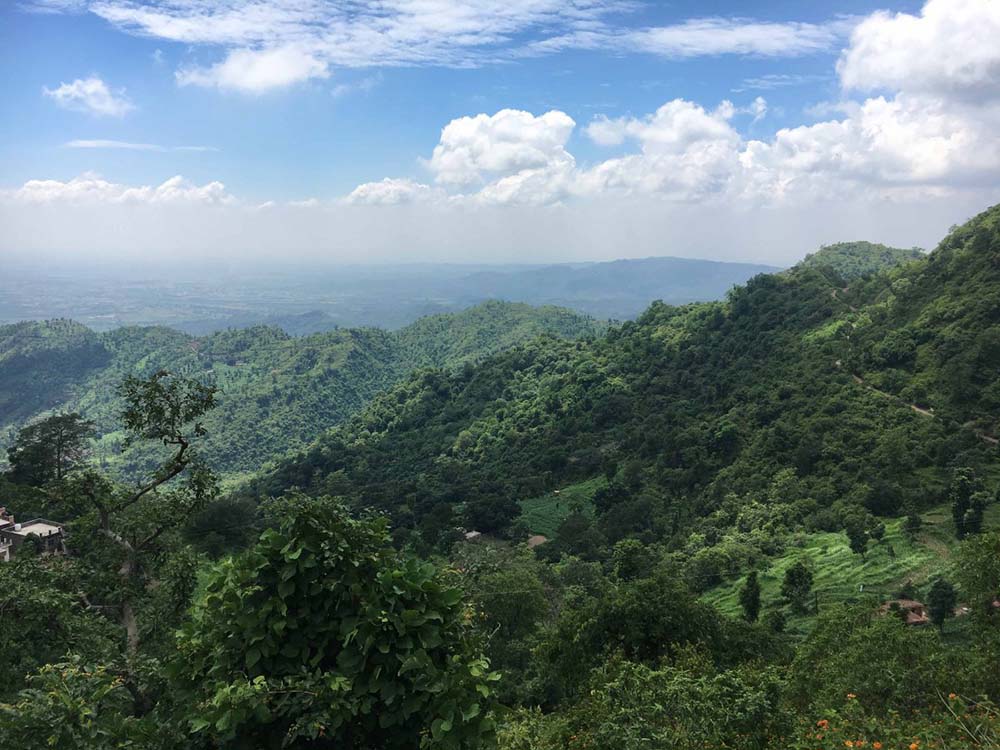 Sun was playing hide and seek across the forest slopes and the hills. I was happy and content with this short trip and the road back home was smooth as well. We reached back to Panchkula at around 4 pm. Just in time for the evening tea.
Road Trip to Morni Hills – Conclusion
That was the short road trip to Morni Hills on my newly bought Bajaj Avenger. I hope I will go for a long journey to Kinnaur valley as and when the monsoon is over in the hills. I hope the travelogue and the pictures were of help. If you have any questions about visiting Morni Hills, please feel free to ask in the comments section below or at our Community Forum, and I will be glad to answer.