This post is in continuation of a previous one and a part of my Delhi to Bhutan bike trip travelogue. We rode into Bhutan via Siliguri and traveled back via Guwahati. To read the previous parts of the travelogue, please click on the links below.
Journey so Far
Only when we woke up the next morning did we understand where we were and saw the place we had spent our night. We were in a small place called Yongko La. The place we spent the night was a house with multiple wings, and it seemed that it was made a few generations back, with a newer wing and an old wing.
The landlord operated a grocery store from the ground floor, which would always have a few locals milling around. The landlady was a very hospitable person and enjoyed talking to Mehr. She used to work on the loom making fabric from wool, which she informed us most households in Bhutan keep to weave clothes.
Day 10 – Yongko La to Sherubtse University
This was also when we realized that even the remotest Bhutanese family could converse in Hindi. When I commended them for speaking Hindi so fluently, she told us that they watch a lot of Hindi movies and serials as they get all Indian channels on cable.
Talk of cultural exchange, we don't even know where the influence of our pop culture extends. Even their children travel to India to study, and we came to know that their daughter was studying at Lovely University, Punjab.
The place we stayed at – Yongko La
Mehr in the traditional Kira
With the kind Yongko La family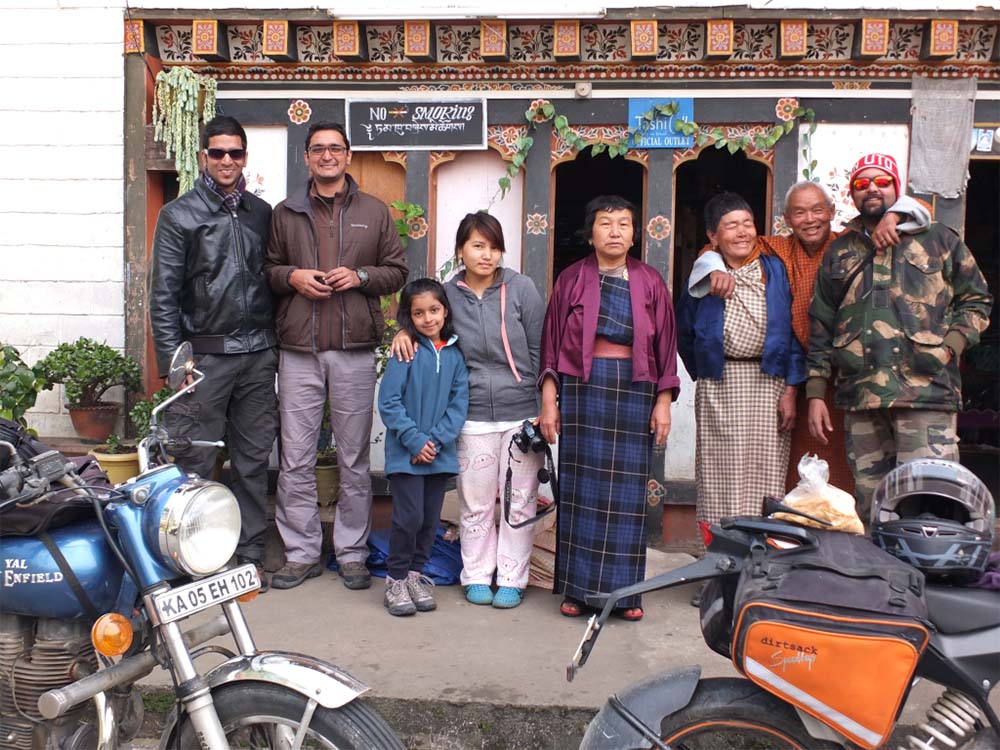 Happiness is a purring Kitten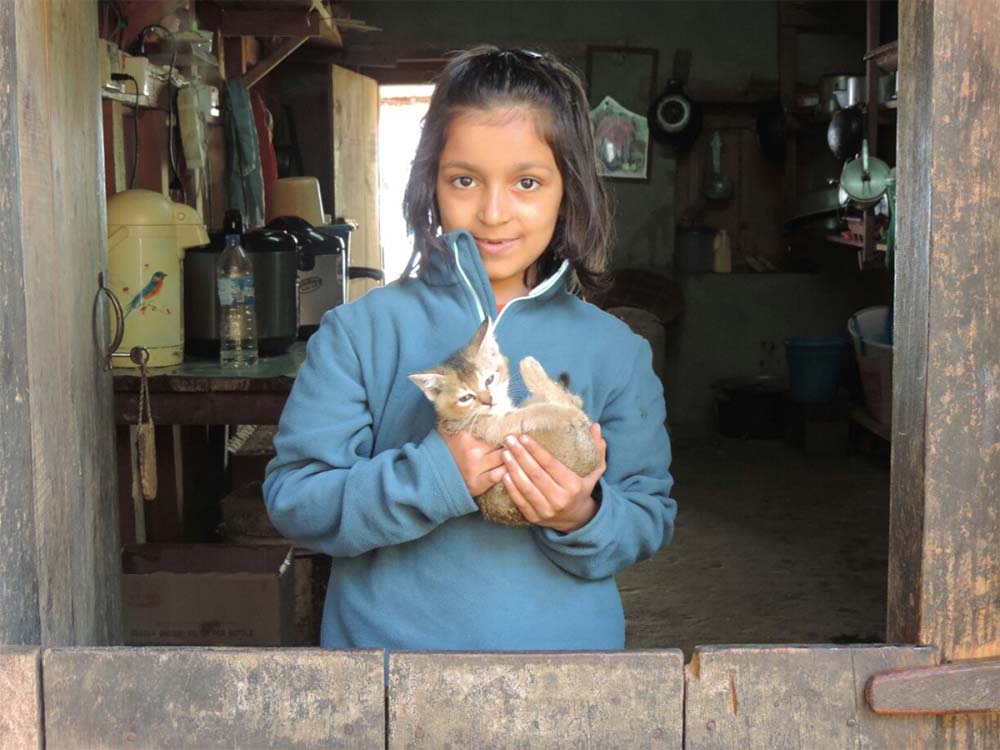 The packs only picture together in the trip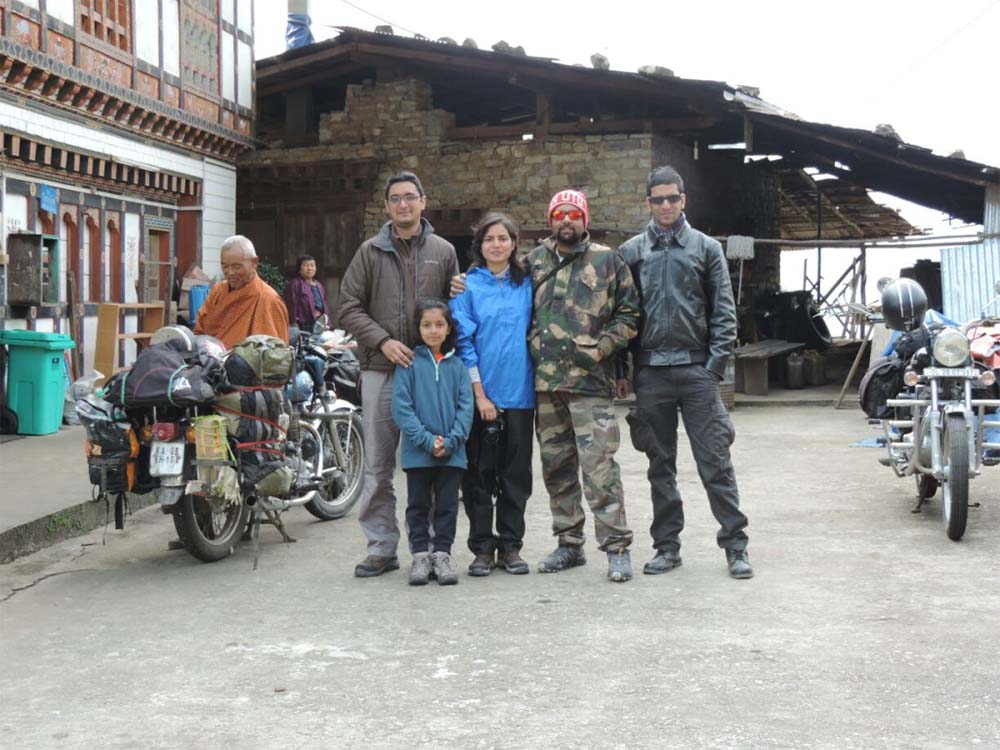 A Generous Host
We had a light breakfast and tea but spent a long time just sitting in the sun in front of their grocery store. Spending time in the grocery store was a nice experience. The store stocked a variety of cereal grains, small farming equipment, kitchen utensils and implements, and even clothes.
We bought a traditional Bhutanese dress for Mehr. It is somewhat like a Kimono and is known as Kira. A similar traditional dress worn by men is called Gho. The landlady was so delighted to dress Mehr up in the Kira, tucking it with safety pins, as is she was dressing up her own grandchild.
Like many other places on the trip, Mehr found a kitten and had a great time playing with it. When we left the place close to noon, it felt as if we were leaving a family behind.
Also Read: Bhutan Travelogue – One Step Closer to my Soul
Trashigang
The plan for the day was to continue east to Trashigang prefecture; then take the Southwards axis towards the Indian border. We were now approaching the end of our Delhi to Bhutan bike trip. We had not decided where we would stay. The general target was to reach Wamrong, ~200km away. We started off decently, gaining altitude from the valley floor.
After a while of riding, Crash/ came riding up from behind. He crossed all of us and proceeded to ride out of view. We rode on sedately, hoping to see him in a while when we would slow down after letting off some steam. As things would turn out, we would not see Sushant for a large part of the morning.
Since we had not bothered to get local SIM cards, there was no way of calling or tracking Sushant. We kept riding not knowing where Sushant was, and whether he was OK. It was a ride tinged with a little apprehension, as I did not expect Sushant to just ride off way ahead of us. After all, we were a pack, and a pack stays together.
Along the Dangme river, we rode for 2 hours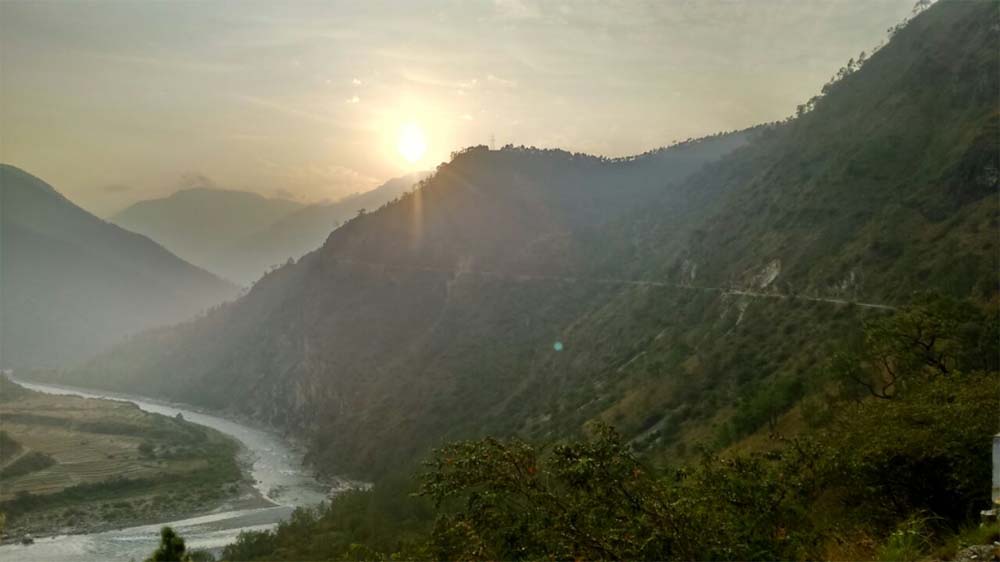 Chazam Bridge, crossing into Trashigang prefecture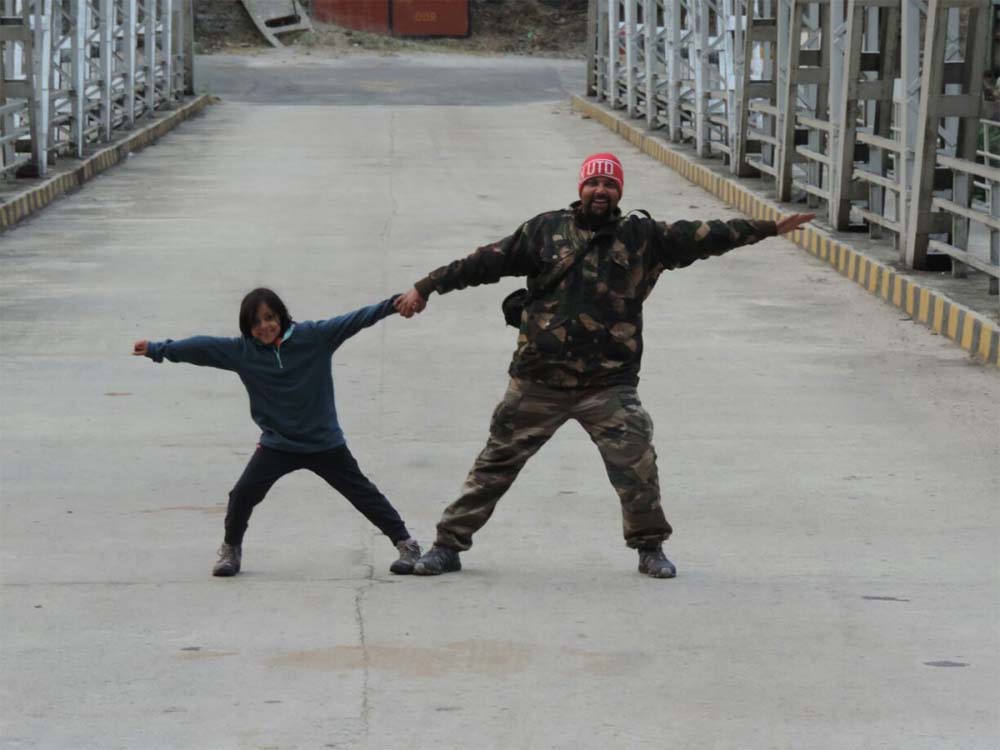 After what seemed like an eternity (really about 3 hours), we caught sight of Sushant riding on the opposite mountain face, some 8-10km ahead. Finally, we caught up with him at Chazam bridge on Dangme river; where the police at the check post had stopped him to check the permits, which were with me.
Chazam Bridge
We took a break to take some photographs of the Chazam bridge, which turned out to be iconic of this part of the trip. We quickly climbed up the valley to Trashigang, where we took a break for a quick bite and to refuel. The stop at Trashigang cost an hour and a half, with the restaurant having painfully slow service, with us being the only patrons.
When we started towards Wamrong at about 4.30 pm, we had another 80km to go for the day. Just out of Trashigang we ran into ongoing roadwork, which slowed us down considerably. It was already dark and the road became incredibly muddy, with the motorbikes slipping and the spinning wheels struggling to find traction.
After an hour and half of riding in mud, interspersed by road rollers, bulldozers, and graders, we realized that we had covered just 15km, and we had another 55km to go to Wamrong. The mood turned cold, as the prospect of a further 3 hours of a ride through mud and slush loomed.
We were in a catch-22 situation. As far as we knew, and had seen in the last few, besides the towns marked on the map there would be no small towns or villages that could provide accommodation. And the next town on the map- Wamrong- was a daunting 55km, or 3 hours away. If we turned back, we could reach Trashigang in an hour and 15 min.
But then we would have to re-do the same mud and slush we had already come through, turning the next day's ride into an ordeal of 10 hrs. Talk of being stuck between the devil and the deep blue sea!
An Unlikely Accommodation
We decided to push on. The gods must look after their craziest subjects. Half an hour on, we saw the lights of a town and rode into a small market full of young children who were crowding around a row of food shops. These looked like college kids, and there were a whole bunch of them. As we stopped, quite a few of them came over to talk to us.
It turned out that this place was the famed Sherubtse University- the largest and most important one in Bhutan. And these kids studied and lived at the university. They told us that there was no hotel or lodge in the vicinity, just the university, and the few shops.
At this point, Jaya once again rose to the occasion. Eldest as she was, she declared to the pack "Kids, this is where we make our camp tonight, there will be no discussion on this". As we watched in amazement, she got talking to some of those helpful kids. One of whom called the admin head of the university, to whom she patiently explained our predicament- bikes, cold, bad roads, long ride, and a small kid.
When she finished her call, she told us that the kind gentleman had allotted us two guest rooms at the university for the night. What a relief it was, to realize that we could rest immediately, have a leisurely dinner, sleep on time, and fight out the mud & slush with a refreshed body the next day!
Also Read: Bhutan – From the Eyes of a 12-Year-Old
The Campus
Sherubtse University is set in a picturesque and huge campus. We only got a brief lay of the place as we parked our bikes, carried our luggage to the rooms, refreshed, and went out for dinner. Some of the kids told that there was a nice diner a km down the road. I faintly recall it was called Tigers nest, or Tigers den.
It turned out to be a cozy little place, with an awesome enthusiastic, and warm host. He made sure that he ordered for us, getting us the best dishes on the house. In a while, we got discussing the local spirits and he was very happy to know that we had tried and liked Chang. He quickly arranged for some Honeybee rum for us, which really got us in good spirits.
We had a heartwarming dinner and conversation, and retired to the University guest room, steeling ourselves for tackling the bad roads that awaited us the next day.
Day 11: Sherubtse University to Guwahati
We got up really early the next day. There was no plan. This was the last day of our Delhi to Bhutan bike trip. We had to make sure we reached Guwahati by nightfall as all of us had return tickets for the next day. The border was 160 km from Sherubtse, and Guwahati was another 100 km.
The Ride Back
We started at about 6:30 am. It took us the promised 3 hours to cover the 59 km to Wamrong. We stopped for snacks and tea. Wamrong was a small place, with some 25-30 stores and eating places along the main road. There was hardly any place to park our bikes, so we had to park them in a tight line – one behind the other – by the road.
Also Read: Road Trip to Bhutan – Journey of a Lifetime
While we were having breakfast, we met a young Japanese couple, who were as surprised to see us there, as we were to see them. They had been staying in Bhutan for a year, teaching. We chatted for a while, exchanged contact details, and said goodbye to be on our way again.
The steeds wait at Wamrong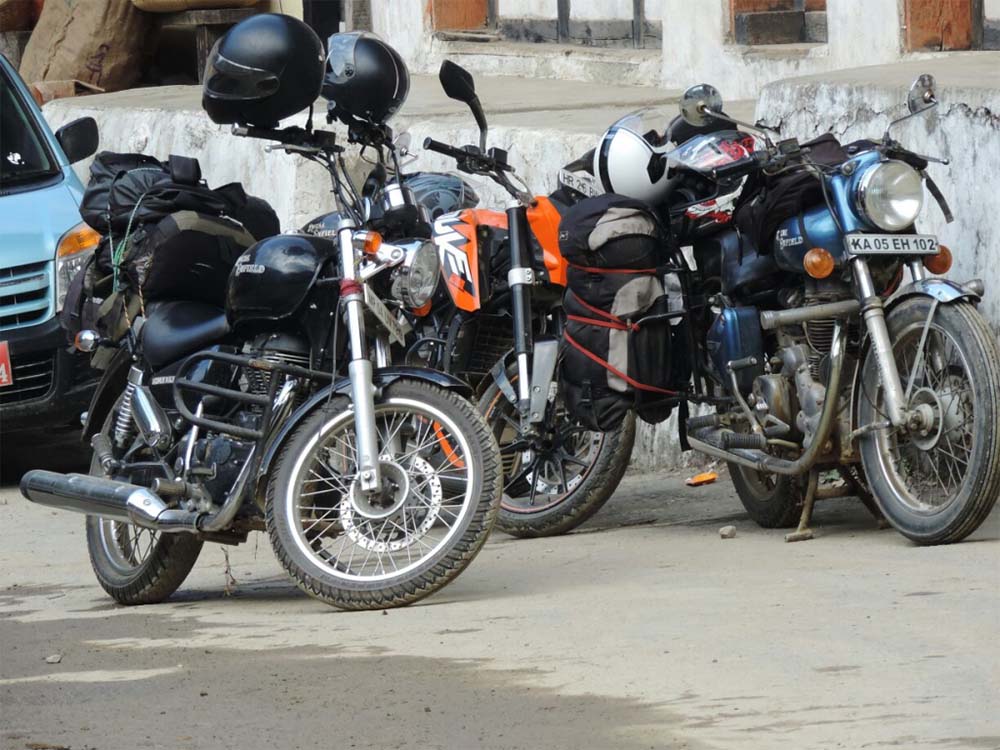 The Bad Roads
The road surface began to deteriorate, and in a while, we were riding on a bumpy dirt road. It seemed as if the surface had been taken off for relaying, except that the relaying had not happened. We endured the next 40 km of this surface, bumping along.
Some moments take your breath away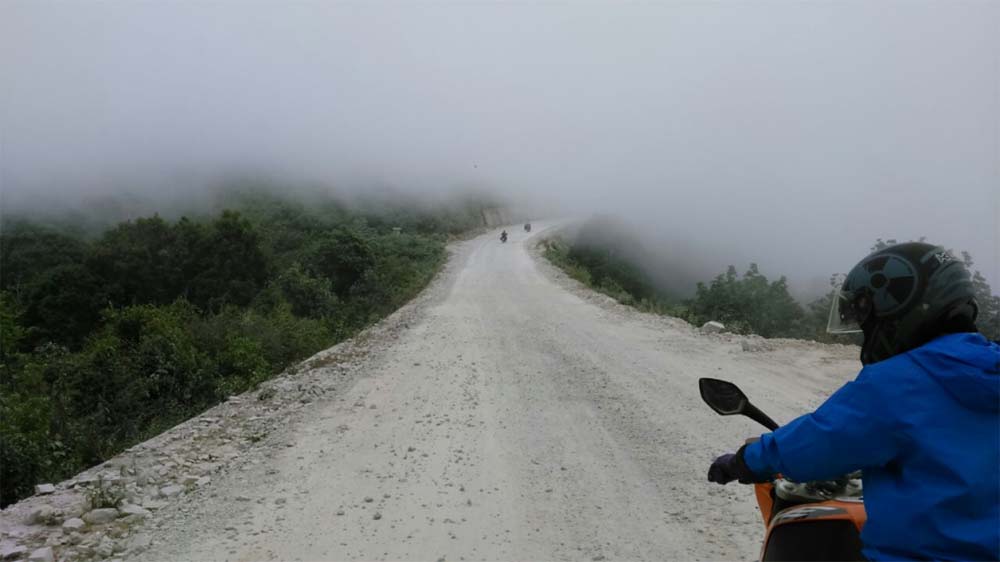 When we were getting really tired of the bumps, we rounded a corner and came upon freshly laid butter smooth tarmac. The tarmac was so good, and we were so rattled that we actually stopped to take a photograph at the junction.
Also Read: Road Trip to Spiti Valley from Delhi by Car
Thank you, Lord, for the good tarmac.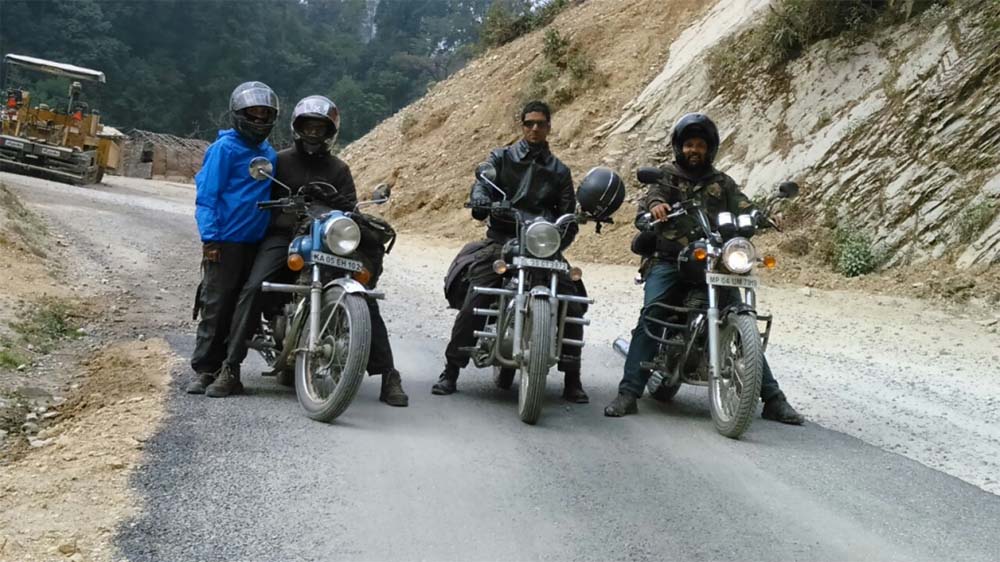 Our euphoria was short-lived, as barely half an hour later the skies darkened further and big fat drops of rain greeted our descent from the Bhutanese mountains. We quickly stopped and took shelter under an overhang and put on our raincoats.
I was not willing to ride in the rain (I never am). After a while, Jaya decided that we should move; saying that the rain will stop if we move and continue if we stayed still. Very reluctantly I got back on the bike, and for sure, after 8-10 km in the rain, the sun broke out and warmed us up.
Waiting for one of the inevitable landslides to open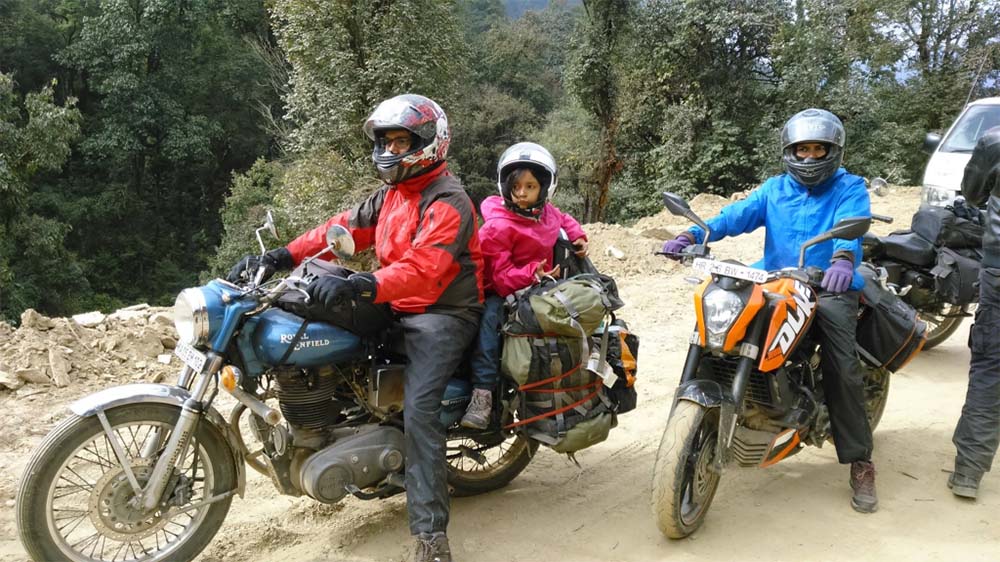 The Border
We knew we were going to be in the plains soon, close to the border. But we were surprised by the abruptness of it. One moment we were negotiating corners, and suddenly the road straightened out into a village. Barely half a km down we saw the border gate.
Bhutan truly is the mountain kingdom. Its borders are defined by the terrain so exactly, that there aren't even 500 meters of plains before the border begins anywhere along the Bhutan-India border.
We were not ready to cross the border yet. It just felt a little sad. We wanted one last taste of Bhutanese food and wanted to savor a Black Mountain and Kings-V to have a memory of our trip for a few months. So we backtracked to the market in the village that was Samdrup Jhonkhar and sat down for a light snack.
Finally, we were exiting Bhutan after 8 days of riding through the most picturesque of the Himalayas. We received the hospitality of and came to know some of the nicest and most contented people we had ever met. The scenery we witnessed was breathtaking.
We enjoyed the Bhutanese food and wine. We discovered in each other our truer selves; what we are when we are not having to do anything through compulsion. It was a trip of discovery, within and outside us. And we came back much richer, and closer.
Also Read: Dubai Travelogue – A Vacation in the City of Dreams
Guwahati
The rest of the ride to Guwahati was uneventful. We duly packed our bikes and handed them over to the parcel office at the station, and this time kept the Bilti carefully. That's the end. Nearly.
We had to send the old Bilti to the New Jalpaiguri station master. But when we got back, but we could not find it at home. Turns out, Jaya had very carefully kept it in the secret inner pocket of her handbag, and we had it with us the entire trip.
Delhi to Bhutan Bike Trip – Conclusion
That concludes our Delhi to Bhutan bike trip that did not go as planned at all but was still a lot of fun. I hope the information and pictures were of help. If you have any questions or need any help in planning your own trip, please feel free to ask in the comments section below or at our Community Forum, and I will be glad to answer.