What is definitely one of the most anticipated and waited upon Bus services of our country was flagged off for the year 2021. Yes, I am talking about the Delhi to Leh Bus Service 2022 which will start in June from ISBT Delhi to travel daily to Leh City via Manali.
This Bus will remain in service until the end of September before the highway gets closed for the year in October. Traveling over 1000 kilometers in a daunting journey of 38 hours; it will take its travelers through the beautiful and lush valleys of Kullu and Lahaul and to the barren landscapes of Ladakh which makes it one of the most amazing Bus journeys you can experience in India.
Also Read: How to Plan a Trip to Ladakh –  A Complete Travel Guide
So if a trip to Ladakh was on your mind in the year 2022 and traveling by your own vehicle wasn't an option, you can board the bus from Delhi and embark upon a journey that you will remember for years to come. Below are the schedule and information on Delhi Leh Bus service 2022.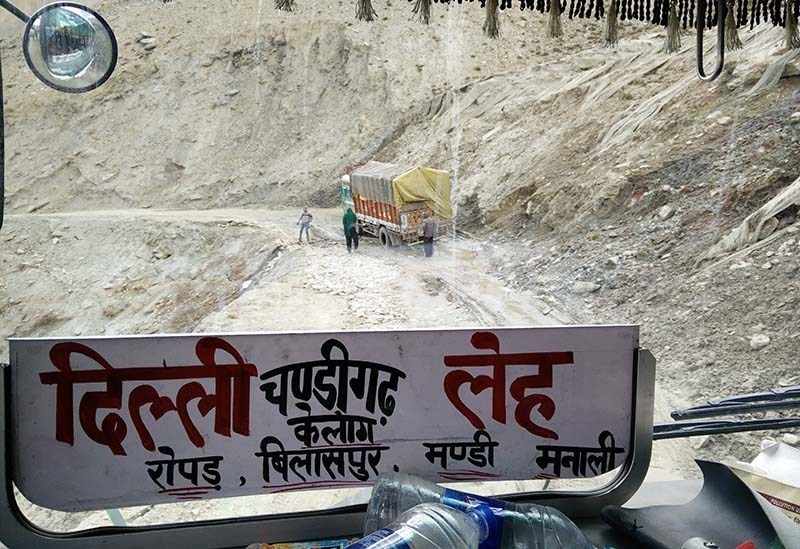 Below is an index of the information I will be covering this post.
Delhi to Leh Bus Service 2022
The Bus will start at 2.30 PM from Delhi's ISBT and reach Manali at 5.30 AM the next day. It will then start from Manali at 7.15 AM and arrive at Keylong by 1:30 PM where it will halt for the night. It will then start from Keylong at 5 AM and arrive at Leh by 7 PM the same night.
Bus Details:
Delhi to Leh Bus Route: Delhi – Chandigarh – Bilaspur – Mandi – Kullu – Manali – Keylong – Sarchu – Pang – Upshi – Leh
Bus type: TATA Ordinary 2X3 (47 seater)
Delhi to Leh Distance by Bus: 1016 kilometers
Delhi to Leh Bus Fare: Rs. 1353
Halts: The Bus halts for the night at Keylong. Accommodation cost at Keylong is not included in your ticket but you will easily find budget hotels near Bus stand itself.
Mountain passes covered: Rohtang La, Baralacha La, Nakee La, Lachulung la, Tanglang la
Delhi to Leh Bus Service Time Table
Departure from Delhi: 02:30 PM
Departure from Chandigarh (Sector 43): 8.30 PM
Arrival at Kullu: 5.15 AM
Departure from Kullu: 5:30 AM
Departure from Manali:  7:00 AM
Arrival at Keylong: 01:00 PM
**Night Halt**
Departure from Keylong: 05:00 AM
Arrival at Leh: 7 PM
Also Read: How I traveled to Ladakh by Public Transport?
Delhi to Leh Bus Service Schedule
Evening snacks: Karnal
Dinner: Ropar
Early morning Break: Pandoh
Breakfast: Gulaba
Lunch: Koksar
Breakfast: Bharatpur near Baralacha La
Lunch: Pang
Evening snacks: Upshi
Reverse Schedule
Below is the schedule of this bus while traveling from Leh to Delhi.
Departure from Leh: 4:00 AM
Arrival at Keylong: 6:00 PM
**Night Halt**
Departure from Keylong: 6:30 AM
Departure from Manali: 1:25 PM
Arrival at Delhi: 3:30 AM
Delhi to Leh Bus Travel Time
The total journey, including the night stay at Keylong, is of 52 hours. But the actual travel time in the Bus is of about 38 hours.
Also Read: Manali to Leh One Day Bus Service
Delhi to Leh Bus Journey Explained
So in order to explain in very simple terms (by someone who has traveled by this Bus), this is how it works. It is not really a one Bus journey as such but it just named so. You do not sit down in just one Bus and travel in it all the way to Ladakh. You first catch a Bus from Delhi AT 2.30 pm for Keylong from ISBT. It reaches Chandigarh late evening and then you have dinner there. The Bus starts from Chandigarh again at 8.30 PM and you doze off for the night.
When you wake up the next morning, the Bus will be in Kullu. You will get down for a short break, have a cup of tea and then the Bus will start again. A little later, it will arrive at Manali and will take a somewhat long break. From Manali, it starts at about 7.30 and climbs up Rohtang Pass. As per the schedule, it should arrive at Keylong by 1.30 PM but due to the messy traffic situation at Rohtang, it usually makes it to Keylong between 3-4 PM.
You will get down at Keylong and look for a place to stay. There are several budget hotels there where you can stay for the night but make sure that you find a place closer to Bus stand. HRTC arranges tented accommodation for its passengers near the Bus stand and if you like, you could stay there as well.
Keylong to Leh Bus
You will sightsee a little, walk around the market, have dinner and call it an early night. You will wake up at 4.00 AM in the morning, freshen up, check out of the hotel and reach the Bus stand in pitch black dark. From Keylong counter, you will buy a ticket which will come with a seat number allocated. You will be seated and the Bus will start for Leh in a freezing cold early morning at 5 AM. It will then climb up and down the hills, take you across 4 more passes and reach Leh Bus stand by 7 PM.
Now if I talk in my experience, it is a very ordinary Bus but comfortable enough. It is no luxury deal however and can be inconvenient for some people so deep keep that in mind before you decide to do this journey. Is it worth it? Only if you are an adventurous type and traveling on a shoestring budget.
Delhi to Leh Bus Fare 2021
The entire journey from Delhi to Leh will cost you a total of Rs. 1353. This, however, is only the cost of Bus tickets. Your overnight stay at Keylong is not included in this price and you will have to pay for that separately. All the meals or snacks that you will have on the way are payable by you and nothing will get covered by HRTC in this cost. The tented accommodation that HRTC sets up will also have to be paid for by you and is not a part of your Rs. 1353 ticket.
Accommodation at Keylong
The accommodation that HRTC provides at Keylong is a Unisex dormitory type. What it basically means is that they set up a huge tent and there are beds lined up inside it. The cost per bed is Rs.150. So if you were a guy and a group of guys traveling on a shoestring budget then this is your best bet. Other benefits of staying at this accommodation are that it is right next to the Bus stop and run by HRTC itself. So there cannot be a situation where you overslept and missed your Bus to Leh the next morning.
Also Read: How to Make a Budget Trip to Ladakh
On the downside, you will have to share accommodation with a whole lot of strangers. They will all be sleeping inside a huge tent on lined up beds. Washroom too would be shared with all the other passengers. So privacy and hygiene can be a concern. If you opt not to, then you will find plenty of other hotels in Keylong to stay at for the night. Average charges at these hotels will be around Rs. 800 to Rs. 1000 per day.
Delhi to Leh Volvo Bus
There is no Volvo or luxury Bus available from Delhi to Leh but there is a way that you can make this journey so. What you can instead do is to book a Volvo Bus by HRTC or by any private tour agent from Delhi to Manali. This will not be difficult and there are numerous luxury buses traveling between Delhi and Manali daily. Then from Manali, there is a luxury bus available that is operated by HPTDC. Please read Manali to Leh Bus Service – HPTDC & HRTC for more details on this Bus. So this way you will be traveling by two different buses but both of them will be luxury ones. You will break your journey in two parts, manage on your own, buy tickets separately but that will anyway be the case even if you went by HRTC Bus from Delhi.
Delhi to Leh Sleeper Bus
There is no sleeper Bus available from Delhi to Leh. The only way to find one is to manage the journey in the way I explained above for Volvo.
Delhi to Leh Bus Service Frequency
This is a daily Bus from both Delhi and Keylong. Earlier, when the service was introduced, it was limited to only 3 times a week. It was then later changed to every alternate day but keeping the huge number of tourists in mind, the schedule has now been updated to daily. You can find a bus from Delhi as well as Keylong for Leh on all days at their respective timings. This has been the frequency for last few years and it remains to be the same for Delhi to Leh Bus service 2020 as well.
Delhi Leh Bus Service by HRTC booking
How to book Delhi to Leh Bus? There is no booking system available and the tickets must be bought in person from the booking window. This will be the case from Delhi and Keylong both. The only booking option you have is that you can buy a ticket a few days in advance from Delhi. So for example, if you are traveling on Friday, you can go and buy a ticket on Thursday or Wednesday to avoid any last minute hassle.
Also Read: Bus Service Within Ladakh
The ticket from Keylong, however, must be bought on the spot in the morning when you are about to board the Bus. But do not worry; there cannot be a case that tickets were sold out.  If the number of travelers was more than a single Bus could carry, HRTC will align a second Bus for that day's journey. So your travel and itinerary will remain guaranteed even if you weren't booking in advance.
Delhi to Leh Bus Sightseeing
No, this bus does not stop anywhere for sightseeing. The stops will be limited only for meals and other scheduled breaks that I have listed above in this article. On Day 1, it runs straight to Manali. On Day 2, the first stop will be at Gulaba for breakfast. Next stop will come at Rohtang Top for 15 minutes approximately. The Bus will then briefly halt at Kokhsar and run straight to Keylong then.
On Day 3, it will stop briefly at top of the passes en route for about 15 to 20 minutes each. One short break will be at Deepak Taal but the driver may change is mind about that. Apart from his, the other two breaks will at Bharatpur for breakfast and Pang for lunch.
With that being said, it also depends on the mood of the driver. The passengers may request him en route to stop for a little while for short breaks.
Delhi to Leh Bus Ticket Booking
There is really no booking system available as such but you are allowed to buy your ticket in advance from the booking window as I explained previously.
Also Read: Srinagar to Leh Bus Service
How to Book Delhi to Leh Bus Online?
There is no online booking system available for this Bus yet. The ticket would have to be bought in person from the counter. The Manali to Leh HPTDC Bus, however, has a booking system. So if you were traveling by that, then you can first book a Deluxe HRTC bus from Delhi to Manali and then travel from Manali to Leh by HRTC Bus.
How Safe is the Journey by Delhi to Leh Bus?
My two words answer would be "very safe". Yes it is uncomfortable a little due to being in an ordinary Bus but there is really no concern in terms of safety. Don't just take my word for it though. Read A Girl's Solo Trip to Ladakh written by a friend of mine. She traveled to Ladakh all on her own by Bus and used different modes of travel in Ladakh as well to move around. Take a look at the travelogue and it will give you a great idea on how you can plan your entire trip to Ladakh by Public Transport.
Other Tips
The long hours sitting in an ordinary bus will be tiresome so be prepared mentally.
From Manali to Leh, pick a sit in the row behind the driver to get better pictures. While coming back from Leh to Manali, sit on the other side.
Washrooms will be dirty and a challenge.
You may suffer motion sickness in the Bus. Drink plenty of water to avoid that and eat small meals in the form of snacks to avoid that. Do not go empty stomach and do not overeat either.
Even if by a Bus, you should remember that you are traveling through a cold desert. Dress appropriately. Do not put on clothes that will leave you shivering in cold. But at the same time, do not put all the heavy ones that will make it impossible to sit in the Bus comfortably.
Conclusion
I hope the information above on Delhi to Leh Bus Service 2020 was of help. If you have any questions; or need any other details; please feel free to ask in the comments section below; or at our Community Forum; and I will be glad to answer.