Chatpal, also called Chattabal, is not really a name that many tourists know about. It is a small valley located near Pahalgam but while Pahalgam receives thousands of visitors each year, almost no one goes in the direction of Chatpal. It is one of those places in Kashmir that are still unexplored and yet to find their place on the tourist map.
The majority of the folks you will find in Chatpal will just be the locals from Anantnag or any of the nearby villages, out there for a picnic or a family outing. Even they visit Chattabal usually over the weekends, on Sundays. For the rest of the week, you will hardly see anyone there.
So what is Chatpal then? Should you visit here and if yes, then how? These are some of the details that we will talk about in the post below. I visited Chattabal during my recent trip to Kashmir and while I surely loved the place, there are a few things that you should know before you go.
Journey So Far:
It was the second day of our trip when we went to Chatpal. To read the previous parts of the travelogue, you can follow the links above. You can also take a look at the video below to get a better idea of the place.
YouTube Video
About Chatpal
Chatpal (or Chattabal) Valley is a forest region located near Achabal in Kashmir. What you get and see when you reach there is an open spot with a water stream flowing down, a couple of small shops, a government rest house, a few huts, an open park, and a grassy meadow-like area. That is all that Chatpal is.
In fact, there are hundreds of such other spots scattered all over Kashmir. Another one close by is Daksum, another popular picnic spot. These are serene little places that are perfect to spend some time in peace with your family and friends.
So should you visit Chatpal or not? Well, this entirely depends on what kind of experience you are looking for. If you are someone who enjoys comfortable stays, likes to eat out in fancy places and visit markets in the evening, or basically wants to go to a place like Manali, then Chatpal is not for you.
On the other hand, if you are someone who likes to go to offbeat places, away from the crowd, and spend some time in peace, then Chattabal will surely look charming to you.
It is a place where there is nothing to do but just sit down and gaze upon the mountains. It is a place where there is nothing to see in particular other than the forest and the river itself. If you come here, peace and silence are what you get, nothing more, nothing less.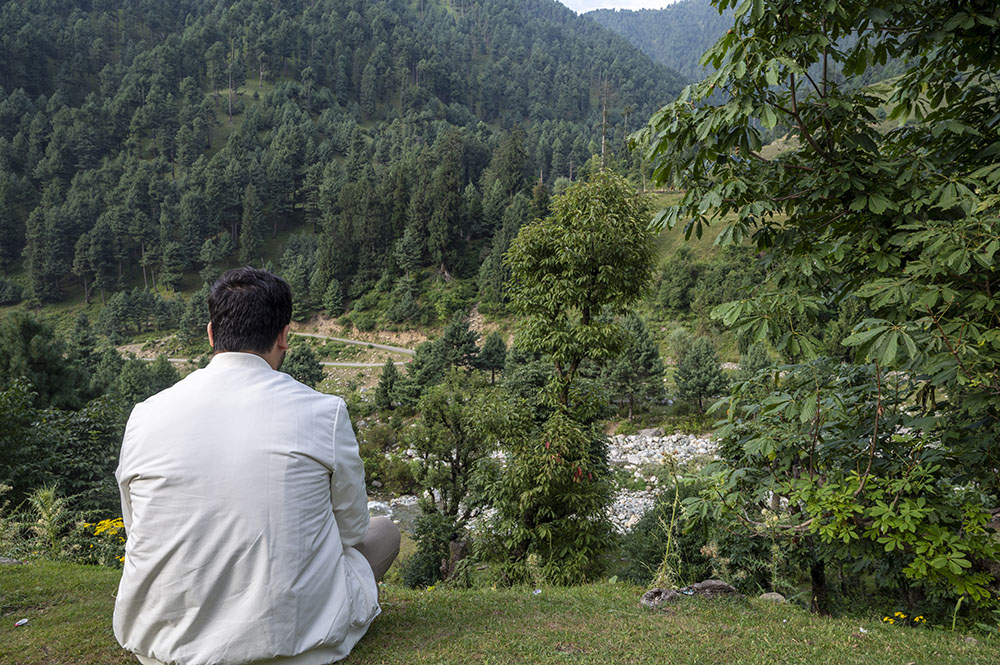 Day 2 – Pahalgam to Chatpal
Do not get me wrong. I am not saying you should not go to Chattabal. I did and loved spending my time there. In fact, for a moment, I even considered staying there for a night.
It was the second day of our trip, a day when we were totally in exploring mode. The original plan for the day was to go to Margan top but that did not materialize because of the rain gods. So we went to Sinthan Top instead. But we also picked a few other spots that we wanted to cover on this day. Chatapal was one of those places.
We started from Pahalgam in the morning at around 8 a.m. We first went to Achabal Mughal Gardens, Daksum, and finally reached Sinthan Top by noon. I have talked about this in the previous parts of the travelogue. After spending about an hour at Sinthan Top, we drove back down to Achabal and turned on the road to Chatpal from there.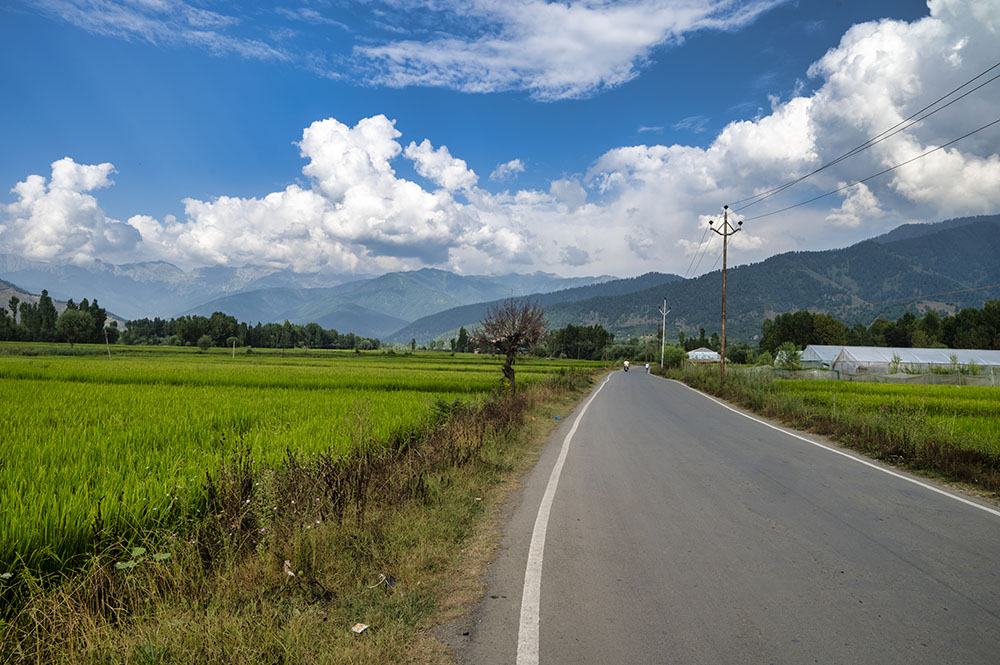 Chatpal is about 22 kilometers from Achabal. The condition of the road was good and it took us about 30-40 minutes to complete the journey. On the way, we took a break at this scenic spot, went down to the river, and clicked a few pictures.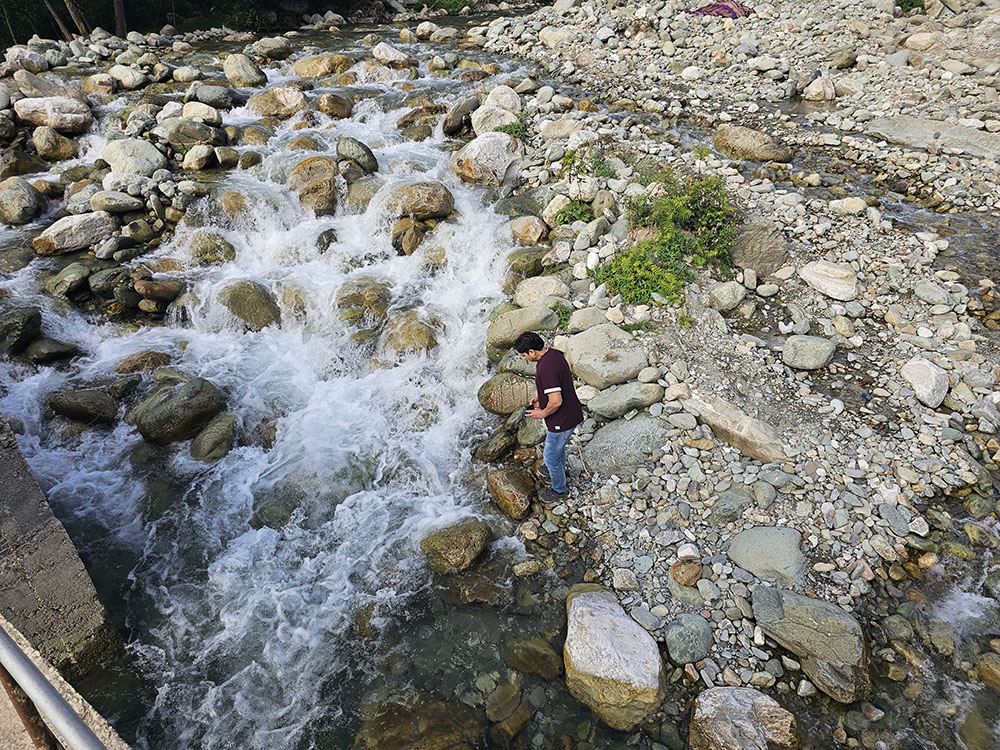 Chatpal Valley
The valley that Chatpal is located in is parallel to Pahalgam. The roads to both these places bifurcate from Anantnag but in the same direction, putting these places almost parallel to each other. Take a look at the picture below.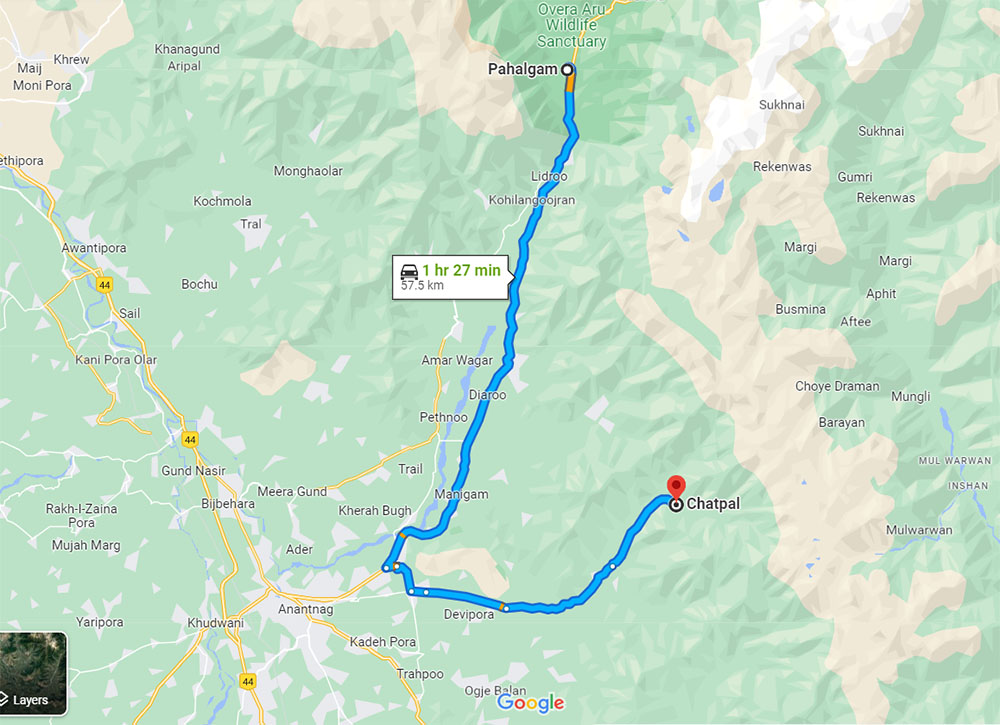 So the natural beauty that you see in Chatpal is also very similar to what you would see in Pahalgam. The difference however is that while Pahalgam is a major tourist attraction that receives thousands of visitors each year, Chatpal Valley is still unexplored and receives minimal tourists.
Pahalgam is a town with hotels, restaurants, and everything that a tourist would need. Chatpal on the other hand is just a small village with nothing around. All the modernizations that Pahagalm has are yet to reach Chatpal.
I had been to Pahalgam before a couple of times and had already seen places like Betaab Valley, Aru Valley, and Chandanwari. During this trip, we were again going to stay there for a total of 3 days and I wanted to see some offbeat places this time. That is how Chatpal got added to the list, at the suggestion of a friend, Faisal, who is a local of Kashmir.
Chattabal
When we reached Chatpal, I was disappointed at first. But I think that was because my expectations were wrong. What I was expecting was a large meadow like Yusmarg or Doodhpathri but it was nothing like that. This is what we saw.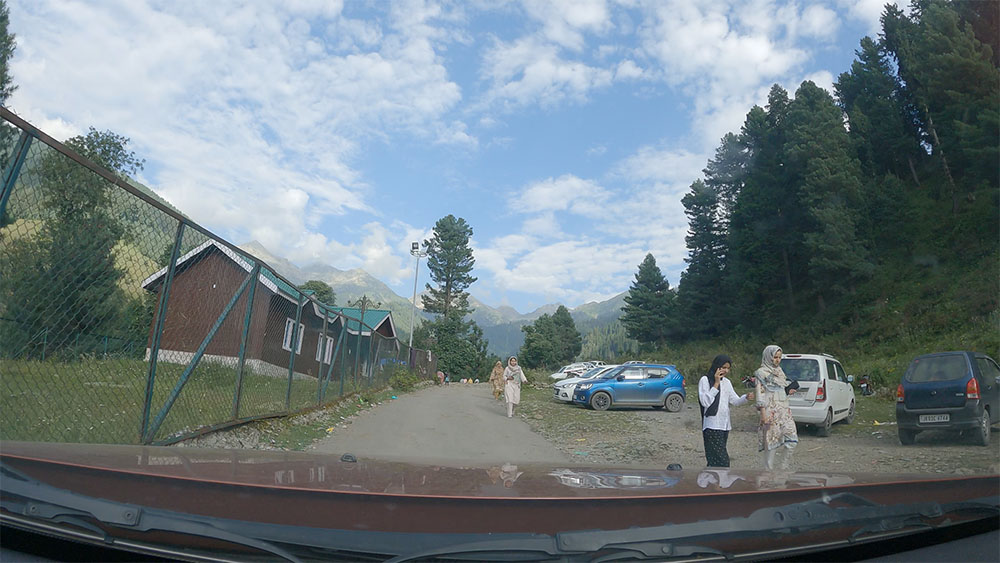 Upon reaching Chatpal, we drove past a park where some kids were playing, a JKTDC rest house, and arrived at a parking spot where the road ended. That was it. There was absolutely nothing else and a feeling of huge disappointment started to grow inside me.
The village where this road ends is called Thimran. We stepped out and I looked around wondering what we were supposed to see or do there. There were not even dhabas or restaurants there, just a small tea shop run by a local shepherd woman.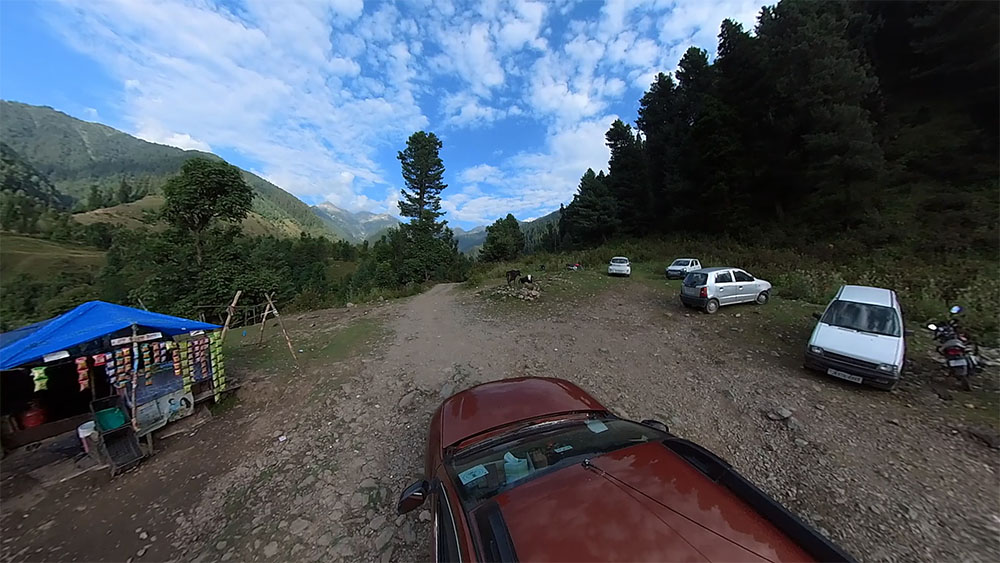 In the picture above, where you see the cars parked, that is where the motorable road ends. The dirt road however continues further ahead but you cannot take a car there. If you want to go further, you will have to walk.
For a while, we just walked around aimlessly. At that time, we were the only outside tourists there. The rest were either the local shepherds or the local Kashmiri families that came out there for a picnic, as it was a Sunday. Not knowing what to do, I decided to walk a little on the dirt road and see where it led.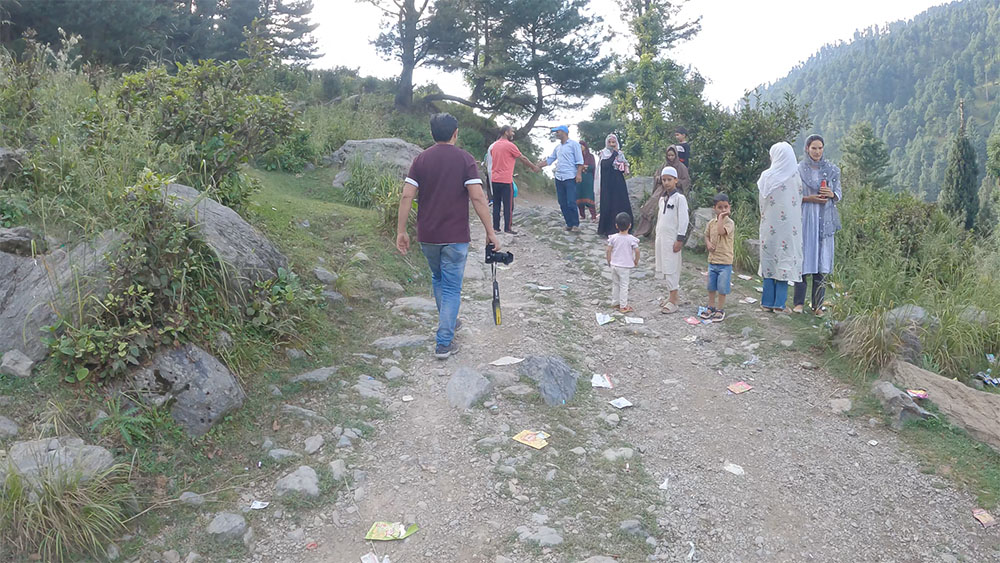 A Walk Into the Forest
I walked for about 2 to 3 kilometers. The road kept getting narrower and eventually became a trail going through the trees. During the initial part of my walk, I came across a lot of local families on their way back but after a while, it was just me and my friend.
We walked for about 15-20 minutes and after that, the road started to go inside the forest and we stopped. The time was 5 pm and we still had the return journey of one hour back to Pahalgam to cover.
It was getting late and I did not want to go inside the forest all on our own. On the left side, the Bringhi River was flowing down and I realized that this was where the local families were returning from. They were just sitting by the river there, in peace, and enjoying their picnic.
That is what Chatpal was all about. You reach there by the motorable road, leave your car in the parking, walk around, find a good spot to sit, and enjoy the serenity of the place. If you are with kids, they can play around and have fun in the park.
We walked back to where our car was parked and started to talk to the locals. In my mind, I was still wondering if this place was really worth coming to or did we just wasted our time. Should we have gone to Sun Temple instead?
Also Read: How to Plan a Trip to Kashmir – A Complete Travel Guide
What to See & Do in Chatpal
But then we ordered some tea and sat down on the grass, looking down at the Chattabal River. This is when this place really started to sink in and grow on me. Chatpal is not really about experiencing a tourist spot but rather experiencing nature itself.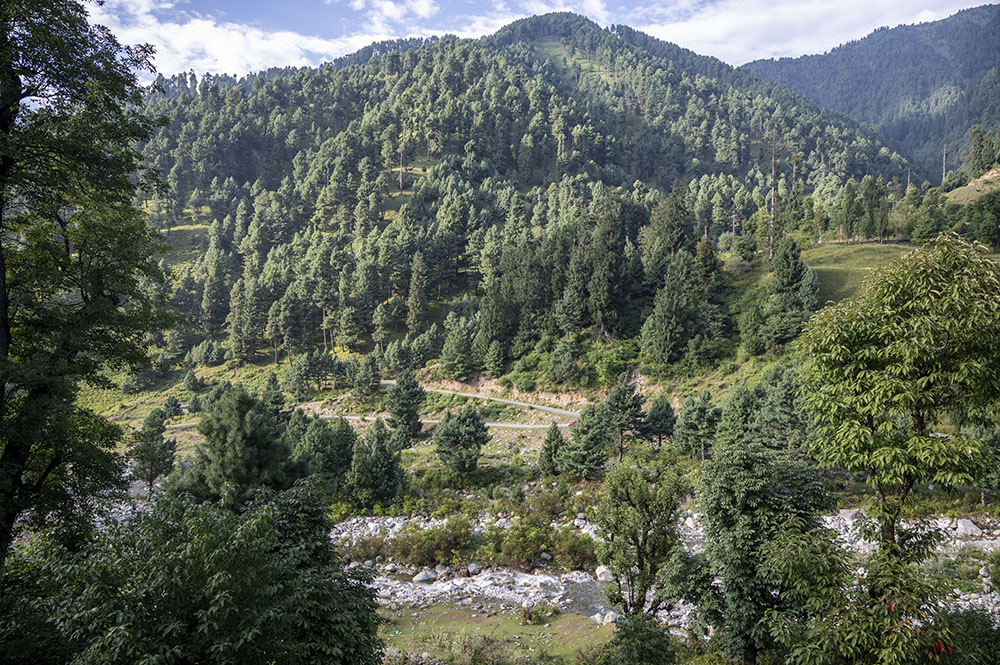 It is the drive from Achabal to Chatpal that you should look forward to. You will travel on a narrow road next to the Chattabal River as it flows through an open valley.
On the way, you will cross small villages with houses surrounded by greenery and fields. Snow-covered peaks looming over the end of the valley look nothing less than majestic with forested slopes watered by numerous streams.
After a brief drive, you will reach the end of the road. After that, a dirt path leads further into the forest. If you are up for a trek, go take a walk in the forest. Otherwise, it is really a place where you go out to have an outing with the family.
We did walk around a bit though, talked to a few locals, and played with some kids, and a goat. This one really liked eating peanuts.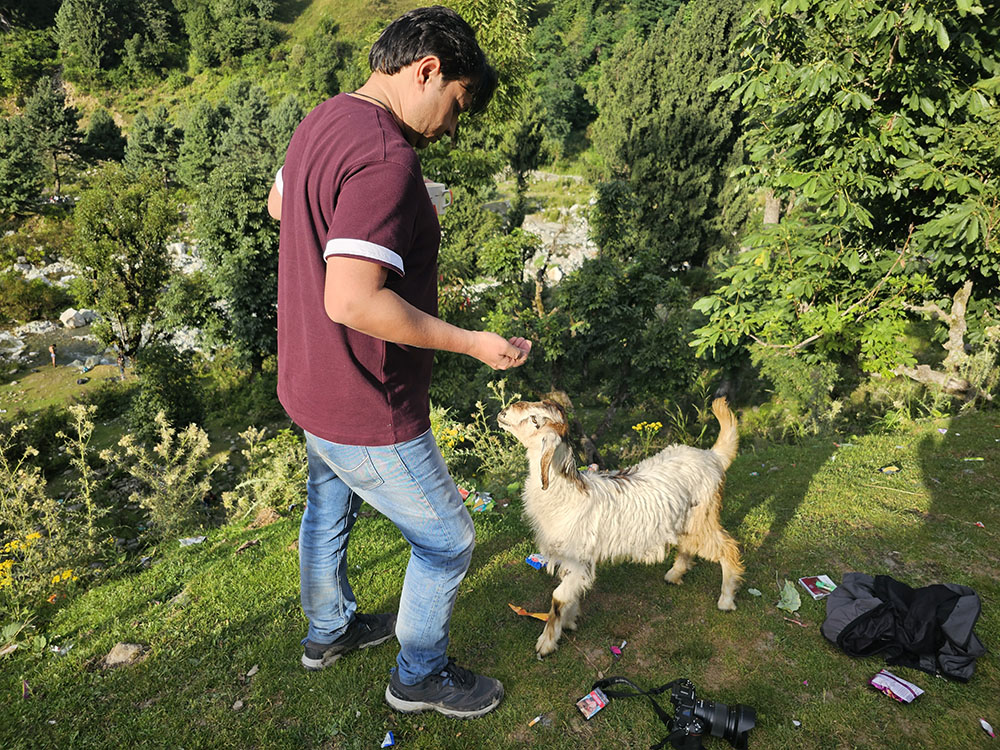 There was not really much else to do but to just sit down and chit-chat which we did for a while. I think we spent about 1 hour there and then started on our way back to Pahalgam.
Also Read: How Much Does a Trip to Kashmir Cost?
Srinagar to Chatpal
Chatpal is at a distance of about 90 kilometers from Srinagar. If you were traveling in your own vehicle or a private taxi, just drive to Anantnag first and then take the road to Achabal from there.
After Achabal, continue driving another 22 kilometers and you will reach Chattabal. Chatpal is also marked on Google Maps. So you can just follow the directions and it will take you to your destination.
The same rule will apply if you were in Pahalgam as well. But in this case, you will not have to go to Anantnag first. There is a connecting road just before Anantnag that goes straight to Achabal that you can turn on.
A private taxi will be the best mode of travel if you have reached Kashmir by flight. Depending on your itinerary, the per day cost of a cab will come out to be around Rs. 3000 to Rs. 5000.
Public transport on this route can be a little problematic for tourists. Bus service is not that frequent and you will have to rely on shared cabs entirely. You will have to wait by the road for a Sumo to arrive that can take you to the next town.
Also Read: Mobile Network in Kashmir & Data Connectivity
How to Plan a Trip to Chatpal
Let me also talk a little about how you can travel to Chatpal from Srinagar. Ideally, I would recommend that you include this place in your Pahalgam itinerary.
From Srinagar, reach Pahalgam and spend a day there exploring the tourist places. On Day 2, go for a drive to Sinthan Top and also cover Achabal Gardens or Chatpal. The famous Sun Temple is also located in the same vicinity.
Another way to travel would be to go straight to Chatpal from Srinagar and stay for the night there. The next day, you can then travel back to Pahalgam while visiting places like Acbahal and Kokernag on the way.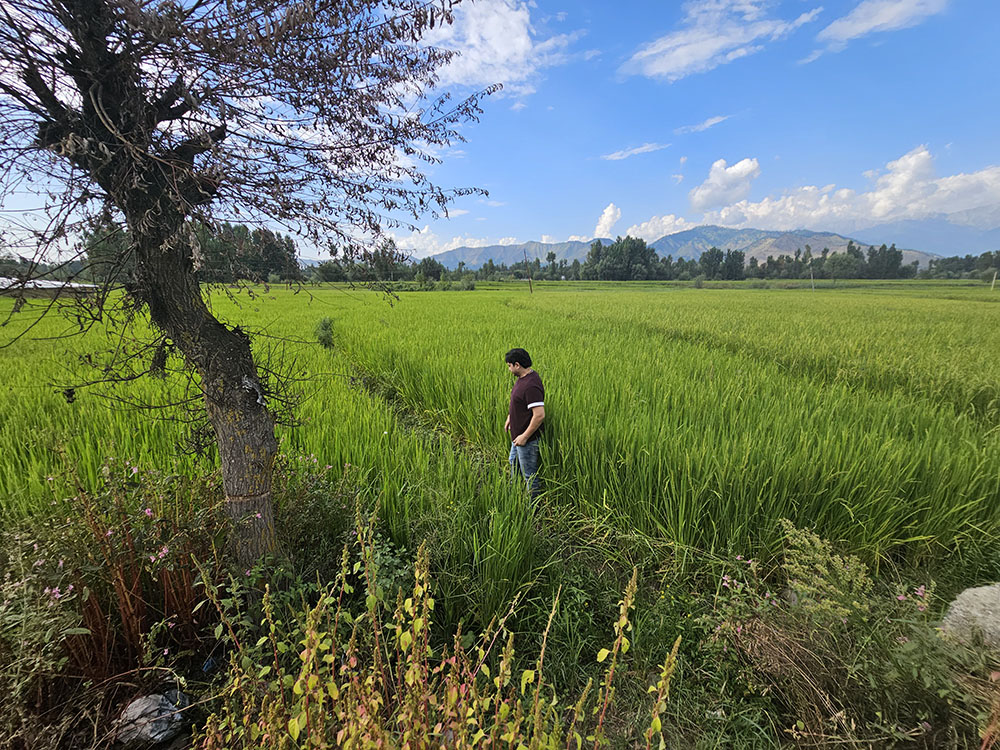 Hotels / Guest Houses
There are no private hotels or guest houses in Chatpal yet. But there is a JKTDC rest house and a few huts that you can check into.
Usually, the booking of these huts is done through the online JKTDC portal. But for some reason (at the time of writing this article) Chatpal is not added as an option on the portal. Maybe they will do it later in the coming years.
So if you do not see Chatpal on the portal, you only have two choices. Either just reach there and negotiate an on-the-spot deal. Or call the customer care number provided on the portal and book your stay after speaking to someone there.
Word of caution though. The JKTDC rest houses are not that well maintained anywhere in Kashmir. Most of these properties are in dire need of repair work but they aren't getting any.
Do not be surprised if you find things in the room and washroom broken and non-functional. So just keep that in mind before you decide to stay here for the night.
I noticed a couple of houses and a tea shop there. So you can also talk to the villagers and see if someone would accept you as a paying guest.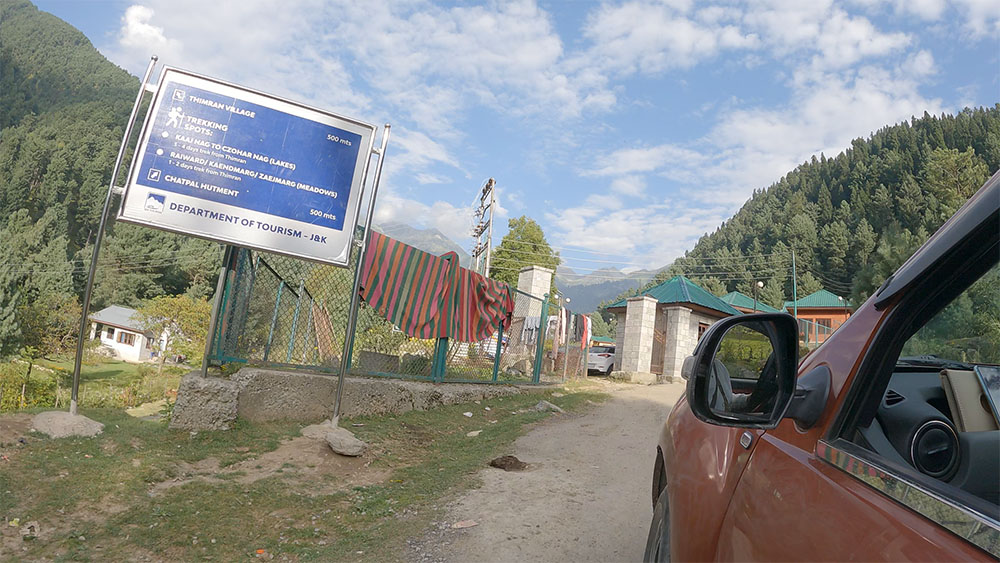 Places to Visit in Chatpal
Let's briefly talk about what can you see in Chattabal. As you probably would already have guessed by now, natural beauty will take the top spot. The next on the list is the experience of exploring a remote region.
This is a side of Kashmir that not many would have seen. Spend a couple of days there, talk to the local villagers, and shepherds, go for a walk in the forest, sit down by the river and that would be it.
Thimran Village is where the dirt road ends so you can go there and see the local shepherd life. If you are into trekking, there are a few treks that lead further up the mountains but you would need at least 2 to 4 days for that.
The first trek goes to two alpine lakes, known as Kaaj Nag and Czohar Nag. This one is easily a 3 to 4-day trek. Other treks lead to a few meadows known as Raiward, Kaendmarg, and Zaejmarg. These are all 2 to 3-day treks.
For a day trip, there is a small waterfall nearby. Since we were getting late, I did not go there but will surely do so during my next trip. It is located about 3 to 4 kilometers from the spot where we parked our car.
Places to Visit Near Chatpal
There are a few other places that you can visit on the way though. Sinthan Top is the primary attraction of this region where we were also headed.
On the way, you can also visit Achabal Gardens like we did. There is also another Botanical garden in Kokernag that we skipped but you can go there if you have time.
The Sun temple near Anantnag is another place that you can add to the list. It is best visited at the time of sunset though so you should plan your itinerary accordingly. Last but not least, Pahalgam is close enough which is a tourist magnet in itself.
Also Read: Clothes for Kashmir Trip – What to Pack
Best Time to Visit Chatpal
The best time to visit Chatpal is anywhere between April to September because this is when the views are at their best. Since it is really a forest, every season presents a beautiful aspect of nature. April to June is the best time for camping, trekking, and picnics.
Monsoon is the time when the entire region is at its most green and full blossom and the Chattabal River flows in full might. This is the time when the views will probably be the best and the mountains look like they have been washed clean.
Winters convert the entire Kashmir valley into a snowy paradise and Chatpal is no exception to it. It snows here between November and early March. The views, after the entire valley gets covered in snow, would surely be heavenly.
During the peak winter season though, in the months of January and February, the road to Chatpal may not be open. It is a remote area, just a small village that does not see a lot of traffic. So the authorities also make minimal effort to clear the snow off the roads in this region.
Chatpal Entry Fee & Timings
There is no entry fee for Chattabal. You can just drive through the forest without having to pay any money anywhere. Even though there are no timings as such, make sure you plan your trip during the day and not in the late hours.
Chattabal to Pahalgam
After spending a couple of hours in Chatpal, we started our journey back to Pahalgam. On the way, I noticed this spot where the view of the setting sun was looking magnificent.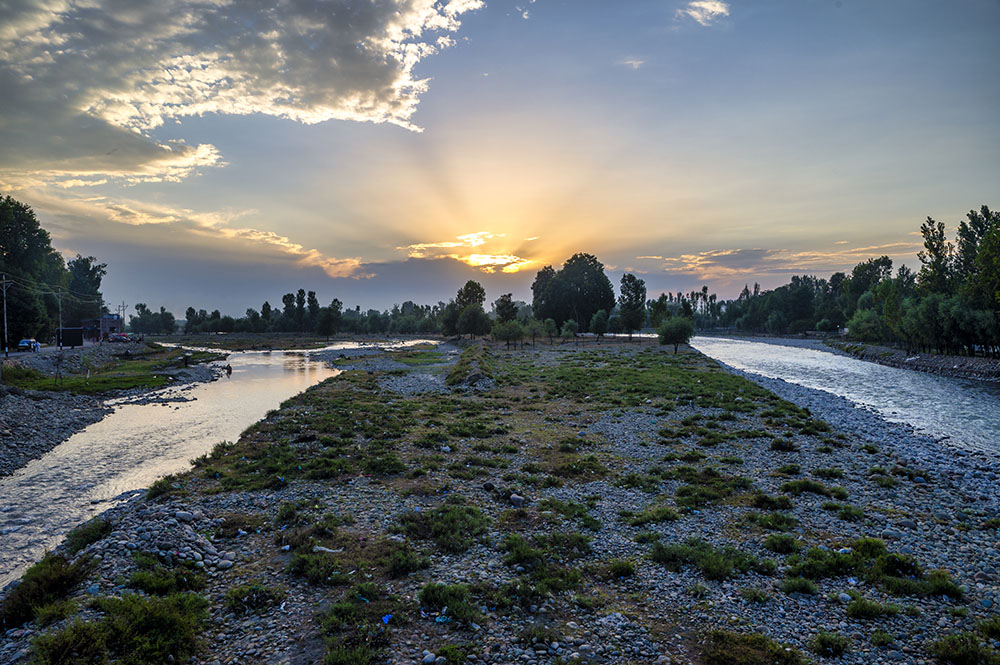 Our plan was to do a bonfire in the evening but we had no wood for that. So while we were driving back, we stopped in a couple of small villages looking for wood that we could use for Bonfire.
Luckily, a farmer agreed to sell us some wood for Rs. 500 and also helped us load it in the car. By the time we reached back to our cottage in Pahalgam, it was dark all around.
Not much happened after that. We lit a bonfire and sat down next to it until late in the night. Dinner was served after that and we soon crawled into our blankets with our bellies full.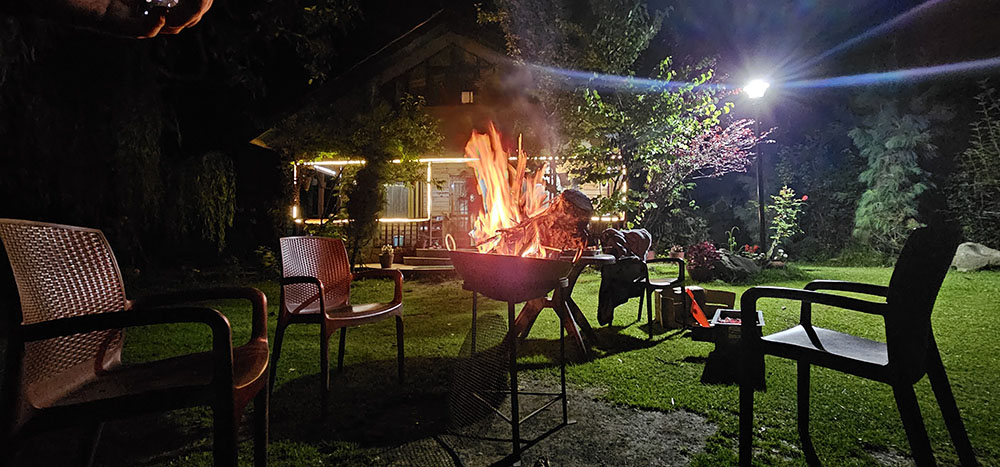 The Moon that night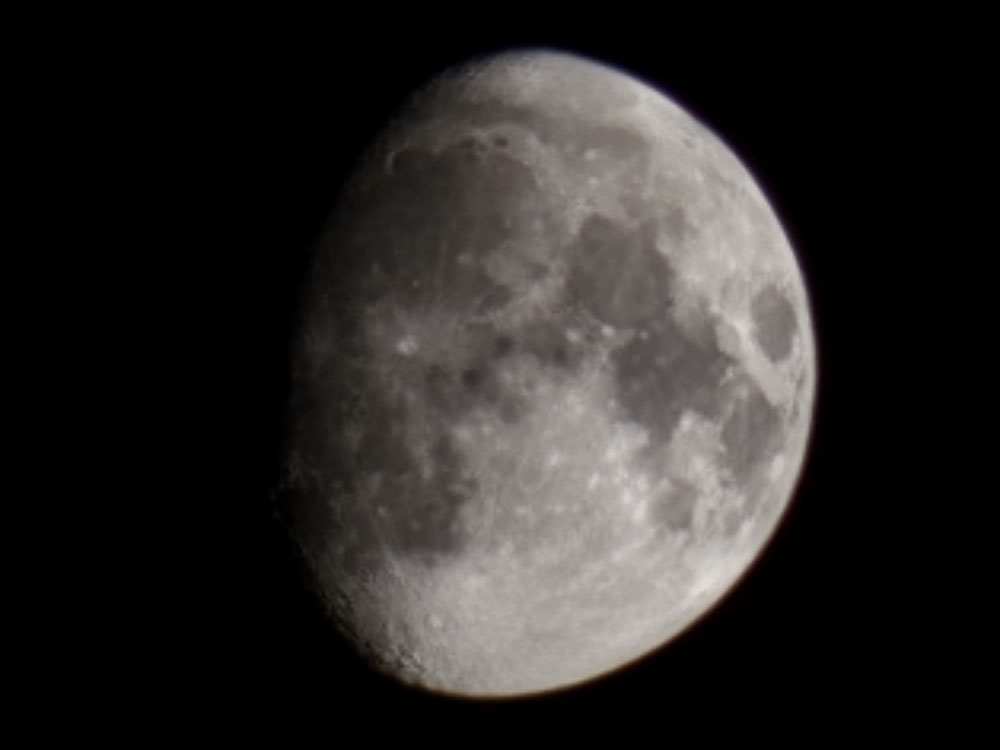 Chatpal Valley – Conclusion
That concluded our visit to Chatpal Valley. So to answer the question of whether it is worth visiting or not, it all depends on you. It is a remote region that has yet to see any signs of development.
Maybe in the coming years, as tourism increases, it will get better as it happened in the case of Yusmarg and Doodhpathri. But for now, it remains to be just another picnic spot and nothing more.
So if your idea of the trip is to go offbeat and spend some time exploring Kashmir, talking to the local villagers, and staying close to nature, then you should go to Chatpal. But if you want good hotels and visit tourist places like Gulmarg, then Chatpal is not for you.
Our plan for the next day was to try reaching Margan Top but the rain gods spoiled it all over again. It rained heavily that night and even in the morning. This forced us to change our plans once again.
So we ended up exploring Pahalgam instead. We went to Betaab Valley and then spent some time in Aru Valley as well. Please click on the link above to continue reading the next part of the travelogue.
I hope the travelogue, pictures, and information above on Chatpal were of help. If you have any questions, you can contact me on Instagram and I will be happy to answer. You can also consider subscribing to my YouTube channel and asking a question there.