Sinthan Top, also known as Sinthan Pass, is a mountain pass located in Kashmir's Breng Valley, on the road that runs between Anantnag in Kashmir and Kishtwar in Jammu. At an altitude of 12,500 ft, the top of the pass is also known as the 360-degree viewpoint as it offers a charming panoramic view of the surrounding peaks and the valley.
Not many people come here though. Most of its visitors are either the locals out for a picnic or an outing with the family or people traveling between Anantnag and Kishtwar. But in my opinion, it is a beautiful mountain pass that should find a place in every tourist's itinerary who is coming toward Pahalgam.
Due to its close proximity, Sinthan Top can be easily incorporated with a trip to Pahalgam. The drive from Srinagar to Sinthan Top through the Daksum Valley is also quite scenic and offers a chance to visit some other destinations like Achabal Gardens, Kokernag, and Daksum.
In short, it is a beautiful destination that is famous for its stunning natural beauty. We visited Sinthan Top during my recent trip to Kashmir and the post below is a brief narration of our journey. It was the second day of our trip. To read the previous part of the travelogue, please follow the links below.
Journey So Far:
You can also take a look at the video below that I shot during the journey. It also includes our visit to Achabal Gardens and Daksum Valley, both of which are located on the way.
Day 2 – Achabal, Daksum, Sinthan Top
It was the second day of our trip and our second day in Pahalgam as well. On Day 1, we arrived in Srinagar from Delhi by flight and went straight to Pahalgam.
Not much happened on Day 1. It was raining when we arrived in Srinagar and the same weather continued all day long. We drove to Pahalgam with a few breaks on the way and the rest of the day was spent relaxing and chit-chatting.
Now on the second day, we started early in the morning and first went to Achabal Gardens. It is a Mughal Garden located in the small town of Achabal and is a beautiful tourist spot.
After Achabal Gardens, we continued our journey, crossed the town of Kokernag, and reached Daksum Valley. We took another break in Daksum, near the waterfall, and fell in love completely with the natural beauty of the region.
I have talked about this in detail in the first two parts of the travelogue that you may want to take a look at. After spending an hour in Daksum, we then moved on to our next destination for the day, Sinthan Top.
Also Read: How to Plan a Trip to Kashmir – A Complete Travel Guide
About Sinthan Top
What makes a trip to Sinthan Top worth it is the drive itself. You pass through a dense forest and the Bringhi River accompanies you for most of the journey.
There are several spots on the way where you would love to take a break, step out of your car, and just sit by the river. It is a very calm, peaceful, and charming region that gives a true taste of offbeat Kashmir.
Sinthan is also emerging fast for adventure activities like mountaineering, trekking, and skiing. It is also famous among the locals as a favored picnic spot. If you were on this route over a weekend, you would notice hundreds of local families and school kids out here for a day trip and picnic.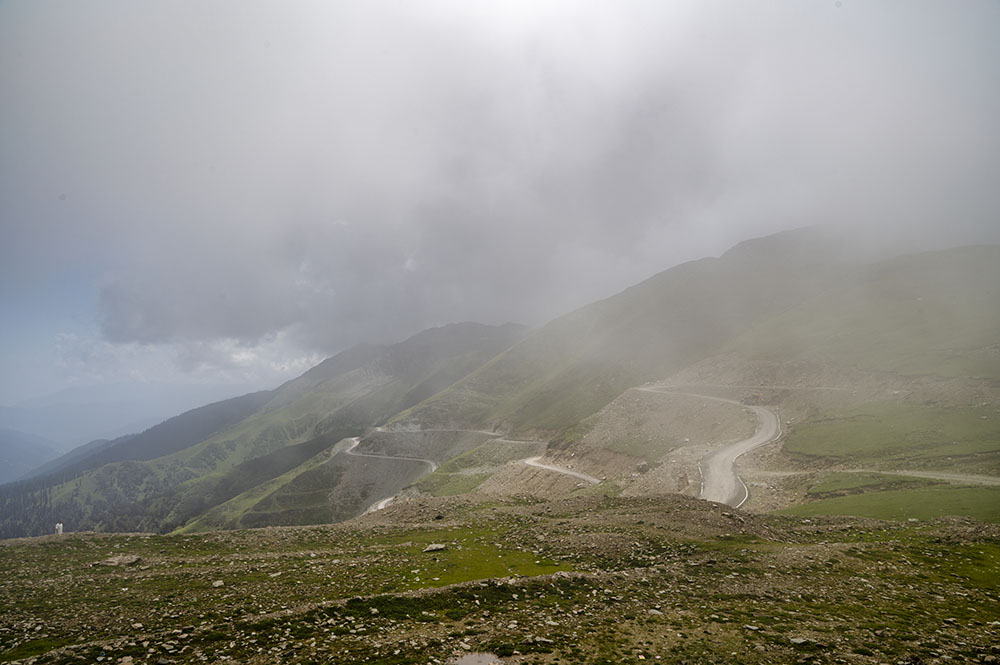 How to reach Sinthan Top
The road across Sinthan Pass is part of a much longer route that in fact runs all the way to Himachal Pradesh. This is the same road that crosses over the mighty Sach Pass. The famous cliffhanger route is also a part of this road.
Starting from Anantnag in Kashmir, you will first drive through the Daksum Valley and reach the top of Sinthan Top. You will then drive down to its other side and travel through the adventurous cliffhanger route, crossing Kishtwar on the way.
The road then enters Himachal Pradesh and crosses over another high-altitude mountain pass, Sach Pass. From there, you can then drive down to Dalhousie or continue the journey to Keylong and Manali via Killar.
How to reach Sinthan Top from Srinagar
Sinthan Top is located at a distance of about 130 kilometers from Srinagar. The condition of the road however is good and the journey can easily be completed in 4 to 5 hours. The route of the journey will be as mentioned below.
Srinagar – Awantipora – Anantnag – Kokernag – Daksum – Sinthan Top
Even though it will be a long journey, you can still visit Sinthan Top from Srinagar on a day trip. Just make sure that you start from Srinagar as early as possible. Assume that you will end up traveling for about 12 hours and plan your day accordingly.
The best way to plan this trip will be in your own vehicle. However, if you have reached Srinagar by flight, you can easily get a private taxi to take you to Sinthan Top. The total fare for the day can be anywhere between Rs. 6000 to Rs. 8000.
By Public Transport
There is public transport available as well but it will be difficult and inconvenient for you as a tourist. There is no direct bus or shared cab that can take you all the way to Sinthan Top and the journey will have to be broken down into several parts.
From Srinagar, you will first have to look for a shared cab to Anantnag. From there, you will have to find another mode of travel for Kokernag and then look for another cab to Sinthan Top. The return journey would also have to be completed in the same manner.
My advice would be to not plan Sinthan Top by public transport. It would be best to hire a private taxi for this route to save yourself a lot of hassle and time.
Pahalgam to Sinthan Top Taxi Fare
A taxi from Pahalgam to Sinthan Top will cost you between Rs. 5000 and Rs. 6500, depending on the type of cab you choose. Please take a look at Local Taxi Rates in Pahalgam for more details.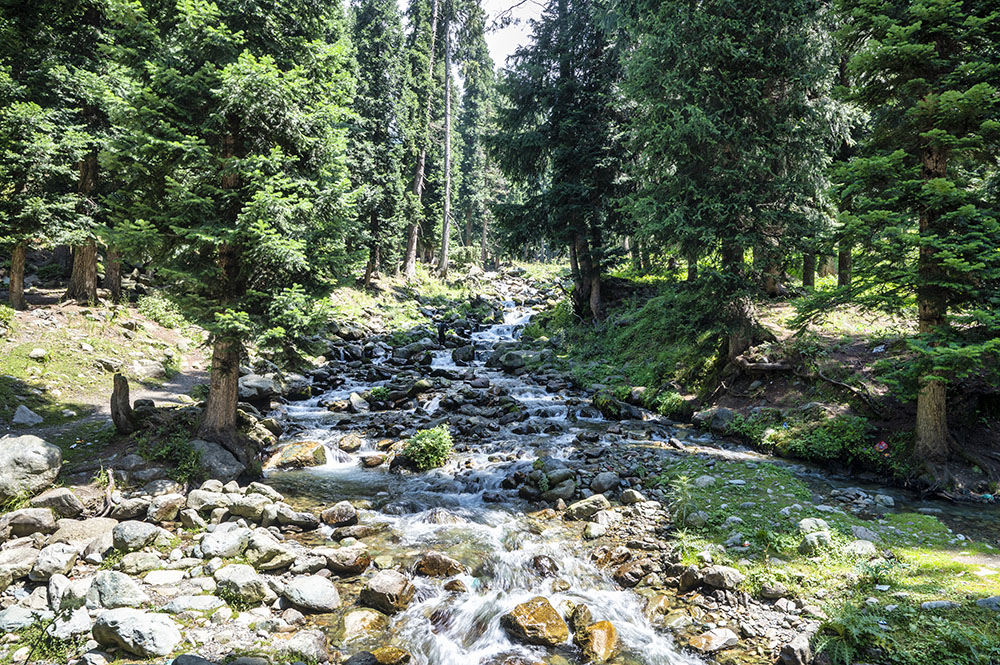 What to See & Things to Do at Sinthan Top
Sinthan Top itself is considered a tourist attraction of Kashmir. It is counted among the places to visit if you are planning a trip to Pahalgam. The natural beauty of the pass is its biggest attraction but there are a few other places that you can see on your way as well.
Achabal Gardens is a lesser-known Mughal Garden in the town of Achabal that can be included in your trip to Sinthan Top. There is also another Botanical garden in Kokernag that we skipped but you can go there if you have time.
A few kilometers before Sinthan top is the beautiful valley of Daksum. It is a great natural spot that also has a few hotels where you can stay for the night.
The Sun temple near Anantnag is another place that you can add to the list. It is best visited at the time of sunset though so you should plan your itinerary accordingly.
For someone who enjoys trekking, there are several trails in the region going up to Sinthan Top. Self-camping is another activity that Daksum in my opinion is perfect for. You can pitch your tents anywhere that you deem fit.
Fishing is an exciting attraction of Daksum but you will need permission from Jammu and Kashmir Forest Department to do that. The Bringhi River is full of trout and is also known as Angler's Heaven.
Also Read: Mobile Network in Kashmir & Data Connectivity
Achabal Gardens – Daksum – Sinthan Top
Now coming back to the travelogue, we actually started our journey from Pahalgam at around 8 am. First, we went to Achabal Gardens, spent about 30 minutes there, crossed Kokernag on the way, and reached Daksum where we took a break that extended to well over an hour.
Daksum is about 30 kilometers from Sinthan Pass. After a break at the Dhabas and some fun time at the waterfall there, we resumed our journey and finally reached Sinthan Top.
The top of the pass is known as the 360-degree viewpoint because it offers a panoramic view of the surrounding valley. Depending on the time of your arrival, the view you will get will either be green, yellow, or white.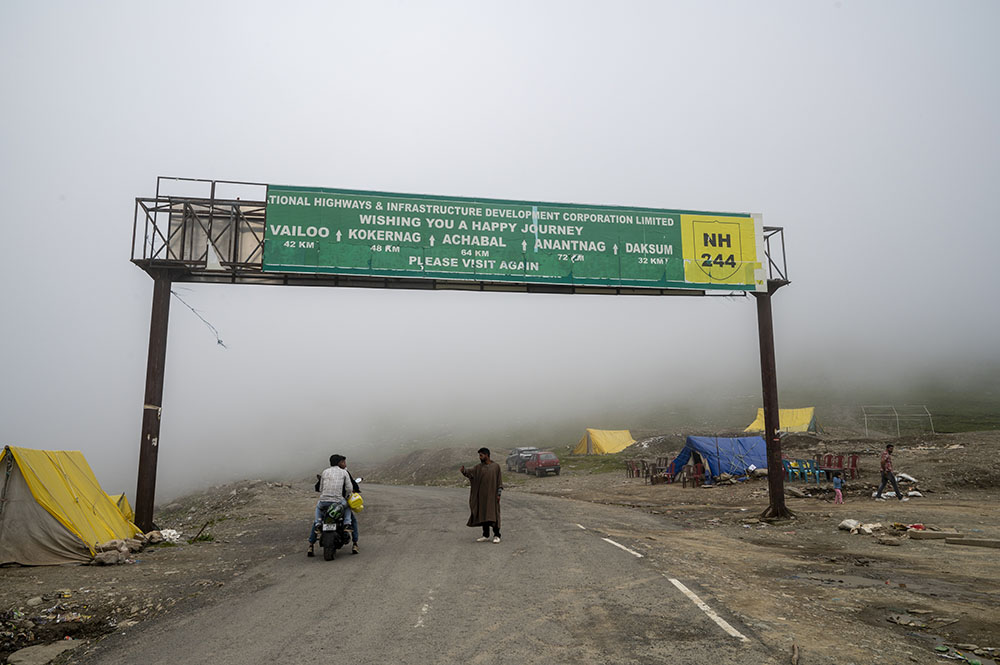 We were traveling in the last week of August, the monsoon season. So the view that we were presented the moment we stepped out of our car was all lush green.
It was very windy and terribly cold. We stepped out and then immediately went back into the car looking for our jackets. There are several dhabas at the top of the pass where we ordered some tea and Maggie.
In many ways, Sinthan Top reminded me of Peer ki Gali, another pass in Kashmir located on the historical Mughal Road.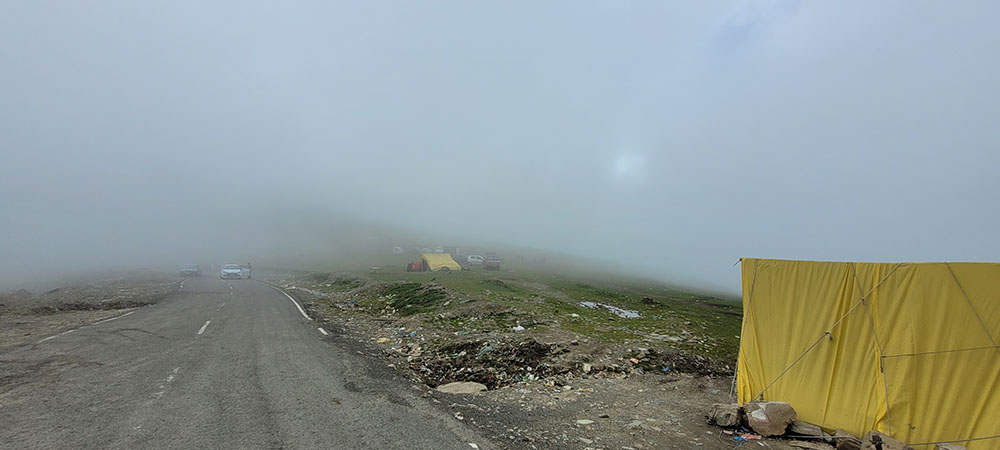 The views were simply astounding. Clouds were playing hide and seek and I loved shooting some timelapses there. For a moment, it will be all covered in clouds with zero visibility and a few moments later, it will be all clear.
Best Time to Visit Sinthan Top
The best time to visit Sinthan Top is either in April, late August, or September. In my opinion, this is when the views will be the best and you will have no problem getting there.
When we reached Sinthan, the views were all green due to the monsoon season. But it presents different colors in each season. Let me break this down by months.
Sintan Top in January, February, March
Sinthan Pass remains closed in the winter season. The top of the pass receives a significant amount of snow each year and the road remains blocked in the winter months.
It usually opens toward the end of March or early April. Depending on the weather though, sometimes the authorities have managed to open in late February as well.
If the road was open in March, this would be a good time to see a white Sinthan Top and giant snow walls on both sides of the road. If luck favored you, you may also witness a snowfall while you were there.
Also Read: How Much Does a Trip to Kashmir Cost?
Sinthan Top in April, May, June
The pass will surely be open in these months unless a late snowfall blocks the road temporarily. If you were visiting in April, you will definitely find snow at the top of the pass and plenty of green in the lower areas.
The views will be good in May and June as well but you may not find snow in these months anywhere. Be ready to see a lot of families with kids out here for picnics because of the vacations in schools.
Sinthan Top in July, August, September
July and August are the months of monsoon and it is not advisable to travel to the mountains at this time. Just take a look at the weather before you go. Even if it was not raining, it may all be cloudy at the top of the pass blocking the view entirely.
This happened to us as well. We were there in late August and it was still very cloudy. Thankfully, the clouds would come and go and we were still able to get some good views. But in July and early August, you may end up seeing just the clouds and nothing else.
September is possibly the best time to be here. Monsoon would be gone but would have left plenty of greenery behind. The views will be good and the weather pleasant.
Also Read: Clothes for Kashmir Trip – What to Pack
Sinthan Top in October, November, December
The pass remains open in October. This is the time when Autumn arrives and you will see the orange in the trees and the grass. This is also a good time to go but try to be there early in the month.
Things start to dry down by the end of October and the pass also starts to receive snow. It usually gets closed sometime in November and then remains blocked in December as well.
November is not a good time to be there in my opinion. The chances of snow will be very low, the weather will be very cold and even the views will be dull and boring.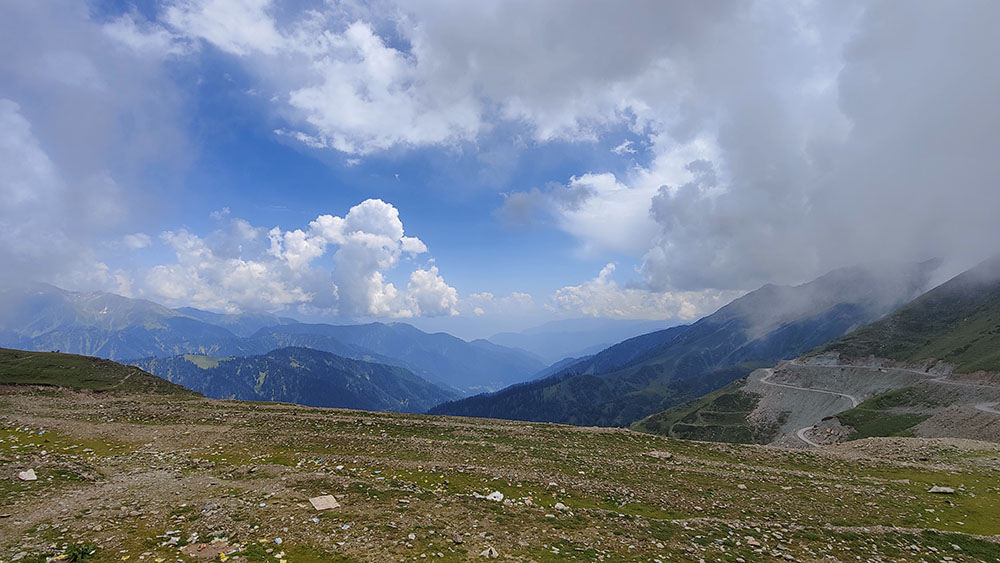 Accommodation Choices
The nearest accommodation available is in Daksum. There are a few hotels there that I noticed. The charges can range anywhere between Rs. 1000 to Rs. 3500 depending on the property and the time of your travel.
Other than the private hotels, the J&K government also has a rest house and huts that they rent out to tourists. You can book this rest house on the online JKTDC Portal.
Word of caution though. The JKTDC rest houses are not that well maintained anywhere in Kashmir. Most of these properties are in dire need of repair work but they aren't getting any.
Do not be surprised if you find things in the room and washroom broken and non-functional. So just keep that in mind before you decide to stay here for the night.
If not in Daksum, then the next available option is the hotels in Kokernag. But those are all at a distance of 45 kilometers from Sinthan Top.
Also Read: When is the Best Time to Visit Kashmir?
Entry Fee & Timings
There is no entry fee for Daksum. You can just drive through the forest without having to pay any money anywhere. Even though there are no timings as such, I am sure the cops would not allow anyone to travel on this route after dark. So make sure you plan your trip during the day and not in the late hours.
Pahalgam to Sinthan Top Itinerary
That is mostly all that there is to know about Sinthan Top. While a trip to Pass can be planned from Srinagar as well, my advice would be that you do so from Pahalgam.
This will ensure that you have plenty of time for sightseeing and do not end up spending all your time traveling. Take an early start from Pahalgam, possibly by 7 am and first go to Achabal Gardens.
Have breakfast in Achabal and then continue to Daksum. Take a break there, enjoy the natural beauty of the place, and continue to Sinthan Top.
On your way back, you have a few choices. You can either cover the Botanical Gardens in Kokernag, see the sunset from Sun Temple, or visit Chatpal Valley on the way, which is what we did.
After spending some time at Sinthan Top, we drove down to Achabal and had lunch there. After Achabal, we then drove straight to Chatpal Village, also known as Chatpal Valley and Chattabal. Please click on the link above to continue reading the next part of the travelogue.
Conclusion
I hope the travelogue, pictures, and information above on Sinthan Top were of help. If you have any questions, you can contact me on Instagram and I will be happy to answer. You can also consider subscribing to my YouTube channel and asking a question there.