Daksum, also known as Daksum Valley or Daksum Village, is a viewpoint or a picnic spot located on the Anantnag-Kishtwar road near Sinthan Top. Surrounded by lush green mountains and sitting right next to the Bringhi River, it is a popular spot among the locals for family outings and school picnics.
There is nothing else there though, except for a few shops, small dhabas, and a few hotels. So if you were expecting to see a destination like Gulmarg, Sonamarg, or Pahalgam, you may be disappointed.
But if you are someone who likes spending time in nature, away from the crowd in an offbeat place, Daksum may just be your cup of tea. It really feels like in the middle of nowhere and if you were here during the weekdays, there would hardly be anyone around.
We visited Daksum on our way to Sinthan Top, during my recent trip to Kashmir. The post below is a brief narration of our journey and also provides several other necessary details about Daksum that can be of help. To read the previous part of the travelogue, you can follow the link below.
Journey So Far:
You can also take a look at the video below that I recorded during our trip. It includes our entire day trip to Achabal, Daksum, Sinthan Top, and Chatpal Village. This will give you a better idea of what Daksum exactly is and whether should you include it in your itinerary.
Day 2 – Daksum and Sinthan Top
It was the second day of our trip and our second day in Pahalgam as well. On Day 1, we arrived in Srinagar from Delhi by flight and went straight to Pahalgam.
We stayed there in Maryam Cottage which is located on the outskirts of Pahalgam, in a village called Langanbal. It is in my opinion the best place and spot to stay in Pahalgam. The cottage was beautiful and the location was very scenic. You can read a detailed review of this cottage in another post – Maryam Cottage – The Best Place to Stay in Pahalgam.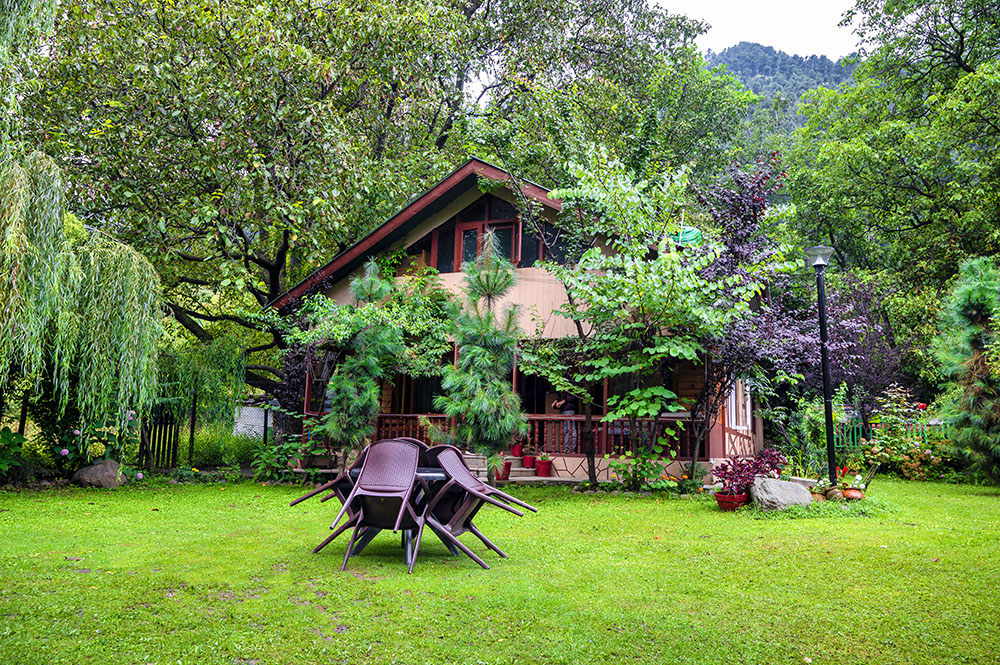 Not much happened on Day 1. It was raining when we arrived in Srinagar and the same weather continued all day long. We drove to Pahalgam with a few breaks on the way and the rest of the day was spent relaxing and chit-chatting.
The cottage is located right next to the Lidder River. In the evening, we went down to its banks and spent some time there clicking pictures. And that was the end of the first day of our trip.
Now on the second day, we started early in the morning and first went to Achabal Gardens. It is a Mughal Garden located in the small town of Achabal and is a beautiful tourist spot.
I have talked about this in detail in the first two parts of the travelogue that you may want to take a look at. After spending an hour in Achabal Gardens, we then moved on to our next destination for the day, Daksum Valley.
Also Read: How to Plan a Trip to Kashmir – A Complete Travel Guide
About Daksum
Let's talk about Daksum first without making any effort to unnecessarily glamorize the place. If you search the web, you will read articles about how grand this place is, what a heaven it is, and how you are missing so much if you haven't been here.
The truth actually is quite the opposite. Don't get me wrong. I am not saying that it is not pretty because it is but not the way that it is described in all those articles on travel portals.
So what is Daksum then? It is just a forested area, nothing more, nothing less. It is an entire region that you drive through, right next to the Bringhi River and through dense trees.
Maybe it does get better if you walk deep into the forest or up a mountain. But for that, you will need to trek and climb hills. That is not a view you will get from your car.
If you were traveling by road, you would just pass through a forest. Views will be good but nothing extraordinary. There are a few shops where you can take a break to get something to eat and a water stream where you can get some good pictures. That will be it.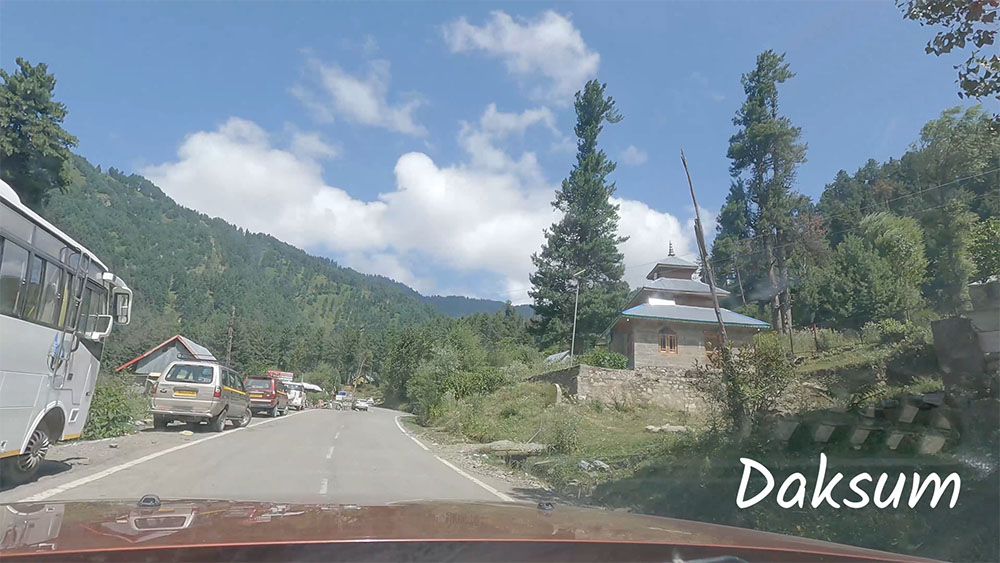 Daksum Valley Trek
There is also a trek that passes through this region. It starts from the lower regions like Kokernag and Verinag and goes all the way to the top of Sinthan Pass.
I have not been on the trek so I cannot really comment how it is. But I am sure that the views as you walk through the dense forest and climb up the Sinthan Pass would definitely be good.
Also Read: Clothes for Kashmir Trip – What to Pack
How to Reach Daksum
Daksum is located at a distance of about 100 kilometers from Srinagar, 78 kilometers from Pahalgam, and 40 kilometers from Anantnag.
If you were coming from Srinagar, just drive to Anantnag first and then take the road to Kokernag from there. After Kokernag, continue driving another 15 kilometers and you will reach Daksum. Daksum is also marked on Google Maps. So you can just follow the directions and it will take you to your destination.
The same rule will apply if you were in Pahalgam as well. But in this case, you will not have to go to Anantnag first. There is a connecting road just before Anantnag that goes straight to Achabal, Kokernag, and Daksum.
A private taxi will be the best mode of travel if you have reached Kashmir by flight. Depending on your itinerary, the per day cost of a cab will come out to be around Rs. 3000 to Rs. 4000.
Public transport on this route can be a little problematic for tourists. Bus service is not that frequent and you will have to rely on shared cabs entirely. You will have to wait by the road for a Sumo to arrive that can take you to the next town.
Also Read: Mobile Network in Kashmir & Data Connectivity
Pahalgam – Achabal – Kokernag – Daksum
Now coming back to the travelogue, let me talk in brief about our journey on this route. We started from Pahagalm at 8 a.m. and first reached Achabal in about an hour.
The next one hour was spent in exploring the Mughal garden in Achabal. We then briefly stopped in Achabal Market for a light breakfast and continued our journey to Daksum Valley.
The initial part of the journey had us drive through some small towns and villages. The condition of the road remained good and we also briefly stopped at a gas station to get some Diesel.
We crossed the small town of Kokernag and after that, the forest area began. Until now, we were traveling through a well-populated region but after Kokernag, the road started to climb up a little and we were soon driving with dense trees on both sides of the road.
I noticed a couple of small dhabas by the river and we decided to get something to eat.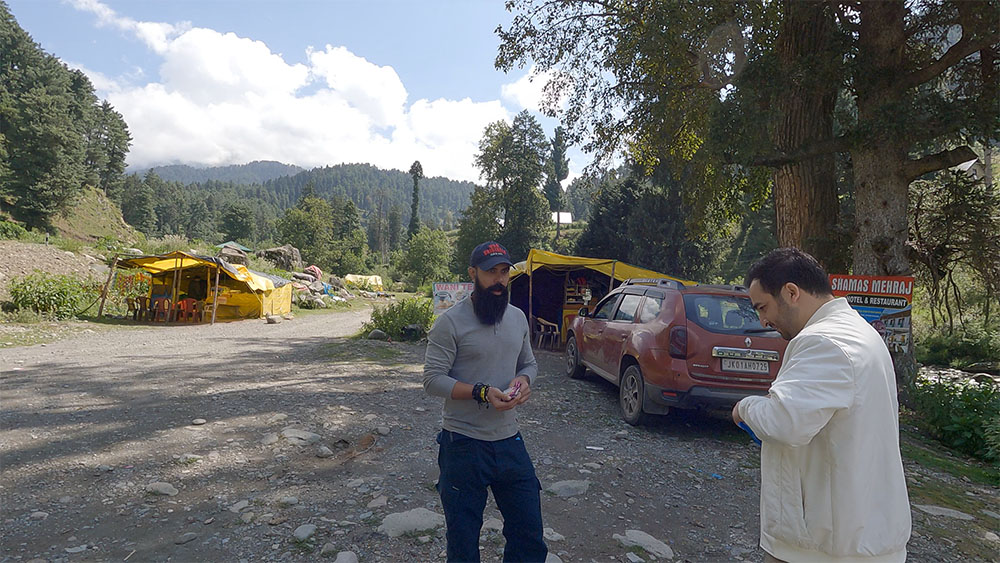 After a short break here and with our bellies full, we resumed our journey. The views kept getting better and we soon arrived in Daksum.
Also Read: How to Plan a Kashmir Trip Itinerary
Daksum Picnic Spot
I had heard of Daksum before but this was the first time I was here. Reading the article on the web, the impression I had of Daksum was quite different than what I was looking at.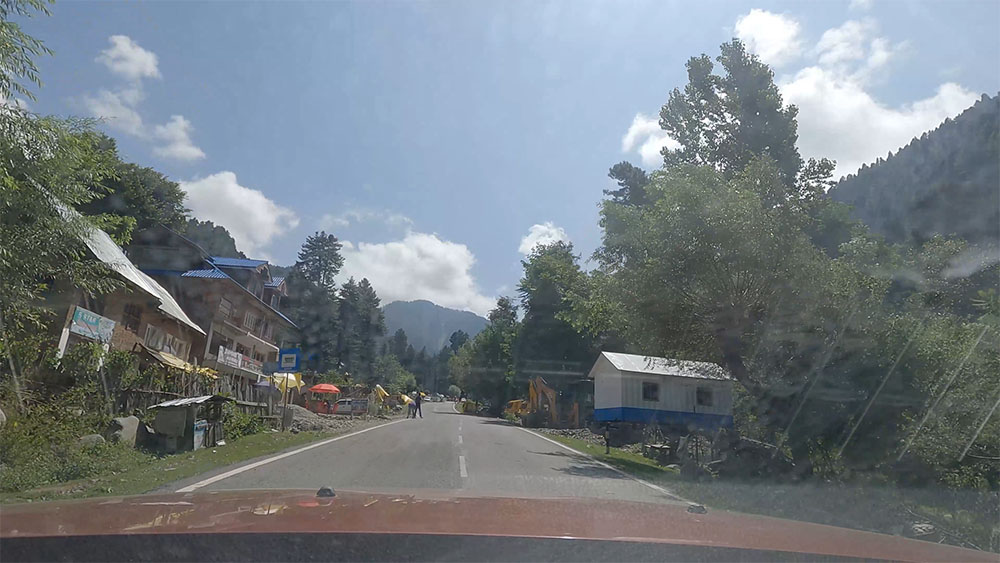 I always thought that it would be a small town or a village. But I was quite surprised to see that Daksum was just a picnic spot, like so many others in Kashmir.
This place is frequented by the locals over the weekend for family outings. They come here with their family and friends, spend time in nature, play some games, walk down to the river, and return.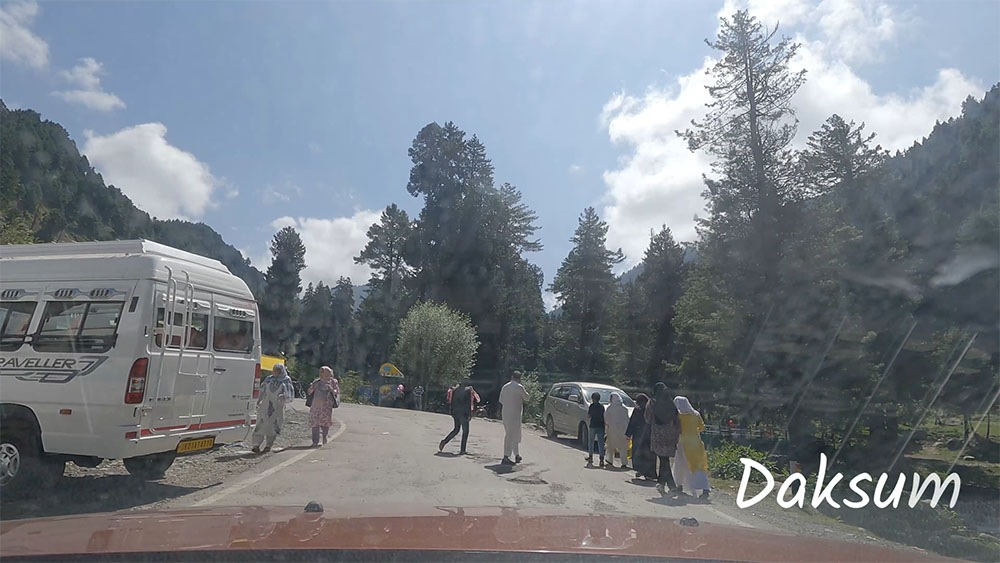 It is also a popular spot for school picnics. It was a Sunday when we reached Daksum and I noticed a few school buses parked by the road and a lot of kids playing around.
There were a few shops, some restaurants, and a couple of hotels where tourists could get accommodation if anyone wanted to stay in Daksum for the night. The J&K government also has huts and a rest house in Daksum for tourists.
We were confused about what to do. Should we stop or just pass by? We had taken a break only about 15 minutes before Daksum and our bellies were full. On top of it, with all the locals out there for picnics and school kids, it also felt a little crowded.
So we decided to just drive through, go to Sithan Top first, and then stop in Daksum on our way back. We continued driving and reached a police checkpoint.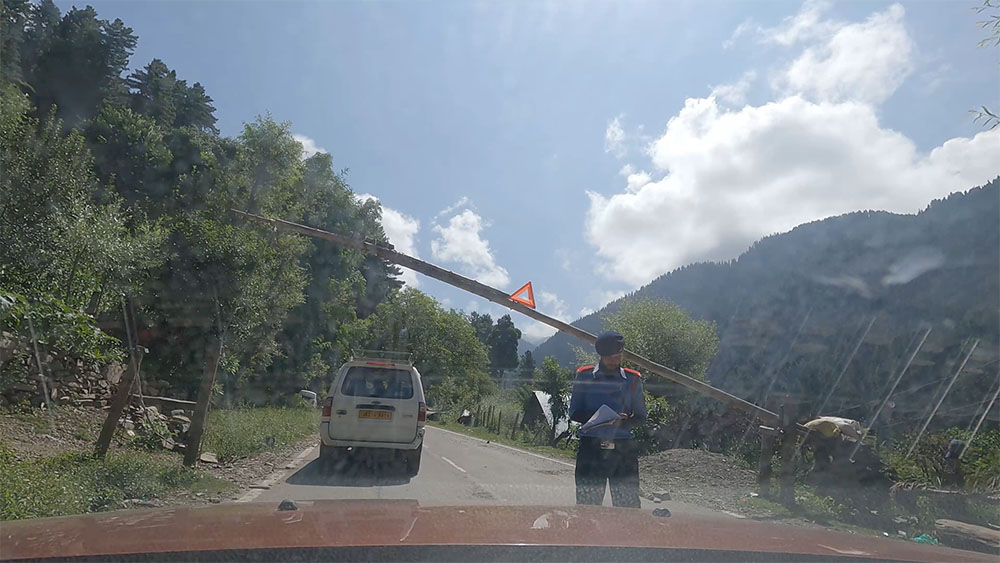 Commercial & Private Vehicles
Tourists and cars are asked to register themselves at this checkpoint before going to Sinthan Top. We also stopped, rolled our windows down and a cop walked over to us.
Now the thing was that we were traveling in Faisal's car, a friend of mine. He was with us in the car too and spoke to the cop in Kashmiri language. Upon realizing that we were with a local in his private car, the policeman first objected but then let us go after a brief conversation.
The thing is that on this route (or anywhere else in Kashmir for that matter), locals are not allowed to drive tourists around in their personal vehicles due to security reasons.
If a tourist needs a vehicle for local commute, they must hire a commercial vehicle, a taxi with a Yellow number plate. This was a rule that we were not really aware of but thankfully, the cops did not stop us and allowed us to proceed.
Also Read: How Much Does a Trip to Kashmir Cost
Daksum Waterfall
We drove for another 2 or 3 kilometers and reached this beautiful spot that immediately forced us to stop.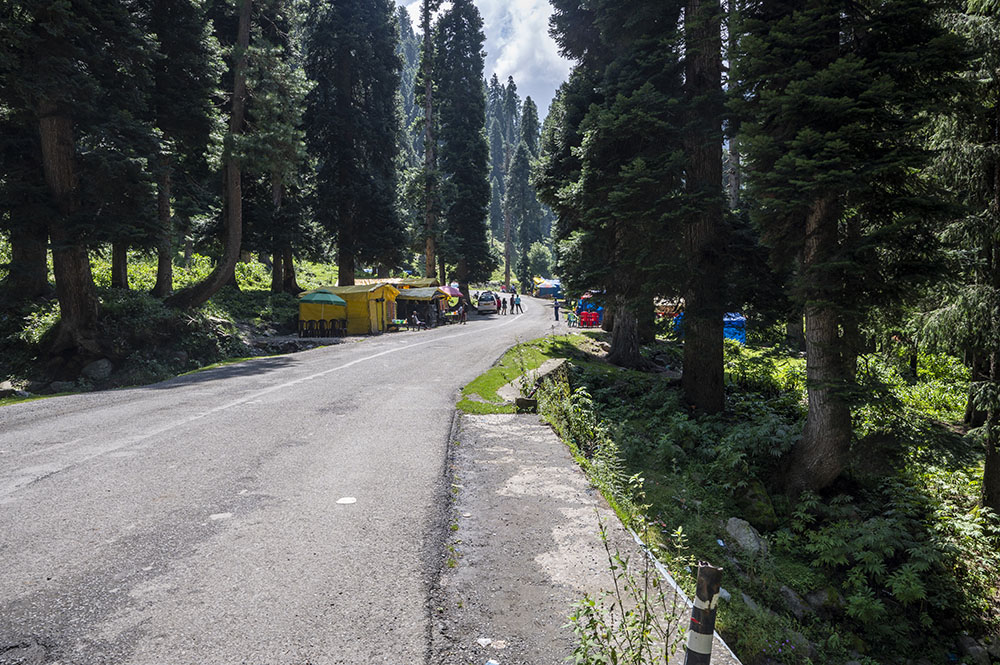 I am not really sure but I think this is also the spot that is known as Daksum Waterfall. It is not really a waterfall but rather a water stream flowing down. It looks pretty though and possibly is the best spot in all of Daksum.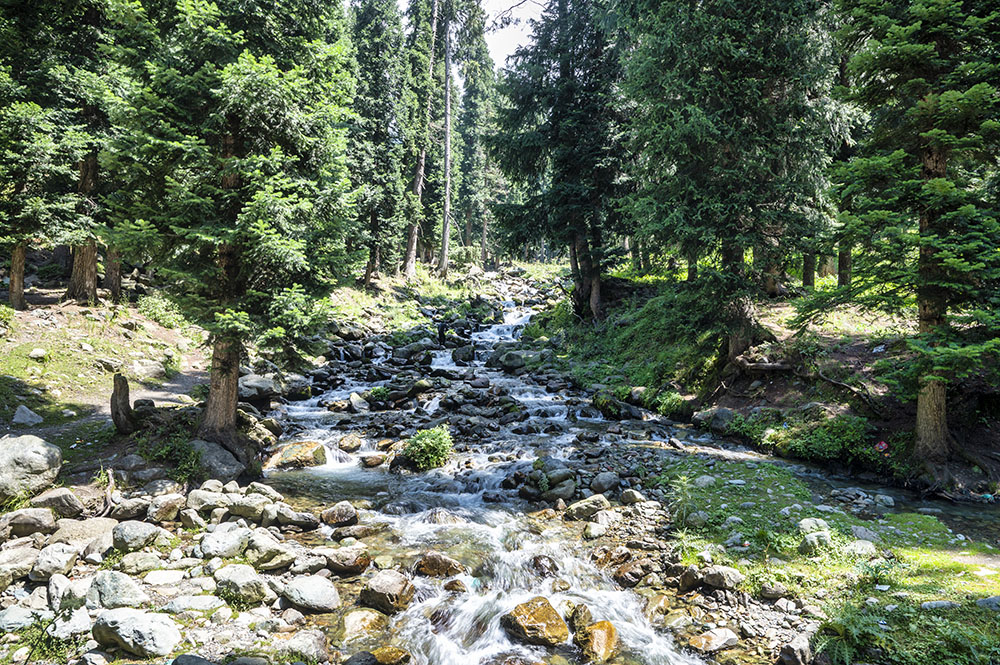 There are a few shops a little ahead of the water stream where you can also get something to eat. We had some tea there, played around in the water for a while, clicked some photos, shot plenty of videos, and then went on our way to Sinthan Top.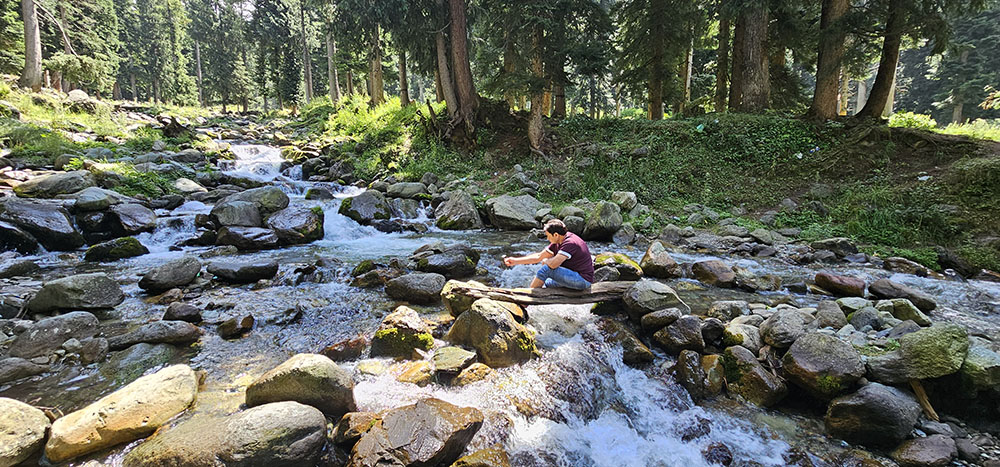 What to See in Daksum
So what else is there to see in Daksum other than this water stream? The answer is nothing. As I mentioned, this is a natural spot in the forest where the views make it a good place to stop and take a break.
The place where the hotels are has an open view of the valley around. It is not exactly a meadow but feels like a mini version of it. This is why the locals and the school kids come out here for picnics.
Other than the natural beauty, Sinthan Top is the primary attraction of this region where we were also headed. On the way, you can also visit Achabal Gardens like we did. There is also another Botanical garden in Kokernag that we skipped but you can go there if you have time.
The Sun temple near Anantnag is another place that you can add to the list. It is best visited at the time of sunset though so you should plan your itinerary accordingly.
For someone who enjoys trekking, there are several trails in the region going up to Sinthan Top. Self-camping is another activity that Daksum in my opinion is perfect for. You can pitch your tents anywhere that you deem fit.
Fishing is an exciting attraction of Daksum but you will need permission from Jammu and Kashmir Forest Department to do that. The Bringhi River is full of trout and is also known as Angler's Heaven.
Also Read: How to Plan a Trip to Gulmarg
Best Time to Visit Daksum
The best time to visit Daksum is anywhere between April to September because this is when the views are at their best. In these months, you can easily plan a trip all the way to Sinthan Top and would not need to return from Daksum only.
Since it is really a forest, every season presents a beautiful aspect of nature. April to June is the best time for camping, trekking, and picnics.
Monsoon is the time when the entire region is at its most green and full blossom and the Bringhi River flows in full might. This is the time when the views will probably be the best and the mountains will look like they have just been washed clean.
Winters convert the entire Kashmir valley into a snowy paradise and Daksum is no exception to it. It snows here between November and early March. The views, after the entire valley gets covered in snow, would surely be heavenly.
During the winter season though, the road across Sinthan Pass gets closed but it remains open until Daksum. I have not been here in winter but something that I now have on my list as well.
Also Read: When is the Best Time to Visit Kashmir
Entry Fee
There is no entry fee for Daksum. You can just drive through the forest without having to pay any money anywhere.
Timings
Even though there are no timings as such, I am sure the cops would not allow to travel anyone on this route after dark. So make sure you plan your trip during the day and not in the late hours.
Mobile Network & Data Connectivity
Irrespective of which network you are on, your phone will work fine in Daksum Valley. We were carrying Airtel and Jio connections and received strong connectivity with 4G data speed. In fact, I used Google Maps the entire time we were exploring the valley and faced no problems at all.
We did not have Vodafone or Idea connections with us but I am sure they will also have connectivity. BSNL / MTNL of course works pretty much everywhere in the country.
Hotels, Huts, and JKTDC Daksum Resort
There are a few hotels in Daksum that I noticed. The charges can range anywhere between Rs. 1000 to Rs. 3500 depending on the property and the time of your travel.
Other than the private hotels, the J&K government also has a rest house and huts that they rent out to tourists. You can book this rest house on the online JKTDC Portal.
Word of caution though. The JKTDC rest houses are not that well maintained anywhere in Kashmir. Most of these properties are in dire need of repair work but they aren't getting any.
Do not be surprised if you find things in the room and washroom broken and non-functional. So just keep that in mind before you decide to stay here for the night.
After spending nearly an hour near this water stream, we finally moved on and continued our journey from Sinthan Top. The pass was about 21 kilometers from this spot but since it was a mountain road, it still took us nearly an hour to reach the top of the mountain.
Please click on the link above to continue reading the next part of this travelogue, detailing our visit to Sinthan Top. The top of this pass, known as 360-degree-viewpoint is possibly the best part of planning a trip on this route.
Conclusion
I hope the travelogue, pictures, and information above on Daksum Valley were of help. If you have any questions, you can contact me on Instagram and I will be happy to answer. You can also consider subscribing to my YouTube channel and asking a question there.