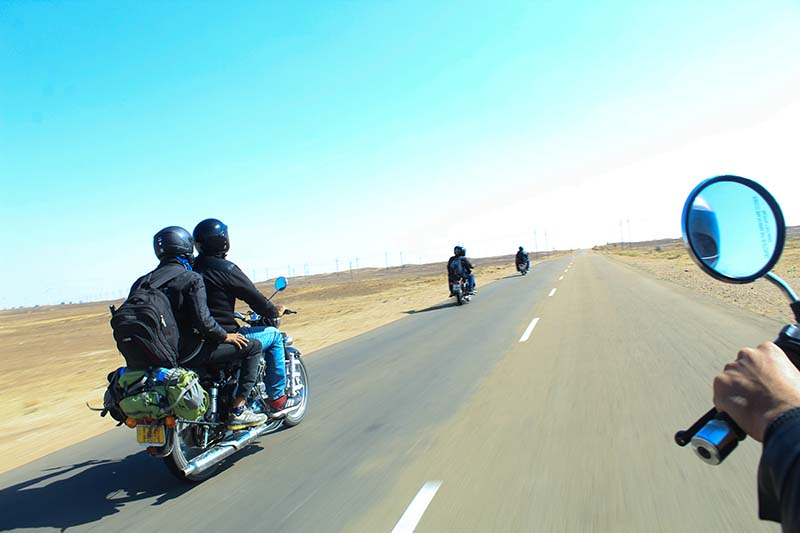 It was a chilly winter morning and we were sipping in our usual cutting chai. Now Siddharth, who had been left out in our Auli ride, pitches in his idea of riding to a desert fest that would be hosted at Jaisalmer in February. Me being broke and running short on attendance, agreed with him instantly and so did the bike trip to Jaisalmer happened. We were eight guys and four Royal Enfields and a lot of fun.
I have written my experience and hope that it helps you guys, too.
A Little History Lesson
Nuh-Uh. Want a history lesson? Try reading Wikipedia for a change. Still, here goes something.
Golden city is what Jaisalmer is called for its beautiful sandstone architecture. Like most of the Rajasthan, it also houses a majestic fortress behind which is a white Jain temple. The famous desert fest, unlike the one that is held at Pushkar, is not held for animal trading. The Indian Air Force shows their might, flying their airplanes over the Mela ground. The local folks give you a dose of Rajasthani culture by performing various dances and stunts.
Local Thali which has more than 12 things to eat, is what you can try there. We had fun at the Mela. We even bought some toys to satisfy our inner 5-year-olds.
The best thing which I have liked about riding to Jaisalmer is that you are on your own. If a thorn decided to give your bike a flat, man, you better know how to fix it. The highway is pretty dry and there aren't many mechanics on it. So, carry your own tools.
Also Read: Less Crowded Hill Stations in Uttarakhand
How to reach Jaisalmer
So, how do you get there and back? Jaipur is one accessible place you can start your journey from. So, I have given some modes of transport you can try to reach Jaisalmer.
How to reach Jaisalmer by Bus (RSRTC/State Government)
If you have the right set of bums and you can tolerate 14 hours of sitting in a not-so-comfortable bus, the state government has the right bus for you.
From Jaipur
Bus Type – Regular
Departure time and place – 04:42 AM, Jaipur
Arrival time and place –06:45 PM, Jaisalmer
Fare – INR 540 + tax
From Jaisalmer
Bus Type – Regular
Departure time and place – 06:01 AM, Jaisalmer
Arrival time and place – 07:40 PM, Jaipur
Fare – INR 540 + tax
By Cab
There are many cab rental companies in Jaipur. One of them is Rajputana cabs. I have hired their services many times and so far they have proven trustworthy. Typically, they take INR 6000 for covering 560 kilometers from Jaipur to Jaisalmer. It would take about 11 hours to cover the same.
By Air
Spicejet is the only airline operating (at the time of writing) for this particular route. Below is the detail of only one flight scheduled for Jaisalmer.
Departure Time and place – 10:35 AM, Jaipur
Arrival Time and place – 11:50 AM, Jaisalmer
Fare – INR 2,658 (It is dynamic and would differ for different date)
Also Read: Auli Travel Guide – How to Best Plan your Trip
Bike Trip to Jaisalmer
A motorcycle is, by far, my favorite mode of travel. Brilliant highway and good company definitely make it a better choice over the others. There are many Motorcycle rentals in Jaipur. Rajasthan Bikes is one rental company I have tested many times. The owner is a knowledgeable person and knows a fair deal about touring. These people also have the biggest fleet of bikes in Jaipur. Though they have Royal Enfield bikes in their garage, you can take the game up by renting a Harley or even a naked 650 Kawasaki.
I always advise starting early as possible to beat the morning traffic. You could rent the motorbike an evening before you start your ride and park it at your hotel (the rental company would definitely cooperate). Since motorcycling is a bit more tiring than driving a car, I suggest you break your journey in two parts. First, you reach Jodhpur and then you ride to Jaisalmer.
Below is the itinerary that I followed
Day 1: Jaipur to Jodhpur
We took the night out-pass after making our professors believe that we were actually volunteering for the desert festival to be held at Jaisalmer. I could not sleep the whole night and was up super early at 4. We got ready by 5 and we were on the highway by 7 AM. Yes, not all riders woke up at 4, I guess!
Immediately, after crossing the toll (where Siddharth almost got hammered down by the toll gate barrier. There is a separate lane for two-wheelers, Siddharth, you dumbass) and getting out of Jaipur, we took our first halt at a dhaba to fill our bellies up. Stuffed some fresh 'Aloo-pyaz ka parantha' and we were on the road, again.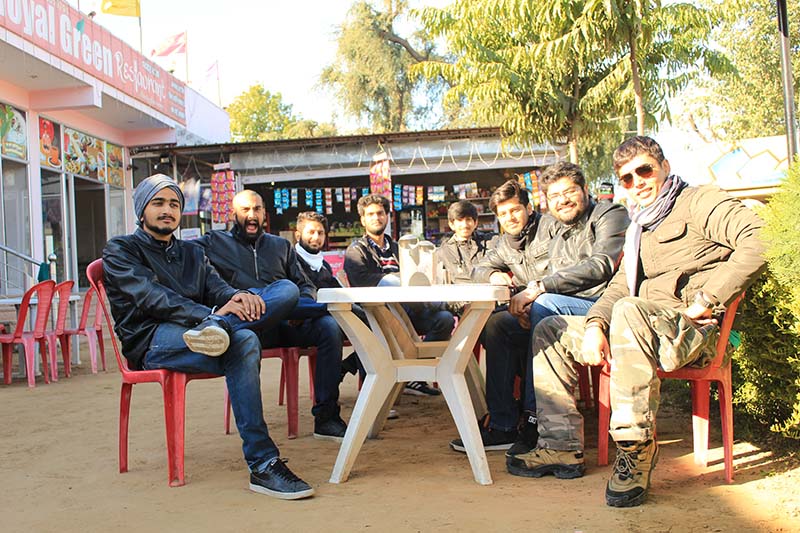 Since one of the riders decided to bring his 1987 Royal Enfield Bullet, it took us about nine hours with a considerable amount of stops to reach Jodhpur. Trust me; you can't ride a 1987 at 90 without hiccups.
We already had made a booking at a Shyam Palace guest house, which we reached after going through a maze of narrow lanes. We got a great amount of attention from a lot of people as we parked our extremely loud bikes.
After resting for a while, we left on foot for a nearby restaurant, and man, out of nowhere we were greeted with a beautiful stepwell. The majority of us had never seen one, so we spent an hour enjoying the sheer beauty of that piece of art. It was tiring but a great starting day of our ride.
Also Read: Pangot Travel Guide – How to Plan your Trip & Explore !
Day 2: Jodhpur to Jaisalmer
Our 5 AM alarms went off and blokes woke up, realizing soon that there were not enough washrooms for all of us. So, early risers went on to do their 'business'; while our sleepy head comrades slept some more.
Hot breakfast and sheer zeal motivated us to leave Jodhpur at the earliest which actually turned out to be a huge mistake. None of us realized that the desert area goes freezing in the morning, not literally. It was really cold and riding motorcycles without riding gloves (typical broke college students) made it worse. The pillions had their hands into the pilots' pockets. A great thing for them because pilots were really not happy about riding!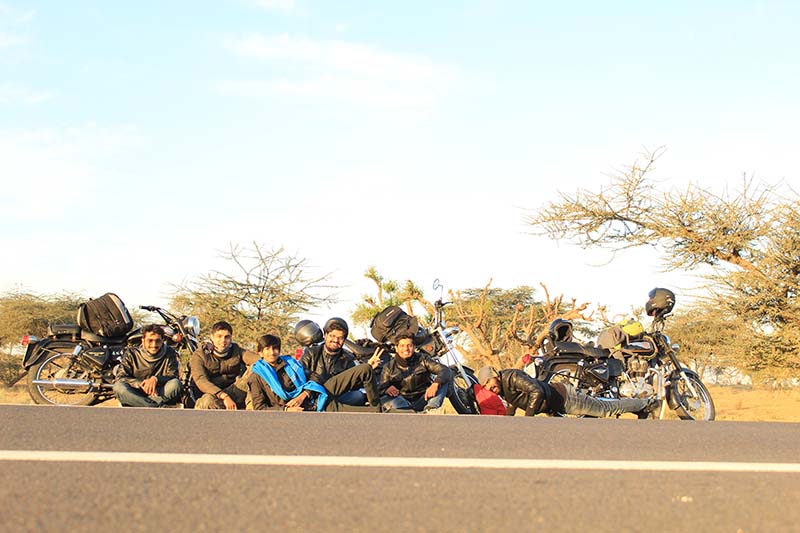 Vishwaraj, on the other hand, had gotten fed up with us riding at relatively slower (1987 Bullet to keep up with) speed. So he decided to just leave us behind and ride solo.
Now, when the real desert part starts and where you can only see straight unending road carving its way through the sand, we found a very famous dhaba. The owner had proudly framed some photos of him standing beside some Bollywood stars. The food was great and we had refueled ourselves.
We reached Hotel Haveli by noon and rested ourselves till the dusk. Since we already had a fair share of a nap, we decided to visit the Jaisal Kila in the middle of the night. Not so surprisingly, it was close but some cafés were still open. Now, again, surprisingly, Indians were not allowed inside. That just made our night!
Also Read: Gangotri and Gaumukh – How to Best Plan your Journey
Day 3: Riding around Jaisalmer
After each of us having breakfast equivalent to filling up three blokes (it was included in the package, so we let the staff know that we were indeed barbarians), we left for the Mela ground. We could already see the crowd building up. We parked our bikes and put on our buffs (hey, it was pretty dusty).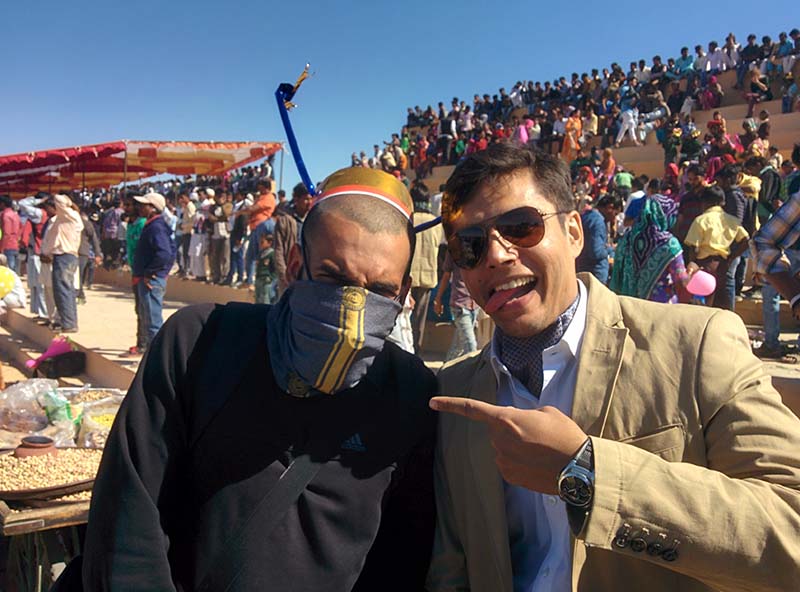 The ground was filled with decorated camels and horses. The crowd was cheering for the Indian Air Force who were doing fancy things with their rifles. Loud fighter jets zooming past the ground just gave us Goosebumps. After a while when our stomachs started making whale sounds, we decided to go for lunch and after that, we left for Sam desert where we had desert camps waiting for us.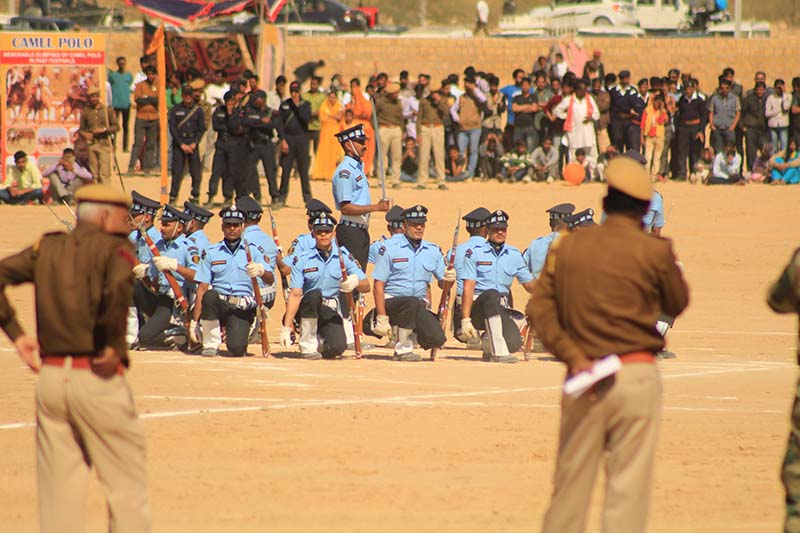 The best thing about these camps is that they offer authentic Rajasthani cuisine while you watch some Kalbelia dance. The folk dance program lasted for 2 hours and we were free to go to our beds or walk in the desert under the moonlight.
We decided to go with the latter and what an experience it turned out to be. It was pitch black all around us. The only light that we could see was from the other desert camps. It was a great post-meal walk. Some people were enjoying jeep rides in the middle of nowhere and in the middle of the night.
Soon we were exhausted and completely out of energy. We took a hot shower and went to bed after returning to the camp.
Also Read: Khirsu – A Complete Travel Guide & Itinerary
Day 4: Jaisalmer to Om Banna
On this trip, we had developed a habit of waking up early. So, after going through our morning routine, we planned to watch sunrise sitting on the back of a camel. We proceeded to the highway where camel vendors were and asked them to give us a ride. It was cold, so we did not take our helmets off. Yeah, you read it right. We rode camels wearing our respective helmets. And soon enough, like an innocent child, the sun started peeking through the sand dunes. Breathtaking is the word. Fresh air doped with camel's dung, great friends and a baby Sun, this was the perfect start for our day.
After having breakfast, we left for Pali where Bullet Banna's shrine is.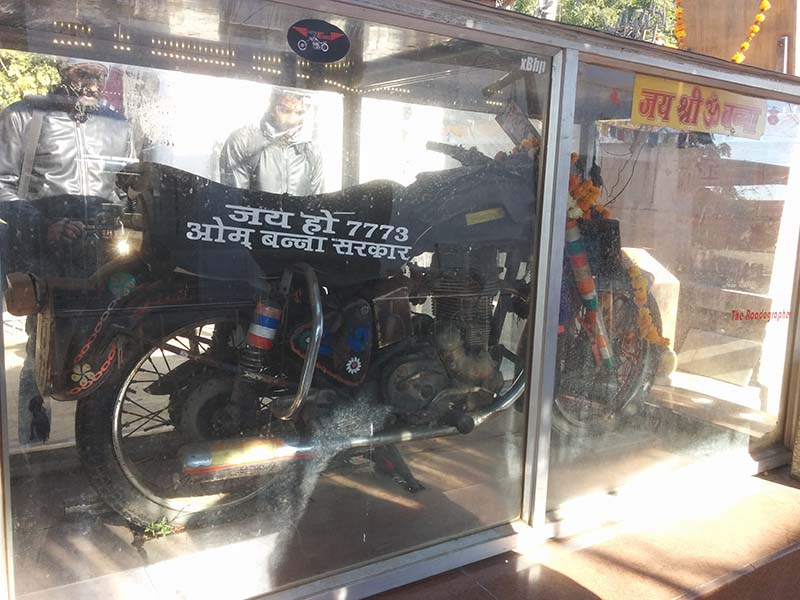 But first, we went to Patwo ki Haveli. It was really amazing architecture covering both sides of the lane; pretty impressively those people used to live I must admit. After that, we left Jaisalmer and headed in the direction of Pali.
En route, we had a chance to visit a very infamous place called Kuldhara village. Not a single soul was there, so we played hide 'n seek. We made a run when a local bloke told us the story of why there were no people in that village! To know more, please read The Curse of Kuldhara.
Also Read: Munsiyari Travel Guide – How to Plan your Trip and Explore
Om Banna Shrine
While we kept changing our navigator, it was Siddharth's turn. People, while taking the help of Google maps, always make sure the shortcut that you see is actually saving you some time. We learned it the hard way. The highway was pretty smooth till the point Siddharth decided to take us on a little detour. We exited the highway and took a route that would go through a small hamlet. Of course, there were no roads; neither there was any seat comfort for our bums. Everybody immediately voted Siddharth not to be the next navigator.
We reached Bullet Banna by lunch and man, people really love to be there. The motorcycle is still in one piece. We felt the significance of that shrine there. A lot of devotees and riders rode from great distances to pay their respect to Bullet Banna. It feels nice that even saints rode motorcycles!
We even got interviewed by German media there, though it never got aired. It makes me feel sad for them as they had a great chance featuring us, great riders of the future, but they did not take it!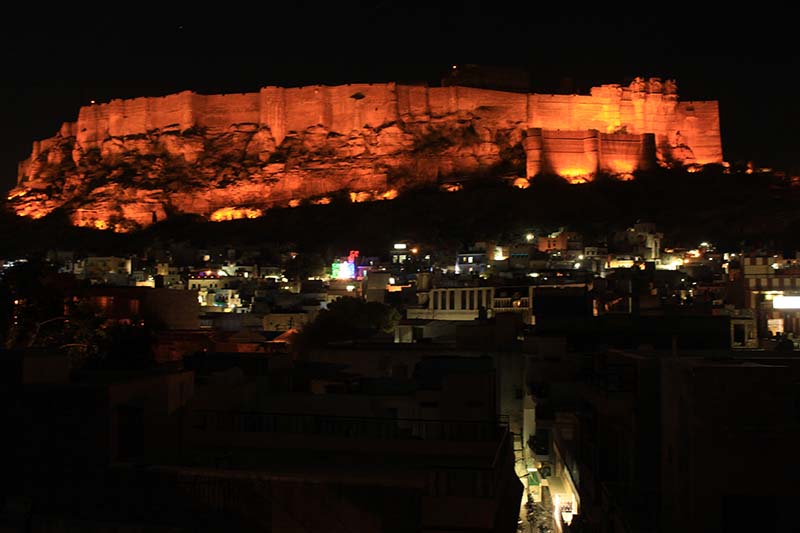 Om Banna to Jodhpur
Steadily we rode to Jodhpur, and yes, we were almost out of money. So, we tried to just spend the night at the cheapest guesthouse in the whole city. There were no windows in the room and no clean washroom (no working flush basically). We flipped and the owner showered us with some strong words. We did not return the favor to her; and just rode away to a slightly better hotel just across the street. We spent the night there wondering who she actually showering her love at, me or Veer Ji?
Day 5: Jodhpur to Jaipur
It was still exciting to ride all the way back to Jaipur. But the excitement just kept on fading away as we covered more distance. I think this is pretty generic to every ride that you do. We took some small breaks and had our last tasty meal at McDonald's near Ajmer. That is where we completely went broke. Hey, but the ride that we had done for the five days, it was worth every penny.
Also Read: Best Hill Stations for Honeymoon in India
Best Time to Visit Jaisalmer
Winter months are the best time to visit Jaisalmer. The weather at this time will be cooler and pleasant enough for you to enjoy your trip. The sun would not want to burn you alive like it would in summers.
The temperature during winters is pretty bearable and ranges from 9 °C to pleasant 20 °C. January and February would be your best bet. But, do keep in mind that the weather is pleasant and it is pleasant for everybody, so expect a little crowd.
Also, February is when the desert fest takes place, so make your plans accordingly.
However, if you know something about predicting rains or don't mind getting a little wet, monsoons are another great time to visit this place. The whole scenery changes the moment it starts to rain. Rajasthan altogether turns into some other magical place. Dryness and harshness just goes away. It becomes more pleasant and you can just sit at the porch of your tent enjoying the dusk while sipping your tea.
Also Read: Chakrata Travel Guide – How to Plan your Trip & Explore?
Where to Stay
I have mentioned the places given below for two types of travelers; broke and budget. Luxury travelers can just go to a Taj or an Oberoi or a Mariott and any of the plenty of luxury hotels you will come across.
For broke travelers like me, the best bet is to stay at a hostel. You meet so many like-minded people and it is fun. Though, if you are someone who enjoys privacy, try budget rooms at affordable hotels.
Where to Stay in Jaipur
Broke Travelers
The Hosteller and Moustache are two great hostels to stay at. I do not know about Hosteller, but, Moustache has a great food walk concept where they take you on a small walk around nearby places and make you taste some mouth-watering street food.
There are even cheaper options out there, but I can't really vouch for their quality of service. A typical dorm bed at any of these properties would cost you anywhere between INR 400-700 a night.
Budget Travelers
Bluebeds and Hotel Krishna Palace are the two places that I personally prefer. These hotels offer basic amenities like clean attached washrooms, wi fi, free parking and laundry. A double bedroom would typically cost INR 1000-1300 for a night. To get this kind of price, make sure that you book the room through an OTA like booking.com.
Where to Stay in Jodhpur
Broke Travelers
HosteLaVie wins here hands down. It is a great property to spend a night at and share a few laughs with fellow travelers. The cost for one night for a dorm bed is around INR 500. I think for a clean bed, it is bearable.
Budget Travelers
Treebo Trend has a hotel Raj in Jodhpur. It is a very decent property and is about five kilometers from the city center. It is easy to find and has its own restaurant called 'Vyanjan' which serves good vegetarian food. The average cost per night here would be around INR 800 to INR 1000.
Where to Stay in Jaisalmer
Broke Travelers
Romany Hostel should be the best here as it costs only INR 99 for a dorm bed. On top of that, there are many facilities like parking, towels and linen, wifi and a restaurant. You really can't beat that for 99 bucks. There is a lot of Rajasthani paintings and decorations all over the property which gives you a royal feel.
Budget Travelers
Did I forget to tell you that Romany Hostel offers twin sharing private rooms? Depending on the class of the room, the price ranges from INR 300 to INR 1500.
Also Read: Dhanaulti – A Complete Travel Guide, Road Map & Itinerary
Best things to do around Jaisalmer
Listed below are some fun things to do in Jaisalmer and places to visit.
Jaisalmer Kila Sightseeing
This is the most sought after thing that you can do in Jaisalmer. The 'Jaisal Kila' is still believed to be one of the living fortresses in the world. About one-fourth of the total city's population still lives inside the fort premises.
You can hire a guide and take a walk around the huge fort and get acquainted with the vast history it has.
Camel-back
 Riding
When you are around Sam desert, many camel vendors can be seen there. Or if you have spent a night at one of the desert camps, ask the staff for arranging a camel ride. It is fun to sit tight on a camel's hump while it runs over the sand dunes.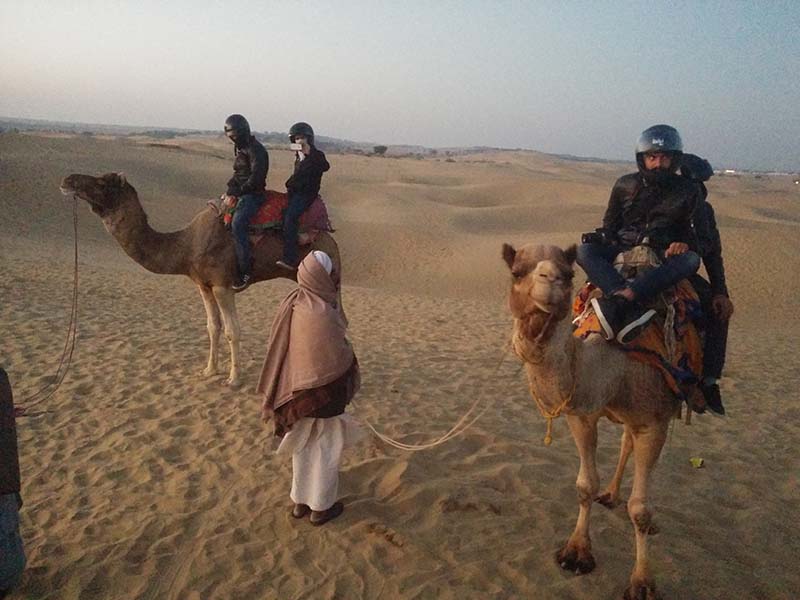 Riding Quad Bikes
This one of those activities which can be requested at the desert camp you are staying at. Most of them have quad bikes parked at the premises. It is quite an experience to accelerate that machine over loose sand with a flick of your thumb. Yeah, the throttle is a small lever that is flicked for gaining speed.
Visit Indo-Pak Border
This is a good way to dub yourself as Sunny Deol and fill yourself with zeal and patriotism he had in the movie 'Border'. But, first, you need to take permission from the DC in the city and then from BSF HQ nearby. Keep some three to four hours spare for this whole process.
After you have all the necessary paperwork done, drive to Tanot where the Indian Army will assist you with your plans to see Indo-Pak border and recite the dialogue, 'Yeh Dharti Meri Maa Hai!'
Tasting the Rajasthani Thali
Pakwan Restaurant has a reputation to serve the very famous Rajasthani Thali in town. It really fills you up to the brim. The thali has a vast variety of things you can put in your mouth. You really need to go and see for yourself, people!
Jeep Rides over Sand Dunes
There are plenty of desert camps that offer you a night jeep ride in the desert. It is thrilling as you can't really see anything, so you can't predict if the jeep is going to jump from a sand dune or just slide over the sand! Just hold tight and hope for the best.
Also, these rides take place in broad daylight as well.
Gadisar Lake Boating
Want to spend a quiet evening with your partner? Well, stay in your room because there are quite a number of boats at the lake and it will never really be quiet. Jokes aside, the best time to be there is at dusk when you can relax and watch the sun drown into the lake. Grab some snacks and hop into a boat.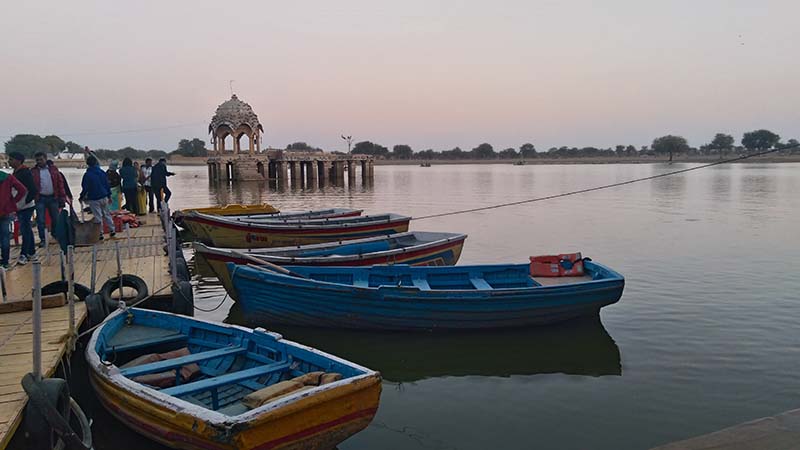 Shopping
If you are someone who likes to take home souvenirs from a trip then you should try shopping in the 'Bazaar' south of Malka Pol where you can find all sorts of emporiums and handicraft items.
Cost of Bike Trip to Jaisalmer
Below is how much our total expense came out to be for Jaisalmer
Bike rental: RE Classic 350 – 900*5 = 4500
Fuel: Total Distance – 1550 km, fuel efficiency – 38 kmpl, cost of petrol ~ 72/L. This gives a rough total of Rs. 3000/-
Stays – We were 8 persons, and Veer Ji used to bargain like anything. We got a cost of 600/person/night on double sharing. The total for 5 days would be 3000/person.
Meals – We ate mostly at Dhabas and cheap restaurants or the meals we included in the hotel plans. The average had cost us 80/meal. We ate three times a day  – 240*5 = 1200
The total comes out to be 11700 (On double sharing).
Conclusion
I hope the travelogue and information above on planning a bike trip to Jaisalmer was of help. If you have any questions, or need any other details, please feel free to ask in the comments section below, or at our Community Forum, and I will be glad to answer.