Let me begin by saying that I was actually waiting for this one. I read about this series a few weeks ago and was very excited about it. It was actually in an article about the upcoming Indian web shows on Netflix and other platforms. From the list, two names immediately caught my attention. One was Paatal Lok by Amazon Prime and the other one was Betaal by Netflix.
I initially thought they were both going to be a horror series. Paatal Lok however turned out to be a crime thriller and an outstanding one at that. This is one show that I will highly recommend and you can read my review about it at Paatal Lok Review – A Gem by Prime Video.
On the other hand, Betaal by Netflix was nothing more than a ridiculous disaster. It is a terribly boring show that is not even worth a one time watch. Watching this made me wonder if the makers themselves watched it before releasing it. And if they did, how can they release it like this. There was not even a single good thing about this show, except for the idea maybe. From start to end, all that you get is a pathetic execution of a brilliant plot.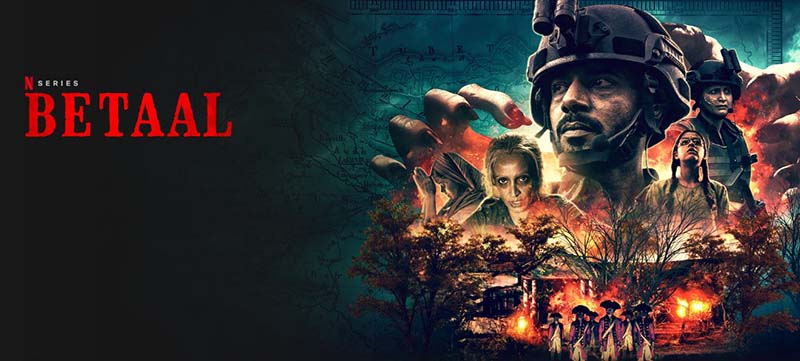 Betaal
For a brief overview, Betaal is an Indian horror web series produced by Red Chillies Entertainment. The show was released on Netflix in May 2020 to mostly negative reviews. It was the second collaboration between Red Chillies Entertainment and Netflix. The show is a total of 4 episodes of 40-45 minutes runtime.
There were two reasons why I thought this was going to be good. The first one was the writer. The series is written and directed by Patrick Graham who also wrote another Netflix show called Ghoul. Now Ghoul may not be a brilliant series but it is still an enjoyable one. When I found out that it was Patrick Graham who wrote Betaal, I was expecting something similar to Ghoul.
The second reason was that the first collaboration between Red Chillies and Netflix was Emran Hashmi starrer Bard of Blood which was another good and entertaining series. Putting all of this together, the expectation from Betaal was really high but it fell flat on the face.
Story
What was good about the show? I think the idea of the story maybe. It is based in a remote Indian village where an Army of Zombies is buried in a tunnel, deep inside a mountain called 'Betaal Parbat'. The leader of the zombies is a British Indian Army officer Lt. Col John Lynedoch. Before Independence, he uncovered an evil power inside the mountain that turned him and battalion into zombies.
The villagers stand guard to the mountain ensuring that no one reopens the tunnel, setting free the zombies. Then a construction company comes along wanting to make a highway and insists on reopening the tunnel. The villagers resist and hence some soldiers are called for help. The tunnel is finally opened and the army is set free.
Review
The show has a nice premise but that's where the creativity ends. The lack of craftsmanship can be seen throughout the rest of the show. What we see for the next 4 episodes is a fight between the soldiers and the zombies. The village serves as the battleground and one by one, people start dying. But by then, your interest in the show is long dead as well.
I do not know why Indians cannot seem to get the horror genre straight. I think except for a handful of movies, there has never been any good horror stuff to watch in India and the trend continues. Betaal is just another addition to a lost list of shows or movies that were meant to be horror but turned out to be horrible.
The zombies looked more funny than scary. Even the ones from Ramsay Brother movies like Veerana and Purani Haveli were scarier than the ones in Betaal. There was nothing that looked like a natural decay on their bodies but only a pathetic makeup. They looked more like red-eyed robots than a zombie.
The acting done by actors is very mediocre and the storyline is even worse. It was made by a production housed owned by 'King Khan' but it feels like a very low budget series. All of the actors looked pathetic and it made me wonder if they were really bad actors or if they looked bad working with a poor script.
Run Time
I think the biggest problem was the short run time. The show was wrapped up in 4 episodes of 40 minutes each so there was little development of anything. There was no build-up of the story, or suspense, and the makers seemed eager to get to the battle scenes with the zombies.
If they had allowed some time for the story and characters to grow, it may have turned out to be a good series. But in less than three hours, what it became was a badly written zombie story with a touch of tribal India, Naxalism, armed forces, and corruption that did not fit together at all. The story just keeps jumping from one point to another with random things happening all over.
Final Verdict
The lack of continuity and consistency of the plot paired with no logical thinking involved made this show really a pain to watch. The plot was one dimensional and the characters were laughable. The story made no sense and the actors were annoying as hell. The script and the dialogues felt like they were written by a child. The zombies looked like prosthetic dolls and the direction was absolutely pathetic.
My final word on this is to skip Betaal and watch something else. There are plenty of other good zombie horror shows and movies on Netflix that you can watch but save yourself a headache and do not watch Betaal.