Aharbal Waterfall in winter is truly a magical experience. There are really no better words to describe it. As you stand there in the shadow of the mountains, with your feet buried in the snow, gazing upon the water of a semi-frozen waterfall making its way through the gorge, you realize how truly beautiful Kashmir is.
If you want to know what I am talking about, take a look at the short video below. This was recorded in the month of January, a day after Aharbal received heavy snowfall.
In this post, I will provide complete information on how you can plan a trip to Aharbal waterfall in winter. The details below include information on how to reach, where to stay what to see, and several other tips that can be of use.
For a complete travel guide on visiting Kashmir, you can take a look at How to Plan a Trip to Kashmir Valley. For getting the best hotel rates, and taxi charges, and to organize your trip to Kashmir, you can speak with Kunal @ 9910 402 252.
Aharbal Waterfall in Winter
I was recently on a winter trip to Kashmir that lasted for 11 days. It was not my first time in the valley. I had been there before and had already seen the majority of the tourist attractions.
The idea behind this trip was to revisit all those places and see how they look in the winter season. We wanted to see a white Kashmir and the entire trip was planned as per the snowfall predictions.
On the 7th day of the trip, we decided to visit Aharbal Waterfall. This was after the news reports confirmed that it had snowed there the day before. To read the previous parts of this travelogue, you can take a look at the links below.
Journey So Far:
So on the morning of Day 7, a Friday, we left our hotel at around 10 am with hopes that we will be able to see the Aharbal Waterfall in Winter. Did we get there and were we able to see what we wanted to see? Read on to find out more. You can also check out the video of our journey on this day at the link below.
How to Reach Aharbal Waterfall in Winter
There are two ways to reach Aharbal Waterfall from Srinagar. The first and most common route is via Shopian and the second route takes you through the town of Kulgam.
Route 1: Srinagar – Pulwama – Shopian – Aharbal = 65 kilometers
Route 2: Srinagar – Awantipora – Kulgam – Aharbal = 100 kilometers
The route via Shopian is the shorter one and it takes about 2 and a half hours to reach Aharbal this way. The problem however is that after Shopian, the last 16 kilometers of this road is a narrow and steep climb that passes through the forest.
During the winter season, especially in January and February, this road usually gets blocked. The authorities do not even attempt to clear the snow and it can remain blocked for weeks or months.
More than that, it is not even safe to be traveling on this road, unless you had a 4X4 SUV with snow chains. We were traveling in a Duster so traveling via Shopian was not an option.
Still, we called ahead to confirm and were told that the road after Shopian was inaccessible. The cops were not even letting anyone travel beyond Shopian.
Also Read: How to Plan a Trip to Gulmarg
Kulgam to Aharbal Waterfall
That left us with only one choice, to take the road via Kulgam. Depending on the shortcuts and the internal roads we take, the total distance this way will be around 100 kilometers. The travel time can be anywhere between 3 to 4 hours.
The advantage of this route however is that it is not as steep as the Shopian road. For the first 55 kilometers, you stay on the national highway (NH44) and then take the turn toward Kulgam.
Until Kulgam as well, it is mostly a flat road and in good condition. It is only the last 15 kilometers after Nihama which may seem a little steep but not as much as the Shopian Aharbal road.
This was the route that we were going to be traveling on. We did not have anyone to call to confirm whether this road was open or not. But as far as I knew, this route remains open for longer than the Shopian road.
With this knowledge, we decided to take the chance and started from our hotel in Srinagar at 10 am.
Srinagar to Aharbal Waterfall in Winter
Our start was once again a little later than we wanted it to be. But like the rest of the days of the trip, an early start of the day just seemed impossible, thanks to the extremely cold weather.
There was news of snowfall from all over Kashmir. It was snowing pretty much everywhere but surprisingly, there wasn't even a single flake of snow anywhere in Srinagar city.
We traveled through the city and reached its other end on NH44, also known as Jammu Srinagar Highway. This is when we started noticing snow on the cars that were coming from the other side.
This was a clear indication that it was snowing on the route ahead and we will run into a snowfall. While this was very exciting, it also made me very nervous.
Why? Because I had never driven on snow before, let alone while it was snowing. A few days ago, when we went to Gulmarg, I drove hardly a kilometer with a little bit of snow on the road. But that was it. That was the extent of my experience of driving in the snow.
Nonetheless, we continued our journey and reached the Jammu-Srinagar highway. I was expecting to find snow on the road any minute now but there was absolutely nothing. It was all dry.
This made us think that maybe the snow on the cars that we were seeing was from the previous night. Maybe it snowed in the nearby villages a bit last night and that was it.
This disappointed me a little as well because I was really hoping that we will find snow up ahead. But then, my prayers were heard and the best experience of our trip started.
Awantipora
Somewhere near Awantipora, it started to snow. At first, it was just a little bit of snow but as we continued to proceed further, the intensity of the snow also kept increasing.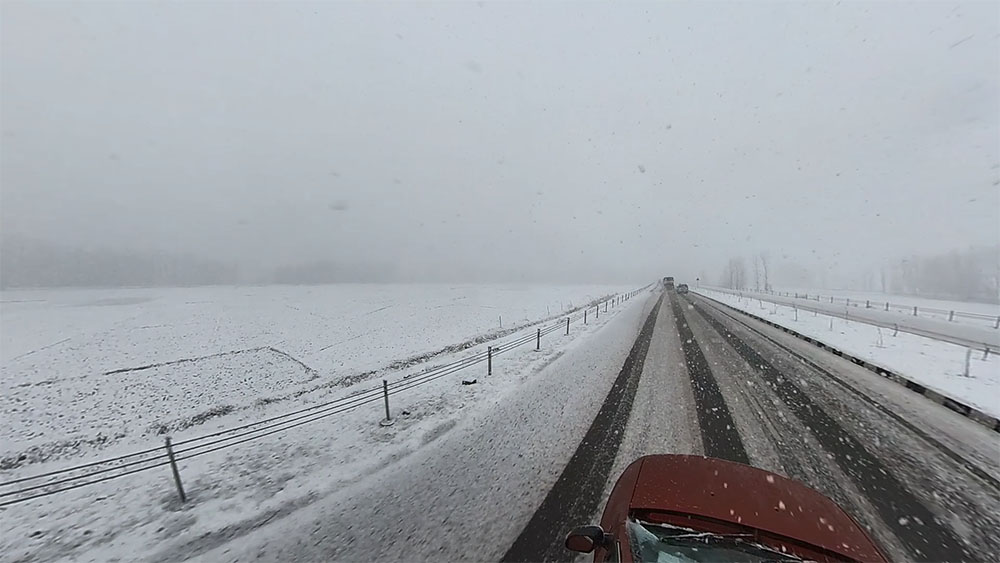 In my mind, I was thinking of every tip that I had read about driving on snow. Our speed dropped down to just about 20 kilometers an hour. I was both excited and nervous but the views were all worth it.
Soon we were driving through heavy snowfall and the snow started to accumulate on the ground. I was doing my best to ensure that we drive safely but the car did skid a little bit at a few places.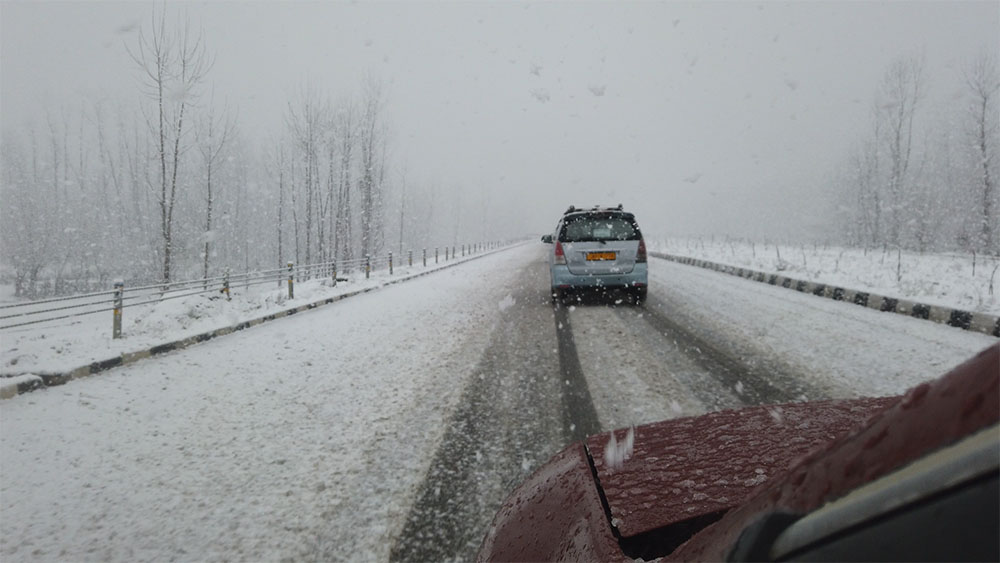 At one particular intersection in Awantipora, a few cars were crossing the road. I honked but none of them stop and were in the middle of the road. As a natural reaction, I suddenly applied brakes. Our car however did not stop either and continued to skid on the snow.
We barely missed hitting another car in front of us. From this moment on, I made a note to myself to not apply sudden brakes no matter what.
I left the car in the second gear, removed my foot from the clutch entirely, and relied on engine braking. Slowly, we continued to move on and the snowfall just made it all so enjoyable.
Kulgam
About 10 kilometers before Anantnag is a small village called Bijbehara. This is where we left the highway and turned right to go to Kulgam. But the moment we turned on this road, the views forced us to immediately take a break.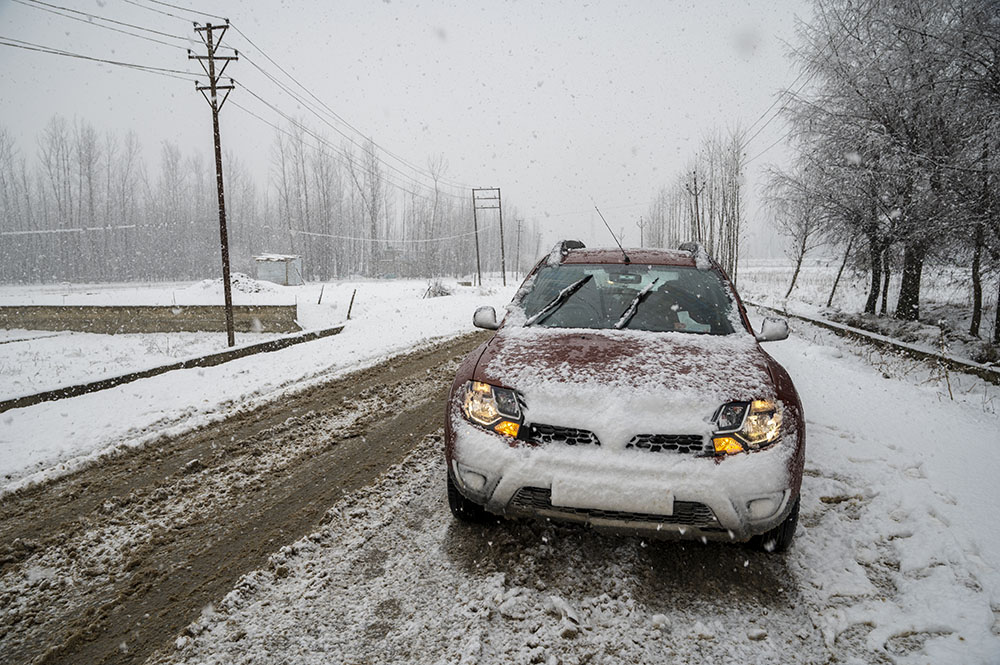 There were several other villages that we passed on the way that I do not remember the names of. We continued to stop every now and then to enjoy the snow and click pictures.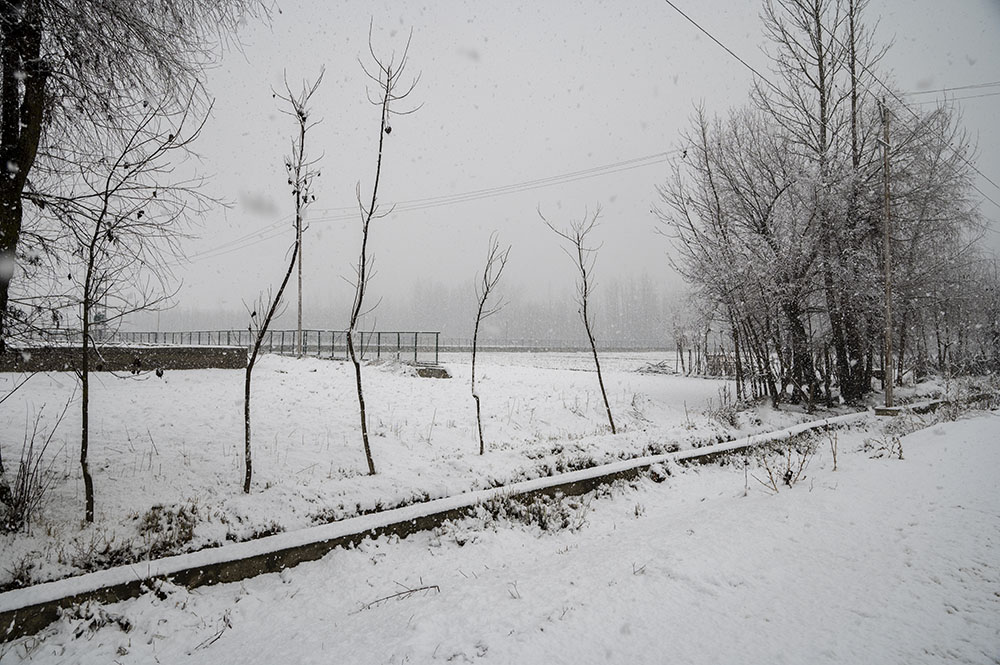 Our progress was still very slow. It was snowing so heavily and there was so much snow that we could not do more than 15 kilometers an hour.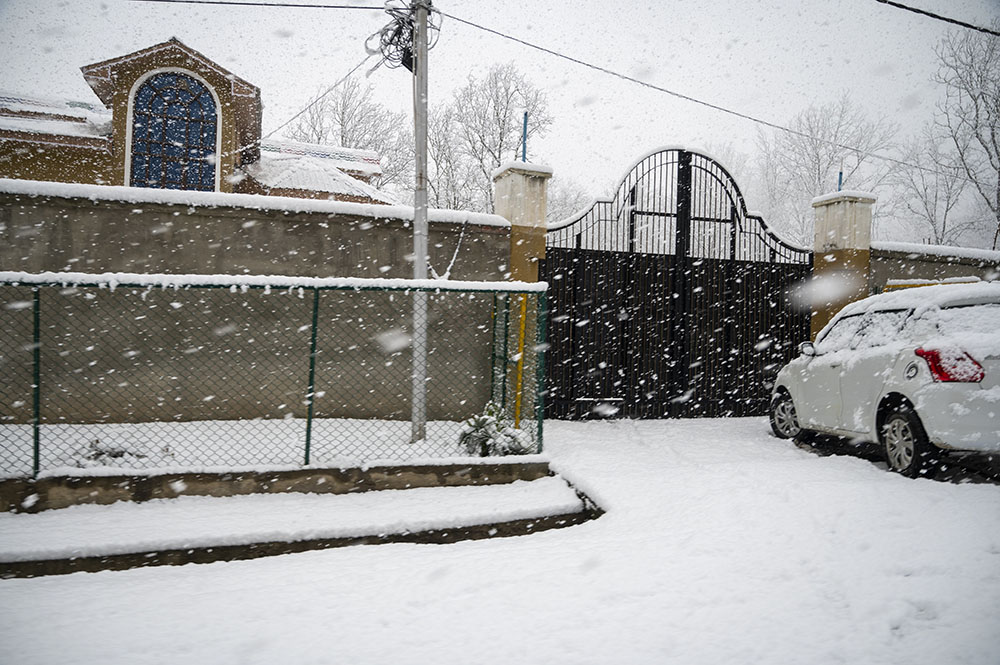 By this time, it was getting clear that we will not be able to reach Pahalgam for two reasons. The first was that we were short on time now. The second and bigger reason was that all this heavy snow would surely have blocked the road up ahead.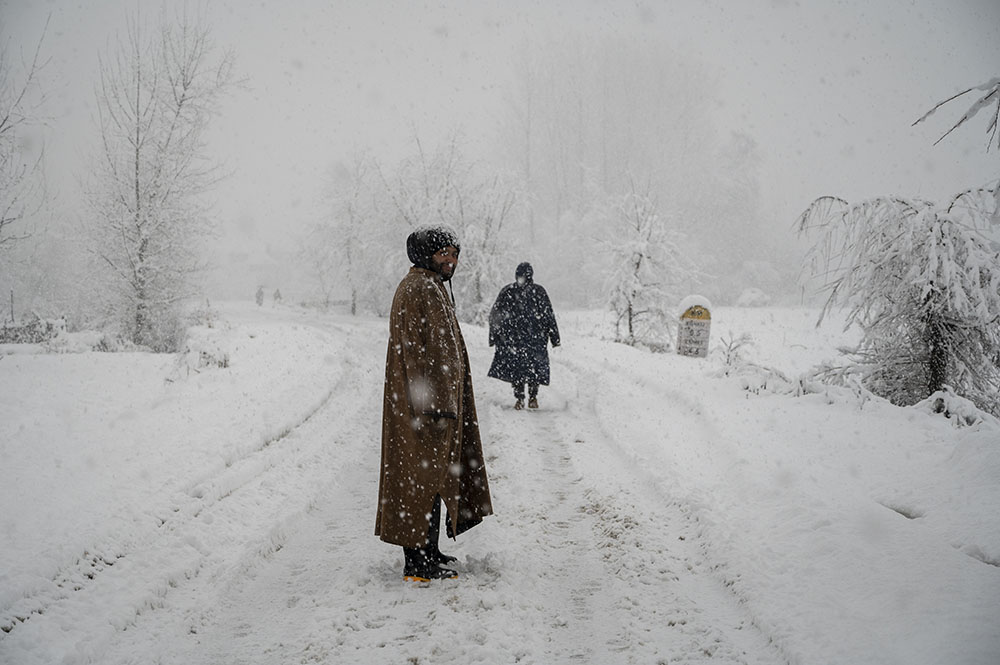 By the time we made it to Kulgam, the clock read 3 pm. It took us 5 hours to cover 70 kilometers.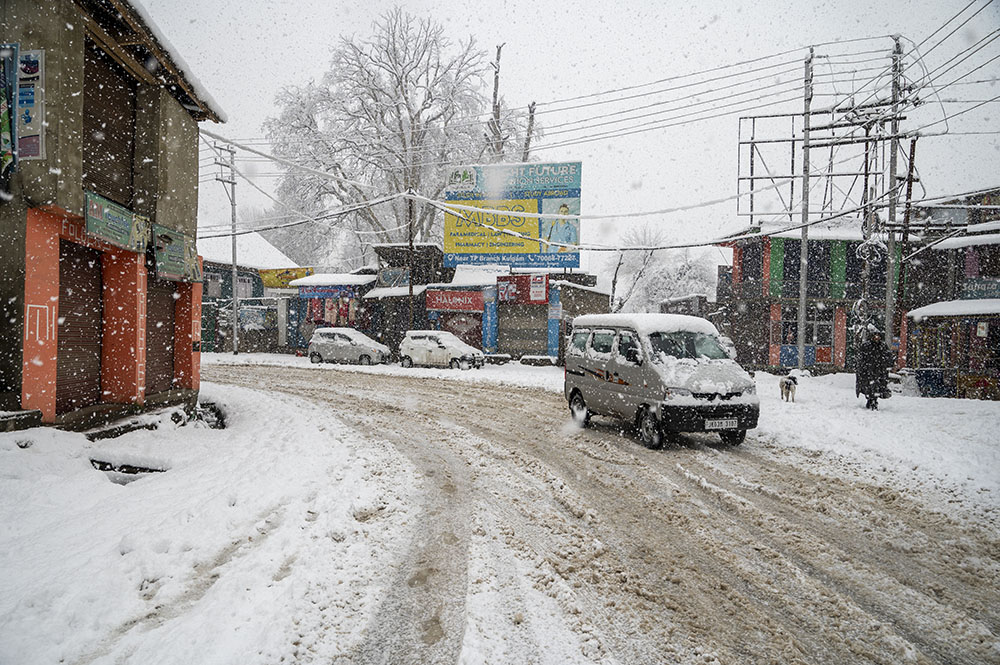 Aharbal Waterfall in Winter
Since morning, we have not had a single cup of tea. All through the journey, we kept looking for a tea shop but did not find even one. Finally, when we stopped in Kulgam, we were able to locate a tea shop.
During our break there, I inquired of the locals about the road ahead to Aharbal. They all just smiled back at me for even thinking to go that way.
I was told that the road ahead is closed. There was a check post after Kulgam and the cops were sending everyone back. No one was allowed to go toward Aharbal.
This broke my heart. While the journey so far was an enjoyable one and we had a lot of fun in the snow, I was really hoping to reach Aharbal Waterfall. But that was not going to happen.
Apparently, there was also an avalanche in the Aharbal region a couple of days ago. There was no loss of life thankfully but the roads were way too dangerous to be traveling on. This is why the cops were sending everyone back.
Also Read: How to Plan a Trip to Pahalgam in Winter
Return Journey
We finished our tea, got a little something to eat, and with heavy hearts, decided to go back to Srinagar. This time, we took a different internal road and exit on the highway at Anantnag rather than going back the same way to Bijbehara.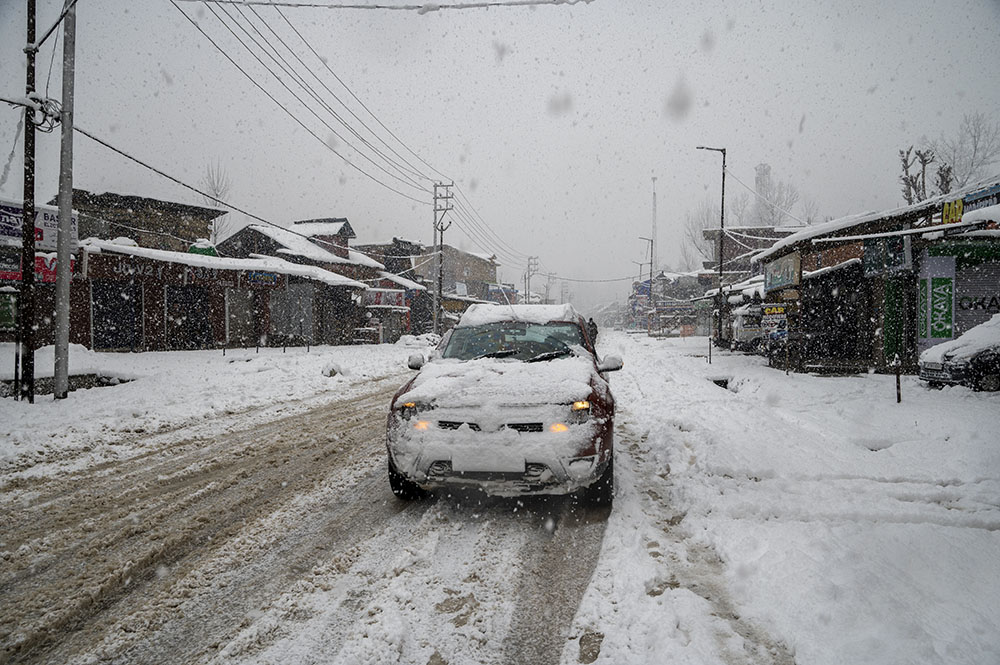 The intensity of the snowfall now had decreased but there was a lot of snow on the road. In some places, it was almost a couple of feet of snow that we drove through.
I really do not know how I managed to drive in a Duster through all of that, even though it was my first time. But I somehow did and had a lot of fun while I was at it.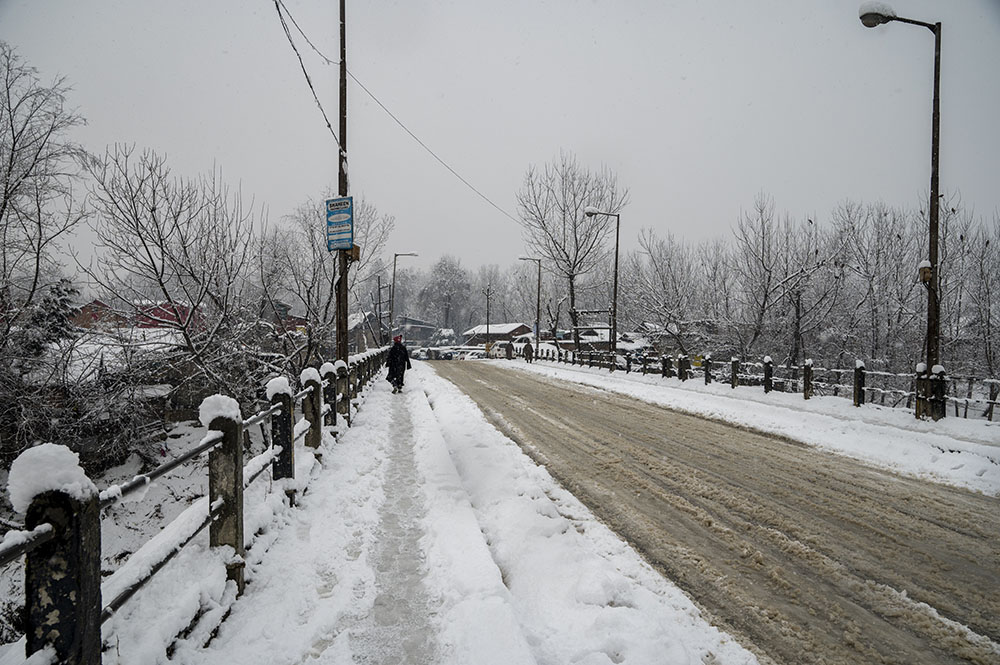 At around 5 pm, we circled back to the highway near Anantnag and started driving back to Srinagar.
Tips for Traveling to Aharbal in Winter
We were not able to manage to reach Aharbal during this trip but I will like to mention a few things for anyone else who is planning to try this.
Where to Stay
You should not plan to stay overnight in Aharbal in winter. There are no hotels or guest houses there yet and your only choice of accommodation are the JKTDC Huts.
The weather will be extremely cold in Aharbal in the winter months. The huts do not have a proper heating arrangement and you will suffer through the night.
The other choice of accommodation is to stay with a local as a paying guest. But for that, you will have to ask around and there is a high chance that you may not find a homestay at all.
This is why I said that you should not plan an overnight stay. Keep this as a day trip and return to Srinagar by the evening.
In the future, maybe the authorities will keep the route open and there will be proper hotels there but for now, there is not much of a choice.
November – December
You will be able to reach Aharbal early in the winter, in November and December. You can travel either by Shopian or Kulgam, depending on your itinerary. Both of the routes remain open.
It is towards the end of December that the intensity of the snowfall increases and the roads get blocked. But if your trip was in November or before December 15th, you should be able to include Aharbal in your itinerary.
Keep in mind though that at this time, you will not find a lot of snow. You may not find any snow at all actually, depending on the weather. The waterfall will surely be a little frozen though.
Also Read: Clothes for Kashmir Trip – What to Pack
January – February
You should not plan a trip to Aharbal Waterfall in these months unless you have a confirmation that the road is open and safe to travel on.
The area between Kulgam and Aharbal is avalanche prone. You do not want to get stuck in all of that. So before you include the waterfall in your itinerary, ask around and get confirmation from the locals.
Or you can just drive to Kulgam as we did. If the road was open and safe, you can continue to Aharbal. If it was closed, you can turn back and return to Srinagar.
March
In all probability, the roads to Aharbal waterfall will be open in March. You can travel either via Shopian or Kulgam, or include both and make it a complete circuit.
The only thing that can ruin your plans is a late snowfall. If that happened, the roads may get closed temporarily for a few days until the snow melted.
Parsa's Restaurant in Sangam
On the Jammu Srinagar Highway, there is a place called Sangam, near Awantipora. There is no river confluence here though and I am not sure why they call it Sangam.
Anyway, the reason why I am talking about this place is because of a restaurant called Parsa's. It is a small restaurant but the food they serve is simply delicious.
If you are traveling between Jammu and Srinagar, or even Pahalgam and Srinagar, I would highly recommend taking a break at this restaurant and getting something to eat.
Now coming back to the travelogue, the snowfall almost stopped by the time we reached Awantipora from Anantnag. On the way, we stopped at Parsa's because we have not had proper food since morning.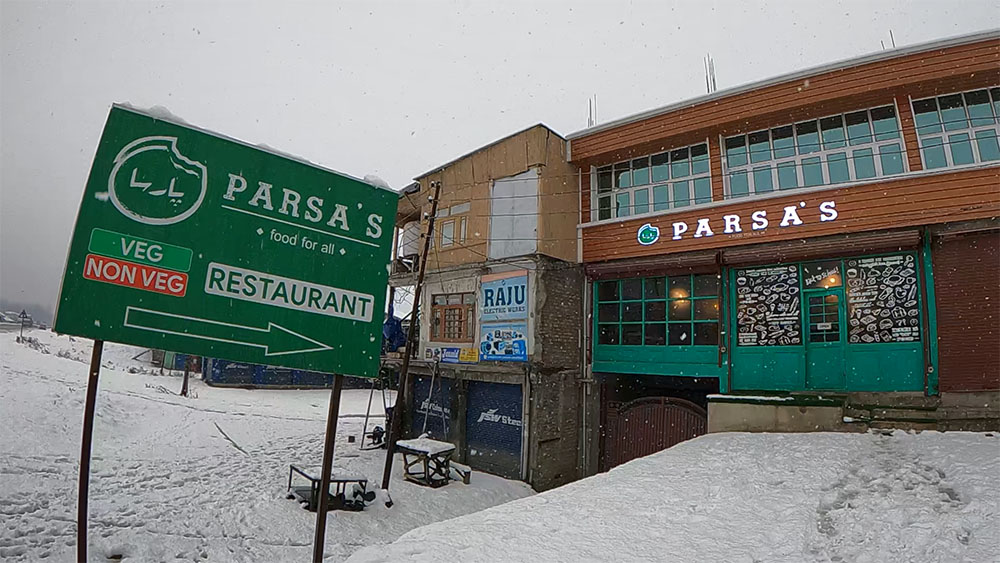 After an extremely late lunch (or an early dinner) at 5.30 pm, we continued our journey to Srinagar and reached there at around 6.30 pm.
Snowfall in Srinagar
I have seen snowfall in different parts of Kashmir before but never in Srinagar. During this trip, I was hoping that it would snow in Srinagar while we were there. I wanted to see how the city looks when it is all white.
That prayer was also answered this time. When we entered Srinagar, the snowfall started once again. It was a very light spell of snow though. The snow was falling on the ground and melting away almost immediately.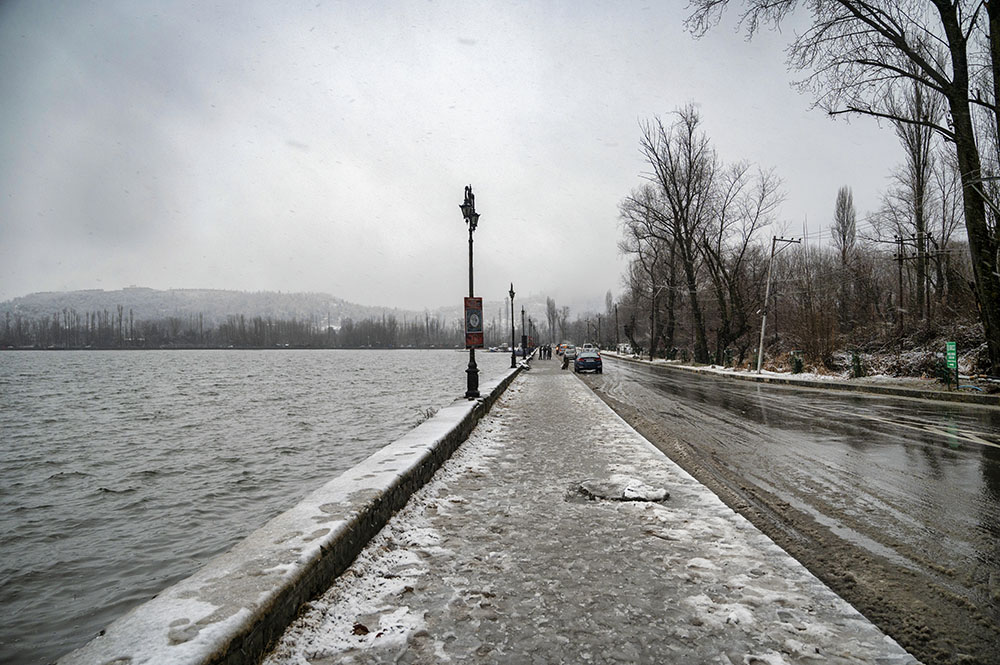 Not much happened after this. We returned to our hotel and decided to skip dinner because of the early dinner at Parsa's. The temperature dropped tremendously and the weather felt freezing forcing us to remain in our beds.
We stayed in our hotel after that, played cards, watched TV, and went to bed early. The plan for the next day was to go to Sonamarg. Please click on the link above to continue reading the next part of the travelogue.
Aharbal Waterfall in Winter – Conclusion
I hope the pictures, travelogue, and information above on traveling to Aharbal waterfall in winter were of help. If you have any questions, you can contact me on Instagram and I will be happy to answer. You can also consider subscribing to my YouTube channel and asking a question there.