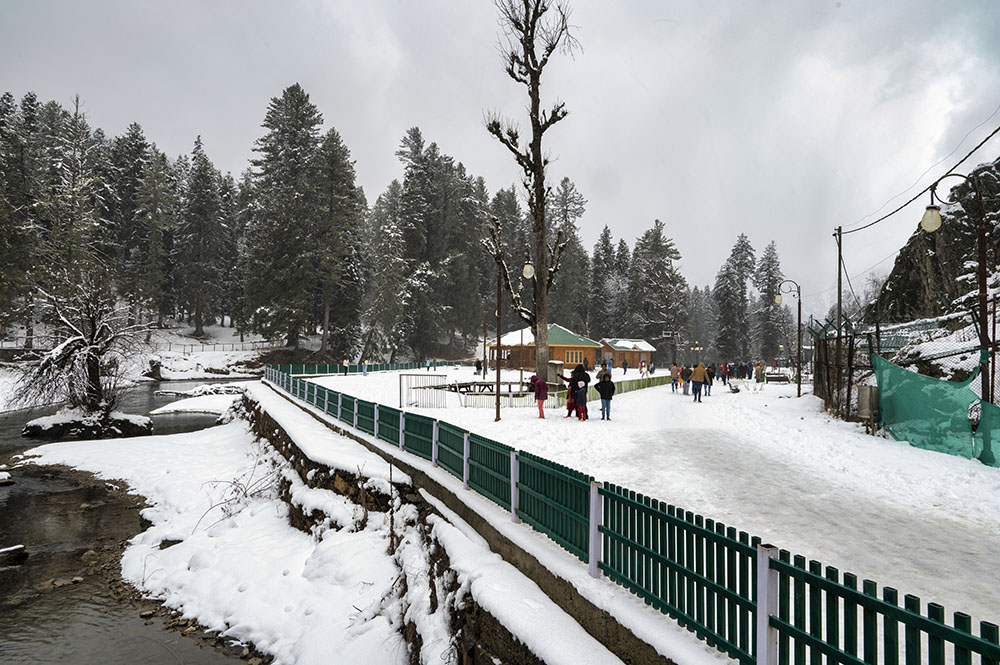 Betaab Valley in winter is a sight that will remain with you for a very long time. Covered in a thick sheet of snow with the Lidder river curving through it like a snake, the place looks no less than a winter wonderland in the months of January and February.
Betaab Valley is one of the four major tourist attractions of Pahalgam. It remains accessible for all 12 months and is visited by thousands of people each year, including both the local Kashmiri and the tourists.
I was recently on a winter trip to Kashmir. We visited Pahalgam and Betaab Valley on the 6th day of our trip, details of which I will provide in the post below. To read the previous parts of the travelogue, you can follow the links below.
Journey So far:
For a complete travel guide on visiting Kashmir, you can take a look at How to Plan a Trip to Kashmir Valley. For getting the best hotel rates, and taxi charges, and to organize your trip to Kashmir, you can speak with Kunal @ 9910 402 252.
Below is a video of our visit to Betaab Valley in winter. You can continue reading the travelogue below and can also take a look at the video to get more details.
About Betaab Valley
Betaab Valley is a meadow-like area located at a distance of about 8 kilometers from Pahalgam. There are two things that make Betaab Valley famous. The first is its name. It just sounds a little intriguing and exotic.
When you search for the reason behind its name, you will find out that the movie Betaab starring Sunny Deol was shot here. That will be the second reason.
The real name of Betaab valley was Hagan Valley before it was chosen as the preferred spot for shooting Betaab in 1983. The movie went to be a hit and the song 'Jab Hum Jawan Honge' gained even more popularity than the film itself.
In popular culture and I think also to attract tourism, the valley itself got renamed after the film. The name Hagan was almost forgotten and everyone started to call it Betaab Valley.
Betaab Valley in Winter
Betaab Valley remains open in the winter months as well. It actually is the biggest tourist attraction of Pahalgam during these months due to its scenic beauty and easy accessibility.
How to Reach Betaab Valley in Winter
To get to Betaab Valley, you will first have to reach the main Pahalgam town from Srinagar. Traveling by your own car or bike, you can follow the route below.
Srinagar – Awantipora – Anantnag – Aishmuqam – Pahalgam – Betaab Valley = 110 kilometers
The total distance from Srinagar to Betaab Valley is around 110 kilometers, and the journey will take anywhere between 4 to 5 hours.
You can also rent a private taxi from Srinagar which will cost you Rs. 3000 for a drop and Rs. 4500 for a return journey. This will be the most convenient and easiest way to travel.
If you wanted to travel by public transport, you can opt for either a bus or a shared taxi. For this, you will first have to board a bus or a shared cab for Anantnag from Dal Gate in Srinagar. From Srinagar, you will then have to look for another shared cab for Pahalgam. There is no direct public transport available between Srinagar and Pahalgam.
I kept this information brief in this post but if you wanted to get more details, you can take a look at How to Plan a Trip to Pahalgam in Winter.
Pahalgam to Betaab Valley
After you reach Pahalgam, you will then have to rent a local taxi for Betaab Valley. There is no public transport available on this route and a private taxi is your only choice.
I will not advise bringing your car or motorcycle as well. The last 8 kilometers to Betaab Valley from Pahalgam remain buried in deep snow.
So unless you were traveling in an SUV with snow chains and had plenty of experience driving in snow, do not take the risk and rent a local taxi.
The Pahalgam taxi stand is located near the main market area. Ask any of the locals and they will point you in the right direction. They have standard fixed rates for all the local tourist destinations.
A round trip to Betaab Valley from Pahalgam will cost you around Rs.1500. Yes, it is a steep price that you will have to pay for a drive of only 16 kilometers but there is really no other choice.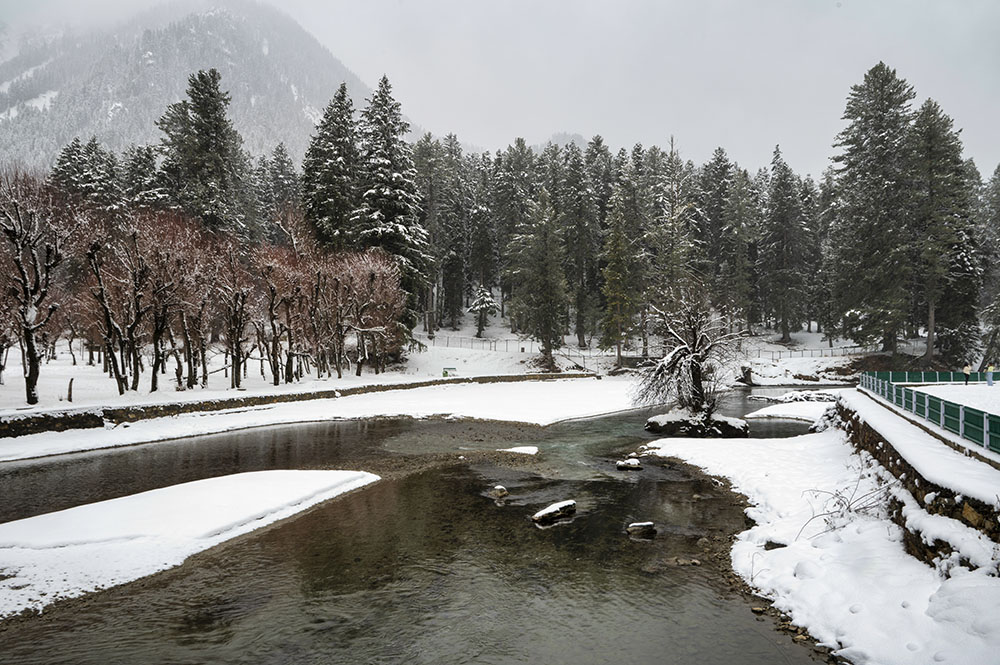 What to See in Betaab Valley in Winter
Other than the snow and scenic beauty, there is not much else to see in Betaab Valley. It is a meadow that has now been turned into a fenced park, more like a picnic spot. So you just walk around, play in the snow, click some pictures and that will be it.
Chandanwari is located about 8 kilometers further up from Betaab Valley. But during the peak tourist season, that road gets completely blocked. It is kept open only until Betaab Valley and there is no snow-clearing operation beyond that.
Also Read: How to Plan a Trip to Gulmarg
Things to Do in Betaab Valley in Winter
If there was plenty of snow on the ground, skiing is one activity that you may find available. I was there in January and there were a few locals that were asking tourists if they wanted to try their hand at skiing.
Sledding is another activity that you can enjoy. It is basically a wooden sled that you will sit on and a local will drag it around in the snow, mostly on the slopes.
Other than this, there is not much else to do. There are a couple of restaurants in Betaab Valley where you can also get something to eat and drink.
Where to Stay in Betaab Valley in Winter
There are no hotels in or near Betaab Valley. The nearest hotel will be in Pahalgam, 6 to 8 kilometers away, and that is where you will have to stay.
Betaab Valley Entrance Fee
There is an entrance fee of Rs. 100 for Betaab Valley. This amount is different than what you will pay for the parking, which I think was Rs. 50 for a car and Rs. 30 for two-wheelers.
Betaab Valley Timings
Betaab Valley is open from 8 am to sunset. You will find posts reading that it remains open till 8 pm but I do not think you should do that.
You anyway have to drive through the forest on a narrow road to get there from Pahalgam. So it is better to be on your way back and reach Pahalgam before it got dark.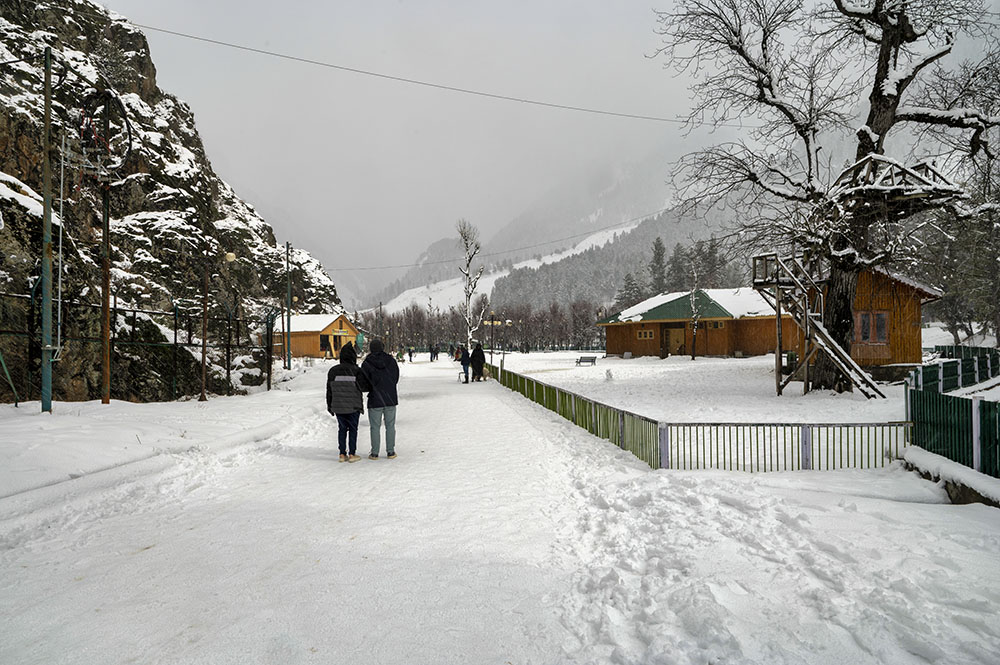 Srinagar to Pahalgam to Betaab Valley in Winter
Now coming back to the travelogue, let me talk about our journey from Srinagar to Pahalgam to Betaab Valley. It was the month of January and we were on an 11 days long winter trip to Kashmir.
The entire trip was planned as per the snowfall prediction. We were arriving at our destinations only after we knew that it had snowed in those places the night before.
The same remained to be our plan for Pahalgam as well. From the news and weather forecast, I knew that it was snowing in Pahalgam the previous night.
I had been to Pahalgam before but never in the winter season. It was the first time that I was going to see this small town covered in white and the excitement was high.
Also Read: How to Plan a Trip to Sonamarg
Plan for the Day
The day started late as always, thanks to the freezing temperatures and the cold weather of Srinagar. We just did not feel like getting out of bed, even though we planned to start as early as possible. Finally, we left our beds at around 8 am.
Pahalgam is about 100 kilometers from Srinagar. From my previous trips, I knew it may take us as long as 3 hours to get there. Since our start of the day was also a little late, these 3 hours of travel started to make me doubt our plans for the day.
We had no intention of staying in Pahalgam for the night. The hotel rates were ridiculously high and even the very simple guest houses were asking for as much as Rs. 7500 per night.
There was no way I was going to waste money like this, especially when it wasn't my first time in Pahalgam. During my last trip, I stayed there for 3 nights, and paying so much money for an experience I already had did not make sense.
So the idea was to reach Pahalgam, visit the local attractions, and be back in Srinagar by evening. But when I calculated the time, I wasn't sure if we were going to be able to do that.
Srinagar to Anantnag
We will need 3 hours to reach Pahalgam, another 3 to get back, and then at least 2-3 hours for sightseeing. With 9 hours of travel time for the day, it seemed that we were cutting it a bit too close.
So we decided to start from Srinagar as early as we could. But by the time we packed our bags and got ready to leave, it was already 9 am. A late start like this meant that we may not be able to return to Srinagar the day, at least before it got dark.
So we thought about our plans again and decided to pack some clothes as well. That way, if we got late or wanted to stay back a night, we could just easily check into a hotel.
So we packed one bag with a few clothes for one night and by 9.30 am, we drove out of our hotel in Srinagar. Surprisingly, we did not run into any traffic anywhere and drove non-stop for an hour. Vehicles on the road were scarce and pretty soon, we were cruising on NH44.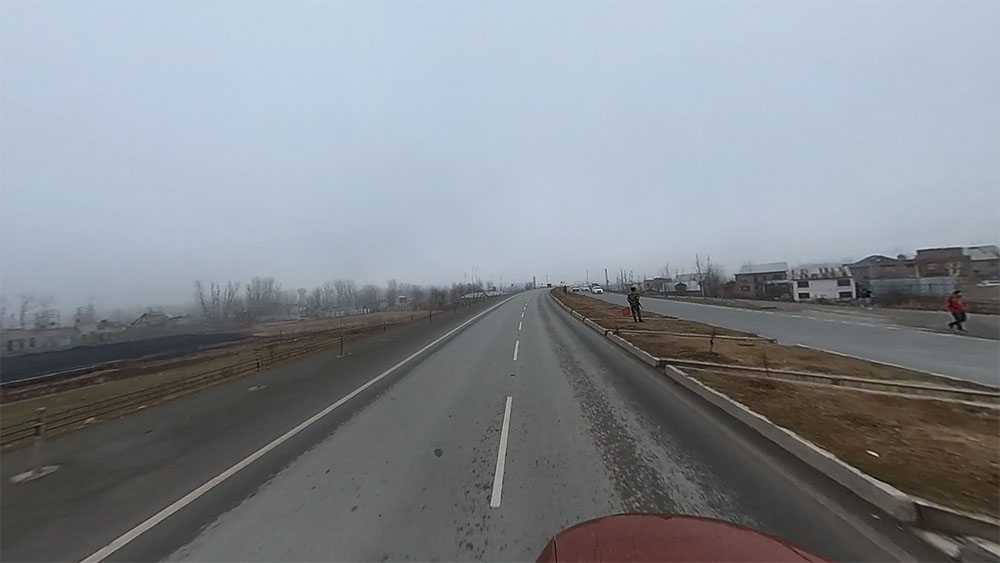 We did not find snow anywhere on this route. We got out of Srinagar, crossed Awantipora, and reached Anantnag in about an hour. So far, there was no sight of snow anywhere.
Also Read: Mobile Network in Kashmir & Data Connectivity
Anantnag to Aishmuqam
My biggest worry was the traffic on the narrow streets of Anantnag. The last time we crossed this small town, we got stuck in traffic here and it took us about an hour to get to its other side.
To avoid that, I decided to skip Anantnag entirely. We took the alternate route to Pahalgam which passes through the nearby villages. By this route, you circle the main Anantnag town and exit just before Aishmuqam.
The roads were narrow on this stretch but had fresh tarmac on them. The drive was pleasant and smooth. This was the first time I was on this route and really enjoyed the journey.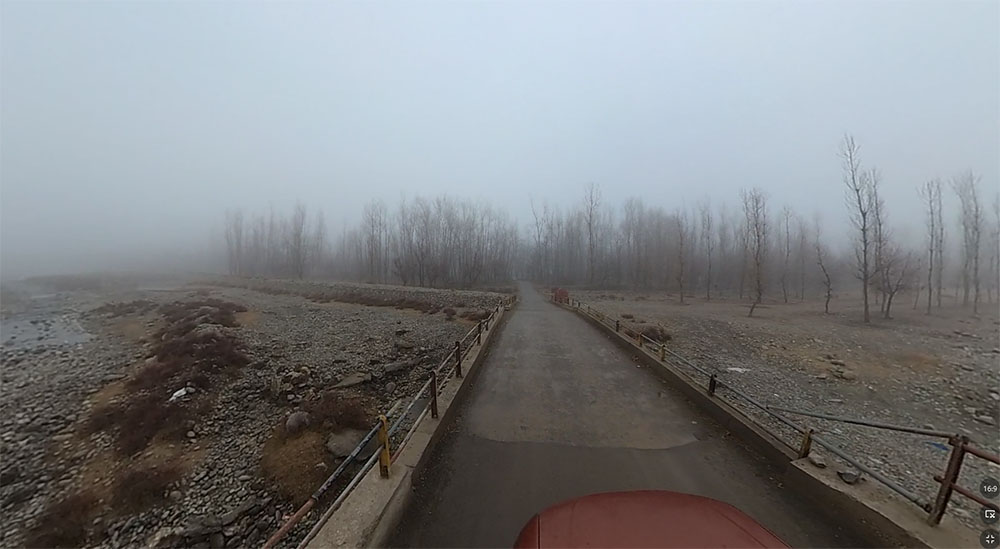 A little later, we reached Aishmuqam and took our first break of the day to get something to eat. So far, we had not even had a cup of tea since morning.
Aishmuqam is a shrine located between Anantnag and Pahalgam. This is where the famous song 'Bhar do Jholi Meri' from the movie Bajrangi Bhaijaan was shot. It is located about 10 kilometers before Pahalgam and is definitely a place worth visiting.
Also Read: Clothes for Kashmir Trip – What to Pack
Aishmuqam to Pahalgam
The clock read 11 am while we were in Aishmuqam. For a while, we pondered over the idea of visiting the shrine but then decided to do so on our way back.
We first wanted to go to Pahalgam and spend some time there. Then on our way back, we could see if we have enough time to visit the Aishmuqam Mazaar as well.
We had some tea and Maggie for breakfast and continued our journey to Pahalgam. The drive remained to be smooth but surprisingly, there was still no snow anywhere except for the top of the mountains.
We reached the checkpost before Pahalgam and paid Rs. 50 as an entry fee. Soon we were standing in the main market area of Pahalgam.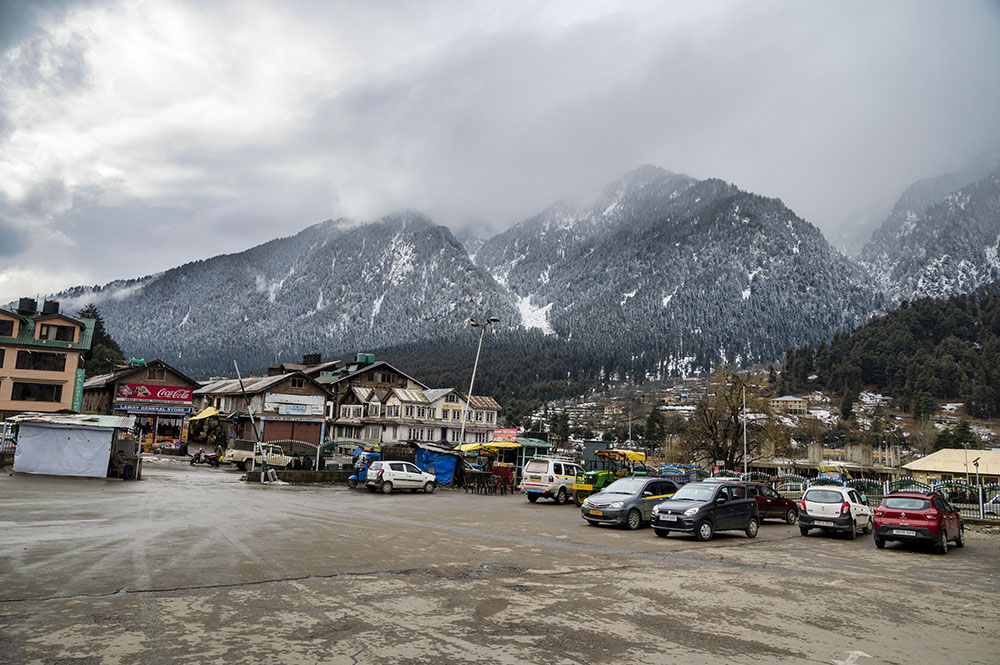 The clock was showing 11.30 am which meant that we completed our journey in two hours, a pretty good time actually.
Pahalgam
There is a paid parking area near the taxi stand where we parked our car. The first thing that we did after that was to get some more tea from a nearby tea stall.
Pahalgam was my least favorite place in all of Kashmir. I just did not like the place so much and in my opinion, it is not even that scenic in the summer season.
It is just a town and for sightseeing, you will have to go toward Betaab Valley, Aru Valley, Chandanwari, or Baisaran Hills. But there is nothing special about Pahalgam itself.
But this opinion changed as soon as we reached Pahalgam. The place looks entirely different and stunningly beautiful in the winter season.
Standing in the market, sipping down tea, and looking around, I just could not believe that it was the same Pahalgam that I did not like at all so far. Nevertheless, now the next task was to find out what all areas were open and where could we go.
Also Read: Places to Visit in Pahalgam & Things to Do
Pahalgam Taxi Stand
We walked over to the taxi stand and I asked the guy at the counter about the road status. He told me that the road to Aru Valley was blocked but we could go to Betaab Valley and Chandanwari.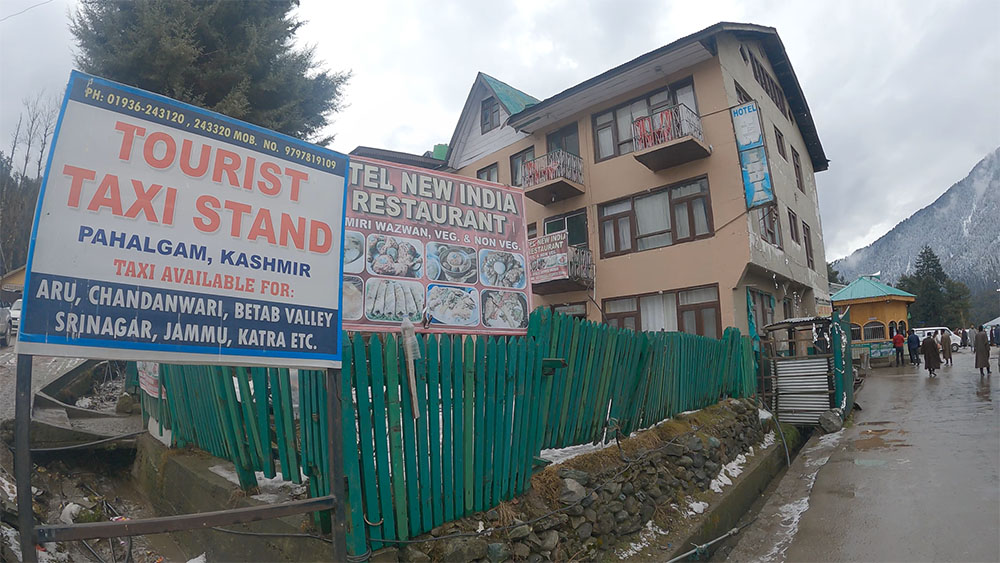 I expected the road to Aru to be closed. It was evident that it had snowed heavily in Pahalgam the night before. On top of that, the road to Aru Valley is very steep and narrow and there is no way it was going to remain open after such a heavy snowfall.
So we decided to book a cab for Betaab Valley and Chandanwari for a total of Rs. 1700. Little did I know that we were being scammed and fooled out of our money.
For the local taxi rates in Pahalgam, you can refer to the chart below.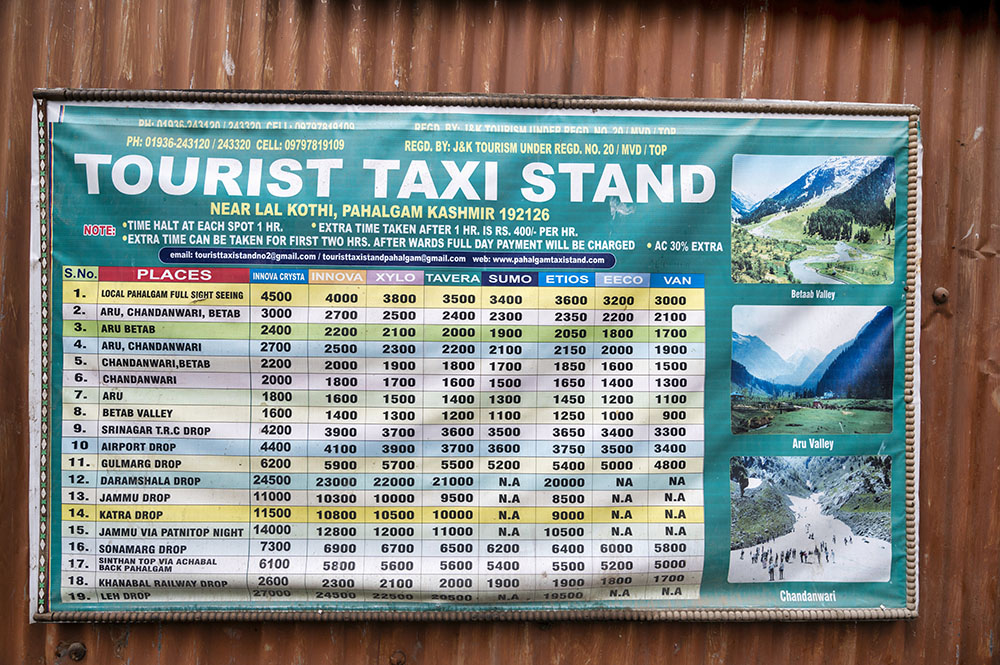 Our cab was a Tata Aria and the driver was a friendly gentleman named Mahmood. We boarded the cab and started on our way to Betaab Valley.
Pahalgam to Betaab Valley
The moment we got out of Pahalgam, there was snow all around, everywhere. I will let the pictures below do the talking. It was just so beautiful that I could hardly keep my hands off my camera.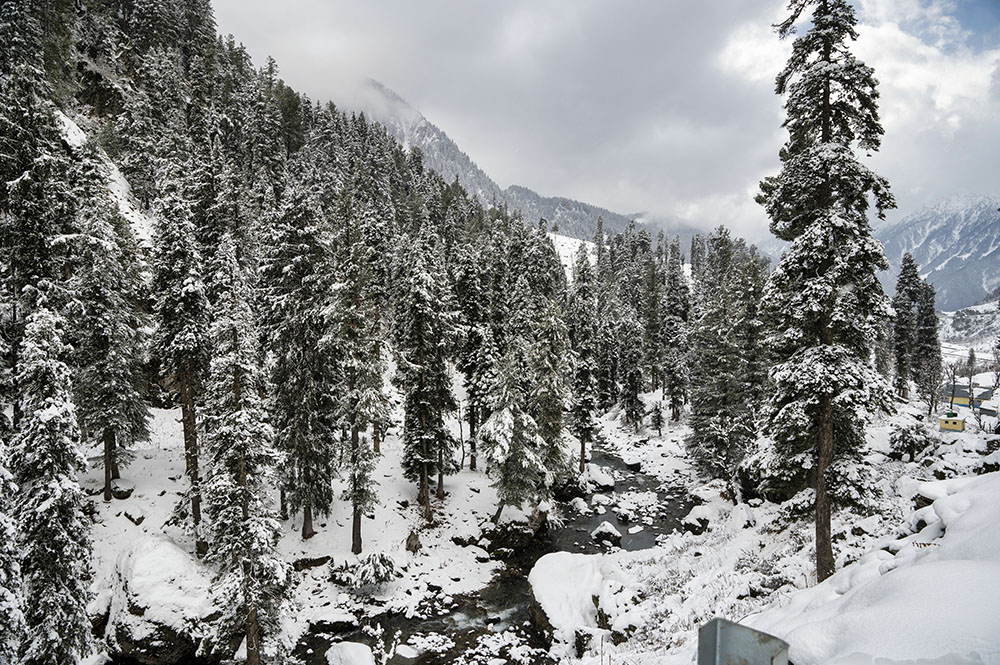 We crossed a couple of small villages on the valley and after a drive of about 15 minutes, reached Betaab Valley. But we first decided to go to Chandanwari and cover Betaab Valley on our way back.
This is when I found out that we were fooled at the ticket counter. The driver drove for another 2 kilometers after Betaab Valley and that was it. The road beyond was blocked and there was no way we could go any further.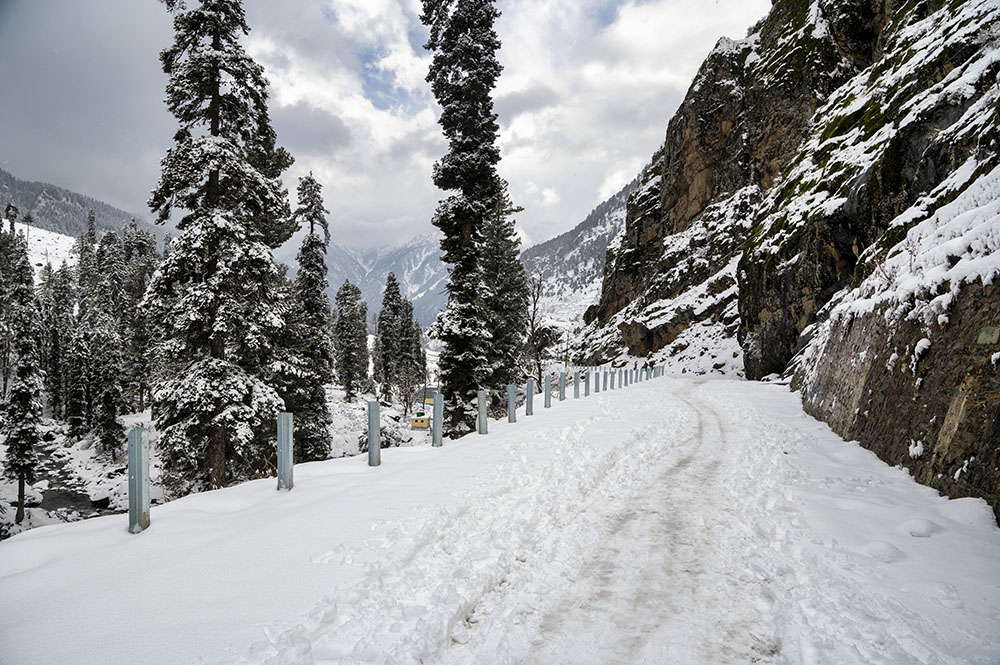 Chandanwari
Chandanwari is about 8 kilometers from Betaab Valley. So there were another 6 kilometers to a destination that we paid for but the route was completely snowed out.
There was so much snow on the road that I knew we will not get there even on foot. They charged us for two destinations when they knew that one of them was inaccessible.
I knew there was no point in arguing with either the driver or even at the counter after we got back. They were not going to return my money and I would just waste my time and energy. So I just let it go and turned my attention back to the beautiful vistas around me.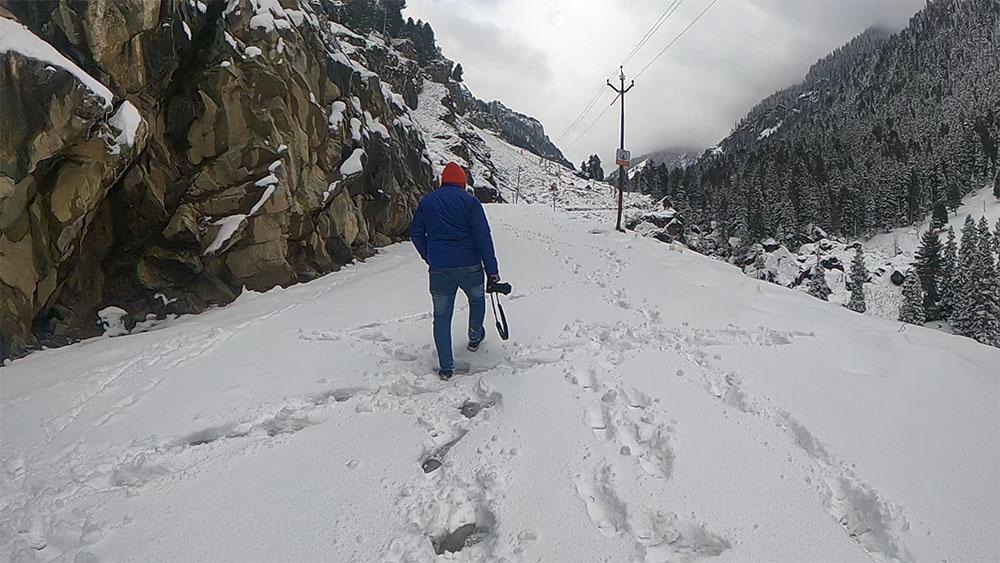 We walked around, played in the snow, clicked tons of pictures, shot some videos, and after about an hour, decided to head back on our way to Betaab Valley.
Betaab Valley
It only took us about 5 minutes to reach the gates of Betaab Valley. We bought the ticket and entered the park. What awaited us there was a sight that I will cherish for life.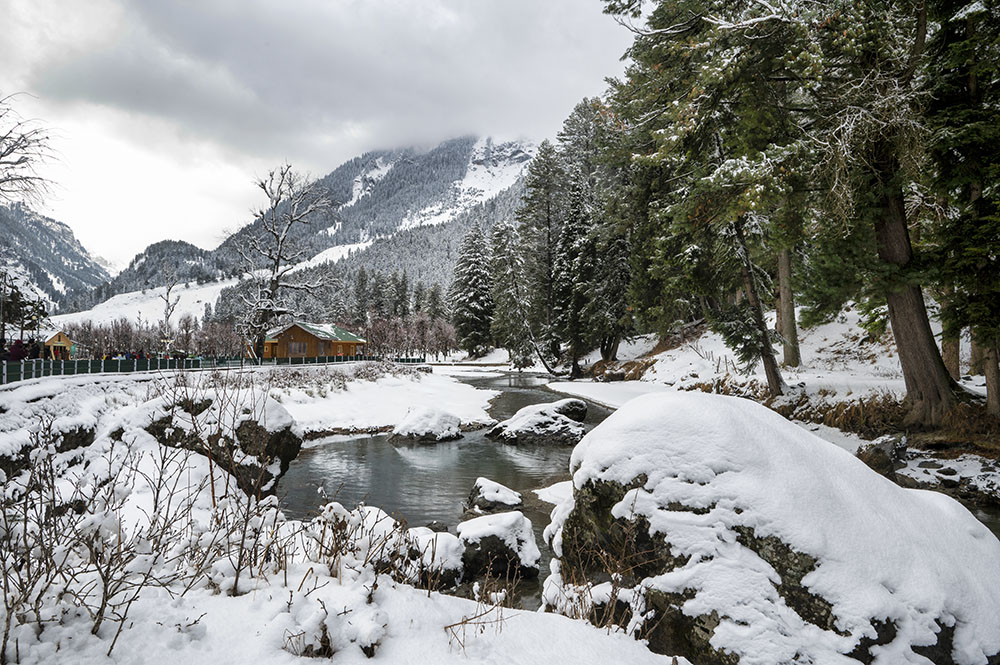 I did not like Betaab Valley when I was there in the summer season. I did not understand why they were even charging a ticket for it. After all, it is just a fenced park now.
But just like the rest of Pahalgam, even Betaab Valley looked entirely different in the winter season. Buried deep under a thick sheet of snow, it was just all so magical.
We got some coffee to drink at the restaurant and while we were there, it started to snow. This just added more to an already charming experience.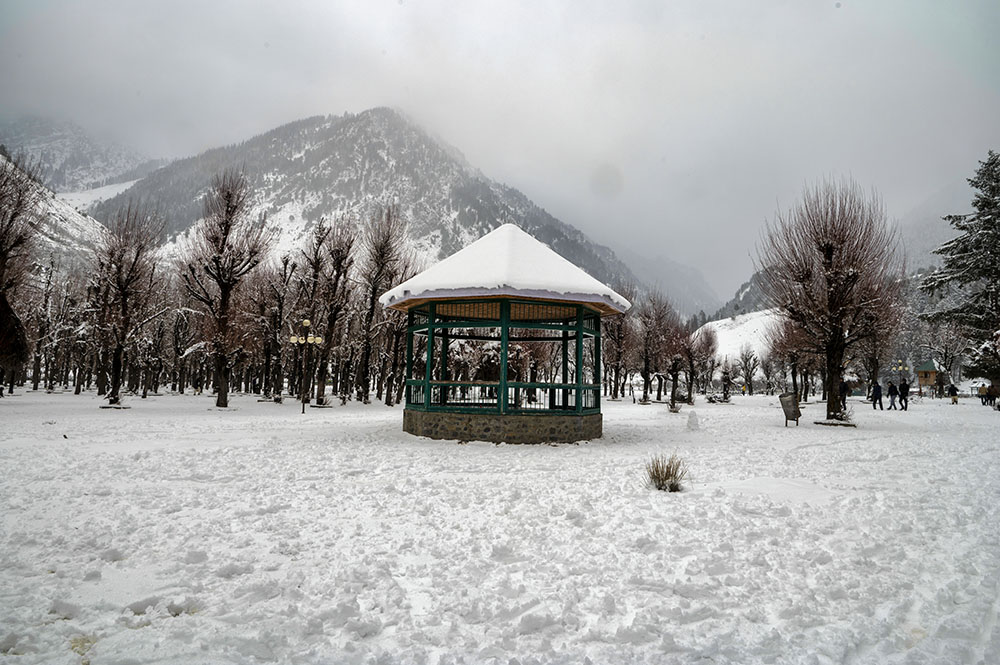 For the next hour, we just walked around Betaab Valley. Some tourist guides offered to show us around. They wanted to take us to 6 sightseeing points but I knew all of this is just a scam so we kept saying no.
After tons of pictures and memories that will last a lifetime, we exited the valley and boarded our cab again.
Pahalgam to Srinagar
The driver bought us back to the taxi stand. Surprisingly, he also asked me for a tip which I paid with a heavy heart. Why a heavy heart? Because they already fooled us out of our money and had us overpay and now he wanted a tip on top of all that.
Anyway, we walked back to the parking area and got inside our car. We finished our sightseeing by 3 pm. Thankfully, the return journey to Srinagar also took us only 2 hours and we were back in our hotel by 6 pm.
Now the plan for the next day was to go to the Aharbal Waterfall and see how it looks in the winter season. Though our day did not go as planned, it turned out to be the best day of the entire trip. Please click on the link above to continue reading the next part of the travelogue.
Conclusion
I hope the travelogue, pictures, and information on traveling to Betaab Valley in winter were of help. If you have any questions, you can contact me on Instagram and I will be happy to answer. You can also consider subscribing to my YouTube channel and asking a question there.