Which Royal Enfield bike is best to buy? Now this is a question that comes up among both; vintage users and newbies. For vintage users, it becomes a question of their own opinion based on experience; while for a newbie, it is the biggest question while they are buying their first Enfield. To be honest, there is no straight; or right or wrong answer to this. Royal Enfield offers a vast range of motorcycles and they are all equally good. The question rather is in terms of which one will suit you the best. The deciding factors in my opinion are not the specs of the motorcycle; rather it is your own taste and use that will have the final word.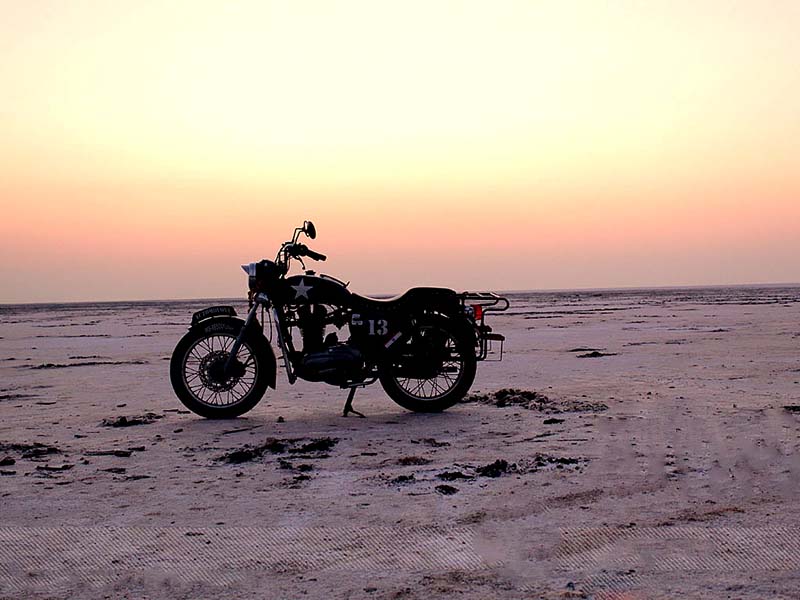 Image: Royal Enfield
Not too long ago, a Royal Enfield on the road was a rare sight. These were the times when other motorcycles like Bajaj Pulsar ruled the Indian market. After the recent revamp, which also saw the company escaping a near bankruptcy; Royal Enfield has now become an everyday and everybody's motorcycle. It is probably the most seen motorcycle on Indian roads now. From daily commute to work, running household chores to long trips, Enfield is capable of serving each and every purpose. Which one you should buy is what I will discuss in this article.
Reason why people go for Enfield though is different for everyone. For some it is the retro design while a lot of people go looking for that legendary thump. An adventure or travel enthusiast would probably buy it because they need a powerful motorcycle that also can be comfortable for long rides. Some people just want to stand out while a lot many will buy it just to match their huge personality.
Which Royal Enfield you will buy will depend on how you intend to use it. About a decade ago, choice was severely limited but now the company has several models out in the market. One thing that remains constant in all the makes though is the only motorcycle name that ever attracted a cult following on Indian roads. A name that has over a period of time become the synonym of large powerful engines, durability, comfort and power to stand any and all roads. In this article; I will review the motorcycles that the company currently offers; breaking it down by the purpose they would serve the best and maybe it can help you with your final decision.
Also read: Why People Hate RE Motorcycles So Much?
Royal Enfield Bikes
Below is a list of the motorcycles that are currently available in the market.
Royal Enfield Bullet 350
Royal Enfield Bullet ES
Royal Enfield Bullet 500
Royal Enfield Classic 350
Royal Enfield Classic 500
Royal Enfield Classic Squadron Blue
Royal Enfield Classic Desert Storm
Royal Enfield Classic Battle Green
Royal Enfield Classic Stealth Black
Royal Enfield Classic Gunmetal Grey
Royal Enfield Classic Chrome
Royal Enfield Standard Series
Let us first take a look at the three motorcycles in the standard series; also known as the "Standard Street Series".
Royal Enfield Bullet 350
I will start with the one that mirrors the age old Bullet Image of Royal Enfield. Yes, it carries the timeless 1950s look that earned the company its name and the loyal fan following. This is probably the best you can get if you are still looking to ride around the old "Bullet" in a new modern packing. The bike offers a good ride quality, better fuel economy, more reliability and none of the problems that Bullet was notorious for.
To retain the old image however, this one comes only in Black color, drum brakes and has no electric start. This I believe is what keeps this model attached to the century old look but can also be a deterrent for a lot of people. If you need a different color, electric start or disc brakes, you will have to strike this one off your list.
If that old classic look is what you seek; along with a comfortable ride than by all means, go for Royal Enfield Bullet 350. This motorcycle is still in the market for hardcore "Bullet" fans. It is also the cheapest of all REs and hence a good buy if budget is a constraint. If you want to do some custom post-purchase modifications of your own, then too Bullet 350 is the one for you.
Royal Enfield Bullet ES
This one is what was previously known as Royal Enfield Electra (also the one that I own, old model though). The company changed the name to ES but it is only the name that got changed; rest everything remains the same. This motorcycle in every way is still Bullet 350 with some small upgrades and different look. Engine is the same 346CC displacement as that of Bullet 350; but the change is in terms of a different fuel tank, tail light, front shock absorber, chrome etc; all cosmetic. Upgrades however are in form of an optional electric start and optional disc brake. Another added advantage with ES is that it comes in 4 different colors.
So if you need all that Bullet 350 has to offer but in a different color, with electric start, front disc brake and added chrome; then Royal Enfield Bullet ES is the motorcycle for you. It is slightly costlier than Bullet 350 but still on the cheaper side so again a good buy if budget is a problem.
Also read: 11 Reasons to Buy a Royal Enfield
Royal Enfield Bullet 500
Bullet 500 comes in the same classic look as Bullet 350 and pretty much is the same motorcycle; with the exception of a larger engine and some small changes in terms of look. In cosmetic section, the biggest advantage of course is the iconic bullet look that it carries. Difference between 350 and 500 is that the later comes in three different shades; Black, Marsh Grey and Forrest Green. The rear wheel of Bullet 500 is slightly smaller than 350 but it also has a better and more powerful headlamp. In terms of performance, it has a 500CC engine that is powerful enough to perform even on roughest and steepest of roads. Another difference between the two is that you can opt for a disc brake while buying a Bullet 500.
So if you need an Enfield with the old Bullet look, but with a powerful engine, front disc brake and in a different color than Black; Bullet 500 is the one for you.
Summary
From an overall point of view, the entire Standard series heavily rely on the iconic 1950s Enfield look. In terms of performance, these motorcycles perform best at a happy cruising of 80-90 kilometers per hour at most. They can top at a speed of 120 kmph as well but not for long distances. Running at high speed for a longer duration will definitely put stress on the engine; and start causing an unpleasant vibration.
In terms of fuel economy, they all will be between 30-40 kilometers; depending on the road conditions, riding style and traffic. You should pick one from this category if it is the Bullet look that you want and then can decide on any of the three models; as per your taste in terms of look.
Royal Enfield Classic Series
Next we will take a look at motorcycles that the company offers in the classic series; also known as "Retro Street Series". The first thing that Enfield got right in terms of this series is the name. Call it "Classic" or go by the new name "Retro"; they both suit equally well. Apart from introducing the new engine type recently; this look was one of the biggest changes that Enfield offered. Introduction of these stylish motorcycles was the game changing plan for the company; and put them on the board as one of the biggest motorcycle manufacturers / sellers in India.
Royal Enfield Classic 350
This one has been in recent times the most popular and highest selling motorcycle of Royal Enfield. It follows the same outline of standard series but in a more refined, stylish and retro manner. In terms of cosmetics, it has a slightly different fuel tank, new tail light, different fenders and split seat. Exhaust too can be a bit upswept if you opted for it. The passenger seat can be removed depending on personal choice; and the rider's seat is sprung, as opposed to the usual flat seats that the company provided previously.
The entire motorcycle is very eye catching and you can tell that they built it to sell the looks. It is like an old wine in a new packaging; presenting the retro look in a modern way. The flamboyant design was introduced to attract people who went more after looks than performance and the motorcycle served the purpose well. But do not get me wrong here; I am not implying that Classic 350 is bad in ways of performance. The soul of the motorcycle is the same UCE 350 that the Bullet 350 runs on. Performance and fuel economy too is pretty much the same. However with Classic 350, the front disc brake is the only choice and is not optional.
So if you need a modern yet retro, stylish and flamboyant motorcycle that stands out on the roads; has option of choosing from 8 different shades; but can deliver the same performance as a Bullet 350, you should opt for an Enfield Classic 350.
Royal Enfield Classic 500
Now this one will include 6 different motorcycles as mentioned below.
Royal Enfield Classic 500
Royal Enfield Classic Squadron Blue
Royal Enfield Classic Desert Storm
Royal Enfield Classic Battle Green
Royal Enfield Classic Stealth Black
Royal Enfield Classic Gunmetal Grey
Why all together? Because all the above 6 motorcycles are different just by color and rest all is the same. They all sport a powerful fuel-injected 500 CC engine which offers plenty of torque. These motorcycles have more tractability and better pulling power; and can hit a top speed of 130 kmph. On the drawback side however, these motorcycles too perform best at 80 to 90 kilometers per hour. Run these over 100 for longer duration and the motorcycle will start showing signs of stress.
The bigger engine and extra power makes all these 6 an excellent touring motorcycle.
If you need a bike that looks classically stylish, has tons of power, is comfortable for long rides; can be used for often and long tours then you can chose either from the list above. Even the colors on this series is quite eye catching and you will definitely have a hard time finalizing one.
Classic Chrome
This motorcycle has the same advantages and disadvantages of Classic 500. The difference is only in the terms of added chrome which it has in plenty; right from the fuel tank to its fenders. So if chrome is your thing; and you want all that a Bullet 500 has to offer than opt for this one.
Summary
The Royal Enfield Classic motorcycles are for those who want everything that a Bullet offers but with added style, more retro look, a handsome appearance with other upgrades like disc brakes, electric start etc.  In addition to all these features, these motorcycles also offer an awesome looking custom paint feel. The carburetted Classic 350 will serve you very well both in city and for touring. However if you are going to use it a lot for long distance ride, then you may want to opt for the fuel-injected Classic 500.
Royal Enfield Cruiser Series
After the Classic or Retro series, let us take a look at the 2 motorcycles that the company offers in "Cruiser" series. These are limited to just two, different by engine size.
Royal Enfield Thunderbird 350
Thunderbird 350 was the first motorcycle that Royal Enfield marketed as a cruiser and by all means it totally fits the criteria. It is a stylish and comfortable motorcycle powered by a 350CC engine which is capable of handling all types of terrain. Be it long touring, riding to hilly areas, or for daily city use, Thunderbird will serve all purpose equally well.
This motorcycle comes with a 20 liters tank which none of the other Enfield bikes offer and is an added advantage on trips; when you have to cover long distances with no fuel station in between. It also sports a digital meter console and split seats of which the rear one is removable. So if you are riding out solo and need to install a luggage carrier, just remove the rear seat and you will have space to do so. This motorcycle in every is built for long hours of cruising suits the need of a travel enthusiast.
On the fuel economy side, it offers the same mileage of between 30 to 40 kilometers per liter; depending upon traffic, road and riding conditions; like other Enfield bikes. If you need a motorcycle with looks of a cruiser with plenty of power to stand even toughest of roads; has option of 5 different shades to chose from; opt for Royal Enfield Thunderbird 350.
Royal Enfield Thunderbird 500
The Royal Enfield Thunderbird 500 is the more powerful version of Thunderbird 350. In terms of design and size, both motorcycles are completely identical. The only difference is of the engine size which for this one is a 500CC  with electronic fuel injection.
If you are confused between Thunderbird 350 and 500, let me break it down for you.
If your use is mostly in the city, go for 350. It will cost you less, will give you better fuel economy with enough power to handle city roads and occasional touring.
If you are someone who is out on trips way too often; frequently hits the highway; and would like to have more power with greater speed; then buy Thunderbird 500. With its electronic fuel injection, TB 500 offers more pull even at steepest of inclines and with pillion. Like TB 350, this one too comes in 5 different colors.
Café Racer Series
After cruisers, let us next review the "Royal Enfield Café Racer Series" which pretty much has just one motorcycle under it. First of all, what exactly is Café Racer? This terms was coined motorcycle enthusiasts in 1960s England; where these bikes were used for quick rides between cafes; and hence the term "Café Racer". These are a light weight motorcycles optimized for great speeds and handling; rather than comfort. Visually, these are very simple bikes with low mounted handlebars, long fuel tanks and prominent seat cowlings.
Royal Enfield Continental GT
Continental GT is the only motorcycle that Enfield offers in the café racer series. The "retro" trend of the company makes a mark on this series as well as it is completely based on the 1960s café racer design. Though small in overall size, at a 535CC displacement this motorcycle sports the largest of all Royal Enfield motorcycle engines. Surprised?
Needless to say, this motorcycle is designed for speed but unfortunately for short sprints only. When running at high speed for longer time, the vibration of the engine is even more prominent on this one. When it comes to fuel economy, a continental GT offers the lowest of all REs, merely between 25-30 kilometers per liter. In my opinion, buy this motorcycle only if you are a fan of the design, only travel solo and intend to use it only within the city.
Royal Enfield Himalayan
Latest offering from RE is the Royal Enfield Himalayan. The company both built and named it for the very purpose they intend to present it for; to take it anywhere irrespective of whether there is a road or not.  Adventure is the very soul of this motorcycle. It sports a 411CC "long stroke" engine which when combined with long travel suspensions can take you anywhere up in the hills; on all kinds of terrain. It has a great ride quality and comfortable ergonomics, even for pillion.
The only drawback is though that it looks great out on the highways; and in the hills; but feels a little out of place in the city. Tours, adventure, off-roading and long trips is what this motorcycle was built for. If you are not someone who travels often and your use is primarily within the city, you may feel a little "not too happy" with this one. Read my detailed review of RE Himalayan at this link: Royal Enfield Himalayan Review: Is the motorcycle worth buying?
So after all said and done; which Royal Enfield bike is best to buy and which one you should chose?
Which Royal Enfield Bike is Best to Buy?
There are several factors that you will have to take into consideration for this decision. If you are looking for the iconic "Bullet look" then pick either the 350 or 500 CC from standard series. These will guy the the true "riding a bullet" feel in terms of visuals and will stand out on the road as the timeless "Bullet". Not only the looks, but these motorcycles will also serve you well within the city and even for long travels. Whether you buy 350 or 500 will depend on what your budget is and how often you are out on the highway.
If style and a retro design is what appeals to you then pick either from the "Retro" series. These motorcycles are probably the most handsome of all the two-wheelers present on Indian roads today. Ride quality is great, motorcycles are comfortable and will work well both in and out of the city.
In terms of engine, the 350CC models will be a bit cheaper and will give better fuel efficiency. If a lot of trips in near future is what you are thinking then pick a 500CC engine.
If you are an adventure seekers; venture out a lot towards where the road ends; go up to the hills often and some serious biking is on your mind then by all means go for a Himalayan. For a sporty Royal Enfield, pick continental GT. If your visual preference is more of a cruiser then go with a Thunderbird.
I hope this answers the questions. If you have any further doubts, please feel free to ask in the Comments Section below; or at our Community Forum; and I will be glad to answer.