In all my years of blogging about places like Ladakh and Spiti; and even other places in Himalayas for that matter; one of the most frequent questions I have been asked is, "what is the procedure to transport motorcycle by train in India?" Though I am limiting this question here to just travel enthusiasts; it actually also applies for people who just want to move their motorcycle from one city or another, be it for any reason. If you too fall in the same category and have been wondering about how to transport your motorcycle; then below in this article is a step by step guide on shipping motorcycle by train in India.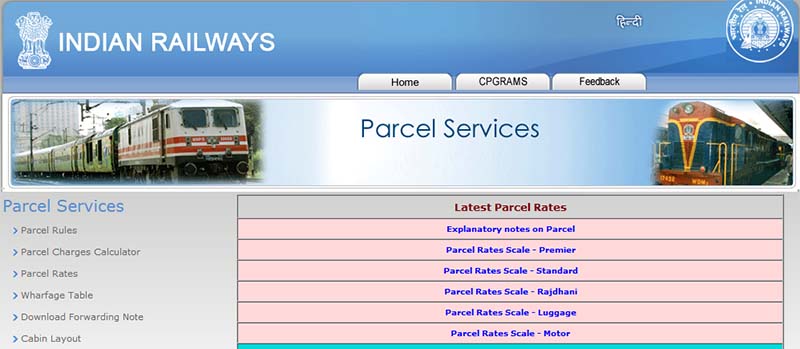 Image Credit: Indian Railways
When you talk about shipping your vehicle from one place to another, there are two options that you can consider. Either you do it with Indian Railways or you find a private transport company; more like movers and packers who can load your bike in a truck and get it to the desired destination. A common misconception is that transporting motorcycle by train in india is a troublesome process; a pain in all the wrong places and it is easier to get it done by other means.
I am not claiming this theory to be wrong entirely. Indian Railways after all is a government managed body and like all other government ventures; they too someone can be a big hassle to deal with. But the fact you should and must consider here is that sending your motorcycle by train is actually a lot easier than it sounds; it you are aware of the procedure and know how to get it done. They are in fact a lot cheaper and probably the safest as well.
If you get the job done by a private company, will the trouble be less? I can guarantee you that no it will not be. Only difference however would be this time, you will end up paying almost double the money. Add to it the fact that in all probability, there will be some damage your motorcycle in one form or another. So in my opinion, if you are thinking about transporting motorcycle in India, your best bet is to do it by Indian Railways.
Next question is of how to do it? Well there can be but two situations here. First one is that you are only sending the motorcycle to a desired destination; where either someone else will receive it or you will receive it yourself at a later date. Second situation is that you are traveling from one place to another; and want to bring your motorcycle as well by the same train. Let us take a step by step look at both the scenarios.
How to transport motorcycle by train in India?
There are two types of choices available when transporting motorcycle by train in India. First one is called "Parcel" and the second one as "Luggage". When you are only sending the motorcycle to be received by someone else (or yourself at a later date) at another station, then you will have to send the vehicle as a parcel. If you too are traveling by the same train, then you will have to book your motorcycle as luggage.
How to Send Motorcycle as Parcel?
Follow the steps below if you are booking the motorcycle as a parcel.
Packing
Bring your motorcycle to the train station at least one day before the date of the train and get it packed properly. There will be several vendors available at the station itself who can do the job for you. Just ask around and you will easily be able to find one near the parcel office. When I say pack, I mean wrapping up the motorcycle in jute bags with some cardboard or some foam to avoid damage.
Before you pack, make sure that there is no petrol left in the motorcycle at all. This is extremely important and you will have to drain the tank completely. Your bike will be inspected for petrol in the tank and they will not load it if there is any. There is also a fine of Rs. 1000 and railway authorities may even file a case against you; which can result in imprisonment from 6 months to 2 years if there was petrol found in your motorcycle. At the time of paperwork, you will also have to declare it on the form that there is no petrol in your vehicle at all.
While packing, you may also want to remove the rear view mirrors as these often get damaged or broken in transit
Write the name of the origination station and destination on a piece of cardboard. Make sure that your writing is large and clear enough for everyone to read.
Tie the cardboard to your vehicle; around its neck under the headlamp.
Paperwork
After packing go to the parcel office with a photocopy of your vehicle's registration certificate, insurance documents and a valid government issued identity card for yourself; like PAN Card, Aadhar Card, DL etc.
Before booking, you may also want to ask about the expected time of delivery/arrival of bike at desired station.
For parcel purpose, the office remains open from 10 AM to 5 PM.
You will be given a form to fill out. It will include details like originating and destination station; type of motorcycle (Brand, make etc); Postal address, registration number, weight of the motorcycle, value of the motorcycle etc.
Make sure you are mentioning the bike engine & chassis number during the parcel form registration.
Declaring the value of the motorcycle is compulsory. Do not blindly write just any number as you will be charged additional amount for this figure. Higher you declare the value of your motorcycle, more the charges that you will pay. There is no insurance charge up to Rs. 10,000. Any amount above this will incur an extra 1% of the declared value.
The charge of transporting the motorcycle will vary; depending on the train you are sending it by, total distance covered and weight of the motorcycle.
This amount will have to be paid upfront at the time of booking.
After payment, you will be issued a way bill for reference. Keep it safe as you will need it to take delivery of the motorcycle later.
Loading the Motorcycle
Once the paperwork is done, there is nothing further for you to do anymore. It is now railways responsibility to get your motorcycle loaded in the train and send it on its way.
Delivery
If someone else is taking the delivery of the motorcycle, send them the waybill or receipt you were provided by Railway authorities. It does not have to be the original and even a scanned or faxed copy will do.  If you are taking the delivery yourself, go to the luggage office and hand over the way bill to get your motorcycle back. The waybill will have to be surrendered and you will not get a copy back. Also, since your bike's fuel tank will be empty, make sure that you get there with some petrol in a bottle. Do not however carry the petrol all the way with you. Ask someone to wait for your outside with petrol, go to the luggage office, drag the motorcycle back and then fill up the fuel.
And that is pretty much it. If you are sending your motorcycle as parcel, this is all that needs to be done.
How to bring your Motorcycle as Luggage by Train?
If however, you and your motorcycle were both traveling by the same train, then it will have to be booked as luggage. Follow the steps below for luggage process.
Luggage booking usually starts about 2-3 hours before train departure. The process for packing, emptying the petrol tank, labeling the motorcycle would be the same as I explained above in parcel procedure.
Go to the luggage office and produce a copy of your vehicle's registration certificate, insurance documents, and your ID card along with a copy of your journey ticket.
Filling the form and payment will be same as I described above in parcel procedure. You will however have to mention the train number on the form if booking the motorcycle as luggage.
After paperwork and payment, you will be issued a luggage ticket for your motorcycle. An endorsement will also be made on your journey ticket.
Your motorcycle will be dispatched by the same train that you are traveling by; provided that there is enough room to accommodate it in the luggage compartment. Best would be to wait and make sure that your motorcycle has been loaded before you board the train yourself.
Upon arrival at the destination station, navigate to the luggage compartment and ensure that your motorcycle was taken off the train. Then go to the luggage office and produce your original journey ticket and the luggage ticket of the motorcycle.
The luggage ticket would have to be surrendered at the time of delivery.
You will be provided a gate pass for the luggage area from where you will be collecting your motorcycle.
This is all that is to it. A few other tips and good to know information is as mentioned below.
Charges
Take a look at the links below for approximate cost that you may have to pay. An exact idea would however be only after you arrive at the station.
At an average, if you are carrying your motorcycle as luggage, it will cost you Rs. 1200 for up to 500 kilometers; Rs. 1700 for up to 1000 kilometers and Rs. 3000 for up to 2000 kilometers.
Parceling the motorcycle is a bit cheaper. It will cost you approximately Rs. 700 for 500 kilometers, Rs. 1200 for 1000 kilometers and about Rs. 1500 for 2000 kilometers.  Again, these are just estimates. A more exact figure can only be provided by railway authorities.
Motorcycle Transport by Train in India – Other Tips
While booking the motorcycle as luggage; ensure that you are arriving at the station at least a couple of hours in advance; as the motorcycle would need to be properly packed. It will also take you some time for necessary paperwork.
For luggage purpose, the office remains open all the time, 24×7. So even if your train was at midnight, the office will still be open. Though there is the question of packing in this case because late at night, there will be no one to pack your bike. It would be wise to get this done beforehand, probably while there is still sun in the sky.
It may vary for your city but the usual packing charge is around Rs. 300 – Rs.500 Once you arrive at the parcel office, you will get chased by several packers or agents asking you to hire them for the entire booking procedure. They will of course charge you extra for this. In my opinion, do not fall for this. The procedure is not that complicated and you can easily take care of it yourself. Just look for someone who can pack the motorcycle for you.
For taking the motorcycle as luggage, even a print out of your E-Ticket will suffice.
 Shipping Ahead
To be on a safer side, it is best to plan a little ahead of time. Sometimes, your bike may not get loaded in the train on the date you wanted it to because there was just no space in the luggage compartment. It happens more often when the origin point of the train was different than your station. The luggage compartment then would be full at the origin point itself and there will be no space at all by the time train arrives at your station. You may want to book parcel maybe 1 or 2 days in advance to ensure this doesn't happen.
Do remember though that if you booked in advance and your motorcycle was loaded as scheduled; then you will need to pay more at the destination station as parking charge until you went and collected it. This charge is Rs. 1 for every 50 kg per hour. So if your motorcycle for example weighed 200 kgs, you will be paying Rs. 4 for every hour it was parked there, waiting for you. There is also a small fine associated which you may also want to ask about if you are booking motorcycle couple of days in advance.
Motorcycle did not get loaded / did not arrive / was lost
Mostly at all stations, counters for parcel and luggage booking are different so ensure that you are at the right counter before starting the paperwork. Always make sure that you take the number of parcel officer and the packing person. You may have to contact them later in case your motorcycle did not get loaded or arrived at the station.
In case your bike did not arrive at the destination station; or did not get unloaded with your arrival in case of luggage; you have no other choice but to raise a complaint and follow up until they manage to bring your motorcycle back.
If your motorcycle was lost in transit, Indian railways will repay as per the declared value of the motorcycle.
Registration of the Motorcycle
Per the regulation, the bike should be registered in the name of the person who is either sending it as parcel; or booking as luggage. They would ask you to bring the original RC and your own ID card to prove that. In case you bought the motorcycle on finance; still paying the EMIs and the vehicle is registered in the name of the bank; then an NOC from the bank may be needed.
Same rule applies if the bike is registered in the name of some other family member or a friend; then too railway authorities may refuse to book and send it either as luggage or parcel. An NOC from the owner can work here as well but best would be to go the railway station a couple of days in advance and get more clarity on this. A better way is to just ask the owner to do the booking process for you.
Direct or Connecting Trains / Short Stop at Station
You cannot parcel your motorcycle unless there is a direct train. For example, if you are at Station A and want to get your motorcycle to Station C, then there has to be a direct train between these two. If the train is from Station A to B and a different train from B to C, you will not be able to parcel your motorcycle.
A common scenario; you need to get off at a station which is not the last and the stop time is hardly 10-15 minutes. Per the regulations, the train cannot depart unless the entire luggage has been removed; but this is not always the case. Sometimes luggage remains on the train and it carries on. To make sure this does not with you, hurry up to the luggage compartment the moment you get off the train to make sure that your motorcycle gets unloaded as well.
Bribes
Bribes in this procedure are very common. Do not be surprised if you are asked to pay some extra amount at several places. Though I am myself seriously against it but out here, just think of it as a small tip to get your job done without hassle. For example, if sending as parcel, find out the person in charge of loading the motorcycles and pay him a little. This is just to make sure that he keeps an eye out for your bike; and makes sure that it does not get left behind. This way, you can also request them to drop you a message or call you when the bike gets loaded; or in case it was not loaded as scheduled.
While taking the delivery; at the GRPF post, they will try to scare you by saying there is some petrol in the bike; even if there was none. This is a usual tactic that they play way too often trying to squeeze some money out of people. This if not handled properly can result in a serious charge. Act reasonably and try to talk your way out; if not just pay a little amount to pass the gate.
Petrol
If you were taking the motorcycle as a luggage, do not make the mistake of carrying Petrol with you in a bottle. This is another offense and if you were caught, will have serious implications. You cannot carry Petrol while traveling in a Train. Either have someone meet you at the destination station with a bottle of petrol; or drag the motorcycle out and then get some fuel.
If someone was waiting for you with petrol, do not fill it up while still in the luggage area. If you did that, you will be stopped at the check post and they will claim that the petrol was there in the tank all the time. First take the motorcycle out, drag it a little distance away from the eye of the cops and then fill it up. Accusing people of petrol filled tank is one of the most common way for them to get some money out.
There are usually porters out there who offer to drag the motorcycle out and get petrol for you in exchange of a fee. It is your choice if you want to get some help there. Better to pay them a little and wait with all your luggage while they got fuel for you from nearest petrol station.
If you were wondering how to drain the last drop of petrol from the bike, then the packing guys can do this as well for you. They use a small pipe to take out the petrol, then clean the tank with a piece of cloth; and leave the engine running afterwards until it dies on its own.
The emptying rule here only applies to petrol. You are not required to drain other liquids like engine oil or gear oil.
Packing
Do not under any circumstance leave the key in the motorcycle. Turn the ignition off but do not lock the handle. You cannot include Helmet or any other accessories while sending the motorcycle as parcel.
Be mentally prepared for some small damage; dents or scratches, to the motorcycle. Do not however expect that Railways authorities will compensate you for this because they will not, no matter how much or many times you follow up.
Type of Trains
The parcel or luggage facility is available in all type of trains, be it a passenger, express or super-fast. There is no categorization of trains in this aspect or availability of the service on this basis.
Delivery
You are required to take delivery of the motorcycle within 24 hours of arrival. Post this time, railways will start charging you on an hourly basis for the time they had to keep the bike parked, waiting for you. This can actually even work in your favor if you want to send the bike ahead of your own schedule; to make sure that it will be there before you and you won't have to wait. Just think of it as a fee for secured parking but sometimes there can even be a hefty fine so tread carefully.
Sending Motorcycle by Train from Delhi
If you are from Delhi, then the parcel option is not available for you at all. From Delhi, a bike can only be taken as luggage and cannot be sent as a parcel. Only way around this is that you book yourself a ticket as well, get your bike loaded in the train but do not board it yourself. Then either  take the delivery at the destination station yourself or ask someone to do it for you. It is a safe option if the destination station is the last one but can sometimes become a hassle if the train was moving on to the next one; because then there is no one to make sure if the bike was indeed unloaded.
Conclusion
I hope the information above was of help. If you have any further questions, please feel free to ask in the comments section below; or at our Community Forum; and I will be glad to answer. If you have experience in sending motorcycle by train and have tips that can be of help to others, please be kind enough to mention those in comments.