Tourist entry banned in Spiti Valley effective immediately, including both Indian and foreign travelers. Worried about the chances of Corona Virus spreading in the valley, the local residents held a meeting on Sunday and have requested the authorities to stop tourists from entering Spiti. Any existing tourists in the valley have been asked to leave in the next three days.
A check post will be arranged near the Sumdo Village, 35 kilometers after Nako and the entry point of Spiti Valley. All tourists will be stopped at the post and sent back until further orders. Kunzum Pass is already closed due to the snow so after this check post has been set up; there will be no chance of any outsiders entering Spiti from either Manali or Kinnaur side.
The only people excluded from the decision are the local residents, armed forces and government officials posted in the valley.
Earlier, a decision was made to have a medical check-up done of all tourists; but it was later changed in favor of banning the entry entirely. The restriction will only be lifted after the virus outbreak has been brought back under control and things return to normal.
The locals have also requested the additional district magistrate to shut down all hotels, guest houses, and homestays. But before this, the residents have in fact stopped accepting guests on their own.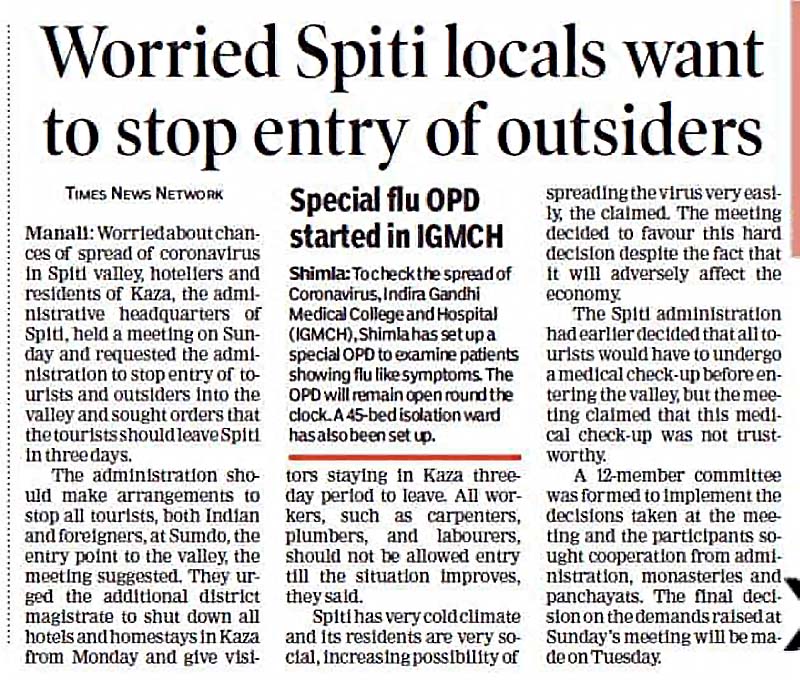 Tourist Entry Banned in Spiti Valley
I will not say that the news comes as a surprise though. About three weeks ago, Sikkim stopped issuing Inner Line permits for tourists. Last week, Ladakh took the same decision and now Spiti has also followed in the same footsteps. Since there is no Inner Line Permit for Spiti Valley needed for Indian citizens; they have decided to set up a check post instead to implement the restriction.
What it means for you as a tourist is that you should postpone your plans for visiting Spiti for at least two months later. First of all, you will not be able to enter the valley at all; but if by some miracle you did, you will not have a place to stay for the night. Hotels and Guesthouses are all shut down and no local will allow you to stay as a paying guest.
Kinnaur Valley, however, is still in scope. Places like Sarahan, Chitkul, Kalpa, and Nako can still be visited.
So if you had plans to go to Kaza which cannot be followed anymore, my advice would be to give them up entirely. Do not travel anywhere until the outbreak stops. You should stay safe at home. But if you must go for a vacation in the coming days, Kinnaur Valley can still be visited; but I doubt you will find a hotel there as well.